NFL Nation:

Grant Wistrom
June, 24, 2013
6/24/13
2:00
PM ET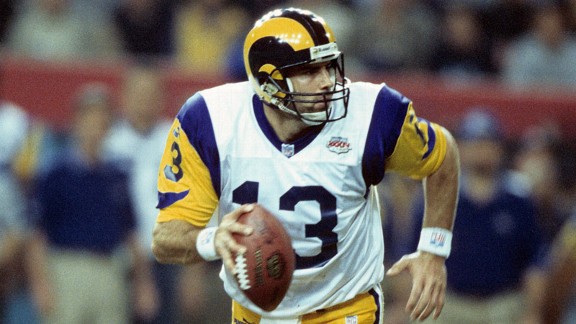 Al Pereira/Getty ImagesKurt Warner won two league MVPs and a Super Bowl title during the Rams' memorable run from 1999-2001.
Editor's note: ESPN.com revisits the NFL's most compelling teams since Y2K with a five-part "Most Dynamic Teams of the Century" series. We begin with the Greatest Show on Turf -- the 2001 St. Louis Rams.
The Greatest Show on Turf won one Super Bowl, lost another and unraveled so furiously that its epitaph requires some reassembly.
Dramatic narratives have sought to explain why the St. Louis Rams fell so hard after a 1999-2001 run featuring three consecutive MVP awards, a 37-11 record and an average of 32.7 points per game.
Coach Mike Martz's ego swallowed the team,
some say
. Front-office infighting
poisoned the culture
. Quarterback Kurt Warner's deteriorating health precipitated a controversial and regrettable departure. Draft failures wrecked the roster. The team lost its soul when key role players departed in free agency.
Whatever the reasons, the Rams were never the same after
Adam Vinatieri
delivered an 48-yard field goal to put the underdog
New England Patriots
past St. Louis 20-17 in Super Bowl XXXVI, launching one NFL dynasty at the expense of another.
Throw in spying allegations against New England as a Super Bowl subplot -- more on that in a bit -- and those 2001 Rams easily qualify on ESPN.com's short list for "Most Dynamic Teams of the Century." They're relevant for what they accomplished and for what happened next: a 7-9 record in 2002 and just one additional winning season for the Rams to this day.
About that epitaph ...
"It's one that escapes me as to how, one, we didn't stay together and, two, how things from that point forward did not continue to roll on," Hall of Fame running back
Marshall Faulk
said recently.
If only the Rams could have known then what has become apparent now.
"Success is something that you have to know how you are going to deal with it before it hits you," Faulk said. "We ran into that in a sense of people wanted credit for putting the team together. Guys on the team who had roles, they wanted to move on and become the actual guy."
So, while some of the Patriots' core players stuck around instead of chasing more prominent roles elsewhere --
Mike Vrabel
and
Tedy Bruschi
come to mind -- the Rams watched
Grant Wistrom
,
Kevin Carter
,
London Fletcher
and others cash in elsewhere. And who could blame them? Certainly not Faulk, who had escaped Indianapolis via trade and became an MVP in St. Louis. Teams look out for their own interests, and players often must do the same. But free agency has proven over time that money doesn't always buy the right fit.
"That core group of guys that might not be the highest paid, might not be the most visible guys, their roles and them understanding the roles is kind of what keeps it together," Faulk said. "They might not be the guys who make it into the Hall of Fame, but they are for more or less a lot of the reasons why a lot of games are won, multiple championships are won."
Defensive back
Aeneas Williams
, himself a Hall of Fame finalist in recent years, was new to the Rams in 2001. The team expected Williams to do for the defense what Faulk had done for the offense. That wasn't far from what happened.
Williams famously picked off
Brett Favre
twice in the playoffs that postseason, returning both for touchdowns. He clinched the Rams' Super Bowl berth by picking off
Donovan McNabb
late in the NFC Championship Game.
With Williams and first-year coordinator Lovie Smith, that Rams defense ranked among the NFL's statistical leaders almost across the board, a reversal from 2000. They were third in yards, fifth in yards per play, third in rushing yards, sixth in net yards per pass attempt, second in first downs, sixth in third-down conversion rate and seventh in scoring.
"It was one of the best seasons I had, not just the winning but the amount of talent and the amount of humility that was on the team," Williams said. "That team was special."
The Rams knew it, too. They were 3-0 and coming off a 42-10 victory over the
Miami Dolphins
when Smith, recently hired away from Tony Dungy's staff in Tampa Bay, delivered just the right message. Players were reveling in the victory and newfound elite status of the defense when Smith stood up to address the team. He listed off the team's accomplishments and exulted in how good it all felt. Players exulted along with him.
Smith then delivered a message that resonates with Williams to this day.
"There are some of you who are still making the same mistakes, and I'm telling you that we are looking to replace you," Smith told the team.
Silence.
There was nothing condescending or demeaning about Smith's delivery or his message. He did not name names. But the message was clear.
"To have that sobering thought from your leader in such a respectful and honoring way, which was intentional as it relates to accountability, I'll never forget it," Williams said. "The teams that have coaches who hold the players accountable no matter how good they are will be the ones that consistently win."
And yet the way that 2001 Rams season ended, and what happened next, might always publicly define that team more than the 14-2 record or revitalized defense.
"That team was loaded," Faulk said. "But this is why we play the greatest sport. There is no Game 5. No Game 7. There is one game, and you have to get it right or it doesn't matter how great you were the rest of the year."
Williams, now a pastor in St. Louis, pointed to the Rams' relatively narrow 24-17 victory over the Patriots during the regular season in suggesting the fat Super Bowl point spread was more about perception than reality. He downplayed the Spygate angle while acknowledging that some teammates are more passionate about whatever advantages the Patriots might have gleaned through taping opponents' hand signals or worse.
"Without knowing, we can only speculate," Williams said. "I relish the moment and the other thing, once we played 16 games and two or three playoff games, rarely are you fooled by what a team does. In that game, it boils down to turnovers."
Faulk carries a different perspective as someone familiar with every aspect of the Rams' offensive plan. He questions whether the Patriots could have anticipated previously unused wrinkles without spying. He has alluded in the past to red zone and third-down plays. The Rams scored on their lone red zone possession. Pressed for specifics, Faulk cited the way New England adjusted to tweaks in the way Faulk went into motion, including on Warner's quarterback sneak for a touchdown in the fourth quarter.
"It's extremely hard to tell you what it was, or what we did, but I will say this," Faulk explained. "The play that
Kurt Warner
scored on, Mike [Martz] drew that up in the dirt. The motion that I used on that play, I would love to show it to you and love to show you other plays how I went in motion and what I did so you could see it. It's just talk when you talk, but here is what we normally do and this is what we put into this game."
Related comments from Faulk made waves during Super Bowl week. Then as now, Faulk wearies of charges he's pushing conspiracy theories.
"I didn't make the news, I didn't make up the news about what happened, but it is what it is," he said. "You accept the loss. They beat us. It happens. You are going to lose games. Is Bill Belichick a great mind? Yes.
"But when a guy like Aeneas Williams sits at home and has to wonder whether he lost the Super Bowl or was cheated out of it, that is who I feel bad for."
Faulk, Warner, Fletcher, Wistrom, Carter,
Isaac Bruce
,
Torry Holt
,
Orlando Pace
,
Leonard Little
and others from that 2001 team can reflect knowing they won it all two years earlier. For some, that Super Bowl against New England would be as close as they came to football immortality. At least they can know the 2001 team will not be forgotten anytime soon.
October, 31, 2011
10/31/11
12:15
PM ET
A few notes from Elias Sports Bureau on the
St. Louis Rams
' 31-21 upset victory over the
New Orleans Saints
:


The Rams entered the game as the lowest-scoring team in the league. The Saints were the highest-scoring team. This was the second time in the last 30 years that the NFL's lowest-scoring team defeated the highest-scoring team.
Chris Long's three-sack game gave him 23.5 over his first four seasons. Kevin Carter (35.0), Kevin Greene (30.0), Grant Wistrom (29.5) and Sean Gilbert (24.0) own the Rams' highest totals through the first four seasons of a player's career, dating only to 1982, the first year sacks became an official stat. Long now has six sacks for the season. He set a career high with 8.5 last season.
The Rams reached their highest single-game point total since Week 12 of the 2010 season. Their 17 first-half points were one more point than they had scored in any full game this season.
This was the second time in the last 14 seasons that a team with no victories and at least six defeats beat a first-place team. The 0-6 Miami Dolphins beat the 4-2 Rams in 2004.
The 2007 Rams got to 1-8 with a victory over the Saints.
I've watched this latest Rams-Saints game a couple times and am looking forward to skipping the Silver Linings file for this team.
October, 27, 2011
10/27/11
7:11
PM ET
Jack Youngblood's
Pro Football Hall of Fame bio
recalls a postseason performance featuring a sack, forced fumble, blocked extra-point attempt and 47-yard interception return for a touchdown.
That performance and others made Youngblood a favorite among Los Angeles Rams fans. As for the folks in St. Louis? Not so much. Their Cardinals were on the receiving end of that vintage 1975 postseason effort from the legendary defensive end.
[+] Enlarge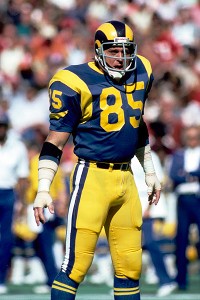 Malcolm Emmons/US PresswireFormer Los Angeles Rams star Jack Youngblood on the St. Louis Rams: "We are their legacy, but they forgot us."
The Rams would move to St. Louis two decades later, creating a gap between the organization and players from the Los Angeles era.
The team thinks it has done plenty to bridge that gap and
said so emphatically
on its website Thursday, but only after Youngblood's latest diatribe against the organization.
"We are their legacy, but they forgot us,"
Youngblood told ESPNLosAngeles.com
this week. "They don't have anything to do with us, really."
That is not true, according to a 697-word accounting the team published Thursday. That accounting said the Rams' recent efforts to connect with their past included jersey-retirement ceremonies for Deacon Jones and Isaac Bruce; game-day appearances by 10 retired St. Louis-era players, including Grant Wistrom and Orlando Pace; and game-day ceremonies honoring Eric Dickerson, Tom Mack, Merlin Olsen (through Olsen's son) and Youngblood himself.
"In an effort to recognize the great players who wore horns before the team's move to St. Louis, the club has also honored all living Rams' Hall of Famers from the Club's time in Los Angeles," the website piece reads. "The first player to be honored was Jack Youngblood, who was honored at the Edward Jones Dome in October of 2009."
It's pretty clear the Rams took offense to Youngblood's comments and wanted their side of the story told. I asked Rams fans for their feedback on the matter and will break out some of those thoughts below.
"As a Rams fan since 1970, I am appalled at the things that are going on/have been going on at Rams Park,"
bigdaddyc9
wrote. "To outright cast off those legacy players is wrong. Since 'Spags' has been there, some very odd decisions on his part have made relationships with former players even more strained."
Coach Steve Spagnuolo and general manager Billy Devaney have indeed replaced some of the longer-tenured employees with ties to the Los Angeles days. But one of the better safeties in Rams history, Nolan Cromwell, coaches receivers for the team.
"The Rams have bigger problems than Jack Youngblood feeling left out,"
QBSamTheRam
wrote.
Spoken like a St. Louis-era Rams fan, most likely.
"I'm from Orange County and grew up an avid Rams fan,"
paulbro23
wrote. "I felt completely betrayed and abandoned when they left Anaheim and moved to St. Louis, and have despised the team and the franchise ever since -- so much so, that I eventually switched my allegiances to the 49ers. ... I recognize it's a business, but they had no problem turning their backs on their SoCal fans, so why not do the same to their entire history here. I hope they go winless this year and remain among the worst teams in the league."
Another former Los Angeles-era fan,
Lammergeier99
, said he was a Rams fan during the George Allen days, then became a fan of the football Cardinals in St. Louis and Arizona.
"It was very odd that the Rams moved to St. Louis and that the Cardinals moved to Phoenix," he wrote. "I only wish that the Cardinals could somehow get the Rams' 1960s Defense right now.
Kevin Kolb
could then concentrate on learning the offense. You don't need to score points in bunches when your 'D' is holding the opponent down."
There's one thing even Jack Youngblood and the Rams could agree upon. I think.
January, 31, 2011
1/31/11
1:37
PM ET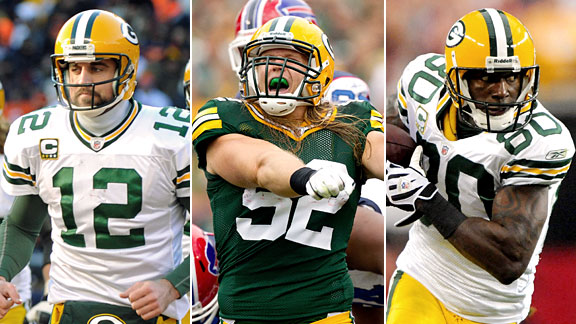 US PresswireGreen Bay's Aaron Rodgers, Clay Matthews and Donald Driver are all playing in Super Bowl XLV, but how might they have fit into the NFC West's draft plans?
DALLAS -- Every
Aaron Rodgers
touchdown pass and playoff victory makes the
San Francisco 49ers
look worse for drafting
Alex Smith
over Rodgers back in 2005.
A victory for Rodgers and the
Green Bay Packers
in Super Bowl 45 would only sanction additional mutilation of this rotting equine carcass.
Some criticism is justified, obviously, but with Rodgers and key Packers scheduled to make their Super Bowl media debuts Monday afternoon, another line of thinking occurred to me. The 49ers weren't the only ones to bypass Rodgers and other key players in this Super Bowl. Why should they absorb such a disproportionate amount of the blame?
The Green Bay players making Super Bowl media appearances Monday -- Rodgers,
Donald Driver
,
A.J. Hawk
,
Greg Jennings
,
Clay Matthews
and
Charles Woodson
-- all qualify for analysis and reflection.
Let's take a look at them through NFC West lenses, beginning in chronological order:
1998 Draft: Charles Woodson, CB, Michigan
Round:
First (fourth overall, by Oakland)
NFC West spin:
The Cardinals passed over Woodson to select defensive end
Andre Wadsworth
third overall. The decision seemed defensible at the time. Wadsworth was a freakish talent at a premium position, but chronic knee injuries prevented him from approaching his potential. Wadsworth underwent microfracture knee surgery after only his third NFL season. He never played again, despite a 2007 comeback attempt.
First-round selections in the division:
Cardinals (third overall): Wadsworth, DE, Florida State

Rams (sixth overall): Grant Wistrom, DE, Nebraska

Seahawks (15th overall): Anthony Simmons, LB, Clemson

49ers (28th overall): R.W. McQuarters, CB, Oklahoma State
1999 Draft: Donald Driver, WR, Alcorn State
Round:
Seventh (213th overall, by Green Bay)
NFC West spin:
Good for the Packers. They found a steal in the seventh round. Driver developed into a full-time starter in 2002, his fourth season. He has 698 career receptions. Driver reflects well on the Packers, but not negatively on anyone in the NFC West.
Seventh-round selections in the division (Seahawks did not have a pick):
2005 Draft: Aaron Rodgers, QB, California
Round:
First (24th overall, by Green Bay)
NFC West spin:
Only the Seahawks, who held the 26th choice that year, escape second-guessing for this one. To be fair, however, the Rams'
Marc Bulger
was coming off a breakout 2004 season in which he had thrown 21 touchdown passes while leading St. Louis to the playoffs. There was no reason for the Rams to target a quarterback in the 2005 first round. Rodgers might have wilted in St. Louis while the organization crumbled around him (a fate that might have awaited him in San Francisco as well). The Cardinals could have used a young quarterback to build around, but they signed
Kurt Warner
to a free-agent contract that offseason. Warner went 2-8 as a starter in 2005, but the Cardinals eventually went to the Super Bowl with him under center. Warner even edged Rodgers in the playoffs following the 2009 season.
First-round selections in the division:
49ers (first overall): Alex Smith, QB, Utah

Cardinals (eighth overall): Antrel Rolle, DB, Miami

Rams (19th overall): Alex Barron, T, Florida State

Seahawks (26th overall): Chris Spencer, C, Mississippi
2006 Draft: A.J. Hawk, LB, Ohio State
Round:
First (fifth overall, by Green Bay)
NFC West spin:
The 49ers in particular were monitoring this choice closely. They were picking sixth overall that year and trying to find weapons for their second-year quarterback. Tight end
Vernon Davis
, chosen sixth overall, is becoming a perennial Pro Bowl choice. Hawk was an all-rookie selection, but he has not played well enough overall to cause much second-guessing in NFC West circles. The Cardinals ultimately whiffed on a quarterback that year, but no one is telling them they should have drafted Hawk instead.
First-round selections in the division:
49ers (sixth overall): Davis, TE, Maryland

Cardinals (10th overall): Matt Leinart, QB, USC

Rams (15th overall): Tye Hill, CB, Clemson

49ers (22nd overall): Manny Lawson, OLB, North Carolina State

Seahawks (31st overall): Kelly Jennings, CB, Miami
2006 Draft: Greg Jennings, WR, Western Michigan
Round:
Second (52nd overall, by Green Bay)
NFC West spin:
The Cardinals and Rams passed on Jennings in the second round, but that was understandable. Both teams were already strong at receiver. Looking back, however, the Rams certainly would have gone in another direction. They whiffed on tight end
Joe Klopfenstein
six spots before the Packers took Jennings.
Second-round selections in the division (49ers traded their pick):
Cardinals (41st overall): Deuce Lutui, G, USC

Rams (46th overall): Klopfenstein, TE, Colorado

Seahawks (63rd overall): Darryl Tapp, DE, Virginia Tech
2009 Draft: Clay Matthews, OLB, USC
Round:
First (26th overall, to Green Bay)
NFC West spin:
This draft hurts. Surely the Seahawks and Rams could have put Matthews' pass-rush ability to use even if he didn't fit their schemes precisely at the time. Both teams passed on him. Worse, the Packers used an additional 2009 first-round choice, this one ninth overall, for another key contributor,
B.J. Raji
.
First-round selections in the division:
Hope you enjoyed the exercise. I'll be heading to the
Pittsburgh Steelers
' media session in the not-too-distant future, with plans to check back at the next opportunity.
June, 24, 2010
6/24/10
9:15
AM ET
Notable players:
QB
Kurt Warner
, RB
Marshall Faulk
, WR
Isaac Bruce
, WR
Torry Holt
, LT
Orlando Pace
, WR/PR
Az-Zahir Hakim
, DE
Kevin Carter
, DE
Grant Wistrom
, DT
D'Marco Farr
, CB
Todd Lyght
.
[+] Enlarge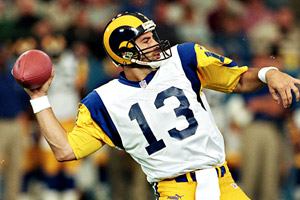 Tom Pidgeon/Getty ImagesKurt Warner threw for 4,353 yards and 41 touchdowns during the 1999 season.
Analysis:
The 1999
St. Louis Rams
were tied with the
Tennessee Titans
in the final minutes of the Super Bowl.
Conventional wisdom called for a clock-killing drive to the winning field goal, but convention didn't appeal to the 1999 Rams. They had shrugged off losing their starting quarterback during the preseason. They had knowingly backed Warner without much evidence to suggest he would succeed. They passed the ball first when tradition called for establishing the run. They pushed the ball downfield when West Coast schemes were favoring shorter timing throws.
And so with the 2-minute warning approaching in a 16-16 game, the Rams went deep to Bruce for a 73-yard touchdown. The aggressiveness came with a price when the Titans, armed with plenty of time, moved within a yard of the tying touchdown. But the Rams won their way -- defiantly and with an offense few teams in NFL history could challenge for pure multidimensional flair.
The only team in Rams history to win a Super Bowl gets my vote for best team in franchise history. The 1951 version also won an NFL title, but that team finished the regular season with an 8-4 record. It played only one postseason game. Chuck Knox's Rams of the early 1970s were very good. John Robinson had some solid Rams teams in the 1980s. The 2001 Rams had a chance to be the best in franchise history, but the 1999 team separated itself by becoming the only Rams team to win a Super Bowl.
Dick Vermeil was coach of the year. Warner was MVP and Super Bowl MVP. Faulk was offensive player of the year.
This was a team of signature players and also signature plays:
Ricky Proehl's dramatic juggling catch to beat the Tampa Bay Buccaneers in the NFC title game (he hadn't caught a touchdown pass all season);

Bruce's daring 73-yard touchdown grab in the Super Bowl;

Mike Jones' game-saving tackle of the Titans' Kevin Dyson at the 1-yard line as time ran out in the Super Bowl.
Most impressive win:
For years the Rams had watched the
San Francisco 49ers
dominate them and the NFC West. That's what made the Rams' Week 5 victory over the 49ers so meaningful that season. Bruce caught four touchdown passes during a 42-20 victory as the Rams improved to 4-0. Fans wanted to believe after a 38-10 victory over the
Cincinnati Bengals
a week earlier. The blowout against San Francisco provided validation (no one knew the 49ers would finish with a 4-12 record that season).
Return to sender:
Offense wasn't the only way the 1999 Rams found the end zone. Hakim averaged 10.5 yards per punt return with one touchdown.
Tony Horne
averaged 29.7 yards per kickoff return with two touchdowns. The Rams scored seven touchdowns on interception returns and one more on a fumble return.
Honorable mention
2001:
The Rams rebuilt their defense and made another run to the Super Bowl.
Tom Brady
and the
New England Patriots
kept St. Louis from winning another title and challenging for the title of best team in Rams history.
1973:
First-year head coach Chuck Knox turned around the Rams quickly, leading them to a 12-2 record with No. 1 rankings in total offense and total defense. John Hadl tossed 22 touchdown passes with 11 interceptions in his only full season as the Rams' starter.
1951:
The Rams won a championship for Los Angeles thanks to Bob Waterfield, Norm Van Brocklin and Elroy Hirsch. Four-time Pro Bowl fullback Dan Towler averaged 6.8 yards per attempt.
November, 2, 2008
11/02/08
10:14
AM ET
Posted by ESPN.com's Mike Sando
Kent Somers of the Arizona Republic says the Cardinals are in uncharted territory, attempting to tighten their grip on the division race at midseason.
Darren Urban of azcardinals.com says the Cardinals are opening an important three-game tour of the NFC West. They face the Rams, 49ers and Seahawks.
Mike Tulumello of the East Valley Tribune quotes Kurt Warner as saying he might be playing as well as he ever has.
Steve Korte of the Belleville News-Democrat says the Rams face a make-or-break game against the Cardinals.
Also from Korte: Grant Wistrom and other former Rams players will be in attendance when the team honors Dick Vermeil at the Edward Jones Dome.
Jim Thomas of the St. Louis Post-Dispatch sizes up the Rams' chances in the NFC West if they beat the Cardinals. Coach Jim Haslett hasn't said much to the players about it. They know.
Also from Thomas: Rams guard Richie Incognito and Cardinals defensive lineman Darnell Dockett don't like one another very much. They'll match up again in Week 9. Incognito is coming off his best game of the season.
More from Thomas: Both passing games have the edge in this matchup.

Bill Coats of the St. Louis Post-Dispatch looks at the Cardinals' ability to win without leaning on the ground game. Arizona ran the ball fairly well at times this season, particularly against the 49ers in the opener. But this is a pass-happy team right now.
Scott Ostler of the San Francisco Chronicle says Mike Singletary is missing the point if he thinks intensity is the problem for the 49ers. As evidence, Ostler quotes the late Bill Walsh, who said execution is the key and intensity is overrated.
Tom FitzGerald of the San Francisco Chronicle takes an in-depth look at Jed York's rise as 49ers owner. York says general manager Scot McCloughan is part of the team's long-term future, but the story doesn't say much about Singletary's future.
Also from FitzGerald: Eddie DeBartolo gives his nephew a vote of confidence as 49ers owner.
John Crumpacker of the San Francisco Chronicle says it's easy finding Jeff Ulbrich's car at 49ers headquarters. It's the only Prius in the lot.
Matt Barrows of the Sacramento Bee gives the 49ers an "A" grade on special teams to this point, but the overall grade is a "D" after a 2-6 start.
Matt Maiocco of the Santa Rosa Press-Democrat names Frank Gore and Patrick Willis as the 49ers' most valuable players after eight games. J.T. O'Sullivan and Manny Lawson are the biggest disappointments. The pass Seattle's Josh Wilson returned for a touchdown stands out as the worst play of the season so far.
Mike Reiss of the Boston Globe polls players and coaches as to whether Singletary's approach has staying power. Former linebacker Chad Brown thinks a veteran team wouldn't be as receptive.
Frank Hughes of the Tacoma News Tribune quotes "Dumb and Dumber" in making a case for the Seahawks possibly earning a playoff berth this season.
Dave Boling of the Tacoma News Tribune applauds Singletary's unconventional tactics, figuring the coach is in a lose-lose situation, so he might as well try something new.
Jose Romero of the Seattle Times previews the Eagles-Seahawks game, noting that the Eagles have been far more effective in turnover differential.
Danny O'Neil of the Seattle Times says Singletary was exposed as a coach even before dropping his drawers at halftime. Specifically, the decision to go for it on fourth down before halftime backfired.
Also from O'Neil: The Seahawks need a boost from their home crowd to hang with the Eagles.

NFL SCOREBOARD
Thursday, 9/4
Sunday, 9/7
Monday, 9/8