May, 30, 2013
5/30/13
7:19
PM ET
Any ranking for the 20 greatest coaches in NFL history would leave off at least two of the
22 enshrined
in the Pro Football Hall of Fame.
The ballot I submitted for our "
Greatest Coaches
" project left off eight of them: Guy Chamberlin, Jimmy Conzelman, Weeb Ewbank, Ray Flaherty, Sid Gillman, Bud Grant, Greasy Neale and Hank Stram.
That seems outrageous. However, there were only 20 spots available, and many coaches appeared interchangeable to me outside the top 10 or 12. Current or recently retired head coaches such as Bill Belichick, Tom Coughlin, Mike Holmgren, Mike Shanahan, Tony Dungy, Bill Cowher and Marty Schottenheimer deserved consideration, in my view, but including them meant leaving out others. I also thought Chuck Knox should be in the discussion even though he's long retired and not a Hall of Famer.
Putting together a ballot was difficult. There's really no way to fully analyze the jobs head coaches have done. We must consider won-lost records over time, of course, but little separates some of the coaches further down the list. I figured most panelists would go with Lombardi in the No. 1 spot, but I'm not sure whether that was the case.
Herm Edwards revealed
his ballot

previously. We agreed on George Halas at No. 1. He put Lombardi second. I went with
Paul Brown
and
Curly Lambeau
after Halas, followed by Lombardi, Tom Landry, Bill Walsh, Don Shula, Joe Gibbs, Belichick and Chuck Noll to round out the top 10. The choices got tougher from there.
Edwards had Bud Grant, Dick Vermeil and Marty Schottenheimer in his top 20. He did not have Steve Owen, Holmgren or Cowher. I easily could have justified swapping out some of the coaches toward the bottom of my ballot for others not listed. Edwards and I both had Coughlin at No. 15. Our rankings for Lombardi, Landry, Walsh, Shula, Gibbs, Belichick, Madden and George Allen were within three spots one way or the other. I had Brown and Lambeau quite a bit higher than Edwards had them.
I tried to balance factors such as winning percentage, longevity, championships, team-building and impact on the game. The coaches I listed near the top of my ballot were strong in all those areas. There was room lower on my ballot for coaches whose achievements in some areas offset deficiencies in others.
Halas was a straightforward choice at No. 1 for me. He coached the Chicago Bears for 40 seasons, won six championships and had only six losing seasons. The Hall of Fame credits him as the first coach to use game films for preparation.
"Along with Ralph Jones, his coach from 1930 through 1932, and consultant Clark Shaughnessy, Halas perfected the T-formation attack with the man in motion,"
Halas' Hall of Fame bio
reads. "It was this destructive force that propelled the Bears to their stunning 73-0 NFL title win over Washington in the 1940 NFL Championship Game and sent every other league team scurrying to copy the Halas system."
Brown was my choice at No. 2 because he won seven titles, four of them before the Cleveland Browns joined the NFL in 1950, and he revolutionized strategy while planting a massive coaching tree. Lambeau edged Lombardi in the No. 3 spot on my ballot. He founded the franchise and won with a prolific passing game before it was popular. His teams won six titles during his 31 seasons as coach.
ESPN has revealed the coaches ranking 13th through 20th based on ballots submitted by Chris Berman, Jeffri Chadiha, John Clayton, Colin Cowherd, Mike Ditka, Gregg Easterbrook, Edwards, David Fleming, Ashley Fox, Greg Garber, Mike Golic, Suzy Kolber, Eric Mangini, Chris Mortensen, Sal Paolantonio, Bill Polian, Rick Reilly, Adam Schefter, Ed Werder, Seth Wickersham, Trey Wingo and me.
The eight coaches, beginning at No. 13: Jimmy Johnson, Coughlin, Grant, Stram, Levy, Gillman, Shanahan and Dungy.
Gillman was an interesting one. He spent 10 of his 18 seasons in the AFL and had a 1-5 record in postseason, but there is no denying
his impact on the passing game
. Like other coaches rounding out the top 20, his case for inclusion was strong, but open for debate.
June, 22, 2010
6/22/10
11:45
AM ET
By
Matt Mosley
| ESPN.com
Notable players
: LB Chuck Bednarik, WR Tommy McDonald, SE Pete Retzlaff, LB Maxie Baughan, QB Norm Van Brocklin, FB Ted Dean, DE Marion Campbell, CB Tom Brookshier
[+] Enlarge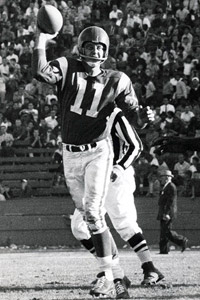 David Boss/US PresswireNorm Van Brocklin quarterbacked the Eagles to the 1960 championship.
Analysis:
Because we reward championships -- even when there weren't a lot of other teams. The Eagles beat Vince Lombardi's Packers in the championship game at Franklin Field, and that's saying something. Bednarik remains an iconic part of the franchise's history. In a win over the Giants in 1960, he famously knocked out Frank Gifford with a punishing blow. Gifford didn't get up that day, and he also missed the following season.
Van Brocklin was at the end of the career, but he made his final season count by delivering bombs to McDonald and Retzlaff. McDonald, a Hall of Famer, averaged more than 20 yards per catch in 1960. He scored a 35-yard touchdown in the Eagles' classic 17-13 win over the Packers. The Eagles won their other two titles in the late 1940s under coach Greasy Neale, but the '60 team made more of an impact in the community. It's only appropriate that the Eagles will break out the kelly green jerseys for the season opener against the Packers. Too bad they can't play at Franklin Field (they supposedly looked into it).
Most impressive win
: Definitely the title game against the Packers. In his second season as head coach of the Packers, Vince Lombardi had Jim Taylor, Bart Starr, Paul Hornung, Max McGee, Jerry Kramer and Forrest Gregg on offense. This was a dynasty in the making, but the Eagles forced the Packers to wait a year before Green Bay won the NFL title in '61.
Best player
: McDonald was a burner, but I'll go with Bednarik because he gave the team its identity. He played center and linebacker.
Honorable mention
2004
:
Donovan McNabb
and
Terrell Owens
formed one of the top combinations in the league, and
Brian Westbrook
was dangerous as a dual threat. This was a superb team -- as evidenced by its playoff run without the injured T.O.
1980
: Eagles fans have fond memories of Wilbert Montgomery carving up the Cowboys in the NFC title game for 194 yards and a touchdown. Nose tackle Charlie Johnson helped anchor a dominating defense.
2002
:
Duce Staley
ran for 1,000 yards and had 500 yards receiving. The Eagles were deep enough that they made it to the NFC title game during a season in which
A.J. Feeley
had to start five games because McNabb was injured. I don't have to remind you what happened against Tampa Bay in the playoffs. By the way, the Eagles dominated the Bucs in a 20-10 win earlier that season.
NFL SCOREBOARD
Thursday, 11/20
Sunday, 11/23
Monday, 11/24
WEEKLY LEADERS