NFL Nation:

Hakeem Olajuwon
January, 7, 2012
1/07/12
11:16
PM ET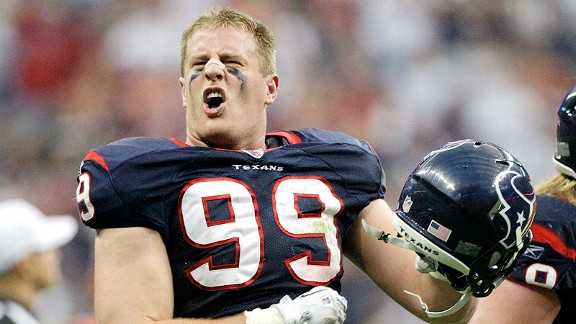 AP Photo/Tony Gutierrez"That's kind of what I do, that's my thing," J.J. Watt said of his game-turning first half interception.
HOUSTON -- The stadium rocked. A struggling team rebounded. Another rematch was set in motion.
A tie to the old era of Houston's NFL football beamed.
"It's just a great feeling to know that Houston's back," proclaimed Bum Phillips, coach of the Luv Ya Blue Oilers and father of Texans defensive coordinator Wade Phillips.
The Texans' best players played best Saturday at Reliant Stadium in
a 31-10 thrashing
of the Bengals that propelled Houston forward in the NFL playoffs to a Jan. 15 game in Baltimore. Houston lost to the Ravens at M&T Bank Stadium on Oct. 16, 29-14.
After clinching the AFC South with a Dec. 11 victory at Cincinnati, the Texans sputtered, dropping their final three regular-season games, though the finale meant nothing to their playoff standing.
"We kind of got back to what we were doing during that seven-week stretch [Oct. 23 through Dec. 11, when we were 7-0]," coach Gary Kubiak said. "We played great defense, we found a way to run the ball, we never really hurt ourselves as a team. That was the key."
The game had plenty of heroes, including efficient rookie quarterback
T.J. Yates
and cornerback
Johnathan Joseph
. Three of the team's other top players, though, produced first-rate efforts worth a deeper look.
Running back Arian Foster:
After Foster popped an 8-yard touchdown run in the first quarter to tie the score at 7-7, he changed sports as he celebrated.
A Lakers fan who apologizes to Houstonians for his NBA affection, he was talking to fans via Twitter during a recent Lakers-Rockets game. If the Rockets won, he pledged he'd do a touchdown celebration paying homage to them.
The Lakers won and got him off the hook. But Foster decided to follow through with the idea anyway. He celebrated with Hakeem Olajuwon's "
Dream Shake
" -- a hard stop with a ball fake, followed by a reversal and fade-away jumper he tossed over the crossbar.
Foster finished with 24 carries for 153 yards and two scores. He was only the third undrafted running back in league history to eclipse 100 yards in his first playoff game, joining
Ryan Grant
(2007) and Paul Lowe (1960).
The Texans' blocking was tremendous. According to ESPN Stats & Information, 102 of Foster's rushing yards came prior to initial contact. That's two-thirds of his total.
The second touchdown, a 42-yard ramble, was his most impressive run of the day. He got to the right sideline and looked to have no chance to stay in bounds. But he followed one good block and surprised strong safety
Chris Crocker
with his balance and ability to navigate the sideline as he slowed down, then hit the jets.
"I guess he thought I was going out of bounds," Foster said.
Defensive end J.J. Watt:
Shortly after
Jake Delhomme
signed with the Texans on Nov. 30, the veteran quarterback was running the offense at a walk-through. Watt batted down several of his passes at the slow-paced practice, and felt guilty for doing so.
"He was kind of mad at me," Watt said. "And I was like, 'That's kind of what I do, that's my thing.'"
He did his thing to Bengals quarterback
Andy Dalton
with 52 seconds left in the first half, but rather than knocking down the ball thrown from point-blank range, he caught it. And before many people on the field realized where it was, he was carrying it to a 29-yard touchdown that put Houston ahead 17-10.
Coaches and teammates said while reporters and fans don't see it, Watt snares balls like that all the time at practice.
And while several pass-catchers wouldn't go so far as to say they'd struggle to make the same play, the guy with the best hands on the team wasn't too proud to say otherwise.
"It's almost impossible," fullback
James Casey
said. "You're so close to the ball and obviously the guy is throwing it hard to have it on that trajectory. To be able to catch it like that is remarkable, that's why you never see it happen.
"Guys bat balls down but they don't actually catch it. I'd catch zero out of 10. Maybe out of 100 I'd catch one every now and then just getting lucky."
Watt followed up that giant play by tracking Dalton as he fled the pocket and sacking him on the final play of the first half.
It was Watt's first touchdown since high school. He didn't score one as a tight end at Central Michigan or as a defensive end at Wisconsin.
Denver's
Von Miller
or San Francisco's
Aldon Smith
will win defensive rookie of the year, but Watt didn't trail them by much in terms of overall initial impact. Miller will have a chance to match Watt's postseason pace in a game Sunday.
[+] Enlarge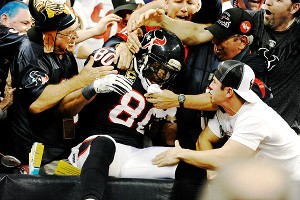 AP Photo/Dave EinselReceiver Andre Johnson's post-score jump into the stands sent Reliant Stadium wild.
Receiver Andre Johnson:
He missed nine games this season with two different hamstring injuries. The Texans gave him a chance to knock some rust off last week. But he and Yates were out of sync for a good portion of this game.
The always-calm Johnson has been waiting for a playoff game since 2003, when he was the Texans' top pick in the franchise's second season. He admitted to being antsy and overly anxious to make a play. After one failed pass attempt, he returned to the bench and slammed his helmet to the turf.
Late in the third quarter, though, he and Yates made a connection that sealed the game. Lined up on the left, Johnson put a double move on
Adam Jones
, who bit, slipped and moved laterally instead of back as he recovered.
Johnson was wide open and Yates delivered a ball that hit him in stride for a 40-yard touchdown that gave the Texans a 24-10 lead.
In the end zone, he stopped and looked to be enjoying a contemplative moment to take it all in and consider all that had come in his career before the big moment.
But that wasn't it at all.
"I've jumped in the stands a few times here and I've been grabbed by the facemask and everything," he said. "So I was kind of thinking about jumping, that's what the pause was for."
He jumped.
The play had about put Reliant Stadium into orbit, but Johnson made it safely back to Earth.
June, 4, 2010
6/04/10
5:55
PM ET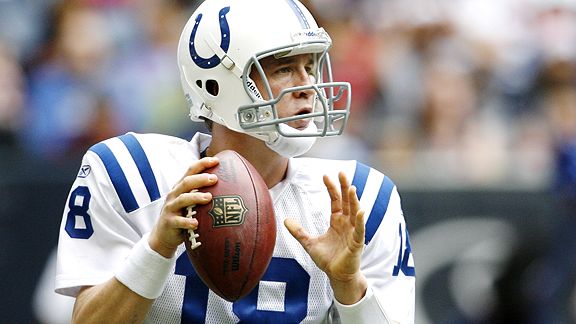 Aaron M. Sprecher/Icon SMIBad news for opposing defenses: Peyton Manning's relentless drive to improve his game means the four-time MVP could be even better in 2010.
INDIANAPOLIS -- His neck is
repaired
and he's been working with receivers since April. Now he's leading the
Indianapolis Colts
through minicamp paces, intent on a return to the Super Bowl and a better big-game result.
How does
Peyton Manning
, the league's first four-time MVP, get better for 2010?
Head coach Jim Caldwell has seen the process up close as a participant. He knows just the sort of meticulous deconstruction of the 2009 season Manning has done with quarterback coach
Frank Reich
in search of bullet points to concentrate on for 2010.
"He's a very unusual guy," Caldwell said. "Every year he kind of goes through this process where he and Frank will sit down and they'll take a look at what he was able to accomplish last year, he'll look at all his strengths and weaknesses. He'll review every single snap of every game he played. And not just glancing over it, but I'm talking about detail. They'll take notes of ever single throw, every single play call, every single check.
"And then from that he'll go through it and then make a determination on where he thought he could improve on that setting. He'll dissect his entire season that way and then he'll set new goals for himself in terms of what he thinks he can accomplish. And he seems to certainly keep moving forward, each and every year you see he gets better… I don't think there is any limitation on him, on what he can improve upon."
How long does it take? A week? A couple?
"Months," Caldwell said. "Plural."
That's not talk from Caldwell the rest of the NFL will be excited to hear, but it's hardly surprising. Saying Manning is meticulous is akin to saying Santa Claus is overweight. Still, we don't frequently get details of just how Manning goes about things, just like we don't get readings from a scale at the North Pole.
I asked Caldwell about avenues for Manning to improve upon after Manning spoke at the media center podium at team headquarters Friday. I certainly wish I were getting the scoop from Manning. But odds are Manning, who's super savvy with the media but not a big sharer with stuff that could ever qualify as state secrets, wouldn't have offered much up on it anyway.
[+] Enlarge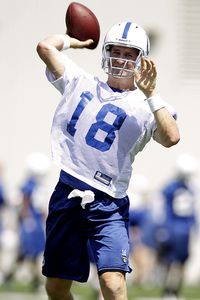 AP Photo/Michael ConroyPeyton Manning practiced Friday after surgery to alleviate a pinched nerve in his neck that's bothered him for four years.
A lot of offseason morning meetings start at 7 a.m., he said, while suggesting his timing with pass-catchers always will be a big point of emphasis in this offense.
"The main thing I try to work on is the timing with these new receivers, Brody [Eldridge] who's a new tight end here, Sam Giguere who's healthy and obviously try to get even more sound with Pierre [Garcon], [Austin] Collie," Manning said. "And everybody acts like this is the start. We've been here since April, we've been throwing. We've been working a lot on the field.
"I've had another good offseason with [Anthony] Gonzalez now that he's back. Getting the timing down with all these young receivers, the more I can get on the same page with them the more we have a better chance at success."
Clyde Christensen is the offensive coordinator now, with Tom Moore in a lesser role.
Manning has worked closely with Christensen in recent years. He's been the coach who has been in charge of third-down situations and red zone plays, two excellent areas for the Colts. While some players will need to adjust to the change in coordinators, the switch won't slow Manning down at all.
At minicamp practice, Manning looked like Manning.
In a breeze that was occasionally strong, the throws were crisp and precise whether the target was
Dallas Clark
or
Dudley Guice
. The quarterback's conversations with a coach or player to the side during breaks were accented with points and hand gestures about patterns and positioning.
I'd never expect that Manning would decide he's got it all under control.
But I do suspect it can get increasingly hard for very good players in any sport to find macro-issues to target this time of year. That's why it's so great when we learn that Kobe Bryant spent offseason time with Hakeem Olajuwon to become a better player in the post, and why details from Caldwell on Manning's determination to be more accurate can be pretty interesting.
Before 2008, Manning's tear-down of 2007 led him to a more intense focus on pass placement, according to Caldwell, who was the assistant working most closely with him then.
So what did that lead to?
"He works each and every drill in terms of placing the ball where he wants to place it and if he doesn't hit it right on the spot, he'll say, 'Hey, let's do that one again,'" Caldwell said. "He'll repeat it. And for most people, the initial pass would have been one that would have been highly acceptable.
"But for him, it maybe wasn't right on the pinpoint of the left shoulder. Or maybe it wasn't at the right ear. He's very, very precise in that regard, and I think that's what makes him unusual."
Anything Manning has discovered since then has also been layered into his private individual work with targets and sessions like today's.
Reggie Wayne
is absent in a contract protest. Upon his return, the group of Wayne, Garcon, Collie and Gonzalez gives the team a "chance to be as deep as ever" at the position, Manning said.
The draft class is supplemented by the return of Gonzalez and safety
Bob Sanders
from injury -- players Manning feels almost qualify as free-agent additions. Given those factors, the Colts seem like they'll be in position to improve as they try to defend their AFC title.
But Manning emphasizes they've got to do the things to make it so, not rely on how it all looks on paper.
Notes from his season breakdown are on paper, too. It's hard to imagine they won't come to life on fall Sundays.
"He's got such great presence of mind, such great will and determination that I think you will see him improve in almost every area," Caldwell said.

NFL SCOREBOARD
Thursday, 9/11
Sunday, 9/14
Monday, 9/15
WEEKLY LEADERS