NFL Nation:

Hall of Fame Game
August, 5, 2013
8/05/13
8:42
AM ET

CANTON, Ohio -- The new-look
Miami Dolphins
' offense could not get off to a worst start to the 2013 preseason. After spending millions on new weapons and earning a nice preseason buzz, their first play from scrimmage was a fumble in
Sunday night's 24-20 loss
to the
Dallas Cowboys
.
Dolphins quarterback
Ryan Tannehill
attempted a hand-off to starting tailback
Lamar Miller
for a routine running play. However, the ball bounced off Miller and fell forward into the hands of Dallas defensive tackle
Nick Hayden
. Tannehill was credited for the fumble, but much of the blame appeared to be on Miller.
Tannehill wasn't sure how things went wrong.
"I guess Lamar and I aren't on the same page," Tannehill said Sunday night in the locker room. "It's frustrating to start off like that. You come out, and something as simple as a hand-off goes awry. It's definitely something that we will get corrected and it won't happen again."
The first play pretty much set the tone for the rest of the night, particularly with Miami's starting offense.
The Tannehill-led Dolphins failed to produce points or move the ball with any consistency in two-and-a-half series of work. Miami's offensive starters began a third series but were pulled by head coach Joe Philbin after Tannehill made a pair of completions. Tannehill finished the night 2-of-5 passing for 11 yards and a fumble.
Besides some strong runs by Miller, who had 21 rushing yards on two carries, there wasn't much good to take out of this game for Miami's starting offense. This group will go back to the drawing board to tighten some things up this week.
The good news for Miami is the preseason is just beginning. This team has a total of five exhibition games leading up to their regular-season opener against the
Cleveland Browns
on Sept. 8.
Miami's next preseason game will be Friday against the
Jacksonville Jaguars
. After Sunday's sloppy performance in Canton, there's nowhere to go but up for Miami's starting offense.
"It wasn't our cleanest game or our best game," Tannehill said. "I'm glad we can get that one out of the way early. We have four more preseason games before we get into the regular season. So hopefully this was our sloppy game."
August, 4, 2013
8/04/13
6:56
PM ET
CANTON, Ohio -- The
Miami Dolphins
are set to take the field in about an hour for the first time in the 2013 season. They will play the
Dallas Cowboys
in the Hall of Fame Game at 8 p.m. ET.
This is the first of five preseason games for Miami. Expect the Dolphins to limit playing time for their starters. For example, starting receivers
Mike Wallace
(groin) and
Brian Hartline
(calf) haven't done much in warm-ups so far. Nothing is official, but there is a good chance that at least one or both receivers won't play.
Check back with the AFC East blog tonight for more on the Dolphins from the Hall of Fame Game. You can also
follow me
on Twitter for live updates from Canton.
August, 3, 2013
8/03/13
12:40
PM ET
NORTHEAST, Ohio -- One of the biggest weaknesses for the
Miami Dolphins
last season was their 27th-ranked pass defense. That is why Miami's secondary could use at least a series or two against a quality quarterback like
Tony Romo
.

The
Dallas Cowboys
wisely
will sit Romo
in Sunday's Hall of Fame Game. Romo had back surgery this summer, and Dallas and Miami both have five preseason games this year. Romo threw for a career-high 4,903 yards, 28 touchdowns and 19 interceptions in 2012. That set the table for Romo to get a $108 million contract extension from Dallas.
Miami's first-team defense will get Dallas backup quarterback
Kyle Orton
instead. Romo would have been a nice test for Miami's secondary and particularly its cornerbacks. The Dolphins remade their cornerback position signing
Brent Grimes
in free agency and drafting rookies
Jamar Taylor
and
Will Davis
in the second and third rounds, respectively.
But Dallas is doing the right thing. The most important thing about the Hall of Fame game for both sides is avoiding injury. The Dolphins' secondary will have to wait until later in the preseason to face a starting-caliber quarterback.
August, 30, 2012
8/30/12
10:14
PM ET
Some quick observations from the Saints'
10-6 loss
to the
Tennessee Titans
in Thursday night's preseason finale:
Assistant head coach Joe Vitt went almost exclusively with backups, which isn't at all surprising when you consider the Saints were playing their fifth preseason game, including the Hall of Fame Game. The Saints started third-string quarterback Sean Canfield. He is a long way from being Drew Brees and even backup Chase Daniel, but Canfield looked better than I've ever seen him in practice and previous preseason games. Canfield did turn the ball over a couple of times, but I think he at least made a case for the Saints to keep him around.
I think a lot of people thought third-round defensive tackle Akiem Hicks would be a project because he played his college football in Canada. I think a lot of people might have sold Hicks short. He continues to impress. He sacked Jake Locker in the first quarter. It's pretty obvious Hicks has earned a spot in the rotation behind starters Brodrick Bunkley and Sedrick Ellis. You could even look a year ahead and perhaps picture Hicks as a starter because Ellis' contract is up after this season and the Saints will have a tight salary-cap situation in 2013.
Receiver Joseph Morgan continues to look good. I think he probably holds the edge on rookie Nick Toon for the No. 4 receiver spot (I count Courtney Roby, a return man) as the fifth receiver. That makes you wonder if the Saints will keep six receivers on the roster. My guess is they will. Toon's a guy they were high on before his preseason got interrupted by an injury. Toon's healthy now and I don't think he's a guy you want to risk losing by releasing him and hoping to get him back on the practice squad.
The competition for the fourth running back spot remains close between Chris Ivory and Travaris Cadet. But I think Ivory might have gained a bit of ground in this game because Cadet lost a fumble.
A lot of people were stunned when safety Isa Abdul-Quddus made the team last year. I was one of them, but I'm starting to see why now. Quddus knocked a ball loose in the second quarter and Elbert Mack recovered the fumble. Quddus already has established a role as a special-teams player. But I think he's turning into a solid backup at safety, and somewhere in the future he could end up starting.
August, 5, 2012
8/05/12
11:30
PM ET
Let's run through some thoughts and observations from the New Orleans Saints'
17-10 victory
against the
Arizona Cardinals
in Sunday night's Hall of Fame Game.
Quarterback Drew Brees and most of the first-team offense played only the first series of the game. But it was a very efficient drive. The Saints went 77 yards on 10 plays to score a touchdown. Brees didn't do anything fancy, but completed 4 of 5 passes for 41 yards and the first offense looked as smooth as you could hope for in a preseason opener.
Second-year running back Mark Ingram scored the opening touchdown on a 1-yard run. Ingram also had a nice 10-yard cutback run before that. Ingram missed part of his rookie season with injuries and has had knee and toe surgery this offseason. But he looked like he's completely healthy and that means he likely will share time in the backfield with Darren Sproles and Pierre Thomas.
Free safety Malcolm Jenkins didn't produce a single interception all last season. He got one precisely five minutes into this game, jumping a route and picking off Kevin Kolb. I expect a lot more interceptions out of Jenkins this season as he gets a chance to be a true center fielder for the first time in his career.
Curtis Lofton had a tackle for a 2-yard loss on a run by LaRod Stephens-Howling on Arizona's second possession. Get used to that. Lofton is better than any linebacker the Saints had last season, particularly against the running game.
Defensive tackle Sedrick Ellis, who hasn't been known as a pass-rusher, got nice pressure on Kolb in the Arizona end zone midway through the first quarter. Kolb barely got a pass off to avoid a safety. He also was shaken up on the play and left the game.
Overall, the Saints' first-team defense didn't do anything that stood out either way. The unit wasn't real sharp with its tackling against the Arizona running game.
There were some encouraging things from the Saints' second-team defense. Martez Wilson, who is making the move from linebacker to defensive end, produced a sack in the second quarter and another early in the third quarter.
Joseph Morgan and Laron Scott each misjudged a punt return in the first quarter. Scott redeemed himself with a nice kickoff return in the second quarter.
Undrafted rookie running back Travaris Cadet looked great catching the ball out of the backfield and in the return game. But it's going to be tough for Cadet to make a roster that already includes Ingram, Sproles, Thomas and Chris Ivory. Cadet's best hope might be to catch on with another team or to end up on New Orleans' practice squad.
April, 4, 2012
4/04/12
3:26
PM ET
The
New Orleans Saints
will get plenty of national exposure in the preseason and they'll also play an extra game.
It already had been announced the Saints will kick off the NFL's preseason schedule against the
Arizona Cardinals
in the Aug. 5 Hall of Fame Game in Canton, Ohio. That game will be carried on NFL Network. The Saints also will play a nationally-televised game Aug. 25 when they host Houston in a CBS game.
The exact dates haven't been set for the other three games. But the Saints will play at New England sometime between Aug. 9 and 13. They'll host Jacksonville between Aug. 16 and 20. They'll finish their preseason either Aug. 29 or Aug. 30 at Tennessee.
April, 4, 2012
4/04/12
11:33
AM ET
We already know the
New Orleans Saints
will kick off the preseason by playing in the Hall of Fame Game. We now also know the Saints
will play
at Tennessee in Week Four of the preseason.
Within a few hours, we should know all the preseason matchups for the Saints and the other three NFC South teams.
Preseason schedules are supposed to be announced some time Wednesday afternoon, so keep checking back. I'll share them with you as soon as they're released.
The schedules coming Wednesday will list opponents in each week of the preseason, but exact dates won't be announced until later. The regular-season schedule is expected to be announced later in April.
August, 31, 2010
8/31/10
2:23
PM ET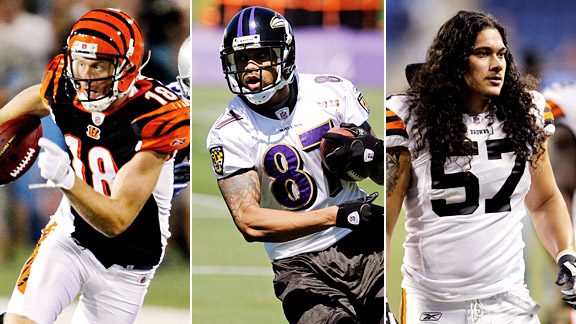 AP PhotosMatt Jones, Demetrius Williams and David Veikune are among the AFC North players in danger of not making their teams' final 53-man rosters.
With teams required to cut down to 53 players by Saturday, it's time to focus on the final rosters in the AFC North.
Expect plenty of chatter internally this week among general managers, scouts and coaches throughout the division on who should make the team. This is always one of the most intriguing weeks of the NFL season.
With that said, here are several noteworthy players on the bubble in the AFC North:
1. Matt Jones, WR, Cincinnati Bengals
Analysis:
The Jones experiment probably will end this week. The Bengals took a chance on Jones, who was out of football in 2009 for off-field issues, to see if he had anything left. Except for a few flashes, such as the Hall of Fame Game, the former first-round pick has been injured and not nearly the same explosive player he was several years ago. Jones also signed a team-friendly, one-year contract, which makes him easy to release. The Bengals have a lot of depth at receiver, and Jones doesn't appear to be in their plans.
Cut-O-Meter:
80 percent
2. David Veikune, LB, Cleveland Browns
Analysis:
Despite entering only his second season, this was a very important training camp for Veikune. The former second-round pick was a major disappointment in his rookie season. Veikune hasn't stepped up so far and is having another nondescript preseason. His best chance to make the Browns is his high draft status. But first-year president Mike Holmgren and general manager Tom Heckert added their own linebackers and have no personal investment in Veikune.
Cut-O-Meter:
80 percent
3. Demetrius Williams, WR, Baltimore Ravens
Analysis:
Placing Williams on the roster bubble has become an annual tradition in Baltimore -- and every year he survives. This year could be the same for Williams, who has a lot of ability but has yet to live up to his potential. Williams received a lucky "break," both literally and figuratively, when veteran receiver
Donte' Stallworth
suffered a broken foot in the third preseason game. Stallworth will be out approximately two months, increasing Williams' chances of making Baltimore's 53-man roster.
Cut-O-Meter:
35 percent
4. Justin Hartwig, C, Pittsburgh Steelers
Analysis:
Hartwig struggled at center last year and lost his job this preseason to first-round pick
Maurkice Pouncey
. The Steelers believe Pouncey is a star-in-the-making, which leaves Hartwig's future in limbo. Despite the benching, there is no question Hartwig is one of Pittsburgh's best 53 players. That should be enough. But Hartwig also is scheduled to make a little more than $2 million this season. He's being paid as a starting center and that's no longer his role. There's a chance Hartwig could compete at right guard or simply be the first center/guard off the bench in the event of injury. Hartwig's experience and versatility help his case.
Cut-O-Meter:
30 percent
5. Jerome Simpson, WR, Bengals
Analysis
: Simpson is another second-round pick who is running out of chances. Despite coming from small-school Coastal Carolina, the Bengals were enamored with his physical abilities and reached for Simpson in the second round of the 2008 draft. But the Bengals tired of waiting for Simpson to develop and made several offseason additions at receiver, which included signing
Terrell Owens
and drafting
Jordan Shipley
in the third round. But
Antonio Bryant
's surprising
release helps Simpson's chances
.
Cut-O-Meter:
50 percent
6. James Davis, RB, Browns
Analysis:
It's funny how quickly things can change in the NFL. Last summer, Davis was the talk of Cleveland after he led the Browns in rushing during the preseason as a rookie. This year, Davis is on the bubble after a lot of offseason additions at running back. The top three tailbacks for Cleveland are locks:
Jerome Harrison
,
Peyton Hillis
and
Montario Hardesty
. The question now is how many running backs Cleveland will keep. If the answer is four, Davis and
Chris Jennings
are battling for the final spot. I give Davis the edge.
Cut-O-Meter:
40 percent
7. David Reed, WR, Ravens
Analysis:
Reed, a fifth-round pick, burst on the scene in Baltimore with a stellar spring. But since then he's been inconsistent and is back on the bubble. Like Williams, Reed also benefits from Stallworth's injury and the extra roster spot available at receiver. That increases Reed's chances to make it. Otherwise, the Ravens would love to develop him on the practice squad.
Cut-O-Meter:
50 percent
[+] Enlarge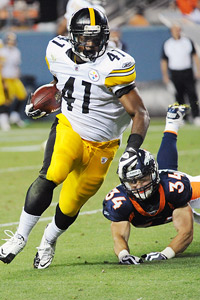 AP Photo/Jack DempseyJonathan Dwyer led the Steelers in rushing against the Broncos, but will it be enough to earn him a roster spot?
8. Jonathan Dwyer, RB, Steelers
Analysis:
Dwyer
made a strong push late
for a roster spot in Pittsburgh. After a disappointing training camp, Dwyer led the Steelers in rushing with 89 yards and a touchdown in Sunday's preseason loss to the
Denver Broncos
. Running back
Isaac Redman
has been stellar and secured the third running back job that was intended for Dwyer. Thursday's preseason finale will be vital for the sixth-round pick.
Cut-O-Meter:
55 percent
9. Brett Ratliff, QB, Browns
Analysis:
Do not believe the hype in Cleveland involving third-round pick
Colt McCoy
being on the bubble. From everything we're told, there is no truth to the speculation. This means Ratliff, barring injury, is probably spending his final week with the Browns. Ratliff will play a half Thursday in Cleveland's final preseason game against the
Chicago Bears
. That could be a nice showcase for Ratliff to try to latch on with another team. Browns coach Eric Mangini traded for Ratliff as part of the draft-day deal with the Jets to be a developmental project last year. But Holmgren is calling the shots now and drafted his own developmental project: McCoy.
Cut-O-Meter:
95 percent
10. Maurice Purify, WR, Bengals
Analysis:
Purify is one of Cincinnati's top special-teams players. But the Bengals' immense depth at receiver and
Purify's one-game suspension
for violating the NFL's personal conduct policy make it very unlikely he makes the cut. There is no reason for Cincinnati to take a roster spot away from a player who will be available for the start of the regular season to keep Purify.
Cut-O-Meter:
95 percent
Here are five additional names to watch:
August, 3, 2010
8/03/10
7:26
PM ET
GEORGETOWN, KY. -- The
Cincinnati Bengals
continued their 2010 training camp Tuesday, and the AFC North blog stopped by to check out the reigning division champs.
Here are some notes and observations:
[+] Enlarge

AP Photo/Al BehrmanThe competition between Chad Ochocinco, left, and Johnathan Joseph has been fierce.

My favorite part of practice Tuesday was watching the great receiver-cornerback battles between Chad Ochocinco and Terrell Owens against Johnathan Joseph and Leon Hall. Neither side is backing down and there is some high-quality football being played, especially for early in training camp. In the end, expect all four players to be better off for providing each other stout competition.
"He's all about his business," Joseph said, complimenting Owens. "He comes in, he works hard in practice, and I think it's a great pickup for this team. I think it will pay off big for us."
Overall, the defense won Tuesday's practice. The unit was very physical, and I saw at least three noticeable hits by safety Gibril Wilson and linebackers Keith Rivers and Brandon Johnson. In addition, safety Roy Williams got an interception in the middle of the field off quarterback Carson Palmer in team drills. The defense also stopped the offense from scoring in two-minute drills.

Cincinnati first-round pick Jermaine Gresham made his training camp debut after signing a five-year deal. The Bengals aren't wasting time with the rookie tight end. He is projected to start in Week 1 and will play in Sunday's Hall of Fame Game against the Dallas Cowboys. Due to a knee injury, Sunday will mark his first game action in more than a year.
"If you have something you really love taken from you, you appreciate everything about it," Gresham said. "It's not just one specific thing, it's everything. Just being out there with your guys. Being able to play football with each other, laugh, joke, be tired with each other. You even miss that. It's everything in itself that you miss about football."
Another note on Gresham: He spent the past couple of weeks working out with No. 1 overall pick Sam Bradford of the St. Louis Rams while both were waiting on contracts. Bradford and Gresham were former college teammates and a dangerous quarterback-tight end duo at Oklahoma.

Among the players who didn't practice Tuesday were linebacker Rey Maualuga (hamstring), rookie defensive end Carlos Dunlap (concussion) and receiver Matt Jones, who was seen wearing a boot. Receiver Antonio Bryant (knee) also worked independently on the side.

There is a lot of competition at receiver, and for one day at least, Andre Caldwell didn't help himself. He had two drops Tuesday. Jordan Shipley and Jerome Simpson did make a few nice grabs. Expect all to have their ups and downs as they compete for roles on the team.
May, 25, 2010
5/25/10
1:00
PM ET
»
NFC Big Question
:
East
|
West
|
North
|
South
»
AFC
:
East
|
West
|
North
|
South
Does participating in five preseason games impact regular-season success?
Brad from Atlanta sent an interesting thought to our
AFC North inbox
. He wondered if the Hall of Fame game had a positive or negative impact on teams in the regular season.
Because of the risk of injuries, there is some debate whether it is fair to ask only two NFL teams to play five exhibition games during the summer, while the other 30 teams play four preseason games. But the Hall of Fame game has a rich history, and it is an honor to represent the league in the first preseason game of the year.
On Aug. 8, the
Cincinnati Bengals
will play the
Dallas Cowboys
in Canton, Ohio. Cincinnati wanted to participate in this game for years because of the deep connection between Bengals founder Paul Brown and northern Ohio. Also, Dallas has Cowboys great
Emmitt Smith
being inducted in what should be a tremendous, weeklong celebration for its franchise.
On the field, there hasn't been any significant impact one way or the other with teams playing a fifth preseason game. The overall record of the last 10 Hall of Fame game participants is 83-77, which is slightly above .500. Five of those teams had winning records, three had losing records and two finished 8-8.
That means Bengals and Cowboys fans shouldn't worry. If they have a good team, like the 2008
Indianapolis Colts
and 2007
Pittsburgh Steelers
, the latest Hall of Fame game participants will make the playoffs this year. If they don't have a good team, like the 2009
Buffalo Bills
, the postseason won't be in their future.
But there's no statistical proof that playing an additional preseason game will cause Dallas or Cincinnati to have a poor season.
August, 9, 2009
8/09/09
10:03
PM ET
Posted by ESPN.com's Paul Kuharsky
As far as Twitter talk, Alge Crumpler's size quickly overtook A.J. Trapasso's marvelous fake punt touchdown run as the biggest Titans' topic of the first half of the Hall of Fame Game.
In his first season with the Titans, Crumpler brought the leadership the team was hoping for. He also willingly became more of a blocker than he ever was in Atlanta -- and that's what the Titans found they needed from him.
I discussed that, and his weight -- which was clearly up during OTAs - with him back in May.
An except from that blog entry:
As for the weight: Crumpler said if he was working as more of a pass catcher, he'd be 10 or 15 pounds lighter.

"But if I'm going to have to control that line of scrimmage, then I have to stay where I'm at," he said.

Which is where?

"You'll never get that out of me," he said.
Gigantic or not, Crumpler caught the ball well and moved OK. It's hard to imagine him ranking as a pass target very often ahead of Bo Scaife or rookie Jared Cook, sure to get some chances in the second half, once the season starts.
Two other thoughts:
On Trapasso's play: Jeff Fisher likes a nice special team fake and on a night when Craig Hentrich didn't dress, the coach clearly relished the opportunity to give an Ohio guy who played at Ohio State a big moment on a national TV stage.
Vince Young probably got undercut by a botched route on his first pass, a pick that wasn't a good throw no matter where his targets were supposed to be. He bounced back to throw a great ball on Paul Williams' touchdown catch. Nice concentration and footwork by Williams, who's overdue to show us something.
April, 10, 2009
4/10/09
8:36
AM ET
Posted by ESPN.com's Paul Kuharsky
Houston Texans
Alan Burge found an interesting piece at the National Football Post on owners, which says Bob McNair "has not shown either patience or direction with his football operation." Tennessee's Bud Adams is also mentioned, at No. 14.

A look at some upcoming charity events players are connected to in Houston, from John McClain.
The Texans will take Clay Matthews, says the latest mock draft by McClain.
Indianapolis Colts
Jacksonville Jaguars
Nothing Friday morning.
Tennessee Titans

NFL SCOREBOARD
Thursday, 9/18
Sunday, 9/21
Monday, 9/22
WEEKLY LEADERS