August, 25, 2011
8/25/11
8:20
PM ET
A few thoughts on NFC West rosters after calculating age ranks for NFL teams based on the rosters I maintain:
The chart ranks teams from oldest to youngest, excluding special-teams players who can sometimes play into their 40s. The first column shows overall rank, counting offensive and defensive players. The third and fourth columns show where teams rank on each side of the ball. These are for starters and backups. In some cases, teams might plan to release older backups on the reduction to 53 players.


Arizona Cardinals: Earlier in the preseason, Kevin Kolb referred to the Cardinals as a young team. They do have young players, some of whom played extensively last season and should be better for it. But the Cardinals have the sixth-oldest roster in the league overall. Vonnie Holliday (35), Clark Haggans (34), Joey Porter (34), Paris Lenon (33), Floyd Womack (32), Adrian Wilson (31), Todd Heap (31) and Nick Eason (31) are some of them. The team has also favored veteran offensive linemen, including veteran backups.


St. Louis Rams: The Rams got older on purpose, adding seasoning to their defense through players added on one-year deals. Al Harris (36) is the oldest non-specialist on the team. James Hall (34) and Fred Robbins (34) remain valuable contributors. Both start. Rookie Robert Quinn will likely replace Hall at some point. Drafting a defensive tackle in the first round of the 2012 draft could make sense, too. Some of the Rams' additions could come at the expense of incumbent veterans such as Hank Fraley (34 next month) and Na'il Diggs (33).


San Francisco 49ers: The 49ers have gotten younger this offseason, particularly on defense. They subtracted Takeo Spikes (34), Aubrayo Franklin (31 this week), Travis LaBoy (30), Brian Westbrook, Nate Clements (31), Brian Westbrook (32 next month), William James (32), Barry Sims (36) and Demetric Evans (32 next month).. Fulback Moran Norris (33) is their oldest non-specialist. The team has only six non-specialists in their 30s, half as many as the Cardinals have.


Seattle Seahawks: The Seahawks have been getting younger by design over the past two seasons. Like the 49ers, they have only six non-specialists in their 30s, with none older than 33 (Raheem Brock). They have subtracted Sean Locklear (30), Matt Hasselbeck (36 next month), Stacy Andrews (30), J.P. Losman (30), Brandon Stokley (35), Lawyer Milloy (37), Chester Pitts (32) and Craig Terrill (31). Most general managers want to make their teams younger when starting out. In Seattle, the head coach is also amendable to that approach. But a few players such as Brock (33), Junior Siavii (32), Colin Cole (31), Marcus Trufant (30) and Atari Bigby (30 next month) have kept the Seahawks defensive ranking from sinking further. Seattle is 16th oldest on that side of the ball.
I've sprouted a couple new gray hairs just typing in some of these names. Might be time to squeeze in an afternoon workout.
September, 8, 2010
9/08/10
2:21
PM ET
Roster turnover is a leading topic for discussion in Seattle following the release of
T.J. Houshmandzadeh
in particular.
I've addressed the subject in depth across the division -- first
May 26
and again
July 30
-- and it's worth another look now that teams have reduced to 53 players for the regular season.
This time, I'm going to break down the changes by position, listing players no longer on the active roster at each main position group (with new players in parenthesis). Departures outnumber replacements because some players finished last season on injured reserve, meaning they were not part of the 53-man roster.
Some players no longer on the active roster remain with the team (they could be suspended, deemed physically unable to perform or part of the practice squad).
St. Louis Rams (34 off roster)

Defensive back:
Eric Bassey
,
Quincy Butler
,
Danny Gorrer
,
Clinton Hart
, Cordelius Parks,
David Roach
,
Jonathan Wade
(added
Kevin Dockery
,
Jerome Murphy
,
Darian Stewart
)
Defensive line:
Victor Adeyanju
,
Adam Carriker
,
Leger Douzable
,
Leonard Little
,
LaJuan Ramsey
,
James Wyche
(added
Jermelle Cudjo
,
Fred Robbins
,
George Selvie
,
Eugene Sims
)
Linebacker:
K.C. Asiodu
,
Paris Lenon
(added
Na'il Diggs
,
Josh Hull
)
Offensive line:
Roger Allen
,
Alex Barron
,
Ryan McKee
,
Mark Setterstrom
,
Phillip Trautwein
,
Eric Young
(added
Renardo Foster
,
Hank Fraley
,
Rodger Saffold
)
Quarterback:
Kyle Boller
,
Marc Bulger
,
Keith Null
,
Mike Reilly
(added
Sam Bradford
,
A.J. Feeley
,
Thaddeus Lewis
)
Running back:
Samkon Gado
,
Chris Ogbonnaya
(added
Keith Toston
)
Special teams:
Ryan Neill
Tight end:
Randy McMichael
(added
Mike Hoomanawanui
,
Fendi Onobun
)
Wide receiver:
Donnie Avery
,
Keenan Burton
,
Brooks Foster
,
Jordan Kent
,
Ruvell Martin
(added
Mark Clayton
,
Dominique Curry
,
Mardy Gilyard
)
---
Seattle Seahawks (33 off roster)

Defensive back:
Jamar Adams
,
Deon Grant
,
Ken Lucas
,
Josh Wilson
(added
Kam Chancellor
,
Kennard Cox
,
Nate Ness
,
Earl Thomas
,
Walter Thurmond
)
Defensive line:
Lawrence Jackson
,
Patrick Kerney
,
Cory Redding
,
Nick Reed
,
Darryl Tapp
,
Craig Terrill
(added
Kentwan Balmer
,
Raheem Brock
,
Chris Clemons
,
Dexter Davis
,
Junior Siavii
,
E.J. Wilson
)
Linebacker:
Leroy Hill
,
Lance Laury
,
D.D. Lewis
(added
Matt McCoy
; note that Hill is suspended for the first regular-season game)
Offensive line:
Trevor Canfield
,
Brandon Frye
,
Walter Jones
,
Damion McIntosh
,
Rob Sims
,
Steve Vallos
,
Ray Willis
,
Mansfield Wrotto
(added
Stacy Andrews
,
Evan Dietrich-Smith
,
Ben Hamilton
,
Russell Okung
,
Chester Pitts
,
Tyler Polumbus
)
Quarterback:
Mike Teel
,
Seneca Wallace
(added
Charlie Whitehurst
)
Running back:
Justin Griffith
,
Louis Rankin
,
Tyler Roehl
,
Owen Schmitt
(added
Quinton Ganther
,
Michael Robinson
,
Leon Washington
)
Special teams:
Kevin Houser
,
Jeff Robinson
(added
Clint Gresham
)
Tight end:
John Owens
(added
Chris Baker
,
Anthony McCoy
)
Wide receiver:
Nate Burleson
, T.J. Houshmandzadeh (added
Golden Tate
,
Mike Williams
)
---
Arizona Cardinals (24 off roster)

Defensive backs:
Ralph Brown
,
Bryant McFadden
,
Antrel Rolle
(added
A.J. Jefferson
,
Trumaine McBride
,
Brandon McDonald
,
Kerry Rhodes
)
Defensive line:
Jason Banks
(added
Dan Williams
)
Linebacker:
Monty Beisel
,
Bertrand Berry
,
Cody Brown
,
Karlos Dansby
,
Gerald Hayes
,
Chike Okeafor
,
Pago Togafau
(added
Paris Lenon
,
Cyril Obiozor
,
Joey Porter
,
Daryl Washington
; Hayes can return from the physically unable to perform list after six games)
Offensive line:
Mike Gandy
,
Herman Johnson
,
Reggie Wells
(added
Alan Faneca
,
Rex Hadnot
)
Quarterback:
Matt Leinart
,
Brian St. Pierre
,
Kurt Warner
(added
Derek Anderson
,
Max Hall
,
John Skelton
)
Running back:
Justin Green
,
Dan Kreider
(added
Jerome Johnson
)
Special teams:
Neil Rackers
(added
Jay Feely
)
Tight end:
Anthony Becht
(added
Jim Dray
)
Wide receiver:
Anquan Boldin
,
Sean Morey
,
Jerheme Urban
(added
Andre Roberts
,
Stephen Williams
)
---
San Francisco 49ers (24 off roster)

Defensive backs:
Dre' Bly
,
Walt Harris
,
Marcus Hudson
,
Mark Roman
(added
Phillip Adams
,
Tramaine Brock
,
William James
,
Taylor Mays
)
Defensive line:
Kentwan Balmer, Derek Walker
Linebacker:
Scott McKillop
,
Jeff Ulbrich
,
Matt Wilhelm
(added
NaVorro Bowman
,
Travis LaBoy
)
Offensive line:
Tony Pashos
,
Chris Patrick
,
Cody Wallace
(added
Alex Boone
,
Anthony Davis
,
Mike Iupati
)
Quarterback:
Nate Davis
,
Shaun Hill
(added
David Carr
,
Troy Smith
)
Running back:
Thomas Clayton,
Glen Coffee
,
Brit Miller
, Michael Robinson (added
Anthony Dixon
,
Brian Westbrook
)
Special teams:
Shane Andrus
,
Ricky Schmitt
Wide receiver:
Arnaz Battle
,
Isaac Bruce
,
Jason Hill
,
Brandon Jones
(added
Ted Ginn Jr.
,
Kyle Williams
,
Dominique Zeigler
)
---
The first chart shows how many players are back -- at least for now -- from Week 17 rosters and injured reserve lists. Seattle has the fewest number back with 26.
The second chart shows how many players each team has shed since Week 17 last season. This counts players who were on injured reserve. Teams with lots of players on injured reserve had more players to lose.
August, 25, 2010
8/25/10
2:52
PM ET
EARTH CITY, Mo. -- This NFL stuff is all new for
Sam Bradford
.
Looking through the
St. Louis Rams
' roster, however, I noticed a long list of teammates with experience breaking in highly drafted quarterbacks.
They offered insights into their experiences and shared their thoughts on Bradford, the first player chosen in the 2010 NFL draft.
A sampling:
[+] Enlarge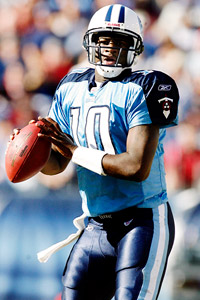 Charles Small/US PresswireAccording to Jacob Bell, Vince Young's demeanor in the huddle is different than Sam Bradford's.
Jacob Bell, Rams guard
Played with:
Vince Young
and the 2006
Tennessee Titans
Background:
Young started 13 games as a rookie. The team finished 8-8 overall. Young completed 51 percent of his passes with 12 touchdowns, 13 interceptions and a 66.7 rating
Bell's take:
"We were 8-8 that year. We relied on just minimizing mistakes. Vince is a different type guy than Bradford, though. Vince has a lot of, I don't know how you would say it, potential to be this great quarterback. I think Bradford is more developed as far as knowing the game at the quarterback position. But Vince has a lot of things Bradford doesn't have. Bradford has things that he doesn't have.
"In the huddle, they are different. Vince would come in and be a little bit more nervous. He couldn't recite the plays as well. We would have to finish his sentences for him sometimes, whereas Bradford comes in and he's Joe Cool. He controls the huddle, real serious, real calm, knows the play verbatim. Vince might come in a little looser. He might be joking around, laughing. Two totally different guys.
"At the end of the day, they are both winners who came from winning programs. It's our job to keep him cool. You can tell when quarterbacks get hit and they get flustered, they are not the same guy. They are not cool, calm and collected. They are not joking around. They are just different people. That is a big thing for young quarterbacks, knowing they are protected, knowing that they don't have to carry the game, that we have a running back in
Steven Jackson
and in Tennessee we had
Travis Henry
,
Chris Brown
-- solid running backs and a good defense."
---
Billy Bajema, Rams tight end
Played with:
Alex Smith
and the 2005
San Francisco 49ers
Background:
Smith started seven games as a rookie. The team finished 4-12 overall. Smith completed 50.9 percent of his passes with one touchdown, 11 interceptions and a 40.8 rating
Bajema's take:
"Sometimes those things are so hard to put a finger on. Alex was smart and threw the ball well. I just think as an offense we struggled and it took us a while to get it going. To put a finger on why, it's tough to do. The most important thing is, as a team, rallying behind those guys, giving them the support. Every quarterback coming in faces a little bit of a learning curve. Some guys pick it up faster than others and are successful faster than others. Offensively, for the first couple years I was there, we were just kind of getting going.
"[Bradford] is going to be very good. Everybody is real excited about him. He puts it on the money, he is smart, he is a guy that everybody feels like is going to be a really good player. He's not a guy that is real loud and in people's faces, but he does a good job taking command when he is in the huddle, establishing who is in charge of the huddle. Everybody respects him and I think that is what is important, to just take command. He does a good job of that."
---
Jason Brown, Rams center
Played with:
Joe Flacco
and the 2008
Baltimore Ravens
[+] Enlarge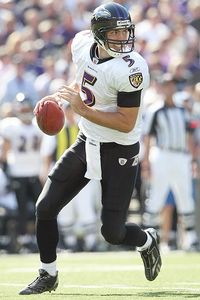 Nick Laham/Getty ImagesGetting quality reps in the preseason helped Joe Flacco as a rookie quarterback.
Background:
Flacco started all 16 games as a rookie. The team finished 11-5 overall. Flacco completed 60 percent of his passes with 14 touchdowns, 12 interceptions and an 80.3 rating
Brown's take:
"When we were in Baltimore with Flacco, they kept the starters in every preseason game in 2008 for three quarters, even the last one, when you expect, 'Oh, yeah, the starters, you go out there for a series.' No. We were out there for three quarters to make sure that young quarterback gets the quality reps and the protection he deserves so he can develop. You cannot get enough quality reps because when the season comes, there is no slowing down. That season, opening kickoff, is going to be there before you know it. That is our main focus now, making sure we get Sam some quality reps, same thing we did in Baltimore.
"The main thing I see in Joe, the same thing I see in Sam, it's just the poise that they bring. Of course, there is the great expectations for these highly drafted young quarterbacks coming out. There is a lot of pressure on them to get in early and compete. But yet I have seen both of them handle it in stride. Sam is a very, very, very mature young man. Very mature. The only thing I had to get on Sam about, and I kind of didn't want to tell him about it because I knew he would eventually break it, the first time, earlier this summer, when we were getting under center, I knew that Sam was nervous. You couldn't see it on his face, but I knew he was nervous because when he got under center and put his hand underneath my rear end, his hand was shaking. It was quivering. It was shaking. And of course, I didn't say anything, but it's a very awkward feeling for me as well when someone has their hand shaking underneath your rear end. It's funny, I'm telling you this, but I still haven't told it to Sam. But of course that was just like some of the first day, welcome to the NFL jitters. He hasn't done that for quite some time. He's human. He definitely is human.
"And us as offensive linemen, teammates, friends, the only thing we can do, the best thing we can do is to do our jobs the best that we can to make sure that he is comfortable back in the pocket and allowing him to develop as a young quarterback properly. That is the same pressure we put on us in Baltimore."
---
James Hall, Rams defensive end
Played with:
Joey Harrington
and the 2002
Detroit Lions
Background:
Harrington started 12 games as a rookie. The team finished 3-13 overall. Harrington completed 50.1 percent of his passes with 12 touchdowns, 16 interceptions and a 59.9 rating
Hall's take:
"Relative to Harrington, I think Sam probably has better God-given tools than Joey. Joey is a great guy, very professional. Sam is a great guy, very professional. From what I've heard about Sam, he has a little bit of a killer instinct. He is a competitor. He has come along real well in training camp. The sky is the limit for him. He has an accurate arm and a strong arm and so far has been making smart decisions. The guy is very confident, especially for a young guy. He seems very poised, doesn't seem rattled by anything, shaken, and that is always a great sign."
---
Hank Fraley, Rams backup center
Played with:
Brady Quinn
and the 2007
Cleveland Browns
Background:
Quinn started no games as a rookie. The team finished 10-6 overall. Quinn completed 3 of 8 passes for 45 yards and a 56.8 rating
Fraley's take:
"Sam, I know he is doing everything right. He is preparing himself, studying, he is poised in the huddle, he is doing it the right way. That is all you can ask. He is making the right reads. I think he is going to be a very good quarterback for a long time in this league based on what I have seen.
"He just comes out and works hard, he gets in his playbook, he is doing the film study, he gets with A.J. [Feeley], he gets with his coaches. He may have a good day today, but he wants to make sure he proves it tomorrow. He wants to stay consistent and that is how you become a better player. Just working with him, being in there at center with him, looking at blitzes and stuff like that, he wants to understand why they are blitzing that way or why they are lined up like that and what they can do out of it. Those are things he has asked me."
---
Fred Robbins, Rams defensive tackle
Played with:
Eli Manning
and the 2004
New York Giants
Background:
Manning started seven games as a rookie. The team finished 6-10 overall. Manning completed 48.2 percent of his passes with six touchdowns, nine interceptions and a 55.4 rating
Robbins' take:
"Sam is doing some good things, stepping right in, making good throws -- things you do not expect from a rookie. He's got a lot of eyes on him, but he stepped in and did some good things. What surprised me was just how quick he is picking up to the NFL tempo, the NFL speed and everything that way. He's stepping in and doing a good job and the things he does on the practice field make it seem like he is not a rookie. We have a veteran [in Feeley] and one of the best running backs in the game in Steven Jackson. That allows him to take a little pressure off himself. He has shown [in practice] he really can play. Once he gets that game speed against another team and gets that feel for it, he's going to do just fine."
August, 20, 2010
8/20/10
1:34
PM ET
ESPN.com NFL Power Ranking
(pre-camp): 32
EARTH CITY, Mo. -- The quivering hand pressed against
Jason Brown
's backside belonged to the first player chosen in the 2010 NFL draft.
Alas, the week before
St. Louis Rams
training camp was tough on quarterback
Sam Bradford
's nerves.
The No. 1 overall draft choice could not be sure when his agent and the team would reach a contract agreement, and by the time Bradford finally arrived, the other quarterbacks had a couple days' head start on him. All eyes were on the franchise savior from Oklahoma when Bradford lowered himself under center for the first time during camp.
Bradford might have appeared cool and in command from afar, but one veteran teammate had a better, uh, feel for the situation.
"You couldn't see it on his face, but I knew he was nervous because when he got under center and put his hand underneath my rear end, his hand was shaking -- it was quivering," Brown said. "And of course, I didn't say anything, but it's a very awkward feeling for me as well when someone has their hand shaking underneath your rear end."
Brown didn't say anything to Bradford because he figured the quarterback would settle down quickly. Bradford did, and he appears well on his way to earning the starting job heading into the regular season.
[+] Enlarge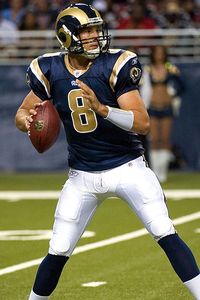 Scott Rovak/US PresswireSam Bradford's teammates appear to be confident the quarterback can hold his own as a rookie.
In fact, if anyone has reason to quiver at this point in camp, it's the defensive backs trying to defend passes they sometimes do not see coming -- as when Bradford laced one between
Oshiomogho Atogwe
and
Craig Dahl
before the safeties even turned around. It's not Bradford's accuracy or timing that have caught defensive backs' attention so much as the combination of those all-important quarterback traits. Early indications suggest the Rams could have the best quarterback in the division sooner rather than later.
"You see a lot of greatness in him -- what he brings, his skill set, very talented, very intelligent," Atogwe said.
Several of Bradford's teammates have experience breaking in first-round quarterbacks elsewhere. Brown (
Joe Flacco
), tight end
Billy Bajema
(
Alex Smith
), center
Hank Fraley
(
Brady Quinn
), defensive end
James Hall
(
Joey Harrington
), defensive tackle
Fred Robbins
(
Eli Manning
) and guard
Jacob Bell
(
Vince Young
) pointed to Bradford's maturity, intelligence, competitiveness, demeanor and accuracy.
The way they freely praised Bradford suggested genuine excitement, not the obligatory kind.
"I played with Steve McNair [in Tennessee] and with
Ben Roethlisberger
[at Miami (Ohio)]," Bell said, "and I thought, 'This guy, the way he throws the ball, man, I haven't seen anybody in person like that on the practice field, ever.' "
THREE HOT ISSUES
1. When will Bradford become the starter?
It's an upset if Bradford isn't the No. 1 quarterback from the beginning of the regular season even though veteran
A.J. Feeley
remains the starter for now. Feeley and Bradford are sharing first- and second-team reps in practice. The team doesn't want to rush Bradford, but all signs point to the rookie grasping the offense quickly. The Rams think he's mature enough to handle what figures to be a rough rookie season. Why delay the inevitable if Bradford is looking good?
2. Can this team defend the pass?
The Rams appeared to beef up the middle of their defense by adding Robbins, but the NFL is a passing league and the Rams could struggle to get pressure consistently. They have two pass-rushers --
Chris Long
and Hall -- and their secondary has battled injuries throughout camp. Long should continue his improvement. Hall's sacks fell off to 4.5 last season as he transitioned from backup to starter. He is 33 years old.
Kevin Dockery
has exceeded expectations at cornerback, where rookie
Jerome Murphy
has also shown promise. But with Atogwe still rounding into form following injury, the secondary is a bit of a question mark.
[+] Enlarge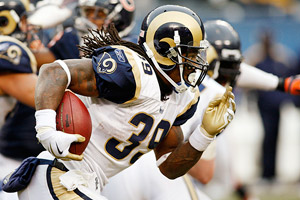 Jerry Lai/US PresswireSteven Jackson's health remains instrumental in the Rams' success this season.
3. What happens if Steven Jackson gets hurt again?
The Rams do not have a proven running threat behind Jackson, even though 2009 seventh-round draft pick
Chris Ogbonnaya
performed well against the
Arizona Cardinals
late last season. Ogbonnaya might be a good third-down back because he protects the passer well and can catch the ball, but the Rams could be in trouble if they needed a starter to replace Jackson for a few games. Jackson appears fully healthy so far, but he's coming off back surgery.
Brian Westbrook
's decision to sign with the 49ers hurt, but the Rams saw him mostly as a third-down back at this stage of his career, anyway. Expect the Rams to monitor the waiver wire for running backs as teams reduce to 53 players on Sept. 4.
BIGGEST SURPRISE
Danny Amendola.
There's enough uncertainty at receiver for this position to qualify under the "Hottest Questions" heading, but Amendola appears to have found a home as the slot receiver in the Rams' personnel groupings with more than two wideouts. Injuries forced Amendola to play multiple positions last season. Camp practices have convinced me -- and the Rams -- that Amendola's quickness can make him a threat. Said Feeley: "He has polished his game. Some of these guys discover themselves after a year of playing and realizing what they can do. The guy is a special player. The guy is going to make plays and have a lot of catches this year ... a poor man's
Wes Welker
trying to establish himself. He fits that mold right now. The guy is cat quick."
BIGGEST DISAPPOINTMENT
Offensive line continuity.
The way the Rams' line struggled during the exhibition opener against Minnesota was deceiving. Rookie
Rodger Saffold
was making his first start at left tackle (against
Jared Allen
, no less). Right tackle
Jason Smith
had only recently returned from injury and the team knew he might wear down as the game progressed. Brown was filling in at right guard. These mitigating factors point to a broader problem: continuity. Only this week have the Rams gotten their projected starting five linemen on the field together. That must change as the Bradford era gets under way.
OBSERVATION DECK
[+] Enlarge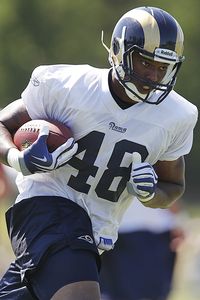 AP Photo/Jeff RobersonTight end Fendi Onobun has made a positive impression in camp.
Multiple fights broke out during a recent Rams practice and that has to be a welcome sign for a team without enforcer types. The Rams have spent the past couple of years putting into place building-block players with apparently solid character. Long, Smith and James Laurinaitis qualify as "safe" draft choices along those lines. The team has now added some veteran seasoning -- think Robbins, Feeley, Na'il Diggs and Fraley -- but there's still something missing. The next step for St. Louis could be to add some players with a few rough edges. The best teams tend to have a few good players teammates fear. The Rams need more of them.

Jackson rehabbed from back surgery with a vengeance and he's looking strong as ever. Jackson also sounds happy. He clearly appreciates coach Steve Spagnuolo's evolving approach to training camp. Spagnuolo polled coaches and players anonymously for ideas after last season. Some complained that a tough 2009 training camp featuring live tackling left the team with weary legs heading into Week 1. Spagnuolo listened, putting limits on some of the contact and giving players more time between practices. Longer term, Spagnuolo wants to reach a point where young players know how to practice without the staff having to manufacture intensity.

Looks like the Rams might find a role in their offense for rookie tight end Fendi Onobun. Considered a project coming out of college, Onobun has shown he's further along than the Rams anticipated. The leaping end-zone grab he made in practice this week wasn't out of the ordinary for Onobun. Rookies often must contribute on special teams to earn spots on the 45-man game-day roster. Onobun made a positive impression as a gunner in the exhibition opener.

Rookie receiver Mardy Gilyard will bring needed swagger if his body holds up. Gilyard has his own style and doesn't seem to worry about what others think. He practices wearing abbreviated gym shorts over bicycle shorts for a distinctive 1980s look. Gilyard has stepped up his production in practice this week. An arm injury remains a potential concern.

Long appears more comfortable with himself and his status on the team. As a rookie and even last season, I sensed Long felt the pressure of being a No. 2 overall draft choice, to the point that he sometimes sounded apologetic about it while finding his way as a pro. Long showed obvious improvement late last season, however, and he appears to be asserting himself more readily. He played a prominent role in recent camp fights and called out Bajema for chipping him unexpectedly.

After last season, the Rams were thinking receiver Brandon Gibson might develop into an important part of their offense. They can't be so sure at this point because Gibson has missed an extended period with a hamstring injury. The Rams need Gibson to get on the field and produce during preseason. The team is cautiously optimistic about some of its prospects at receiver, but injuries were a concern last season. Donnie Avery, who bulked up this offseason to become more durable, took a hard shot in practice and came back strong the next play. Rookie free agent Dominique Curry has great size (6-foot-2, 224 pounds) and stood out at times. But I sense the Rams' fingers are crossed at this position. "If they play to their ability, we'll be OK," general manager Billy Devaney said.

Atogwe dropped multiple interception chances in practice, which is unusual for him. He's among the team's more conscientious players, though. Atogwe stayed after every practice I watched to work on catching passes. He was the last guy out there.

The Rams hoped to get something from linebacker Bobby Carpenter after acquiring him from Dallas in the Alex Barron trade. That's a tough sell at this point. Carpenter isn't working with the starters. The first time I noticed Carpenter in practice was when someone knocked him on his back.
August, 17, 2010
8/17/10
1:04
PM ET
EARTH CITY, Mo. --
Chris Long
was still recovering from a couple of brawls at
St. Louis Rams
training camp when tight end
Billy Bajema
planted him on his backside.
Three words come to mind: to be continued.
"To be honest, that was bull----, so I can't wait to get my shot back on 'Baj'," Long said. "Tired as hell from two fights and then somebody wants to chip you. That's the way you're going to handle it? OK, we'll see."
Where's boxing promoter Don King when you need him? King visited the Rams early in camp when he was promoting a local card. He would have had great material Tuesday. It was that kind of morning as the Rams conducted a padded practice at team headquarters. Falling temperatures could not hold off rising tempers.
The Rams were downright ornery, and who could blame them? They're a couple weeks into training camp, they're coming off a rough game against the
Minnesota Vikings
and they're not the happiest team, anyway.
"You're in a bad mood -- you should be," Long said. "We were 1-15 last year. We're pissed off."
Long's main event with right tackle
Jason Smith
turned into an all-out melee when defensive tackle
Brandon Gibson
, having already fought with veteran center
Hank Fraley
, got a little too aggressive for
Steven Jackson
's liking. Jackson, the Rams' Pro Bowl running back, went after Gibson with a vengeance and ripped off the 300-pounder's helmet.
Smith, meanwhile, had taken Long to the ground near the offensive sideline.
"He's a big, strong dude," Long said. "He like wrestles cows and stuff like that. He got me on the ground. For the record, though, I ended up on top. You just couldn't see it with all that white (jerseys worn by offensive players who rallied to Smith's cause). They surrounded us over there."
Long and Smith talked things through once the fight dispersed.
"Let's not fight any more," Smith said.
"Well, don't hold onto me after the play," Long said.
The two patted one another on the head and moved on.
"Jason and me are cool," Long said. "We're both trying to get better. We get along great and compete really well."
As with most camp brawls, these resulted from players enforcing unwritten rules. If a line is crossed, the victims must fight back to maintain order.
Some unfinished business lingered, however. Long was still catching his breath following the fights when Bajema caught him off-guard. Long went down hard.
"He was probably a little worn out and then I got a chip on him without him seeing it," Bajema said. "That's just one of those things. I think he was a little worn out and didn't like that too much, but I caught him at a good time."
It's probably fortunate the Rams aren't wearing pads for their practice Tuesday night.
August, 15, 2010
8/15/10
4:02
PM ET
Coach Steve Spagnuolo told reporters Sunday that the
St. Louis Rams
' inability to pass protect effectively Saturday night stands as a "concern" -- and that protection issues will likely influence whether the team goes with
A.J. Feeley
or rookie
Sam Bradford
as its starter.
"Probably, yes," Spagnuolo said during a conference call. "Really, offense begins with the offensive line. I've been saying it since we got here. I know the offensive line understands that, and until we straighten out some of these things, it's going to be tough for any quarterback. My guess is that the group of offensive linemen that we have, that they'll take this challenge."
The more experienced Feeley might be more apt to start for the Rams early in the season if Spagnuolo still had concerns about protection.
The Rams experimented with a new combination up front Saturday. They moved center
Jason Brown
to guard because they thought his size would help against a 4-3 defense with massive tackles. Veteran
Hank Fraley
played center. Left guard
Jacob Bell
was injured and not available.
Spagnuolo said he expects second-year right tackle
Jason Smith
to improve as he gets more practice and game reps. Smith has missed time after suffering a broken toe during June camps. He struggled in protection against the Vikings. Rookie left tackle
Rodger Saffold
gave up a couple pressures to the inside, Spagnuolo said, but overall the Rams were happy with his performance under the circumstances (first preseason game,
Jared Allen
at defensive end for the Vikings).
Spagnuolo on Smith: "The comment I made this morning was, 'He just needs a thousand reps.' He's behind everybody else in that regard, and all of a sudden you put him out in a game and the speed of the game is completely different. So I think he'll smooth that out. I don't think there's any concern there. He played well there over on the right side about four or five games in the middle of the season last year, so hopefully he can get back in that groove."
July, 25, 2010
7/25/10
12:20
PM ET
The St. Louis Rams
' interest in
Terrell Owens
makes sense because the Rams lack proven talent at receiver, lack star quality and need to sell tickets.
But if the team does sign a player with the baggage Owens brings, it's tougher for general manager Billy Devaney and coach Steve Spagnuolo to say they're building a team the right way. It's easier to say they're desperate and feeling pressure amid a pending ownership change. And who could blame them?
[+] Enlarge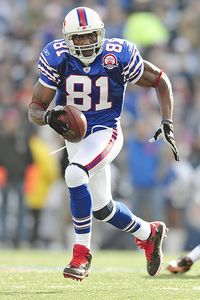 Ed Wolfstein/Icon SMITerrell Owens is familiar with the offense the Rams run.
Signing Owens was a desperation move when the
Buffalo Bills
added the former Pro Bowl receiver last offseason. The Bills were starving for talent and relevance. Signing Owens gave them instant gratification. Owens lasted one season in Buffalo and the organization gained nothing for the long term. The Bills' record worsened, they scored substantially fewer points and they fired their head coach during the season.
The Rams are an interesting study. They went young last season as they tried to establish Spagnuolo's program. They've added seasoning to their roster this offseason, picking up
Hank Fraley
,
Fred Robbins
and other veterans. They shipped out one of their five best offensive linemen,
Alex Barron
, ostensibly because Barron's frequent penalties, inconsistent play and questionable dedication didn't fit with what the Rams were attempting to build. They wanted to build with the right types of guys.
Owens wouldn't seem to fit the mold. He has at times spoken from frustration in ways disruptive to the team. Spagnuolo and Rams offensive coordinator Pat Shurmur were with the Eagles when Philadelphia suspended Owens for conduct detrimental to the team. Owens had said he thought the Eagles would have been better off with
Brett Favre
at quarterback instead of
Donovan McNabb
, implying that Favre was tougher. Imagine what Owens might say about
Sam Bradford
after a few rookie mistakes.
Owens does work hard. He would instantly become the best receiver on the team even though his skills have eroded.
Signing Owens could work for the Rams on a few counts:
The lack of interest in Owens this offseason gives his next team more leverage to make sure Owens joins that team on the team's terms. Owens would not be getting a lucrative long-term deal. The Rams could release him if Owens didn't live up to their expectations.

The Rams might feel as though they have strong enough veteran leadership now to welcome a powerful personality to their locker room without jeopardizing the values they've sought to instill. Spagnuolo and Shurmur are already familiar with Owens from their days in Philadelphia. Fraley is also among current Rams familiar with Owens.

That familiarity works both ways. The Rams are running the offense Philadelphia ran when Owens played for the Eagles. He would know more about the offense than quite a few Rams players.
It's still quite possible Owens is using the Rams to leverage a better deal from another team. ESPN's Chris Mortensen reported that the
Cincinnati Bengals
are another option. If Owens preferred the Bengals to the Rams -- and that would make sense based on the Bengals' superior prospects for 2010 -- it would serve him if the Bengals thought the Rams were ramping up efforts to sign him.
"One source said the Rams have gotten very aggressive in their pursuit of Owens and it's possible that Owens will sign with the Rams or Bengals within the next 48 to 72 hours," Mortensen reported.
Owens is obviously desperate. The Rams should be desperate, too.
Adding Owens would make the Rams more interesting and more talented. I just don't see any reason for Owens to end his career with a rebuilding team -- unless it's the only job he can get.
The chart shows where Owens' 2009 stats ranked compared to NFC West receivers.
May, 7, 2010
5/07/10
12:02
PM ET
While every NFC West team can legitimately claim to having a successful offseason on some level, I can see why ESPN's John Clayton ranked the Seahawks' offseason as
the NFL's fifth best to this point
.
Seattle was dealt a strong offseason hand -- two of the top 14 picks in the 2010 draft -- and the team generally made the most of it.
My quick take on NFC West offseasons to this point:
Arizona Cardinals

What went right:
Nose tackle
Dan Williams
fell to Arizona at No. 26 in the draft. ... Nine-time Pro Bowl guard
Alan Faneca
, a player the team had coveted, suddenly became available. The Cardinals were able to sign him at an affordable price. ... The team got value for receiver
Anquan Boldin
a year before Boldin likely would have left anyway. ...
Darnell Dockett
reported for the post-draft camp and participated, an indication he feels the team is closer to rewarding him with a long-term deal. ... The team extended contracts for coach Ken Whisenhunt and general manager Rod Graves, buying continuity.
What went wrong:
Kurt Warner
retired. ... A poorly structured contract allowed safety
Antrel Rolle
to get away after the first Pro Bowl season of his career. ... Linebacker
Karlos Dansby
signed with the Dolphins even though the Cardinals' offer was competitive. ... The Rams released
Marc Bulger
late enough to make it tough for the Cardinals to consider adding a player they might have otherwise signed. ... Losing Warner and Boldin deprived the team of established leadership.
The bottom line:
There wasn't much Arizona could do about Warner's retirement, but that subtraction -- followed by the departures of Rolle, Dansby and Boldin -- put the team in a tough situation. The Cardinals rebounded, adding safety
Kerry Rhodes
, outside linebacker
Joey Porter
, Faneca, guard
Rex Hadnot
and linebacker
Paris Lenon
in free agency. They felt great about landing Williams in the first round of the draft, and they had a fallback plan when talks with kicker
Neil Rackers
went nowhere. Those moves allowed Arizona to feel better about a tough offseason.
San Francisco 49ers

What went right:
The 49ers addressed obvious issues on the offensive line through the draft. ... Mike Solari, the perfect line coach for offensive coordinator Jimmy Raye, suddenly became available when the Seahawks fired Jim Mora after only one season. Solari is among the best in the game and he worked with Raye previously. ... The team found a way to extend
Patrick Willis
' contract despite hurdles put in place by the NFL labor situation. ... The Dolphins' acquisition of
Brandon Marshall
made
Ted Ginn Jr
. expendable in Miami, furnishing the 49ers with an option for their return game and possibly at receiver. ... Director of player personnel Trent Baalke, thrust into a more prominent role shortly before the draft, appeared to be a good match for coach Mike Singletary. The two had developed a rapport over the years when Singletary was a position coach, and that paid off immediately.
What went wrong:
General manager Scot McCloughan left the team for personal reasons only five weeks before the draft. ... Willis required knee surgery to remove a bursa sac. ... Depending on your view of
Donovan McNabb
, the 49ers arguably missed a chance to add a quarterback capable of putting the team over the top. ... Linebacker
Manny Lawson
stayed away from minicamps and offseason workouts because he wants a new contract.
The bottom line:
The paragraph on what went right vastly outweighs the paragraph on what went wrong. The 49ers must have had a pretty good offseason, then. They stayed the course through McCloughan's departure. On the field, they made continuity a high priority. They re-signed Willis and stood by quarterback
Alex Smith
. The decision at quarterback will largely determine whether the 49ers truly enjoyed a successful offseason, but no matter what happens, their reasoning was understandable. Smith made strides last season and the team was finally in position to keep the same quarterback and offensive coordinator together in consecutive years.
Seattle Seahawks

What went right:
The draft fell favorably for Seattle, allowing the team to land left tackle
Russell Okung
and safety
Earl Thomas
in the first round. Getting
Golden Tate
in the second round seemed like a bonus. ... New coach Pete Carroll and new general manager John Schneider have so far worked well together. Their rapport appears uncannily strong. ... Carroll was able to land highly regarded assistant coaches, including Alex Gibbs. ... The team added depth at running back without giving up much.
Leon Washington
has the potential to add a needed element to the offense ... First-round bust
Mike Williams
showed promise during minicamps. ... Cornerback
Marcus Trufant
appeared healthy again.
What went wrong:
The team felt compelled to hire its third head coach in less than two years. ... Age and injuries forced
Walter Jones
and
Patrick Kerney
into retirement. ... It's too early to say whether Seattle erred in adding
Charlie Whitehurst
, but the team arguably overspent for an untested backup quarterback. The move later prevented the Seahawks from considering
Jimmy Clausen
in the second round. ... Linebacker
Leroy Hill
suffered additional off-field problems, reducing his value to the Seahawks or any team looking to add a linebacker via trade. ... Seattle struck out in its efforts to land Marshall from the Broncos. ... Receiver
Deion Branch
needed another knee surgery, albeit a minor one.
The bottom line:
Seattle moved aggressively to shore up weaknesses from the front office to the playing field. That's what it takes to be perceived as having a successful offseason. We should remember, however, that the Seahawks spent quite a bit of the offseason subtracting from their roster. Teams that change coaches and GMs will have roster turnover, but are the Seahawks better in the immediate term without
Nate Burleson
,
Deon Grant
,
Darryl Tapp
,
Cory Redding
,
Rob Sims
and even
Seneca Wallace
? Change comes at a price.
St. Louis Rams

What went right:
The Rams had to get a quarterback and they got one in
Sam Bradford
. ... Bradford's shoulder checked out well enough during the offseason for the Rams to consider drafting him. ... Minority owner Stan Kroenke, a man with deep pockets and a strong track record in sports team ownership, declared his intention to keep the team in St. Louis after exercising an option to buy the franchise. ... The Rams maintained continuity of the coaching staff on offense, defense and special teams after years of turnover. Continuity was needed. ... The Rams needed veteran seasoning and they got it by adding veterans familiar with their systems.
Fred Robbins
,
Na'il Diggs
,
Hank Fraley
and
A.J. Feeley
should help even if they do not start.
What went wrong:
The Rams' best player,
Steven Jackson
, underwent back surgery when rehabilitation alone wasn't enough to recover from a herniated disk. ... Safety
Oshiomogho Atogwe
's injury situation combined with two other factors -- a pending ownership change and new rules governing free agency -- to complicate the Rams' efforts to retain their former franchise player. Atogwe can become a free agent next month if the Rams do not increase their offer to him from $1.226 million to nearly $7 million. ... Ownership uncertainty made it harder for the Rams to act decisively throughout the offseason. The Rams' offseason budget lacked the flexibility it would have otherwise had. Should the team have made a play for Marshall or another big-name free agent? The Rams' hands appeared somewhat tied.
The bottom line:
The Rams put in place building blocks for their future, starting at quarterback. Their offseason will be judged almost entirely on whether Bradford becomes the player the Rams thought they were getting. Simple as that.
July, 22, 2009
7/22/09
12:30
PM ET
Posted by ESPN.com's James Walker
As players in the AFC North begin reporting to their teams as early as Friday, several will be feeling a great deal of pressure to perform. With that in mind, here are top seven players on the hot seat in the division during training camp:
7. Limas Sweed, WR, Pittsburgh Steelers
Why: The Steelers and Sweed are chalking up last year's mistakes and dropped balls to a rookie learning curve. But in his second year, Sweed, a former second-round pick, has no additional excuses to fall back on. With the departure of Nate Washington to the Titans as a free agent, the No. 3 receiver position is there for the taking. Sweed has the physical tools to succeed, but will he be mentally prepared this year for the NFL grind?
6. Hank Fraley, C, Cleveland Browns
Why: Nothing gets a seat warmer than management drafting a player in the first round as your replacement. That is the case for Fraley, who as the incumbent is working hard to fight off rookie Alex Mack from California. At some point Mack will step in and take over the position for the long term. But it will be up to the veteran Fraley to determine if that happens in the distant or immediate future, setting up an intriguing position battle in Cleveland between experience and youth.
5. William Gay, CB, Pittsburgh Steelers
Why: The coaching staff has liked the gradual development of Gay for the past couple of seasons, and 2009 will be the grand unveiling of one of Pittsburgh's favorite projects. Gay has been solid as a reserve and a part-time starter in the past. But he's making a significant jump as an expected permanent fixture in the starting lineup. Opponents are going to be hard-pressed to find any weak links in Pittsburgh's defense, which finished No. 1 in the league last season. So expect teams to test Gay early and often this preseason to see where he stands among the wealth of talent behind the Steel Curtain.
4. Roy Williams, S, Cincinnati Bengals
Why: It had to be a shot to the former Pro Bowler's ego when just about every team passed on Williams during the first month of free agency. Williams was once one of the league's most intimidating defenders, but teams had little interest in a safety who has as much of a reputation for giving up big pass plays as he does for making big hits. The Bengals gave Williams an opportunity because of his prior relationship with defensive coordinator Mike Zimmer during their time with the Dallas Cowboys. But Williams will have to show he's still worthy of a starting job, and he's competing with a young up-and-comer in Chinedum Ndukwe, who expects to push Williams to the limit.
3. Mark Clayton, WR, Baltimore Ravens
Why: As a former first-round pick who never quite lived up to expectations, Clayton's seat was already warm entering the 2009 season. But the sudden retirement of top receiver Derrick Mason has raised the temperature for Clayton significantly. As of right now, Clayton is the team's top returning target for second-year quarterback Joe Flacco. But that could change. Baltimore plans to meet with Mason soon and/or probably will attempt to sign a veteran free agent to upgrade the position. The Ravens enter the season with high aspirations following an AFC title game appearance, and Clayton will play a major role in the team's success whether Baltimore adds a receiver or not.
2. Andre Smith, RT, Cincinnati Bengals
Why: Most people would consider it a surprise if Smith, who is still unsigned, makes it to training camp on time. That remains to be seen. But what's most important is that Smith lives up to his lofty billing and contract that comes with being the sixth overall pick. Because the Bengals switched Smith to right tackle, the rookie probably will become one of -- if not the -- highest-paid players at his position. Last year, No. 6 pick Vernon Gholston of the New York Jets received a contract that maxed out at $50 million. Smith's contract will exceed that amount this summer. It proves how much Cincinnati values protecting franchise quarterback Carson Palmer, who has suffered two season-ending injuries (knee, elbow) in the past four seasons. Last year Palmer (broken nose) couldn't even make it through the preseason unscathed. Smith is there to ensure that won't be the case again this summer.
1. Brady Quinn, QB, Cleveland Browns
Why: A Columbus, Ohio, native, Quinn has waited for the chance to be the Browns' starting quarterback most of his life, and this is his best shot to do it in his third season. Can the Notre Dame alum develop into a franchise NFL quarterback? Two years in, no one knows for sure. Quinn has received little playing time and was up and down in his three starts in 2008. He finished with 518 yards, two touchdowns, two interceptions and a 50.6 completion percentage before breaking a finger on his throwing hand. Now Quinn is healthy and the pressure is on the 2007 first-round pick to beat out former Pro Bowl quarterback Derek Anderson, who also wants the starting job.
| | |
| --- | --- |
| | |
| | Joe Robbins/Getty Images |
| | Brady Quinn and Derek Anderson will compete for the starting quarterback job during Cleveland's training camp. |
Posted by ESPN.com's James Walker
As the weather heats up, it's time to start looking ahead to this summer's NFL training camps.
The AFC North should be very interesting as several key position battles could make or break a team's 2009 season. Here is a look at the seven most intriguing competitions from around the division:
7. Cornerback: William Gay vs. field
Team: Pittsburgh Steelers
Why it's important: With a veteran-laden team that returns 20 of 22 starters, Gay is the only projected starter in any real danger of losing his job in training camp. All indications are that the job is his to lose. The Steelers signed veteran cornerback Keiwan Ratliff and drafted rookies Keenan Lewis and Joe Burnett to provide depth and possibly be there in case Gay falters. But the organization has shown a lot of confidence in Gay since last season when he filled in for former Steeler Bryant McFadden, who signed a two-year deal with the Arizona Cardinals. Gay worked exclusively with the first team in Pittsburgh's full-squad minicamp.
Early favorite: Gay
6. Kicker: Steve Hauschka vs. Graham Gano
Team: Baltimore Ravens
Why it's important: According to Ravens coach John Harbaugh, this kicking competition in Baltimore is going to be "very interesting." Perhaps Harbaugh, a former special-teams coach, is overhyping this battle. But what is interesting is Baltimore is looking for just its second full-time kicker in franchise history. The position was held since the Ravens' inception in 1996 by veteran kicker Matt Stover. But Stover's age (41) finally started to show last season and opened the door for Hauschka and Gano to compete this year. Both young kickers have strong legs, but so far this offseason Hauschka and Gano haven't displayed Stover-type accuracy. If neither kicker comes into his own this summer, things might get "very interesting," as Harbaugh promised.
Early favorite: Even
5. Center: Alex Mack vs. Hank Fraley
Team: Cleveland Browns
Why it's important: This is a classic battle between a first-round pick and an experienced veteran who's started for winning teams and played in the postseason. Mack comes to Cleveland with lofty credentials and expectations. He's strong, smart and expected to be a starter from Day 1. The only person standing in his way is Fraley, 31, who's done a solid job in his two stops with the Browns and Philadelphia Eagles. That Cleveland's new regime, led by coach Eric Mangini, took a center in the first round is a sign that Mack is the favorite to win the job. But if Fraley finds a way to hold the rookie off in training camp, Mack has the versatility to play guard, most likely on the right side.
Early favorite: Mack
4. Linebacker: Rey Maualuga vs. Brandon Johnson
Team: Cincinnati Bengals
Why it's important: Cincinnati's defense, which was ranked No. 12 in 2008, is trying to take another step forward. In order to do this, dynamic linebacker play will be crucial. Maualuga fell to the Bengals in the second round because of several off-the-field questions surrounding the former USC linebacker. But no one questions that Maualuga is a first-round talent on the field. The issue with the Bengals is that Maualuga, a natural middle linebacker, cannot supplant leading tackler and defensive leader Dhani Jones this year. So Maualuga needs to supplant Johnson, the outside linebacker, if he wants to play right away as a rookie. Johnson is no slouch, either. He recorded 83 tackles, two interceptions and came on late last season. Rashad Jeanty, who started 15 games last year, also is a possibility at the other outside linebacker spot. Regardless, the trio of Jones, Keith Rivers and Maualuga/Johnson/Jeanty should make for a solid group of linebackers in Cincinnati.
Early favorite: Even

3. No. 2 receiver
Team: Browns
Why it's important: Someone needs to help No. 1 receiver Braylon Edwards. The long list of candidates includes veterans David Patten, Mike Furrey, and rookies Brian Robiskie and Mohamed Massaquoi. Donte' Stallworth also remains on the roster. But based on Cleveland's roster moves, it appears the Browns expect Stallworth's legal situation to keep him out this season. With the loss of former Pro Bowl tight end Kellen Winslow Jr., Edwards is Cleveland's only real receiving threat and he likely will see a lot of double teams. That will provide plenty of opportunities for Patten, Furrey, Robiskie or Massaquoi to make plays. But it remains to be seen if these players have the ability to step up.
Early favorites: Patten and Robiskie
2. ILB: Tavares Gooden vs. Jameel McClain
Team: Ravens
Why it's important: The "bodyguard" role in Baltimore's defense is underrated but very important. There is a reason safety Ed Reed and linebackers Ray Lewis and Terrell Suggs are able to fly around the field and make plays. It's because the inside linebacker opposite Lewis, formerly the ultra-physical Bart Scott, takes on fullbacks and pulling offensive linemen at every chance. Now the Ravens are looking at Gooden or McClain as Scott's replacement. Both young players have good athleticism. But ultimately, the player who is the most physical will win this job. Gooden opened veteran minicamp as the starter, so you have to give him the edge heading into this summer.
Early favorite: Gooden
1. QB: Brady Quinn vs. Derek Anderson
Team: Browns
Why it's important: The Mangini era in Cleveland, in large part, will depend on his decision at quarterback. An antsy fan base in Cleveland is tired of waiting for a winner and will not give Mangini four years to turn it around. Therefore, the best thing Mangini can do is figure out quickly which player is the better quarterback. It's been three seasons and the Browns still haven't settled this debate. Anderson showed flashes with his Pro Bowl campaign in 2007, but his struggles last year left many questions. Quinn, a former first-round pick, looked up and down in limited playing time. Ironically, the two never directly competed against each other -- until now. According to the coaching staff, both players will be given a fair opportunity. But Cleveland's offensive system under Mangini is being built around a power running game and an efficient and conservative passing game, which seems to favor Quinn.
Early favorite: Quinn
April, 25, 2009
4/25/09
6:51
PM ET
Posted by ESPN.com's James Walker
BEREA, Ohio -- The first pick of the Eric Mangini era is a center?
After stockpiling three additional picks and three players along the way, the Cleveland Browns finally selected University of California center Alex Mack with the No. 21 overall pick in the NFL draft.
The Browns definitely coveted draft picks more than any particular player because they want to infuse new energy into their roster. Cleveland traded the No. 5 pick to the New York Jets, then shipped the No. 17 pick to the Tampa Bay Buccaneers and finally the No. 19 pick to the Philadelphia Eagles.
Although Mack is considered by some to be the best center in the draft, taking him at No. 21 could be considered a reach. Mack also was a target of the Pittsburgh Steelers and Cincinnati Bengals late in the first round and early in the second round. Mack said he expected to be selected somewhere in the range of No. 20 on the high end and No. 40 on the low end.
Mack will compete with current starter Hank Fraley at center and has versatility to play guard as well.

NFL SCOREBOARD
Thursday, 9/11
Sunday, 9/14
Monday, 9/15
WEEKLY LEADERS