July, 11, 2014
Jul 11
10:00
AM ET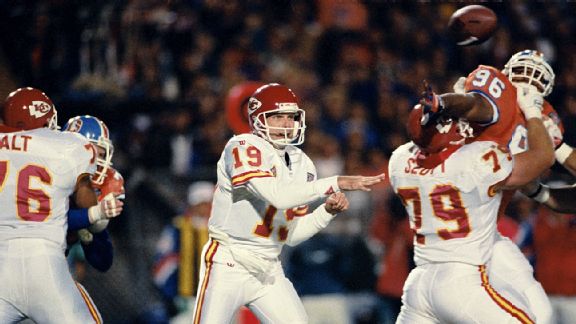 Joseph Poellot/Getty Images
Score:
Chiefs 31, Broncos 28
Date:
Oct. 17, 1994
Site:
Mile High Stadium
To me, settling on the three most memorable plays in
Kansas City Chiefs
' history was the difficult part. Picking just three meant leaving hundreds that were also memorable -- some positive and others negative -- behind.
The voters picked
Joe Montana
's late touchdown pass to
Willie Davis
as the Chiefs' most memorable play. The play lifted Kansas City to a dramatic win over
John Elway
and Denver in 1994 in one of the greatest Monday night games ever. The voting was tight -- with my choice, Otis Taylor's Super Bowl clinching touchdown, falling by two percentage points.
To me, choosing Taylor's TD as the most memorable play in the franchise's 54-season history really wasn't that difficult.

As great as Montana's TD throw and 65 Toss Power Trap might have been, they weren't quite to the level of Taylor's catch and run down the sideline for a 46-yard score in the Chiefs' only Super Bowl victory. That play wrapped up a 23-7 victory over the
Minnesota Vikings
and -- other than perhaps the final out of the
Kansas City Royals
' only World Series championship in 1985 -- might represent the greatest moment in Kansas City's sports history.
Let me put it another way: If you're a Chiefs fan, I defy you to watch the video of Taylor's catch and run and not get chills.
Taylor's touchdown isn't as storied as the Chiefs' other touchdown that day, Mike Garrett's 5-yard scoring run. That touchdown remains a big part of Chiefs history and not just because of its significance. The play known as 65 Toss Power Trap is also celebrated in Chiefs' lore because Stram, who was being recorded by NFL Films, announced it was coming and celebrated it after Garrett's touchdown.
But Taylor's TD was far more dramatic. While the Montana-to-Davis touchdown carried plenty of drama, it happened during an October game during a season in which the Chiefs would eventually finish 9-7.
July, 31, 2013
7/31/13
8:00
AM ET
Curley Culp knows he's an NFL name of the past.
He knows there are a couple of generations of NFL fans who might not know who he is. But it doesn't matter, because on Saturday Culp will officially become an NFL immortal when he is inducted into the Pro Football Hall of Fame. Culp was a Senior Committee nominee.
Culp played for the
Kansas City Chiefs
from 1968-74. He went on to play seven seasons in Houston and two more in Detroit, but he became known as a dominant interior defensive lineman while with the Chiefs.
Culp, who won the NCAA heavyweight wrestling title while at Arizona State, was a unique player. In the Chiefs' Super Bowl IV win against Minnesota, Hall of Fame coach Hank Stram put Culp over the center, which opened up plays for future Hall of Famers Buck Buchanan and Willie Lanier. Many people credit it for the beginning of the 3-4 defense.
At 67, Culp is a member of the Chiefs' Hall of Fame, and he has close ties with the organization.
While the spotlight Saturday will be on NFL household names such as Warren Sapp, Cris Carter and Bill Parcells, Culp, who runs a car service in Austin, Texas, knows he will be a blast from the past when his son Chad presents him into the Canton, Ohio, museum.
"To me, it seems just yesterday," Culp said in a July phone interview. "But it's been four decades. That's a long time. I'm just very grateful to get this honor. It crosses my mind at least once or twice a day. I realize what an honor it is, and it's very exciting to know that it is finally coming."
June, 10, 2013
6/10/13
12:00
PM ET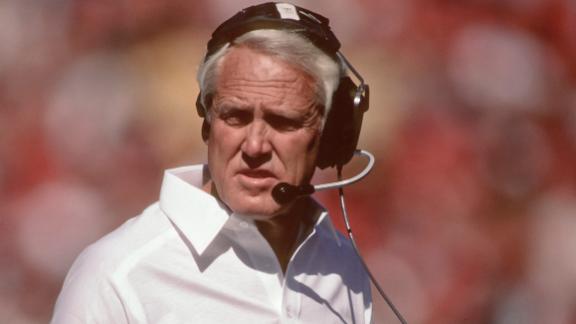 Bill Walsh checks in at No. 2
on ESPN's list of
Greatest Coaches in NFL History
, leaving the as-yet-unnamed Vince Lombardi as the obvious No. 1.
Walsh, of course, led the San Francisco 49ers to three of their five Super Bowl victories. He revived the franchise with a blueprint that became standard operating procedure across the league. He blazed trails in minority hiring and produced a coaching tree with branches still growing in the game today.
I highly recommend checking out
Seth Wickersham's piece on Walsh
from January. Wickersham focused on the coaching guide Walsh wrote.
"[Bill] Belichick once referred to it as football 'literature,' but it's more like a textbook -- 550 pages, 1.8 inches thick, 3.2 pounds, loaded with charts, graphs and bullet points," Wickersham explained. "For example, Walsh includes 57 keys to negotiating contracts ('The negotiator's need for food and sleep can affect his/her ability to function effectively'), 13 pages of sample practices and 108 in-game scenarios."
The video above features Walsh's own thoughts on characteristics great coaches possess. Unpredictability on and off the field is one of them.
The chart below shows won-lost-tied records and number of championships won for the top 20 coaches on ESPN's list, courtesy of Pro Football Reference. The winning percentages listed reflect victories plus one-half ties, divided by total games. For Walsh, that works out to 92.5 victories divided by 152 games, or .609.
May, 30, 2013
5/30/13
7:19
PM ET
Any ranking for the 20 greatest coaches in NFL history would leave off at least two of the
22 enshrined
in the Pro Football Hall of Fame.
The ballot I submitted for our "
Greatest Coaches
" project left off eight of them: Guy Chamberlin, Jimmy Conzelman, Weeb Ewbank, Ray Flaherty, Sid Gillman, Bud Grant, Greasy Neale and Hank Stram.
That seems outrageous. However, there were only 20 spots available, and many coaches appeared interchangeable to me outside the top 10 or 12. Current or recently retired head coaches such as Bill Belichick, Tom Coughlin, Mike Holmgren, Mike Shanahan, Tony Dungy, Bill Cowher and Marty Schottenheimer deserved consideration, in my view, but including them meant leaving out others. I also thought Chuck Knox should be in the discussion even though he's long retired and not a Hall of Famer.
Putting together a ballot was difficult. There's really no way to fully analyze the jobs head coaches have done. We must consider won-lost records over time, of course, but little separates some of the coaches further down the list. I figured most panelists would go with Lombardi in the No. 1 spot, but I'm not sure whether that was the case.
Herm Edwards revealed
his ballot

previously. We agreed on George Halas at No. 1. He put Lombardi second. I went with
Paul Brown
and
Curly Lambeau
after Halas, followed by Lombardi, Tom Landry, Bill Walsh, Don Shula, Joe Gibbs, Belichick and Chuck Noll to round out the top 10. The choices got tougher from there.
Edwards had Bud Grant, Dick Vermeil and Marty Schottenheimer in his top 20. He did not have Steve Owen, Holmgren or Cowher. I easily could have justified swapping out some of the coaches toward the bottom of my ballot for others not listed. Edwards and I both had Coughlin at No. 15. Our rankings for Lombardi, Landry, Walsh, Shula, Gibbs, Belichick, Madden and George Allen were within three spots one way or the other. I had Brown and Lambeau quite a bit higher than Edwards had them.
I tried to balance factors such as winning percentage, longevity, championships, team-building and impact on the game. The coaches I listed near the top of my ballot were strong in all those areas. There was room lower on my ballot for coaches whose achievements in some areas offset deficiencies in others.
Halas was a straightforward choice at No. 1 for me. He coached the Chicago Bears for 40 seasons, won six championships and had only six losing seasons. The Hall of Fame credits him as the first coach to use game films for preparation.
"Along with Ralph Jones, his coach from 1930 through 1932, and consultant Clark Shaughnessy, Halas perfected the T-formation attack with the man in motion,"
Halas' Hall of Fame bio
reads. "It was this destructive force that propelled the Bears to their stunning 73-0 NFL title win over Washington in the 1940 NFL Championship Game and sent every other league team scurrying to copy the Halas system."
Brown was my choice at No. 2 because he won seven titles, four of them before the Cleveland Browns joined the NFL in 1950, and he revolutionized strategy while planting a massive coaching tree. Lambeau edged Lombardi in the No. 3 spot on my ballot. He founded the franchise and won with a prolific passing game before it was popular. His teams won six titles during his 31 seasons as coach.
ESPN has revealed the coaches ranking 13th through 20th based on ballots submitted by Chris Berman, Jeffri Chadiha, John Clayton, Colin Cowherd, Mike Ditka, Gregg Easterbrook, Edwards, David Fleming, Ashley Fox, Greg Garber, Mike Golic, Suzy Kolber, Eric Mangini, Chris Mortensen, Sal Paolantonio, Bill Polian, Rick Reilly, Adam Schefter, Ed Werder, Seth Wickersham, Trey Wingo and me.
The eight coaches, beginning at No. 13: Jimmy Johnson, Coughlin, Grant, Stram, Levy, Gillman, Shanahan and Dungy.
Gillman was an interesting one. He spent 10 of his 18 seasons in the AFL and had a 1-5 record in postseason, but there is no denying
his impact on the passing game
. Like other coaches rounding out the top 20, his case for inclusion was strong, but open for debate.
April, 16, 2013
4/16/13
9:56
PM ET
Pat Summerall never developed a signature call during four decades broadcasting NFL games for CBS and Fox. "Unbelievable" might have been as close as he came.
That probably wasn't by accident.
For Summerall, who died Tuesday at age 82, the broadcasts always seemed to be more about the games than what he had to say about them. That could also explain why I couldn't immediately think of a memorable call Summerall made during the 25 or so years I watched him on TV.
The
San Francisco 49ers
were the dominant NFL team through the 1980s, when Summerall began his memorable run with John Madden in the booth. The 49ers remained one of the best through most of the 1990s as well. But as things turned out, Summerall wasn't on the call for some of the 49ers most memorable moments.
Vin Scully and Hank Stram had the call for CBS on "The Catch" back in early 1982.
Dick Enberg and Merlin Olsen were behind the microphones for NBC when Joe Montana drove the San Francisco 49ers downfield to beat the
Cincinnati Bengals
in Super Bowl XXIII.
Summerall and Madden did have the call for Steve Young's winning touchdown pass to Terrell Owens against the
Green Bay Packers
following the 1998 season.
"Three-man rush and Young stumbles on the way back and fires up the middle," Summerall said as the play unfolded. "Pass is caught by Owens. Owens made the catch."
Eleven seconds passed before Summerall or Madden said anything.
"This is amazing," Madden said.
Another 15 seconds passed while 49ers players celebrated and the Candlestick Park crowd roared.
"Three seconds left," Summerall finally said.
A few more seconds went by.
"Terrell Owens was having a rotten day," Madden said, "but on one play here, does he make up for it."
Madden then described the coverage on the play before Summerall spoke up.
"Perfect pass," Summerall said, his first words in 18 seconds.
"Holy moley!" Madden said.
"Three seconds left as they line up for the extra point," Summerall said just as the kick sailed through, "and it's 30-27, San Francisco."
"And the 49ers are getting the monkey off their back today," Madden said.
"Unbelievable," Summerall said.
January, 30, 2013
1/30/13
8:00
AM ET
Curley Culp is the perfect senior committee nominee for the Pro Football Hall of Fame.
This is his last chance to gain election into the Canton, Ohio, museum. Really though, it's the first chance of election for the dominant defensive tackle who was a key part of the Kansas City Chiefs' Super Bowl IV-winning team.
"I've never gotten this far before," Culp said in a phone interview. "I've heard my name mentioned before, but I've never been this close before."
[+] Enlarge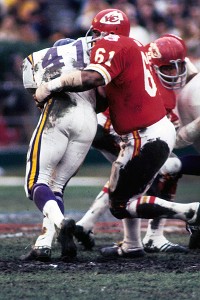 Manny Rubio/USA TODAY SportsFormer Chief Curley Culp (61) is one of two senior committee nominees for election into the Pro Football Hall of Fame.
Culp, who played for the Chiefs from 1968 to 1974, is one of two senior committee nominees; he is one of 17 finalists for election into the Hall of Fame. The vote is Saturday. Senior committee nominees often have a terrific chance of gaining election. Players go to the Senior committee after their 25 years of eligibility in the general voting process expires.
Culp, 66, is among four finalists with ties to the AFC West. The others are Kansas City guard Will Shields, Raiders receiver Tim Brown and defensive tackle Warren Sapp, who finished his career in Oakland but is known more for his time in Tampa Bay. Along with Culp, Sapp is considered to have the best chance of election.
Now that he is on the cusp of gaining entry to the Hall, Culp admits he's excited.
"It has not captured my every thought, but ever since I became a finalist, I've been thinking a lot about it," Culp said. "It would be an honor to be part of so many great men in the special club. I'm just pleased to be part of this process."
Culp, who operates a car service in Austin, Texas, would join a long list of Chiefs in the Hall of Fame; that, he said, is part of the excitement for him. Culp is part of the Chiefs' Hall of Fame and he regularly participates in functions related to that.
"I am a
Kansas City Chiefs
fan," said Culp, who noted he is fired up about the hiring of Andy Reid as coach. "The Chiefs were a big part of my life."
And Culp -- who went on to play seven seasons in Houston and two in Detroit -- was a big part of the Chiefs. At 6-foot-1, 265 pounds, Culp, who won the NCAA heavyweight wrestling title while at Arizona State, was a unique player. In the Chiefs' Super Bowl IV win against Minnesota, Hall of Fame coach Hank Stram put Culp over the center and it opened up plays for future Hall of Famers Buck Buchanan and Willie Lanier. Many people credit it for the beginning of the 3-4 defense.
Saturday, Culp might be rewarded for being part of NFL history.
May, 24, 2011
5/24/11
12:03
PM ET
Examining the most crucial event in the history of every team in the division.
There is no one in professional sports quite like Al Davis.
Say what you like about the mercurial, jump-suit clad czar of the
Oakland Raiders
, but the man is one of a kind.
He is the Oakland Raiders. AFC West history lessons must start with Davis.
[+] Enlarge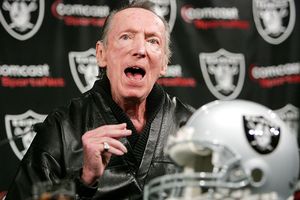 Justin Sullivan/Getty ImagesThe Raiders have been all Al Davis since 1963, winning three Super Bowls and one AFL championship.
Just set the tone, baby.
Although the Raiders are one of the NFL's most tradition-rich franchises, there was really no other choice as Oakland's representative for the pivotal moment in team history. It all started in 1963 when a young, brash offensive mind from Brooklyn left his post as an assistant coach with the rival
San Diego Chargers
to become the head coach/general manager of the Raiders.
Readers agreed as Davis was a runaway winner, beating the Raiders' first Super Bowl win in Super Bowl XI, the Raiders' return to Oakland in 1995 and the trade of coach Jon Gruden to Tampa Bay in 2002.
It has to be Davis. After all, if it weren't for Davis' arrival in Oakland, none of the other finalists might have occurred. Nothing has happened involving the Raiders since 1963 that hasn't had Davis' fingerprints all over it. Nothing.
Readers noticed.
Rob31340 said:
While it does not excuse recent failures, Al Davis is probably one of the three most important figures in NFL History. Even though he has been passed by in matters of business and football in general, no current owner or executive can lay claim to accomplishing more for the league and Oakland Raiders than Al Davis.
Added MicRaider:
"Al Davis changed the whole perspective of the organization, and the AFL. This man is responsible for changing football for generations to come in many different aspects of the game, not just on the field, but the business, too .. (nothing else) come close to defining us as the Raider Nation than BIG AL."
It's been 48 years and it's been good and bad, but there's no denying that Al Davis -- less than two months shy of his 82nd birthday -- has and does define the AFC West.
Broncos: This one's for John
While Davis has been the face of the Raiders for 48 years as an off-field leader, there hasn't been a player in AFC West history who had more of an impact than
John Elway
.
One of the greatest quarterbacks ever to play in the NFL, Elway
was
the
Denver Broncos
from 1983 to 1998. He led Denver to five Super Bowls and won the final two in his final two NFL seasons.
Elway's legacy has lasted beyond his retirement. There are still likely to be more orange No. 7 jerseys in the Mile High stands than any other.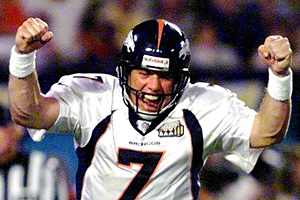 JEFF HAYNES/AFP/Getty ImagesJohn Elway led the Broncos to five Super Bowls, winning two.
This January, as he watched his once-proud franchise slip into irrelevancy, Denver owner Pat Bowlen gave Elway the ball again at the age of 50, asking for another patented Elway comeback, making him the vice president of football operations in Denver.
It all started in 1983 when Denver traded a package to the Baltimore Colts to get Elway after he refused to play for the Colts. This one was a no-doubter. The voting was even more lopsided than Davis' win in Oakland. The other choices in Denver were Mike Shanahan's arrival in 1995 as head coach, the drafting of running back
Terrell Davis
in 1995 and the team's first Super Bowl win in Super Bowl XXXII.
The readers made it clear what was the flash point in Denver. It was the arrival of the Duke.
Said
Arhoades28:
"It has to be Elway … Elway and his 5 SBs define this franchise, for me at least."
Added Jefffree57:
"It all started with Elway. He might not have won it until Shanny and TD came. But he sure did keep that team competitive for a long while and a great leader for those SB wins."
Chiefs: We are champions
When we first started this project, I was leaning toward making the arrival of the great
Derrick Thomas
in the 1989 draft as the team's Flash Point.
[+] Enlarge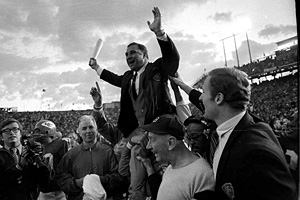 AP PhotoKansas City coach Hank Stram and the Chiefs celebrated the franchise's first and only Super Bowl victory in 1970.
He was one of the most ferocious defensive players in the NFL in recent memory and was a major reason why the Chiefs were a consistent contender for much of the 1990s. No player hassled Elway more than Thomas ever did.
He was the face of Kansas City until his tragic death in 2000 from complications following an auto accident.
However, the more I considered it, the more I thought the Chiefs' lone Super Bowl title in Super Bowl IV is the Flash Point in team history. It was a solid winner over Thomas' arrival, the arrival of general manager Scott Pioli in 2009 and the team's move from Dallas in 1963.
I get it. Nothing changes a franchise's landscape like a championship. I am a lifelong fan of the San Francisco Giants, who won their first World Series last fall. From now on, whatever happens, that first championship will always be the defining moment of the franchise in my mind.
The same thing happened in Kansas City in January, 1970. The Chiefs were a big deal back in the day and this was the team that will forever be remembered of all Lamar Hunt's great teams.
Here's some of what Chiefs' fans have to say about that team:
Said Jayrodtremonki:
"This one is the hardest one for me to call. Winning the Super Bowl and drafting DT are both huge moments for the franchise. Growing up with Thomas as my favorite player it's obviously a little closer to my heart, but it's still hard to put him over the crowning achievement of guys like Dawson, Lanier, Bell, Taylor, E Thomas and Hank Stram."
Added Freyasfav:
"Hank Stram's teams were fantastic, show the old NFL what they were missing – pizzazz."
Chargers: The Decade of LT
The San Diego Chargers are the only team in the AFC West never to have won a Super Bowl.
[+] Enlarge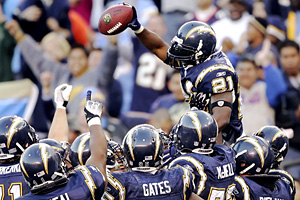 Lisa Blumenfeld/Getty ImagesTeammates raised up LaDainian Tomlinson after he broke the NFL single-season TD record in 2006.
However, they are rich in history. There have been some great players in this organization.
Perhaps no one has defined the team more than running back
LaDainian Tomlinson
. It's funny, because this is a quarterback's league and the Chargers have been blessed with great quarterback play. Dan Fouts was a Hall of Famer and
Philip Rivers
has become an elite quarterback.
Still, LT owned the Chargers.
That's why the Chargers' taking him with the No. 5 pick of the 2001 NFL draft was the winning Flash Point in San Diego history.
It beat out Fouts' arrival in 1973, the 2004 draft-day trade with the
New York Giants
involving Rivers and
Eli Manning
and the Chargers' lone Super Bowl appearance, a lopsided loss to San Francisco in Super Bowl XXIX.
With a special running style and an off-field personality to match, Tomlinson became a superstar in San Diego. He turned the Chargers from a bottom feeder to a perennial division champion until his controversial departure in 2010, which left him in tears.
There are no hard feeling. Tomlinson's legacy lives in San Diego.
Jordang702
put it simply: "LT was huge for them!!!!!!"
June, 25, 2010
6/25/10
11:30
AM ET
Notable players:
QB Len Dawson, RB Mike Garrett, WR Otis Taylor, G Ed Budde, DT Buck Buchanan, DT Curley Culp, LB Bobby Bell, LB Willie Lanier, CB Emmitt Thomas, K Jan Stenerud.
[+] Enlarge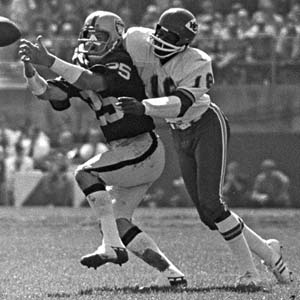 Rod Hanna/US PresswireCornerback Emmitt Thomas was a reason why Kansas City's defense was so dominant.
Analysis:
The 1969 Kansas City Chiefs were a veteran outfit that played together for quite while. Three years earlier, the same group lost to the Green Bay Packers in Super Bowl I.
But it all came together in 1969. The Chiefs were stacked with future Pro Football Hall of Fame players Dawson, Bell, Buchanan, Lanier, Thomas and Stenerud, and led by legendary coach Hank Stram. Stram was known for his innovative coaching, big personality, snappy clothes and an absolute love for his players.
The team's road to the Super Bowl was not easy. They ended the season with an 11-3 record and finished a game behind the Oakland Raiders in the AFL's Western Division. Kansas City had to beat the Jets and Raiders on the road in the playoffs before they had a chance to upset Minnesota in the Super Bowl.
But Kansas City's defense buried teams all season. Even though Dawson missed six games because of an injury, the defense kept the Chiefs on the Super Bowl highway. During the playoffs, they limited the Jets and Raiders to a combined 13 points. Minnesota's high-powered offense managed a meager seven points during Super Bowl IV.
"Our defense was special," Stenerud said. "I remember that playoff run and we just didn't give anything up. We held down some really good offenses. That defense was really the difference-maker for that team."
Most impressive win:
The 23-7 win over Minnesota in Super Bowl IV. The Chiefs dominated the Vikings, who were a 13-point favorite.
Send them home unpacking:
The Oakland Raiders' players were so sure they'd dispatch the Chiefs in the AFL Championship Game that they packed their bags to head to the Super Bowl after the game.
The Raiders had reason to be confident. They had won the West with a 12-2 record and beaten the Chiefs in two regular-season matchups. But Stram's team took the game that mattered. Kansas City went into Oakland and stunned the Raiders 17-7, sending the Chiefs (and not the bags-packed Raiders) to New Orleans.
"As the Chiefs were waiting for the team buses, they saw all the Oakland players leave the stadium with their bags in their hands, going home instead of the Super Bowl," Kansas City team historian Bob Moore said. "The Chiefs players were all laughing at Oakland's players."
Honorable mention:
1966:
The AFL's first Super Bowl team. This quality outfit finished 11-2-1 and beat the Bills for the AFC title.
1971:
Many of the old Chiefs believe this, and not the Super Bowl-winning team, is the best team in Chiefs history. But they just couldn't get it done like the 1969 team.
1995:
This was a solid team led by the NFL's top-ranked defense, but the Chiefs stumbled in the playoffs.
January, 31, 2009
1/31/09
5:51
PM ET
Posted by ESPN.com's Bill Williamson
Saturday, Kansas City outside linebacker Derrick Thomas became the ninth person who spent the majority of his career in the AFC West to be elected into the Pro Football Hall of Fame this decade.
Here is a look at those who preceded him this decade:
Howie Long, defensive line, Oakland Raiders (2000)

Comment: Many people around the league thought he was overrated but Long played an important role in the Raiders' history.
Dave Casper, tight end, Oakland Raiders (2002)

Comment: "The Ghost" was one of the great tight ends of his era and one of the Raiders' legends of the 1970s.
Marcus Allen, running back, Oakland Raiders and Kansas City Chiefs (2003)

Comment: A falling out with owner Al Davis ended Allen's time as a Raider. He finished his career with the hated Chiefs, which still angers many Raiders' fans.
Hank Stram, coach, Kansas City Chiefs (2003)

Comment: He'll always be remembered for roaming the sidelines in Kansas City.
John Elway, quarterback, Denver Broncos (2004)

Comment: The Broncos' first taste of the Hall of Fame came with much style.
John Madden, coach, Oakland Raiders (2006)

Comment: Many thought that Madden's election was long overdue.
Fred Dean, defensive lineman, San Diego Chargers (2008)

Comment: He won a Super Bowl with San Francisco, but Dean was a star with the Chargers early in his career.
Gary Zimmerman, tackle, Denver Broncos (2008)
Comment: Zimmerman spent the first half of his career with the Vikings but he considers himself only as a Bronco. Denver owner Pat Bowlen was his presenter at the induction ceremony.
January, 15, 2009
1/15/09
5:18
PM ET
Posted by ESPN.com's Paul Kuharsky
The Colts had Jim Caldwell in place ahead of time and expect a seamless transition into the post-Tony Dungy era.
It looks like a sound plan.
| | |
| --- | --- |
| | |
| | AP Photo/Michael Conroy |
| | Jim Caldwell has big shoes to fill in Indianapolis, but many in his position have been successful before. |
But popular wisdom says you don't want to be the guy to replace the guy. It's the replacement's replacement, the theory follows, who gains the distance necessary from a legendary name to be able to succeed.
For many, the thought of replacing a popular and successful coach brings back memories of some infamous NFL names.
Former Minnesota coach Les Steckel is still remembered for a 3-13 year in 1984 that wound up being a sabbatical season for Bud Grant. Ray Handley replaced Bill Parcells for the Giants in 1991 and went 14-18 in two seasons. Richie Petitbon replaced Joe Gibbs in 1993 and flamed out with a 4-12 season.
Are you familiar with Phil Bengtson or Paul Wiggin? Me neither.
Bengtson followed up Vince Lombardi in Green Bay and managed three third-place finishes. Wiggin was 11-24 in two-and-a-half seasons following Hank Stram in Kansas City.
But none of that is reason for Colts devotees to fear the dawn of the Caldwell era as he replaces a potential Hall of Famer who takes a .668 winning percentage with him into retirement.
Thanks to some help from Keith Hawkins of ESPN Stats & Information, we can take a detailed look at how the successors to the winningest coaches have fared.
While there were some strikeouts, the history is hardly a horror story. Two successors won multiple Super Bowls, two more were playoff regulars and another is leading his team into the AFC Championship Game on Sunday.
So here's a run through how things have panned out after big-time winning coaches stepped away or were removed. These are the top 10 coaches with the best winning percentages in the Super Bowl era (minimum 100 games coached since the 1966 season):
| | |
| --- | --- |
| | |
| | Andy Hayt/Getty Images |
| | Tom Flores did very well as John Madden's successor, winning two Super Bowls for the Silver-and-Black. |
1) John Madden, .759 (Raiders)
Tom Flores replaced Madden in 1979 and Flores went 91-56 in nine seasons, leading the Raiders to wins in Super Bowl XV and XVII.
2) George Allen, .712 (Rams and Redskins)
Jack Pardee replaced Allen in Washington, and Pardee was 24-24 in three seasons (1978-80). Joe Gibbs replaced Pardee and won 140 games from 1981-92 and three Super Bowls.
3) Tom Landry, .674 (Cowboys)
Jimmy Johnson replaced Landry in 1989 and Johnson won back to back Super Bowls in the 1992 and 1993 seasons. Johnson was 51-37 from 1989-93.
4) Don Shula, .672 (Colts and Dolphins)
Like Landry, Shula was replaced by Johnson. In four seasons (1996-99), Johnson was 38-31 and 2-3 in the postseason. Since Shula, Miami has had six different head coaches.
5) Tony Dungy, .668 (Buccaneers and Colts)
Replaced by Caldwell this week.
6) George Seifert, .648 (49ers and Panthers)
Seifert did some replacing himself, following Bil Walsh. Steve Mariucci replaced Seifert in San Francisco in 1997, and Mariucci got the Niners to the NFC Championship in his first season. In six seasons, Mariucci made the playoffs four times. Since Mariucci left, the 49ers have had three different head coaches.
7) Bill Cowher, .623 (Steelers)
Mike Tomlin replaced Cowher in 2007. In his second season, Tomlin is preparing the Steelers to host Baltimore in the AFC Championship Game.
8-T) Joe Gibbs, .621 (Redskins)
Petitbon was a dud.
8-T) Bud Grant, .621 (Vikings)
Returned for another season after Steckel bombed, then saw Jerry Burns go 55-46 from 1986-91.
10) Bill Belichick .616 (Browns and Patriots)
When he finishes his term in New England, he'll leave a tough headset to fill.
And here's one from outside the top 10: a succession scenario the Colts would be thrilled to mimic.
Bill Walsh, .609 (49ers) -- Replaced by Seifert in 1989, Seifert went on to win two Super Bowls in his first six seasons. He won at least 10 games in all eight of his seasons and only missed the playoffs once. Like Caldwell, Seifert inherited a pretty good quarterback situation, getting two years of Joe Montana and six with Steve Young.
| | |
| --- | --- |
| | |
| | David Boss/US Presswire |
| | Blanton Collier replaced the legendary Paul Brown, and never had a losing season. |
As I couldn't stop asking, here are the succession stories of some other Hall of Fame coaches:
Paul Brown -- Blanton Collier was in Cleveland from 1963-70, and didn't have a losing season, going 76-34-2.
Weeb Eubank -- Charley Winner took over the Jets in 1974 and went 9-14 and didn't last two seasons. He was let go after nine games in 1975.
George Halas -- Following the 1967 season in Chicago when Halas left the Bears' post for the final time, he was replaced by Jim Dooley, who was 16 games under .500 (20-36) from 1968-71.
Marv Levy -- Was replaced by Wade Phillips in 1998, and Phillips went 29-19 in three seasons, losing two playoff games.
Chuck Noll -- Bill Cowher took over in 1992 and went 149-90-1 in 15 seasons, reaching two Super Bowls and winning one.

NFL SCOREBOARD
Thursday, 9/4
Sunday, 9/7
Monday, 9/8