NFL Nation:

Harbaugh-Gilbride flap 2012
October, 12, 2012
10/12/12
7:20
PM ET
A few more thoughts on
San Francisco 49ers
coach
Jim Harbaugh going nuclear
on
New York Giants
offensive coordinator Kevin Gilbride for suggesting
Justin Smith
"gets away with murder" by holding opposing offensive linemen:
Smith's responses to the uproar are entertaining on their own. They're funnier if you're familiar with his aw-shucks demeanor. He says offensive linemen hold because "they're born that way" and jokes that getting away with murder beats "getting caught with it." He calls them a colorful name, too.
Dan Graziano of our NFC East blog points to a Football Outsiders piece from before the season. That piece claims Smith not only gets away with holding, but that the 49ers' coaches instruct their defensive linemen to play that way. Players work to get every edge they can get. Offensive linemen hold regularly and get away with it. Defensive backs try to shove around receivers. No one calls them cheaters for it. Smith is a dominant player, period. Gilbride's comments should not diminish that.
Graziano also suggests Harbaugh's response -- describing Gilbride's remarks with a list of colorful adjectives -- might attune officials to calls they might not otherwise have on their radar. It might put public pressure on them to watch for Smith, but coaches routinely ask officials in private to watch certain players for certain infractions. You can bet the Giants have complained about Smith directly to officials.
Officials rarely call holding against defensive linemen. Since 2009, they've made 58 holding calls on first, second and third downs against players listed as defensive linemen (my way of excluding most special-teams plays). That includes two against Smith. Players sometimes change between defensive end and outside linebacker depending on scheme, so the numbers could change based on that factor. But it's still a call officials rarely make. As the Football Outsiders piece notes, it's a tough one for officials to see.
That's it for now. I'm heading out for a Friday-night dinner while wondering how many times per game offensive linemen get away with holding Smith. It's a lot more times than his defensive coordinator has complained about publicly, for sure.
October, 12, 2012
10/12/12
5:45
PM ET
So this whole thing started Thursday, when
New York Giants
offensive coordinator Kevin Gilbride casually dropped into his weekly interview session the suggestion that
San Francisco 49ers
star defensive lineman
Justin Smith
"
gets away with murder
" by holding interior offensive linemen as a means of clearing room for the 49ers' pass rush.
Smith
49ers coach Jim Harbaugh responded Friday with
a blistering attack
on Gilbride and Gilbride's insinuation, calling it "outrageous, irrational and incendiary," and saying, "It's obvious that the Giants coaching staff's sole purpose is to use their high visibility to both criticize and influence officiating."
Glad we're not getting too emotional about this, huh? I mean, really? "Sole purpose?"
Especially once I learned that Harbaugh's response came in the form of a statement released by the team hours ahead of his regularly scheduled Friday news conference, my first thought was something along the lines of, "Methinks he doth protest too much." And a few minutes later, with the help of a re-tweet from USA Today's Mike Garafolo, I saw something that backed me up. It is
this Sept. 6 piece from Football Outsiders
, in which Item No. 3 uses clear film evidence to support FO's own conclusion that Smith is indeed coached to hold the jerseys of opposing guards and tackles:
San Francisco's secret? Holding. They have a pair of top-tier defensive ends in Justin Smith, arguably the best 3-4 lineman in the league right now, and Ray McDonald, one of the game's most underrated players. Those guys are taught to grab the left outside of the offensive guard's jersey or the right inside of the tackle's jersey. The umpire and referee, who are tasked with holding on the interior line, often can't see this -- there is too much congestion in the middle of that action. They are standing in the backfield, and can't see through the offensive linemen to get a look at the defensive end's hands. The grabbing prevents the blockers from getting over quickly enough to pick up the stunting blitzer.
The camera doesn't lie, coach Harbaugh. And it seems as though it might have been wiser for the 49ers' coach to keep his mouth shut rather than inflame a controversy of which the officials scheduled to work Sunday's game at Candlestick might not otherwise have been aware. If it was Gilbride's intention to get the officials to pay closer attention to Smith's extracurricular work on the interior (and I actually think he might just have been offering an honest answer to a question), then Harbaugh's overly emotional response might have helped him accomplish just that.
October, 12, 2012
10/12/12
5:09
PM ET
San Francisco 49ers
coach Jim Harbaugh has frequently had his players' backs in public.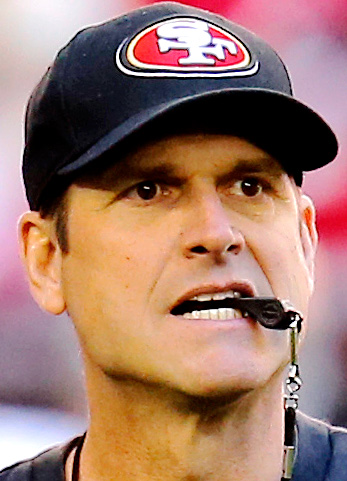 Harbaugh
Harbaugh has strongly praised
Alex Smith
when others doubted the quarterback. He has singled out
Michael Crabtree
for having all-time great hands amid questions about the receiver living up to his draft status. He stood by receiver
Kyle Williams
at every turn where another coach might have released a role player for fumbling away a shot at the Super Bowl.
So, when
New York Giants
offensive coordinator Kevin Gilbride suggested a 49ers defensive lineman "
gets away with murder
" by holding opposing linemen to free up pass-rushers, Harbaugh couldn't have been too happy. The fact that Gilbride singled out
Justin Smith
, a player Harbaugh admires as much as any he has ever encountered, apparently set off the 49ers' head coach.
Harbaugh did not just address Gilbride's comments. He issued a statement through the team's public relations department. That statement turns a potential fringe storyline into the No. 1 angle as the 49ers and Giants prepare for their game Sunday at Candlestick Park.
"Kevin Gilbride's outrageous, irrational statement regarding Justin Smith's play is, first, an absurd analogy," the statement from Harbaugh read. "Second, it is an incendiary comment targeting one of the truly exemplary players in this league. It's obvious that the Giants coaching staff's sole purpose is to use their high visibility to both criticize and influence officiating."
This is a double-barreled response from Harbaugh to a single-barrel comment from Gilbride. Outrageous, irrational, absurd and incendiary? Those words used in this manner give the 49ers something to rally around emotionally, obliterating whatever edge Giants coach Tom Coughlin was seeking when he suggested no one was giving the Super Bowl champion Giants a chance to win this game.
It's not just gamesmanship, either. This is Harbaugh standing up for a universally respected player in the strongest terms possible. The postgame handshake between Harbaugh and Coughlin should be a good one. Here's hoping Gilbride comes along as well.
Note:
Gilbride and Harbaugh nearly overlapped with the
San Diego Chargers
years ago. The Chargers
fired Gilbride
as head coach in October 1998. They acquired Harbaugh by trade
in 1999
.
October, 11, 2012
10/11/12
5:05
PM ET
The pregame chatter continues before the
New York Giants
-
San Francisco 49ers
rematch at Candlestick Park.
So far, we've had Giants coach Tom Coughlin play the no-respect card (see video), the
salsa flap
,
Mario Manningham
subtly
digging the Giants
and
Brandon Jacobs
suddenly
reversing course
.
Next up: Giants offensive coordinator Kevin Gilbride accusing one of the San Francisco 49ers' best players,
Justin Smith
, of playing outside the rules.
"They have great players," Gilbride said, according to an interview transcript distributed by the Giants. "They're tremendous, they're tough. They have great speed on the outside, Smith is a beast on the inside. He's strong, he does as good a job of grabbing a hold of offensive linemen and allowing those twists to take place. He never gets called for it, so he gets away with murder. That, in conjunction with the ability level they have, makes them as formidable as anybody we go against, and we go against some pretty good ones in Dallas' and Philadelphia's. They're as good as anybody up front."
How's that for working in a jab to the kidney between pats on the back?
Defensive holding is an unusual call against linemen. Smith has incurred two such calls since 2009, tied for the NFL lead among defensive linemen. That included once in 2011, during a Week 9 game against Washington. The 49ers and Giants played a week later.
Smith and teammate
Aldon Smith
do work very well together on twists. We'll be watching Sunday to see whether officials pay extra attention to Gilbride's complaints.
In 2003
, then-Seattle guard
Steve Hutchinson
lobbied officials to call defensive holding against the
St. Louis Rams
' line. Officials wound up flagging Rams defensive lineman Brian Young for holding Seahawks left tackle Walter Jones on a third-down play late in the game, a very unusual call at a critcal time. The penalty gave Seattle first-and-goal. The Seahawks scored the winning touchdown a few plays later, with about a minute remaining.