NFL Nation:

Haynesworth traded to Patriots
July, 28, 2011
7/28/11
7:27
AM ET
By
Mike Reiss, ESPNBoston.com
| ESPN.com
Albert Haynesworth
is
headed to the Patriots
from the Redskins, Adam Schefter reports. The price: a 2013 fifth-round draft pick.
Haynesworth adds another veteran presence to the defensive line; the Patriots did not select a D-lineman in the 2011 draft.
The Patriots have nose tackle
Vince Wilfork
returning at nose tackle in their 3-4 defense, and he's the team's best lineman. Nine-year veteran
Ty Warren
, who missed 2010 with a hip injury, has been the team's longtime starter at left defensive end. The expectation was that he would be back at that spot in 2011, if he returned to full health.
So the big question is at right defensive end in the 3-4, and that's where the 6-foot-6, 335-pound Haynesworth could be utilized by coach Bill Belichick. The Patriots also run plenty of multiple fronts, featuring a four-man line, and Haynesworth could be part of that mix as well, helping with an interior pass rush (also in subpackages, where the Patriots particularly need a boost).
Haynesworth was at his best when playing in the 4-3 scheme with the Titans, and seemed to prefer that over the Redskins' 3-4, so it will be interesting to see how he adapts to the way the Patriots utilize him.
This move has a little bit of a
Corey Dillon
-type and
Randy Moss
-type feel to it.
With Wilfork, Warren, Haynesworth,
Marcus Stroud
and six-year veteran
Mike Wright
, the Patriots have five veteran players complementing some younger options such as
Myron Pryor
(third year),
Ron Brace
(third year) and
Brandon Deaderick
(second year).
Not all figure to make the final roster, so how things shake out will be one of camp's big storylines.
July, 28, 2011
7/28/11
7:17
AM ET
The sun is up, birds are chirping and Adam Schefter is hard at work as usual, reporting this morning that the
Redskins have made their third trade
of the week. This one, Redskins fans will be happy to know, sends disgruntled defensive tackle
Albert Haynesworth
to the
New England Patriots
for a 2013 fifth-round pick.
[+] Enlarge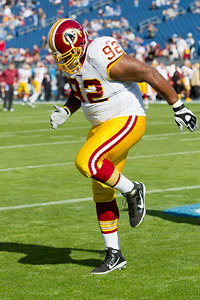 Wesley Hitt/Getty ImagesAlbert Haynesworth's tumultuous tenure in D.C. is over.
No, it's not exactly a haul they're getting in return. Not exactly the second coming of the
Herschel Walker
trade. And truth be told, I expected that Haynesworth might have more value than that, given it wasn't long ago that he was one of the more dominant players in the league. But Redskins coach Mike Shanahan, whose very public disputes with Haynesworth were a focal point of Shanahan's first season in Washington, clearly didn't want the guy around anymore. And as we've been saying here for weeks, he didn't want to just release him and let him go anywhere he wanted -- Philadelphia, for instance, where he could have reunited with his former defensive line coach from Tennessee and terrorized the Redskins twice a year in head-to-head matchups.
Can Haynesworth help the Patriots? Yes, I believe he can. They run a 3-4 defense, which was supposedly his problem in Washington. But Bill Belichick has a history of getting something out of malcontent players who wash out elsewhere.
Randy Moss
springs to mind, and all those records he set with
Tom Brady
in 2007. The Patriots will try to do a better job of selling Haynesworth on their defense and his potential role in it than Shahanan and Jim Haslett got a chance to in Washington.
For the Redskins, this is clearly about getting rid of a headache. A fifth-rounder in 2013 is pretty close to nothing in return for a guy they signed for $100 million (and who has already cashed almost all of that). But they'll save $5.4 million this year by releasing him and they won't have to answer any more questions about what he's doing in their locker room when all he does is bellyache and never play.
Barry Cofield
will be brought in as the much happier replacement, and the Redskins will move on with their rebuilding project. Shanahan and Haynesworth were a bad match from the start, and the ill-fated Haynesworth era in Washington is now over after two eventful but largely unproductive years.