August, 30, 2012
8/30/12
5:00
PM ET
The
Miami Dolphins
need all the help they can get at wide receiver. This is a group the team has supported publicly. But behind the scenes on HBO's "Hard Knocks," it was clear frustration continues to build with each passing preseason game.
That is why it is no surprise former
New England Patriots
receiver
Donte' Stallworth
is working out for the Dolphins Thursday, according to Omar Kelly of the
South Florida Sun-Sentinel
. The Patriots made receivers Stallworth and
Jabar Gaffney
among their early cuts this week, and Miami is one of the first teams on the move.
The Dolphins need more receivers who who can take pressure off rookie quarterback
Ryan Tannehill
. Miami's receivers have had issues with making plays and holding onto the football. This won't be the last receiver the Dolphins consider adding to their 53-man roster. Expect several changes by the time Miami starts the regular season against the
Houston Texans
on Sept. 9.
August, 29, 2012
8/29/12
9:30
AM ET
HBO's "Hard Knocks" with the
Miami Dolphins
aired its fourth episode Tuesday night. It was another interesting week in Miami, which included the trade of cornerback
Vontae Davis
.

Here were several highlights from the show:
The show began with former guard Eric Steinbach's decision to retire. Steinbach, who was once one of the best guards in the NFL, sat out all of last season with a back injury. Miami head coach Joe Philbin said he looks "real stiff." Steinbach was honest with the coaches that he just wasn't the same player and it was time to shut it down. Steinbach said he received his closure and he's happy he tried one more time.
There has been a goat on "Hard Knocks" every week. This episode it was Daniel Thomas. The second-year running back had a meeting called in Philbin's office. The head coach discussed Thomas' tardiness and it was revealed Thomas was late for the team plane to Carolina and was 15 minutes late to lift weights. "From where I sit, I get concerned about this stuff," Philbin told Thomas. The running back was fined by the team. Philbin said he's getting "queasy" about Thomas.
It's interesting to note the Indianapolis Colts called the Dolphins about Davis, not the other way around. Miami general manager Jeff Ireland received a text from the Colts and debated in his office whether Davis was part of the team's long-term plans. Ireland later discussed with the coaches that Indianapolis started with an offer of a fifth- and sixth-round draft pick. Then, the value moved up to a third-rounder and later a second-rounder. The Colts kept offering more and more and, in my opinion, came off as desperate for a corner. Ireland even told a Colts official on the phone that, "It has to be something that will blow me away. You called me." Miami eventually got a second-round pick and a conditional sixth-round pick. It was good work by Ireland and Miami's front office to get value.
The show ended with Ireland having to inform Davis that he was traded. Davis had a wide-eyed look on his face, prompting Ireland to ask, "Are you OK?" Davis immediately wanted call his grandmother, which was a little odd. But Ireland kept things on track and told Davis to finish the conversation first. Ireland told Davis he was too inconsistent and that's why the Dolphins traded the corner.
August, 26, 2012
8/26/12
2:40
PM ET


The mystery trade
Indianapolis Colts
president Jim Irsay had been hinting about on Twitter turned out to involve the
Miami Dolphins
. Jay Glazer of Fox Sports reports the Dolphins traded cornerback
Vontae Davis
to the Colts for
a second-round and a conditional late round pick in 2013.
I like this trade for Miami. Yes, the secondary is a little weaker. But Miami received good value for a cornerback who recently lost his starting job to free-agent signing
Richard Marshall
in training camp. Indianapolis' second-round pick could be a high one at the top of the round next year. The Dolphins now have two picks in the second and third rounds in the 2013 draft.
Davis has talent but also some baggage. He was suspended for one game last year due to a scuffle with former Dolphins receiver
Brandon Marshall
in practice and had immaturity issues. It was well-documented recently in "Hard Knocks," as Davis showed up to camp out of shape and taking ill-advised breaks in practice.
Davis wasn't the type of player new Dolphins head coach Joe Philbin wants in his locker room. Philbin is weeding out players like Davis, Marshall and
Chad Johnson
and moving on, regardless of talent.
The Dolphins take a little bit of a hit on defense in trading Davis. But Miami is rebuilding for the future anyway.
This move is about getting better in 2013 and beyond.
August, 14, 2012
8/14/12
11:09
PM ET

HBO's "Hard Knocks" aired its second episode Tuesday night. It was an explosive week in Miami with the Dolphins losing their projected starting quarterback and No. 1 receiver in a matter of days.
HBO had all-access behind the scenes. Here is a recap of the second episode:
The episode begins with the loss of Joe Philbin's son and how it ties into the Andy Reid story. The Philadelphia Eagles' coach recently lost his son, Garrett. Philbin is still reeling from his loss, and you can tell he feels for what Reid is going through.
Last week cornerback Vontae Davis was the goat. This week it was rookie tight end Michael Egnew. Dolphins offensive coordinator Mike Sherman really got into Egnew for his lack of intensity and making plays. Sherman said he'd cut Egnew right now if he was the general manager. Egnew is a third-round pick but hasn't showed much. He had a couple drops in the preseason opener.
Miami general manager Jeff Ireland admits to Peter King of Sports Illustrated that he has concerns about his wide receivers. Ireland says he knows he has "four, fives and sixes." But Ireland wants to see if there are any "ones, twos and threes" in the group. I've been critical of Miami's receivers all along. There have been tons of drops in spring practices and training camp.
The story about quarterback David Garrard feeling left knee pain while playing with his children was confirmed. The Dolphins were aware of Garrard's injury the night before the preseason opener. Philbin looked visibly distraught when he heard the news, and so was Ireland. Quarterback Matt Moore was surprised when he heard the news that he was starting on short notice.
Finally, HBO did a good job of highlighting Chad Johnson's arrest and release by the team. Philbin met one-on-one with Johnson, who was clearly distraught and admits he embarrassed the team. Then, Johnson and Philbin have an awkward last conversation where Johnson defended himself by saying he's never been in trouble before. But Philbin had his mind made up that the fit wasn't working and said it was time to go in another direction. Johnson kept his composure, thanked Philbin for the opportunity and left the Dolphins' facility for the last time.
August, 11, 2012
8/11/12
11:00
PM ET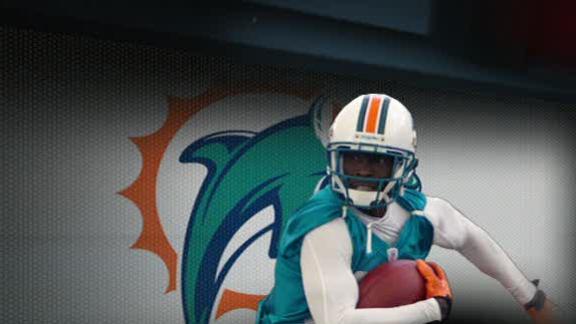 Chad Johnson
has been described as a lot of things during his 12-year NFL career. He's colorful, flamboyant, funny and even can be a little strange at times.
But Johnson has never been portrayed in the way he's described in Saturday's police report.
Johnson has put his football future with the
Miami Dolphins
in jeopardy following Saturday night's
alleged domestic incident
with his wife Evelyn Lozada. It's too early to label guilt or innocence -- that's what the legal system is for -- but the initial police report is disturbing. Lozada claims Johnson head-butted her, which caused a cut on Lozada's forehead. The Dolphins and the NFL will be watching closely when the full details are released.
Anyone who's covered Johnson knows he often prides himself on never being arrested. Anytime someone questions Johnson's antics, the receiver counters that he has never been suspended or in legal trouble. It was a valid comeback that might no longer be applicable after this incident.
There was a scene in HBO's "Hard Knocks" last week when Dolphins head coach Joe Philbin had a stern talk with Johnson about his use of vulgar language. Philbin lets it be known that Johnson, who is on a one-year contract, could be let go if he doesn't represent the organization the right way.
This alleged incident could be much worse. If these domestic charges are legit, this could lead Miami to cutting ties with Johnson, who was developing into the team's best receiver in training camp.
Johnson should have never put himself in this situation.
August, 9, 2012
8/09/12
9:30
AM ET
MIAMI -- The AFC East blog is back in its South Florida headquarters after an 11-day road trip visiting training camps around the division.
I have now visited all four camps in the past two weeks. You can check out our "Camp Confidential" segments for three AFC East teams
here
,
here
and
here
. The
New England Patriots
' report is coming up later on Thursday.
With tons of notes still left in my pad, I decided to do the first annual "Walker Awards" for 2012 training camp.
Enjoy.

Most impressive team:
Patriots
Analysis:
To be frank, you can just see the difference in talent between the Patriots and everyone else in the division. No other team has a quarterback like
Tom Brady
. No other team has
Rob Gronkowski
at tight end or a receiver like
Wes Welker
. No teams' practices are as crisp and workmanlike as coach Bill Belichick's. The football culture in New England is just better, and you can see it and feel it in its training camp. The Patriots are confident. They know what success feels like and prepare for it every day. It would be shocking if New England doesn't win another division title based on what I've seen in camp. It's clear the Patriots deserve to be the favorites.
Most impressive quarterback:
Tom Brady, Patriots
Analysis:
No surprise here. Brady is the only legit franchise quarterback in the division.
Even though he struggled
in practice on Tuesday, the other two practices were what I expected. There is a big difference when you watch other AFC East quarterbacks like
Matt Moore
,
Ryan Fitzpatrick
and
Mark Sanchez
practice compared to Brady. It's the biggest reason New England sits comfortably at the top of the division.

Most impressive running back
:
C.J. Spiller
,
Buffalo Bills
Analysis:
I was really impressed by what I saw from Spiller during my visit to Pittsford, N.Y., last week. Spiller looks like a player who is demanding more carries with his play. He has to wait his turn behind starter
Fred Jackson
, but Buffalo's coaching staff would be silly to let Spiller rot on the bench this year and not put the ball in his hands. If Jackson proves to be 100 percent healthy, the Bills could have one of the best one-two punches at running back in the league. The question is, how do you keep both players happy?
Most impressive rookie:
Stephon Gilmore
, CB, Bills
Analysis:
This was a close race between Gilmore and Patriots rookie linebacker
Dont'a Hightower
. I was really impressed with both rookies in training camp. But Gilmore made fewer mistakes than Hightower during my time at both camps. Gilmore is playing like a five-year veteran. He is challenging No. 1 Bills receiver
Steve Johnson
nearly every day in practice, and that can only speed up his development. Gilmore is physical, he moves well and he's fearless. He may already be Buffalo's No. 1 corner and he hasn't played a game in the NFL.

Most disappointing player:
Vontae Davis
, CB, Dolphins
Analysis:
While we're on the subject of corners, the most disappointing player during my tour of training camp has been Davis. He has the physical tools to be a No. 1 corner. Davis was heading in that direction toward the end of the 2011 season. But Davis,
as outline by HBO's "Hard Knocks
," showed up to camp out of shape. The former first-round pick has been getting beat too much and Miami's coaching staff moved him out of the starting lineup for
Richard Marshall
. Davis has always been plagued by immaturity. With a new coaching staff, he needs to grow up fast or it is going to be a long year.
Most comeback potential:
Chad Johnson
, WR, Dolphins
Analysis:
Johnson looks like a man on a mission. The receiver is showing flashes of the old Johnson we saw with the
Cincinnati Bengals
. He is coming off his career-worst season with just 15 receptions last year in New England. Johnson admits he
was humbled and exposed
, but now he's motivated. That's a good thing for Miami, which needs all the help at receiver it can get.

Most baffling player:
Antonio Cromartie
, CB,
New York Jets
Analysis:
It's been a bizarre training camp for New York's starting cornerback. First, Cromartie causes controversy by saying he's the second-best receiver on the team. Then, Cromartie injuries No. 1 receiver
Santonio Holmes
' ribs with a big hit in a scrimmage, forcing Holmes to miss at least one preseason game. Finally, Cromartie gets into it with tight end
Dustin Keller
this week and causes head coach Rex Ryan to stop practice. It's only August and Cromartie has a string of incidents piling up. He just needs to concentrate on playing his best football from here on out.
Most overhyped player:
Tim Tebow
, QB, Jets
Analysis:
Yes, Tebow is polarizing. Fans either love him or hate him. But strictly from a football standpoint, Tebow was not impressive enough in practices to merit the immense coverage he gets in the media. Tebow is far from lighting it up in training camp. Sanchez is outplaying Tebow and erasing any doubts that Tebow should be the starter in Week 1.
In last week's scrimmage
that I attended, Tebow was 0-for-3 with two fumbled snaps. The offense looks shaky with him under center. Tebow will be able to help the Jets' ground-and-pound offense with his running ability and contribute on special teams. But the huge hype of outplaying Sanchez and making a strong push for the starting quarterback job in training camp hasn't materialized.
August, 7, 2012
8/07/12
11:12
PM ET
HBO produced its first episode of "Hard Knocks," featuring the
Miami Dolphins
Tuesday evening. It was a good start to what should be an interesting season.

Here is a recap and observations on the show:
As expected, there was plenty of focus on the quarterbacks. Matt Moore got the airtime first with his newborn and wife. It was a good view of Moore's home life, in addition to the pressures of trying to win a three-way quarterback race with David Garrard and rookie Ryan Tannehill. HBO did a good job of introducing all three quarterbacks to the audience.
Tannehill's holdout was documented well behind the scenes. Dolphins general manager Jeff Ireland said at one point in the show the holdout is "driving me nuts." Tannehill eventually signed his contract and showed up past the team's curfew after 11 p.m. ET. He took his conditioning test the same night and practiced the following morning.
Here is some shameless self promotion: I got a two-second cameo on the show during Dolphins' owner Stephen Ross' press conference. I just had to get that in.
The Dolphins showed their workouts with both receiver Braylon Edwards and guard Eric Steinbach. Ireland questioned Edwards about his prior stops and if there's any concerns to worry about. Miami passed on Edwards, who later landed with the Seattle Seahawks, but signed Steinbach.
Dolphins cornerback Vontae Davis says he was "gassed" in the first practices. I remember watching Davis getting beat the first few days and thinking he wasn't the same player at the end of last season. Davis appears to have come into camp out of shape, which is not a good sign. The Dolphins have already put Richard Marshall ahead of Davis on the first depth chart. Davis has some ground to make up.
Receiver Chad Johnson was featured prominently. The former "Ochocinco" jokingly said he took the year off so everyone else could catch up. But Johnson also admits that he was exposed, and he's hungry to bounce back. The funniest part of the show was when Johnson interrupted a coaches' only meeting and demanded to have a seat. He left soon after. But it's a ploy you know Johnson could not have pulled off at a Bill Belichick-ran meeting with the New England Patriots. Johnson probably would've been released on the spot. Philbin, however, did not like Johnson's profanity during a press conference and had a one-on-one talk with the receiver to clean up his language.
The show ended with Philbin meeting with all the quarterbacks. Philbin explained that he must release a depth chart and explained that Garrard is the No. 1 quarterback, Moore No. 2 and Tannehill No. 3. Philbin concluded that this chart was not final and someone is going to have to earn it. Overall, it was a good first episode of "Hard Knocks" but not many huge surprises.
July, 25, 2012
7/25/12
9:00
AM ET
»
NFC Camp Watch
:
East
|
West
|
North
|
South
»
AFC
:
East
|
West
|
North
|
South
»
Dates
Three thoughts as training camps open around the NFL:
One thing I'm certain of:
"Hard Knocks" will be a good thing for the Dolphins. This is a team in need of exposure and a better national perception after another poor, 6-10 season. The Dolphins started 2011 0-7 and the rest of the league pretty much forgot about them.

The storylines in Miami are not sexy, but they are plentiful. There is a quarterback competition, a new coaching staff and colorful receiver
Chad Johnson
. HBO does a tremendous job on these shows, and it will be up to the Dolphins to put their best foot forward.
One thing that might happen:
We might see a resurgence from the 34-year-old Johnson in training camp. But he cannot be as bad as the player we saw last year with the
New England Patriots
. Johnson, who recently changed
back to his birth name,
never fit the system in New England and recorded just 15 catches. He still might be Miami's most dynamic receiver entering his 12th season. Perhaps that's more of an indictment of Miami's receivers.
Johnson looked pretty good in minicamp. He still has a quick first step and made several big plays against Miami's secondary in practices. The Dolphins need the old Johnson to return -- or least a player close to it. Johnson first needs a solid camp and preseason to earn a starting job.
One thing we won't see:
Ryan Tannehill
will not be a factor in Miami's quarterback competition. It's being billed as a three-way race for the starting job, but Tannehill is a long shot.
David Garrard
and
Matt Moore
are the two legitimate quarterbacks battling for Miami's starting job in Week 1. Both veterans have looked far ahead of the rookie Tannehill in offseason workouts.
Tannehill has just 19 career starts at quarterback in college. It is hard to make that jump to the NFL with limited experience, and Tannehill is already showing that with his uneven offseason performance. It would be shocking if Tannehill can make up so much ground on Moore and Garrard in a few weeks.
May, 30, 2012
5/30/12
3:00
PM ET
It's hard enough to be a rookie head coach in the NFL. You have to quickly learn personnel, while simultaneously teaching new schemes.
But imagine being a first-year head coach with television cameras recording your every move. That is the unenviable position rookie coach Joe Philbin is in with the
Miami Dolphins
.
[+] Enlarge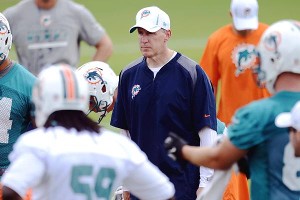 Steve Mitchell/US PresswireNew Dolphins coach Joe Philbin will be under intense scrutiny thanks to the likes of HBO's "Hard Knocks" capturing Miami's every move this season.
Miami agreed this week
to do HBO's popular "Hard Knocks" television series. The Dolphins are the sixth franchise to do it -- the Cowboys did it twice -- but the first with a rookie head coach.
"I am not really sure how it got to be; I wasn't necessarily auditioning for it," Philbin said this week. "But the more I thought about it. ... Let's face it the easy answer is to say, 'No it's a huge distraction. They are going to have cameras everywhere. We are not going to be able to deal with all that stuff.' That's the easy thing to say. But this program is not based on doing what is easy and we thought that it was in the best interest of the organization at this point in time to do it. So that is what we are doing."
I mentioned in the
AFC East blog this week that this is a great move overall for the Dolphins. The team is struggling to improve its national perception and can use the extra buzz to help sell tickets. The new Dolphins regime wants to be more open with fans and media, and this is a good step in the right direction.
However, "Hard Knocks" presents a unique set of challenges for Miami's coaches. Philbin and his staff will be making honest (and sometimes harsh assessments) of his own players behind closed doors. Yet, everything can be brought to the public with HBO granted all-access.
What if Philbin rips a player in private and it's taken the wrong way on national television? What if the Dolphins talk about an opponent and subsequently provide bulletin-board material?
"I think the No. 1 thing, coaching from a philosophical standpoint, is you have to be yourself," Philbin said. "So I am not concerned about how I am perceived or look. I have to do what I feel is going to help these players reach their potential and this football team reach its potential."
Philbin has a lot on his plate but seems to have the right mentality. Still, how the Dolphins' new staff handles HBO's cameras being around at all times will be something to watch in training camp.
May, 29, 2012
5/29/12
5:00
PM ET
HBO reportedly went through several teams before someone accepted its invite to be the latest team on the popular "Hard Knocks" series. That team turned out to be the
Miami Dolphins
.

Earlier Tuesday, I
listed the good things
this show could bring to the Dolphins. But is this a good idea for HBO? It all comes down to ratings.
In our latest SportsNation poll, we ask if those in our community -- particularly non-Dolphins fans -- plan to watch Miami on "Hard Knocks" this summer?
The show will do well in Miami. But that won't mean much to HBO on a national level if viewers in New York, Boston, Los Angeles, Washington D.C., etc. could care less about watching the Dolphins in training camp. Miami lacks star power for the casual football fan but has some interesting story lines. HBO also does a great job on the show.
So, will you watch the Dolphins in training camp? Cast your vote and share your thoughts in the comment section below.
May, 29, 2012
5/29/12
2:01
PM ET
After several teams declined, HBO finally found a club willing to open its doors to the annual "Hard Knocks" television show. The
Miami Dolphins
announced Tuesday that they have
agreed to do the
popular series, which starts on Aug. 7.
Miami deserves kudos for accepting the challenge and doing the show. Here are some initial thoughts on "Hard Knocks" and the Dolphins:
The only downside I see is the Dolphins lack star power. But they will try to make up for it in story lines. There are not a lot of big names on Miami's roster for HBO to publicize. Maybe tailback Reggie Bush is known to the casual football fan and casual HBO audience. Moderate fans should know left tackle Jake Long, because he's a Pro Bowl player. But that's about it, unless you're a big fan of the NFL and the Dolphins. That is a big reason why HBO wanted the New York Jets this year. Backup quarterback Tim Tebow would have brought in a huge audience. Miami has no player close to that kind of following who could draw the average football fan.
But, as we mentioned, I do like the stories in Miami. The Dolphins have a legitimate quarterback competition going between Matt Moore and David Garrard. They have a top-eight pick in Ryan Tannehill, who is the quarterback of the future. Rookie head coach Joe Philbin has a tall task in his first year, and owner Stephen Ross likes to talk. This very much reminds of the Cincinnati Bengals doing the show a few years ago. Cincinnati wasn't a popular team with big names. But the Bengals had interesting stories to tell, and I think HBO should do a good job with Miami's stories, as well.
Finally, the Dolphins said they want to be more open since the days of former president Bill Parcells. This is a huge step in that direction. The Dolphins would have never done "Hard Knocks" with Parcells still in the building. This is further proof Miami is entering a new era. The Dolphins are struggling with ticket sales and their national perception isn't very good. So this gives the Dolphins a chance to open their doors and let people see them close up. Overall, I think it's a good move for Miami.
August, 3, 2009
8/03/09
12:55
PM ET
Posted by ESPN.com's James Walker

GEORGETOWN, Ky. -- Monday is our final day in Cincinnati Bengals training camp. It's been an interesting four days with one of the most popular sleeper picks in the NFL this season.
Here are some finals notes and observations on the Bengals before we move on to visit the other three AFC North teams:
I will start with a personal opinion: The chemistry with this year's Bengals is as good as I've seen. I've covered Cincinnati or the AFC North in some capacity since 2004, and this is the best Bengals locker room, as a group, that I can remember. In a league built for every team to finish 8-8, good chemistry is one of the few things that separate NFL teams. My early impression is that the usually up-and-down Bengals have a rare chance this season for chemistry not to be an issue.
Bengals quarterback Carson Palmer returned to practice Monday after missing the last two sessions over the weekend. According to a source, Palmer was dealing with flu-like symptoms, and on Monday he confirmed that it was bronchitis. He still looked slightly under the weather but appears to be getting over the illness.
It is still eerily quiet on the Andre Smith front. The first-round tackle missed his fourth day Monday as the team continues its negotiations. Bengals head coach Marvin Lewis did not take a hard-line stance recently when asked about Smith. Lewis praised the rookie's abilities to be a productive player and virtually left the door open for Smith to earn a starting job by Week 1. But this stance is always subject to change based on the amount of time Smith is out.
The Bengals roster appears overstocked in some areas, which could lead to trade options later this summer. Several positions such as defensive line, receiver and maybe even linebacker have a lot of players who could contribute but not enough reps to go around. With Cincinnati's lengthy history of injuries, it may be wise to maintain depth. But the Bengals do have some bargaining chips for trades that might help weaker areas on the team.
Rookie tight end Chase Coffman still looks bothered by his foot injury. The size and hands are apparent and the primary reason he was taken in the third round by the Bengals. But so far Coffman still appears a half-step slow in running his routes, and he's not taking any days off to rest the sore foot.
As far as HBO's Hard Knocks, overall the process got off to a good start. The coaches didn't seem too bothered by it, but it has looked a little unnatural for some players. Cameras are everywhere in Georgetown, and some players, like receiver Chad Ochocinco, appear to be having fun with it while others are more reserved. After living and experiencing the first four days of training camp, I'm curious to see how it's portrayed on camera.
August, 2, 2009
8/02/09
1:00
PM ET
| | |
| --- | --- |
| | |
| | Matthew Emmons/US Presswire |
| | The Bengals need their offensive line to help keep QB Carson Palmer (9) healthy. |
Posted by ESPN.com's James Walker
Is it boom or bust for the 2009 Cincinnati Bengals?
Judging by the early optimism, the Bengals believe it's going to be a banner year in Cincinnati, despite coming off a dreadful 4-11-1 season.
"There's definitely a different feeling about this camp," an excited Bengals quarterback Carson Palmer said.
Many football observers feel this year's Bengals have a chance to become one of the NFL's biggest surprises. The healthy return of Palmer, a refocused Chad Ochocinco at receiver, and a sneaky-good defense has "Bengaldom" reminiscing about 2005, which was the last time Cincinnati made the postseason.
But despite the excitement, just one winning season in the past 18 years still looms large for Cincinnati. So there are plenty of reasons to either believe or not believe in this struggling NFL franchise.
Continue reading and decide for yourself.
Key questions
1. Can Palmer play a full season?
Like most franchise quarterbacks, Palmer holds the key to the Bengals' season. That couldn't be any more evident than last year, when Cincinnati's offense completely tanked after Palmer shut it down with a severe elbow injury.
After bypassing surgery in favor of rehab, Palmer says he is finally 100 percent. The Bengals have kept him on a pitch count as a precaution, but Palmer's throws look crisp and have the usual zip. He also throws one of the prettiest deep balls in the league.
Palmer hasn't been hit since early last season and that is when the real test will begin. So far there have been no setbacks in practice. But it will be interesting to see how the elbow responds in preseason and regular-season games when defenders are taking their best shots.
2. Will the offensive line improve?
Going hand-in-hand with Palmer's return is the overall performance of the offensive line. There is a reason Palmer has had two season-ending injuries to his knee and elbow the past four years, and it's because of Cincinnati's gradual decline up front.
The Bengals' pass protection was horrendous last season, and it wasn't until the end of the season when the team finally discovered a running game behind starting tailback Cedric Benson.
| | |
| --- | --- |
| | |
| | Tom Hauck/Getty Images |
| | Keith Rivers missed the final nine games of the 2008 season with a broken jaw. |
This year the team will have a lot of new faces in new places. Andrew Whitworth will move from guard to left tackle, while rookie first-round pick Andre Smith is penciled in at right tackle. Nate Livings will take Whitworth's spot at left guard and Bobbie Williams will remain at right guard. There is competition at center, but Kyle Cook is the favorite to win that job.
The offensive line could be the team's biggest litmus test. If the unit plays well and jells early, the Bengals could get off to a fast start. If not, it could be a long season in Cincinnati.
3. Is Cincinnati's defense legit?
Despite just four victories, the Bengals finished No. 12 in overall defense in 2008. The ranking was especially impressive considering the unit got little help from its offense last season.
With the addition of some key veterans like Roy Williams and the return of former first-round pick Keith Rivers from a jaw injury, Cincinnati believes it has the potential to field a top-10 defense.
But when you look closer, you notice a few glaring holes.
For starters, Cincinnati was unable to generate a pass rush last season. The Bengals had just 17 sacks in 16 games, which was tied for the second fewest in the NFL. Their defense also was No. 21 against the run in 2008, as opponents were often able to get the lead early and run out the clock.
With the offense expected to put up points this year, Cincinnati's defense has a shot to improve upon those weaknesses.
Market watch
At a time when some are wondering if Ochocinco, 31, is starting to hit a wall, the charismatic receiver arrived to camp this summer in arguably the best shape of his career.
Af
ter suffering through injuries and overall unhappiness in Cincinnati last season, Ochocinco dedicated himself to a strict offseason workout regiment in Los Angeles. The results are already apparent in training camp as Ochocinco has been explosive and extremely tough to guard in single coverage.
With the physical aspect in tow, the only concern is whether Ochocinco will remain happy and focused the entire season. Winning early would help.
Newcomer to watch
Ochocinco has a new running mate this year in Laveranues Coles. The Bengals signed Coles to a four-year, $28 million contract after losing veteran receiver T.J. Houshmandzadeh to free agency.
| | |
| --- | --- |
| | |
| | AP Photo/Tom Uhlman |
| | Wide receiver Laveranues Coles has big shoes to fill as he replaces T.J. Houshmandzadeh. |
Coles has big shoes to fill as Houshmandzadeh recorded at least 90 catches in each of the past three seasons. At this point in his career Coles, 31, is more of a 60- to 70-catch receiver. So the Bengals may need additional help to replace Houshmandzadeh's production.
But Coles' veteran presence could help steady a relatively young receiver corps.
Observation deck
HBO is in Georgetown, Ky., this summer to film its popular "Hard Knocks" television series. The Bengals have opened their doors completely to the network during training camp and production crews and cameras are everywhere. It remains to be seen whether this causes a distraction or helps the team narrow its focus. But Bengals team officials say so far everything has gone smoothly in the first weekend of filming. ... As of Sunday, Smith continues to be the lone absentee for the Bengals and in the AFC North as a whole. He's missed three days of training camp so far and most expect it to be a lengthy negotiation ... Look out for fifth-year receiver Chris Henry. According to his teammates and coaches, the talented receiver has finally matured on and off the field and had the finest offseason of his career. Even as the third receiver, Henry has a chance to put up good numbers this year in the Bengals' pass-heavy offense. ... A primary reason for Cincinnati's lack of pass rush is due to the struggles of starting defensive ends Antwan Odom and Robert Geathers. The pair combined for just 5.5 sacks in 2008 but are aiming for better production this season.

NFL SCOREBOARD
Thursday, 9/18
Sunday, 9/21
Monday, 9/22
WEEKLY LEADERS