NFL Nation:

Heisman Trophy
April, 19, 2012
4/19/12
10:03
AM ET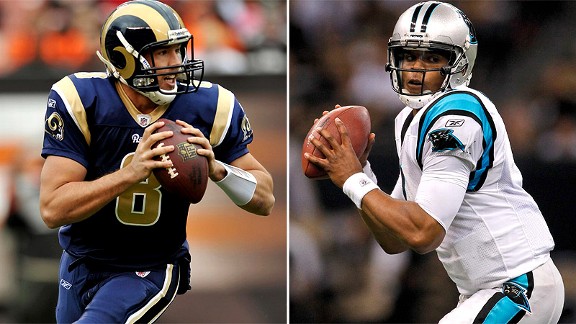 US PresswireSt. Louis' Sam Bradford, left, and Carolina's Cam Newton have helped change the thinking that a Heisman Trophy-winning quarterback won't be successful in the NFL.
There was a time -- like pretty much the last 50 years -- when a Heisman Trophy wasn't a very good thing for a quarterback to have on his résumé as he entered the NFL.
When Baylor's
Robert Griffin III
gets taken early in next week's NFL draft, he could be the latest piece in the trend of turning around the apparent curse on quarterbacks who won the Heisman. It has started to change only recently, but all of the sudden it's looking like the trophy isn't an anchor guaranteeing NFL mediocrity or obscurity for a quarterback.
Look back at 2010 winner
Cam Newton
. He was last year's offensive rookie of the year for the
Carolina Panthers
and set all sorts of rookie passing (and rushing) records. There's big hope in St. Louis that 2008 winner
Sam Bradford
can get back to the promise he showed as a rookie after struggling through a rough 2010 season. Then there's 2007 winner
Tim Tebow
. He couldn't throw spirals in Denver, but he won games. That at least created a market for Tebow to get traded to the
New York Jets
, where it remains to be seen if he'll ever be able to win the starting job away from
Mark Sanchez
.
But there's at least hope that Griffin, Newton, Bradford and Tebow can go on to have long and prosperous NFL careers. Before they came along, there were decades of evidence that suggested quarterbacks should just quit the game after winning the Heisman.
Remember
Troy Smith
,
Eric Crouch
,
Danny Wuerffel
, Charlie Ward and
Gino Torretta
? How about
Ty Detmer
,
Andre Ware
or Pat Sullivan?
They had little to no success in the NFL.
And remember Jason White?
I honestly did not at first. I had to go back and look up White, who won the trophy not all that long ago. He won it in 2003 while putting up some gaudy numbers at the University of Oklahoma. White didn't even get drafted and quit football altogether after a short training-camp stint with the
Tennessee Titans
. He never even played in a regular-season NFL game.
[+] Enlarge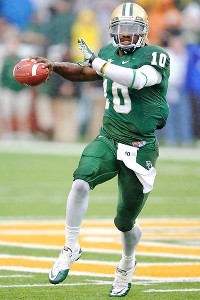 Jerome Miron/US PresswireRobert Griffin III threw for 4,293 yards and 37 touchdowns on his way to winning the Heisman Trophy last season.
Guys like White, Smith, Crouch, Wuerffel, Ward, Torretta, Detmer, Ware and Sullivan all had some things in common. In general, they were able to win the Heisman because they put up big statistics at programs where they were surrounded by elite players. They also had limitations -- usually in size, speed or arm strength -- that prevented them from being taken very seriously by NFL talent evaluators.
But those same evaluators also missed on some Heisman winners who seemed to have what the NFL wanted. Remember
Matt Leinart
?
He came from one of those football factories (USC), where he was surrounded by guys like
Reggie Bush
, but Leinart was supposed to be the one whose college success could transfer to the NFL. That's why the
Arizona Cardinals
drafted him in the first round. But Leinart was nothing short of a tremendous disappointment.
When he flopped, it looked like there really was something to the Heisman Curse.
Prior to Tebow, Bradford, Newton and Griffin, you've got to look at a list of 18 quarterbacks who won the Heisman before you find one who really made it big. You've got to go all the way back to Roger Staubach, who won it for Navy in 1963. He went on to have a great career for the
Dallas Cowboys
and earned a spot in the Pro Football Hall of Fame. Since Staubach won the Heisman, other quarterbacks have had to settle for just getting into the College Football Hall of Fame.
Sure, there have been a few Heisman winners to come out and have some success. Jim Plunkett won two Super Bowls, but his career didn't really take off until he landed with the Raiders after mediocre stints in New England and San Francisco.
Vinny Testaverde had an extremely long NFL career and the longevity led to some impressive career statistics. But Testaverde never had the kind of career so many people imagined when he was coming out of the University of Miami and taken No. 1 overall by the
Tampa Bay Buccaneers
in 1987.
Guys like Steve Spurrier and
Doug Flutie
bounced around and had some success. Then there's
Carson Palmer
, who has had some bright moments, but still is trying to fully live up to the Heisman hype.
But Newton, Griffin, Tebow and Bradford finally might be able to put a stop to the near-half-decade drought of Heisman Trophy winners truly excelling in the NFL.
"Cam Newton is the best thing to ever happen to Robert Griffin III,'' former NFL quarterback
Chris Weinke
said as we discussed this year's crop of quarterbacks back in February. "Just like
Drew Brees
is the best thing to happen to [Wisconsin draft prospect Russell Wilson]. Cam showed that a big, athletic quarterback that can run can be great in the NFL. Brees showed that a guy that's not 6-foot-4 or 6-foot-5 can throw for 5,000 yards in an NFL season. We all know the NFL is a copycat league. Cam's success and Drew's success helps the draft stock of guys like Robert and Russell.''
Ironically, Weinke's name is another one on that
Heisman list
. His story might be the most unique of all the Heisman-winning quarterbacks. Weinke enrolled at Florida State after giving up a minor-league baseball career. He won the Heisman in 2000 and seemed to have the talent of a classic drop-back passer, but the fact he would turn 29 in his rookie training camp, pushed him into the fourth round of the 2001 draft. The Carolina Panthers took him and he started under coach George Seifert as a rookie, but never could quite won over John Fox, who took over the next year.
Weinke spent the next five seasons as a backup in Carolina and finished his career in 2007 with San Francisco.
These days, Weinke has carved a niche as a quarterback guru. He is the director of football operations at IMG Academies in Bradenton, Fla. He has worked extensively with Newton and some other quarterback prospects over the past few years.
Weinke says he's seen the game change just since his playing days ended. Like just about everyone else, he says the NFL has become more driven by quarterbacks. He says natural talent is a prerequisite for NFL success and he points to guys like Newton and Griffin, saying they could be a new prototype. And he goes back to his point about the NFL being a copycat league.
"People are always looking for what works,'' Weinke said. "Cam obviously had a fantastic rookie season. So people look at Robert and say he can do the same thing because the skill sets are similar.''
For Griffin, Newton and Bradford -- and perhaps even Tebow in his own way -- maybe the skill sets are so good that it no longer matters if a quarterback is lugging around a Heisman Trophy.
November, 17, 2011
11/17/11
1:00
PM ET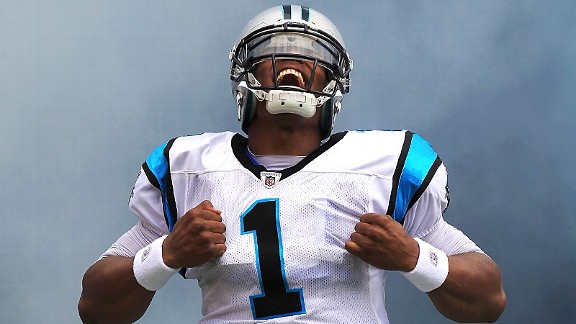 Streeter Lecka/Getty ImagesCam Newton made a statement early, accumulating 854 passing yards in his first two games.
On the surface, it looks like there's a great argument brewing out there about who should be the NFL's Offensive Rookie of the Year.
The names
Cam Newton
,
Andy Dalton
and
DeMarco Murray
are getting tossed around. It makes for great conversation, but let's face reality.
Newton won the award a long time ago. This race was over two weeks into the season. Despite some really nice deeds by Dalton and Murray, nothing really has changed and it's not going to.
As the first overall pick in the draft, Newton came with all sorts of flash and glitter. He was a Heisman Trophy-winning quarterback on a national championship team at Auburn and that made him a strong favorite to win Rookie of the Year before the season ever started.
Newton settled it in two weeks. He threw for more than 400 yards in each of his first two games. No rookie quarterback had ever done that, and that's the kind of thing that's going to stick in the mind of voters.
Speaking of voters, let's be very clear. We're talking about the Associated Press NFL Offensive Rookie of the Year award. There are other rookie honors out there and they matter. Just not as much as the one by the Associated Press.
If you don't believe me, consider this: If a player gets an incentive clause in his contract for winning a Rookie of the Year award, it almost always is stipulated that he only gets paid if it's the one from the Associated Press.
[+] Enlarge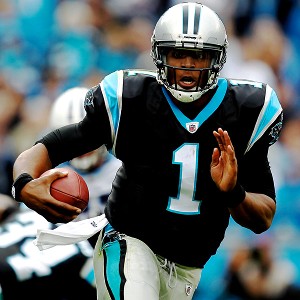 Streeter Lecka/Getty ImagesCam Newton has passed for 2,605 yards this season and 11 touchdowns, and has also rushed for 374 yards and seven more scores.
The way it works is the voters are writers from every NFL city. Majority rules and, unless Newton suffers a season-ending injury very soon, he's going to win.
Yeah, I can hear the arguments coming from Dallas and Cincinnati and I respect them. But those folks can save themselves some pain later by realizing now that Murray and Dalton aren't going to win the award.
I know everything is bigger in Texas and that's why Dallas fans are going crazy about Murray. He has been incredible since
Felix Jones
went down with an injury in mid-October. Murray has 674 rushing yards this season with 618 of them coming in the past four games.
And I understand that the Cowboys are "America's Team,'' and Dallas is a much bigger media market than Charlotte or Cincinnati. But that actually could end up working against Murray. For a long time, there have been grumbles that it's harder for Cowboys to get into the Pro Football Hall of Fame because voters feel saturated by anything to do with Dallas.
A lot of those voters are the same ones who select the Rookie of the Year. The Cowboys haven't had one of those since
Emmitt Smith
in 1990.
Murray is good, but he's not Emmitt Smith. You could make the case that we saw Murray last year. Tampa Bay's
LeGarrette Blount
rushed for 1,000 yards in basically half a season (and for his next trick he's trying to learn how to pass block) and he didn't even come close to winning the award.
Sam Bradford
did.
That's because Bradford is a quarterback. Let's face it, quarterbacks generally are going to win popularity contests simply because they're quarterbacks. Four of the past seven winners have been quarterbacks. Heck, even
Vince Young
won it in 2006.
Once in awhile, as happened in 2007, an
Adrian Peterson
comes along. And in the years when no rookie quarterback does much, the award goes to a
Percy Harvin
or a
Cadillac Williams
. This isn't one of those years.
That brings it down to Dalton and Newton.
Dalton is doing what Bradford did last year and what
Matt Ryan
did in 2008. He's come in, played very well and his team is winning. The Bengals are 6-3 and Dalton has thrown for 1,866 yards and 14 touchdowns. He's smart, doesn't make big mistakes and there's no doubt Dalton is a big reason Cincinnati is one of the league's most surprising teams.
But he's not the only reason. Cincinnati's defense has been shockingly good. Dalton really hasn't been shocking. He has only had one 300-yard game, and only one game in which he's thrown more than two touchdown passes.
Is anybody really ready to call Dalton a franchise quarterback? Yeah, I know it might be a little tempting because it's been tough to even call the Bengals a franchise for most of the time they've been in the league. But Dalton is not Newton. He's not even close.
By about halftime of the opener, the world knew Newton was a franchise quarterback. He threw for 422 yards that day in Arizona. Then, he came back the next week and threw for 432 against Green Bay, and, suddenly, the Panthers had hope for the first time in a long time. They've still got it.
Yeah, both those games were losses, and, despite Newton's play, the Panthers have continued to do a lot of losing. They're 2-7 and we are talking about a game that's supposed to be the ultimate team sport.
But Rookie of the Year isn't a team award, which is significant because if you factored in the play of Carolina's defense, Newton would be wearing heavy anchors on both his legs.
Rookie of the Year is an individual honor, and even if it wasn't, Newton still would have the edge. He's thrown for about 800 yards more than Dalton. Oh, and since we mentioned Newton's legs, let's take a look at rushing stats. Newton has rushed for 374 yards and seven touchdowns.
Dalton has run for 26 yards. If you really want to pad his stats, you could say he's run for 78 feet, which is nice. But we've seen Dalton before. He compares nicely to guys like Ryan, Bradford,
Joe Flacco
and
Mark Sanchez
as rookies.
We've never seen anything like Newton before. You could say he runs like
Tim Tebow
or
Michael Vick
. Or you could say he throws like
Dan Marino
or
Peyton Manning
. You've never been able to say both things about any single quarterback. Until now.
Yeah, Newton's not perfect. He has thrown 10 interceptions (but Dalton has thrown nine on 40 less attempts). It also would be nice to see Newton get some wins. But those will come next season when the Panthers have had time to rebuild a defense that got shredded by injuries.
This is about this year. There's no question Newton and Dalton have turned heads. But Newton is the only rookie who has had heads spinning.
April, 29, 2011
4/29/11
12:03
PM ET
At the risk of sounding like Cliff Clavin from "Cheers'', here's a little-known fact about
Cam Newton
.

When he was taken by the
Carolina Panthers
with the first pick Thursday night, Newton became a part of history. He became just the third player to win the Heisman Trophy, a national championship and be the NFL's No. 1 overall pick in the same academic year.
The only two guys who did that before Newton were Leon Hart in 1950 and Angelo Bertelli in 1944. That trivia comes to us from the fine folks at ESPN Stats & Information.
Here's a little more from that same crew. Newton became the sixth SEC quarterback taken with the No. 1 overall pick since 1967.
The others were Georgia's
Matthew Stafford
in 2009, LSU's
JaMarcus Russell
in 2007, Ole Miss'
Eli Manning
in 2004, Kentucky's
Tim Couch
in 1999 and Tennessee's
Peyton Manning
in 1998. The Panthers better hope Newton turns out to be more like the Mannings, or maybe even Stafford, than Russell or Couch.
April, 29, 2011
4/29/11
9:28
AM ET
Nice nugget from ESPN Stats & Information on multiple Heisman Trophy winners selected in the same draft and this one has big NFC South implications.
With
Cam Newton
and
Mark Ingram
both selected in the first round Thursday night, the 2011 draft marked just the seventh draft since 1967 in which more than one Heisman Trophy winner has entered the league in the same year.
Newton was picked No. 1 overall and he was college football's Heisman Trophy winner last season. Ingram was taken at No. 28, after the Saints traded back into the first round to get him. Ingram won the Heisman in the 2009 college season.
The feat also happened in last year's draft, when
Sam Bradford
and
Tim Tebow
both came with the trophy. Prior to that,
Reggie Bush
and
Matt Leinart
came in together in 2006.
Beyond that, there was a much bigger gap in the time frame. Desmond Howard and Ty Detmer came in the 1992 draft. Vinny Testaverde and Bo Jackson were picked in the 1987 draft. Herschel Walker and Doug Flutie were selected in 1985. Billy Sims and Charles White were drafted in 1980.
April, 28, 2011
4/28/11
8:30
AM ET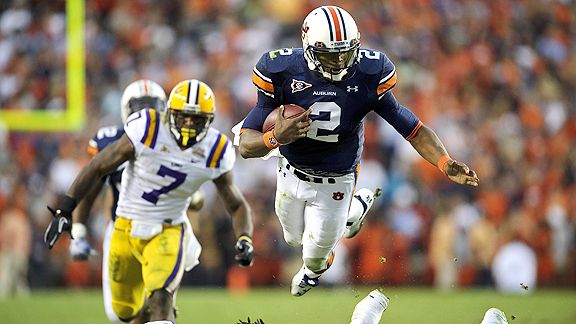 Paul Abell/US PresswireCam Newton has been compared to both Ben Roethlisberger and JaMarcuss Russell.
Cam Newton
has been a huge success just about everywhere he has been.
He won a national championship and a Heisman Trophy at Auburn, and a national junior college title at Blinn College. Coaches, scouts, decision-makers and media draft gurus frequently mention the quarterback in the same context as players such as
Ben Roethlisberger
and
Josh Freeman
. Some will tell you Newton has the potential to be even better than Roethlisberger and Freeman.
So why is it that some people in those very same jobs talk about Newton and mention players such as
JaMarcus Russell
and
Akili Smith
?
Well, it's mainly because most see the 21-year-old as a player who could go either way. The one thing virtually every expert agrees on is that the only thing as huge as Newton's upside is his downside.
Nobody is sure which way the pendulum will swing once Newton gets into the NFL. But in an age when the league is driven by quarterbacks more than ever, it seems a certainty someone will take a chance on Newton in the first 10 picks of the draft.
It could be the
Carolina Panthers
at No. 1, the
Buffalo Bills
at No. 3, the
Arizona Cardinals
at No. 5 or the
Washington Redskins
at No. 10. Or maybe another team will trade up to grab him.
"If he's successful, people are going to love him and the coach and general manager that take him are going to look like very smart guys," a former NFL talent evaluator said. "If he's not successful, it's probably going to cost that coach and general manager their jobs."
If it sounds like Newton is a boom-or-bust prospect, that's because he is.
Here are three reasons Newton has a chance to be a huge NFL success.
1. His athleticism is extremely rare.
Think about quarterbacks who have had big success lately --
Aaron Rodgers
,
Michael Vick
, Roethlisberger and Freeman. They're all extremely mobile. Vick is as quick as a running back, and Rodgers is as elusive as most running backs. Roethlisberger and Freeman aren't as fast, but they're so big and strong that coaches don't mind seeing them take off because they're capable of running over linebackers. Newton has a little of the best features of all those players. He can make plays outside the pocket with his feet. Plus, he has an exceptionally strong arm.
2. Charisma; Newton has won at every level dating to high school.
Teammates follow his lead, and he isn't afraid of the spotlight. As he walked into his session with the media at the NFL combine, one talent evaluator described it as "the moment time stood still." Newton has the type of personality that can charm fans and help sell tickets.
3. The right situation could make him perfect.
In talking to talent evaluators, the general opinion is that Newton would benefit most if he went to a team that didn't ask him to carry it right away. Some suggest he'd be better off in a situation in which he plays sparingly in his rookie year or sits at least half a season with a transition quarterback bridging the gap. Buffalo, with
Ryan Fitzpatrick
already in place, could be an ideal setting. But those same evaluators look at a Carolina roster that, at the moment, includes receiver
Steve Smith
, running backs
DeAngelo Williams
and
Jonathan Stewart
, tight end
Jeremy Shockey
, and a decent offensive line, and say Newton's presence instantly could improve a team that went 2-14 this past season.
Now, let's look at three reasons Newton could be a big failure in the NFL.
1. He hasn't played in an NFL-style offense.
At Auburn, Newton lined up in the shotgun formation frequently, and he doesn't have much experience taking snaps from under center. The Auburn offense didn't rely much on the complicated routes that are prevalent in NFL offenses. As great as Newton's college career was, it wasn't very structured and there are strong concerns that he could fail miserably if he tries a freelance approach in the NFL.
2. In some ways, he's not Freeman, Matt Ryan, Sam Bradford or Joe Flacco.
Those young quarterbacks all have had early success.
"I sat down with Ryan, Flacco, Freeman and Bradford," one talent evaluator said. "Those are four of the smartest quarterbacks I've ever interviewed coming out of college. You could cue up the film to a certain play, and they'd walk you right through every step of it for the entire offense. I saw
Cam's interview with Jon Gruden
, and the look on Cam's face when Jon asked him to walk him through a play scared the absolute heck out of me."
The concerns go beyond Newton learning a complicated NFL playbook. Talent evaluators say they're not sure whether Newton can handle pre-snap reads because he didn't have to do that in college and they have no idea how he'll read and react once he takes the snap.
3. The background and so-called character issues could come back to haunt him.
By now, you've heard all the reports about alleged computer theft when Newton was at Florida, and talk about alleged offers to play for pay when Newton was looking to transfer from Blinn and how that prompted an NCAA investigation. (The NCAA ruled
in December that the Heisman Trophy winner was unaware
of the pay-for-play scheme devised by his father, Cecil.) There have even been reports questioning Newton's work ethic and attitude. NFL teams have been doing a ton of homework on Newton, and they should. If you're going to hand the keys to your franchise to someone, you want to be certain he's not going to go straight out and crash it.
September, 14, 2010
9/14/10
6:04
PM ET
It's unclear if the Heisman Trophy Trust will look to give
Reggie Bush
's
returned trophy
to runner-up
Vince Young
or leave it vacant.
Last Wednesday, Young twice gave me no comments when asked about the Heisman Trophy. On Monday he told Hannah Storm on SportsCenter:
"I definitely want it, I definitely want it. But he won it fair and square definitely, and it's much respect to Reggie, man. He had a great career and he's already won a Super Bowl before me. I'm already mad about that.

"But at the same time I am definitely happy for him, man, and he is definitely the Heisman Trophy winner for that year. But if they send it over to me I am not going to say no to it."
The Trust shouldn't offer it and he should reconsider and decline to take it if it does.
The Heisman in Young's foyer would simply serve to add ammunition to those who perceive him as entitled. (I among those who perceive him this way.) A good share of what has not gone well for him since the Titans drafted him third overall in 2006 has been linked to that issue. He is used to being treated as royalty, and that has sometimes made bouncing back from difficulties difficult for him.
Yes, he has fared much better at winning games than his two first-round colleagues in that draft,
Matt Leinart
and
Jay Cutler
, who also suffer from cases of entitlement. But Young is still not a lock to be the long-term guy in Nashville.
Two things that won't do anything help him get there:
Wanting that Heisman.
And owning a Heisman that the world knows he didn't really win.
September, 14, 2010
9/14/10
5:26
PM ET
So
Reggie Bush
is forfeiting his Heisman Trophy? I guess that's a big story for our college football folks, but we've got to address it here because Bush is now a member of the
New Orleans Saints
.
[+] Enlarge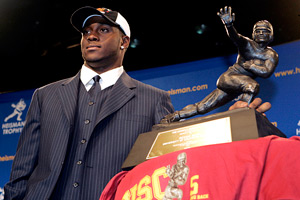 AP Photo/Frank Franklin IIReggie Bush is losing the Heisman Trophy, but not the memories of that special 2005 season.
You know what I'm doing right now? I'm shrugging my shoulders because this really doesn't impact the Saints or the NFL. Does it impact Bush? I'm sure it does to some degree and you can hear it in the words of the statement he released through the Saints.
"I will forever appreciate the honor bestowed upon me as a winner of the Heisman,'' Bush said. "While this decision is heart-breaking, I find solace in knowing that the award was made possible by the support and love of so many. Those are gifts that can never be taken away.''
Yep, give the Heisman Trust folks their trophy back and try to move forward. That's the best thing Bush can do right now. I'm not condoning his actions that got the University of Southern California in trouble and led to this latest move. But they were ancient history.
Bush is right when he talks about gifts that can never be taken away. Think about your college or high school diploma or some other old award that's stored in a box somewhere in your garage. If it were gone tomorrow, would it really be gone from your mind?
Somewhere in my garage I've got a plaque with the photo and a list of achievements of a high school baseball team that went very deep into the state playoffs back in the 1980s. I haven't seen the plaque in years and, if it disappeared tomorrow, would I really miss it? No. When I was in Pennsylvania this summer, I walked into a restaurant and saw two of my teammates. Instantly, three quarters of the starting infield from that team was back together. We looked up and saw a picture of our late coach on the wall. We talked about that season, the fun we had and the fact we were incredibly lucky to be carried so far by an incredible pitcher. Those were gifts that can't be taken away.
It's the same thing for Bush. He'll always know that he was the best college football player in the world in 2005. He'll have the memories and he'll have the relationships. So what if he doesn't have the trophy?
July, 31, 2010
7/31/10
1:51
PM ET
METAIRIE, La. -- I just sent a story to our news desk that will run under the headlines section momentarily on
New Orleans Saints
running back
Reggie Bush
addressing the controversy involving him and the University of Southern California.
It was the first time Bush talked publicly since USC returned its copy of his Heisman Trophy and took other measures to distance itself from one of its all-time great players.
Here's some of what Bush had to say.
"I like to think that I'm pretty mentally tough and I never allow any outside distraction to affect me on the football field,'' Bush said Saturday as the Saints went through their second day of training camp. "Once I step on the field, it's all football. I try to remember that every time I step on this field. This is kind of like our sanctuary. This is where we get a chance to kind of forget about everything and play football, do what we love to do and not worry about anything else.''
Although he said he is focusing on football, Bush admitted he is bothered by the way the university has distanced itself from him.
"I think I'd be lying if I said it didn't,'' Bush said. "Obviously, it does, but at the end of the day it is what it is. All I can really do now is focus on the New Orleans Saints and just try to move on. It bothers me and it sucks. The whole situation is terrible and nobody feels worse about it than I do. But, at the same time, I can't dwell on the negatives because I do have a job to do and I have a whole organization and a city riding on my back, not necessarily my back, but the team's back.''
Bush also said he hopes his relationship with USC doesn't remain fractured forever.
"I hope someday at some point it can be repaired,'' Bush said. "We'll see what happens. That's all I can do.''
February, 6, 2010
2/06/10
12:01
PM ET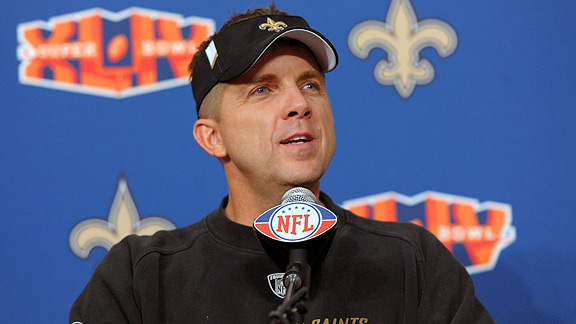 Kirby Lee/Image of Sport/US PresswireSean Payton and the Saints could be very good for a very long time.
MIAMI -- For the past year, and especially over the past few weeks, we have heard a lot about the past decade.
There have been all-decade teams named by numerous media outlets and one by the NFL. Those have been all-star teams patched together from across the league. And when people talk about the 2000s, they usually talk about the
New England Patriots
and
Indianapolis Colts
as being the best teams of the decade.
That is understandable because those teams have won a bunch of big games and were the closest things we've seen to modern dynasties. But instead of looking back on the past decade, let's spin it ahead to the next.
"Hopefully, in a few years, people are talking about the
New Orleans Saints
as the team of the next decade,'' New Orleans center
Jonathan Goodwin
said.
The Saints as the team of any decade? Yeah, their history isn't that great and Sunday marks the first time this franchise has been in a Super Bowl. But give it a little thought and maybe Goodwin's wish isn't that far-fetched.
The team that used to have fans wearing bags over their heads and calling their team the "Aints'' isn't what it used to be. These Saints aren't some kind of one-year wonder. They're for real and what has been the season of a lifetime for fans all around the Gulf region might only be the start of something bigger. This team has the chance to be very good for a very long time.
"This team has that kind of potential, no question about it,'' veteran linebacker
Scott Fujita
said. "This is our first year really on the big stage. We've got to take care of this one and then we'll worry about next year.''
Fujita and his teammates have to focus on one game right now. But we have the luxury of looking ahead and people around the league, particularly those who have to compete most often against the Saints, are worried about them perhaps being in the early stages of a dynasty.
Take the
Atlanta Falcons
, for instance. They've long been considered New Orleans' biggest rival and that rivalry may be better than ever over the next few years. The Falcons have put together back-to-back winning seasons for the first time in franchise history and, with
Matt Ryan
heading into his third year as the starting quarterback, the future appears very bright for the Falcons.
But everyone in Atlanta is well aware the Falcons probably will face a mighty obstacle in the NFC South over the next few years.
"The Saints have done a really good job in building that team,'' Falcons general manager Thomas Dimitroff said. "In my opinion, this league is really all about personnel moves and the Saints have made some great personnel moves. Having a quarterback like
Drew Brees
is incredibly important. That's the biggest thing of all. But they've got even more than that. They've got incredible athletes like
Reggie Bush
and
Marques Colston
and some of their defensive players. They've got all the parts in place to be good for a long time.''
As Dimitroff said, simply having Brees makes the Saints a legitimate threat to win any game they play. His numbers compare well to those of Indianapolis'
Peyton Manning
and New England's
Tom Brady
. In 2006, his first season with the Saints, Brees took his team to the NFC Championship Game. Just about everything else that could go wrong did over the next two seasons, but Brees was still good enough to keep the Saints around .500 and in playoff contention. When the Saints gave him a little bit of defense and a running game in 2009, Brees led New Orleans to 13 straight victories to start the regular season and two very impressive playoff victories.
"With the way Drew works and takes care of his body, he could have another five or six years like this left in him,'' Fujita said.
Five or six years of Brees pretty much guarantees the Saints won't just crumble any time soon. But there are so many other parts in place that you have to believe the Saints aren't going to take any big steps backward even if they have some major injuries.
[+] Enlarge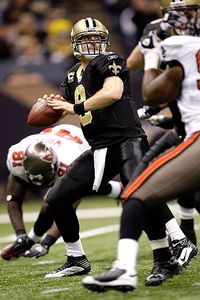 Jamie Squire/Getty Images Drew Brees could keep the Saints in contention for several more seasons.
Just look at the draft class of 2006, the first season coach Sean Payton and general manager Mickey Loomis worked together.
It featured running back Bush, strong safety
Roman Harper
, guard
Jahri Evans
and receiver Colston. Evans already is being recognized as perhaps the best guard in the NFL and Colston, a seventh-round pick, is generally viewed as an elite receiver. Harper has blossomed into a very solid safety. Although Bush may never truly live up to the hype that came as a Heisman Trophy winner and No. 2 overall pick, he's had moments of brilliance in his hybrid role as a running back/receiver/return man. That draft is shaping up to be perhaps the best in Saints history, and Payton and Loomis haven't fared badly in the drafts that followed.
Players such as receiver
Robert Meachem
, defensive tackle
Sedrick Ellis
and guard
Carl Nicks
already have developed into core players, and defensive back
Malcolm Jenkins
, a first-round pick in 2009, soon could join them.
"We've got good players on the line and the skill positions,'' Goodwin said. "I think it's possible that we could stay at a very high level. I believe in this team and I believe in this organization. A lot of the guys are still pretty young and they'll only get better.''
The same thing might have been said after the 2006 Saints reached the NFC Championship Game, but they slipped the next two seasons, mainly because of injuries. There also is the history of the NFC South, in which no team has won the division in back-to-back years.
But the current Saints might be set up in a way that they're poised to break that streak and stay on top for a long time.
"I think we've learned what it takes,'' Goodwin said. "We got to the NFC Championship Game the first year, but I don't know that we really realized what it took to get there. The last two seasons, it kind of slipped. Coach Payton reminded us about some of the things we did in '06. In '07 and '08, we didn't finish games well. That's why we wanted to improve on finishing games this year. We lost a lot of close games and we felt like if we could eliminate mistakes, we could win those close games.''
Consider all that part of the growth process. But also consider that the Saints were able to get this far this season with some pretty major injuries. They played all season without Pro Bowl left tackle
Jammal Brown
and survived a stretch when starting cornerbacks
Tracy Porter
and
Jabari Greer
were out with injuries.
"The '06 year was something magical,'' Evans said. "We took the NFL by storm. We had some injuries the next couple years, but here we are in the Super Bowl and now we've got to stay here. The injury stuff is something you can't really control. We just couldn't get a streak together. You're going to have adversity like that and it's really about how you respond to it. I think we've learned from that and learned to handle adversity better. If we can keep doing that, we can stay on top.''
December, 18, 2009
12/18/09
1:10
PM ET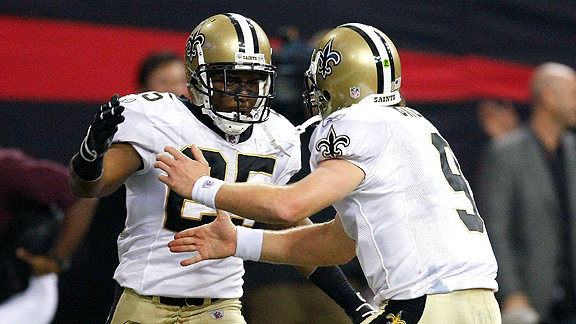 Kevin C. Cox/Getty Images
The Saints have figured out the running back label doesn't really apply to Reggie Bush.
It has been nearly four full seasons now, more than enough time for a verdict on
Reggie Bush
.
The No. 2 overall pick in the 2006 draft has precisely one 100-yard rushing game in his career and that came in his rookie season. He has only two career games in which he's carried the ball 20 times and he has carried more than 10 times in only one game this season. He's missed 12 career games because of injuries and never really has come close to what he did back in his days as a Heisman Trophy winner at USC.
Time to call him a bust?
No, don't do it. If you do, you're missing the big picture. Don't call Bush a bust and, please, don't call him a running back. The Saints finally have discovered that tag doesn't really apply to Bush.
Simply call him a football player or a jack of all trades. When it comes to judging Bush, you have to take everything he does into account. Do that and the sum can be pretty respectable.
"I thought Reggie Bush was outstanding,'' coach Sean Payton said Sunday, moments after a
26-23 victory
against Atlanta.
Bush had six carries for 33 yards. You call that outstanding?
Actually, it was, and this is where the part about Bush being a running back really kicks in. He's a running back in title only and the Saints list him as the starter at that position. But truth be told,
Pierre Thomas
really holds that role and when he's not on the field,
Mike Bell
usually steps into his place.
Bush is also a wide receiver, a slot receiver and a return man. If you want the real story on what he did Sunday against the Falcons, look at these numbers: 102 yards and two touchdowns. We're talking all-purpose yards and the two scores came on passes.
That's in the ballpark of outstanding. But what was really outstanding about Sunday was the way Payton used Bush. You didn't see him on the field all that much. But it seemed like every snap Bush got, he was in position to make an impact play.
His six carries included a 19-yard run. His six catches totaled 46 yards and included touchdowns of 21 and 6 yards. His only punt return was a 23-yarder, his best of the season.
Do yourself a favor and stop expecting Bush to be the second coming –- and more –- of
Deuce McAllister
. If anything, Bush is more like the second coming of Terry Metcalf, the triple threat (runner, receiver and return man) with the St. Louis Cardinals back in the 1970s and with the
Washington Redskins
in 1981.
That's not a shot at Bush at all. That's a compliment. Bush can do a little bit of everything and do it well. Maybe the key here is to just let him do a little bit of everything to get maximum results.
Take those 13 touches Sunday and realize Bush wasn't on the field for many more than 13 snaps. It's taken Payton and the New Orleans coaching staff a while to figure it out, but maybe they finally discovered the right equation for Bush.
Give him 12 to 15 touches and he'll give you 100 yards and, sometimes, a couple of touchdowns. Isn't that, at least in some ways, as good as giving Bush 20 or so carries? Actually, it's probably better.
Despite making a lot of noise in the preseason about how this would be the year Bush proved he could run between the tackles, he hasn't even had that chance. Apparently the Saints decided Bush couldn't run behind the tackles consistently, and that's turned out to be one of the better decisions Payton and his staff have ever made.
They're letting Thomas and Bell do the running and that's worked out surprisingly well. The Saints suddenly have a running game. In Bush, they've also got a nice change-of-pace back and Payton has been getting him into open space as a runner. That's where Bush is at his best and that's why he also is a threat in the passing and return games.
"I'm always anxious to make plays," Bush said.
The irony here is the Saints aren't putting Bush on the field nearly as much as they have at some points in the past, yet they're getting results out of him. They're maximizing his chances at big plays by letting him do the things he does best when he is on the field.
"He's just been patient, keeps working hard, and he's doing a great job,'' Payton said.
Kind of funny that the Saints are singing Bush's praises at a time when there's been a fair amount of speculation that this could be his last season with the team. It's easy to understand where that comes from. Bush is being paid like a No. 2 overall draft pick, but he's not cranking out 1,000-yard rushing seasons and the injury history suggests Bush might be a little brittle.
But I'm believing more and more that Bush will stay with the Saints. The NFL is heading into a 2010 season without a salary cap, so it's not as if the Saints can't afford to keep Bush. In fact, it might be more likely that they can't afford not to keep him. Especially when you look at days like Sunday and realize that the Saints appear to finally have found the formula to get what they should get from Bush.
Don't expect him to run for 100 yards a game. Just let Bush go out and be Bush. Let him be himself and Bush is not a bust.