June, 5, 2013
6/05/13
2:45
PM ET
METAIRIE, La. -- Very quietly, and it's hard to imagine he'd want it any other way,
Marques Colston
turned 30 on Wednesday.
Colston
Not even receivers coach Henry Ellard was aware his best receiver was celebrating a significant birthday.
"Really?" Ellard asked when a reporter informed him it was Colston's birthday. "OK, well, all the young guys will have to sing 'Happy Birthday' to him in the meeting room.''
None of that is surprising. In a sport where there is a long history of wide receivers with diva personalities, Colston is the anti-diva. He's quiet and shies away from attention.
"He's truly special,'' Ellard said. "I can't really put it into words. The things he does are special. He doesn't care for the hoopla. He just comes to work and aims to please, and you couldn't ask for a better guy than that.
"I was blessed to have a Torry Holt (when Ellard coached for the
St. Louis Rams
) and Isaac Bruce was the same way. They were very quiet, went about their business and took a lot of pride in what they did, and Marques is the same way.''
But a 30th birthday isn't always a great day for a wide receiver. Many people say receivers tend to start slowing down once they hit their 30s.
Ellard doesn't see any signs that Colston is ready to slow down.
"No, not at all,'' Ellard said. "He takes great care of himself. He's lasted a long time, and he's going to last a lot more time. The weight program we have going on this year I think is going to make him a little more stronger, and more durable, and I think that's really going to pay off.''
Plus, there is tangible evidence that Colston isn't anywhere near the end of his career. He caught 83 passes for 1,154 yards and 10 touchdowns last season. That yardage total was the best Colston has produced since 2008.
March, 30, 2011
3/30/11
10:42
AM ET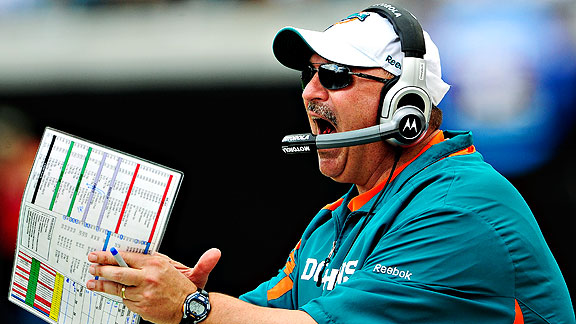 Sam Greenwood/Getty ImagesDolphins coach Tony Sparano felt it was necessary to add former players to his coaching staff.
Miami Dolphins
receiver
Brandon Marshall
scoffed in September that broadcast analyst Sterling Sharpe had no right to judge him.
Marshall claimed Sharpe didn't do enough on the field
to earn the privilege.
Imagine, then, how much disdain Marshall would harbor for criticism from those who didn't play in the NFL at all.
When you consider Marshall's logic and the sort of position coaches he has worked with, you get a sense of how unstable a situation can be.
As a rookie, he learned from former Pro Bowl receiver Steve Watson. But since 2007, Marshall's coaches have been Jeremy Bates, Jedd Fish and Adam Gase with Denver and Karl Dorrell last year with Miami. None of them played in the NFL. Neither Fisch nor Gase played in college.
Probably not the kinds of guys you'd expect to make a connection.
Dolphins head coach Tony Sparano rearranged his coaching staff after last season. He moved Dorrell into the quarterbacks vacancy and promoted Steve Bush from a quality-control role -- usually considered entry-level -- to receivers coach. Bush hasn't been an NFL position coach before. In 2008, the Dolphins hired the one-time Syracuse assistant away from West Genesee High in upstate New York.
Some help was in order, and not just for Bush.
Sparano made it a point to add former players to his coaching staff because he identified a deficiency. He needed more voices to reach his players.
Although the Dolphins parted ways with running backs coach James Saxon, they hired Ike Hilliard to assist Bush and Bryan Cox to coach pass rushing and promoted Dan Campbell from intern to tight ends coach.
"I feel good about the way we were able to put the staff together with the infusion of ex-players onto the staff," Sparano said last week at the NFL owners meeting in New Orleans.
"A little bit of that flavor and that knowledge on your coaching staff helps a lot. Sometimes, as coaches, we can get tunnel vision and forget about what the players' needs are. When you get an ex-player on your staff -- somebody that's really not far removed -- it helps you a lot."
A breakdown of AFC East coaching staffs shows there are multiple philosophies on former NFL players as assistants.
The Dolphins went into last season with two position coaches who played in the NFL: assistant head coach and secondary assistant Todd Bowles and Saxon. They now have four assistants with a combined 557 games.
Buffalo Bills
head coach Chan Gailey has one former NFL player on his staff, but none coaching a position. Former defensive back Adrian White, a veteran of seven seasons, handles quality control.
New England Patriots
defensive line coach Pepper Johnson is the lone member of Bill Belichick's crew to have experienced NFL action. Johnson played linebacker for four teams over 13 years.
Then there's Rex Ryan's staff, populated by six former NFL players with 62 seasons and 829 games. Matt Cavanaugh coaches quarterbacks, Anthony Lynn running backs, Henry Ellard receivers, Mike Devlin tight ends, Mark Carrier defensive line and Dennis Thurman defensive backs.
I reached out to three former coaches who played in the NFL -- Tom Flores, Herm Edwards and Ted Cottrell -- to get their opinions on the significance of having on-field experience on staff.
"It's always been a thing with the players," said Cottrell, an
Atlanta Falcons
linebacker and successful defensive coordinator for the Bills, Jets,
Minnesota Vikings
and
San Diego Chargers
, "where they think in the backs of their minds, 'Well, you haven't played this game. You don't know what we're going through. You haven't done this, Coach.' But if you have some playing experience on your staff, it helps offset that."
As valuable as those players-turned-coaches are, they're difficult to find. The best players don't necessarily make the best coaches because what came to them naturally can't always be conveyed through instruction.
[+] Enlarge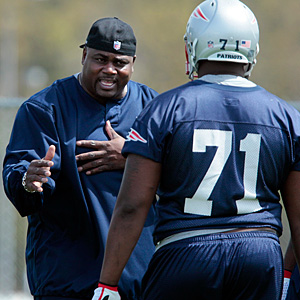 AP Photo/Elise AmendolaPatriots defensive line coach Pepper Johnson is the only member of Bill Belichick's staff with NFL playing experience.
Flores found a way to make it work. He and Mike Ditka are the only two in NFL history to win a Super Bowl ring as a player, assistant coach and head coach. Flores played quarterback for the Bills,
Oakland Raiders
and
Kansas City Chiefs
before guiding the Raiders to pair of Super Bowl titles.
"Some of the young kids coming out have no idea," Flores said. "They think they invented the game. Sometimes you have to bring them back to reality.
"But you also don't want somebody who keeps saying, 'Well, when I played ... When I played ... When I played ...' The player thinks, 'I don't give a damn when
you
played.
We're
playing now.'"
The transition from player to coach is difficult. Many players focus so much on their specific jobs when they're active that they don't become students of the overall game or learn how their roles fit into the overall puzzle. Others find it difficult to stop acting like a player when their careers are over.
Still, the ex-player element can be crucial in various instances.
"Sometimes you need a bridge with a former player," said Edwards, who played cornerback for the
Philadelphia Eagles
and was head coach for the Jets and Chiefs. "His voice is going to speak volumes, especially during the rough times because he's done it; he's been through it. He can give them, 'OK, this is what we gotta do' speech.
"He's going to respect because he played, but can he teach? That's the whole key. Players will figure that out."
Not all coaches are comfortable hiring former players, particularly those fresh off the field. Cottrell claimed there's a fear of subversion, that the former player will relate better to the locker room than the man in charge.
"Who do you think the players on the roster will gravitate towards more?" Cottrell asked. "The guy who played in the NFL and is young, or the older guy who didn't play?"
The former player, I responded.
"Damn right they would," Cottrell said. "That's why some coaches are intimidated to hire them. That's the truth. They don't want that guy around."
Added Edwards: "I've seen that happen. There's no doubt about that. That's when you're paranoid, but there are coaches like that."
Even so, Edwards conceded insurrections aren't an unfounded conspiracy theory.
"If you've got a former player in his positional meeting room, saying, 'Man, the coach doesn't know what he's talking about,' then you've got no shot as a head coach," Edwards said. "That's why you've got to be particular on who you hire."
The Patriots have a more institutional coaching staff. Their message is easy to deliver when players consider Belichick has won three Super Bowls and four conference championships in the past decade.
Rather than rely on former players, Belichick has core assistants such as offensive line coach Dante Scarnecchia (28th season with New England) and running backs coach Ivan Fears (15th season).
Belichick grooms assistants from gophers into coordinators and even head coaches. A steady stream of his acolytes -- Eric Mangini, Josh McDaniels, Brian Daboll, Bill O'Brien, Matt Patricia -- got their NFL starts under Belichick with no pro playing experience.
New England's cyclical process protects organizational doctrine from outside influences. Johnson, the lone ex-player on the staff, played 10 of his 13 seasons under Belichick.
"Belichick has a certain philosophy, and you want everybody to be on the same page," Flores said. "Sometimes, when you bring in guys that have been too many other places, they're not going to be on your page because they've been trained someplace else.
"If you bring up assistants through the ranks, then they'll be trained the way you want them to be. Everybody has to buy into the same program."
At the other end of the spectrum are the Jets.
Ryan obviously values former players. Their presence on the staff contributes to the Jets being an attractive destination for free agents, and Cottrell surmises the Dolphins have noticed.
"From a coaching standpoint, he looks at the Jets and wants to catch them in the division," Cottrell said. "He thinks, 'Rex has six guys that have played the game who are coaching. Uh oh. Rex has got an advantage on me.'
"That's got to be in the back of his mind. You've got to win your division to get into the playoffs, and when you look at your coaching staff, you see you don't matchup in that area."
Or, in the case of adding Hilliard at least, maybe it was as simple as noticing the Dolphins didn't match up with Marshall.
August, 18, 2010
8/18/10
1:36
PM ET
ESPN.com NFL Power Ranking
(pre-camp): 7
CORTLAND, N.Y. -- There's a healthy chance you're already sick of the
New York Jets
.
You're sick of their loudmouth coach, sick of their hotshot quarterback, sick of their trash-talking defense, sick of their wheeler-dealer general manager, sick of hearing about their HBO series, sick of their delirious fans.
Get used to it all. They're not going away.
Every team wants to kiss the Lombardi Trophy, but the Jets have drawn the disdain of 31 other teams and their fans by being so cocksure about their plans.
Whether the Jets win a championship or crash and burn on their approach, they'll remain the NFL's most fascinating team in 2010. Win or lose, they're going to be a season-long story.
"That's our own expectations," Jets quarterback
Mark Sanchez
said on the first day of training camp at SUNY Cortland. "That's why we feed off of it. It's our own mentality, that Super Bowl-champion mentality. That's what we want, and that's what we're striving for. ... Now, we need to do it every day and prove it."
THREE HOT ISSUES
[+] Enlarge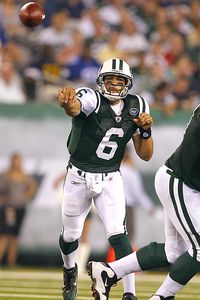 Jim O'Connor/US PresswireThe Jets are hoping Mark Sanchez has matured as a quarterback heading into his second season.
1. Can Sanchez handle the pressure?
There's a lot of skepticism surrounding the man at the controls. Sanchez threw 20 interceptions last year as a rookie. He fumbled 10 times and lost three of them. He was so befuddled at one point, the Jets had to give him a color-coded wristband to help him comprehend the plays.
The Jets hope he matured considerably over the offseason. To help him along as a passer, they added receivers
Santonio Holmes
and
Laveranues Coles
and out-of-the-backfield target
LaDainian Tomlinson
.
Sanchez still has to make the right calls and decisions. Coaches and teammates note his indefatigable work ethic.
And there's no disputing how impressive he appeared down the 2009 homestretch. Offensive coordinator Brian Schottenheimer corralled him in time to salvage the season. Although Sanchez had more than 20 attempts in only three games after Thanksgiving, the Jets won six of those eight outings, two of them on the road in the playoffs.
Sanchez will need to shoulder much more responsibility this year. How he handles being the leading man of a Super Bowl contender will determine the Jets' fate.
2. How will Darrelle Revis' holdout affect the season?
There's a belief among the Jets their defense will take care of itself. As nose tackle
Kris Jenkins
pointed out before training camp began, fans swooned when he suffered a season-ending knee injury six games into last season, but the Jets still finished with the NFL's top-rated total defense, scoring defense and pass defense.
Revis, of course, played an integral part. Maybe the
most
integral part.
All he did was establish himself as the preeminent shutdown cornerback. Revis was so good at shutting down the other team's top receivers, the Jets never had to worry about double-covering. That, in effect, gave them an extra defender to use however they wanted.
The Jets have cornerback depth to help them cope if Revis holds out into the season. They traded for cornerback
Antonio Cromartie
, a sensational cover corner (though not nearly the run defender Revis is).
Dwight Lowery
and first-round draft pick
Kyle Wilson
are capable.
But none of them are as good as Revis is. His return would provide invaluable peace of mind.
[+] Enlarge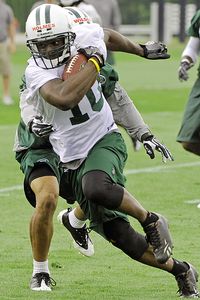 AP Photo/Bill KostrounSantonio Holmes was just one of the Jets' high-profile offseason acquisitions.
3. Did the Jets ruin a good thing with too many roster moves?
The Jets came within a half of the Super Bowl, taking a lead into the third quarter against the
Indianapolis Colts
-- in Lucas Oil Stadium, no less. It was a young team on the make, the type of roster you'd like to keep as intact as possible.
Or so you would think. Ryan and general manager Mike Tannenbaum got rid of a few starters with big voices in the locker room. Gone were the lead running back on the NFL's top ground attack (
Thomas Jones
), a perennial Pro Bowl left guard (
Alan Faneca
), a starting safety (
Kerry Rhodes
) and a respected kicker (
Jay Feely
).
The Jets made some high-profile acquisitions, too. But perhaps the two biggest moves, Holmes and Cromartie, were poaching other teams' misfits. They also signed Tomlinson and outside linebacker
Jason Taylor
, classy veterans but with question marks about what they have left.
BIGGEST SURPRISE
Other than references to his nickname, not much was written or said about Kentucky fullback
John Conner
when the Jets drafted him in the fifth round. The Jets had re-signed
Tony Richardson
for a 17th season, and they wouldn't bring him back if he wasn't going to keep his job, right?
Richardson might be on the bubble. Ryan has been diplomatic in speaking about Richardson's value to the Jets as a locker-room leader, but there's no doubt Ryan loves The Terminator. Conner has been a thumper in camp. Conner will make the team, and keeping two fullbacks is a luxury.
BIGGEST DISAPPOINTMENT
Revis' holdout is a shame on multiple levels. Both sides are standing by principles that are fully understandable. Revis is the NFL's best defender and wants to be paid as such. The Jets, meanwhile, have a signed contract that lasts three more years and refuse to consider as any kind of standard the
Oakland Raiders
' ridiculous deal with
Nnamdi Asomugha
, the league's highest-paid cornerback.
Unless they can reach a compromise or the Jets win the Super Bowl without him, both sides will forever regret this dispute. The Jets have a chance to win their first championship in four decades, and Revis might never get this kind of shot to win a title regardless of where he finishes his career.
OBSERVATION DECK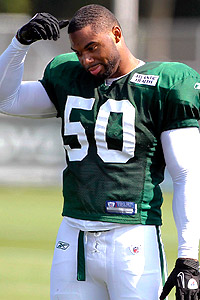 William Perlman/The Star Ledger/US PresswireNew York is comfortable with Vernon Gholston at defensive end in passing situations.
September, 10, 2009
9/10/09
4:29
PM ET

Posted by ESPN.com's Mike Sando
Questions, answers and observations as the 49ers prepare for their 2009 regular-season opener without first-round draft choice
Michael Crabtree
:
1. Is an agreement in sight?
The evidence suggests not. Players tend to sign before missing regular-season game checks, but by now we would have seen more signs of movement. None is apparent. Crabtree's throwing session with
Trent Dilfer
took place three weeks ago, so I wouldn't read much into that. If Crabtree lets one game slip past without signing, we'll know he's as serious as he appears.
2. What is the holdup?
It's impossible to know without trusting sources with a vested interest in how the arguments are framed. The cliché says the devil is in the details, and that is probably the case here. High-stakes negotiations for drafted rookies are about identifying which incentive terms will allow the player to maximize total value. What if Crabtree fears he could not hit those incentives in the 49ers' conservative offense? More on that in a bit.
3. Does Crabtree want to play for the 49ers?
I'm starting to have doubts. The other first-round picks in this division had a hard time missing training camp practices, let alone exhibition games or the regular season.
Beanie Wells
traveled overnight to reach Cardinals camp without missing any more practices than necessary.
Aaron Curry
told reporters he had reached a breaking point after missing one week of camp. Crabtree? Not so much.
4. Why wouldn't Crabtree want to play for the 49ers?
Perhaps he's been listening to Mike Singletary and Jimmy Raye talking about how they want to run the ball 60 percent of the time, more than any NFL offense ran the ball last season. The way quarterbacks
Shaun Hill
and
Alex Smith
performed during the exhibition season probably didn't help. And if you look at Raye's history as a coordinator -- see the chart below -- he's clearly serious about running the football.
| | | | | |
| --- | --- | --- | --- | --- |
| Season | Offense Coordinated by Jimmy Raye | Receptions Leader | Receptions | Yards |
| 2000 | Chiefs | Derrick Alexander | 78 | 1,391 |
| 2005 | Raiders | Jerry Porter | 76 | 942 |
| 2004 | Raiders | Jerry Porter | 64 | 998 |
| 1991 | Rams | Henry Ellard | 64 | 1,052 |
| 2001 | Redskins | Michael Westbrook | 57 | 664 |
| 1999 | Chiefs | Derrick Alexander | 54 | 832 |
| 1998 | Chiefs | Derrick Alexander | 54 | 992 |
| 1990 | Patriots | Irving Fryar | 54 | 856 |
| 1985 | Bucs | Kevin House | 44 | 803 |
| 1986 | Bucs | Gerald Carter | 42 | 640 |
| 1983 | Rams | George Farmer | 40 | 556 |
| 1984 | Rams | Henry Ellard | 34 | 622 |
| x | x | Averages | 55 | 862 |
The reception leaders in Raye-coordinated offenses averaged 55 catches per season, with only two receivers reaching 65 receptions in 12 seasons. Those same 12 offenses produced 2,105- and 1,808-yard rushing seasons for Eric Dickerson, a 1,432-yard season for Stephen Davis, a 1,300-yard season for James Wilder and a 1,025-yard season for
LaMont Jordan
.
5. Will the 49ers cave?
I do not think so. Crabtree was a value pick, not a need pick. The 49ers knew they wanted to be a power running team. They weren't going to build the offense around a rookie receiver who missed minicamps while rehabbing a foot injury. More broadly, the 49ers and the rest of the NFL have too much at stake to be perceived as altering the informal slotting system teams use to determine value for draft choices.
6. Who is advising Crabtree?
Eugene Parker is the agent of record. We also should not underestimate Deion Sanders' sway as a mentor and opinionated adviser. Sanders suggested on NFL Network that other teams would be willing to acquire Crabtree from the 49ers and meet his contract demands. Sounds to me as though Crabtree would welcome a trade. Sanders is 42 years old, hardened by the league and bottom-line oriented in his assessments. I think he could influence Crabtree's thinking.
7. Is a trade likely?
The likelihood increases if Crabtree stays away through the season. The 49ers cannot appear to be acquiescing, but they also need to get value in the end. If the 49ers enjoy a season and Crabtree stays away, a trade becomes more palatable.
8. Who has more at stake?
Crabtree. The 49ers do not need a rookie receiver to accomplish what Singletary has set out to accomplish. Crabtree needs the 49ers to get what he wants in the short term. And if he does sit out the season with an eye toward re-entering a future draft, he will have lost money in the short term while possibly alienating other teams. There's no guarantee another team would draft him high enough to offset the compensation Crabtree would have bypassed in the interim.
March, 10, 2009
3/10/09
10:50
AM ET
Posted by ESPN.com's Mike Sando

Bill Coats of the St. Louis Post-Dispatch says James Butler is six years younger than Corey Chavous and ready to replace him in the lineup at strong safety.
Also from Coats: Mike Karney could fit as the blocking fullback St. Louis wants for its offense. No mention of Leonard Weaver as a potential candidate.
Rich Cimini of the New York Daily News expects the Jets to show interest in receiver Torry Holt once the Rams release him, as expected. Cimini: "Henry Ellard is the Jets' new receivers coach, the same Ellard who served as Holt's position coach for seven consecutive 1,000-yard seasons. If that doesn't give the Jets an advantage in terms of recruiting and insider knowledge, what does?"
VanRam of Turf Show Times links to a radio show in which Jim Thomas of the St. Louis Post-Dispatch suggests the Rams could try to rework Randy McMichael's contract.

John Morgan of Field Gulls says the Seahawks are "very interested" in Clemson safety Michael Hamlin, who spoke with three members of the organization in one day.
Also from Morgan: He thinks the Seahawks should re-sign Weaver. The price apparently hasn't been right to this point.
More from Morgan: Seven players for the Seahawks to draft. Quarterback Matt Stafford, offensive lineman Max Unger, safety Michael Hamlin, receiver Mike Thomas. defensive tackle Terrance Taylor and snapper Jake Ingram get the call.
NFL.com carries a transcript of T.J. Houshmandzadeh's recent chat. He says the Bengals weren't as serious about re-signing as it appeared. Houshmandzadeh: "They were persistent, but it wasn't persistent with good intentions, in my opinion. They weren't as persistent as it has been reported that they were."

Matt Barrows of the Sacramento Bee says the 49ers could have a hard time finding an offensive tackle with the 10th overall choice. Barrows: "The Raiders have pick No. 7 and they definitely could use a tackle. Theoretically, so could Detroit, St. Louis, Kansas City and Cincinnati." The Seahawks could consider one as well.
Also from Barrows: Expect cornerback Karl Paymah to visit the 49ers on Wednesday.
Clark Judge of CBSSports.com lists the 49ers among three teams that need to "stay after school" for their efforts in free agency. Judge: "I don't mean to pick on the 49ers, but they have a nasty habit of spending a lot of money on marginal talent. This year's winner is wide receiver Brandon Jones, who picked up a $5.4 million signing bonus. I don't know much about Jones, other than when I watched the Titans, I never had a feeling he was a guy who could beat you." Judge also thinks the Rams paid a premium for Jason Brown.

Jim Corbett of USA Today quotes Kurt Warner as saying he's still willing to take a pay cut to help the team sign Anquan Boldin. Do players really think that's how it works?
Revenge of the Birds' Hawkwind checks in with Cardinals offensive lineman Elliot Vallejo.
Kent Somers of the Arizona Republic says the Cardinals won't be spending big except to keep their own players.
Darren Urban of azcardinals.com says the Cardinals want Bertrand Berry to return and a deal appears likely at some point.
Also from Urban: He thinks the Cardinals will not trade Boldin.
NFL SCOREBOARD
Thursday, 11/20
Sunday, 11/23
Monday, 11/24
WEEKLY LEADERS