NFL Nation:

Herb Adderley
November, 21, 2011
11/21/11
4:30
PM ET
The buildup to our NFC North Thanksgiving Feast is going to short, intense and full of distractions. This week would have been busy even without Thursday's matchup between the 10-0
Green Bay Packers
and the 7-3
Detroit Lions
, so as of this moment I'm declaring
complete and total pandemonium in the ring
.
[+] Enlarge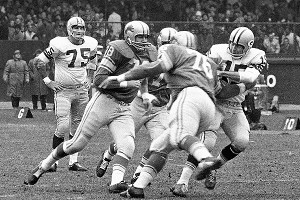 AP File PhotoDetroit's Darris McCord, 78, and Roger Brown, 76, sack Green Bay's Bart Starr on Nov. 23, 1962. The Lions dealt Vince Lombardi's Packers their only loss of a championship season, sacking Starr 11 times.
As we monitor the
Chicago Bears
'
quarterback transition
and
the health status
of the
Minnesota Vikings
' star running back, we'll start our Packers-Lions coverage with the story of a rematch nearly 50 years in the making.
If you qualify for AARP membership, or if you watched Bob Costas' weekly essay Sunday night on NBC, you know the Packers and Lions played a Thanksgiving game under similar circumstances in 1962. The Packers entered the game undefeated at 10-0, but the Lions handed them their only loss of the season.
Many people consider the 1962 Packers
the best team in franchise history
and one of the best in the history of pro football. It had 10 future members of the Hall of Fame, including fullback Jim Taylor, right tackle Forrest Gregg, quarterback Bart Starr, linebacker Ray Nitschke, cornerback Herb Adderley, defensive end Willie Davis, center Jim Ringo, halfback Paul Hornung, safety Willie Wood and defensive tackle Henry Jordan.
But on November 23, 1962, the Lions handed them a decisive 26-14 defeat. They sacked Starr 11 times and intercepted him twice.
Monday, the Lions made several members from that team available via conference call. On that day, recalled Hall of Fame linebacker Joe Schmidt: "We were all out to prove to the world that we were as good or better than Green Bay."
(Sound familiar?)
History tells us the Lions were hardly slouches in those days. They won the NFL title in 1957 and won the Runner-Up game in 1960 and 1961. But after opening the 1962 season 3-0, the Lions lost to the Packers in a game that has gone down in franchise lore.
Jerry Green of the Detroit News
recalled that game in detail this season. The short version: Leading 7-6 with less than a minute to play, the Lions called a pass play. Receiver Terry Barr slipped, and Adderley intercepted Milt Plum's pass to set up Hornung's game-winning field goal.
Tempers flared in the post-game locker room, and defensive tackle Roger Brown said Monday that the Lions had a "vendetta" against the Packers in the Thanksgiving rematch. Added Schmidt: "We always felt down deep that we were a better football team."
The Lions were well-versed in Packers' coach Vince Lombardi's offense, and defensive coordinator Don Shula worked with Schmidt to recognize each play.
"They basically ran six or seven plays off a couple different formations," Schmidt said. "By the formation, I could call a slant to where they were going to run. Our defensive line penetrated them so severely that their offensive line lost their poise."
Said Brown: "We were determined to get to Bart Starr. I don't think the German Luftwaffe could have stopped us that day."
The parallels for this year's game are interesting, if not completely relevant. The Packers are again 10-0, of course, and the Lions are quite eager to demonstrate they are, as Schmidt said, just as good. Like the 1962 team, today's Lions are built around a nasty defensive line. I'm not sure if
Kyle Vanden Bosch
,
Ndamukong Suh
and company will register 11 sacks Thursday of Packers quarterback
Aaron Rodgers
, but they'll be trying.
It's worth noting that the Packers rebounded from that 1962 loss to finish 13-1 and win the NFL title. The Lions finished 11-3 and made another trip to the Runner-Up game. If nothing else, it's nice to have a game this season that means something to everyone -- the teams, both sets of fans and the playoff race.
September, 2, 2010
9/02/10
1:02
PM ET
After reading
this week's Great Debate
about the future of the
Green Bay Packers
' history books,
Bryan of Madison, Wis.
, made a desperate plea:
Could you please pump the brakes on getting Aaron Rodgers fitted for his yellow Hall of Fame jacket and at least wait until he wins a single playoff game? Yeesh.
Our friends over at
Cheesehead TV
were a little more nuanced
in their reaction
, although I think the words "shut up" appeared a few times.
Dave of Annandale, Va.
, wrote that my "ignorance of Bart Starr is appalling" and is "typical of you modern-day 'experts' who think the NFL started in 1990."
[+] Enlarge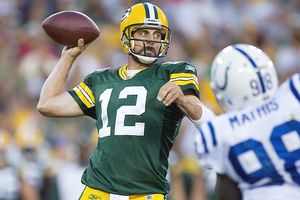 Jeff Hanisch/US PresswireAaron Rodgers is the first quarterback ever to produce consecutive 4,000-yard seasons at the start of his career.
Dan of San Diego
wasn't thrilled with my explanation for Rodgers' fumble at the end of last season's playoff loss to the
Arizona Cardinals
. "You need to stop being an enabler to those crybaby Packer fans," Dan wrote.
Thanks to everyone who read and reacted to a serious debate written with what I thought was an obviously light-hearted approach. Trust me, I am well aware that the statistical odds are stacked against Rodgers surpassing Favre in any way. Believe me, I am well versed in the nature of Starr's career. My approach to him in this debate was more flippant than ignorant, but I guess he is one of the untouchables. To be clear, I don't actually think Bart Starr was a mere caretaker of the Packers' championship teams in that era.
With the calendar showing almost two weeks until the start of the regular season, Tuesday was simply a good moment to have some fun with what is an emotional and at least somewhat relevant corner of the NFC North. Nothing more and nothing less. Even if it's mere speculation, I do think it's worth considering what limits -- if any -- Rodgers has on what could be a historic career.
Knowing that this post was coming, I asked Rodgers an open-ended question last month on the general subject. I wanted to know if he had spent any time thinking about where his career might take him. After all, many of the game's all-time greats didn't open their careers as strongly as Rodgers has.
After a pause, here is what Rodgers said:
"Not really, to be honest with you. I'm a pretty regimented guy. I'm blessed with one of the great teachers in the game in [quarterbacks coach] Tom Clements. And we're always working. His best quality is not letting me be content with where I am as a player, and to always point out things I can improve on. That's how I stay motivated in the offseason. One thing I do realize is that as our team's success goes, then all of our individual success goes. And keeping that I mind, I think we can all have a lot of success this year."
OK. let's adjourn until such time that we can nominate
Charles Woodson
as the best defensive back in Packers history. Too bad for Herb Adderley, Willie Wood and Mossy Cade.
July, 1, 2010
7/01/10
11:30
AM ET
Notable players:
Fullback Jim Taylor, right tackle Forrest Gregg, quarterback Bart Starr, linebacker Ray Nitschke, cornerback Herb Adderley, defensive end Willie Davis, center Jim Ringo, halfback Paul Hornung, safety Willie Wood, defensive tackle Henry Jordan.
[+] Enlarge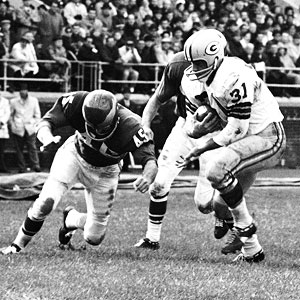 AP Photo/Bill IngrahamIn their 49-0 win over the Eagles, Jim Taylor and the Packers gained a total of 628 yards.
Analysis:
There are notable players, and then there are the best of the very best. All 10 players listed above have been inducted into the Pro Football Hall of Fame. In other words, nearly half of the
Green Bay Packers
' 1962 regular lineup were among the best of their era. That type of talent collection could never be replicated in today's era of superstar contracts.
Under Hall of Fame coach Vince Lombardi, this Packers team shut out two of its first three opponents and won its first four games by a combined score of 109-14. It went on to finish the season 13-1, leading the NFL in both points scored and fewest points allowed, and won the league championship with a 16-7 victory over the
New York Giants
. There hasn't been another one-loss season in Green Bay ever since.
The Packers have won 12 titles in their history, including five under Lombardi, but the 1962 team was a powerhouse unto itself. If you've read David Maraniss' biography of Lombardi, you understand why: This edition of the Packers recorded a pair of 49-0 victories and
set an NFL record
for highest average point differential in its games (19.1 points). Here are some other notable marks:
In the second 49-0 drubbing, this one at Philadelphia, the Packers gained -- yes -- 574 more yards than the Eagles (628-54).

The 49-0 victories are the two biggest shutouts in team history.

The 1962 Packers scored 53 touchdowns, the second-most in team history despite a 14-game season at the time. Its 36 rushing touchdowns remain an NFL record.

The defense led the NFL with interceptions (31) and fewest passing yards allowed (2,084).
The season's running performance was the grist for Lombardi's epic "Run To Daylight" with Bill Heinz. While Hornung is often remembered as the Packers' top back, in 1962, Taylor led the team with 1,474 yards and an amazing 19 touchdowns.
The Giants were hell-bent on revenge in the championship game, having lost to the Packers 37-0 the year before. The game was in New York, but the Packers controlled the game throughout in 17-degree weather at Yankee Stadium. The Giants' only score came on a blocked punt. (Check out this
NFL Films video
on that game. Cool stuff.)
Most impressive win:
It's hard to overlook an NFL title game, but beating any team 49-0 and outgaining it by 574 yards is a stunning demonstration of dominance.
Did you know?
Nitschke was the MVP of the championship game but might have had a bigger impact on the league a few hours after the game. As the story goes, Nitschke appeared on the television show "What's My Line?" wearing his trademark black rimmed glasses. A film producer named Ed Sabol bought the rights to that appearance for $3,000. Sabol's company eventually became known as NFL Films.
Honorable mention:
1966:
Won Super Bowl I after finishing the regular season 12-2. Its two losses, to San Francisco and Minnesota, came by a total of four points.
1996:
Led the NFL in points scored and fewest points allowed, the only team to do so in the past 36 years, and won Super Bowl XXXI.
1929:
Clinched the Packers' first NFL Championship, this one based on final standings, with an undefeated record (12-0-1).
NFL SCOREBOARD
Sunday, 2/2
WEEKLY LEADERS