September, 21, 2012
9/21/12
4:49
PM ET
September, 16, 2012
9/16/12
8:04
PM ET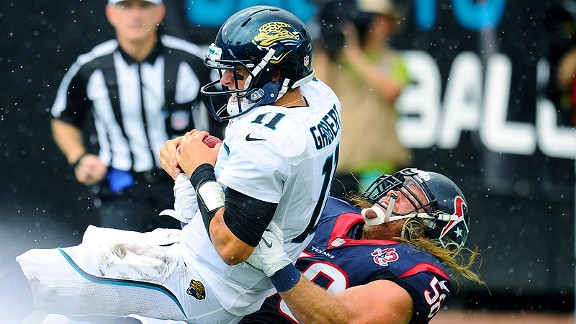 Dale Zanine/US PresswireThe Texans' D held the Jaguars to 117 yards on offense -- a new franchise low for Jacksonville.
JACKSONVILLE, Fla. -- In suffocating the division-rival
Jacksonville Jaguars
27-7
at EverBank Field, the
Houston Texans
showed many of the characteristics good football teams generally possess.
By so doing they moved to 2-0 and remained atop the AFC South, where they stand as perhaps the most clear-cut favorite to win their division.
"Two 20-point wins in the first two weeks, that's what you're supposed to do," said defensive end
J.J. Watt
, who had another sterling effort and productive stat line: four tackles, a sack-and-a-half, two batted down passes and a fumble recovery.
His teammates talked of him performing like a Pro Bowler. He said he hopes to be unavailable for the game, which would be the case if the Texans are busy preparing for a Super Bowl.
What did the Texans show us that helps make the case they could make it to New Orleans?
1) They dispatched a team that can't match their talent in relative short order, taking away any hope of an upset in a hurry. And they still weren't entirely satisfied. It was 17-0 with less than seven minutes left in the first half and felt like they could double that.
"We can be better," defensive lineman
Antonio Smith
said. "But we're a good defense. We thought we could come out with a zero, a goose egg."
2) They fared well in an area where they were not good just a week ago, showing the capacity to repair a problem in short order -- in this instance, running the ball.
"I would say [it is a sign of a good team], you've got a problem, you can fix it fast," said running back
Arian Foster
, who turned 28 carries into 110 yards and a touchdown. "But it could go back the other way, so you've got to continue to try to fix it."
3) They took advantage of another team's weak spot. The Jaguars were down two starting offensive lineman, and starting left guard
Herb Taylor
had not played in an NFL game since 2008 and was just signed on Monday.
"That was a tough road to hoe for them," defensive coordinator Wade Phillips said. "But they have a great running back and we knew that we had to keep him down, which we did."
Maurice Jones-Drew
managed 5 yards a carry, but the Jaguars couldn't feed him like they wanted to because they were 0-for-9 on third down and held the ball for just 16:43.
Not a misprint. Jacksonville's time of possession was 16:43.
"They have really, really nice benches here," Watt said of the real estate he occupied for most of the afternoon. "They have shade and they have cooling. So it was awesome that our offense could hold the ball for so long because it was relaxing over there."
Some other things I took out of the Texans' big win:
Don't expect a controversy:
Blaine Gabbert
has an injury in the back of his leg and didn't finish the game. Coach Mike Mularkey made the move to sit the quarterback sound precautionary. Gabbert didn't talk about his own leg, deferring to Mularkey because of the coach's overzealous policy that fines a player $10,000 for talking about an injury.
He was unproductive with seven completions in 19 attempts for 53 yards with three sacks and a touchdown pass. His accuracy was poor, but his receivers looked to run some bad routes too.
The protection against a top defense was weak, he was hurt by several drops and he didn't throw a pick or lose a fumble. Gabbert is still the starter -- provided his injury doesn't cost him the bulk of practice this week and leave Mularkey feeling he'd be better off with
Chad Henne
in the short term.
For Jacksonville, 117 total net yards was a new franchise low, as was that time of possession.
"It was absolutely unbelievable some of the things we did, especially in the [scripted first] 15 plays," Mularkey said.
The Jaguars had some mixed feelings about what the loss meant, which served mostly as evidence for how different guys digest a terrible day in different ways.
"It tells us that we're not good enough, that we've got to change things, that we've got to improve, otherwise it's going to happen every week," safety
Dwight Lowery
said. "You can go about it a bunch of different ways. But the way we've been going about it obviously ain't working."
[+] Enlarge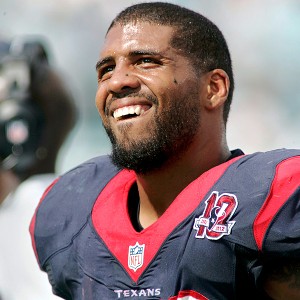 Phil Sears/US Presswire Arian Foster rushed for 110 yards on 28 carries as the Texans controlled the ball all game.
Countered tight end
Marcedes Lewis
: "Obviously they played a better game than we did today. That wasn't us out there. We just never could really get it going. It just wasn't our day. This is two games, you know. Fourteen left, that's the good thing about it. When you lose, it sucks, but there are some things to gain from it. We'll get better."
Offensively the Jaguars were simply too conservative. Sure, missing two starters on the offensive line can create a dangerous situation for the quarterback. But at some point you have to threaten more to have a chance to win, if that's what you intend to do.
Gabbert did not look down the middle of the field or deep often enough, and when he finally did the Jags found their biggest play of the day, a 39-yard connection with
Laurent Robinson
that set up a 5-yard touchdown catch for Jones-Drew.
"Those plays were called," Mularkey promised. "I was on phones. I know it was called. The ball has to come out quicker."
Such a good vibe:
The Texans feel great about their ability to beat you in different ways and do what is necessary to win.
But they consider the run game their backbone, and a week after an 82-yard effort they found insufficient against Miami, Foster got his 17th 100-yard game and
Ben Tate
took 12 carries 74 yards and scored twice. The team managed 48 carries for 216 yards, which amounts to a 4.5-yard average.
"Whenever we can go out and run the ball we did, we just keep teams off balance," said receiver
Andre Johnson
, who caught only three passes for 21 yards. "When we do that it's hard to stop. Our plan was to run the ball. Coach stressed that after our performance last week.
"Every time we play that team the game is pretty much won by the team who runs the ball the best. The team that plays the most physical pretty much wins it. That's what we did today."
It wasn't technically no-huddle, but the Texans quick huddle dictated pace and certainly helped wear down the Jaguars considering how much Jacksonville's defense was on the field.
"It really helped us keep attacking," quarterback
Matt Schaub
said.
Not reactive:
Apparently EverBank Field's security's plan for a fan running on to the field is to pretend nothing is happening. That, or put the game on hold and let him tire himself out. If it is the latter, it should be reassessed, because it made the security look clueless and you can never tell what someone's intention is when he or she gets close to players.
At any rate, after this barefoot boob ran up and down the field early in the fourth quarter, he lined up wide near the line of scrimmage as if he was a split end and caught his breath. Then he took off again.
Lowery had seen enough, and chased him down. Grabbing him with one hand, then passing him to a security person.
I asked Lowery what he was thinking as he decided to take care of it.
"Get the f--- off the field," he said. "It's ridiculous. I was willing to put a shot on him, but he held up when I got him."
"That was crazy," Houston left tackle
Duane Brown
said. "But it was pretty disturbing that he was just able to go out there and run freely and have a good time. I guess it was fun to watch and gave us a bit of a break."
Chimed in Smith, who calls himself the Ninja Assasin: "That dude had, like, Ninja-like stealthness."
September, 16, 2012
9/16/12
12:08
PM ET
JACKSONVILLE, Fla. -- The Jaguars held out a bit of hope that one of two key questionable starters would be in the lineup today.
But both left guard
Eben Britton
(ankle) and cornerback
Derek Cox
(hamstring) are out.
And the spotlight falls today on
Herb Taylor
, who is a bit of a surprise replacement for Britton after Mike Brewster stepped into the spot last week when Britton got hurt. Apparently he didn't do sufficient work.
Taylor was added as a street free agent Monday. He was previously with the
Green Bay Packers
.
I'd expect Houston's front to look for ways to attack him as they try to find avenues to
Blaine Gabbert
.
The full lists of inactives form EverBank Field.
Jaguars
Texans
August, 24, 2012
8/24/12
6:50
PM ET
About an hour after we noted the
Green Bay Packers
had
turned their attention toward the composition of their roster
, the team announced five roster cuts. By far the most notable name was defensive end
Anthony Hargrove
, a rare free-agent acquisition who learned a few weeks after he
signed with the team
that he would be
suspended eight games
as part of the NFL's discipline for the
New Orleans Saints
bounty program.
Hargrove
The Packers had the option of carrying Hargrove on their suspended list once the season began. He wouldn't have counted against their 53-man roster during that time period, but it was also clear that the looming suspension had created a roadblock. The Packers gave him only a handful of snaps in team periods, acknowledging they needed to distribute them instead to players who were eligible to start the season. In many ways, the Packers were forced to move on.
I don't blame the Packers for taking care of the team first. But for what it's worth, I agree with a thought t
weeted out this evening by Albert Breer of the NFL Network
, who suggested the release "could raise some legal liability for NFL tied to the Saints' bounty situation."
We've spent a lot of time picking through the evidence the NFL presented against Hargrove,
most of which was easy to poke holes in
. In the end, it was difficult to understand explicitly what exactly Hargrove was suspended for.
A reasonable person could put two and two together and suggest Hargrove wouldn't have been released Friday if he hadn't been suspended. In other words, the bounty discipline has significantly impacted Hargrove's career. We'll see if that leads anywhere from a legal perspective.
Note:
The other four players released were receiver
Andrew Brewer
, safety
Micah Pellerin
, tackle
Herb Taylor
and cornerback
Dion Turner
.
August, 10, 2012
8/10/12
7:09
AM ET
Reviewing Thursday's action at Qualcomm Stadium:
San Diego Chargers 21, Green Bay Packers 13

Preseason record:
0-1
Of interest:
Overall, a pretty ugly night for the defending NFC North champions. Two defensive starters departed with injuries, and the biggest concern was the condition of linebacker
Desmond Bishop
, who left the sideline on a cart because of a right knee injury. The Packers seemed braced for the worst Thursday night. Bishop has struggled with calf problems over the past year, and
D.J. Smith
is a capable backup, but it's early to start losing presumptive starters. Cornerback
Davon House
also left with a shoulder injury. … Even in the context of the preseason, the Packers' first-team offense had a rough night. Its three possessions ended in two turnovers and a punt, and overall the Packers had three turnovers in the first quarter alone. Watching Chargers rookie
Melvin Ingram
smoke replacement left tackle
Herb Taylor
was a nightmare for anyone associated with the Packers, especially when Ingram slammed into quarterback
Aaron Rodgers
(2-of-8 for 16 yards) and caused an interception. … Linebacker
Nick Perry
's bull rush of Chargers veteran
Jeromey Clary
in the first quarter was encouraging, even if replacement referees penalized his subsequent sack dance. … Safety
M.D. Jennings
got turned around by veteran tight end
Antonio Gates
on a 23-yard touchdown reception, and I wasn't a big fan of Jennings' tackle attempt (nor that of fellow safety
Morgan Burnett
) on
Vincent Brown
's 27-yard score. … Backup quarterback
Graham Harrell
(15-of-27 for 135 yards) had some moments, including a 3-yard score to receiver
Randall Cobb
, but it's clear he needs a lot of preseason playing time to even out his game.
Local coverage (in lieu of BBAO):
Coach Mike McCarthy said that Bishop's injury "didn't look very good," according to
Jason Wilde of ESPNMilwaukee.com
, but that the Packers would "hopefully get some good news as further testing goes on." … Harrell on his performance, via
Tyler Dunne of the Milwaukee Journal Sentinel
: "Getting a chance to get that many reps -- and get in drive after drive -- is definitely good for me. We'll only get better from it. As the preseason goes on, hopefully we'll continue to improve." …
Bob McGinn of the Journal Sentinel
wasn't impressed with the evening. McGinn: "You couldn't draw up a more inept start to an exhibition season than the Green Bay Packers' regulars subjected a national cable television audience to Thursday night. Miserable on offense. Feeble on defense. Flawed and mistake-prone on special teams." …
Pete Dougherty of the Green Bay Press-Gazette
: "The Green Bay Packers were fortunate to get out of this game with Aaron Rodgers upright and in tact." … Perry played much of the first half and also drew a holding penalty from Clary, notes
Rob Demovsky of the Press-Gazette
.
August, 9, 2012
8/09/12
12:30
PM ET
Three items of interest in the Green Bay Packers' preseason opener against the San Diego Chargers, to be televised this evening at 8 p.m. ET on ESPN:


Quarterback Aaron Rodgers' safety:
You wonder how long the Packers will play the reigning MVP given their situation at left tackle, where starter
Marshall Newhouse
is sidelined by a concussion. Veteran
Herb Taylor
, who has made one NFL start and hasn't played in a regular-season game since 2008, is the likely replacement. Rodgers would probably have played a couple of series if Newhouse were on the field. You don't want to play or coach scared, but are preseason reps important enough to have your franchise protected by a journeyman left tackle?
Playmaking process begins:
It'll be fun over the next few weeks to see who among the Packers' defensive newcomers proves to be a playmaker. You can only see so much in training camp practices, but it's a fact that some players take it up a notch under the so-called "bright lights." Rookies such as
Nick Perry
,
Jerel Worthy
and
Casey Hayward
figure to get extensive playing time against the Chargers. Some of their work could come against second- and third-team players, but we'll start to see how they react under pressure of game situations.
Officiating history:
Shannon Eastin will serve as the line judge, becoming
the first woman to be part of an officiating crew
in NFL history. Her achievement will be overshadowed, however, by the ongoing labor dispute between the league and its front-line officials. Eastin wouldn't be in this position without it, and her performance will be heavily scrutinized along with the rest of the league's replacement officials. Privately, NFL coaches and players are hoping for the best, but worried about the worst in a situation that's ideal for no one.
January, 15, 2012
1/15/12
3:18
PM ET
GREEN BAY, Wis. -- The
Green Bay Packers
had only one injured player to monitor this week, promising more healthy scratches than usual for Sunday's divisional game against the
New York Giants
. In addition to injured linebacker
Robert Francois
, here is who the Packers deactivated Sunday afternoon:
One notable starting lineup change: As expected, the Packers will start
Brad Jones
at the right outside linebacker position that was manned all season by
Erik Walden
.
NFL SCOREBOARD
Sunday, 2/2
WEEKLY LEADERS