NFL Nation:

Herschel Walker
April, 29, 2014
Apr 29
1:00
AM ET
Join us today at 2 p.m. ET, 11 a.m. PT as ESPN's NFL Nation TV's third Spreecast airs live. Host Paul Gutierrez (
Oakland Raiders
reporter), co-host Coley Harvey (
Cincinnati Bengals
reporter) and guest Terry Blount (
Seattle Seahawks
reporter) take on topics.
Among topics we'll discuss: Herschel Walker saying he could still play in the NFL, a 49ers fan suing the NFL for $50 million over Seattle's ticket situation in the NFC title game, Megatron potentially finding a loophole in the NFL's anti-celebration dunk rule and the Seahawks
Richard Sherman
and
Russell Wilson
in the news for vastly different reasons. Viewers are encouraged to log in and ask the panelists questions as well as contribute in the chat feature.
February, 27, 2014
Feb 27
10:00
AM ET
IRVING, Texas -- Tuesday marked the 25th anniversary of Jerry Jones' purchase of the
Dallas Cowboys
and Texas Stadium for $140 million.
The highs have been high, but the lows have been low, especially since the Cowboys last won a Super Bowl in the 1995 season.
Here we will look at Jones' top five moments as the Cowboys' owner and general manager while realizing that a large segment of the fandom will not give him any credit for what happened in the early years when Jimmy Johnson was around.
1. How do you like those Super Bowls?
[+] Enlarge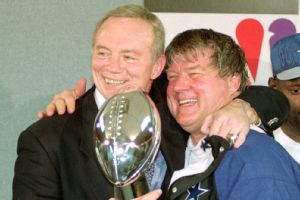 AP Photo/Charles KrupaOwner Jerry Jones and coach Jimmy Johnson celebrate their 30-13 win over Buffalo in Super Bowl XXVIII on Jan. 30, 1994, in Atlanta.
The Cowboys won three titles in Jones' first seven years as owner. They became the first team to win three Super Bowls in a four-year span, becoming the team of the 1990s with the Triplets -- Michael Irvin, Troy Aikman and Emmitt Smith -- becoming household names. The Cowboys beat the
Buffalo Bills
in Super Bowls XXVII and XXVIII by a combined score of 82-30. They claimed Super Bowl XXX with Barry Switzer as coach by beating the
Pittsburgh Steelers
27-17, exacting some revenge for the '70s Cowboys who could not beat Terry Bradshaw & Co.
2. Hiring Jimmy Johnson
Jones expressed regret Sunday about the rushed nature of firing legendary coach Tom Landry, but there is no doubt he made the right decision in bringing his former college teammate Johnson with him to the Cowboys. Johnson was the best coach in college football at the time at the University of Miami and brought a brashness that took the NFL by storm. The Cowboys suffered greatly in 1989 by going 1-15, but by Johnson's second year they were competing for a playoff spot in the final week of the season and winning a playoff game by the third year. By Year No. 4, Johnson had his first of two straight Super Bowl wins. It ended badly between Jones and Johnson, wrecking what could have been a history-making era because of the egos of the owner and the coach.
3. The trade of all trades
This is where the Jimmy and Jerry camps will always be divided. If you were a Jimmy guy, he engineered the trade of Herschel Walker to the
Minnesota Vikings
. If you were a Jerry guy, he had the final say. Regardless of who you want to credit, the moment is in Jones' era as owner and is among his biggest moments. The Walker trade brought about the formation of the Super Bowl teams. The Cowboys received five players and eight picks, turning those picks into Smith, Alvin Harper, Dixon Edwards and Darren Woodson. It might be the best trade in NFL history.
4. A new home
At $2.1 billion, there is no stadium like AT&T Stadium. This will be the monument Jones leaves whenever he is no longer the owner and general manager of the team. To get the stadium built, Jones acquiesced to a degree by bringing in Bill Parcells as coach in 2003 after three straight 5-11 finishes. With Parcells and the coach's two Super Bowl wins, Jones could show people he was serious about winning and changing his ways. The stadium is unmatched in the NFL, if not the world, with its nightclub-type feel, center-hung digital board, retractable roof and sliding doors. The Cowboys might not have the same home-field advantage they had at Texas Stadium, but the stadium has delivered a Super Bowl, an NBA All-Star Game, numerous concerts and the upcoming Final Four.
5. Trading for Charles Haley
Again, this will divide the Jimmy and Jerry camps, but Haley was the piece to the puzzle who got the Cowboys over the top. It weakened the Cowboys' biggest rival at the time, the
San Francisco 49ers
, and brought the Dallas defense an attitude it lacked. The signing of Deion Sanders in 1995 also weakened the Niners, but Haley brought two titles -- if not the third, as well. The drafting of Smith, No. 17 overall, was another top moment with him becoming the NFL's all-time leading rusher. But Haley's arrival brought to Dallas what the fans want most: Super Bowls.
February, 26, 2014
Feb 26
11:10
AM ET
MINNEAPOLIS -- Welcome to the start of our "What If?" Wednesday offseason feature, where we'll take a weekly trip down the rabbit hole of
Minnesota Vikings
history and imagine how things might have been different if a pivotal moment in Vikings history had gone another way.
Now, with this team, the possibilities are vast and rich for this type of series, and I know there are plenty of you who will make a habit of averting your eyes on Wednesday solely for reasons of self-preservation. Not to fear -- we've heard your cries, and we promise this feature won't just be a weekly re-hashing of Drew Pearson catching a Hail Mary,
Gary Anderson
yanking a field goal wide left or
Brett Favre
throwing across his body. We know you've been through enough, and while we'll get to those moments in time, we'll also mix in some more positive moments.
[+] Enlarge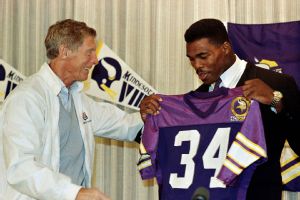 AP Photo/Jim MoneVikings coach Jerry Burns welcomes running back Herschel Walker to Minnesota in October 1989.
But in the interest of starting off with a bang, this first one won't be quite so positive. Hopefully enough time has gone by that we can all laugh about it now. I'm referring, of course, to the infamous
Herschel Walker
trade:
The date:
Oct. 12, 1989
The event:
Vikings general manager Mike Lynn strikes a deal to send five players and eight draft picks to the
Dallas Cowboys
in exchange for Walker and four future draft picks.
The aftermath:
Walker lasts just 2 1/2 seasons in Minnesota, never breaking the 200-carry mark in a season, and spends three seasons in Philadelphia and another one with the Giants before ending his career back in Dallas. By the time Walker returns to Dallas, of course, the Cowboys have built a dynasty, largely with the help of the Walker trade. The Cowboys used many of the picks to make trades in subsequent drafts, but the end result of the trade left the Cowboys with five players and four starters on their Super Bowl teams. Two of those starters were five-time Pro Bowl safety
Darren Woodson
and running back
Emmitt Smith
, the NFL's all-time leading rusher.
Now, let's say the trade didn't happen. Maybe Lynn balks at the price for Walker, or maybe he doesn't make up his mind before Jimmy Johnson's self-imposed deadline. How different would things have been?
Obviously, the effect for the Cowboys would have been profound. Without all those extra picks, they might not have acquired the pieces to build a roster that won three Super Bowls in four years from 1992-95. They wouldn't have had a first-round pick in 1990 -- in a striking example of how different things were back then, they'd already spent what would've been the No. 1 overall pick on quarterback
Steve Walsh
in the supplemental draft -- so they might never have ended up with Smith. If that doesn't happen, all the other effects of the deal are effectively rendered moot. Put simply, without Smith, there is no Cowboys dynasty.
But how would things have played out for the Vikings? Let's say they kept the 21st overall pick in the 1990 draft. That's where things get really interesting. You'll recall Smith went 17th overall in 1990 after the Cowboys traded up to get him, but if the Cowboys don't have the 21st pick to ship to the
Pittsburgh Steelers
, maybe Smith doesn't go at No. 17. Well, sitting there with the 18th and 19th overall picks were the
Green Bay Packers
.
Green Bay took University of Minnesota running back
Darrell Thompson
19th overall, and it's entirely possible the Packers would've taken Thompson over Smith anyway. But if the Vikings had never made the Walker trade, it's possible Smith would have wound up in Green Bay, not Dallas. It's also possible the Packers would've taken Thompson, the
Atlanta Falcons
would've taken running back
Steve Broussard
at No. 20 and Smith would have been sitting there for the Vikings at No. 21.
There are plenty of other effects that came from the Walker deal, but on the basis of Smith's involvement alone, it's not a stretch to say the trade changed the entire complexion of the NFC in the 1990s. The Cowboys won three Super Bowls, and while the Packers played in two and won one anyway, they lost three consecutive playoff games in Dallas before they got there. The
San Francisco 49ers
might have had a chance to collect even more hardware if not for the trade, while the Vikings wouldn't have been hamstrung in the draft for the first part of the decade. Considering the Vikings made seven trips to the NFC playoffs in the 1990s anyway, it's tempting to think how much better they could have been if they'd had the picks from the Walker trade -- like if they'd managed to draft Smith, pair him with
Cris Carter
and still wind up with
Randy Moss
in 1998.
We'll leave you there for the week, with promises of happier memories to come. If you've got suggestions for our future What-If Wednesdays, send them to me on Twitter at
@GoesslingESPN.
December, 26, 2011
12/26/11
3:06
PM ET
We all know that Carolina rookie quarterback
Cam Newton
is having an outstanding rookie season.
Newton
But what does it mean going forward? In this
Insider post
, our friends at Football Outsiders use "similarity scores'' to find historical matches for contemporary players. They compared Newton to some pretty outstanding quarterbacks during some pretty outstanding seasons (and we're not just talking rookie years for the other guys).
Their conclusion? We've never seen anything like Newton before. They say that it's fair to compare Newton to a young
Peyton Manning
as a quarterback and a young
Herschel Walker
as a running back. That's pretty high praise.
I've been saying for a couple months now that Newton is different than anything we've seen. You can say he throws like a Manning,
Dan Marino
or
John Elway
. You can also say he runs like
Michael Vick
or
Tim Tebow
.
There have been quarterbacks before that you could say one of those two things about. But I think Newton is the first guy you can say both things about.
May, 27, 2011
5/27/11
1:00
PM ET
Examining the most crucial event in the history of every team in the division.
Sorry, but I've got to wonder: Where's the love for Bill Parcells?
Philadelphia Eagles
,
Washington Redskins
and
Dallas Cowboys
all chose the hiring of a coach,
New York Giants
fans overwhelmingly selected the drafting of linebacker
Lawrence Taylor
in 1981.
Now, don't get me wrong. This is a fine choice. Given the choices that were offered, I would have picked the same, and the large majority of you did. Sixty percent of the more than 34,000 people who voted went with L.T. "Trading for
Eli Manning
in 2004" finished a distant second at 15 percent, "Tim Mara buys franchise in 1925" was third at 12 percent and "hiring GM George Young in 1979" got 10 percent of the vote.
Taylor was a transcendent player -- a human hurricane who impacted the Giants, their opponents and the history of the league in as direct and lasting a way as any defensive player who has lived. He led the Giants to two Super Bowls and was the face of one of the league's most famous defenses of all time.
But for reasons that escape me, Young's hiring of Parcells was not listed among the choices. The argument has been put to me, in response to my raising this issue, that it was Young who hired Parcells and so his was the more important hire. But it's not as if Parcells was some kind of system guy or front-office yes-man. He put as large and significant a stamp on those Super Bowl teams as did anyone with the possible exception of Taylor. He hired Bill Belichick, Tom Coughlin and a slew of coaches who were critical to the Giants' success and have gone on to do great things on their own. I may well have clicked the box for "other" and written in the hiring of Parcells as the answer.
Some of you agreed, including
vinnie 43
, who wrote: "Hiring of Parcells wasn't on the list? He's the man who invented Giant football -- run the ball, control the clock and play good defense. Parcells was the best move the Giants ever made."
Robbiemustgo32
voted for the hiring of Young: "LT was the defining image of that era of Giants football, but Young drafted him and he hired Parcells. Without Parcells or Belichick, LT may never have won a Super Bowl."
And speaking for the majority,
jwao777
: "I cannot emphasize enough how important drafting Lawrence Taylor was to the Giants. He literally changed the course of the franchise. I think of the Giants in terms of before LT and after LT."
COWBOYS: Tom Landry hired as head coach in 1960
The Cowboys became known as "America's Team" for the success they had under Landry, who didn't win a title until 1966 but was the chiseled face of the franchise for 29 years. Of the more than 50,000 who voted in the Cowboys poll, 50 percent picked the hiring of Landry as the franchise's most significant event.
Jones' 1989 purchase of the team (which resulted in the hiring of Jimmy Johnson as head coach and led to three more Super Bowl titles) finished second with 39 percent of the vote, easily besting the team's 1966 conference title (4 percent) and the 2003 hiring of Parcells (3 percent) which, as we've already discussed, should have been in another team's poll.
I can see the case for either of the top two choices, and frankly I believe I voted for Jones, since the change the franchise has made under him has been more all-encompassing dramatic on and off the field. A couple of people wrote in wondering why the
Herschel Walker
trade wasn't among the choices, and some others wondered why they couldn't vote for the hiring of Johnson.
DomeRanger83
appears to be in the Landry camp: "If you're old school, the defining moment for the Dallas Cowboys was their 1st Super Bowl win against the
Miami Dolphins
in S.B. VI. Before having the moniker of 'America's Team' in the '70s, they were the team that 'Couldn't win the big one!'"
But
theyoman359
thinks everything changed the first time Jones came down from the owner's box and stood on the field with Johnson: "This gesture catapulted Jones' ego into the stratos, and ever since that day, his will and his ego have clouded the reality of the team's efforts. I think he meant to emulate Steinbrenner, but went too far."
EAGLES: Andy Reid hired as head coach in 1999
Dick Vermeil delivered the franchise's first Super Bowl appearance, and Reid has often been criticized for only delivering one so far (and failing to win it). But in 12 years as head coach, Reid has reached double-digit victory totals eight times. He has won more games (118) and more playoff games (10) than any other Eagles coach. He has delivered seven division titles, coached in five NFC Championship Games and of course reached that one Super Bowl in the wild and wacky season of
Terrell Owens
.
Donovan McNabb
, Reid launched the Eagles into a cycle of success that represents the longest sustained period of excellence in the franchise's history. His hiring pulled in 56 percent of the more than 34,000 votes cast. Vermeil's hiring in 1976 got 18 percent of the vote. The back-to-back titles in 1948-49 got 12 percent. And the trade that sent McNabb to the Redskins last season got nine percent. I guess because it opened the door for
Michael Vick
?
DimorphicAU
: "Andy Reid has us on the path we are on now, perennial contenders lacking that one final killer blow. Hopefully shoring up the defense in the offseason will put us on track for a SB berth."
(Editor's note: There are worse things, of course, than being perennial contenders...)
Latinferno
dissents: "The most DEFINING moment in Eagles history was the 1960 NFL Championship team. The last of the "60-minute men" in HOF Chuck Bednarik making the game-saving tackle to be the ONLY team to defeat the Vince Lombardi-led Packers in the playoffs."
REDSKINS: Joe Gibbs hired as head coach in 1981
Given the choice, the more than 20,000 Redskins fans who voted in our poll justifiably prefer to remember the three Super Bowl titles Gibbs won with three different quarterbacks than to focus on the negative change that was brought about when Daniel Snyder purchased the team in 1999. Gibbs' hiring easily out-polled Snyder's takeover, 63 percent to 26 percent. The hiring of George Allen in 1971 got six percent, and the 1964 trade for Sonny Jurgensen got three percent.
It could be argued that the Redskins' descent into mediocrity under Snyder's stewardship was a more significant (if certainly not more positive) change than the rise to prominence under Gibbs. But I think the fans got this one right. Snyder hasn't wrecked the Redskins beyond repair. The reason expectations are what they are, and the fans are as passionate as they are, is because of what Gibbs built and accomplished.
KurtzJack56
voted for Snyder and isn't happy about it: "The best thing that he could do right now for the team and the franchise is to sell the team."
rakeshmistry1986
was in the Gibbs camp "by a wide margin": "Even in Gibbs' second go-round, he still led us to the playoffs twice in four years despite how flawed of a team Snyder and Cerrato gave him."
May, 17, 2011
5/17/11
12:30
PM ET
Examining the most crucial event in the history of every team in the division.
The most important moment in
Green Bay Packers
history was nearly scuttled by an unlikely source. Shortly after Vince Lombardi accepted the Packers' job as head coach/general manager in 1959, his wife was "distraught," according to historian David Maraniss.
Marie Lombardi approached
New York Giants
owner Wellington Mara, who owned Lombardi's contract as a Giants assistant coach. As Maraniss writes in "
When Pride Still Mattered
," Marie begged Mara to block her husband's move.
[+] Enlarge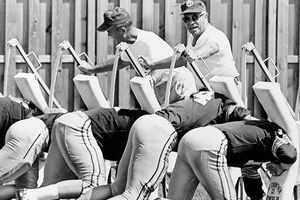 AP PhotoCoach Vince Lombardi (upper right) led the Packers to five championship wins in seven seasons.
Mara declined, knowing Vince was ready to be a head coach. Marie stood by her husband. And the rest, as they say, is Packers history.
Lombardi's arrival in Green Bay was your overwhelming choice
as the Packers' Flash Point
, and it received a higher percentage of votes (69 percent) than any individual event offered in last week's series of polls. Lombardi won his first NFL title in 1961 and collected four more before giving up the job in 1967, building an unmatched legend and painting the franchise in gold mystique for generations to come.
Some of you made impassioned arguments for Curly Lambeau's push to sell stock and make the franchise a non-profit organization in 1923, a short-term fundraising effort that embedded a structure still in operation today. "How can it not be Curly?" wrote
mallow420
. "If Curly doesn't save the Packers then there's no Packers to hire Lombardi."
Hadessniper
allowed that "Lambeau making the Packers public is more important for the Packers, as without that there is simply no way Green Bay keeps a team." But, wrote hadessniper, "Lombardi is probably more important for the NFL as a whole. The NFL was gaining popularity, but Lombardi gave the game a legend. Without Lombardi the NFL wouldn't be what it is today."
Timarquardt
was more direct: "Get back to me when someone else wins five championships in seven years. That's Lombardi's legacy and with all due credit to Curly, he did it when there was a bunch of good teams. Curly saved the franchise, obviously important, but without those Lombardi years the team never would have had the following through the dark years of the '70s and '80s to be successful."
What's fascinating to me is that Lambeau actually wanted Lombardi's job in 1959, a decade after an internal power struggle led to Lambeau's ouster. As Maraniss recounts, Lambeau flew to Green Bay during the interview process and launched a campaign to capture at least the general manager position that Lombardi ultimately filled. Dominic Olejniczak, president of the Packers board of directors, resisted the urge to hire him despite heavy public support.
The Flash Point mandate was less clear for the NFC North's other three teams. Let's sort through them in alphabetical order:
BEARS: A hero of 1985
About half of you
voted for the arrival
of defensive coordinator Buddy Ryan, the architect of the 46 defense that led the Bears to a championship in 1985.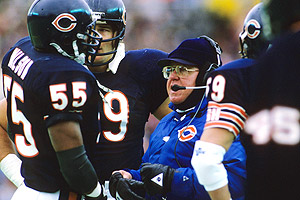 Ronald C. Modra/Sports Imagery/Getty ImagesBuddy Ryan's 46 defense formed the identity of the 1985 Super Bowl-winning Bears team.
Lewie21982
was livid and wrote: "Who are these people voting?? Are you just idiot baby boomers, hippies, or the '80s mullet crowd??? I was born in the '80s and clearly know the decision of drafting Red Grange or instituting the T-Formation was the most significant thing the Bears have ever done. The Bears have nine championships and eight of them were before Buddy Ryan, Mike Ditka, or the 46 defense ever came around!!"
I hear ya, Lewie21982. Red Grange made the Bears an early heavy hitter in pro football, and George Halas' schematic innovations led to the golden age in franchise history -- four world titles in seven years between 1940-46. But I understand where the baby boomers, hippies and mulleteers were going.
The 1985 Bears were the best team in franchise history and one of the most dominant of the NFL's post-merger era. With all due respect to Ditka and running back Walter Payton, Ryan's 46 defense was the biggest reason. It's impossible for a single moment to spawn something so impactful, and I heard a suggestion for ex-general manager Jim Finks acquiring many of that team's stars. But without Buddy Ryan, the 46 defense doesn't exist and the 1985 Bears as they were known never come to be.
LIONS: Forgetting yesteryear
The
Detroit Lions
' Flash Point vote
got more action
than any team in the division, garnering more than 53,000 votes. On that, we can agree.
[+] Enlarge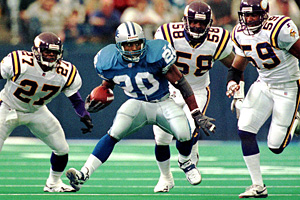 JEFF KOWALSKY/AFP/Getty ImagesBarry Sanders had a Hall of Fame career but couldn't get the Lions a championship.
But did the decision to draft running back
Barry Sanders
have more impact than any other event in franchise history? About 60 percent of you thought so, although the comments reflected a wider disparity.
I'm not on board, and neither was
j_sleik83
. We agree that quarterback Bobby Layne brought the Lions what Sanders never did. J_sleik83: "Bobby Layne in combination with the Hall of Fame defensive backfield the Lions had during the entirety of the '50s IS their defining era. Barry Sanders didn't lead them to the promised land, Layne did."
I mean no disrespect to Sanders, who forged a Hall of Fame career on some otherwise undermanned teams. But with Layne behind center, the Lions won NFL titles in 1952 and 1953. He contributed to a third in 1957, and upon his subsequent departure, Layne placed a (possibly apocryphal) 50-year curse on the franchise. (For that reason,
DWargs
thought trading Layne away is the defining moment in franchise history: "Haven't gotten close to a championship since.")
Several of you pointed to the ownership of the Ford family as the primary reason for that dubious run. Regardless, I understand that Lions history is defined more by failure than success. But on an otherwise desultory landscape, the Lions once had a brilliant run. Bobby Layne was the single biggest reason why.
VIKINGS: Varied opinions
I did either an excellent or terrible job of
choosing options
for the
Minnesota Vikings
' Flash Point: All four possibilities received between 19 and 32 percent of the vote. Assembling the "Purple People Eaters" had the highest percentage, but its total was hardly a mandate among the 38,000 or so votes cast.
[+] Enlarge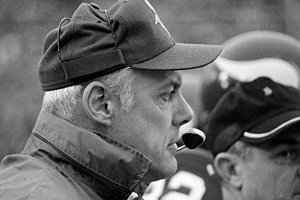 AP Photo/Jack ThornellBud Grant won 152 games as coach over 18 seasons.
Scanning the comments, it was clear that you agreed on only one thing: A Vikings Flash Point needed to reflect a long history of dysfunction.
Even looking beyond the obvious,
Ymacdaddy
offered this litany: "Herschel Walker, Metrodome [collapse], Gary Anderson, Dimitrius Underwood, too many in huddle, big-game chokers, etc. How about Darrin Nelson before Marcus Allen?"
The 1989 Walker trade, in which the Vikings ultimately gave up five players and six draft choices, received multiple mentions. So did Gary Anderson's shocking field goal miss in the 1998 NFC Championship Game.
BuckeyeVikes80
is "still reeling from that 12 years later."
Dbatten1
noted
Dallas Cowboys
quarterback Roger Staubach's Hail Mary pass to Drew "Push" Pearson in the 1975 playoffs.
TampaPacMan
's moment was the final play of the 2003 season, when the Vikings lost the NFC North title and a playoff berth by giving up an improbable touchdown to
Arizona Cardinals
receiver Nathan Poole. It was "the signature moment in a franchise history littered with failures!" wrote TampaPacMan.
If it were up to me, Bud Grant's arrival would rank as the most significant moment in Vikings history. Many of us would agree that Grant has made the single-biggest impact in this franchise's 50 years. But what do I know? I just work here.
April, 29, 2011
4/29/11
9:28
AM ET
Nice nugget from ESPN Stats & Information on multiple Heisman Trophy winners selected in the same draft and this one has big NFC South implications.
With
Cam Newton
and
Mark Ingram
both selected in the first round Thursday night, the 2011 draft marked just the seventh draft since 1967 in which more than one Heisman Trophy winner has entered the league in the same year.
Newton was picked No. 1 overall and he was college football's Heisman Trophy winner last season. Ingram was taken at No. 28, after the Saints traded back into the first round to get him. Ingram won the Heisman in the 2009 college season.
The feat also happened in last year's draft, when
Sam Bradford
and
Tim Tebow
both came with the trophy. Prior to that,
Reggie Bush
and
Matt Leinart
came in together in 2006.
Beyond that, there was a much bigger gap in the time frame. Desmond Howard and Ty Detmer came in the 1992 draft. Vinny Testaverde and Bo Jackson were picked in the 1987 draft. Herschel Walker and Doug Flutie were selected in 1985. Billy Sims and Charles White were drafted in 1980.
February, 22, 2011
2/22/11
10:15
AM ET
The
Carmelo Anthony megatrade is a dominant sports
story at the moment.
Anthony is headed to the New York Knicks in a three-way trade that involves 15 players and draft choices plus $6 million in cash.
NFL writers are comparing the trade to the Herschel Walker jaw-dropper in 1989. The
Dallas Cowboys
sent him to the
Minnesota Vikings
in a
deal comprised of 18 players and draft picks
.
That got me thinking ...
Rather than rehash some of the most leviathan trades in AFC East history, let's conjure up something that would be in the Anthony or Walker ballpark.
My assignment to you: Sketch out a trade scenario involving an AFC East club and a superstar that involves more components than an assemble-it-yourself entertainment center.
The rest I'm leaving up to you. Be as creative as you want. The featured player could be coming into the division or exiting. Send
Tom Brady
to the
Arizona Cardinals
. Lure
Michael Vick
to the
Miami Dolphins
. Swap
Darrelle Revis
for
Troy Polamalu
as a starting point.
Drop your proposal in the comments section underneath this article. I'll sift through the submissions and highlight the best in a future post. I'll be on the lookout for the most reasonable, unwieldy and imaginative offers. Bonus points if you explain your logic.
Now get transcrackin'.
December, 3, 2010
12/03/10
12:37
AM ET
By
Matt Mosley
| ESPN.com
The Eagles coughed up a 20-10 halftime lead, but quarterback
Michael Vick
led them to a
34-24 comeback win in the fourth quarter
Thursday night. Let's take a closer look at how it happened:


What it means:
The Eagles are in sole possession of first in the NFC East (at least until Sunday afternoon). Philadelphia (8-4), which plays at Dallas in 10 days, will have a great opportunity to be 9-4 when it faces the Giants in two weeks. It was a gut check for the Eagles after they dominated much of the first half. The Texans came roaring back to take a 24-20 lead, but Vick calmly led a touchdown drive early in the fourth quarter. He took way too many hits in the first half, but he managed to stay on his feet and make some huge plays down the stretch. Vick threw for 302 yards, two touchdowns and one interception. He also ran for a touchdown. I'm still not sure why Andy Reid and Marty Mornhinweg allowed Vick to take so much punishment. They could've run the ball more in this game, but that's nothing new.
The real McCoy:
Eagles running back
LeSean McCoy
was too much for the Texans to handle in the open field. He had eight catches for 86 yards and destroyed Houston in the screen game. The Texans dropped seven players back in coverage, but none of them could tackle McCoy in space. He added 44 rushing yards on 12 carries, but he did most of his damage in the passing game. He has become one of the best pass-catching backs in the league. It looked like the Texans weren't adequately prepared for his quickness. It was just a brilliant performance by McCoy, who reminds me a lot of
Brian Westbrook
when he gets in the open field. He makes defenders look really bad.
A huge play by Brent Celek:
Clinging to a 27-24 lead with 6:36 left, the Eagles faced a third-and-19 from Houston's 24-yard line. Vick threw a short pass to Celek, who was ruled down after an 18-yard gain. Replays showed that he was able to whip his body around and reach past the first-down marker, and Celek campaigned for Reid to throw the challenge flag. Reid, not known for his game management skills, wisely let the clock tick before challenging. The Eagles won the challenge and scored two plays later on a 5-yard touchdown pass to
Owen Schmitt
.
The drive:
The Texans put together a 13-play, 86-yard scoring drive in the third quarter to take a 24-20 lead. But after a ridiculous squib kick by
Neil Rackers
, the Eagles had good field position at their 40-yard line. (Were the Texans scared of
Jorrick Calvin
?) Vick quickly hit
DeSean Jackson
on a gorgeous 33-yard pass that set up the go-ahead touchdown early in the fourth quarter. Jackson finished with three catches for 84 yards, and something tells me he won't get chewed out by Reid following this performance. He and Vick connected on the Eagles' first play from scrimmage, setting the tone for the offense. Philadelphia scored on its first three possessions and it was 2-of-4 in the red zone in the first half, a big improvement over the past two weeks.
Laws makes a nice grab:
Texans quarterback
Matt Schaub
tried to dump the ball to
Arian Foster
late in the first half, but Eagles defensive tackle
Trevor Laws
reached up and snagged the ball for an impressive interception deep in Houston territory. The Eagles settled for a field goal and a 20-10 halftime lead. It was the first takeaway of Laws' NFL career.
Allen was exhumed from the goal line:
The Eagles did a fairly nice job on Texans running back Arian Foster, but he ran over rookie
Nate Allen
on a touchdown reception in the third quarter that trimmed the Eagles' lead to 20-17. It looked like something Herschel Walker would've done to a defensive back (Bill Bates, anyone?) when he was at Georgia, and Allen had to be a bit embarrassed.
What's next:
The Eagles will get an extended break before heading to Dallas for a Sunday night game. I'm sure Reid will give the Eagles Friday through Sunday off . That should give them a chance to finish strongly. There's a decent chance the Eagles and Giants will be 9-4 when they play in two weeks, setting up a great Dec. 19 matchup at New Meadowlands Stadium.
September, 21, 2009
9/21/09
10:49
AM ET

Posted by ESPN.com's Paul Kuharsky
Had the Titans won Sunday, all these details about what
Chris Johnson
accomplished would get a lot more attention. Because they didn't, they are all followed by, "but the Titans lost."
Still, here are some of the impressive contextual details:
He is the first player in NFL history to record a 90-plus yard rushing touchdown (91), 50-plus yard rushing touchdown (57), and 60-plus yard receiving touchdown (69) in a game.
FROM ELIAS SPORTS BUREAU: Johnson scored touchdowns of 57, 69, and 91 yards in the Titans' 34–31 loss to the Texans. That's more TDs of 50 yards or longer than Curtis Martin or Eric Dickerson scored in their entire NFL careers.
Johnson was the first player to score three TDs of 50 yards or longer in one game since Qadry Ismail did it for the Ravens in 1999, and he was the first player in NFL history to do so in a loss. (ELIAS)
Johnson was also the first player ever to score a rushing touchdown and a receiving touchdown, each covering at least 50 yards, in the first quarter of an NFL game. (ELIAS)
This list from ESPN Stats & Information isn't bad either, is it?
50-Yard Rush TD, 50-Yard Rec TD Same Game, Since 1980
Year
Player, Team
Rush TD
Rec TD
Opp.
2009
Chris Johnson, TEN
57
69
HOU
2002
Clinton Portis, DEN
51
66
KC
1986
Herschel Walker, DAL
84
84
PHI
1985
Lionel James, SD
56
60
CIN
1980
Walter Payton, CHI
50
54
WSH

NFL SCOREBOARD
Thursday, 9/4
Sunday, 9/7
Monday, 9/8