NFL Nation:

Hines Ward retires
March, 20, 2012
3/20/12
4:30
PM ET
A look at the final numbers for Steelers wide receiver
Hines Ward
, who retired today:
1
-- Super Bowl Most Valuable Player award (February 2006 against Seattle)
2
-- Players in NFL history with at least 1,000 receptions and two Super Bowl rings (Ward and Jerry Rice)
3
-- Steelers MVP awards (2002, 2003 and 2005)
4
-- Pro Bowls (2001, 2002, 2003 and 2004)
11
-- Consecutive seasons as the team's leading receiver
14
-- Seasons in the NFL (two more than any Steelers wide receiver)
29
-- 100-yard receiving games (most by a Steelers player)
85
-- Touchdown catches (22 more than any other Steelers player)
186
-- Consecutive games with at least one catch
428
-- Career rushing yards (most by a Steelers wide receiver)
526
-- Points scored (fifth most in team history)
1,000
-- Career catches (ranks 8th all time)
12,083
-- Receiving yards (18th in NFL history)
25,924
-- Hits on opposing players (OK, this was my best estimate)
March, 20, 2012
3/20/12
3:30
PM ET
Just because
Hines Ward
is leaving doesn't mean he wants another
Pittsburgh Steelers
wide receiver to go.

Wallace
At his retirement news conference Tuesday, Ward said he has urged
Mike Wallace
to do what he can to remain with the Steelers. "I told Mike you may get a chance to go other places but there's not another place like Pittsburgh," Ward said.
Wallace is a restricted free agent this year who could go elsewhere if he signs an offer sheet with another team and the Steelers decline to match it. If Wallace remains with the team this season, he would be an unrestricted free agent next year unless the Steelers decide to use the franchise tag on him.
Ward, however, is the exception to the Steelers' rule when it comes to wide receivers and free agency. He was the only wide receiver that the Steelers have re-signed to a long-term contract in the free-agency era. As the
Pittsburgh Post-Gazette
pointed out, the wide receivers who left Pittsburgh in free agency have been
Yancey Thigpen
,
Plaxico Burress
,
Antwaan Randle El
,
Nate Washington
,
Bobby Shaw
and Charles Johnson.
Wallace and Ward were both selected by the Steelers in the third round from SEC schools. Wallace was the 84th player selected, and Ward was the 92nd. In Ward's first three seasons (in a run-heavy offense), he caught 124 passes for 1,556 yards and 11 touchdowns. In Wallace's three seasons (in a pass-oriented attack), he has produced 171 receptions for 3,206 yards and 24 touchdowns.
March, 20, 2012
3/20/12
2:31
PM ET
Of all the heartfelt words spoken by
Hines Ward
today, the ones that should be remembered by everyone are these: "This is the right thing to do."
Ward, 36, announced his retirement after 14 seasons with two Super Bowl rings, about every receiving record in Steelers history and no regrets. He ended a career the way it should end -- leave on your own terms and leave with your team.
Peyton Manning
will speak a few hours after Ward, celebrating his new team and $96-million contract. Ward's goodbye, though, proved to be priceless, especially in the business-like climate of the NFL.
Ward smiled when he saw former teammates
Jerome Bettis
,
James Harrison
,
Aaron Smith
and
Brett Keisel
in the crowd. He wiped away tears about two minutes into reading his speech, sniffling after every other word he spoke about his love for his coaches, teammates and Steelers Nation. He chuckled when he addressed the rumor that he had signed a three-year deal with the Ravens ("We know that won't ever happen," he said with that famous smirk). He then began his walk away from the game as he stepped off the stage, giving hugs to Art Rooney II and Mike Tomlin.
"And as much as I will miss football, my teammates, coaches and everything about the game, I don't want to play in any other uniform," said Ward, who appropriately wore a black shirt, black jacket and a black and gold tie. "The black and gold runs deep with me, and I will remain a Steeler for life."
[+] Enlarge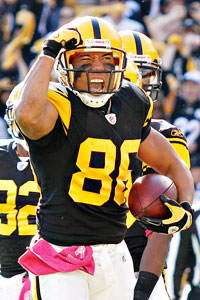 AP Photo/Keith SrakocicHines Ward finishes his 14-year pro career with 217 games played, 1,000 passes caught and 85 receiving touchdowns scored.
The Steelers are Ward's life, and he's just as much a fabric of every Terrible Towel. His legacy is all about toughness and winning, like the Steelers' greats that preceded him.
Ward's accomplishments show why he is among the best wide receivers of his era. He ranks eighth all-time in the NFL with 1,000 catches, led the Steelers in receiving for 11 straight seasons and was named Super Bowl MVP in February 2006 in the Steelers' triumph over the
Seattle Seahawks
.
But it's his impact beyond the numbers that show what type of football player he was. Ward was never afraid of the dirty work. In fact, he kind of enjoyed it. Ward defined hard work and sacrificing your body for the good of the team. He is the toughest blocking wide receiver in NFL history, so tough that he got an NFL rule named after him.
Ward did everything for the Steelers, and he did it like a Steeler. He carried the ball like Bettis. He took down opponents with the same ferociousness as Jack Lambert. And, as the numbers show, he caught more passes than John Stallworth and Lynn Swann.
"I wanted to go down as one of the greats to wear black and gold," Ward said.
The lasting impression from Ward's half-hour news conference was his love of the team.
His biggest regret? "My [contract] holdout. Looking back, I wish it never came to that," Ward said. "I never wanted to be thought of as that type of player."
His legacy? "Play unselfishly and never lose your competitive spirit," Ward said. "Hopefully, I showed that."
It's that competitiveness that initially caused Ward to want to continue playing after the Steelers released him on Feb. 29. He could have ended up somewhere -- besides Baltimore -- where he would have been the No. 3 receiver and veteran leader.
Ward could have ended up like
Jerry Rice
in Denver,
Tim Brown
in Tampa Bay and
Art Monk
in Philadelphia. He could have chased a few more championships and paychecks.
But it wouldn't have been for the Steelers, the team that gave a tough little receiver out of Georgia a chance to play. In the end, Ward knew the right thing to do.
"It took a lot of time for me to reflect and get away," Ward said. "I want to do whatever I could to be a Steeler, and today im making it happen.
"I am a Steeler for life. That's all I ever really wanted."
March, 20, 2012
3/20/12
12:38
PM ET
Steelers wide receiver
Hines Ward
announced his retirement in an emotional half-hour news conference.
Wearing a black shirt and jacket along with a black and gold tie, Ward said he believed he could still play but he didn't want to play for another team.
"Today I am officially retiring as a Pittsburgh Steeler," Ward said while fighting back tears. "And as much as I will miss football, my teammates, coaches and everything about the game, I don't want to play in any other uniform. The black and gold runs deep with me, and I will remain a Steeler for life."
I will provide my thoughts on Ward's retirement shortly.

NFL SCOREBOARD
Sunday, 12/22
Monday, 12/23