August, 4, 2012
8/04/12
6:50
PM ET
CANTON, Ohio -- Welcome to Fawcett Stadium for the 2012 Pro Football Hall of Fame enshrinement ceremony.
I'll be blogging throughout the proceedings, as you might have noticed when this post went live
a bit earlier
. First, a look at the order for enshrinement and speeches for the program, which begins at 7 p.m. ET:
Willie Roaf: This one promises to be emotional, as anyone who witness the way Roaf's father, Clifton, hugged him during the Gold Jacket Dinner presentation Friday night. Clifton Roaf is presenting his son. The Hall encourages presenters to limit their comments to eight minutes in duration. That could be tough for the elder Roaf.
Jack Butler: Butler had to wait a record 50 years for enshrinement. He won't have to wait long Saturday night. The Hall has him going second.
Chris Doleman: The former Minnesota, Atlanta and San Francisco defensive end offered some thoughts Friday on the state of the game. I hope to share those a bit later.
Cortez Kennedy: The second career Seahawk to earn enshrinement will have some time to gather his thoughts. He's fourth in the order.
Dermontti Dawson: One of the greatest interior offensive linemen follows one of the greatest interior defensive linemen.
Curtis Martin: Bill Parcells is presenting Martin. Parcells could be back as an enshrinee before long. Parcells does have some star power. Having him go last wasn't a bad idea.
Should be a memorable night.
August, 4, 2012
8/04/12
4:06
PM ET
CANTON, Ohio -- We're a few hours away from the 7 p.m. ET start to enshrinement ceremonies at the Pro Football Hall of Fame.
I'll be heading over early to get a feel for what awaits.
Cortez Kennedy and his daughter, Courtney, were seen downstairs at the main hotel here a bit ago. Kennedy seemed relaxed for a man nearing the hour when he'll be giving a speech center stage.
The Hall itself opened early Saturday. A few thoughts after touring the Hall for the first time:
Cool Cardinals exhibit: One display case features a Pat Tillman jersey, the shiny black Nike shoes Patrick Peterson wore when returning a punt 99 yards for a touchdown to beat the St. Louis Rams in Week 9 last season and the gloves Larry Fitzgerald wore while collecting his 400th career reception against the New York Giants on Nov. 23, 2008. Fitzgerald became the youngest receiver to reach 400 catches.
Busts are accessible: The Hall features busts for the 267 Hall of Famers already enshrined, plus spaces for the busts honoring 2012 inductees. The busts are arranged by year of enshrinement. They rest on open-air perches, allowing visitors to touch them. The busts were low enough for our kids to pose with them, sometimes almost cheek to cheek. Seeing our boys' heads flanking Dick "Night Train" Lane's bust was a highlight of the visit.
Interactive video: Touch-screen menus allow visitors to cue up short highlight and documentary packages for various Hall of Famers. These were good, but a little short. We wanted more. Of course, with more than nine million visitors to this point and quite a few coming around the time of enshrinement each year, there isn't time for each person to watch a full-length movie.
"Madden 12" center: Kids packed this area and ours were initially eager to join in the gaming, but we drew the line on this one. Something seemed wrong about using time at the Hall to play games many kids have at home.
Homage to Lombardi: The Hall features a sideline player bench used at Lambeau Field for Vince Lomardi's final game as the Green Bay Packers' coach, in 1967. They've wisely got it stowed safely in a display, preventing people from sitting on it.
Harbaughs making history: Jim Harbaugh's autograph dresses up a game ball from the San Francisco 49ers' game against Harbaugh's brother, John, and the Baltimore Ravens last season. The game itself was forgettable from the 49ers' perspective.
All for now. Time to get ready for the festivities Saturday night.
August, 3, 2012
8/03/12
6:00
PM ET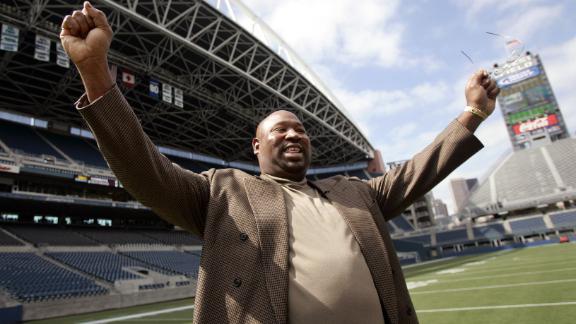 CANTON, Ohio -- Fans tuning in to watch Pro Football Hall of Fame speeches Saturday night can expect
Cortez Kennedy
to thank the late Robert Fraley, his former agent and mentor, for contributing so much to his life.
Fraley died in the plane crash that also killed golfer Payne Stewart in 1999.
Days after Fraley's passing, Kennedy paid tribute to his friend with a dominating performance for the
Seattle Seahawks
during a 27-7 victory over the
Green Bay Packers
at Lambeau Field. Kennedy also forced a fumble during that Monday night game.
Kennedy's close friendship with Fraley explains why the new Hall of Famer has selected Fraley's widow, Dixie, to present him at enshrinement. Kennedy reflected on his choice and on Seahawks' fans during the video above, shot during a media availability session Friday.
August, 3, 2012
8/03/12
4:15
PM ET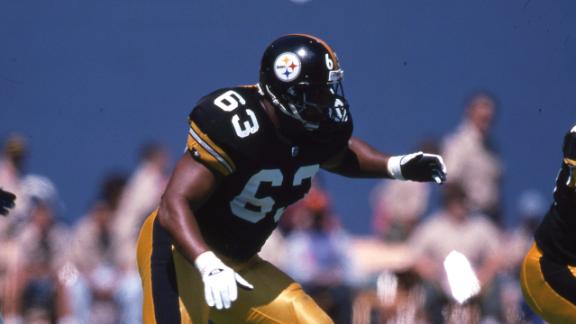 CANTON, Ohio -- Two of the quickest interior linemen in NFL history are heading into the Pro Football Hall of Fame together in the Class of 2012.
Former Pittsburgh Steelers center Dermontti Dawson and former Seattle Seahawks defensive tackle Cortez Kennedy were first-team all-decade selections for the 1990s. Both retired following the 2000 season. Each played his entire career with the same team.
Dawson went to seven Pro Bowls. Kennedy went to eight.
The symmetry of their careers struck me while listening to both men during a media session Friday featuring members of the 2012 class.
Dawson distinguished himself by moving as well or better than just about any center ever. He was quick enough to snap the ball and execute pulling blocks, giving the Steelers an edge in their running game.
Kennedy generated rare power and quickness. His 1992 season ranks among the greatest for any defender. Tackles weren't supposed to collect 14 sacks in a season, particularly while dominating against the run, as Kennedy did.
The video features Dawson's thoughts on Kennedy. Dawson also explains what helped him (Dawson) gain the notoriety that contributed to his selection for the Hall of Fame.
I'll be back in a bit with some thoughts from Kennedy. He tends to shy away from interviews, but I think he enjoyed this one, given the occasion.
August, 3, 2012
8/03/12
1:30
PM ET
CANTON, Ohio -- A
Seattle Seahawks
scouting contingent planned to visit the University of Miami for a closer look at Hurricanes cornerback
Robert Bailey
.
"All of a sudden," Joe Vitt recalled, "when we put the film on, everyone had heard of
Russell Maryland
, but we put the film on and
Cortez Kennedy
was making all the plays."
Vitt, now the
New Orleans Saints
' interim coach, was a Seahawks assistant under Chuck Knox at the time. This was in 1990.
"I called Chuck and told him to send down (defensive line coach) George Dyer because we've got a guy down here now," Vitt said. "Now, all of a sudden, we finagled that draft and moved up to No. 3 (overall). Our first three picks that year were Cortez,
Terry Wooden
and
Robert Blackmon
. We structured our defense exactly like the Miami Hurricanes because of Cortez and it was the smartest thing we ever did."
Kennedy is now the only Seahawks draft choice selected to the Pro Football Hall of Fame. His enshrinement is Saturday. The Los Angeles Rams wound up picking Bailey in the fourth round.
The chart shows Kennedy and all the Hall of Famers drafted by current NFC West organizations since the first common draft in 1967.
There were stories behind the other selections as well.
The
San Francisco 49ers
famously selected
Jerry Rice
with the 16th pick in 1985 after their preferred choice, receiver Eddie Brown, went to Cleveland three picks earlier. Former 49ers personnel man Mike Lombardi, now with NFL Network, said 49ers coach Bill Walsh even tried to trade up with the Browns for the 13th choice. He wanted Brown that badly.
"And coach Walsh handed me the phone and said, 'Don't worry about it. We'll just pick Jerry Rice,' "
Lombardi recounted
for a USA Today story.
August, 3, 2012
8/03/12
10:30
AM ET
CANTON, Ohio -- One second you're driving along Interstate 77 from Cleveland to Canton. The next second you're face to face with the Pro Football Hall of Fame's Class of 2012.
It's a sight for any football fan to behold.
Football's hallowed Hall sits closer to the interstate than I would have imagined. Exterior lighting illuminates the colorful posters featuring each new enshrinee's mugshot. Jack Butler, Dermontti Dawson, Chris Doleman, Cortez Kennedy, Curtis Martin and Willie Roaf on public display.
[+] Enlarge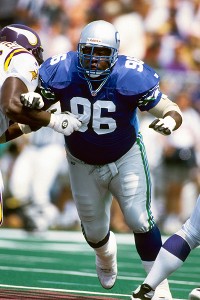 US PresswireNo doubt, Seattle's Cortez Kennedy was one of the most dominant defensive players of his era.
The enshrinement ceremony isn't til Saturday, but each new Hall of Famer has been building to this moment since his selection in early February.
A glance at the rear-view mirror while approaching the Hall late Thursday night revealed no cars in sight. I touched the brakes on my rental car to process the visual.
From there it was on the McKinley Grand Hotel, where the Hall of Famers are staying.
Security officials have limited access to guests only. At least one Hall of Famer was sitting on a bench out front when I arrived, a gold jacket revealing his status as one of the very best to ever play the game. Darkness had fallen and I couldn't positively identify him.
A familiar face awaited near the hotel entrance. Kennedy has cut so much weight, he looks more like a big linebacker than the defensive tackle with the most Pro Bowls during the 1990s (eight). I'd guess he's in the low 260s, down from the 300- to 320-pound range during his playing days.
"Kennedy!" shouted a fan standing down on the corner, behind the security line.
My role as the Hall selector for the Seattle market included the honor of presenting Kennedy's credentials to the other selectors during our annual meeting one day before the Super Bowl.
The process had provided an opportunity to speak with Kennedy regularly and know him better. He was always grateful for any efforts on his behalf, but he never campaigned for support. That wouldn't be his style.
I'd gotten to know Kennedy a little while covering the Seahawks for the Tacoma News Tribune during his final three seasons, ending in 2000. Polite and reserved, Kennedy wasn't much use for reporters. He wouldn't speak off the record, said little on it and seemed determined to keep a low profile. His play would do his talking.
I've found Kennedy to be much more engaging outside the player-reporter context. He's got a sense of humor and the cackle to go with it. Kennedy has been a happy man during the six months since learning this would be his year, but he's continued to lay low. There has been no media tour.
Kennedy and the other new Hall of Famers are scheduled to give nationally televised speeches at the enshrinement ceremony Saturday. Kennedy doesn't like to talk about himself, but I'm thinking he'll enjoy the moment.
It's not every day your face flies on a banner atop the Pro Football Hall of Fame.
NFL SCOREBOARD
Thursday, 12/12
Sunday, 12/15
Monday, 12/16