NFL Nation:

Hollis Thomas
January, 8, 2010
1/08/10
1:26
PM ET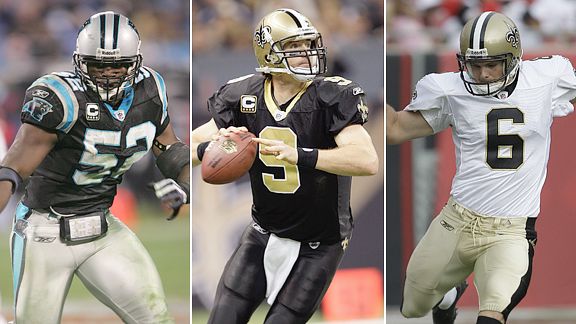 Getty Images/AP PhotoJon Beason, Drew Brees and Thomas Morstead headline the list of NFC South players receiving end-of-the-year honors.
We've rolled out the All-NFC South
offense
and
defense
for the 2009 season already and we'll get to the special teams, coaches and front offices very soon. But with the Saints on a bye for the first round of the playoffs and the rest of the NFC South done for the season, it's time for our annual awards.
Some are pretty conventional and some are not, but put them all together and, hopefully, you'll have a comprehensive review of the season.
Most Valuable Player:
Drew Brees
, Saints. Do I really have to explain? Let's save time and move on.
Most Valuable Player not named Brees and not with the Saints:
Jon Beason
, Panthers. Consistently excellent. Should have been named to the Pro Bowl. Best player on the division's best defense.
Rookie of the Year:
Thomas Morstead
, Saints. Yes, I'm going with a punter and it's not because the pickings are slim. There were some other decent options. But Morstead was so good punting and on kickoffs that he earned this award.
Best win:
The Saints steamrolling the Patriots on Monday night. If the Saints play like that in the postseason, they'll win the Super Bowl. That said, I'm a little concerned that the Saints might already have played their best game.
Worst loss:
Carolina's
20-9 home loss
to Buffalo. The Panthers had a chance to get to 3-3 after an 0-3 start. They had one of the worst teams in the league coming into Bank of America Stadium. They didn't just lose. They got embarrassed. Think about what might have happened if they just had been able to win that game?
Worst injury:
You could see right away that Atlanta rookie defensive tackle
Peria Jerry
was going to be an impact player. He was making everybody around him look better. Problem is, Jerry went down with a knee injury on Sept. 20 and missed the rest of the season. You instantly could see the rest of Atlanta's defensive line start to slide.
Best injury:
The leg injury that New Orleans linebacker
Dan Morgan
suffered in minicamp. It wasn't major, but it was enough to prompt the star-crossed Morgan to retire for the second time. Sure, it's a shame that he missed out on being part of what became a very fun season in New Orleans and a healthy Morgan truly might have prospered on that defense. But Morgan made the right call in walking away. The guy put his body through too much and had some concussion issues in his Carolina days. He's got a family and his health is more important than football.
November, 11, 2009
11/11/09
12:34
PM ET
»
NFC
:
East
|
West
|
North
|
South
»
AFC
:
East
|
West
|
North
|
South
Posted by ESPN.com's Pat Yasinskas
Power Rankings:
Preseason: 14. This week: 21.
2009 Schedule/Results
| | |
| --- | --- |
| | |
| | AP Photo/Donna McWilliam |
| | Losing linebacker Thomas Davis was a huge blow to the Carolina defense. |
Where they stand:
You'd have a tough time finding a more disappointing team than the Panthers. There was preseason talk about a Super Bowl run and bragging about the fact they were returning 21 of 22 starters. Problem is they didn't do anything to get better (like maybe adding depth?) after a 12-4 season. It's pretty amazing that an injury to a very average player like defensive tackle
Maake Kemoeatu
could take such a toll on this defense, but that's what happens when you tie up all of your cap room by giving
Jordan Gross
a massive contract, giving
Julius Peppers
an $18 million franchise tag and signing quarterback
Jake Delhomme
to a contract extension. Yes, the Panthers still aren't out of the playoff race -- yet. But the picture isn't very pretty, especially now that linebacker
Thomas Davis
, who had been the team's best player for the first half of the season, is done because of a knee injury.
Disappointments:
You have to start with Delhomme, but don't put the blame entirely on him. He gave off warning signs late last season and in a disastrous playoff loss to Arizona. Carolina fans saw there was a need to do something at quarterback. But the coaching staff and the front office didn't and they're paying for it now. Delhomme's been a turnover machine, but some of the blame should go to the coaching staff for asking him to go out and win games on his own after he's been nothing more than a game-manager his entire career. Delhomme's struggles have taken a massive toll on wide receiver
Steve Smith
. I still say Smith is more talented than any receiver in the NFC South, but his numbers don't show it because the Panthers haven't been able to get him the ball consistently. Then there's fellow receiver
Dwayne Jarrett
. This was supposed to be the year he finally emerged as the second coming of
Muhsin Muhammad
. Instead, he's proved he's the second coming of
Keary Colbert
. Oh, and that offensive line, which was supposed to be a strong point, hasn't been.
Surprises:
Safety/return man
Captain Munnerlyn
has shown much more than a seventh-round draft pick should. After going through about 35 defensive tackles after Kemoeatu's injury, the Panthers finally found a suitable replacement when they picked up veteran
Hollis Thomas
a few weeks back. Carolina's pass defense has carried a top-10 ranking all season. That's great. But I can't help but wonder if that has more to do with other teams getting ahead and running on them than it does with anything the secondary has done.
Outlook:
There's still time to climb back into this race, and the Panthers have a lot of individual talent. Also, you should never count out a team coached by John Fox. But an improvement is unlikely if there aren't some dramatic changes in the second half. They haven't shown many signs they're improving and the schedule isn't easy. Unless the running game can get back to being dominant, Delhomme can get back to being competent, Smith can get back to being one of the league's most explosive players and the defense gets back to looking like a Fox-coached defense, this team might not be coached by Fox anymore. This season began with playoff expectations. Anything less probably won't be good enough.
August, 17, 2009
8/17/09
5:45
PM ET
Posted by ESPN.com's Mike Sando
The Rams' roster requires additional study after a thorough house-cleaning this offseason. With so many new faces, I feel less familiar with the Rams than with the other teams in the division. This initial look at the roster will hopefully help bring some focus.
Donnie Avery's injury and overall health concerns at receiver could influence how many players the Rams carry into the season at the position.
Marc Bulger's broken pinky shouldn't affect the roster as long as he recovers on schedule. Teams must reduce to 75 players by Sept. 1 and 53 players by Sept. 5. Those initial 53-man rosters sometimes change by Week 1 kickoffs. For that reason, I've been focusing on Week 1 rosters when setting baseline expectations for each position.
St. Louis Rams
Week 1 Roster
Counts since 2003
QB
RB
WR
TE
OL
DL
LB
DB
ST
Fewest
2
5
5
2
9
8
5
8
2
Most
3
7
6
4
10
9
7
11
3
Average
2.8
5.5
5.5
3.0
9.2
8.3
6.3
9.7
2.7
Currently on roster

4

7
10
5
15
13
9
14
3
The chart provides a framework for how many players the Rams might keep at each position heading into the regular-season opener against the Seahawks.
Here's a quick look at which Rams players I might keep on the cutdown to 53 players:
March, 14, 2009
3/14/09
6:19
PM ET
Posted by ESPN.com's Pat Yasinskas
Despite limited salary-cap space, the Saints continue to be active in free agency.
Mike Triplett reports the Saints are interested in defensive lineman Paul Spicer and center Nick Lickey. They also had defensive lineman Shaun Cody in for a visit last week. Spicer can play end or tackle and Cody is an interior lineman. Pursuing them shows the Saints are looking for insurance in case starting ends Charles Grant and Will Smith have to serve suspensions at the start of the season, after reportedly testing positive for a banned substance last year. Spicer also has a history with new defensive coordinator Gregg Williams. The two were together in Jacksonville the last two seasons.
Third end Bobby McCray and Spicer could be suitable starters for a four-game stint and Spicer's versatility could help the rest of the line the rest of the season. Cody could be viewed as an upgrade over Antwan Lake, who is a free agent and the Saints could consider releasing Hollis Thomas or Brian Young if they sign Cody.
It looks like the Saints are working to shore up their needs before the draft. If they make moves on the defensive line before then, it appears there would be only one glaring need to address with the 14th overall pick. That's the defensive backfield, where Malcolm Jenkins could be a prime target. Jenkins is a cornerback, who some project as a safety.
New Orleans' biggest need is at free safety and the Saints could consider moving Jenkins or cornerbacks Usama Young or Mike McKenzie there. They've also visited with free-agent safety Darren Sharper. He remains a possibility, but no deal appears imminent.
March, 12, 2009
3/12/09
11:10
AM ET
| | |
| --- | --- |
| | |
| | US Presswire |
| | Can Drew Brees or Matt Schaub take the next step and lead his team to the playoffs? |
Posted by ESPN.com's Pat Yasinskas and Paul Kuharsky
The New Orleans Saints and Houston Texans each finished 8-8 in 2008. Looking back, breaking even was a remarkable accomplishment given the extreme circumstances each team endured.

After Oct. 12, 2008, the Saints did not play another game in the Superdome until Nov. 24, thanks in part to their international game in London and a bye week. They somehow managed to split the four games during that span.

The Texans began last season 0-4, including a devastating Week 5 home loss to the Indianapolis Colts that featured Houston squandering a 17-point fourth-quarter lead.

Each team produced a great salvage job. Which is primed to take the next step to being a contender?

In this edition of Double Coverage, NFC South blogger Pat Yasinskas and AFC South blogger Paul Kuharsky discuss what each team needs to do to break the .500 barrier and make a run to the playoffs.
| | |
| --- | --- |
| | |
| | NFL.com Video |
| | Check out highlights of the best moments from Drew Brees in 2008. |
THE QUARTERBACK FACTOR
Kuharsky: Well, Pat, topflight quarterback play is always a good first ingredient in a big jump for a team. I'm not going to suggest Matt Schaub is going to be better than Drew Brees in 2009. But if he cuts down on turnovers, Schaub can make a major leap and the Texans can be a playoff-caliber team. He's got one of the NFL's best receivers in Andre Johnson and they've established one of those special relationships. His offense ran the ball far better last season thanks to the new scheme of offensive line coach Alex Gibbs and the emergence of running back Steve Slaton. The offseason focus is on improving the defense -- which already has added free-agent end Antonio Smith. If Houston plays more aggressively and better defense under new coordinator Richard Bush, Schaub and the Texans' offense could feel less pressure. All those circumstances suggest to me, if he can stay healthy, Schaub is in prime position to help the Texans score more points per game. And if they tack some onto the 22.9 points per game they averaged in 2008, they've got an excellent shot at improving on 8-8 and making the playoffs.
Yasinskas: Paul, I like Matt Schaub, too, and I think the Texans can win with him. But Brees was the best quarterback in the league last season. He threw for more than 5,000 yards even though top receiver Marques Colston missed a big chunk of time with an injury and tight end Jeremy Shockey was banged up most of the season. Brees was spectacular with a very ordinary supporting cast around him and not much of a running game. He made receiver Lance Moore into a star and made former disappointment Devery Henderson into a respectable receiver. Brees is an absolutely perfect fit in Sean Payton's offense and I expect him to be even better in 2009. With a healthy Colston and Shockey, Brees could put up astronomical numbers. There's also a sense of urgency within the organization because the coaches and front office realize Brees is in the prime of his career and the Saints don't want to waste that with another mediocre season. Brees single-handedly carried the Saints to eight wins last year. With just a little more help around him, he should be able to lead the Saints to double-digit wins.
THE SCHEDULE
Kuharsky: Two seasons ago, the AFC South sent three teams into the AFC playoff field. For the Texans to make their first postseason appearance, the division might have to send three again, because the Titans and Colts are going to have a lot of the same ingredients they had last season. What suggests the Texans can join those teams or pass one? Well, the AFC South plays the NFC West in 2009. While Arizona was a great story last season and one can never accurately predict teams' success from one year to the next anymore, I think if every team in the league could pick one division to play this fall, it would love to have the Cards, 49ers, Seahawks and Rams on its schedule. Say the Texans go 3-1 against those teams, manage 2-2 against the AFC East and sweep the two games assigned based on their third-place division finish in 2009, Oakland and Cincinnati. That's seven wins. If they could pull off just 3-3 in their division, where they have historically done great against Jacksonville but horribly against Indianapolis and Tennessee, they're 10-6 and in range of a playoff berth, I think. Last season's late win over the Titans could serve as a catapult for them in divisional play.
Yasinskas: The most certain thing I can say about the Saints right now is that their 2009 schedule won't be anywhere near as difficult as it was in 2008. That's when the Saints drew the most brutal schedule any NFL team has had in recent memory. The Saints had to spend much of the year on the road, practicing for a week in Indianapolis to avoid an approaching hurricane. But that was the easy part. The Saints had a stretch where they went 42 days without playing in the Superdome as a "home" game in London and a bye week were surrounded by road games. To their credit, the Saints never pointed to the schedule as an excuse. But the fact is they were at a competitive disadvantage that no other team had to deal with. We haven't seen the exact schedule yet, but the Saints don't have an international game this year and it's safe to assume they won't have any stretch that compares to last year. But the Saints have to play better against the rest of the NFC South. They were 2-4 in division play last year and were the only NFC South team with a losing record against division foes.
| | |
| --- | --- |
| | |
| | Paul Spinelli/Getty Images |
| | Mario Williams is just one of many young, up-and-coming defenders on the Texans. |
YOUTH MOVEMENT
Kuharsky: The nicest NFL breakout stories are about teams that pieced themselves together relying largely on the draft. It's great to see a young group mature together, gaining confidence and feeding off it. The Texans have the right sort of characters to fit that script. They traded for Schaub, of course, but he'll be just 28 when camp opens. He's throwing to Johnson (also 28) and tight end Owen Daniels (26), handing off to Slaton (23), and enjoying protection on the edges from Duane Brown (23) and Eric Winston (25). The defense is built around Mario Williams, DeMeco Ryans, Smith, Dunta Robinson and Amobi Okoye. Robinson and Smith are currently the old men of that group at 27. It's possible all 11 guys of that core have not yet played their best football -- a great reason to be encouraged. And they've got draft help coming on defense.
Yasinskas: The Saints aren't a team you usually think of as being young. But, in a unique way, they've got a youth movement going on. They have only four picks in the 2009 draft at the moment, but it's almost like they've got another rookie class. Several rookies missed all or most of last season because of injuries. In particular, the Saints believe cornerback Tracy Porter and receiver Adrian Arrington can be very valuable players. Throw in the fact that Reggie Bush, Colston, Pierre Thomas and Sedrick Ellis are still young and the Saints have some youthful players who should continue to get better. But they've also got a nice mix of veterans. They've got guys like Brees, Jonathan Vilma and Dan Morgan as leaders who have won some big games in their careers. The Saints aren't relying heavily on many old guys -- defensive tackle Hollis Thomas and cornerback Mike McKenzie might be just role players. This is a team made up mostly of guys who are young or are in their prime and that's a nice combination to have.
THE CHANGES IN DEFENSIVE COORDINATORS
Yasinskas: I sincerely believe the best and most important move the Saints made this offseason was the hiring of defensive coordinator Gregg Williams. Gary Gibbs took the fall for last season and was fired. You can't put all the blame on Gibbs because the defense was decimated by injuries. But the defense was nothing short of horrible and it was the main reason the Saints didn't make the playoffs. Payton recognized that and went out and got the best defensive coordinator available. Williams likes to play very aggressive defense and that's something the Saints haven't done in a long time. Williams is intense and he might be able to light a fire under defensive ends Charles Grant and Will Smith. The return of a lot of injured players also should help and the Saints got linebacker Morgan back from retirement and signed cornerback Jabari Greer. This defense doesn't have to be great because the offense is. Williams just needs to get this defense to be average and the Saints will have a shot to go deep into the playoffs.
Kuharsky: Compared to Williams, we know nothing about Frank Bush, the Texans' new defensive coordinator. He's been part of Gary Kubiak's staff since 2007 and a lot of Texans faithful, fairly or not, really like one thing about him already: He's not Richard Smith. Though Houston made some progress in the latter part of the season when it turned more aggressive, the defense didn't come close to matching the offense in 2008. That needs to change in 2009 and it can if Bush can stamp the group with a defensive identity. Indications are the Texans will move toward making that late-season aggression more permanent. The big addition in free agency came on defense, and Antonio Smith can be a load to handle playing end opposite Mario Williams. Bush is going to get a personnel boost from the draft to help him try -- likely in the form of a linebacker, a tackle and a safety. Can Bush get the group believing and producing? Much like you say, Pat, with the Saints -- the Texans don't have to be one of the league's top defenses. If they move from 22nd to the mid or early teens and if they can knock some points off the average of 25 they allowed last year, that should be a sufficient boost for a team that should be offense-driven.
STAR POWER
| | |
| --- | --- |
| | |
| | Matt Stamey/US Presswire |
| | The Saints haven't been able to figure out exactly how to use Reggie Bush's unique talents. |
Yasinskas: For a small-market team, the Saints have an awful lot of star power. But it would help if all those stars played up to their ability level on a consistent basis. Brees was outstanding all last season and Vilma was very solid. But Shockey, Reggie Bush and Colston weren't able to match their hype for various reasons. The Saints have to get their stars playing like stars again. For Colston, that's just a matter of being healthy. Shockey was banged up almost all of last year, but still has the talent to be one of the league's best tight ends. Then, there's the curious case of Reggie Bush. If he hadn't been such a great college player and such a high draft pick, he'd be considered a decent player. But decent doesn't cut it for him. He's supposed to be spectacular all the time and the Saints haven't done him a lot of favors. They've never been able to figure out exactly how to use his unique talents. Payton
is widely credited with being a brilliant offensive mind. But he needs to focus all his thoughts on getting more out of Reggie Bush. If he ever comes close to being what he was in college, he'll be the biggest star New Orleans ever has seen.
Kuharsky: The Texans are a young team, but several of their guys have been around long enough to establish themselves as premier talents. Andre Johnson doesn't do popcorn stunts and doesn't make brash demands about how often the ball needs to come his direction. But he sets a standard for the franchise and everyone knows they can look to him to see how things should be done. Mario Williams is quiet, too, and he's won over all the Houstonians who wanted Reggie Bush or Vince Young at the top of the 2006 draft. With those two cornerstones, the Texans have the kind of star power a team needs -- not for a fancy marketing campaign or happy stories on "SportsCenter," but as tone-setters who show the other 52 guys that the work ethic, tone and philosophy of the organization can produce names that rank with the best in the league at their positions.
MOMENTUM
Yasinskas: The Saints didn't come close to ending last season on a high note, mainly because they finished with almost 20 guys on the injured reserve list. They never were able to build any momentum. They'd play well one game and horribly the next. That's a problem that has to be fixed next season. What the Saints need more than anything is a fresh start. They need to forget last season's brutal travel schedule and welcome back all the injured guys who are healthy now. Just getting the bulk of those guys back should be a nice shot in the arm.
Kuharsky: The Texans excel at winning at the end of the season. In 2007 they finished 3-1 to get to 8-8 and last year it was a big 5-1 push that got them to .500. That's nice momentum to carry into an offseason. But the team knows the question that now comes attached: Those good finishes are nice, but they came once it was apparent the team wasn't going to the postseason. Now Houston has to fare well enough in the first couple months of a season to earn a chance to show it can win late games that are more meaningful.
CONCLUSION
Kuharsky: Are the Texans better suited to build on 8-8 and be a playoff team in 2009 than the Saints, who are only two years removed from the conference championship game? It's too early to say. I picked the Saints to be in Super Bowl XXLIII, so I am wary of them. But I'd have to give them the edge right now based on two more proven commodities in Brees and Gregg Williams. I'd sure like to sit next to you at Reliant Stadium or in the Superdome to watch them play each other, though. It could well be a 38-37 game.
Yasinskas: Paul, I think the Texans have the potential for a breakthrough year. But I think the Saints will have a breakthrough year. They had an incredible run of bad luck last season, but they've got a ton of talent in place and they've made the moves they had to make to get their defense better. I'll go out on a limb and say the Saints make the playoffs in 2009.
March, 6, 2009
3/06/09
1:31
PM ET
| | |
| --- | --- |
| | |
| | AP Photo/Rogelio V. Solis |
| | New Orleans Saints general manager Mickey Loomis, left, and coach Sean Payton are outperforming their NFC South counterparts this offseason. |
Posted by ESPN.com's Pat Yasinskas
Very quietly, the New Orleans Saints might be having the best offseason of any NFC South team.
A back-handed compliment? Maybe so, since Carolina and Atlanta have done virtually nothing and Tampa Bay might have taken a couple of steps back. But give the Saints, who finished last in the division in 2008, credit for one thing.
At this moment, the Saints are a better team than they were at the end of last season. That's more than you can say about the Falcons, Panthers and Buccaneers. Maybe that changes with the remainder of free agency and the April draft, but the Saints, who went 8-8 last season, clearly have taken a step forward.
They've made only a couple outside moves in free agency, but add in a stroke of luck, some time to heal and an overhaul of the defensive coaching staff and you've got a team that -- at least on paper -- is a serious playoff contender.
General manager Mickey Loomis and coach Sean Payton went for broke last year, trading for linebacker Jonathan Vilma and tight end Jeremy Shockey and it got them nowhere. This year, they're taking a slower approach -- mainly because of a shortage of salary-cap space -- and that might just be the formula to snap the Saints out of two years of mediocrity.
Start with the two free-agent signings the Saints have made. They brought in fullback Heath Evans from New England to replace Mike Karney. It may not seem like much, but it could make an offense that already was very good even better. Karney was the perfect fullback for a power-running game, but the Saints don't have a power-running game.
Evans can block a little bit, but he also can run the ball and catch some passes. Maybe he can pick up some of those short-yardage gains the Saints couldn't come up with last year. And there's still the possibility the Saints will add a bigger tailback to go with Pierre Thomas and Reggie Bush.
Other than that, the Saints are loaded on offense -- again. Offense has never been much of a problem since Payton and quarterback Drew Brees arrived in 2006.
But the defense has been a recurring problem and this may be the year the Saints finally fix that. This is where the other free-agent signing comes in. The Saints signed cornerback Jabari Greer on Thursday.
That might not sound like a big deal. Greer came into the league as an undrafted free agent, but there's a reason why he drew a lot of interest on the market (Tampa Bay also was very much in the running for Greer) and why the Saints are going to pay him $23 million over four years.
Greer has always had outstanding natural speed and he made himself into a legitimate player, holding down a starting spot in Buffalo much of the last two seasons. Greer is a player on the rise, which is more than can be said for veterans Mike McKenzie and Aaron Glenn, who the Saints had to rely on too much last season.
Pair Greer with Tracy Porter, who looked promising before suffering a season-ending injury midway through his rookie year, and the Saints suddenly could be set at cornerback. They're still looking for help at safety and have had Darren Sharper and Gerald Sensabaugh in for visits in recent days. Either or both could help solidify the secondary and the rest of the defense might not be as bad as you think.
Part of that could be because the Saints got lucky when linebacker Dan Morgan decided to end his one-season retirement and re-join the Saints. You have to cross your fingers here because Morgan's long history of injuries have plagued his career.
But Morgan says he's healthier now than at any point since he came to the NFL and that's a reason for hope. When Morgan's been healthy, he's been one of the best linebackers in the league. Put him on the weak side and you've suddenly got a play-maker to go with Vilma in the middle. Let veterans Scott Fujita and Scott Shanle handle the other side and -- knock on wood that Morgan stays healthy -- the Saints could have an above-average linebacker corps.
The same could be said for the defensive line.
Injuries were a huge problem here last season. Tackles Hollis Thomas, Sedrick Ellis and Antwan Lake and ends Charles Grant and Will Smith all were banged up at one time or another. But they're healthy now.
There's been plenty of talent on this defense the last couple years, but the unit underachieved under coordinator Gary Gibbs. That's why Gibbs was fired after last season and why the Saints went out and hired Gregg Williams, who was considered one of the game's best defensive minds a few years back.
Williams' reputation took a bit of a hit with stints in Washington and Jacksonville that didn't result in success. But coming to New Orleans might be a shot at redemption for Williams.
In a lot of ways, this might be a perfect fit. Williams is known as an old-school coach who likes to play very aggressive defense. The Saints haven't been very physical on defense in recent years.
But it's time for a change. Guys like Smith and Grant have been viewed as underachievers, but they're also guys with lots of talent. Maybe Williams can pull that out of them and pull this defense together.
There's no miracle needed here. The Saints already have a great offense and they're going to score plenty of points.
All they need is a defense that's somewhere around average and the Saints could be very good.
September, 11, 2008
9/11/08
4:45
PM ET
Posted by ESPN.com's Pat Yasinskas
FALCONS
PANTHERS
SAINTS
BUCCANEERS
September, 7, 2008
9/07/08
3:03
PM ET
Posted by ESPN.com's Pat Yasinskas
NEW ORLEANS -- The Saints, who already were thin at defensive tackle, now are really thin.
Antwan Lake will not return to the game after suffering a groin injury in the first half. Hollis Thomas is out for at least several more weeks with a triceps injury. That leaves Brian Young as the only backup behind starters Kendrick Clancy and Sedrick Ellis. Bet the Saints are regretting cutting Orien Harris, who had a nice training camp and wound up landing with the Bengals.
August, 21, 2008
8/21/08
9:48
AM ET
Posted by ESPN.com's Pat Yasinskas
There's one common theme to this morning's roundup. A lot of rookies and young players will get a chance to step into bigger roles in this week's preseason games.
PANTHERS
It looks like rookie running back Jonathan Stewart will work with the first team in Saturday's preseason game against Washington. DeAngelo Williams started the first two games as Stewart dealt with a toe injury. But the Panthers didn't use their top pick on Stewart to have him sit on the bench.
FALCONS
The Falcons may give rookie linebacker Curtis Lofton a start when they play their third preseason game. That makes sense because the Falcons also are starting quarterback Matt Ryan. They can put their offense and defense into the hands of rookies at the same time.
BUCCANEERS
Rookie Jeremy Zuttah is expected to start at right guard with Davin Joseph out with a broken foot. Veteran Dan Buenning also can play this spot, but the Bucs prefer to keep him as the top backup for all the interior positions. Zuttah, who also can play center, had an outstanding training camp.
SAINTS
With Hollis Thomas out with an injury, Orien Harris looks like he'll factor into the team's plans at defensive tackle.

NFL SCOREBOARD
Thursday, 9/18
Sunday, 9/21
Monday, 9/22
WEEKLY LEADERS