October, 20, 2011
10/20/11
1:00
PM ET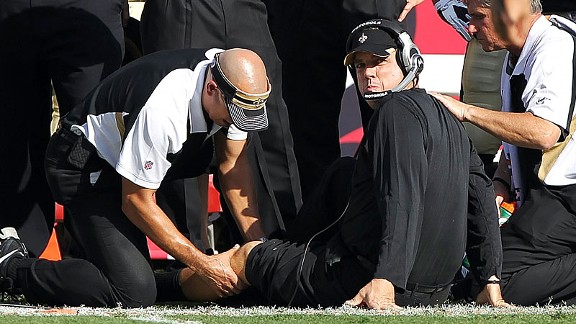 Kim Klement/US PresswireSean Payton will be working from the press box during the Saints' game Sunday night.
Sean Payton doesn't need crutches.
Less than a week after tearing up his knee, the coach of the
New Orleans Saints
might not be walking well, but he's got perhaps the NFL's best stable of assistant coaches to lean on.
Payton's injury was an accident. Tight end
Jimmy Graham
plowed into Payton as he was being pushed out of bounds by a couple of Tampa Bay defenders. But it's no accident that Payton has a virtual all-star team of coaches, who began preparing for Indianapolis about the same time the head coach was getting out of surgery, to help him through what should be only a minor and temporary crisis.
Payton's expected to return to work Thursday; he'll be in the coaches' booth in the press box for Sunday night's game with the
Indianapolis Colts
and on game days for at least a few more weeks. And while that will mean some adjustments, this is a staff built to handle a situation like this.
One thing Payton understood when he took the job back in 2006 was the importance of surrounding yourself with a good staff. He still has eight members of his original staff, nine if you count assistant special teams coach John Bonamego, who left for three seasons with the Dolphins but returned to the Saints this year. Even the "newer'' members of the coaching staff are very much part of the family. Defensive coordinator Gregg Williams, a former head coach, came in 2009 and brought along his son, Blake, as an assistant. That was also the same year
Brian Young
joined the staff, after playing defensive tackle for the Saints from 2004 through 2008.
Payton might not be strolling the sidelines anytime soon, but his system remains very much in place and everyone from the assistants to the players knows how things are done.
"We reminded the team that his absence in the earlier part of the week and not knowing how much he'll partake in the latter part of the week is not an excuse for us to lose,'' assistant head coach Joe Vitt said. "It's not an excuse to not prepare. Because the excuses are out there if you want to take them.''
The Saints aren't going to be making or taking any excuses on Vitt's watch. His style is that of a drill sergeant and his NFL coaching experience runs all the way back to the days when he was with the Colts, who were then still in Baltimore. He's respected in the Saints' locker room and all around the league.
"Ninety percent of the time in the NFL, that just means more money or a title to keep someone happy,'' Payton wrote in his book "Home Team.'' "But if you went to the dictionary and looked up 'NFL assistant head coach,' you'd see a picture of Joe Vitt.''
[+] Enlarge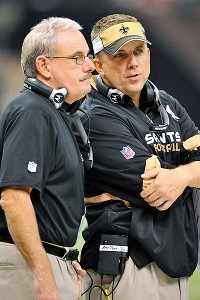 Kirby Lee/Image of Sport/US Presswire"It's not an excuse to not prepare," assistant head coach Joe Vitt, left, said of the injury to Saints head coach Sean Payton.
Vitt, who did a stint in 2005 as interim head coach of the
St. Louis Rams
, was one of the first coaches Payton hired — a move that set off a celebration at the time because most veteran coaches were hesitant to move to New Orleans in the uncertain aftermath of Hurricane Katrina.
"Other than the signing of (quarterback)
Drew Brees
, this was the most important acquisition we made,'' Payton wrote about Vitt's hiring.
Vitt is also the linebackers coach, so with he and Gregg Williams running the show, Payton's injury shouldn't have any real impact on the defense.
But having Payton upstairs instead of on the sideline will create some logistical challenges for the offense.
"We're going to work through all the mechanics,'' Vitt said. "One of the things around here we take great pride in is our preparation. We'll see what works for us. This coaching staff has been together a long time. We need to work through these challenges for our football team to win a football game"
But the experience of the offensive staff should be able to help cushion those challenges.
"(Payton) empowers our assistant coaches a lot anyway,'' Brees said. "I think for all of us it's business as usual, and then if there are adjustments that need to be made along the way, then we'll make them and we won't even think twice about it. That's the way we operate."
Brees already is anticipating one change. Brees said he expects Payton will call the plays from above and relay them through offensive coordinator Pete Carmichael on the sideline. In the past, Payton has communicated plays directly to Brees via radio.
"I think the fact that it's going to be Pete's voice now and he'll be actually relaying the plays into me, that won't be all that unusual for me,'' Brees said.
That's largely because Brees has at least as much history with Carmichael as he does with Payton. Brees played in San Diego when Carmichael was an assistant there. Carmichael came to the Saints as quarterbacks coach in 2006 and later moved up to offensive coordinator. And it doesn't hurt that Brees is somewhat of a coach on the field.
"I've done that before, so you understand where the challenges are and it's just the fact that (the play) has to get relayed,'' Brees said. "There are a couple seconds earlier that you have to get the play out. I don't know the setup up in the box, but I'm sure Sean will have it all laid out. I'm sure it will go off without a hitch."
That goes for the defense and special teams as well. The only real difference you'll see will be a few television shots of Payton sitting up in the booth.
Like always, he'll be supervising his system with the people who put in place to help run it.
May, 25, 2011
5/25/11
1:00
PM ET
Examining the most crucial event in the history of every team in the division.
The most important moment in the history of the
New Orleans Saints
, maybe even in the history of the entire NFC South, might have come when a coach and a quarterback went for a ride and got totally lost.
Drew Brees
and his wife, Brittany, for a ride that seemed misdirected at the time, but turned out to be a drive to destiny. While touring the area, Payton got off Interstate 10 at the wrong exit and started driving on streets he'd never seen before.
"I finally admitted to Drew, 'I have no idea where we are right now,''' Payton wrote in his book, "Home Team.''
It's worth a laugh now. But at the time, Payton, Brees, the Saints and the entire New Orleans region really had no idea where anything was. This was a few months after the devastation of Hurricane Katrina and the Saints didn't even know if they'd be able to stay in New Orleans for the long term.
Brees' future was just as cloudy. He wasn't being brought back by San Diego because he was coming off a major shoulder injury and the Chargers were handing things over to
Philip Rivers
. There was interest from Miami, but the Dolphins weren't sure about Brees' shoulder. Neither were the Saints.
But Payton and general manager Mickey Loomis decided to take a gamble. They offered Brees a big contract and a couple of days after being hopelessly lost, he accepted. The Brees signing was the big winner for the Saints in our Flash Points polls about the make-or-break moment in the history of each NFC South franchise.
Forty-six percent of more than 50,000 voters (the highest of all the NFC South precincts) chose the signing of Brees as the biggest moment in team history. Winning Super Bowl XLIV finished second at 36 percent and the hiring of Payton was third at 17 percent.
No argument here. Hiring Payton was significant, but signing Brees is the biggest reason why the Saints went on to win a Super Bowl and make themselves more a part of the New Orleans fabric than ever before.
Let's turn to a couple of loyal readers for affirmation.
Richard in Ann Arbor, Mich., wrote:
"Signing Drew Brees has to trump all. When you take into account everything that Drew has done off the field since his arrival, winning the Super Bowl may be the least important thing that he has done for the city of New Orleans.''
Fred in New Orleans wrote:
"As much as I would like to say our turning point was hiring Jim Finks or Jim Mora or maybe even Sean Payton, I think the Saints' turning point was actually made by another team -- when the Dolphins refused to make an offer to Drew Brees. If they make a hard push for him who knows what happens next?''
PANTHERS: Jake Delhomme's arrival game
Appearing in Super Bowl XXXVIII was the winner of the popular vote as the Flash Point for the
Carolina Panthers
. That loss to New England drew 42 percent of the vote, and advancing all the way to the NFC Championship Game in only the second season of an expansion franchise finished second at 28 percent.
Rodney Peete
and the Panthers just kept winning all the way to the Super Bowl. I was covering the Panthers on a daily basis as a beat writer at that time and as I think back, Delhomme's emergence in that game was one of the most magical moments I've seen in sports.
Let me add that a vocal group of readers made a strong case that Delhomme's debut should have been on the ballot because that was actually the moment that sparked the whole Super Bowl run. I thought about that for a couple of minutes and decided they were right. So let's hear from a few convincing readers.
Brian in Charlotte wrote:
"Jake Delhomme's halftime entrance into the game versus Jacksonville seems to represent the best of Panthers history. The team marched to an appearance in the Super Bowl that year and, while we may not have had back-to-back winning seasons, provided the Panthers with both stability and leadership at the quarterback position for the next few years.''
Evan in Charlotte wrote:
"Carolina rode on that momentum to eventually go to the Super Bowl. That whole season was Carolina's defining moment, but it all began at that game. Everything about the Carolina Panthers changed at that moment.''
Brian and Evan, you're absolutely right.
BUCCANEERS: Dungy turned the tide
In the closest contest of all our polls, readers voted Tampa Bay's victory against Oakland in Super Bowl XXXVII as the defining moment in Buccaneers' history. That got 39 percent of more than 31,000 votes. The hiring of coach Tony Dungy in 1996 finished a close second at 37 percent and the trade for Jon Gruden, the coach who actually won Tampa Bay's lone Super Bowl, was third at 21 percent.
Tampa Bay is a land of transplants and history sometimes gets lost. But I happened to be a beat writer covering the Buccaneers when Dungy was hired (heck, I was part of a media stakeout outside Bern's Steakhouse as Dungy and ownership were inside sealing the deal).
You have to understand what the Bucs were like before Dungy arrived. They were the joke of the NFL for more than a decade. Former owner Hugh Culverhouse was despised by fans, players and the people who worked for him. The Bucs had gone for more than a decade without a winning season and good coaches such as Ray Perkins and Sam Wyche came to Tampa Bay and became horrible coaches.
Dungy (supported by new owner Malcolm Glazer) quietly changed the entire culture of the Bucs. They began winning and changed uniform colors and logos. Everything changed. Raymond James Stadium was built and filled up every week. The Bucs became consistent winners.
It's true Dungy couldn't get Tampa Bay over the final hump. He was stubborn and conservative on offense and that got him fired. But he had the Bucs built into such a great defensive team that Gruden was able to come in, tweak the offense and win the Super Bowl in his first season. None of that would have been possible without Dungy's contributions. He made the Bucs consistently relevant for the first time in their history.
Let's turn to a couple comments from readers.
Darryl in Springfield, N.J., wrote:
"The hiring of Dungy was huge as he helped to instill a culture of winning. However, I think another important step was drafting
Warren Sapp
and
Derrick Brooks
in 1995 (the moves were made by Wyche and former general manager Rich McKay). Beyond their contributions on the field, Brooks was the heart of the Bucs, and Sapp brought a public swagger to a downtrodden franchise. The history of Sapp and Brooks in Tampa might be different without Dungy, but I think you could also argue that the history of Dungy might be very different without Sapp and Brooks."
Tim in Clearwater, Fla., wrote:
"Sam Wyche drafted two first-ballot Hall of Fame players in Warren Sapp and Derrick Brooks. Without these players, Dungy's tenure in Tampa Bay would likely not have been as long or as successful.''
True, but Sapp and Brooks didn't do much in their one season with Wyche. When Dungy and defensive coordinator Monte Kiffin arrived, they put Sapp and Brooks into a defense that became dominant. In my eyes, it all started with Dungy.
FALCONS: Matt Ryan brought consistent winning
When it came time for Atlanta fans to weigh in on the Falcons' Flash Point, they went with the drafting of quarterback
Michael Vick
. That move won the vote at 39 percent, while the drafting of Ryan in 2008 came in second at 31 percent.
That was at the end of the 2007. A few months later, the Falcons drafted Ryan. Guess what? Since that moment, the Falcons have had three straight winning seasons. Before Ryan's arrival, the franchise never even had back-to-back winning seasons. Atlanta went 13-3 last season before a disappointing playoff loss to Green Bay.
But the Falcons are built around Ryan and he's not going anywhere for a long time. In fact, I think the Falcons are right on the cusp of huge success. Let's turn to a reader for perspective.
Reid in Atlanta wrote:
"The true 'defining moment' for the Falcons is not on your list of choices. It was when Arthur Blank purchased the team from the Smith family, who oversaw a comedy of errors and bad personnel choices for decades. Blank may be responsible for the Petrino fiasco, but otherwise his moves have been solid, and a welcome contrast to what preceded him.''
No argument that Blank has done some great things and made the Falcons more competitive than they ever have been. But I think the best move Blank made was drafting Ryan. That's when things really turned for the Falcons.
April, 6, 2011
4/06/11
8:30
AM ET
I said last week the
Carolina Panthers
need
to take
Auburn quarterback
Cam Newton
with the first overall pick in the upcoming draft. I also said there are pretty good indications the Panthers are at least giving very serious thought to using the pick on Newton or Missouri quarterback
Blaine Gabbert
.
Nothing's changed in my eyes and my ears tell me nothing's changed in how the Panthers are thinking.
But as I was working ahead on our weekly Draft Watch post, I realized something that adds even more reason for the Panthers to go ahead and draft a quarterback. I thought about the rest of the NFC South.
[+] Enlarge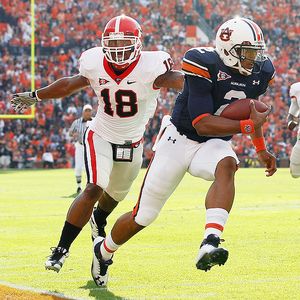 Kevin C. Cox/Getty ImagesThe Panthers may try to follow fellow NFC South members and try to get a franchise quarterback like Cam Newton or Blaine Gabbert.
What's the first thing New Orleans coach Sean Payton, Atlanta coach
Mike Smith
and Tampa Bay coach Raheem Morris did when they were hired? The methods varied and they each had some help from their general manager, but Payton, Smith and Morris went out and got a franchise quarterback.
You can't argue with the results. Payton won a Super Bowl title, Smith has had three straight winning seasons and Morris took the Bucs from 3-13 to 10-6 last season.
You know Payton got
Drew Brees
, Smith brought in
Matt Ryan
and Morris found
Josh Freeman
. But what you might not realize is how specifically each of those three coaches targeted each of those three guys.
Coming into New Orleans the season after Hurricane Katrina, Payton decided quickly he wasn't going to go draft
Matt Leinart
. In his book "Home Team,'' Payton describes at length how he and general manager Mickey Loomis saw a rare opportunity to get an established franchise quarterback. The
San Diego Chargers
were letting Brees walk into free agency because they had
Philip Rivers
and Brees was coming off major shoulder surgery.
In his book, Payton wrote that the Saints were competing with the
Miami Dolphins
for Brees. Payton and Loomis decided they had to "overpay'' to get Brees to avoid the comforts of Miami and come to a city and a franchise that was in a total rebuilding mode. The Saints jacked up their offer, got Brees and it turned out to be the best move in franchise history.
When Smith took over, the Falcons had needs just about everywhere. But Smith and Dimitroff realized you might as well start building a program with a quarterback and they took Ryan with the third overall pick, after spending some nervous nights worrying the Dolphins and Rams might botch their plans. But Miami and St. Louis passed on Ryan and Atlanta's been winning ever since.
It was basically the same thing in Tampa Bay. Although fans and media were screaming for defense, mainly because that's what the Bucs had trained people to do since the franchise started, general manager Mark Dominik and Morris decided they had to get a quarterback. There are some, mainly Doug Williams, who will tell you the Bucs wanted
Mark Sanchez
. But Dominik and Morris have said all along Freeman was the guy they wanted. In fact, they initially were slated to draft at No. 19. But, fearing someone would jump into the No. 18 spot to get Freeman, the Bucs moved up to No. 17 and got their quarterback.
New Carolina coach Ron Rivera comes from a defensive background. But, in his hiring process, it was established the organization now realizes the NFL is a quarterback-driven league. General manager Marty Hurney is fully committed to giving Rivera the kind of quarterback he needs to win.
Could there be someone like Brees out there if the lockout ends and free agency and trades are allowed? It's not real likely. The names you hear might be available are guys like
Donovan McNabb
,
Carson Palmer
,
Vince Young
and
Kevin Kolb
. McNabb was a franchise quarterback for a long time, but he's on the downside of his career. Palmer might have briefly been a franchise quarterback, but his career has regressed. Young was drafted to be a franchise quarterback, but hasn't come close. Kolb's basically a career backup with some upside, but it's a stretch to envision him as a franchise quarterback.
More and more I think Hurney and Rivera need to do what the other three franchises did when their current regimes started. They need to go out and get a franchise quarterback and it's looking like the draft is the only spot to do that this year.
June, 25, 2010
6/25/10
12:00
PM ET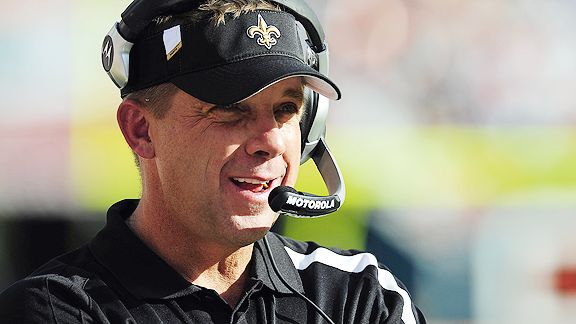 Steve Mitchell/US PresswireThe usually guarded Sean Payton pulls back the curtain on the Saints' 2009 season in a new book.
You know the story already. Now, Sean Payton's filling in the details.
The coach of the Super Bowl champion
New Orleans Saints
has written a book that is scheduled to hit stores Tuesday. It is called "Home Team." The subtitle is "Coaching the Saints and New Orleans back to life."
That last line sums up the book in one sentence. But I recommend you read the book even if you're a Saints fan and think you already know all about the Super Bowl season and the three seasons that preceded that. If you do, you'll find out a lot of things you didn't know.
We're not talking any headline-grabbing revelations here, because there aren't any. The big picture has played out very publicly. What Payton is doing with co-author Ellis Henican is coloring in the outline that already was sketched.
Like just about all football coaches, Payton runs a tight ship. When addressing the media, he's generally guarded with what he shares, especially about the inner-workings of his team. That's why this book is a rare opportunity to see what really has gone on with the Saints since Payton first interviewed for the job in 2006.
Payton's playing by different rules in this book and, in a lot of ways, opening the locker room doors and his mind for fans to really see how the Saints went from the devastation of Hurricane Katrina to the top of the football world. Written entirely in Payton's voice, the book chronicles just about everything, from Payton's first flight into New Orleans right up through the post-Super Bowl celebration.
Like I said, there's nothing that's going to grab a headline or really shock you. But there are a few significant confessions that haven't been public knowledge.
Start with the daring onside kick to start the second half of the Super Bowl. That decision has brought Payton acclaim for making one of the boldest moves in Super Bowl history. Well, truth be told, Payton reveals the onside kick was not initially the surprise play Payton wanted to run.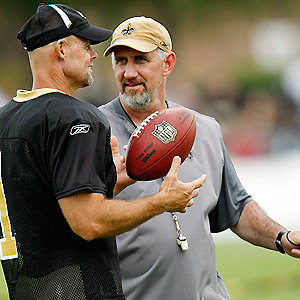 AP Photo/Bill HaberPayton's new book reveals it was special-teams coach Greg McMahon who suggested the Saints use an onside kick in the Super Bowl.
In the days leading up to the Super Bowl, Payton said he wanted to steal a possession from
Peyton Manning
and the
Indianapolis Colts
and his first thought was to run a fake punt. He floated the idea by his coaching staff for several days and word trickled down to the players. Veteran long-snapper
Jason Kyle
finally went to Payton and delicately suggested the fake punt might not be a great idea.
"They didn't tell me what I wanted to hear," Payton said. "They told me what I needed to hear."
Payton backed off the idea and special-teams coach Greg McMahon offered a counterproposal. That was the onside kick. Payton grabbed onto that and it worked masterfully.
There's also a little revelation about why the Saints were so late in showing up for media day on Tuesday of Super Bowl week. Payton said that five players --
Tracy Porter
,
Bobby McCray
,
Roman Harper
,
Usama Young
and
Jermon Bushrod
-- missed the team bus that morning. After each of the players made it to the locker room on their own, Payton shut the door and began blistering his team.
"I can smell a team that looks like they're just happy to be in the Super Bowl," Payton said he told his team. "You guys reek of that team."
The Saints quickly stopped reeking and you already know how they went out and won the Super Bowl. Payton shares the details of the postgame joy and how he virtually had to be dragged to the morning-after news conference.
NFL SCOREBOARD
Sunday, 2/2
WEEKLY LEADERS