NFL Nation:

Hugh Culverhouse
January, 1, 2012
1/01/12
9:44
PM ET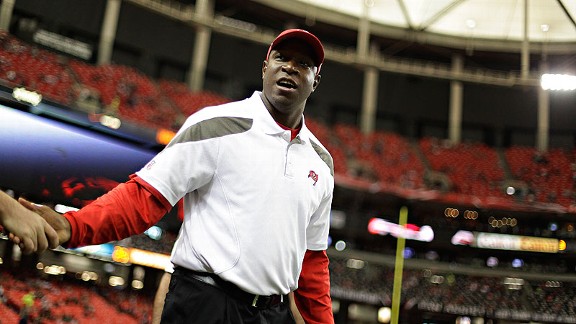 AP Photo/David GoldmanA season-ending 10-game losing streak will almost surely cost Raheem Morris his job with the Bucs.
ATLANTA -- Raheem Morris has his schedule all set for Monday.
"There will be a 10 o'clock meeting,'' the coach of the
Tampa Bay Buccaneers
said. "There'll be another 11 o'clock one. We'll have a 12 o'clock press conference and I'll see you there. I'll go to the Outback Bowl in the afternoon. I'll come back and do a radio show and be ready to deal and be ready for this offseason and be ready to attack it.''
Sounds good, but other than the Outback Bowl, everything else on the itinerary could get disrupted. By 10 a.m. Monday, Morris might not even be the coach of the Buccaneers. His fate is in the hands of the Glazer family, which owns the Bucs. The Glazers have a reputation for moving slowly and deliberately, which means Morris still might be employed Tuesday or Wednesday. (
UPDATE: Morris was canned Monday morning
.)
But it's hard to imagine him lasting much longer than that.
That's what happens when you go out and basically lose like the Bucs did on Sunday —
45-24
to the
Atlanta Falcons
— 10 times in a row. When you start a season 4-2 and are in first place in the NFC South and then you go to London and never win (or really even come close) again, there are bound to be questions about your employment.
"If I was in the business of worrying about my future, I wouldn't be coaching,'' Morris said. "I'm going to go to work tomorrow, until they tell (me) to stop. This is not the time to talk about that type of stuff. That's for mental midgets. For us, we've got to go out and play football and do what we've got to do.''
The Glazers just might tell Morris to stop. It's not what they want to do. The Glazers thought they were anointing the next great coach when they replaced Jon Gruden with Morris. The Glazers like Morris, who is a genuinely nice guy.
But what the Glazers want to do and what they need to do look like two different things.
How can they possibly bring Morris back?
In his third season, the third year of a youth movement, the Bucs took a major step back. The collapse was epic — and we're talking about a franchise that was epically bad for most of its first three decades of existence. A season after going 10-6 with the league's youngest roster, the Bucs finished 4-12, which was good for last place in the NFC South.
And it just kept getting worse. Over the past five games, the Bucs allowed an average of 40.6 points a game. They weren't even in any of those games for long. That was especially true Sunday in Atlanta, where the Falcons jumped out to a 42-0 second-quarter lead and pulled quarterback
Matt Ryan
and running back
Michael Turner
to rest them for the playoffs.
"I admire the moxie, guys coming out there in the second half,'' Morris said.
Yep, the Bucs held an offense led by backup quarterback
Chris Redman
to a field goal in the second half and they did score 17 (meaningless) points in the third and fourth quarters. If New Orleans coach Sean Payton, who follows his own guide on running up the score, was coaching the Falcons on Sunday, Atlanta might have scored 100.
"To watch
Elbert Mack
go out there and give that kind of effort, that to me was outstanding,'' Morris said.
Elbert Mack?
Where did that come from? He's a backup cornerback who was forced to play against
Roddy White
and
Julio Jones
after veteran starter
Ronde Barber
went out with an injury. But what about the other 52 guys? And what about the past 10 games?
If Morris sounds like a man who is desperately grabbing for anything positive, that's only because that's exactly what he is and his options are slim.
[+] Enlarge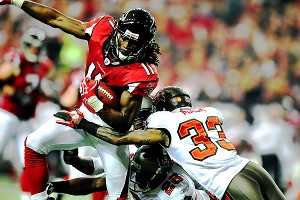 Grant Halverson/Getty ImagesAtlanta receiver Julio Jones has shown flashes of star potential this offseason.
There was nothing positive at all about this season. The Bucs ended up allowing a franchise-record 494 points; the last time Tampa Bay lost 10 consecutive games in a season was 1977. That was the second year of an expansion franchise.
Virtually every player that was on the roster in 2010 regressed in 2011, with the possible exception of Mack.
Quarterback
Josh Freeman
threw three interceptions Sunday to finish the season with 22; he threw only six last season. Freeman's the biggest example, but there are plenty of others. Running back
LeGarrette Blount
, receiver
Mike Williams
and linebacker
Quincy Black
were among the other notable underachievers.
When you've got a fan base that's only sold out your stadium twice in the past two years, how can you not do something dramatic? You really have no choice but to fire Morris if you want to show your fans you care at all about the product.
The Glazers have been accused of many things, particularly of being frugal. They've had one of the league's lowest payrolls in recent years, so there may be some truth to that. But the Glazers really do care about winning.
Aside from the fictional owner of the Cleveland Indians in the movie "
Major League
'' and former Bucs owner Hugh Culverhouse, has there ever been an owner in any pro sport that didn't want to win? The Glazers also don't like to be embarrassed.
There's no denying this season was an embarrassment, and much of that falls on Morris. His team often looked ill-prepared and he questioned his team's effort on three occasions. If a team's not prepared and isn't giving strong effort, that's not a good reflection on the coach.
Besides, there's also the fact that 2012 is the final season of Morris' contract. There's no way the Bucs could extend him without losing their remaining fans. If they let Morris go into a lame-duck season, they run the risk of the team getting even more out of control.
Morris was still talking about next season after Sunday's game.
"We're talking about rededicating yourself, getting back to the lab and coming out ready to work,'' Morris said. "The only thing you've got now is to plan the offseason.''
Umm, maybe not. Let's wait a day or two and see who the Glazers say will be planning this offseason.
November, 3, 2011
11/03/11
11:44
AM ET
Forbes put out its
annual list
of the 10 best and 10 worst owners in the NFL, and I'm thinking the NFC South didn't get a real fair shake.
The division got one owner on each list, and I'm not sure I agree with either selection.
New Orleans Saints
owner Tom Benson came in at No. 8 on the best list. There's no question Benson's reputation with fans has improved in recent years. That's largely because the Saints have been successful, the Super Bowl is coming back to New Orleans in 2013, and the Saints have committed to stay for the long haul. But there are still a lot of New Orleans fans that haven't forgiven Benson for reportedly looking to relocate the team. Forbes cites a 13-percent increase in franchise value over five years as one of the reasons for Benson's selection, and also points to the team's five-year winning percentage (61 percent).
[+] Enlarge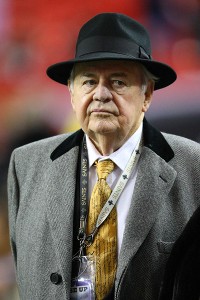 Brett Davis/US PresswireSaints owner Tom Benson has been through several ups and downs with the franchise.
If Benson is on the list, I think Atlanta's Arthur Blank and Carolina's Jerry Richardson also deserved strong consideration. Neither has ever made any noise about relocating their teams. Blank also learned from some early mistakes and has his franchise in the best shape it's ever been in. The Falcons have had three straight winning seasons. Prior to that, they never had back-to-back winning seasons.
Richardson's popularity with fans took a big hit as the Panthers have struggled in recent seasons. He was roasted for being "cheap'' as he prepared his franchise for the labor lockout, and no employees lost their jobs. Richardson was extremely instrumental in eventually getting a new labor agreement. Once that was in place, he came out spending more than he ever has, and the future appears bright because the Panthers finally have a franchise quarterback in
Cam Newton
.
The only NFC South representative on the list of the league's 10 worst owners is Tampa Bay's Malcolm Glazer. First off, it should be noted that Glazer hasn't been in good health for several years and sons Bryan, Joel and Ed handle the operations of the team. I know there's a disconnect between Tampa Bay fans and the Glazers, but I don't really understand it. The Glazers might not be the best owners in the league, but they're far from the worst.
For those of you who weren't around before the Glazers, and those without long-term memories, let me remind you of what things were like when Hugh Culverhouse owned the team. The Bucs were almost always horrible. They played in the old Tampa Stadium and always had one of the league's lowest payrolls.
The Bucs have a low payroll these days, but Glazer did spend big for a while before former coach Jon Gruden and general manager Bruce Allen showed that shuttling in high-priced free agents every year doesn't bring consistent success. The Bucs are building through the draft these days, and the team appears to be on the upswing.
Plus, when Glazer still was heavily involved, he helped the Bucs get Raymond James Stadium, which still is one of the league's finest facilities. He brought in coach Tony Dungy, who made the franchise consistently respectable for the first time. When Dungy couldn't quite get over the hump, Glazer made a trade with Oakland to bring in Gruden.
The Bucs turned around and won the Super Bowl. The Glazer era has been much more prosperous than the Culverhouse days.
July, 13, 2011
7/13/11
12:49
PM ET
TAMPA, Fla. -- Of all the hundreds -- maybe thousands -- of moments Jimmie Giles could have picked as his favorite with the Tampa Bay Buccaneers, this one's definitely not the cleanest. It also may surprise you a bit at first.
"Wrestling in the mud with (teammate) David Lewis,'' Giles said Wednesday as the Bucs announced he will be inducted into the team's Ring of Honor at a Dec. 4 home game with Carolina.
[+] Enlarge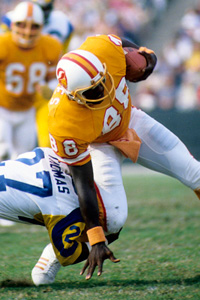 Darryl Norenberg/US PresswireJimmie Giles compiled 4,300 receiving yards and 34 touchdowns in nine seasons in Tampa.
The wrestling session happened at the end of the 1979 season, a crucial one for the Buccaneers. Needing a win to make the playoffs for the first time in franchise history, the Bucs beat the Kansas City Chiefs, 3-0, in a torrential downpour.
The team that began as an expansion franchise in 1976 and started 0-26 would go on to stun everyone and reach the NFC Championship Game. It was a high-water mark for a franchise that soon would fall back to its losing ways. Giles was with the Bucs from 1978 until 1986 and, by that point, the Bucs were mired in something well below mediocrity.
They spent the latter half of the 1980s and the early and middle parts of the 1990s as a national joke. Actually, there were all sorts of jokes in those days.
"The sign on the ticket window was "Sorry, we're open,'' cracked long-time Tampa Bay radio personality Jack Harris, who was one of the guest speakers before Giles took the microphone.
But one of the best things the Bucs have done since starting the Ring of Honor two years ago is that they've embraced their past. It would be easy to try to forget it all and skip the whole era before coach Tony Dungy came along and changed the climate and the uniforms switched from orange and white to pewter and red.
That also would be a mistake because there were some good times and good players from those early years. Co-chairman Bryan Glazer made it a point to say the team's present and future wouldn't be possible without its past. He's right.
Lee Roy Selmon and John McKay, the first two inductees, created some magical moments for a young franchise. So did Giles, who played tight end and went to four Pro Bowls while with the Bucs.
"It was Jimmie Giles and some others who helped turn this team around,'' Harris said. "It was a great era.''
But a short era. Sooner or later, the Bucs will open the floodgates for their Ring of Honor. That will start when Derrick Brooks goes in, which will clear the way for guys like Warren Sapp, John Lynch, Mike Alstott, Ronde Barber, Dungy and Jon Gruden.
It's not quite time for that yet. Although there was a long dry spell between the 1979 team and the teams of the late 1990s, there are some other guys from those eras who deserve the honor. Guys like Ricky Bell, James Wilder, Paul Gruber and Hardy Nickerson should go in before the Bucs get to their more-recent past.
Then, there's Doug Williams. He was the quarterback of the 1979 team and, by all rights, he should be going into the Ring of Honor before or with Giles. He's not. That's mostly Williams' fault. He did some great things as a player and left Tampa Bay in a bitter salary dispute with former owner Hugh Culverhouse. Williams carried a grudge before finally returning to work in the team's personnel department.
Things were good for a few years, but Williams left after the 2010 draft. Williams and general manager Mark Dominik weren't getting along. Since his departure, Williams has taken some public shots at the Bucs. He's not going to get into the Ring of Honor as long as that's going on.
As Giles talked, I think there might have been a subtle message to Williams. Giles was talking about how the Bucs of long ago went through some tough times and weren't beloved. Giles said that things change with time and that no one should succumb to bitterness.
That's an excellent point. The Bucs are going out of their way to reach out to their former players. Let the water flow under the bridge.
The Bucs and their former players need to stay above the bridge -- above the pettiness.
May, 25, 2011
5/25/11
1:00
PM ET
Examining the most crucial event in the history of every team in the division.
The most important moment in the history of the
New Orleans Saints
, maybe even in the history of the entire NFC South, might have come when a coach and a quarterback went for a ride and got totally lost.
Drew Brees
and his wife, Brittany, for a ride that seemed misdirected at the time, but turned out to be a drive to destiny. While touring the area, Payton got off Interstate 10 at the wrong exit and started driving on streets he'd never seen before.
"I finally admitted to Drew, 'I have no idea where we are right now,''' Payton wrote in his book, "Home Team.''
It's worth a laugh now. But at the time, Payton, Brees, the Saints and the entire New Orleans region really had no idea where anything was. This was a few months after the devastation of Hurricane Katrina and the Saints didn't even know if they'd be able to stay in New Orleans for the long term.
Brees' future was just as cloudy. He wasn't being brought back by San Diego because he was coming off a major shoulder injury and the Chargers were handing things over to
Philip Rivers
. There was interest from Miami, but the Dolphins weren't sure about Brees' shoulder. Neither were the Saints.
But Payton and general manager Mickey Loomis decided to take a gamble. They offered Brees a big contract and a couple of days after being hopelessly lost, he accepted. The Brees signing was the big winner for the Saints in our Flash Points polls about the make-or-break moment in the history of each NFC South franchise.
Forty-six percent of more than 50,000 voters (the highest of all the NFC South precincts) chose the signing of Brees as the biggest moment in team history. Winning Super Bowl XLIV finished second at 36 percent and the hiring of Payton was third at 17 percent.
No argument here. Hiring Payton was significant, but signing Brees is the biggest reason why the Saints went on to win a Super Bowl and make themselves more a part of the New Orleans fabric than ever before.
Let's turn to a couple of loyal readers for affirmation.
Richard in Ann Arbor, Mich., wrote:
"Signing Drew Brees has to trump all. When you take into account everything that Drew has done off the field since his arrival, winning the Super Bowl may be the least important thing that he has done for the city of New Orleans.''
Fred in New Orleans wrote:
"As much as I would like to say our turning point was hiring Jim Finks or Jim Mora or maybe even Sean Payton, I think the Saints' turning point was actually made by another team -- when the Dolphins refused to make an offer to Drew Brees. If they make a hard push for him who knows what happens next?''
PANTHERS: Jake Delhomme's arrival game
Appearing in Super Bowl XXXVIII was the winner of the popular vote as the Flash Point for the
Carolina Panthers
. That loss to New England drew 42 percent of the vote, and advancing all the way to the NFC Championship Game in only the second season of an expansion franchise finished second at 28 percent.
Rodney Peete
and the Panthers just kept winning all the way to the Super Bowl. I was covering the Panthers on a daily basis as a beat writer at that time and as I think back, Delhomme's emergence in that game was one of the most magical moments I've seen in sports.
Let me add that a vocal group of readers made a strong case that Delhomme's debut should have been on the ballot because that was actually the moment that sparked the whole Super Bowl run. I thought about that for a couple of minutes and decided they were right. So let's hear from a few convincing readers.
Brian in Charlotte wrote:
"Jake Delhomme's halftime entrance into the game versus Jacksonville seems to represent the best of Panthers history. The team marched to an appearance in the Super Bowl that year and, while we may not have had back-to-back winning seasons, provided the Panthers with both stability and leadership at the quarterback position for the next few years.''
Evan in Charlotte wrote:
"Carolina rode on that momentum to eventually go to the Super Bowl. That whole season was Carolina's defining moment, but it all began at that game. Everything about the Carolina Panthers changed at that moment.''
Brian and Evan, you're absolutely right.
BUCCANEERS: Dungy turned the tide
In the closest contest of all our polls, readers voted Tampa Bay's victory against Oakland in Super Bowl XXXVII as the defining moment in Buccaneers' history. That got 39 percent of more than 31,000 votes. The hiring of coach Tony Dungy in 1996 finished a close second at 37 percent and the trade for Jon Gruden, the coach who actually won Tampa Bay's lone Super Bowl, was third at 21 percent.
Tampa Bay is a land of transplants and history sometimes gets lost. But I happened to be a beat writer covering the Buccaneers when Dungy was hired (heck, I was part of a media stakeout outside Bern's Steakhouse as Dungy and ownership were inside sealing the deal).
You have to understand what the Bucs were like before Dungy arrived. They were the joke of the NFL for more than a decade. Former owner Hugh Culverhouse was despised by fans, players and the people who worked for him. The Bucs had gone for more than a decade without a winning season and good coaches such as Ray Perkins and Sam Wyche came to Tampa Bay and became horrible coaches.
Dungy (supported by new owner Malcolm Glazer) quietly changed the entire culture of the Bucs. They began winning and changed uniform colors and logos. Everything changed. Raymond James Stadium was built and filled up every week. The Bucs became consistent winners.
It's true Dungy couldn't get Tampa Bay over the final hump. He was stubborn and conservative on offense and that got him fired. But he had the Bucs built into such a great defensive team that Gruden was able to come in, tweak the offense and win the Super Bowl in his first season. None of that would have been possible without Dungy's contributions. He made the Bucs consistently relevant for the first time in their history.
Let's turn to a couple comments from readers.
Darryl in Springfield, N.J., wrote:
"The hiring of Dungy was huge as he helped to instill a culture of winning. However, I think another important step was drafting
Warren Sapp
and
Derrick Brooks
in 1995 (the moves were made by Wyche and former general manager Rich McKay). Beyond their contributions on the field, Brooks was the heart of the Bucs, and Sapp brought a public swagger to a downtrodden franchise. The history of Sapp and Brooks in Tampa might be different without Dungy, but I think you could also argue that the history of Dungy might be very different without Sapp and Brooks."
Tim in Clearwater, Fla., wrote:
"Sam Wyche drafted two first-ballot Hall of Fame players in Warren Sapp and Derrick Brooks. Without these players, Dungy's tenure in Tampa Bay would likely not have been as long or as successful.''
True, but Sapp and Brooks didn't do much in their one season with Wyche. When Dungy and defensive coordinator Monte Kiffin arrived, they put Sapp and Brooks into a defense that became dominant. In my eyes, it all started with Dungy.
FALCONS: Matt Ryan brought consistent winning
When it came time for Atlanta fans to weigh in on the Falcons' Flash Point, they went with the drafting of quarterback
Michael Vick
. That move won the vote at 39 percent, while the drafting of Ryan in 2008 came in second at 31 percent.
That was at the end of the 2007. A few months later, the Falcons drafted Ryan. Guess what? Since that moment, the Falcons have had three straight winning seasons. Before Ryan's arrival, the franchise never even had back-to-back winning seasons. Atlanta went 13-3 last season before a disappointing playoff loss to Green Bay.
But the Falcons are built around Ryan and he's not going anywhere for a long time. In fact, I think the Falcons are right on the cusp of huge success. Let's turn to a reader for perspective.
Reid in Atlanta wrote:
"The true 'defining moment' for the Falcons is not on your list of choices. It was when Arthur Blank purchased the team from the Smith family, who oversaw a comedy of errors and bad personnel choices for decades. Blank may be responsible for the Petrino fiasco, but otherwise his moves have been solid, and a welcome contrast to what preceded him.''
No argument that Blank has done some great things and made the Falcons more competitive than they ever have been. But I think the best move Blank made was drafting Ryan. That's when things really turned for the Falcons.
May, 10, 2011
5/10/11
1:00
PM ET
What key event significantly changed the fortunes of the Buccaneers – for better or worse? Give us your take and we'll give you our definitive moment on May 25.
Coming into the NFL as an expansion team in 1976, the
Tampa Bay Buccaneers
lost a ridiculous number of games in very quick fashion. There was a brief flash after coach John McKay rode quarterback Doug Williams and defensive end Lee Roy Selmon all the way to the NFC Championship Game in the 1979 season. A few years later, Williams was gone after a salary dispute and the Bucs were maybe even worse than before.
Following Williams' departure, they went through more than a decade of being the NFL's biggest embarrassment. Former owner Hugh Culverhouse led the team through one bumbling step after another.
Things didn't start to change until the Glazer family bought the team, Tony Dungy was hired as coach and Raymond James Stadium opened. Even then, the Bucs were good, but not quite good enough. That led to Dungy's demise and the arrival of coach Jon Gruden, who won a Super Bowl in his first season. The Bucs haven't won big since, but they seem to be a franchise on the rise with coach Raheem Morris and quarterback
Josh Freeman
.
If you vote Other, give us your suggestion in the comments area below.
October, 2, 2009
10/02/09
1:00
PM ET
| | |
| --- | --- |
| | |
| | Getty Images, AP Photo |
| | The Buccaneers have signed their core offensive players -- Derrick Ward, Josh Freeman, and Kellen Winslow -- to lucrative long-term contracts. |

Posted by ESPN.com's Pat Yasinskas
TAMPA, Fla. -– You can call the
Tampa Bay Buccaneers
a bad football team. Right now, there's no evidence to the contrary.
Just don't go calling them cheap.
I live in Tampa and I hear the accusations every day. The Bucs don't care about winning and that's why they're not spending money, the theory goes.
That's the problem with theories. All you need is an idea to throw around and it can catch on and spread, even if there's absolutely nothing to back it up.
The Bucs have their flaws, sure, but being frugal isn't one of them. Fact is, Malcolm Glazer and his sons who run the team are throwing money around.
Right now, they're paying Jon Gruden, Bruce Allen and Jeff Jagodzinski $6 million to stay away from their football team. They're operating out of the palatial One Buccaneer Place, which cost millions to build and I wouldn't even want to guess what the daily light bill is.
But disgruntled fans are having a field day with the fact that the Buccaneers are roughly $30 million under the NFL's salary cap. That's a fact and it's not disputed. It just needs some clarification.
Allen, the former general manager, came into salary-cap hell when he took over from Rich McKay. The best way to get out of that predicament is to not spend any money and, for four or five seasons, that's what the Bucs did.
It became habit and unused cap money kept rolling over. The Glazers quietly could have pocketed that money, but they didn't. They let it build and when new general manager Mark Dominik and coach Raheem Morris entered their first free-agency period in February, the Bucs were on an uneven playing field.
The rest of the league started with a cap floor of $123 million. Tampa Bay's floor was about $150 million.
When free agency started, the Bucs didn't stand still. They went out and signed
Derrick Ward
to the biggest contract for any free-agent running back. They traded for tight end
Kellen Winslow
and turned around and handed him a monstrous contract. They re-signed wide receiver
Michael Clayton
to a deal many thought was too big.
They made legitimate runs at
Albert Haynesworth
and
Matt Cassel
and not getting them might have been a blessing because those high-priced guys aren't exactly lighting it up. But this isn't about the virtues of caution.
There's a wrong perception out there the Glazers are skimping on the Bucs to take care of their Manchester United soccer team. If they were so concerned about pinching pennies, why wouldn't they have saved a few million and used their first-round pick on a defensive player instead of taking quarterback
Josh Freeman
as the franchise player for the next decade?
No, the Bucs aren't being cheap because you really can't do that in a day and age when there's a cap floor. You want cheap? Go back to the early days of the Buccaneers when the NFL didn't have a cap or a floor and owner Hugh Culverhouse wouldn't pay anybody anything, so he could pocket his television money.
July, 31, 2009
7/31/09
3:34
PM ET
| | |
| --- | --- |
| | |
| | Al Messerschmidt/Getty Images |
| | The Buccaneers plan to bring rookie quarterback Josh Freeman along slowly. |
Posted by ESPN.com's Pat Yasinskas
TAMPA, Fla. -- The Tampa Bay Buccaneers rolled out their history Friday morning. Hopefully, they were taking notes and thinking of Josh Freeman.
He's their future and maybe even their present. Keep that in mind as we recap the show the Bucs put on in their auditorium at the sparkling palace that is One Buccaneer Place.
It was short and sweet -- a press conference to announce that the Bucs would wear their orange jerseys from 1976 as part of a throwback promotion for the Nov. 8 game against Green Bay. They had current players Antonio Bryant, Gaines Adams, Barrett Ruud and Earnest Graham walk out on stage as models. They also showed a video of the early years of the Bucs. Understandably, it was very brief.
But there was one shining moment in the video. It came as No. 12 flashed by a couple of times.
That's Doug Williams, the only true franchise quarterback in Bucs history. Let's remember that because it relates directly to Freeman.
A lot of people prefer to forget the early Bucs years, when the team lost its first 26 games and was headquartered at a bunker right off an airport runway. So why bring out the orange and white -- even as a ceremonial gesture -- when the pewter has worked pretty well the last dozen years?
"The answer is simple,'' Bucs co-chairman Ed Glazer said. "This is our history. This is where it all started.''
Truly, it started in 1978 when the Bucs drafted Williams out of Grambling in the first round. Former owner Hugh Culverhouse told Williams he'd have to start off as a backup and earn his job as he handed the quarterback a contract that was below standards even at the time.
Then, coach John McKay turned around and handed Williams the starting job. Throwing Williams to the wolves worked. The Bucs came darn close to getting to the Super Bowl the next season.
| | |
| --- | --- |
| | |
| | Takashi Makita/NFL/Getty Images |
| | Quarterback Doug Williams started immediately for the Buccaneers. The franchise might do well to follow the same blueprint with Josh Freeman. |
That's the lesson. You don't have to coddle a franchise quarterback.
Even though the Bucs have talked a lot about bringing Freeman along slowly, maybe that's not a formula for success. Stick with the history here. Coddling didn't work the other two times the Bucs thought they were getting a franchise quarterback.
Say what you want about Vinny Testaverde and Trent Dilfer. They both did some good things later in their careers. But neither turned out to be the savior the Bucs thought they were getting when the quarterbacks were drafted.
In 1987, Ray Perkins drafted Testaverde with the top overall pick and elected to sit him behind Steve DeBerg. In 1994, Sam Wyche selected Dilfer and followed a plan to play him behind Craig Erickson. What did the Bucs get from going with DeBerg and Erickson when it was common knowledge that they were only there for the short term?
Only a bunch of losses. It's nice to think long term and believe that a quarterback can gain more by sitting safely on the bench. But I'm not sure Testaverde and Dilfer benefitted from that and I know the Bucs didn't.
That's all part of what Tampa Bay coach Raheem Morris and general manager Mark Dominik need to decide as they ponder the plan for Freeman over the next few weeks. They've got Luke McCown and Byron Leftwich as alternatives.
Both have some experience. Both have some skills. But is McCown any different from Erickson? Is Leftwich any different than DeBerg?
No, they all are -- and were -- just "guys."
Morris and Dominik just invested $26 million (maybe as much as $36 million) in Freeman because they believe he's more than a "guy." Freeman was looking awfully good by the end of June workouts and he stuck around One Buc Place for much of the time his teammates were off.
"I'm going to try to give them every reason I can to start me," Freeman said as he checked into camp Friday morning.
That is going to be up to Freeman as the Bucs begin practice Saturday morning. Although the decision to draft Freeman was booed by Bucs' fans in April, there are some reasons to believe he can succeed -- and do so quickly.
He has the arm and the size and he seems to have the charisma of a franchise quarterback. He may be a little unpolished after coming out of Kansas State a year early. But there are general managers and coaches around the league who will tell you they thought more highly of Freeman than they did of Matthew Stafford and Mark Sanchez, the first two quarterbacks taken in this year's draft.
Morris, who spent a year coaching at Kansas State, and Dominik fall firmly into that category. They traded up a few spots to grab Freeman at No. 18 because they believed someone else would beat them to the punch.
So why turn around and sit him?
Especially when you've got a good offensive line, solid running backs in Derrick Ward and Graham, and targets like Bryant and Kellen Winslow. Perkins and Wyche didn't have luxuries like that when they sat Testaverde and Dilfer. Heck, McKay didn't have an offense like that (although the Bucs were pretty good on defense) when he tossed Williams out there and it worked.
If Freeman shows much of anything in camp and the preseason, just start him.
There's a school of thought among some fans that the Bucs will open with McCown or Leftwich. Maybe they go about halfway through the season and then hand it off to Freeman. It makes plenty of sense because they play an Oct. 25 game in London against the Patriots. After that, they have a bye week followed by the unfreezing of the Creamsicles against Green Bay.
You just might see Freeman making his starting debut in orange and white. Then again, why not Week 1 against Dallas in pewter and red?
January, 20, 2009
1/20/09
7:00
PM ET
Posted by ESPN.com's Tim Graham
Although we haven't heard officially from Bill Parcells yet, the Miami Dolphins' new owner on Tuesday declared Parcells will remain with the team after helping them pull off one of the greatest single-season turnarounds in NFL history.
Billionaire real-estate developer Stephen Ross declared Parcells will remain with the club despite a walk-out clause that would allow the football operations boss to leave with full pay in the event Wayne Huizenga no longer ran the team.
| | |
| --- | --- |
| | |
| | Marc Serota/Getty Images |
| | New Dolphins owner Stephen Ross might want to hold off before declaring that Bill Parcells will be hanging around. |
Ross on Tuesday finalized his purchase of an additional 45 percent of the team and Dolphin Stadium, leaving Huizenga only 5 percent.
Parcells, who has three years left on a contract worth reportedly $12 million, has 30 days to take the money and run. The clause also allows him to work for another NFL team without compensation to the Dolphins.
"Parcells is in charge, and he is staying," Ross said on a conference call with local media. "We're very fortunate to have someone like Bill Parcells, who I think people have to recognize as probably the best football mind in America.
"I'm very, very happy to have him, needless to say. As everyone has expressed with all the concerns, 'Is he leaving, or is he not leaving?' He's staying, and I'm fortunate to have him."
But Parcells wasn't nearly as definitive Tuesday when speaking casually with three Dolphins reporters in Mobile, Ala., where he is attending the Senior Bowl with general manager Jeff Ireland, head coach Tony Sparano and other Miami scouts.
Parcells refused to state unequivocally he would be back, striking a "You never know" posture.
Ross indicated at several points during the conference call he and Parcells still are getting to know each other, and sounded as though he was operating on assumptions, which can be dangerous when dealing with Parcells.
Ross was asked when Parcells expressly told him he will be back, and Ross' response indicated that conversation hasn't taken place.
"I've been talking to him for some time," Ross said. "I didn't say 'Give me a commitment.' In the conversations it just came out that we were building a relationship.
"I didn't have to say 'Are you staying?' I just wanted to make sure he was happy and [show him] what kind of person I was, and I got to get a better feel for him as a person. I think we are comfortable with that."
Ross "thinks" they're comfortable.
On a follow-up question, a reporter pointedly asked Ross "do you feel it's 100 percent [Parcells] will be back?"
"Yes," Ross replied.
But Parcells has a history of leading teams to believe he's in place only to pull an about face and join another team.
Atlanta Flacons owner Arthur Blank would have said he was 100 percent sure Parcells was joining their front office in December 2007.
Parcells led Blank and the public to believe he would be the Falcons' vice president of football operations. Blank thought both sides had agreed to terms. Parcells signed with the Dolphins two days later.
Or maybe Ross should ask Tampa Bay Buccaneers owners Hugh Culverhouse and the Glazer family how safe it is to operate on assumptions with Parcells.
He toyed with the Buccaneers in 1991 and 2002, enticing them to believe he would be their head coach. The latter instance reportedly led the Buccaneers to fire head coach Tony Dungy to make way. Parcells went to the Dallas Cowboys instead.
Parcells has been declining all on-the-record interview requests, even though he spent a little courtesy time with reporters in Mobile.
The fact Parcells is in Mobile has led to speculation he's there to be seen by the other 31 NFL clubs. He has a known dislike for attending events like the Senior Bowl and the NFL scouting combine, and didn't go last year even though the Dolphins held the No. 1 overall pick.
Maybe as important as scouting draft prospects, the days leading up to the Senior Bowl are like a job fair for coaches, scouts and other football operations people.
"I think deep down in his heart, he still wants to coach," Miami linebacker Akin Ayodele, who also played for Parcells in Dallas, told the Palm Beach Post a few days before this year's playoffs began.
"He can still coach. He goes around, especially the last few weeks, and talks to guys, tells them what they're doing wrong and what they need to do. You come in Wednesday, and he's already watched film and telling you what to expect."
The Dolphins went from 1-15 to AFC East champions in a magical 2008 campaign.
Why would Parcells want to leave?
A significant reason he joined the Dolphins was because of his long friendship with Huizenga. Parcells was comfortable with the business arrangement and new he had full control of football decisions. Huizenga rarely let money affect decisions when there was an opportunity to improve the team.

Parcells' contract specified he would answer only to Huizenga and included a clause that would give Parcells a 30-day window to walk away with his contract paid in full.
Ross, when asked early in the conference call whether Parcells and the club were renegotiating his contract, said, "There is nothing to renegotiate." When asked again at the end of the conference call, Ross said, "Not at this point."
There were reports in early January that longtime Ross associate and former Kansas City Chiefs president Carl Peterson would be joining the Dolphins in some capacity. Peterson was Ross' guest and wore a Dolphins lapel pin at their first-round payoff game against the Baltimore Ravens.
Peterson eventually denied the rumors, and Ross dismissed them Tuesday.
"Carl happened to be there that weekend vacationing, and I invited him to the game," Ross said. "I think everyone knew at that point that I wasn't going to hire Carl Peterson and [he] wasn't going to be part of the Miami Dolphins. I know what I was thinking, and it was never a consideration."
But here's a piece of advice for Mr. Ross: Keep Peterson's number handy, at least for the next 29 days.
January, 12, 2009
1/12/09
4:45
PM ET
Posted by ESPN.com's Pat Yasinskas
TAMPA, Fla. -- Forget for a second the Super Bowl victory and all the great players he coached. If you want to know what truly set Tony Dungy apart from other football coaches -- really, apart from a lot of human beings -- there is a story you need to read.
| | |
| --- | --- |
| | |
| | Greg Crisp/Getty Images |
| | Tony Dungy was more than just a football coach with the Tampa Bay Buccaneers. |
It sums up Dungy, who is retiring from the Indianapolis Colts and the National Football League today, as a person and a coach. It's the story of a man with a vision and the courage to stick to it quietly, no matter how much the world outside was banging on the windows.
The year was 1997. The Tampa Bay Buccaneers, in Dungy's second year as head coach, were showing some signs the lowly franchise might be ready to escape the so-called Curse of Doug Williams. With a young cast that featured Derrick Brooks, Warren Sapp, John Lynch, Warrick Dunn, Mike Alstott and Trent Dilfer, the Bucs got hopes up with a 5-0 start.
Then, it all seemed as if the season was about to fall apart because of one man. Well, make that two men because Dungy could see the problem as clear as the rest of Tampa Bay. But that stubborn streak that would become a part of his legacy was keeping him from, outwardly, doing anything about it.
The Bucs had a talented young kicker named Michael Husted who all of sudden started missing kicks. Not only was Husted missing field goals, but even extra-point attempts were flying badly off target.
The fans and the media were up in arms. It seemed Husted had to go or else the whole season would spin out of control. It was obvious to everyone, it seemed, except Dungy.
Week after week, he stood there with his arms folded on the sidelines, never showing the slightest emotion when Husted missed a kick. The Bucs lost three games in a row.
Any other coach would have simply brought in another kicker. But Dungy had laid out a philosophy that would end up applying to every player he ever coached and he had to stick to it. He knew something the rest of the world didn't.
While media and fans were breaking down Husted's kicking technique, Dungy knew what was in the kicker's head and heart.
The real story here was Husted's mother, Ann, was dying of cancer up in Virginia.
| | |
| --- | --- |
| | |
| | NFL.com Video |
| | Take a look back at the coaching career of Tony Dungy. |
"I always prided myself on being a pro and being able to separate off-the-field stuff from what I did on the field,'' Husted said Monday morning from his home in San Diego. "But it got to the point where my mom's situation was taking up all of my thoughts."
On the Monday after the third straight loss (to Minnesota), special-teams coach Joe Marciano sat down with Husted and said, "What would you do if you were in our shoes?'' Husted pretty much shrugged and braced himself for the inevitable.
The next morning, Dungy called and Husted was sure he was being cut. Dungy's words said something else.
"He just said, 'You're a Buccaneer. You're part of our family. You're our kicker,''' Husted said.
Mission accomplished. The next Sunday, the Bucs went up to Indianapolis. Husted made a game-winning field goal that broke his slump. The season was saved and the Bucs went on to make the playoffs for the first time in a generation. Ann Husted died after the season, but not before she came to several games and sat with Dungy's wife, Lauren, in a private box.
"What he did was relieve the pressure from me,'' Husted said. "A lot of other coaches would have just let me go. I'm forever grateful to Tony for how he handled that. It speaks a lot about the type of individual he is and how he's not going to let outside forces influence what he knows is right.''
Throughout his career, Dungy has been criticized for being too stubborn or too soft. But, deep down, wouldn't you rather have someone who cares about you and not someone who flies off the handle and listens to the whims of the world?
That should be as much a part of Dungy's legacy as all the games he won and as much as becoming the first African-American head coach to win a Super Bowl. Yes, he did things differently at times, but, in the end, you can't argue with the results.
The Super Bowl win still is fresh in the minds of many. But what Dungy did in Tampa Bay might have been even more remarkable. He took over a franchise that was in disarray, replacing Sam Wyche as the coach soon after owner Hugh Culverhouse had died and Malcolm Glazer purchased the team. In those days, the Bucs played in dreary Tampa Stadium and there was speculation about them moving anywhere from Los Angeles to Baltimore.
In 1996, a very quiet man took over a mess.
"The thing is Tony just brought this silent, commanding respect,'' Husted said. "We never felt like there was a clear road map. He came in and established what we wanted to do and how to go about it. People bought into it in the locker room and we started winning.''
The Bucs got their new stadium in 1998 and consistent winning followed. Dungy couldn't quite get the Bucs over the Super Bowl hump. Jon Gruden came in and did that. But Dungy's contributions in Tampa Bay are going to be evident for a long time. The franchise has been respectable since his arrival, and the stadium has been full for years.
Respect might be the most fitting single word to sum up Dungy's career and that's fitting. Through it all, he always earned respect.
"I think the biggest thing was you never wanted to disappoint coach Dungy because of how he treated you,'' Husted said. "I think any player who ever played for him will tell you it was an honor to play for him. The league is going to miss him and I wish you could clone him and make every coach like that because it would benefit the whole league. But you know that whatever he does going forward, he's going to keep doing it the right way and he's going to positively impact a lot of people.''

NFL SCOREBOARD
Thursday, 12/12
Sunday, 12/15
Monday, 12/16