January, 3, 2013
1/03/13
10:30
AM ET
The Bengals got one streak off their back when they clinched back-to-back playoff appearances for the first time since 1981-82. Now, they're looking to end another mark of postseason futility.

Cincinnati hasn't won a playoff game since Jan. 6, 1991. The 22 seasons without a postseason victory is the longest drought in the NFL (the Lions have gone 21 seasons without one).
The last time the Bengals won a playoff game, gas cost $1.19 per gallon, "Home Alone" was the highest grossing movie of that week and "Justify My Love" by Madonna was No. 1 on the Billboard charts. If that doesn't put it in perspective, wide receiver
A.J. Green
was 2 years old at the time.
The current Bengals players say they don't feel a burden to end this streak.
"It doesn't have anything to do with us," offensive tackle
Andrew Whitworth
said. "What we did in 2006, '07 or '08 doesn't have anything to do with this football team. What we did 20 years ago certainly doesn't. This team is the last two years. Last year, we did what it took to get into the playoffs when a lot of people predicted us to be 0-16. This year, we got back in to the playoffs when a lot of people didn't think we could. We're here. The next step is winning a playoff game. Hopefully, we can let that be a chip on our shoulder."
The Bengals, who play at the
Houston Texans
on Saturday, got their last playoff win against Houston. Of course, it was the Houston
Oilers
, not Texans.
Boomer Esiason
threw two touchdowns, and Ickey Woods ran for another.
Beating the Texans would also mark another couple of firsts for the Bengals. Cincinnati is 0-5 all time on the road in the playoffs, tied with the Saints for the worst road record in NFL postseason history, according to ESPN Stats & Information. Head coach Marvin Lewis is 0-3 all time in the playoffs. The only coach with more postseason losses without a win is Jim Mora, who went 0-6 with the Saints and Colts.
"It'll mean the world to this locker room. It would mean a lot to this city, since it's been so long," Bengals cornerback
Leon Hall
said of a playoff win. "We try to not look at it too big. Obviously, it's a playoff game. It's a big game. If we do what we've been doing, we should be all right."
June, 23, 2010
6/23/10
12:00
PM ET
Notable players:
OT Anthony Munoz, QB
Boomer Esiason
, RB James Brooks, RB Ickey Woods, DL
Tim Krumrie
, WR Eddie Brown, S
David Fulcher
[+] Enlarge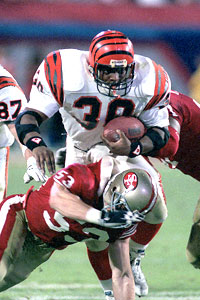 Manny Rubio/US PresswireIckey Woods led the Bengals with 1,066 yards rushing and 15 TDs.
Analysis:
If not for the late-game heroics from
San Francisco 49ers
Hall of Fame quarterback
Joe Montana
, the 1988
Cincinnati Bengals
would have earned the franchise's first and only Super Bowl title. Instead, they join a long list of great teams that are often forgotten after losing in the big game.
With the Bengals leading by three points, Montana drove San Francisco 92 yards for a touchdown late in the fourth quarter to seal a 20-16 victory in Super Bowl XXIII. Montana's game-winning touchdown throw to receiver
John Taylor
with 34 seconds remaining has been replayed constantly and is a reminder of how close the Bengals were to winning the Super Bowl.
But being that close to a title is what makes the '88 Bengals the best team in franchise history.
Cincinnati's explosive offense led the NFL in scoring with 448 points and in total yards in '88. Esiason threw for 3,572 yards and 28 touchdowns, and the Bengals nearly had two 1,000-yard rushers in Ickey Woods (1,066 yards) and James Brooks (931 yards).
The '81 Bengals also won the AFC and are a close second. Coincidentally, Cincinnati lost to San Francisco in the Super Bowl that year as well.
Most impressive win:
Despite Cincinnati lighting up the scoreboard all season, the AFC Championship Game was a defensive battle against the
Buffalo Bills
.
The Bengals had to win with toughness, holding the
Jim Kelly
-led Bills to 181 total yards in a 21-10 victory. Cincinnati held Buffalo to 45 yards rushing and forced three turnovers. The Bengals also ran the ball 50 times for 175 yards in the win to set up their Super Bowl showdown with San Francisco.
Research room:
The Bengals had seven Pro Bowlers in '88. Esiason, Munoz, Brooks, Brown and tight end
Rodney Holman
represented the AFC on offense. On Cincinnati's defense, Fulcher and Krumrie also earned Pro Bowl nods.
The Ickey Shuffle:
To the casual football fan, probably the most memorable aspect of the run made by the '88 Bengals was the invention of the "The Ickey Shuffle."
Woods came up with a famous (infamous?) touchdown dance that consisted of a stutter-step to each side, then a spike of the football. Artistically, "The Ickey Shuffle" wasn't all that great. But it became one of the most well-known touchdown celebrations in NFL history.
Honorable mentions:
1981:
This remains the only other Bengals team to play in a Super Bowl. Quarterback Ken Anderson had a career year, throwing for 3,754 yards, 29 touchdowns and a 98.4 passer rating.
2005:
The best team of the Marvin Lewis era, Cincinnati went 11-5 and won the AFC North. But a first-quarter knee injury to quarterback
Carson Palmer
led to a quick playoff exit against the
Pittsburgh Steelers
.
1975:
Another first-round playoff exit makes this a quality but forgotten team. The Bengals were very well-balanced in '75 and ranked in the top seven in total offense (No. 2) and total defense (No. 7).
January, 3, 2010
1/03/10
7:13
PM ET
CHARLOTTE, N.C. -- I happened to run into
Carolina Panthers
personnel executive Mark Koncz in the press box late in Sunday's game.
Koncz had a very good question.
"Hey, has a running back ever not led his team in rushing yardage and gone to the Pro Bowl?'' Koncz asked.
It fits because that's the situation the Panthers are in. Starting running back
DeAngelo Williams
is going to the Pro Bowl. But backup
Jonathan Stewart
, partly because of injuries, finished the season with more rushing yards. Stewart isn't going to the Pro Bowl. Stewart finished with 1,133 yards and Williams with 1,117. They are the first pair of teammates to rush for 1,100 yards in the same season.
I didn't know the answer to Koncz's question, but I've got the resources to get it. I called our research people and they consulted with the Elias Sports Bureau and came up with the answer.
It has been done before, but there are some qualifiers involved. Since 1975, it's happened a handful of times and the most recent involves a guy who really wasn't a running back.
Tampa Bay's Mike Alstott, who wasn't truly a fullback either, made the Pro Bowl in 2002, 2000 and 1998. Alstott made it as a fullback and Warrick Dunn led the Bucs in rushing in 1998 and 2000 and joined Alstott in the Pro Bowl in 2000. In 2002,
Michael Pittman
led the Bucs in rushing.
The other instances came in 1993 when Pittsburgh's Barry Foster was selected over Leroy Thompson, in 1988 when James Brooks made it over Ickey Woods for the Bengals and in 1980 when Kenny King went over Mark Van Eeghen for Oakland.
You can also throw in St. Louis in 1975 -- sort of. Terry Metcalf first was selected to the Pro Bowl and Jim Otis was not. But Otis later was added to the Pro Bowl roster.
NFL SCOREBOARD
Sunday, 2/2
WEEKLY LEADERS