August, 25, 2014
Aug 25
2:30
AM ET
GLENDALE, Ariz. -- Injuries marred the final minutes of the
Cincinnati Bengals
' 19-13 preseason win over the Cardinals on Sunday night as three Bengals were carted off University of Phoenix Stadium's field in the fourth quarter alone.
Coach Marvin Lewis didn't have any updates on the injured in the locker room after the game, but he did acknowledge that having to deal with the injuries was "the only negative part" of the night. His defensive starters played well and for the third straight preseason game didn't allow a touchdown. His offense played turnover-free football, and his reserves held their own and played well enough to preserve the win.
Throughout the physical game several Bengals needed medical attention, but it was the injuries to
James Wright
,
T.J. Johnson
and
Trey Hopkins
that caused a series of stoppages and had fans hushed. All three were on the ground for several minutes and needed assistance getting off the field after getting banged up late in the ballgame.
All three also find themselves on the bubble, needing every opportunity they can to make the team.
First, it was Hopkins, the undrafted rookie free agent from Texas. He went down with 12:35 remaining in the game after a couple of players rolled on top of his leg. For some time, trainers evaluated his right leg before a cart came onto the field and he was loaded on it. The Bengals later announced that he had a right shin injury. Hopkins was spotted immediately after the game walking through the locker room with his leg already inside a boot.
As if that moment wasn't enough for the Bengals, two plays later, seventh-round draft pick James Wright required a cart when he went down awkwardly at the end of an attempted touchdown reception. While trying to make the 15-yard catch in the back of the end zone, he took what appeared to be a blow to the head from safety
Curtis Taylor
's forearm before going down hard to the turf. Instantly after his head hit the ground, Wright's body locked up.
A few minutes went by before medical personnel got him to sit up before helping him onto the cart. He was not strapped onto a stretcher.
On the next drive, running back
Cedric Peerman
received what appeared to be a serious leg injury but walked off on his own power after getting some treatment on the field. On the drive after that, Johnson went down with an undisclosed issue. Like Hopkins and Wright, a cart eased the offensive lineman into the locker room.
In addition to those injuries, linebacker
Vontaze Burfict
and defensive tackle
Devon Still
went down in the first half with hamstring injuries.
When asked if Burfict would be available for the season opener in two weeks, Lewis simply said, "Yes."
The Bengals won't have much time to rest the injured before their preseason finale. With days off Monday and Wednesday, they will only practice Tuesday before Thursday's game at home against the Colts.
August, 24, 2014
Aug 24
9:05
PM ET
Burfict
GLENDALE, Ariz. -- A hamstring injury forced
Cincinnati Bengals
linebacker
Vontaze Burfict
's night to come to an end after just one series Sunday in a preseason game against the
Arizona Cardinals
.
Following the early first-quarter injury, the Bengals announced that he wasn't expected to return. He had two tackles before leaving the game.
Burfict's injury comes at the end of a week in which he didn't participate in the final three practices. He was held out of Wednesday, Thursday and Friday's workouts after falling ill. Coaches said he had the same stomach virus that others, such as running back
BenJarvus Green-Ellis
and cornerback
Dre Kirkpatrick
, have battled in recent days.
In addition to barely practicing, Burfict's week also featured news that he had agreed to a four-year contract extension that would pay him about $20 million. The reports may have been premature, though. Burfict still hasn't signed his contract, and the Bengals have yet to make the extension official.
August, 20, 2014
Aug 20
5:15
PM ET
CINCINNATI -- When the Cincinnati Bengals returned to practice Wednesday after a day off Tuesday, they were once again without cornerback
Darqueze Dennard
and running back
Rex Burkhead
, among others.
Both were hurt in Saturday's 25-17 preseason loss to the Jets.
Burkhead
Dennard
Dennard was sidelined after appearing on just one play in the game. He jogged on the field to assist on a punt return. After the play was over, he hobbled back to the bench, favoring his hip.
"I was just running and pretty much felt something coming off the field and talked to the trainers and basically, it was just a smart thing to stop [playing]," Dennard said.
He added that he didn't believe the injury was serious. Dennard is hopeful to play Sunday when the Bengals travel to Arizona. Defensive coordinator Paul Guenther said he wasn't sure if Dennard would be healthy in time.
"Hopefully, we'd like to see him playing there early," Guenther said. "But if he can't, then we've got next week to look at him, too."
While the Bengals might be without Dennard this weekend, they still anticipate seeing defensive tackle
Geno Atkins
for the first time. Guenther said Wednesday afternoon that the Pro Bowl lineman would be making his
return to the rotation
as his rehab from an ACL tear last season concludes.
It doesn't appear Burkhead will be part of the Bengals' game plan as he continues recovering from an injury that head coach Marvin Lewis on Wednesday called a "sore knee."
Still, Burkhead has made some progress. After sporting both a long leg brace and a pair of crutches Monday, Burkhead was only wearing the compression style brace that covered his right leg on Wednesday. He was walking around the locker room with it, without any assistance.
"He'll be out of that in a couple of days and be running in the pool soon," Lewis said. "I don't think much is going to hold Rex back very long, but he's going to have to go through the process of getting it right. He obviously plays a position at running back where he's going to have to be able to do what a running back does."
Burkhead was knocked out of last Saturday's game after taking a hard hit when tackled at the end of an early fourth-quarter run.
As the Bengals continue preparations for Sunday's game -- one backup quarterback Jason Campbell and offensive tackle
Andre Smith
anticipate playing -- the following are injury updates from Wednesday's practice. Cincinnati isn't required this preseason to file a daily injury report like it will in the regular season, so it's tough to determine which players were limited or in full participation. Media are only permitted to view the first 30 minutes of the closed practices. Wednesday's workout was in shells; shoulder pads, helmets and shorts.
Returned to practice
WR
Dane Sanzenbacher
(undisclosed)
WR
James Wright
(hip)
DE
Dontay Moch
(undisclosed)
DE
Wallace Gilberry
(undisclosed)
OL
Mike Pollak
(knee)
TE
Tyler Eifert
(shoulder)
LB
Sean Porter
(knee)
LB
Marquis Flowers
(ankle)
Not practicing
LB
Vontaze Burfict
(stomach bug)
DE
David King
(undisclosed)
CB Darqueze Dennard (hip)
RB Rex Burkhead (knee)
QB
AJ McCarron
(shoulder)
QB
Tyler Wilson
(head)
LB
J.K. Schaffer
(head)
December, 24, 2013
12/24/13
2:45
PM ET
CINCINNATI -- The
Cincinnati Bengals
were without eight players Tuesday afternoon as they held their first practice ahead of Sunday's regular-season finale against the
Baltimore Ravens
.

The group was headlined by linebacker
Vontaze Burfict
, who continues to miss time after being placed this week under concussion protocol. He suffered a head injury late in the 42-14 blowout win against the Vikings in Week 15. On Monday, Bengals officials confirmed that he was one of three players who had been placed under the protocol this week. Tight end
Alex Smith
and practice squad cornerback Onterio McCalebb also were being evaluated for head injuries.
Like Burfict, Smith missed Tuesday's practice.
They were joined by offensive tackle
Andre Smith
, linebacker
Vincent Rey
, cornerbacks
Terence Newman
and
Dre Kirkpatrick
, and tight ends
Jermaine Gresham
and
Tyler Eifert
. Newman has missed the past two games because of a knee injury that came three weeks ago. It's possible he would miss this game, as well, in order to get completely back to full strength entering the postseason.
Eifert was diagnosed during Sunday's game with having suffered a stinger. Andre Smith also left the game with a sprained ankle. It's unclear as of now how the other players were hurt. It's likely the high rate of absences resulted from the fact that practice was a day earlier than normal. There is a chance many of those who missed Tuesday's session will be good to go later in the week. Linebacker
James Harrison
returned to practice Tuesday after being declared inactive Sunday because of a concussion he had the week before.
Because the Bengals were practicing on a day they normally take off -- Wednesdays are typically the first days they practice each week -- no injury report was provided. An injury report will be released to media late Wednesday, outlining just what caused each player to miss practice time.
Cincinnati spent Tuesday working out inside Paul Brown Stadium in an effort to get work in before Christmas. In deference to the holiday, they will be taking Wednesday completely off.
December, 13, 2013
12/13/13
3:15
PM ET
CINCINNATI -- All week, the
Cincinnati Bengals
have been expected to give second-year cornerback
Dre Kirkpatrick
his first career start.
They will.
Newman
Kirkpatrick
On their injury report released Friday afternoon, the Bengals officially listed starting cornerback
Terence Newman
as out for Sunday night's nationally televised tilt in Pittsburgh against the Steelers. Kirkpatrick will take Newman's place in the starting lineup, occupying the boundary cornerback position opposite
Adam Jones
. It's been an opportunity Kirkpatrick has been anxious to have since he was taken by the Bengals with the 17th overall pick in the 2012 draft.
"Make no mistake, when we bring guys in here and we talk to them about how they could possibly be our first pick in the draft, it's a total package," coach Marvin Lewis said. "It's their abilities, but yet the confidence in their abilities and the ability to work at what it takes, as well. When you get your first year where you're kind of sideways all the time for injuries and things like he had last year, it's taken his time and his opportunity a little longer to get going."
Kirkpatrick's addition should be the only change the Bengals make to their starting lineup. Newman was the only player listed as out on the injury report. According to ESPN's Chris Mortensen, he is expected to miss 1-3 three weeks after suffering an MCL sprain in last week's 42-28 win against Indianapolis.
Along with Newman were seven probables. The list includes linebacker
James Harrison
, who will be playing his first game in Pittsburgh since departing the Steelers in the offseason. After a potential deal fell through, he signed with Cincinnati in April, marking the first time in his 12-year pro career that Harrison had played for anyone other than Pittsburgh.
At one point this week, it seemed his return might not take place. He and two other players had fallen ill with a bug that spread around the team for a couple days. The illness forced Harrison into missing Thursday's and Friday's practices. Fellow linebacker
Vontaze Burfict
was out Thursday, and running back
BenJarvus Green-Ellis
missed Wednesday's and Thursday's sessions.
One of the other probables, offensive guard
Kevin Zeitler
, likely will be put back into the starting lineup at right guard after coming back from a foot injury that has kept him out the past three games.
Here's the full Bengals' injury report:
OUT
CB Terence Newman (knee)
PROBABLE
LB Vontaze Burfict (illness/thigh)
RB BenJarvus Green-Ellis (illness)
LB James Harrison (illness)
DE
Wallace Gilberry
(knee)
S
George Iloka
(concussion)
WR
Marvin Jones
(shoulder)
OG Kevin Zeitler (foot)
December, 11, 2013
12/11/13
6:45
PM ET
CINCINNATI -- Most times when
Leon Hall
walks through the
Cincinnati Bengals
' locker room these days, reporters are absent.
Wednesday was a rare exception.
As the cornerback and his booted right foot breezed through around midday after another weekday rehab assignment, he was stopped by members of the media who hadn't talked with him since before he tore his right Achilles during in a win over the
Detroit Lions
two months ago. He has been on the injured reserve since and remained mostly out of sight while undergoing his second major rehabilitation in three seasons.
[+] Enlarge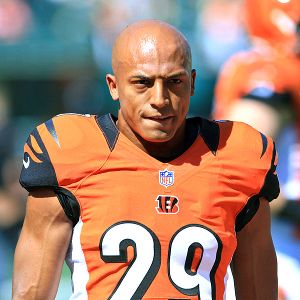 Pat Lovell/USA TODAY SportsLeon Hall is trying to recover from his second Achilles injury in two years.
Much like the last time he went through an Achilles injury, Hall is also targeting a complete return by training camp.
"That's how I look at it," Hall said. "It's the same injury but every injury's different. I'm kind of approaching this one the same way I approached the last one as far as we're just going to rehab every day, see what happens in six months or whatever."
Six months from now, Hall, who turned 29 on Monday, hopes to be back to running, cutting and jumping.
In the summer of 2012, about a month before the start of that year's training camp, Hall was finishing up the comeback from his first Achilles injury; a tear to the tendon on his left foot.
In the months that followed, he went on to have a strong 2012 season and was on pace to have an even better one in this, his seventh year in the NFL. Last season, he was credited with 38 tackles, while also intercepting two passes and breaking up a career-high eight more. This year, before the injury, he was on pace to have 48 tackles. That would have been his most since 2009. He also was on pace for a career-high 10 pass breakups.
With respect to this particular injury, the timing couldn't have been better from the Bengals' point of view. Hall made a relatively expedient return before training camp last summer. Since this year's injury came two weeks earlier on the season calendar than the last one did, he has even more time to get healthy this go round.
"That's true," Hall said. "My left is healed 100 percent, so I'm kind of looking at it basically with the same mindset I had on the first one."
Hall went down during Week 9 in 2011. This latest injury came in Week 7.
The day-by-day progression of Hall's recent rehab has gone similarly to the first one, he said.
"Sometimes with this one you kind of go as the tendon allows you to go," Hall said. "But for the most part, it's going to be the same number of weeks I had in a cast and the same amount of weeks in this boot and so on and so forth."
Asked to think back to the moment he tried to jump while covering the Lions'
Calvin Johnson
in goal-line territory, Hall said he knew right away what he had done to himself. He knew the reason he buckled and went down as the pass to Johnson fell incomplete. As he was helped back to the sideline and disgustedly sat on a bright orange Gatorade cooler, he knew his season was done.
"I did know, unfortunately," Hall said. "The feeling felt all too familiar.
"It was a lot going through my head. Anything from: I had a lot of family at the game, to 'Not again.' One of those deals."
It wasn't until Hall returned to Cincinnati that night that he realized the long march to recovery was about to commence. After having gone through that process once before, he knew what to expect next; not that it made dealing with the injury any easier.
"I kind of realized the process that it takes, which can be good and bad," Hall said. "It's good because I know what's happening, but then obviously bad because you realize you have to go through it all over again."
What has helped Hall get through the more difficult moments this rehabilitation process has brought? The fact that his teammates have kept winning. The Bengals, playing most of the latter half of the season without not only him but also Pro Bowl defensive tackle
Geno Atkins
, are 9-4 and have a commanding lead in the AFC North. With a high playoff seed in sight, Hall has comfort knowing they're continuing on without him.
"When you're winning, it's not as hard because you're happy and the guys you're around every day, that you are used to being around every day, are playing well," Hall said. "So that's good."
November, 27, 2013
11/27/13
3:40
PM ET
CINCINNATI -- "Meteorologist" Marvin Lewis returned Wednesday afternoon, proudly reporting that the
Cincinnati Bengals
were mostly good on the injury front entering Sunday's game at San Diego.
After going through their share of injury-induced storms the last month and a half, the Bengals are about as healthy as they could be this late in the season.
Lewis took a moment during his weekly news conference to relate his team's latest injury concerns to the weather it ended up practicing in later in the day. He often makes weather comparisons in an effort to explain the Bengals' injuries.
"It's a little chilly outside, but it's partly sunny," Lewis said, smiling. "It's cold, but don't let the cold fool you. We are about as good as you would hope to be at this point in the year. We've got to feel blessed that, knock on wood, we're where we are at this point in the season."
Temperatures hovered around 30 degrees much of Wednesday afternoon. About 15 minutes into the Bengals' 1 p.m. practice, snow flurries covered the sun and began floating throughout Paul Brown Stadium. With high wind gusts, the scene was reminiscent of the sudden monsoon-like conditions that descended upon the stadium during the early October game that featured the Bengals and Patriots. As New England went through its crucial final drive of the game, heavy rains kicked up, making it difficult to see and throw.
When it came to the practice, offensive guard
Kevin Zeitler
, injured three weeks ago in the 20-17 overtime loss at Baltimore, and punter
Kevin Huber
were missing in action. According to the injury report, Huber has a left ankle injury. He kicks with his left foot.
After spending parts of the last two weeks in a boot, Zeitler appears to be making progress with a foot injury that kept him out of the 41-20 win over the Browns in Cincinnati's previous game two weeks ago. He's no longer sporting the boot.
Asked if Zeitler could be healthy for this weekend's game against the Chargers, Lewis simply replied: "We'll see."
In addition to the absences of Zeitler and Huber, the Bengals did have veteran outside linebacker
James Harrison
back on the practice fields. Harrison was sidelined during Monday's walkthrough. Fellow linebacker
Rey Maualuga
and defensive tackle
Devon Still
also were practicing in full capacity. It was Still's second practice this week, after working out Monday for the first time since dislocating his elbow in mid-October.
Here is the Bengals' full Wednesday injury report:
Did Not Practice
OG Kevin Zeitler (foot)
P Kevin Huber (left ankle)
Limited Practice Participation
LB
Michael Boley
(shoulder)
Full Practice Participation
CB
Chris Crocker
(hamstring)
LB Rey Maualuga (knee)
DT Devon Still (elbow)
November, 18, 2013
11/18/13
7:45
PM ET
CINCINNATI -- As the
Cincinnati Bengals
begin their bye week, they do so knowing that two of their fallen defensive players are officially on the mend and in the initial phases of their lengthy rehab processes.
Coach Marvin Lewis said Monday that both cornerback
Leon Hall
and defensive tackle
Geno Atkins
have made it through their respective surgeries. He hasn't yet heard how well Atkins' surgery to repair a torn right ACL went, but he acknowledged that it happened late last week. Hall's procedure to fix an Achilles tear suffered last month at Detroit came a few weeks ago and "went very, very well," Lewis said.
Hall
Atkins
Like they have done with past long-term injuries, including Hall's Achilles tear two seasons ago, the Bengals are sending Hall and Atkins to trainer Nick Cosgray, the team's director of rehabilitation.
"He's always been important," Lewis said. "Obviously, he's been down this road before with Leon. We know the expectations, and Leon now knows what's ahead."
Hall tore his left Achilles two seasons ago, and completed rehab just in time to fully participate in preseason camp last year. In Week 7 of this year, during a goal-line stand, he tore his right Achilles trying to disrupt a pass thrown to Lions receiver
Calvin Johnson
along the side of the end zone. His feet gave way as soon as he tried to jump for the ball.
Atkins' injury came Halloween night during the Bengals' Week 9 game at Miami. It was the most recent major injury in a long line of them for the Bengals. After
Robert Geathers
suffered a season-ending elbow injury in Week 2, the Bengals lost Hall, defensive back
Taylor Mays
and Atkins in a three-week span in the middle of the season. Linebacker
Rey Maualuga
and defensive tackle
Devon Still
also have been battling through their own injuries for the past month, but are expected back in time for next week's game at San Diego.
"It's going to be new waters with Geno," Lewis said of Atkins' rehab. "We just have to convince him how important it is that we get hands on him early and get him going. We believe that our people here do the best job they can for the players, as opposed to someone else's people. These are the people we trust in and their job is to get our guys back on the field as healthy as they can and as quickly as they can. We feel it's best they are here doing it, and Nick has done a tremendous job of it. We need the same kind of outcome with these last two."
November, 7, 2013
11/07/13
4:30
PM ET
CINCINNATI -- When it comes to the injury front, this week's
Cincinnati Bengal
to watch is tight end
Jermaine Gresham
.
Gresham
One day after participating in a limited capacity in the team's first practice of the week, Gresham was held out of Thursday's workout. A tender groin was the apparent culprit, keeping him out of uniform and relegated to roving the sideline while his teammates went through their second-to-last practice ahead of Sunday's game at Baltimore.
It isn't yet clear when Gresham suffered the injury, but it was at least serious enough to keep him off the field. If he practices Friday, he stands a strong chance to go Sunday.
The Bengals can ill-afford to lose another key player, even if it's for one game. Just last week, defensive tackle
Geno Atkins
' season came to an end when he suffered a torn ACL. When he was placed on the injured reserve, Atkins became the fourth player the Bengals have lost for the season since Week 1. In all, eight players are on IR dating back to the preseason.
Cincinnati also is missing defensive tackle
Devon Still
and linebacker
Rey Maualuga
. Both are expected to return in the next few weeks from elbow and knee issues, respectively. Chances are both will return the week the Bengals make their only West Coast trip of the season, when they head to San Diego on Dec. 1. Before that game, they have this weekend's contest against the Ravens, a home tilt against the Browns and then a bye.
Along with Gresham, Still and Maualuga missed Thursday's practice.
Three other Bengals practiced in a limited capacity, while another worked out in full capacity. Offensive tackle
Andrew Whitworth
, who was held out of Wednesday's session due to a non-injury-related issue, was completely back. Whitworth likely won't be practicing on Wednesdays the rest of the year as he gets an extra day off to heal and recover each week.
The three limited Bengals were running back
Giovani Bernard
, linebacker
Michael Boley
and guard
Kevin Zeitler
. Earlier in the day, Bernard, who has a bruised rib, said he was feeling better after taking a hard shot late last Thursday night.
"I'm good, so we'll see how it goes with practice here and there," Bernard said.
Here is the Bengals' complete Thursday injury report:
Did not practice
TE Jermaine Gresham (groin)
LB Rey Maualuga (knee)
DT Devon Still (elbow)
Limited participation
RB Giovani Bernard (ribs)
LB Michael Boley (hamstring)
OG Kevin Zeitler (hamstring)
November, 6, 2013
11/06/13
4:45
PM ET
CINCINNATI -- If you're a
Cincinnati Bengals
fan and you enjoyed watching
Giovani Bernard
's zig-zagging, tackle-breaking 35-yard touchdown run at Miami last week, good news. There is a chance you could see another one this weekend when the Bengals visit Baltimore.
Eight days after leaving in the fourth quarter of Cincinnati's 22-20 overtime loss to the Dolphins with a rib injury, Bernard returned to practice Wednesday, a clear indication the rookie running back will be in uniform for this Sunday's division clash with the Ravens.
Bernard
Wednesday's workout was the Bengals' first full session since the midweek loss. It came after a walkthrough and meetings on Monday, and a league-mandated day off Tuesday. Bernard was listed as having participated in a limited capacity. During his news conference Friday, coach Marvin Lewis said he believed Bernard would be healthy enough to compete this weekend. The injury scare, it seems, has subsided.
Along with Bernard's presence, the Bengals also were graced with a practice appearance from linebacker
Michael Boley
, who was inactive last week due to a hamstring injury. He was listed as having had limited practice participation.
While Boley and Bernard went through the practice, the Bengals were without veteran offensive tackle
Andrew Whitworth
and defensive tackle
Devon Still
and linebacker
Rey Maualuga
. Whitworth was out all last week with a knee injury, but was listed on Wednesday's injury report as out dealing with a non-injury related issue. He likely will miss each Wednesday practice from here on, as the Bengals try to give the eight-year veteran at least one practice off each week. He was outside with the team Wednesday observing drills during the rainy open practice period.
Still is in his third week trying to recover from an elbow injury first sustained in the 27-24 Week 7 win at Detroit. As much as he wants to play this week, he isn't banking on it happening.
"I think I need more time than just Sunday," he said. "I'm not trying to hold myself back from coming back too soon. I trust the advice that the people give me in the training room. When they say I'm ready to come back out there and play, then I'm going to come back out there and play. Right now, I'm just trying to focus on whatever I can to get my arm back to 100 percent."
Maualuga, who was hurt two games ago against the
New York Jets
, has been simultaneously fighting through a knee and head injury. The crutches he sported in the locker room last week have been ditched. Still, he has been expected to miss another two to three weeks with his MCL sprain.
Here's the Bengals' full injury report for Wednesday:
DID NOT PRACTICE
LB Rey Maualuga (knee/concussion)
OT Andrew Whitworth (non-injury related)
DT Devon Still (elbow)
LIMITED PRACTICE PARTICIPATION

RB Giovani Bernard (ribs)
LB Michael Boley (hamstring)
OG
Kevin Zeitler
(hamstring)
TE
Jermaine Gresham
(groin)