October, 28, 2014
Oct 28
10:01
AM ET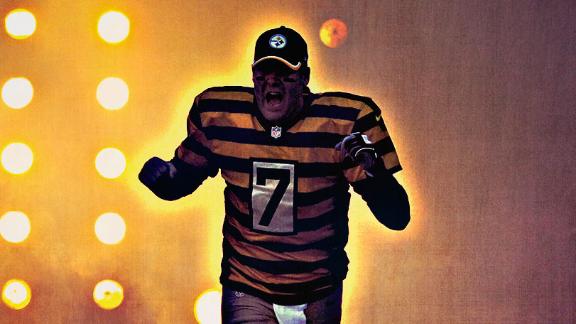 Let's take our weekly deep dive into the Sunday performance of five NFL quarterbacks, using data supplied by analyst Jacob Nitzberg via ESPN Stats & Information. After all, the numbers don't always speak for themselves. (For all Inside Slant posts, including the weekly QB Report,
follow this link
. For a full statistical breakdown of all NFL quarterbacks, see
ESPN.com's QBR page
.)
WEEK 8
CMP: 40
ATT: 49
YDS: 522
PCT: 81.6
TD: 6
INT: 0
WHAT YOU MISSED
Tucked inside Roethlisberger's record-setting 522-yard performance was a cool strength-on-strength strategy between his Pittsburgh Steelers and the opposing Indianapolis Colts. Entering the game, Roethlisberger wasn't among the NFL's top 15 quarterbacks in most passing categories when opponents brought four or fewer pass-rushers, an indication that either the Steelers' offensive line wasn't protecting well or that the resulting coverage had proved effective against their scheme. On the other hand, Roethlisberger had lit up the blitz, completing 68.7 percent of his passes (second in the NFL) and producing an 87.7 QBR (fourth) against it. As a result, opponents had blitzed Roethlisberger on only 17.3 percent of his dropbacks, the second-lowest rate in the NFL. The Colts, however, entered the game blitzing an average of 39.1 percent of opposing dropbacks and were determined to do the same to Roethlisberger. They blitzed on 40.8 percent of Sunday's dropbacks and Roethlisberger predictably gashed them. On those plays, his QBR was 99.7 (out of 100). He completed 17 of 20 passes for 237 yards and two touchdowns. Both touchdowns came on blitzes by a defensive back, and overall, the 17 completions were the highest total against the blitz for a quarterback this season. And in this game, Roethlisberger's performance didn't drop off when the Colts tried to play coverage. He completed 23 of 29 passes for 285 yards and four touchdowns when they sent four or fewer rushers.
FINAL ANALYSIS
Roethlisberger was so sharp, and the matchup so one-sided, that it might not have mattered what the Colts tried against him. But given his history -- and the fact that fewer blitzes had helped them shut out the Cincinnati Bengals a week before -- the Colts were a bit too stubborn for their own good.

WEEK 8
CMP: 30
ATT: 35
YDS: 354
PCT: 85.7
TD: 5
INT: 0
WHAT YOU MISSED
Based on ESPN video tracking, none of Brady's 35 passes against the Chicago Bears were off target. He completed 30 of them, three were dropped, one was knocked down by the Bears' defense and the other was the result of a clear miscommunication. It was Brady's first game without at least one off-target throw since ESPN began tracking them in 2006. All five of Brady's touchdowns came from inside the pocket and he left the pocket to throw only one pass in the game. Why? The Bears put him under duress on just two attempts; his pressure percentage of 5.7 was the New England Patriots' lowest in a game during the past two seasons. Brady picked on the left side of the Bears' defense, completing 20 of 22 passes for 213 yards and all five of his scores against it. He also completed 11 of 12 play-action passes for two touchdowns, all season highs. Since the Patriots' loss in Week 5 at Kansas City, Brady has a 91.1 QBR and a completion percentage of 69.4, both second in the NFL during that span behind Peyton Manning. His 14 touchdown passes are tied with Manning. Brady and Eli Manning are the only two qualified quarterbacks in the league not to throw an interception since then.
FINAL ANALYSIS
It bears repeating that Brady has earned the benefit of the doubt after a stretch of poor play. The Patriots have pivoted 180 degrees, and over the past month Brady has played as efficiently as any quarterback in the NFL.
WEEK 8
CMP: 36
ATT: 62
YDS: 411
PCT: 58.1
TD: 2
INT: 2
WHAT YOU MISSED
Foles was one of four quarterbacks with 400-plus passing yards in Week 8, but his yardage total came amid extreme pressure and required 62 attempts. He was forced to throw a career-high 12 passes outside of the pocket and completed only five after the Cardinals put him under duress on 41.3 percent of his dropbacks, his highest rate this season and the third highest in a game of his career. The Arizona Cardinals blitzed on 19 dropbacks and put Foles under duress on 14 of them. He wasn't sacked, but on those pressured dropbacks, he completed his pass on only eight of the attempts, totaling 66 yards and including an interception. That average of 3.5 yards per attempt against the blitz was his season low. When the Cardinals sent a defensive back as the blitzer, Foles missed on 8 of 11 passes and totaled just 39 yards. The blitz was especially effective on the Cardinals' final drive, forcing incompletions on 4 of 6 attempts. Foles faced seven pass-rushers on his final two passes, both incomplete. Still, he hung in admirably over the course of the game and completed 10 of 19 passes on third down, converting nine into first downs.
FINAL ANALYSIS
The Cardinals are the NFL's most blitz-heavy team, having sent at least one extra rusher on 45 percent of opposing dropbacks prior to the game. It will be up to future opponents to determine if Sunday's success was Cardinals-specific, or if Foles and the Philadelphia Eagles should continue to face the blitz at that rate.
WEEK 8
CMP: 28
ATT: 39
YDS: 418
PCT: 71.8
TD: 1
INT: 2
WHAT YOU MISSED
The Green Bay Packers' game changed noticeably in New Orleans after Rodgers' third-quarter hamstring injury. After that point, all 20 of Rodgers' passes came from the shotgun. He also attempted only one play-action pass and all of his throws traveled less than 15 yards downfield. Prior to the injury, Rodgers had thrown two of his 19 passes when starting under center. He had thrown three play-action passes and another two throws that traveled at least 15 yards downfield (completing both). Two downfield passes tied for the second fewest in a game during Rodgers' career and made it difficult to catch up after the Saints established a lead. Indeed, of Rodgers' 418 yards, more than half -- 244 -- came after the catch. The Saints were effective getting after Rodgers and his presumed immobility, limiting him to two completions and two interceptions against their blitz in six attempts, his lowest completion percentage against the blitz in a game this season. His QBR against the blitz was 0.02. On the positive side, Rodgers' recent success throwing to receiver Randall Cobb continued. He completed 5 of 7 attempts toward Cobb for 126 yards and a touchdown. In their past four games, Rodgers and Cobb have connected on 19 of 24 targets for 339 yards and four touchdowns.
FINAL ANALYSIS
The Packers are fortunate to have a bye week for Rodgers to rest his hamstring. His limitations were clear, both to the eye and in the numbers, after the injury occurred.
WEEK 8
CMP: 24
ATT: 28
YDS: 226
PCT: 85.7
TD: 0
INT: 0
WHAT YOU MISSED
The Kansas City Chiefs' approach Sunday provided an unintended preview of Monday's news that quarterback Alex Smith had suffered a strained throwing shoulder. Only one of his 28 attempts traveled more than 10 yards downfield. The rest traveled 10 yards or fewer, and 164 of his 226 passing yards (72.6) came after the catch. Some of that discrepancy could be attributed to a double-digit lead the Chiefs held early in the third quarter en route to a 34-7 victory over the St. Louis Rams. It's also likely that Smith used short passes to combat a Rams defense that blitzed him on 60.6 percent of his dropbacks, the third-highest rate a quarterback has faced this season. (He completed 16 of 19 passes against it.) Still, Smith became the first starting quarterback in two years (Week 8 of 2012) to win a game while throwing so few passes deeper than 10 yards downfield. His shoulder injury almost certainly played a role in route selection. At the same time, he did not have much difficulty throwing outside the numbers, completing all 13 of those attempts for 90 yards. They might have been close to the line of scrimmage, but outside throws still require strong arm action to avoid interceptions. Smith's final QBR of 60.0 was lower than you might expect for a day when he completed 24 of 28 passes. But he did lose a fumble in Chiefs territory, and one of his two sacks came on a third down in Rams territory in a tie game.
FINAL ANALYSIS
Overall, Smith and the Chiefs played a smart game given the circumstances of his shoulder and the frequency of the Rams' blitz packages.
NFL SCOREBOARD
Thursday, 10/30
Sunday, 11/2
Monday, 11/3