October, 23, 2014
Oct 23
9:30
AM ET
Another in an Inside Slant series on innovation within or around the NFL. For all Inside Slant posts, follow this link.
Earlier this week, the
Atlanta Falcons
and
Detroit Lions
boarded evening flights bound for London. They flew through the night, on schedules known as "red-eyes" for their impact on sleep, and arrived the following morning (London time) to begin preparations for Sunday's International Series game at Wembley Stadium.
The trip's duration -- seven hours for the Falcons and more than eight for the Lions -- represents the biggest logistical obstacle to placing an NFL franchise in London, as the league appears determined to attempt. There is, however, a potential long-term fix, one once reserved for sci-fi fans and other dreamers: worldwide supersonic flight.
[+] Enlarge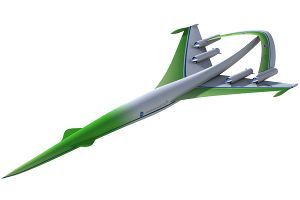 Photo/NASAThis is a rendering of what NASA unveiled earlier this year as a futuristic supersonic plane.
A decade after the final transatlantic flight of the Concorde, NASA and at least two private companies are at work on a new generation of supersonic aircraft that would deliver Americans to London in less than three hours.
Economic and bureaucratic challenges suggest a 15- to 20-year timeframe for development and implementation, according to Tom Irvine, NASA Aeronautics' deputy associate administrator. But that period could roughly match the implementation of a London franchise, meaning a team could travel to London from the East Coast of the U.S. in less time than the
Seattle Seahawks
spent last week flying to St. Louis.
"This is not an insurmountable problem," Irvine said recently.
I know you don't come to this space to break down aviation theory, and in truth, the NFL will plow ahead on international expansion whether or not supersonic flight is available. The league is dealing with travel obstacles in other ways, most notably giving teams a postgame bye week to recover. Another prominent idea for a (pre-supersonic) London franchise is to play a "pod" schedule that will include blocks of games at home and stateside (while practicing at an East Coast satellite facility) to limit transatlantic travel.
Still, the idea of faster and more efficient travel has permeated more than one discussion I've had with NFL people about European expansion over the years. It's not like the idea is unprecedented. For more than two decades, after all, British Airways and Air France flew the Concorde from London to New York in three hours, 20 minutes.
The Concorde was decommissioned in 2003 for two basic reasons: (A) it wasn't fuel-efficient enough to provide profits for its carriers, and (B) its sonic boom was deemed too loud to travel over land, limiting its use and routes. But the dream has never died among aviation enthusiasts. In fact, during a forum hosted by the American Institute of Aeronautics and Astronautics earlier this year, NASA released renditions of a next-generation supersonic aircraft that would address both problems. (Thanks to the AIAA for its assistance with this post.)
NASA has requested funding from Congress to build a prototype that, Irvine said, would "have a barely perceptible sonic boom on land" because of its unique shape. It could also use low-carbon-emission fuels, either biofuels or synthetic alternatives, to provide for a cleaner-burning and less expensive jet engine.
Irvine estimates that research, design and development of the prototype could take five or six years. (Independently, a company called Aerion has
recently teamed up with Airbus
for similar efforts.) The next step would be to convince the Federal Aviation Administration and its international counterparts to allow supersonic flight over land, a process that could take a decade on bureaucracy time.
If all goes according to plan, Irvine said, the likely "first adopters" will come in about 15 years via companies such as Gulfstream that specialize in private business jets and cater to customers for whom "cost isn't as much of an imperative." They will be intrigued by the idea of transportation at Mach 2.5, which at 1,600-1,800 mph could move a plane from New York to London in 2 1/2 hours.
Such business jets wouldn't be large enough to carry an entire NFL football team, but a fleet of planes that seat 50-70 passengers is a reasonable expectation, Irvine said, and multiple aircraft could be used rather than one.
The most recent estimates for an NFL expansion to London, according to
NFL.com
, is the 2022 season. Assuming a delay or two -- see the 20-year search for a team in Los Angeles -- the NFL's timing could mesh with NASA's supersonic projections.
"If we're able to do these flight experiments," Irvine said, "in 10 years it would be clear what the impact will be on regulations, whether the aircraft can go over land and that sort of thing. In 10 years, the situation will be much clearer. I think we'll know if this makes economic sense then. So we're basically 10 years out from understanding if this will work on a large scale."
Faster travel to London wouldn't alleviate all the uncertainty surrounding a London franchise. There's nothing it could do about the time change, for instance. But there's no doubt it would make the idea more palatable for the participants, and it's an option that isn't as fantastical as you might think. Strap yourselves in and enjoy the ride.
NFL SCOREBOARD
Thursday, 10/23
Sunday, 10/26
Monday, 10/27
WEEKLY LEADERS