NFL Nation:

Inside the play
October, 19, 2014
Oct 19
9:30
PM ET
DETROIT -- Earlier this month,
Corey Fuller
insisted he could do more. He was playing behind
Calvin Johnson
then, barely the target of any of
Matthew Stafford
's attention and resigned to running the deep go routes and posts he had been assigned.
His job then was to pull a defender down the field so Stafford could find
Golden Tate
and others on shorter routes.
[+] Enlarge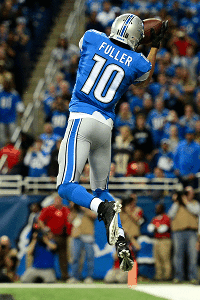 Andrew Weber/USA TODAY SportsCorey Fuller's first career touchdown catch was a meaningful one for Detroit on Sunday.
Then Johnson's high ankle sprain became more of an issue and Fuller was put into a much larger, more diverse role. The deeper routes he had to run turned into a fuller route tree, with slants and hitches and the full gamut of plays he learned.
He insisted, at some point, he would do more. That more came Sunday afternoon, with the
Detroit Lions
five yards from a come-from-behind win over the Saints.
Fuller, lined up on the right side, ran toward the back of the end zone. Initially, rookie
Stanley Jean-Baptiste
hung with Fuller as Tate was doubled by the Saints. Then, Jean-Baptiste, playing the first defensive snaps of his career Sunday, let him go as Fuller rounded his route toward the middle of the end zone, tucked in the back.
"He's 1A," Stafford said. "Golden was in there, too, but they doubled Golden. He had done such a great job all game, they put a little double-team down there, a little bracket. Corey had to go outside, beat a corner and he was just trailing on the baseline, saw the double team on Golden and put a ball where I thought Corey could go up and get it and get both feet down."
Stafford threw the ball as Fuller headed toward the middle of the field. He jumped up, extended his arms and caught the ball. Then he controlled his body enough to make sure both feet landed in bounds before he fell out of the end zone for the game-winning 5-yard touchdown.
"I know I don't get called much," Fuller said. "I'm just here to help any way I can. Matt threw a great ball, the line blocked perfectly and all I had to do was come down with it. I had to do the easy job."
It was a job, though, that he had never had to do before.
It was the first touchdown of Fuller's career and only his ninth career NFL catch. It was the second week in a row Fuller had five targets and his three catches tied a career high. His 44 yards were the second-best numbers of his career.
As he said, he knew he could do more. He just had to wait for it.
"He's put in so much work in the past year to get where he's at," Lions tight end
Brandon Pettigrew
said. "He deserved that.
"He deserved every bit of that."
September, 9, 2014
Sep 9
6:00
PM ET
DETROIT –
Matthew Stafford
wasn't expecting to run.
Yet on Monday night against the
New York Giants
, facing a third-and-goal, Stafford looked more mobile than he ever has. The preparation for what turned into a 5-yard touchdown run for Stafford -- the longest touchdown run of his career -- began well before the season started.
[+] Enlarge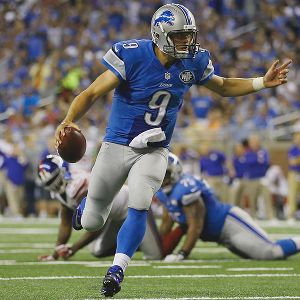 Gregory Shamus/Getty ImagesMatthew Stafford's 5-yard touchdown run was a product of his offseason conditioning and mobility work.
"I work out with Stafford sometimes in the offseason," receiver
Calvin Johnson
said. "And he's been doing a lot of footwork drills and you see it paying off."
It might have paid off the most on a play Stafford made in the third quarter, when his intelligence combined with an overextended pocket forced him to take off and make a play.
The Lions were lined up with Stafford in the shotgun,
Joique Bell
next to him and Calvin Johnson alone on the right side. On the left, the Lions had
Golden Tate
on the outside,
Jeremy Ross
in the slot and
Joseph Fauria
standing up as a tight end close to the line of scrimmage.
The way the play was designed, Stafford was initially supposed to throw to the left. Nothing was open. Then he looked at Johnson, who was doubled on the play. Meanwhile, Stafford's pocket was pushed a little bit more when Giants defensive end
Mathias Kiwanuka
ran past right tackle
Corey Hilliard
before Hilliard knocked him to the ground. This slightly shifted the pocket and gave Stafford a larger hole to run through.
As the pocket shifted, Tate was cutting across the field waving his hands slightly to try and get Stafford's attention. Stafford, still looking somewhat upfield, appeared to commit to the run at the 10-yard line.
"They did a great job of covering us up on that," Stafford said. "They kind of had a population issue over there to the left where we were trying to get the ball, and Calvin was doubled as well, so our offensive line again did a great job of giving me some lanes to step up.
"[I] Stepped up and decided to take off."
This is where Stafford made the entire play. Seeing Tate covered and linebacker Jacquain Williams waiting around the goal line, Stafford gave a slight head fake like he was looking toward throwing to Tate. Williams looked to the right for a split second, appearing to throw off his timing.
It was a perfect sell by Stafford to give himself a chance to get close to the goal line. He knew it still wasn't a guarantee he's score, though.
"Knew I probably didn't have the jets to get there but if I sold him enough, I could maybe cut back," Stafford said.
He joked later the cut back is "about my only move," but the final move resulting in the touchdown was more instinct than anything planned, no matter how much he works on his footwork.
That's what happened when he reached the 2-yard line. Stafford, Williams, Tate and Giants safety
Stevie Brown
all converged just right of the hashmark. Stafford timed his cut back perfectly, knocking Williams slightly off balance for the wrap tackle while taking Brown out of the play with the move.
Stafford looked like he wanted to dive into the end zone, but Giants linebacker
Jon Beason
was standing just inside the goal line ready for one last shot at the play. Instead of diving, Stafford tucked the ball and almost jumped in the end zone, scoring to give the Lions a 27-7 lead after the extra point.
"He's confident in his feet," Johnson said. "The footwork drills that we do, he runs well. He's running better than he has in the past. He's going to be smart.
"He knows we need him out there so he isn't going to do anything crazy."
December, 10, 2013
12/10/13
12:00
PM ET
PHILADELPHIA -- In the mass of snow where players couldn't cut and the surface was more ice rink than football field, it did not seem to matter much to
Detroit Lions
returner
Jeremy Ross
.
If anything, the slip-and-slide surface almost helped him as he had one of the best days of his career.
[+] Enlarge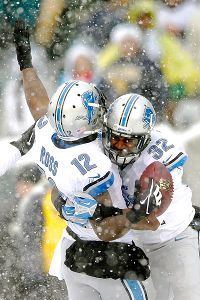 AP Photo/Michael PerezJeremy Ross scored and a 58-yard punt return and a 98-yard kickoff return in Detroit's loss on Sunday.
"Players start to slip just because they get too wide, cut too wide," Ross said. "I try to keep everything in tight and narrow and not overextend. Just keep my feet underneath me."
That wasn't easy considering the playing field at Lincoln Financial Field, but Ross was able to keep his balance enough to return both a punt and a kick for touchdowns Sunday in the Lions' 34-20 loss and in the process matched a little bit of history.
Ross became the second Detroit Lions player to return a punt and kick for touchdowns in the same game, matching Eddie Payton -- the brother of Walter Payton -- who accomplished the same feat for the Lions in 1977.
Even more impressive was Ross did it on an increasingly difficult place to run on.
"After a while the snow started hardening up," Ross said. "The snow kept clogging up at the bottom of my cleats so it felt like I had heels on at some point. It would pile up, stack real tight on the bottom of my heels so my foot would be like lifted up.
"Sometimes you have to keep patting your feet because it just packs in there and it's hard to run, change directions, so it really gets underneath your feet."
Ross also had some help. On both returns he was assisted by some major blocking.
Wide receiver
Kevin Ogletree
, who like Ross was a midseason signing for the Lions after being cut by another team, blocked
Brandon Boykin
enough on the outside that it gave Ross the initial crease he needed.
From there, almost in slow motion, Ross weaved his way to the end zone for a 58-yard punt return touchdown, not cutting so much as just bobbing his body side-to-side as he ran.
"When you're running, you're real cautious of how you cut and stuff," Ross said. "You feel like you're just trying to turn, you can't really cut. You're just kind of slowly working your way around."
His kick return was a little bit easier in some ways. Ross caught the ball at the 2-yard line and had almost a perfect hole form for him -- again, due to blocking.
Theo Riddick
was his lead blocker and sealed off a guy on the right side, as did new signee
Julian Stanford
. On the left side,
Israel Idonije
appeared to seal off his man, giving Ross the hole.
From there, all Ross needed to do was make a diving
Alex Henery
miss -- he did -- and keep his balance heading into the end zone.
In all, Ross had 243 return yards, more yards than the entirety of the Lions offense, and now has three touchdowns -- two on special teams and one receiving -- in the past two weeks.
"It's definitely, it's special," Ross said. "It's special to do something like that."
December, 9, 2013
12/09/13
4:30
PM ET
It took three quarters, but Philadelphia finally began going to its zone-read rushes in the fourth quarter on Sunday during the Eagles' 34-20 win against Detroit.
And it changed the game.
Perhaps no play shifted things more than
LeSean McCoy
's 57-yard run in the fourth quarter, a touchdown where Detroit's once-stout run defense fell completely apart, part of a fourth quarter when the Lions couldn't stop anything or any rusher the Eagles used.
[+] Enlarge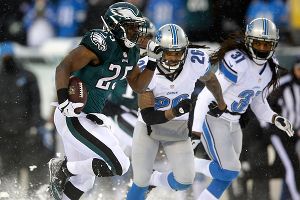 AP Photo/Michael PerezLeSean McCoy ran past Detroit's Louis Delmas, 26, on his way to a 57-yard TD in the fourth quarter.
It was the second big touchdown rush of the game for Philadelphia, and was the last time the Lions had the lead Sunday.
Everything Detroit tried to do on the play essentially failed.
The Eagles lined up in shotgun with 13:24 left in the fourth quarter and the Lions up, 20-14. They had McCoy to the right of quarterback
Nick Foles
and three receivers to the left side, the side McCoy would eventually try to run to.
Detroit had its nickel package on the field, including two defensive backs playing within two yards of the line of scrimmage. Foles snapped the ball and used a zone-read to eventually give the ball to McCoy moving forward behind the left side of his offensive line.
At the time the ball was snapped, the Eagles' offensive line also had a good jump on the Detroit defensive front.
Nick Fairley
was blocked wide to open the hole for McCoy, and he was also blocked into linebacker
DeAndre Levy
, essentially taking him out of the play as well.
This was only the start of Detroit's issues on the play.
"It was just a missed run fit, somebody was in the wrong gap and they split us," Levy said.
This opened up a hole for McCoy, who was already at the second level and almost the third level of the defense. This was what he did much more effectively in the fourth quarter -- he essentially made one cut and then accelerated forward.
Meanwhile, the Lions were struggling with assignments and tackles.
"They lost gap integrity a couple times," Philadelphia center
Jason Kelce
said. "That's when you saw Shady (McCoy) get those big runs."
Once McCoy got past the initial line,
Stephen Tulloch
was slow on his read of the run, taking him out of the play.
Ndamukong Suh
appeared to be held early on the play as well, but he likely wasn't going to be able to get there fast enough to make the play at the line.
What turned this particular run into a touchdown was receiver
Jason Avant
. The veteran was downfield and had Detroit nickel back
Bill Bentley
blocked well. What sealed the touchdown was the angle safety
Louis Delmas
took to the ball.
It appeared Delmas was heading the opposite direction of McCoy anyway, but then Avant blocked Bentley into Delmas, knocking him off track as well. Delmas then tried to catch McCoy, as did
Willie Young
from the back side of the run on the line, but neither could catch him.
"Missed tackles, missed tackles," Delmas said. "You've got to find a way to get the ball on the ground. You've got to grab cloth or pick up a snowball and hit him in the back of the head with it.
"But you've got to find a way and we didn't."
Young actually ended up being the closest player to McCoy when he reached the end zone. Delmas dove for him after the mistake and missed, and
Rashean Mathis
couldn't catch up with him, either.
It was just part of what Detroit coach Jim Schwartz said were 180 yards after missed tackles Sunday. And part of what was a record-setting day from McCoy.
"The guys up front gave me opportunities one-on-one by blowing those guys off the ball," McCoy said about his running game in general. "I think everybody was so intimidated and scared up front, but I thought the big guys on my team took the challenge and stepped up.
"The whole week they talked about just running the ball and giving me different matchups one-on-one. Not only myself, but with the backs that we have, I think in one-on-one opportunities, we're going to win. (Sunday), that's what happened."
November, 29, 2013
11/29/13
2:30
PM ET
ALLEN PARK, Mich. --
Matthew Stafford
tried to go there two plays earlier on first down early in the third quarter, finding
Calvin Johnson
in single coverage in the end zone. He threw the ball up, but it hit off Johnson's leaping hands and he couldn't come down with it.
Two plays later, he had an even better look -- and it resulted in a touchdown, the one that really broke open Detroit's 40-10 Thanksgiving Day win against Green Bay.
The Lions went to Johnson 10 times Thursday and this was, by far, the most open he had been all game long.
It happened because of a pretty good play call by offensive coordinator Scott Linehan, who saw an opening in the defense right in the middle of the field.
[+] Enlarge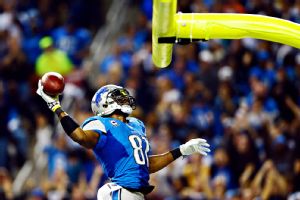 Andrew Weber/USA TODAY SportsA good play design helped Calvin Johnson get free for a third-quarter TD catch against Green Bay.
Before the play, a third-and-10 from the Green Bay 20-yard line, Detroit lined up in shotgun with three wide receivers and a single back,
Joique Bell
, to the right of Stafford in the backfield.
Kris Durham
was out wide to the left with
Nate Burleson
in the slot to the left. Tight end
Brandon Pettigrew
was lined up -- with his hand on the ground -- on the right side of the formation.
Johnson was also on the right side of the formation just beyond the numbers. Before the snap, Johnson motioned inside the numbers, a few feet from Pettigrew on the right side. With the design of the play and the formation, this appeared key.
Green Bay had two rushers with hands on the ground and everyone else standing up. When the ball was snapped, the Packers rushed five players at Stafford, so he backpedaled as the routes took shape.
"The way we run the routes, it's kind of almost a switch-release with him and Grew," receiver Kris Durham said. "The way they release, they almost switch. It's basically to cause traffic to free him up.
"That's what happens, so he was able to get across."
When the ball was snapped, linebacker
Andy Mulumba
cut across the field and looked like he might be picking up Johnson, who was crossing the field three yards beyond the line of scrimmage. At the same time, Pettigrew ended up running a deep route, drawing multiple defenders.
Cornerback
Sam Shields
, who initially lined up on Johnson on the play, also dropped deep as free safety
M.D. Jennings
stepped up in coverage. For a moment, it appeared as if the route either froze Jennings or he slipped as Johnson was cutting across the middle.
It left him wide open.
"Just zoned it off," Johnson said. "Saw some space and tried to get across the field to the open space."
He had a lot of it.
As Johnson ran the route, Stafford moved with him to the left while backpedaling. He threw the ball to him and Johnson was wide open for the reception before turning upfield.
Johnson wasn't the only open option. Trailing a bit behind him was Bell, who was also open had Johnson been covered up by either Mulumba or Jennings.
"Calvin's a tough look for a D-end dropping, so nobody really had CJ," Stafford said. "Had to buy a little bit of extra time. Offensive line did a great job of keeping it clean in front of me.
"Just moved left a little bit and throw it to him, and then he does what he does."
When Johnson caught the ball and went upfield, Green Bay had two defenders converging on him. At the 5-yard line, Johnson lowers his shoulder into safety
Morgan Burnett
, who was trying to tackle him.
Burnett bounced off of him, and cornerback
Tramon Williams
grabbed at Johnson's back, but couldn't bring him down as he crossed the goal-line.
The play gave Detroit a 24-10 lead and control of the game for the first time.
November, 12, 2013
11/12/13
7:30
PM ET
CHICAGO -- From across the field, Detroit wide receiver
Kris Durham
could read the coverage. Based on the movement of the safety, he saw that single coverage was coming.
[+] Enlarge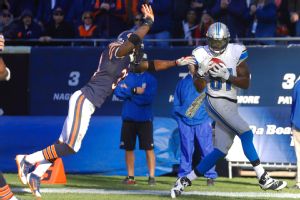 AP Photo/Charles Rex ArbogastWhen it appeared that the only defender on Lions receiver Calvin Johnson would be Charles Tillman, any doubt about where the play was going disappeared.
Before the play happened, before
Matthew Stafford
threw a perfect pass to
Calvin Johnson
in the corner of the end zone Sunday for the game-winning 14-yard touchdown in Detroit's 21-19 win over Chicago, Durham already knew the potential result.
"That's kind of the way we practiced it," Durham said. "There's a read for whatever they gave us.
"When they gave us single coverage, everybody in the stadium probably knows where the ball's going."
It didn't stop Durham from running his route -- he's played with Stafford long enough to know he could make any decision at any time -- but Calvin Johnson? In single coverage?
That's a pretty strong bet for a target.
Detroit lined up in its most popular set, three wide receivers with one tight end and a single running back -- this time with Stafford out of the shotgun. Johnson was solo on the left side of the field.
Durham was far on the right side of the field and
Jeremy Ross
was in the slot.
Stafford said Detroit will run this formation in both running and passing situations as a way to create space all across the field -- both for runs and for passes. It is part of the formational group they run to force opponents to have to make tackles in open spaces and a popular formation for the Lions throughout the season.
This particular time, Chicago dropped down a safety into the box on the Bears' 14-yard line, leaving one safety high.
"I think they probably expected us to run the ball and try to eat away some clock and kick a field goal, that kind of thing," Stafford said. "I was expecting two-deep. They played a lot of that on third-and-long throughout the game. They played some Cover 1.
"Calvin ran a great route and we ended up putting it in there."
When Johnson saw Chicago's defensive alignment, he made his decision about what route he would select and what type of fake he would use to wriggle himself free from the defender.
"Snap, saw safety cheat to the middle of the field so at that point, I knew [Charles] Tillman was going to get one-on-one just from earlier snaps in the game," Johnson said. "So I just wanted to give him something he saw earlier on one of my in-breakers and he took it."
Johnson, almost immediately in his route, faked a cut and even took a step breaking toward the middle of the field before he made his cut back up the outside sideline. Tillman actually appeared to kind of hang with Johnson there, but Johnson had his speed going and a step so he was going to make a play.
Meanwhile, any potential safety help was gone. Besides having only a single-high safety,
Major Wright
appeared frozen for a second in the middle, which meant the cornerbacks on both Johnson and Durham would have to handle the receivers on their own.
Then Stafford threw up the ball -- Stafford did not appear to look at anyone except for Johnson on the play and had more than enough time to make the play -- and as soon as he did, Detroit had an inkling it would be a touchdown. He placed the ball where only Johnson could get it in the corner of the end zone.
Johnson caught the pass in stride and the momentum of the play actually sent him a short way up the tunnel at Soldier Field. And the lesson already known around the league is to single-coverage Johnson at your own peril.
"Calvin versus anybody in the league is probably a mismatch," Ross said. "He's just a huge target and he's a great receiver and has a lot of great athletic ability and can catch the ball really well.
"Any time you've got him one-on-one with somebody, you know you want to take that chance."
November, 11, 2013
11/11/13
4:50
PM ET
CHICAGO --
Willie Young
thought he had Chicago stopped, having pressured and then plowing into Bears backup quarterback
Josh McCown
just after the ball was thrown and the
Detroit Lions
looked like they had held on to win Sunday against the Bears.
Except when McCown's pass to
Dante Rosario
went sailing out of the end zone, Young was flagged for roughing the passer on what appeared to be a helmet-to-helmet hit. Young wasn't happy on the field. He wasn't happy in the locker room after the game, saying players needed to call a meeting about certain calls made this season.
Young's personal foul, though, set up two things. First, it gave Chicago one last chance to tie. Second, it gave defensive tackle
Nick Fairley
, who had one of his better games of the season Sunday, a chance to make the game-clinching play.
Chicago lined up with three wide receivers and McCown in the shotgun with
Matt Forte
to the right of him. Fairley was lined up in his typical spot next to
Ndamukong Suh
, between center
Roberto Garza
and left guard
Matt Slauson
.
[+] Enlarge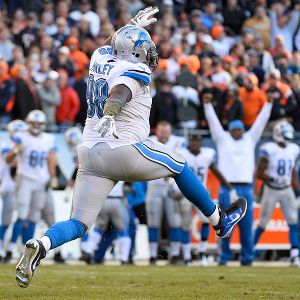 Mike DiNovo/USA TODAY SportsNick Fairley celebrates his goal-line stop Sunday that clinched the Detroit Lions' win.
And considering the Bears had thrown on the last play and had limited success running Sunday, most people could have assumed Chicago was going to pass. Everyone except the Detroit defensive line.
"Just looking at the offensive linemen, I had a hunch they were going to probably run," Suh said. "Just from the way they looked and that they were lined up. They didn't even come to my side but I know if Nick wasn't going to make the play, which he obviously did, I was going to help him clean it up."
With Suh, defensive tackle
C.J. Mosley
and even Fairley potentially anticipating a run, Detroit coach Jim Schwartz explained Monday it actually wasn't much of a surprise at all considering the Bears' tendencies.
And that on the prior two-point conversion play wiped out by the Young penalty, McCown might have actually been looking for Forte to catch a ball first. As McCown rolled to his right, he looked in the direction of Forte, who was blanketed by linebacker
Rocky McIntosh
.
So reading potentially two straight plays to Forte was actually a smart call.
"They were a yard away and both of their two-point plays they tried to get the ball to arguably their best player," Schwartz said. "They got a lot of good players on offense but Forte, the first play was a sprint-out and Rocky McIntosh did a fantastic job of getting him covered up. That's one of the reasons that play was incomplete. Even though we had a penalty on the play, that had nothing to do with Rocky or the execution of the scheme.
"But there's a lot of plays that the Bears get down to the red zone and they run the ball in. They ran one in the week before against Green Bay from 6-inch line and stuff like that. Anytime you're a defensive lineman, your first job is to stop the inside run. They attacked our perimeter for most of the game and for the most part we did a good job defending that, something that we were a little bit weak on in the first game we played them."
Once McCown snapped the ball, Fairley broke right past Garza as Slauson moved to the second level to engage linebacker
DeAndre Levy
. Fairley was already past Garza by the time McCown handed the ball to Forte and was 2 yards from him moving at full speed.
No matter the direction, Forte had little chance.
With Garza trying to grab Fairley from the back after he blew by him, the Lions defensive tackle essentially swallowed Forte with a tackle, enveloping him as Forte took his third step to his left trying to stretch the field.
"Just read my keys, had a big A-gap and I just figured it would probably be a run or play-action pass," Fairley said. "So I just got off the ball real good and it just so happened I made a play."
Garza actually tried to wrap Fairley from the back but actually ended up falling over Forte once he was tackled. That's how dominant Fairley was on that particular play.
Fairley threw Forte down and then kept going down the field after that, high-stepping down the field in celebration.
"Just made the game-changing play," Fairley said. "From the defense and the D-line in our room, that's what we always harped on as a D-line, 'let's go make a game-changing play. Somebody step up and make a play.'
"That was me [Sunday]."
October, 28, 2013
10/28/13
7:15
PM ET
DETROIT --
Calvin Johnson
was stopped again. The Cowboys couldn't do much against the
Detroit Lions
wide receiver Sunday except for one thing -- keep him out of the end zone.
Dallas allowed Johnson to wriggle free one final time Sunday afternoon with 33 seconds left for a 22-yard reception that came real close to a touchdown. How close? Left tackle
Riley Reiff
-- and this would come into play a few seconds later -- ended up at midfield celebrating instead of running to the 1-yard line.
See, Reiff had thought Johnson had scored, capping an unbelievable 31-30 comeback win for Detroit over Dallas. Except for one problem. Johnson was stopped. So everyone, from the sidelines to Stafford, had to yell at Reiff to get moving toward the line.
[+] Enlarge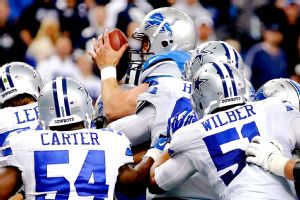 AP Photo/Rick OsentoskiMatthew Stafford fooled the Cowboys and his Lions' teammates with this 1-yard touchdown dive.
Hence the Lions left tackle, playing with an injured hamstring all day, sprinting to the line of scrimmage to set up the final play.
"I know," center
Dominic Raiola
said. "He's getting fined for that."
As Stafford and his entire team ran toward the goal line for one final play, Stafford furiously flicked his right wrist downward over and over again, yelling "clock it, clock it" and "clock, clock."
He was planning on spiking the ball with 14 seconds left to give Detroit at least one, maybe two chances to score. That is, until he got to the line of scrimmage.
Everyone was lined up ready to go except for the fast-sprinting Reiff, and Reiff's celebration from behind might have actually given Stafford the second or so he needed to make what ended up being a gutsy, incredible read.
"Honestly, I'm looking down and I see feet in the end zone and light in the stance and I just said, '(expletive), here we go.' " Stafford said.
Stafford snapped the ball. Raiola, right guard
Larry Warford
and the rest of the Lions thought he was going to spike the ball.
He didn't. Stafford jumped just to the left of Raiola -- Raiola said later he never saw Stafford essentially jump over him -- to try and score the touchdown.
"I was lined up on the ball," receiver
Kris Durham
said. "I'm expecting him to spike it and I'm looking down the line and I can see that he got over. I was telling everybody, 'He got over.'
"I probably had a better view than the ref."
When Stafford jumped, Durham raised his arms to celebrate. But just in case there was any question, Stafford landed and took off to the left, darting into the end zone and finishing off with an actual spike.
That was when Raiola and Warford realized what happened.
[+] Enlarge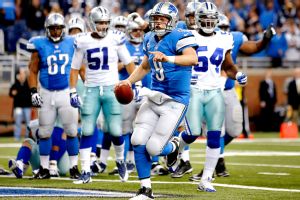 AP Foto/Rick Osentoski"I was like, 'What the hell is he doing over there?'" asked guard Larry Warford of Stafford's celebration. "Like 'How could he mess up spiking the ball?'"
"The only thing I saw was him running the other way," Warford said. "I was like 'Why haven't the whistles blown?' And I saw him running to my left and I was like, 'What the hell is he doing over there? Like 'How could he mess up spiking the ball?'
"Lo and behold."
Running back
Reggie Bush
saw it immediately. And it was eerily reminiscent to another game he had -- the legendary Bush Push Notre Dame-USC game in 2005. In that game, then-USC quarterback
Matt Leinart
tried to score on a quarterback dive over the top with three seconds left to beat the Irish.
Leinart didn't get in the first time, so Bush came behind him to push him in over the left side.
On Sunday, Stafford got in on the first try with 12 seconds left, but then when he darted left, Bush, who had already jumped in the air to celebrate just like he did during the USC-Notre Dame game once Leinart scored, pushed Stafford in the back as he crossed the goal line for the Lions.
"It was deja vu, exactly," Bush said.
So why did Stafford do this? Why take the chance?
The play was somewhat similar to Dan Marino's decision in 1994, when he ran toward the line of scrimmage yelling "clock, clock, clock," late in a game against the
New York Jets
, according to a New York Times report of the game, before Marino chose to fake the spike and throw a touchdown pass instead.
This, though, did not cross Stafford's mind as he ran down the field or took his own fake spike into NFL lore.
"Sometimes you get a feel and you just go with it," Stafford would say at his locker later. "If we don't get in there, we probably lose the game."
Not an issue for Stafford. He did get in on a play in which only he knew what he was doing, completing yet another fourth-quarter comeback in his career.
"It gets us to 5-3, man," Stafford said. "It's a big win, don't get me wrong. It's a great comeback, it's all that, but shoot, we have a lot of work left to do."
October, 21, 2013
10/21/13
6:45
PM ET
Matthew Stafford
had looked, kind of, for
Calvin Johnson
the play before. He was rushed. He threw the ball away and backed his team up with a rare intentional grounding call.
Plus, Detroit's right tackle,
Corey Hilliard
, injured his knee on the play. Down by seven points and backed up to a third-and-18 with 12 minutes, 10 seconds to go in the game, he stepped into the shotgun.
[+] Enlarge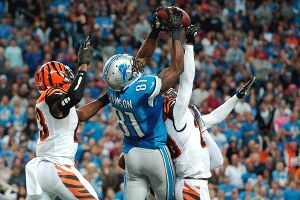 Tim Fuller/USA TODAY SportsDetroit's Calvin Johnson jumps up to catch a 50-yard touchdown pass in what some players are calling the "best catch" ever.
Later, Detroit coach Jim Schwartz would say what came next was "schemed up." Except not all of it could have been. No chance at all. Because no one schemes throwing to a receiver in triple coverage, even if it is Johnson.
And no one can realistically expect Johnson to come down with that catch. Yet he did.
Stafford lined up in shotgun, a running back directly to his left. Receiver
Kris Durham
was wide left and
Ryan Broyles
wide right. Johnson was in the slot and tight end
Brandon Pettigrew
was just off the line to the right side.
Then the ball was snapped.
"Rolled out right and they did a great job of playing deep to short (Sunday) with Calvin on the field," Stafford said. "Held it as long as I could."
Stafford rolled and actually had time to let Johnson streak down the field. Left tackle
Riley Reiff
, who had re-entered the game on that play after injuring his right hamstring earlier Sunday, had a good single block on Cincinnati defensive end
Michael Johnson
.
Center
Dominic Raiola
and left guard
Rob Sims
initially held their block as well, giving Stafford time to scan. But Raiola eventually lost his guy, sending Stafford running forward looking downfield.
Around the same time, Johnson -- who had been running just inside the numbers on the right side of the field -- cut inside to the post at the 30-yard line. Cincinnati safety
George Iloka
looked to pick Johnson up at this point in what appeared to be zone coverage. Iloka, though, could never get in front of Johnson, trailing him from the back the entire way.
Meanwhile, Stafford was running forward with Michael Johnson trailing him and closing fast.
"Matt had to buy a little time in the pocket and, you know, we saw that guy bearing down on him and didn't know if he was going to be able to get that ball off," Schwartz said.
He did, releasing the ball at the Detroit 48-yard line toward the end zone. What happened next was the surprising part.
Johnson found some room in the end zone, but was blanketed by Iloka behind him, linebacker
Vontaze Burfict
just to the left of him and a closing safety,
Reggie Nelson
, running toward the play and lining up to either intercept the ball or knock it down.
Nelson jumped with one foot instead of two and appeared to almost tip the ball, but Johnson appeared to reach up over him to grab it. He declined to talk with reporters after Sunday's game.
"Oh man," said Durham, who was close enough on the play to be the first Lions player to reach Johnson after he caught it. "That was in triple coverage. You've just got to say 'Wow.'
"He's probably the only person I've ever seen that could be able to make that play."
Stafford didn't see much of it. Michael Johnson hit him milliseconds after he threw the ball. Stafford's head was initially down, but he looked up after a few seconds.
"Didn't see a whole lot of it," Stafford said. "Saw the very end of it with one of the best catches I've ever seen."
It was one big catch in a day of many large catches for Johnson, who finished with nine for 155 yards and two touchdowns. None, though, as spectacular as his 50-yard grab in triple coverage -- a catch Cincinnati receiver
A.J. Green
called "unbelievable" and "the best I have ever seen."
"He was also Megatron yesterday," Schwartz said Monday, answering a question about Johnson's health. "He wasn't Calvin yesterday. He was Megatron yesterday.
"And he did everything he could to get us in position to win that game."
October, 14, 2013
10/14/13
5:00
PM ET
They had tried this play -- either variations of it or the exact design -- before this season. A cutting screen to running back
Reggie Bush
either out of the slot or in the backfield.
Against Green Bay a week ago, this play failed. On Sunday against Cleveland, when Bush caught the ball at almost full speed and ran 18 yards for a touchdown, it worked to perfection.
"It's a hit-or-miss play," Bush said. "It's either going to be big or it's not going to work at all. We've been on both sides."
On Sunday, Detroit was on the big end of the play to finish off the first drive of the second half during the Lions' 31-17 win over Cleveland.
[+] Enlarge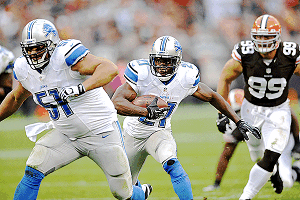 AP Photo/David RichardWith help from center Dominic Raiola, running back Reggie Bush scored a key third-quarter TD for the Lions on Sunday.
Quarterback
Matthew Stafford
approached the line of scrimmage on a second-and-7 on the Cleveland 18-yard line, already having used Bush on a run up the middle and a big 39-yard dash off the left block down the sideline earlier in the drive.
Now with an empty backfield, Stafford had three receivers on the right side of him, another receiver outside on the left and Bush in the slot. The ball was snapped and Bush started to look like he was going to drift off into the flat on the left side, taking advantage of Cleveland linebacker
Craig Robertson
playing about five yards off of him.
At halftime, offensive coordinator Scott Linehan saw the Lions had an advantageous matchup with Robertson on the speedy Bush and tried to leverage that into big plays, especially after not targeting Bush at all in the first half.
"He did a great job in the second half for us, made some big plays," Stafford said. "We got him matched up with [Robertson] and he made him miss quite a few times."
Bush's quick bounce heading left took Robertson out of position almost immediately as he took a few steps toward the left sideline to cover Bush. This gave the three interior Detroit offensive linemen -- left guard
Rob Sims
, center
Dominic Raiola
and right guard
Larry Warford
-- time to get down the field and set up the pocket for the screen.
Bush took off toward the middle of the field.
"Design is the three inside guys getting him vertical and giving Reggie the ball and giving him some space to make plays," Sims said. "That's it."
That's it?
"That simple," Sims said. "Not very complicated at all. It's a very, very, very easy play. It is."
Not quite.
Bush needed to sell Robertson on the fake cut. When he did, by the time Robertson recovered, Bush already had the ball and Sims was there to put a block on Robertson, springing the big gain and making sure the hit-or-miss play turned into a hit.
"I think they ran an all-out blitz or at least brought pressure on that," Bush said. "It's a disadvantage for that guy who is over top of me. For one, he doesn't want to play me press man coverage because of my speed so he has to respect me and he has to be at least five yards off.
"That's really all the cushion that we need to make that play work."
From there, Bush had already beaten most of the defenders and had a two-man escort -- Raiola in front of him and Warford a yard or so to his right -- bringing him down field.
Raiola eventually tried to block safety
T.J. Ward
around the 5-yard line and actually missed the block, allowing Ward to make contact with Bush. By then, though, Bush was running at full speed and was not going to be brought down. Receiver
Ryan Broyles
, who was on the right side, also had a key very late small block to ensure Bush got into the end zone on free safety
Tashaun Gipson
, who made contact with Bush as he crossed the goal line.
"Full speed coming in," Bush said. "Stafford threw a great pass. I had two blockers in front of me so I really didn't have to do much."
If the play looked familiar, it should. It was somewhat similar to Bush's 77-yard screen for a touchdown against Minnesota. Bush and Sims said it was the same play, but there were different wrinkles.
Against the Vikings, Bush came out of the backfield instead of the slot and was also lined up on the right side instead of the left, so it was Warford with the key first block instead of Sims.
Otherwise, it was a very similar play that led to yet another Detroit touchdown this season.
October, 7, 2013
10/07/13
6:25
PM ET
The play the Green Bay Packers used to break open the game Sunday against the Detroit Lions, the one that really helped give the Packers their 22-9 win, wasn't the play that was initially called.
The play that brought Green Bay an 83-yard touchdown pass from
Aaron Rodgers
to
James Jones
was supposed to be something else entirely.
"It wasn't the play in the huddle," Jones said. "He checked to it at the line of scrimmage. We've been telling him they've been playing Cover 2 a lot, and the safety hasn't been getting over there to the outside receiver.
[+] Enlarge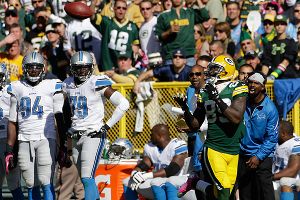 AP Photo/Morry GashJames Jones beat Detroit cornerback Chris Houston and caught this pass from Aaron Rodgers, then finished off an 83-yard game-changing TD.
"He got us in the right play."
In some ways, the Green Bay offense was prophetic.
Green Bay was deep in its own territory after two holding penalties, and held a six-point lead on Detroit in the later stages of the third quarter when the Packers broke open the game.
The Packers lined up with Rodgers in the shotgun,
Eddie Lacy
to his right, and three wide receivers on the outside -- Jones out wide to the left with
Randall Cobb
next to him in the slot. On the opposite side was
Jordy Nelson
.
Meanwhile, Detroit was in its typical nickel package it ran all game, with
Chris Houston
on Jones,
Rashean Mathis
on Nelson, and
Bill Bentley
on Cobb. The safeties,
Glover Quin
on Mathis' side and
Louis Delmas
on Houston's side, were at least 10 yards off the line of scrimmage.
Multiple defenders said Detroit was in Cover 2 on the play.
Rodgers took the snap, and Jones immediately tried to go vertical on Houston, who had been battling a hamstring injury all week.
"We were just in a zone and I got my read route," Houston said. "And he found the ball in the hole and that's it. It was in the zone, that's what it was."
Houston intially attempted to jam Jones, getting his hands on him and slowing him for a millisecond before Jones made a move left and slipped past the cornerback. Houston even slowed up a little bit on the play, almost anticipating there would be a safety covering deep. There wasn't.
"Yeah, you're like, 'Oh, what,'" Houston said. "That's on us, that's not something they did, give them credit, they made plays, but that's on us."
Delmas was the safety on Houston's side.
By the time Rodgers threw the ball, Jones was already three yards ahead of Houston, who wasn't going to catch him, especially with a hamstring that he said after the game wasn't fully healthy yet.
To be sure, Jones eventually cut inside to make sure there was no way Houston could catch him.
The safety on the play, Delmas, appeared to be helping Bentley on Cobb. When he saw the ball thrown, he immediately started sprinting back, and when Jones crossed the goal-line, Delmas jumped in the air, appearing frustrated and angry.
Part of the issue there might have come from the move Cobb pulled on Bentley.
"It's often the things you don't see on the play that make the play," Rodgers said. "Randall did a great job of avoiding the defender in the slot (and) getting up on the safety quick, influencing him in that Cover 2, and James was screaming on the sidelines.
"(He) made a great catch, was in the right spot and was able to make them miss there on about the 10-yard line."
The play gave Green Bay a two-possession lead. With Detroit's offense stagnating all day, it was enough to give the Packers a massive cushion.
"We gave up 83 yards," Detroit coach Jim Schwartz said when asked about the play. "I don't go through and assign blame or anything else. We broke down. We gave up an 83-yarder.
"That's bad enough. I'm not in the business of scapegoating anybody or stuff like that. That's for us as players and coaches to correct and it's on our defense. It's on our team. It's not on one person or anything else."
ESPN.com Packers reporter Rob Demovsky contributed to this report.
September, 30, 2013
9/30/13
6:00
PM ET
DETROIT --
Reggie Bush
's big 37-yard touchdown run in the second quarter of Sunday's 40-32 win over the
Chicago Bears
almost didn't happen.
Bush fumbled the play before and the ball was recovered by Detroit receiver
Calvin Johnson
, extending the Lions drive with 2:52 remaining in the first half.
The Lions went to the line on the next play, calling another handoff to Bush. Quarterback
Matthew Stafford
was in shotgun with Bush a step behind him and to his right. Center
Dominic Raiola
saw something in the Chicago defense that told him to make a call with his veteran left guard,
Rob Sims
.
"I saw a weak dog and I saw a nickel coming off the edge," Raiola said. "We said all week we wanted to hit one right into the mouth of their blitz and that's really what it was.
[+] Enlarge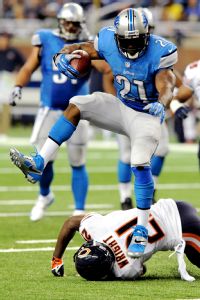 AP Photo/Jose JuarezA lot went into Reggie Bush's 37-yard touchdown, including his hurdling of Major Wright.
"It was a call we practiced all week and we hit it."
Raiola told Sims to engage the defensive end,
Julius Peppers
. In doing so -- and getting a good push on Peppers out to the left, he almost made it appear as if he and left tackle
Riley Reiff
were doubling Peppers on the snap.
They weren't, as Reiff's man, linebacker
James Anderson
, blitzed far on his side. This opened up the first part of a massive hole for Bush, who by the time he reached the line of scrimmage had almost the entire width between the hashmarks to run through and make his initial cut.
In the pre-snap, Bears defensive tackle
Nate Collins
was initially lined up right over Raiola, but on the snap he slid over to engage right guard
Larry Warford
. Warford sealed Collins away from the hole.
This allowed Raiola a clean path to the second level, where he was able to block linebacker
Lance Briggs
.
"We were working on that," Sims said. "We knew they were going to try and slant Julius and we just, Dom made a good call. Dom told me to go out to (Peppers) and I did and we caught them in it.
"That's the thing with them, they are really good at moving and when you can catch them in it, you can make some hay. And Reggie don't need much."
Bush had a wide open lane to run through. He ran almost right at the Raiola-Briggs block before cutting back to the right side and into the second and third levels of the defense.
It appeared as if defensive end
Cornelius Washington
was the man who was supposed to mark up Bush at the snap, but he was on the edge of the defense and looked like he hesitated on the snap out of the backfield and ended up chasing Bush from behind. He had a chance to tackle him, but missed.
Then Bush made another quick cut right and -- this is really what made the run -- jumped over a diving
Major Wright
. Had Wright kept his feet, he would have had a better shot at the Detroit running back.
Once Bush made that move, he had one more assist. Wide receiver
Ryan Broyles
put a good seal block on Chicago cornerback
Tim Jennings
to give Bush a deep crease in the secondary.
Jennings would end up almost catching up to Bush, but those few extra strides helped turn the play into a touchdown.
"A sweet run," Stafford said. "It was a play that honestly we had been working on in practice all week knowing they were going to blitz us, which they always do.
"Instead of getting out of it, just running right into it. Dom made a great call up front, (Brandon) Pettigrew had a great block to seal off the back side and let Reggie do the rest."
Letting Bush do the rest is becoming a common theme for the Lions these days. Detroit's offensive line had done such a good job against Chicago on Sunday, the 37-yard touchdown was merely one of the big runs Bush was able to find.
The touchdown was the longest run of the day for Bush, who had four rushes of 14 yards or more and 139 yards overall.
"Reggie Bush is special," Wright told reporters after the game. "He has speed. He can shake you. He can do everything."