August, 5, 2014
8/05/14
4:09
PM ET
BOURBONNAIS, Ill. -- A daily review of the hot topics coming out of
Chicago Bears
training camp:
While the Bears actively monitor the waiver wire and scan the list of available free-agent wide receivers in the aftermath of Marquess Wilson's fractured clavicle, Tuesday's practice allowed the team to try out several different receiver combinations. Minus Wilson and veteran Brandon Marshall (coaches' decision), the Bears trotted out a three-wide receiver set to begin 11-on-11 drills that featured Alshon Jeffery, Eric Weems and Chris Williams. Weems, a former Pro Bowl return man in Atlanta, figures to be a lock to make the team based on his familiarity with the offense and immense value on special teams, but the remaining roster spots are wide open. According to quarterback Jay Cutler: "Eric Weems has had a great camp, but so have a number of other guys. Right now it's too early to peg anybody. We'll just see how it plays out." Cutler later added the Bears expect Wilson back on the field in 2014 after he underwent surgery on Tuesday morning. But with no timetable set for Wilson's return, the Bears do need to find a reliable option in the slot to bridge the gap over the first couple weeks of the regular season, at the bare minimum.
Cornerback Isaiah Frey suffered a right hamstring injury at practice and had to be carted back to the locker room. The Bears' 2013 starting nickelback, Frey is facing an uphill battle to make the team with veterans Charles Tillman, Tim Jennings, Kelvin Hayden and Sherrick McManis, plus rookie first-round draft choice Kyle Fuller ahead of Frey on the depth chart. Frey told reporters he plans to vigorously attack the required rehabilitation program, but stressed the importance of resisting the urge to return too soon from a pulled hamstring injury, since those types of injuries tend to linger.
Starting right tackle Jordan Mills hurt his foot at the tail end of Tuesday's practice. Mills stayed and watched the final drill before walking off the field under his own power. Mills suffered a foot injury during pregame warm-ups in last year's regular-season finale versus the Green Bay Packers that required offseason surgery. The Bears did not reveal the severity of the injury, but Mills seemed to be in good spirits when he arrived at lunch later in the afternoon.
Adrian Wilson and Ryan Mundy again took first-team reps at safety.
Jennings (quadriceps) and guard Eben Britton (hamstring) were held out of practice, but linebacker Lance Briggs fully participated after a knee injury kept him off the field for final portion of Monday's session. Defensive end Jared Allen was excused from another practice due to personal reasons, while running back Shaun Draughn went through an entire practice following a couple of personal days away from the team.
The Bears' next scheduled practice is Wednesday at 9 a.m. CT.
November, 22, 2013
11/22/13
3:30
PM ET
LAKE FOREST, Ill. -- Return specialist
Devin Hester
grinned Friday when approached by reporters to explain the cameo appearance he made at practice this week with the club's defensive backs.
"If I go line up at quarterback and take a couple of snaps, you are all going to say we are running the option or running the Wildcat," Hester said. "That's your job."
Hester
Hester, a former collegiate and NFL cornerback and nickelback, participated with members of the secondary in individual drills open to the media twice this week (Wednesday and Friday), and even spent roughly 10 minutes after Wednesday's session working one-on-one with Bears' defensive backs coach Jon Hoke.
"I did it to have fun," Hester said. "Being a special-teamer now, I really don't get as many reps as the normal guys do in practice since I'm a specialist now with the returns. That's pretty much all I do now. To keep myself busy, I jump in every now and again to play around.
"We all hang out off the field, so whenever I come over there and play around with those guys, it gives them a little more energy and a little more excitement to go out there and work hard. When they see me in their group, it sparks them up a little bit. You have to make practice fun. You just can't go through the same routine every day. When you joke around and have some fun, it goes by quick."
While Hester seemed to enjoy the attention, he got serious for a moment when asked if he could cover
Tavon Austin
, the Rams' speedy rookie wide receiver, if the situation called for it.
"I can cover anybody," Hester said before cracking a smile. "Just put a safety over the top, and I can shut anybody down. I need a safety over the top; I'm a Cover 2 man."
Hester is likely an emergency option for the Bears if they suffer more injuries in the secondary Sunday. Cornerback
Charles Tillman
(triceps) has already been ruled out, while safety
Craig Steltz
is questionable with a concussion and starting nickelback
Isaiah Frey
is dealing with a fractured right hand that will require him to wear a cast during the game. The Bears also have reserve cornerbacks
Sherrick McManis
and
Derrick Martin
on the depth chart, and could theoretically elevate another defensive back from the practice squad before Sunday since the active roster stands at 52 (the max is 53).
November, 20, 2013
11/20/13
6:10
PM ET
LAKE FOREST, Ill. –
Chicago Bears
nickelback
Isaiah Frey
fractured his hand in the team's Week 11 win against Baltimore, but he is expected to play Sunday at the
St. Louis Rams
. Frey did not practice on Wednesday.
"Isaiah's got a fracture in his hand," Bears coach Marc Trestman said. "He's got it casted up. It looks good. It looks like they'll be able to cast it up [Sunday]. We'll know more tomorrow. We're really optimistic on his end.
McClellin
Frey
"I'm optimistic that he'll be playing. I don't think it's necessary to go through all the different logistics if that doesn't happen. But it's certainly been discussed. But I feel optimistic that he'll be playing."
Selected by the Bears in the sixth round of the 2012 draft, Frey emerged as the team's No. 1 nickelback when veteran
Kelvin Hayden
suffered a season-ending injury in the preseason. Frey is seventh on the team with 32 tackles, even though he comes off the field when the Bears play their base 4-3 defense.
In other injury hews, defensive end
Shea McClellin
participated fully on Wednesday and is on track to return to the field Sunday after sitting out the last two games with a pulled hamstring. McClellin hurt the hamstring at practice the week after being named NFC Defensive Player of the Week for his three-sack performance in Green Bay on Nov. 4.
"I feel good," McClellin said. "I feel 100 percent and ready to get back out there and help the guys out.
"It was pretty disappointing [to miss two games]. But it's part of the game. Things happen. And you've just got to adjust. Sitting out is terrible. It's the worst thing. You just want to be out there with the guys helping out, especially if they're not doing too good. It's hard to watch what they're doing."
Defensive tackle
Jeremiah Ratliff
(groin) practiced on a limited basis Wednesday for the first time since he signed with the Bears on Nov. 2. The four-time Pro Bowler has not played in a game since last November, when he suffered a groin injury that eventually required sports-hernia surgery.
However, despite Ratliff's apparent progress, the veteran defensive lineman will not be physically ready to make his Bears debut this Sunday against St. Louis, according to Trestman.
"Ratliff got some work; he'll be a week-to-week thing," Trestman said. "He got some reps in practice. It was good to see him out there moving around. I would not say [his debut] will be this Sunday, and we'll re-evaluate it next week. To be fair with the situation, I'd say we are still a little bit away [from Ratliff playing]."
Trestman calls defensive tackle
Stephen Paea
(toe) "very questionable" to face St. Louis. Paea re-injured the toe that forced him to miss two games in early November; he did not practice on Wednesday.
Long-snapper
Patrick Mannelly
(calf) practiced without restrictions, while right tackle
Jordan Mills
was limited with a sore quadriceps. Safety
Craig Steltz
(concussion) was held out of practice but was able to do some conditioning work on the side.
October, 10, 2013
10/10/13
11:26
PM ET
CHICAGO -- A few thoughts on the
Chicago Bears
'
27-21 victory
over the
New York Giants
on Thursday night at Soldier Field.

What it means:
The Bears snapped a two-game skid, putting them in prime position to move to 5-2 at the bye if they handle business on Oct. 20 against the Redskins.
Stock watch:
Cornerback
Tim Jennings
wins the MVP of this game. He put points on the board with a pick-six in the first quarter, and sealed the win with another interception with 1:54 left to play.
Questionable call
:
Zack Bowman
put the Bears in ideal field position when he picked off
Eli Manning
, who was being pressured by
Isaiah Frey
on the nickel blitz, and returned the ball 24 yards to the New York 12. Chicago could have taken an early lead less than three minutes into the game, but Bears coach Marc Trestman elected to try to convert a fourth-and-2 from the Giants' 4, with
Jay Cutler
's pass falling behind
Brandon Marshall
, who appeared to have three defenders in the vicinity. Prior to that incompletion, the Bears had converted 80 percent of their fourth-down attempts this season, which represented the best percentage in the NFL. But in that situation -- the team's first drive of the game -- why not take the three points? Luckily for Chicago, on New York's ensuing drive, Jennings picked off Manning and returned it 48 yards for a TD to put the Bears up 7-0 after the extra point. The return touchdown marked Jennings' second of the season.
Marshall erupts:
During the NFL Network's pregame show, Marshall called himself a "caged lion," in anticipation of New York's struggling defense. "I want the ball; I want it a lot," Marshall said. "You go two or three games getting two or three catches, and you look at the defense we're going against … they have to pay." They did, and dearly. Marshall, who had expressed frustration about his lack of receptions earlier in the week, caught nine passes for 87 yards and two TDs.
Speaking of pick-sixes:
The Bears are now 24-2 in games since 2005 in which they scored a defensive touchdown, including 10 consecutive wins under those conditions. It seems unfathomable a team could rely so heavily on turnovers to change the tide of games, but the Bears have proven consistent at it. They've got it down to a science.
What's next:
Some much-needed rest for the Bears, who held out
Charles Tillman
and
Stephen Paea
from this game. They'll play only one game in the next 24 days: on Oct. 20 when they travel to Washington before the bye.
August, 9, 2013
8/09/13
11:18
PM ET
CHARLOTTE, N.C. -- Here are a few quick thoughts from Chicago's 24-17 loss to the
Carolina Panthers
on Friday in the preseason opener:
What it means:
There's still work to do on both sides of the ball. What's most important is the team came out of the game relatively injury free while still managing to get in some much-needed work.


On offense, the protection was somewhat inconsistent, which led to a sack of
Jay Cutler
, who also tossed an interception on the group's first play of the game.
"It was an unfortunate start," Cutler said. "I have to put the ball on Alshon's [Jeffery] other shoulder. We had some good stuff after that; we had some bad stuff. Typical preseason game. We just have to take a look at it and get better next week."
The first team managed to gain just three first downs in three series, but there's no denying that outside of the interception, Cutler was pretty much on target with his throws.
Cutler completed 6 of 8 passes for 56 yards and finished with a passer rating of 54.2.
"Well, other than the pick we had, we moved the ball a little bit," Bears coach Marc Trestman said. "We got a few throws in. Jay made some great throws. We caught some slants in contested throwing areas. We got a few runs in. Matt [Forte], got a couple of catches, moved the ball around. Certainly didn't do what we wanted or up to our expectations. But other than the first play and the one sack -- we've got work to do."
Defensively, the bad news was the group gave up one touchdown trying to defend a short field created by Cutler's interception, combined with a pass-interference penalty on
James Anderson
on the next play as he tried to cover former Bears tight end
Greg Olsen
. The Anderson penalty put the Panthers at the Chicago 4. Three plays later,
Cam Newton
hit
Brandon LaFell
for a 3-yard touchdown at the 10:14 mark to give the home team an early lead.
The good news is the defense put points on the board with
Jon Bostic
's 51-yard interception return at the 6:09 mark of the first quarter. Bostic filled in for injured starting middle linebacker
D.J. Williams
(calf) and while it's too soon to definitively gauge his performance (that comes after film study), the showing appeared promising.
"There were a lot of things we could do better," linebacker
Lance Briggs
said. "There were some things we did well. When we put on the tape, we'll all evaluate the things to improve on. All in all, when you are getting turnovers in the game that is very big."
Injury update:
Long-snapper Pat Mannelly suffered injured ribs when he was blindsided on a punt in the first half. The severity of that injury wasn't immediately known. Team officials took defensive tackle
Henry Melton
back into the locker room in the first quarter, where he was diagnosed with a concussion. He'll have to follow the NFL's new concussion protocol before he's allowed to practice again. It is possible Melton could be back on the field for Chicago's next practice at training camp, but unlikely given his importance to the defense. There's no need to rush him back into action.
Webb of inconsistency:
J'Marcus Webb
performed inconsistently in 2012 at left tackle, and his move to the right side for 2013 wasn't promising in the first preseason game.
During Chicago's third series of the night, Carolina defensive end
Charles Johnson
blew past Webb on the outside. In his attempt to recover, Webb overstepped outside, and Johnson cut back inside to sack Cutler along with
Kawann Short
.
Don't count out Webb just yet though. It's only the first preseason game.

Second-team sloppiness:
Josh McCown
zipped a near perfectly thrown ball to tight end
Fendi Onobun
in the end zone for what should have been a touchdown in the second quarter, but he dropped the pass. On the next play, running back
Armando Allen
fumbled after catching a pass from McCown, with
Anderson Russell
recovering for Carolina at the Panthers' 12.
Onobun has struggled to catch the ball throughout the preseason, but seemed to come on in recent practices after the team had brought in
Leonard Pope
to compete for the job. The Bears rave about his consistency, but the truth is Onobun needs to be more consistent at catching the ball if he expects to make the 53-man roster at the end of camp.
Lopsided time of possession:
Both teams played the majority of the first quarter with starters on the field on both sides of the ball, and the Panthers dominated time of possession. Carolina was 2-of-5 on third-down conversions, while the Bears finished 0-for-2 in that category. The Panthers held the ball for 9 minutes, 31 seconds in the first quarter, and the Bears held possession for 5 minutes, 29 seconds.
Bostic time?
Not yet, but the rookie definitely showed why the Bears made him their second-round pick in the draft. In addition to the 51-yard interception return for a touchdown, Bostic was credited for two tackles and a pass breakup. He's probably not ready to take over D.J. Williams' starting job in the middle, but his play should definitely raise the comfort level of the coaching staff if the rookie is forced to play in a pinch.
Bostic wasn't the only rookie to show promise. Fourth-round pick
Khaseem Greene
came into the game during the team's third defensive series and contributed two tackles, including one for lost yardage.
Frey maintains:
Second-year veteran
Isaiah Frey
maintained the momentum he's been riding throughout training camp practices with a solid outing in his first preseason game. Frey took over at the starting nickel corner when
Kelvin Hayden
suffered a season-ending hamstring injury. The youngster hasn't disappointed.
Virtually every day of practice at training camp, Frey has made a head-turning play, whether it's an interception or a pass breakup. Against the Panthers, Frey nearly picked off a
Derek Anderson
pass in the second quarter.
Briggs makes calls:
With
Brian Urlacher
now out of the picture, Briggs has taken on the responsibility of making the club's defensive calls. Briggs said it went well.
"It went smooth. I got the call, called it out to teammates, they heard it, they received it, and they played the play," Briggs said.
What's next:
The Bears receive a day off on Saturday, before hitting the practice fields at Olivet Nazarene University on Sunday for the final week of training camp. Chicago hosts the
San Diego Chargers
on Thursday night at Soldier Field for the second game of the preseason.
August, 9, 2013
8/09/13
10:34
AM ET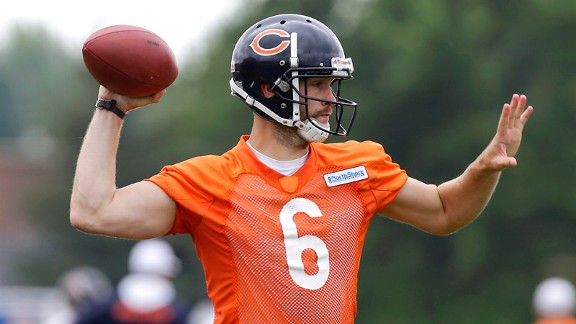 AP Photo/Nam Y. HuhJay Cutler is expected to play a series or two against the Panthers on Friday.
CHARLOTTE, N.C. -- Here are five things to keep an eye on Friday night when the
Chicago Bears
face the
Carolina Panthers
at Bank of America Stadium.
1. OL blocking:
It's likely the Bears go into this game with a starting five up front that you won't see once the club opens the regular season Sept. 8 against Cincinnati, mainly because of the calf strain suffered by starting left tackle
Jermon Bushrod
, who isn't expected to play. The plan is to play the starters just a few snaps. So in that limited amount of time it's important to see how well the group protects and opens the lanes in the ground game given all the changes made schematically. Count on a starting five of
Roberto Garza
,
James Brown
,
Eben Britton
,
J'Marcus Webb
and
Matt Slauson
. Rookie
Kyle Long
should see plenty of snaps, too, and is also a player to keep close tabs on. The only way skill-position players such as quarterback
Jay Cutler
, receiver
Brandon Marshall
and running back
Matt Forte
excel is for the offensive line to sufficiently do its job. If in limited duty, the starting offensive line performs similarly to the way the group played in 2012, it will be clear the group still needs extensive work.
2. Cutler's command of the offense:
Cutler is in the midst of learning his fourth offense in five seasons with the Bears, and it would be unrealistic to expect him to operate flawlessly against the Panthers. But he does need to show some degree of command of the new system. So far during training camp practices, for whatever reason, the timing between Cutler and the receiving corps appears to be off. Some of that is a function of Chicago's defensive line bearing down hard on Cutler every play during training camp, and tipping many of his passes at the line of scrimmage. But in this game, the offensive line will have every tactic at its disposal to combat Carolina's pass rush. That should open up some passing lanes for Cutler to be able to find some type of rhythm. It's also worth it to watch how quickly the Bears get in and out of the huddle. The club unnecessarily burned timeouts too often last season, and Marc Trestman's system contains much more verbiage than some of the schemes Cutler has operated in the past.
August, 31, 2012
8/31/12
8:56
PM ET

Most significant move
: The most significant move of the final cut-down, and the entire offseason, is how aggressive the Bears were in trying to upgrade special teams. In free agency, they signed
Eric Weems
to help
Devin Hester
with returns. They kept undrafted safety
Jeremy Jones
to help on special teams, then traded fullback
Tyler Clutts
to Houston to acquire cornerback
Sherrick McManis
. They also kept linebacker
Patrick Trahan
to help out on special teams. Figuring the team will have a better offense, the Bears wanted to shore up special teams to keep their offense in good field position.
Onward and upward
: With only three draft choices making the 53-man roster -- third-round pick
Brandon Hardin
ended up on injured reserve -- the Bears need to see if they can slide released draft choices
Isaiah Frey
(sixth round) or
Greg McCoy
(seventh round) to the practice squad. The Bears may only keep one on the practice squad because both are cornerbacks. They also hope to get undrafted tackle
James Brown
through waivers to get him on the practice squad. The Bears kept the predicted eight offensive linemen on the active roster, so they need a tackle (Brown,
A.J. Greene
or
Cory Brandon
) and an inside prospect to fill out the practice squad.
What's next
: The Bears aren't standing pat. They ended up adding 16 new players to the roster and are in the process of signing defensive tackle
Amobi Okoye
as a backup. It wouldn't be surprising if they look at
Antonio Dixon
, a defensive tackle released by the
Philadelphia Eagles
. A decision still has to be made on a punter.
Adam Podlesh
suffered a hip flexor injury, so the Bears kept undrafted punter
Ryan Quigley
on the active roster. It's not out of the question for them to look for another punter who was released.