June, 17, 2012
6/17/12
11:00
AM ET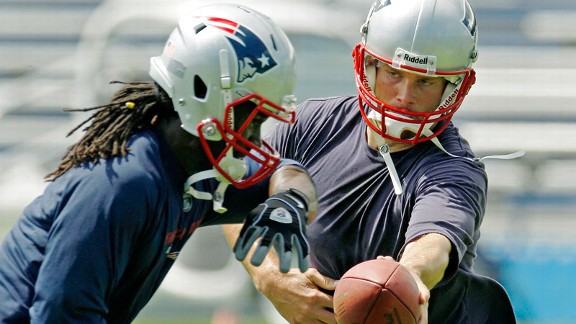 AP Photo/Charles KrupaWill Joseph Addai, the most experienced running back on the Patriots roster, step up to take some presure off Tom Brady and the offense?
Not even the great
Tom Brady
can throw 70 times per game. At some point, the
New England Patriots
must rely on their running game this season to complement their future Hall of Fame quarterback and high-powered passing attack.
But who is ready to carry to load this year for the Patriots? That is a question the defending AFC champions are not ready to answer.
Consider New England's ground attack a journey into the unknown. Its running back roster reads like a waiver wire scrap heap in fantasy football:
Joseph Addai
,
Danny Woodhead
,
Stevan Ridley
and
Shane Vereen
. These four combine for nine career starts in New England. Addai, a free-agent signing, has 60 starts but all were with the
Indianapolis Colts
.
None of them stand out on their own. But the Patriots are hoping for strength by committee.
"We're not really focused on who's going to be the guy or anything like that; we're just trying to help each other out and learn together," Ridley said during last week's minicamp. "If we can all [learn] that playbook, then they can put us anywhere on the field and we can go out there and be successful. That's when we do better as a unit.
"One person is not going to get it done all the way through the season and we know that, so we have to be able to depend on everybody."
After the offseason departure of former starter
BenJarvus Green-Ellis
, the Patriots' coaching staff is trying to figure out who they can trust most with the football in 2012. Green-Ellis was not an elite back, but he was good for New England's pass-heavy system. Green-Ellis was tough, dependable and never lost a fumble in four seasons.
While Brady and New England's dynamic receivers and tight ends put up points and made big plays, Green-Ellis did most of the dirty work between the tackles. The
Cincinnati Bengals
signed Green-Ellis to a three-year, $9 million contract this offseason. Add the loss of trusted veteran
Kevin Faulk
, 36, to the mix and New England is virtually starting over at the position.
"We have a bunch of young kids that have a lot more to learn," Patriots running back coach Ivan Fears said. "I had a lot of guys [last year] who experienced the game and knew what to expect in the pro game. These guys are young."
The Patriots spent last week's minicamp in the exploratory phase. New England's running backs shifted in and out with different personnel groupings, and it's too early to tell if there's a clear-cut player ahead in the race to be the starter.
This is a group that very much needs coaching, experience and attention to detail. It will be up to the coaching staff to determine which running back is best suited for certain in-game situations.
Each tailback brings certain strengths to the table. Ridley and Vereen, for example, are 2011 draft picks and have fresh, young legs. Addai has the most experience. Woodhead is quick and has value as a third-down back.
"Everybody is different, and everybody has a style that made them what they are," Fears said. "A lot of guys have been successful doing it in various ways."
Heading into training camp, Ridley and Vereen most likely have the inside track on the starting job. Ridley had two starts and showed flashes last year. He gained 441 yards and averaged 5.1 yards per carry. Vereen battled injuries and recorded just 15 carries for 57 yards and a touchdown in 2011.
Both joined the team together and have created a healthy bond and competition. They are neighbors and spend time studying the playbook together. Ridley and Vereen also plan to make a significant jump in their second season together, which would help the Patriots tremendously.
"I definitely think so because we're going through the same struggles on the field and off the field at the same time," Vereen said. "Both of our heads were spinning 100 miles an hour last year. It's a very good bond between me and Stevan."
New England's passing game should take pressure off its running backs. Defenses cannot stack the line of scrimmage against Brady and New England's spread formations. The Patriots also added fullbacks
Spencer Larsen
and
Tony Fiammetta
to the roster. One fullback will probably make the team, and the position could be used more this season.
Ridley described New England's tailback situation as "wide open." He is exactly right. The Patriots' offense should be a juggernaut again in 2012, as long as at least one player from this unproven group of running backs steps forward.
March, 30, 2011
3/30/11
10:42
AM ET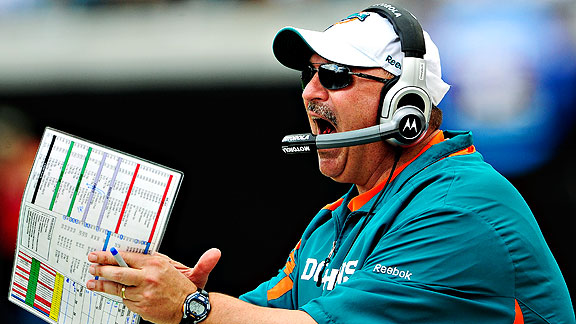 Sam Greenwood/Getty ImagesDolphins coach Tony Sparano felt it was necessary to add former players to his coaching staff.
Miami Dolphins
receiver
Brandon Marshall
scoffed in September that broadcast analyst Sterling Sharpe had no right to judge him.
Marshall claimed Sharpe didn't do enough on the field
to earn the privilege.
Imagine, then, how much disdain Marshall would harbor for criticism from those who didn't play in the NFL at all.
When you consider Marshall's logic and the sort of position coaches he has worked with, you get a sense of how unstable a situation can be.
As a rookie, he learned from former Pro Bowl receiver Steve Watson. But since 2007, Marshall's coaches have been Jeremy Bates, Jedd Fish and Adam Gase with Denver and Karl Dorrell last year with Miami. None of them played in the NFL. Neither Fisch nor Gase played in college.
Probably not the kinds of guys you'd expect to make a connection.
Dolphins head coach Tony Sparano rearranged his coaching staff after last season. He moved Dorrell into the quarterbacks vacancy and promoted Steve Bush from a quality-control role -- usually considered entry-level -- to receivers coach. Bush hasn't been an NFL position coach before. In 2008, the Dolphins hired the one-time Syracuse assistant away from West Genesee High in upstate New York.
Some help was in order, and not just for Bush.
Sparano made it a point to add former players to his coaching staff because he identified a deficiency. He needed more voices to reach his players.
Although the Dolphins parted ways with running backs coach James Saxon, they hired Ike Hilliard to assist Bush and Bryan Cox to coach pass rushing and promoted Dan Campbell from intern to tight ends coach.
"I feel good about the way we were able to put the staff together with the infusion of ex-players onto the staff," Sparano said last week at the NFL owners meeting in New Orleans.
"A little bit of that flavor and that knowledge on your coaching staff helps a lot. Sometimes, as coaches, we can get tunnel vision and forget about what the players' needs are. When you get an ex-player on your staff -- somebody that's really not far removed -- it helps you a lot."
A breakdown of AFC East coaching staffs shows there are multiple philosophies on former NFL players as assistants.
The Dolphins went into last season with two position coaches who played in the NFL: assistant head coach and secondary assistant Todd Bowles and Saxon. They now have four assistants with a combined 557 games.
Buffalo Bills
head coach Chan Gailey has one former NFL player on his staff, but none coaching a position. Former defensive back Adrian White, a veteran of seven seasons, handles quality control.
New England Patriots
defensive line coach Pepper Johnson is the lone member of Bill Belichick's crew to have experienced NFL action. Johnson played linebacker for four teams over 13 years.
Then there's Rex Ryan's staff, populated by six former NFL players with 62 seasons and 829 games. Matt Cavanaugh coaches quarterbacks, Anthony Lynn running backs, Henry Ellard receivers, Mike Devlin tight ends, Mark Carrier defensive line and Dennis Thurman defensive backs.
I reached out to three former coaches who played in the NFL -- Tom Flores, Herm Edwards and Ted Cottrell -- to get their opinions on the significance of having on-field experience on staff.
"It's always been a thing with the players," said Cottrell, an
Atlanta Falcons
linebacker and successful defensive coordinator for the Bills, Jets,
Minnesota Vikings
and
San Diego Chargers
, "where they think in the backs of their minds, 'Well, you haven't played this game. You don't know what we're going through. You haven't done this, Coach.' But if you have some playing experience on your staff, it helps offset that."
As valuable as those players-turned-coaches are, they're difficult to find. The best players don't necessarily make the best coaches because what came to them naturally can't always be conveyed through instruction.
[+] Enlarge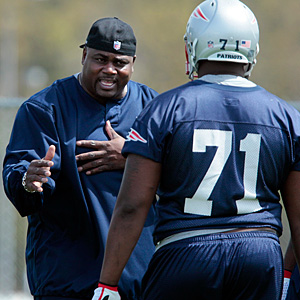 AP Photo/Elise AmendolaPatriots defensive line coach Pepper Johnson is the only member of Bill Belichick's staff with NFL playing experience.
Flores found a way to make it work. He and Mike Ditka are the only two in NFL history to win a Super Bowl ring as a player, assistant coach and head coach. Flores played quarterback for the Bills,
Oakland Raiders
and
Kansas City Chiefs
before guiding the Raiders to pair of Super Bowl titles.
"Some of the young kids coming out have no idea," Flores said. "They think they invented the game. Sometimes you have to bring them back to reality.
"But you also don't want somebody who keeps saying, 'Well, when I played ... When I played ... When I played ...' The player thinks, 'I don't give a damn when
you
played.
We're
playing now.'"
The transition from player to coach is difficult. Many players focus so much on their specific jobs when they're active that they don't become students of the overall game or learn how their roles fit into the overall puzzle. Others find it difficult to stop acting like a player when their careers are over.
Still, the ex-player element can be crucial in various instances.
"Sometimes you need a bridge with a former player," said Edwards, who played cornerback for the
Philadelphia Eagles
and was head coach for the Jets and Chiefs. "His voice is going to speak volumes, especially during the rough times because he's done it; he's been through it. He can give them, 'OK, this is what we gotta do' speech.
"He's going to respect because he played, but can he teach? That's the whole key. Players will figure that out."
Not all coaches are comfortable hiring former players, particularly those fresh off the field. Cottrell claimed there's a fear of subversion, that the former player will relate better to the locker room than the man in charge.
"Who do you think the players on the roster will gravitate towards more?" Cottrell asked. "The guy who played in the NFL and is young, or the older guy who didn't play?"
The former player, I responded.
"Damn right they would," Cottrell said. "That's why some coaches are intimidated to hire them. That's the truth. They don't want that guy around."
Added Edwards: "I've seen that happen. There's no doubt about that. That's when you're paranoid, but there are coaches like that."
Even so, Edwards conceded insurrections aren't an unfounded conspiracy theory.
"If you've got a former player in his positional meeting room, saying, 'Man, the coach doesn't know what he's talking about,' then you've got no shot as a head coach," Edwards said. "That's why you've got to be particular on who you hire."
The Patriots have a more institutional coaching staff. Their message is easy to deliver when players consider Belichick has won three Super Bowls and four conference championships in the past decade.
Rather than rely on former players, Belichick has core assistants such as offensive line coach Dante Scarnecchia (28th season with New England) and running backs coach Ivan Fears (15th season).
Belichick grooms assistants from gophers into coordinators and even head coaches. A steady stream of his acolytes -- Eric Mangini, Josh McDaniels, Brian Daboll, Bill O'Brien, Matt Patricia -- got their NFL starts under Belichick with no pro playing experience.
New England's cyclical process protects organizational doctrine from outside influences. Johnson, the lone ex-player on the staff, played 10 of his 13 seasons under Belichick.
"Belichick has a certain philosophy, and you want everybody to be on the same page," Flores said. "Sometimes, when you bring in guys that have been too many other places, they're not going to be on your page because they've been trained someplace else.
"If you bring up assistants through the ranks, then they'll be trained the way you want them to be. Everybody has to buy into the same program."
At the other end of the spectrum are the Jets.
Ryan obviously values former players. Their presence on the staff contributes to the Jets being an attractive destination for free agents, and Cottrell surmises the Dolphins have noticed.
"From a coaching standpoint, he looks at the Jets and wants to catch them in the division," Cottrell said. "He thinks, 'Rex has six guys that have played the game who are coaching. Uh oh. Rex has got an advantage on me.'
"That's got to be in the back of his mind. You've got to win your division to get into the playoffs, and when you look at your coaching staff, you see you don't matchup in that area."
Or, in the case of adding Hilliard at least, maybe it was as simple as noticing the Dolphins didn't match up with Marshall.

NFL SCOREBOARD
Sunday, 12/28
WEEKLY LEADERS