NFL Nation:

J.K. Schaffer
October, 29, 2013
Oct 29
4:20
PM ET
CINCINNATI -- It was news those of us who cover the
Cincinnati Bengals
had long seen coming. Finally, Tuesday afternoon, it arrived.
A little more than a week after Bengals cornerback
Leon Hall
tore his Achilles in a season-ending injury at Detroit, the team officially moved him onto injured reserve. He will no longer be part of the 53-man roster this season, and is unable to return to it at any point this year.
As they did during Sunday's 49-9 win over the
New York Jets
, the Bengals anticipate placing
Adam Jones
into Hall's vacated roster spot for the rest of the year. The combination of
Chris Crocker
and
Dre Kirkpatrick
will continue fulfilling Hall's slot corner duties, as well.
The move was one of three the Bengals announced Tuesday. They also waived linebacker
DeQuin Evans
and promoted fellow linebacker and Cincinnati native
J.K. Schaffer
off the practice squad. Added to the 53-man roster, Schaffer has an opportunity to appear in his second career game. He played against the Steelers earlier this season during the Bengals' home opener. The team's leading tackler during the preseason, Schaffer was used specifically on special teams and could see similar action Thursday night when Cincinnati travels to Miami.
With linebacker
Rey Maualuga
and defensive back
Taylor Mays
-- another special-teams standout -- dealing with injuries that will keep them out of this week's game, the Bengals brought Schaffer up as they look to add to their depth.
Evans was waived after rejoining the team Monday from a suspension. He missed the first eight weeks due to a violation of the league policy on performance-enhancement substances.
October, 28, 2013
Oct 28
8:15
PM ET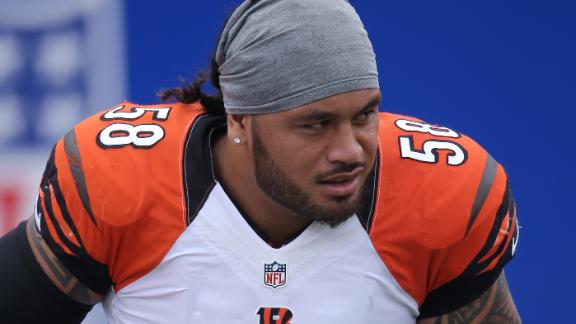 CINCINNATI -- All of a sudden, depth has become a concern for the
Cincinnati Bengals
.
Just this time two weeks ago, everything seemed fine on the injury front. The entire 53-man roster was in great shape. The Bengals were being lauded for their rather stunning health.
Yes, there were some bruises, to be sure. There were nicks and scrapes and bumps and discomfort, but overall, whatever issues individual players had were so minor that shots, painkillers and mental toughness were enough to keep them on the field.
That isn't the case now. The injury bug that had been doing such a great job avoiding Paul Brown Stadium can no longer stay away. Now it's taken up residence inside the Bengals' locker room, and doesn't appear to be leaving anytime soon.
On the same day ESPN NFL Insider Adam Schefter reported that linebacker
Rey Maualuga
would be out three to four weeks with an MCL sprain, the Bengals listed defensive back
Taylor Mays
as out on their first injury report of the short week. Mays will miss Thursday night's game at Miami, joining cornerback
Leon Hall
and defensive tackle
Devon Still
.
Maualuga, however, was not ruled out, even though he (and Mays) did not practice Monday. Maualuga left in the first half of Sunday's 49-9 win over the
New York Jets
with a knee injury and concussion. Even if the knee injury wasn't as bad as Schefter is reporting, the linebacker would have had a difficult time getting back on the field five days after a concussion.
Mays' right shoulder injury came on the final play of the first half.
Hall was lost for the year with an Achilles tear last week, but has not yet been put on injured reserve. No timeline has been provided for Still's injury, but he will be missing his second straight game after suffering an elbow injury against Detroit last week.
The timing of Mays' departure from the lineup, coupled with Maualuga's likely long-term injury, couldn't be worse. It creates a little uncertainty for the Bengals, who now have to move players around throughout the secondary to fill the gaps that have formed. If Maualuga is included, the Bengals would be down three key pieces of their secondary, including Hall and Mays. A versatile back-end defender, Mays has played some nickel linebacker this year and would have been a logical option to play more of that role this week to accommodate for Maualuga's absence at middle linebacker.
Vontaze Burfict
, who occupies one of the outside spots, would be able to play some at the Mike position in place of Maualuga if need be.
Since that scenario won't be able to take place, the Bengals likely will work some combination of
Vincent Rey
,
Michael Boley
and
Jayson DiManche
into the inside linebacker spot. It could even end up being just Rey and DiManche. Although there's little reason to indicate he won't play right now, Boley did appear on the did not participate portion of Monday's walk-through.
The Bengals have to be happy the Dolphins don't have an offense that mirrors theirs schematically. Unlike Cincinnati, Miami doesn't work a two-tight end set that often. For that reason, the nickel linebacker responsibilities and any other linebacker coverage responsibilities might not end up having the same necessity that they have had in past weeks. In an effort to not only match the Dolphins' wideout personnel, but also to meet their own depth concerns, the Bengals' nickel could end up resembling more of a dime setup, with an extra cornerback coming into the game.
As far as roster moves are concerned, it isn't likely any major ones will take shape before Thursday. As much as Cincinnati would like to add to its depth and bring in new bodies, three days simply isn't enough time for a brand new linebacker to come in, learn coordinator Mike Zimmer's complex defense and contribute. The only real change that appears like a distinct possibility is moving of linebacker
J.K. Schaffer
off the practice squad and onto the game roster. If that happens, the Cincinnati native would have a chance to play in his second career game. He played on special teams in the Week 2 home opener against Pittsburgh.
Regardless what moves the Bengals end up making, the fact remains: They are hurting.
For their aching, beat-up bodies, this weekend and its three straight off days couldn't come fast enough.
Here is Monday's full injury report:
OUT
CB Leon Hall (Achilles)
DB Taylor Mays (shoulder)
DT Devon Still (elbow)
DID NOT PARTICIPATE IN PRACTICE
LB Rey Maualuga (knee/concussion)
LB Michael Boley (hamstring)
WR
Mohamed Sanu
(shoulder)
OT
Andrew Whitworth
(knee)
LIMITED PARTICIPATION IN PRACTICE
RB
Rex Burkhead
(hamstring)
DE
Wallace Gilberry
(groin)
September, 16, 2013
Sep 16
4:08
PM ET
CINCINNATI -- The
Cincinnati Bengals
made a pair of corresponding roster moves Monday afternoon, several hours before they're set to host the
Pittsburgh Steelers
on "Monday Night Football."
The Bengals signed University of Cincinnati product
J.K. Schaffer
off the practice squad, adding the linebacker to the 53-man roster. The undrafted second-year player officially took a spot vacated by safety
Jeromy Miles
. A fourth-year player himself, Miles had been battling a hamstring injury and was limited in practices this week. He was listed as doubtful on Saturday's injury report and was waived by the team Monday.
Miles appeared in 39 games for the Bengals since 2010. His lone start in Cincinnati came last season. He had 12 total tackles and a pass deflection in his time with the Bengals.
Schaffer has not yet played in a regular-season game, but the local product became a fan favorite in the preseason. With appearances in all four games, he had a combined 20 tackles, recorded a sack and an interception.
The Bengals and Steelers meet at Paul Brown Stadium at 8:30 p.m. ET (ESPN). Both enter the AFC North clash with 0-1 records.
NFL SCOREBOARD
Thursday, 12/5
Sunday, 12/8
Monday, 12/9