July, 18, 2014
7/18/14
11:00
AM ET
Examining the
Indianapolis Colts
' roster:
QUARTERBACKS (2)
This is the safest position on the roster for the Colts. They plan to always keep a veteran backup if Luck ever goes down with an injury.
RUNNING BACKS (4)
The Colts will have a solid running combination if -- and we're saying
if
until proven wrong -- Richardson can bounce back from a poor first season in Indianapolis and Bradshaw and Ballard can stay injury-free. Havili, a fullback, gets the edge over
Mario Harvey
, who switched from linebacker to fullback during offseason workouts.
RECEIVERS (5)
The final receiver spot will come down to Rogers and
Griff Whalen
. If the Colts want to play it safe, Whalen is the guy because he's familiar with Luck and offensive coordinator Pep Hamilton, but Rogers has the size and speed the team likes. There's also the possibility of the Colts keeping six receivers.
TIGHT ENDS (4)
Allen, who missed all but one game in 2013, and Fleener have the potential to be one of the top tight end duos in the league. Doyle and Saunders are both familiar with the system after backing up Fleener in Allen's absence last season.
OFFENSIVE LINEMEN (9)
There are plenty of questions surrounding the offensive line outside of tackles Castonzo and Cherilus. The one thing general manager Ryan Grigson wanted with this group is depth. The Colts have plenty of it.
DEFENSIVE LINEMEN (6)
Like the offensive line, the Colts want depth on the defensive line so they can constantly rotate in players, so come the fourth quarter they still have fresh legs to get after the opponent. Jones was the key offseason acquisition for the Colts. Chapman showed flashes last season; now he needs to do it every snap that he's on the field.
LINEBACKERS (10)
All eyes will be on outside linebacker as the Colts look to find a replacement for Mathis, who is suspended for the first four games of the season. Werner gets the first crack at starting in Mathis' spot. McNary is a player for whom Grigson has high expectations. It'll be up to defensive coordinator Greg Manusky on how he uses McNary.
DEFENSIVE BACKS (10)
It's anybody's guess how the secondary will perform. It's anybody's guess who will start alongside Landry at safety. It looked like it would be Howell for most of the offseason, but the Colts signed the veteran Adams in June. Can Toler finally remain healthy? Can Davis live up to his contract? So many questions with no answers at the moment.
SPECIALIST
This only changes if an injury occurs.
May, 27, 2014
5/27/14
8:30
AM ET
INDIANAPOLIS -- A common phrase used by the
Indianapolis Colts
last season was: power running game.
They had do-everything quarterback
Andrew Luck
, but they insisted on a being a run-first team. The only sign of that working happened in their Week 3 victory over the
San Francisco 49ers
. Injuries and lack of running game from
Trent Richardson
and
Donald Brown
forced the Colts to basically become a no-huddle offensive team by the end of the season.
They started the season mixing in some two-back sets. They ended it basically using one-back, one-tight-end, three-receiver sets.
Luck
New season, new mind frame from offensive coordinator Pep Hamilton.
"We're going to be a score-first team," Hamilton said. "We're going to do whatever we need to do to score one more point than our opponent."
Don't kid yourself; Hamilton won't allow Luck to drop back in the pocket and fling the ball downfield -- even if he does have plenty of weapons at his disposal -- 50 times per game. The Colts will still run the ball, which is why they have three backs they think will carry the load.
But as Hamilton said, it's all about scoring more points than the opponent, and that likely will end up being with Luck doing what he does best: using his arm.
The Colts threw the ball 582 times and ran it 409 times last season.
"Our mentality has not changed; we have to be physical at the point of attack. We have to try and knock people off the ball and wear them down physically," Hamilton said. "We have to have a sense of balance and still have a physical mentality, make up going into games so we can wear our opponents down how we see fit."
Hamilton had an opportunity to leave the NFL to become the head coach at Vanderbilt, but he decided to return to the Colts because he believes in the product they have in the organization. He's back for Year 2 as an NFL offensive coordinator, and instead of being forced to dig deep into the playbook to find plays to suit their offensive personnel, Hamilton should have a cupboard full of healthy players next season barring any setbacks with their return from injuries.
By Week 7 last season, the Colts were without tight end
Dwayne Allen
, guard
Donald Thomas
, running backs
Vick Ballard
and
Ahmad Bradshaw
and receiver
Reggie Wayne
for the season. Those players were replaced by
Jack Doyle
,
Weslye Saunders
,
Hugh Thornton
, Brown, Richardson, Da'Rick Rogers and
Griff Whalen
.
No offense to those players, but that's a drop-off for Hamilton, who at times made some questionable play calls to work with.
Things should be different this season for him and the Colts.
"Not only do we have some guys that are proven playmakers in the National Football League, but we have an opportunity to build on what we accomplished last year and hopefully take that next step," Hamilton said. "It'll be great to have Reggie, Dwayne and all those guys available to see if we can go out and accomplish our ultimate goal.
"The toughest part [of last season] was making sure that we had the packages available to accommodate the personnel changes that were made from week to week. When I say personnel changes, I'm talking about the attrition, the attrition that we had to deal with. Other than that, it wasn't tough. When you have Andrew Luck, that really gives you an ability to adapt to whatever the circumstances are and have a chance to be successful."
May, 16, 2014
5/16/14
4:15
PM ET
INDIANAPOLIS -- The thought of playing football had always crossed
Erik Swoope
's mind. He wanted to be out there tackling and catching passes with the rest of his friends while growing up in Southern California.
But there was a problem with Swoope's desire to play. He only wanted to play if he could do it with his friends. That wasn't possible because Swoope stood 6-foot-2 and weighed 200 pounds at the age of 12. And while he was already dunking a basketball by then, his friends were 50 and 60 pounds lighter than him, eliminating any chance of being teammates with them since Swoope didn't meet the weight requirement.
[+] Enlarge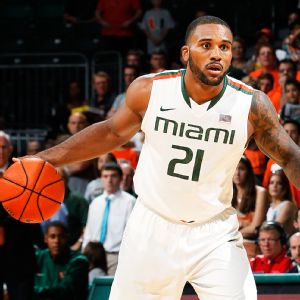 Joel Auerbach/Getty ImagesErik Swoope, a former four-year basketball player at the University of Miami, is trying his hand at football for the first time -- and with the Indianapolis Colts.
"I was taller and bigger than all my friends and it wouldn't have been possible for me to play with them," Swooped said during the first day of the
Indianapolis Colts
' rookie minicamp.
Swoope continued to think about playing football during his four-year basketball career at the University of Miami, but the opportunity to do both was too much to ask because of the overlap of the seasons, and he went to the school to play basketball.
The chance to play football finally came about when the Colts signed him as an undrafted free agent earlier this week despite Swoope not knowing what it feels like to get hit on the football field. Playing football for Swoope is like a kid learning how to ride a bike for the first time.
"The main thing to me between football and basketball is that I just love being an athlete," Swoope said. "In the weight room, trying to get as strong as you can, as fast as you can, as quick as you can. And in basketball, it's kind of a game of tempo. That's what I'm learning also in football, but it's more of an opportunity to be an athlete and for me, I'm enjoying it."
This isn't the first time the Colts have signed a player who did not play college football.
Marcus Pollard
played basketball at Bradley University before the Colts signed him as an undrafted free agent in 1995.
Patience is key for Swoope because of his lack of football experience. He's confident because he feels he's capable of picking up the game. He's also curious how quick he can learn it.
One of the good things going for Swoope is that there haven't been any expectations put on him. The Colts are set at tight end with
Dwayne Allen
,
Coby Fleener
and serviceable backups
Weslye Saunders
and
Jack Doyle
. Swoope is able to learn slowly.
The first thing Swoope did right was get together with former University of Miami football players
Jimmy Graham
and
Jonathan Vilma
a few weeks ago. Graham, who played basketball for the Hurricanes and spent his fifth year as a tight end on the football team, worked with Swoope on route running. Vilma would tell him what he was looking for from the linebacker position.
Elsewhere in the NFL, Green Bay's
Julius Peppers
played basketball at the University of North Carolina and played defensive end on the Tar Heel football team.
So why tight end for Swoope?
Tight end translates well from the basketball court to the football field, he said.
"I played power forward and I played on the wing, so I got use to playing a variety of parts on offense and defense," Swoope said. "That's one of the key carryovers, the size, the weight, the athleticism. It's a quicker carry over because you're use to studying a variety of things all at once."
Swoope doesn't know what to expect when it comes to getting hit for the first time. All he knows is that he needs to run with his 6-foot-5 frame low.
"My brother played football and he told me I'm going to get hit and I'm going to quickly learn to get down and get the pads down," Swoope said. "I'm looking forward to this experience."
March, 25, 2014
3/25/14
7:30
AM ET
ORLANDO, Fla. -- Nine
Indianapolis Colts
players received
performance-based incentives for more than $100,000
each during the 2013 season. Linebacker
Jerrell Freeman
and offensive line
Hugh Thornton
both earned more than $218,000.
The incentives are based off playing time and a player's base salary. Veteran backup quarterback
Matt Hasselbeck
received only $827.05 out of the $3.46 million which teams are allotted. The money usually benefits minimum-salaried free-agent signings and players on their first NFL contracts who end up playing a lot.
Here's a breakdown of the top-10 performance bonuses on the Colts.
LB Jerrell Freeman $248,772.35
OL Hugh Thornton $218,167.75
WR
T.Y. Hilton
$162,808.35
FB Stanley Havili $132,945.28
TE Jack Doyle $128,223.40
DE Ricardo Mathews $118,490.40
LB Cam Johnson $109,230.89
WR Griff Whalen $101,056.36
LB Kelvin Sheppard $100,435.98
LB Mario Harvey $92,307.29
Here's a breakdown of the bottom-10 performance bonuses on the roster.
WR
Reggie Wayne
$6,651.65
TE Dwayne Allen $5,711.86
C Khaled Holmes $4,695.54
TE Justice Cunningham $3,913.60
OL Donald Thomas $3,384.86
K Adam Vinatieri $2,738.82
RB Robert Hughes $2,618.30
RB Kerwynn Williams $2,494.16
OL Thomas Austin $1,816.86
QB Matt Hasselbeck $827.05
September, 18, 2013
9/18/13
4:45
PM ET
INDIANAPOLIS -- Health wasn't supposed to be a problem for the
Indianapolis Colts
. Their biggest issue was how they would protect quarterback
Andrew Luck
.
But both are now problems for the Colts less than three weeks into the regular season.
Starting running back
Vick Ballard
, the team's best blocker at the position, went down with a season-ending knee injury on Sept. 13. That was followed by starting guard
Donald Thomas
having his season end with a torn quad against the
Miami Dolphins
on Sunday. And when you think it couldn't get any worse, coach Chuck Pagano, who seemed bothered by the latest development, announced that starting tight end
Dwayne Allen
would require season-ending hip surgery.
Three starters -- all responsible for helping protect the franchise -- done for the season because of injuries in less than a week.
"Like Donald, like anybody we've lost at this point, it makes you sick," Pagano said. "Injuries are part of this game. We all understand that, we know that."
Allen injured his hip when he collided with Oakland safety
Tyvon Branch
while attempting to catch a pass across the middle of the field in the Sept. 8 game against Oakland.
Allen originally thought the injury wasn't severe, but concern grew when Pagano classified him as day-to-day during his Monday news conference.
"We were all hoping it would be something with time and with rest and he would come around," Pagano said. "He's a tough, tough, tough kid, and playing through the foot injury, the sprain. Once we got (the hip) evaluated, what the doctors saw in there and what needed to be done, for the long term, the big picture (surgery is) the right thing to do."
Allen told ESPN.com on Sept. 5
he considered himself one of the best tight ends
in the league because of his ability to catch and block. That responsibility now falls on the shoulders of
Coby Fleener
, with
Dominique Jones
and
Jack Doyle
backing him up. Fleener is known for his catching -- when he's not having mental lapses -- but the reason Allen moved ahead of him on the depth chart last season is because of his blocking skills.
As I pointed out in
Wednesday's "QB Watch
," Luck is on pace to be sacked 56 times this season. He was sacked four times against Oakland and three times against Miami.
"We're very confident," Pagano said when asked about Fleener's increased role. "We all saw why we took Coby where we took him, what he can do last week. He played an excellent football game, not only in the pass game, he blocked well. He'll continue to do that. He knows his role. It's obviously going to expand now."
Offensive coordinator Pep Hamilton has constantly talked about having a balanced offense, but he may have to tinker with that philosophy and let Luck pass the ball more with three-receiver sets.
That, of course, depends on whether Luck has enough time to get the ball off.
"You have to almost be a little bit, not cold-blooded, but like that really stinks and we have to move on as a team now," Luck said. "I think those guys understand that. The guys who are going to fill in for them understand that, and it's going to be a collective unit on offense to stay on track."
September, 14, 2013
9/14/13
3:05
PM ET
INDIANAPOLIS -- All indications point to the
Indianapolis Colts
not having their starting tight end for Sunday's game against the
Miami Dolphins
.
Allen
The Colts downgraded tight end
Dwayne Allen
to doubtful Saturday afternoon because of an injured hip. The decision to do that isn't surprising because Allen did not practice all week. He was supposed to go to the team's facility and test his hip out Saturday. Allen got injured in the second half of the Sept. 8 game against the
Oakland Raiders
.
Coby Fleener
will start at tight end with
Dominique Jones
and Jack Doyle being the backups if Allen doesn't play.
Running back
Vick Ballard
is out for the rest of the season after injuring his knee in practice Thursday.
It's never good to lose players, especially starters, but the timing of Ballard's knee injury and Allen's likely absence comes right before the Colts face a Miami defense that had six sacks against Cleveland in Week 1.
Ballard was perfect in blocking assignments against the Raiders, and offensive coordinator Pep Hamilton talked about Allen's blocking ability during the preseason.
August, 31, 2013
8/31/13
6:30
PM ET

Most significant move:
Marc Mariani
came back from a vicious broken leg suffered in the preseason in 2012. A shoulder injury suffered in the preseason opener cost him the rest of camp and the preseason, and the Titans put him in injured-reserve Saturday, ending his season. He might have been ready as soon as Week 3, but the Titans clearly didn't like the uncertainty. They could have waived him injured, exposing him to a claim. In that scenario,
St. Louis Rams
coach Jeff Fisher, who was instrumental in the Titans drafting the receiver/returner out of Montana in 2010, might have wanted him. But the Rams or anyone else would have had to have added him without getting to examine the injury, and Mariani's not under contract beyond this year so a new team could have been at risk for picking up a year's salary and getting nothing out of him. If he wasn't claimed, he would have reverted to Tennessee's IR. By putting Mariani directly on IR, he is assured of his $575,000 base salary this season but won't play anywhere. The move means
Darius Reynaud
is the returner. He showed himself to be only the team's fifth-best running back during camp, but sticks to handle punts and kickoffs.
Wildcard:
If
Rusty Smith
clears waivers, the Titans will want the fourth-year quarterback back on their practice squad. He's not been on the active roster for nine games in any of his first three seasons, so he retains his practice squad eligibility. If Smith is claimed, the Titans will need to find a young quarterback for the spot, who they can work to develop as insurance and who will be able to offer an option as the No. 2 if
Jake Locker
or
Ryan Fitzpatrick
suffers an injury that results in any missed time. One team that won't claim Smith -- his hometown
Jacksonville Jaguars
.
What's next:
I could see the Titans shopping for a veteran safety as they sift through cuts. Seventh-round pick
Daimion Stafford
is on the roster now, but the Titans are heavy with strong safeties and light at free safety. They'd probably like better balance and Stafford could ultimately land on the practice squad. With 10 defensive linemen plus strongside linebacker
Akeem Ayers
in line to play a good share of end, the last pure end --
Keyunta Dawson
-- is hardly a lock at this point. Only one injured Titan, rookie linebacker
Zaviar Gooden
, is likely to miss the season opener at Pittsburgh.
Tennessee Titans cuts:
S
Al Afalava
, T
Daniel Baldridge
, TE
Brandon Barden
(injured), DT
Stefan Charles
, DT
Zach Clayton
, TE
Jack Doyle
, LB
Gary Guyton
, DT
DaJohn Harris
, S
Corey Lynch
, FB
Collin Mooney
, DE
Nigel Nicholas
, RB
Jalen Parmele
, WR
Rashad Ross
, LB
Tim Shaw
, QB
Rusty Smith
, LB-DE
Scott Solomon
, G
Kasey Studdard
, WR
Dontel Watkins
, LB
Jonathan Willard
, CB
Khalid Wooten
, C-G
Fernando Velasco
Placed on Injured-reserve:
WR/returner Marc Mariani.
August, 30, 2013
8/30/13
3:14
PM ET
NASHVILLE, Tenn. -- Rather than tell you this is what's going to happen, I'll tell you this is what would happen if I had influence in the
Tennessee Titans
meeting room when final cuts will be decided.

Some cuts are already trickling out from Jim Wyatt of The Tennessean, so check
his Twitter feed
.
Quarterbacks:
Jake Locker
,
Ryan Fitzpatrick
There just is no room for
Rusty Smith
and there
isn't a need
for a third quarterback unless things go incredibly wrong. The difference between a random third guy and Smith isn't giant.
Running backs:
Chris Johnson
,
Shonn Greene
,
Jackie Battle
,
Quinn Johnson
(FB)
Battle has to contribute on special teams, but he was better than
Jalen Parmele
through the preseason. Wyatt says Parmele is already gone. Johnson's been hurt and could lose out to
Collin Mooney
.
Wide receivers:
Kenny Britt
,
Nate Washington
,
Kendall Wright
,
Damian Williams
,
Justin Hunter
,
Michael Preston
,
Marc Mariani
(return specialist)
Preston is one of the best 53 players on the team. Even though he won't be active on Sundays if everyone's healthy, you keep extra quality depth at one spot if it's better than weaker depth at another spot. Once he's healthy, Mariani isn't as explosive as a punt returner as
Darius Reynaud
, but will more regularly get 10 yards.
Tight ends:
Delanie Walker
,
Craig Stevens
,
Taylor Thompson
No need for a fourth on the 53. Sign
Jack Doyle
to the practice squad
Offensive linemen:
Tackles
Michael Roos
,
David Stewart
,
Mike Otto
,
Byron Stingily
. Interior:
Andy Levitre
,
Chance Warmack
,
Rob Turner
,
Brian Schwenke
,
Fernando Velasco
Velasco is guaranteed $2.02 million under his tender contract out of restricted free agency. I'm not sure he should stick over
Scott Solomon
at linebacker or
Stefan Charles
at defensive tackle. But the big push for revamping the line and the desire for depth after last year's slew of injuries makes me feel like they will stay loaded.
Defensive ends:
Derrick Morgan
,
Ropati Pitoitua
,
Kamerion Wimbley
,
Lavar Edwards
,
Keyunta Dawson
.
Dawson is a good guy to have. I can see him staying and the Titans going five ends as opposed to six tackles. But linebacker
Akeem Ayers
is a nickel end so he factors in here as well.
Defensive tackles:
Jurrell Casey
,
Sammie Hill
,
Mike Martin
,
Antonio Johnson
,
Karl Klug
(swing)
I've got Stefan Charles over
DaJohn Harris
but neither making it. If one of them sticks, it's the last defensive line spot probably over Dawson. I see Charles on the practice squad.
Linebackers:
Akeem Ayers,
Moise Fokou
,
Zach Brown
,
Zaviar Gooden
,
Colin McCarthy
,
Patrick Bailey
Scott Solomon is one of my last two cuts. I want to keep seven 'backers. The seventh guy would be a trade-off for Velasco, I think. Solomon is versatile, seems to be catching on to the position change and can still play end if needed. He's not practice squad eligible. I just can't fit him here. I might keep him over Bailey but I don't think they rank him that way.
Safeties:
Michael Griffin
,
Bernard Pollard
,
George Wilson
,
Daimion Stafford
The fourth spot isn't strong and Stafford could probably go to the practice squad. But if they choose a veteran --
Al Afalava
or
Corey Lynch
-- as the fourth I could see them trying to upgrade it with an outsider.
Cornerbacks:
Jason McCourty
,
Alterraun Verner
,
Tommie Campbell
,
Coty Sensabaugh
,
Blidi Wreh-Wilson
I'd expect
Khalid Wooten
on the practice squad.
Kicker:
Rob Bironas
Punter:
Brett Kern
Long-snapper:
Beau Brinkley
August, 24, 2013
8/24/13
10:52
AM ET
NASHVILLE, Tenn. -- Three things I'll be watching closely tonight as the Titans host the
Atlanta Falcons
in a game Tennessee treats as its dress rehearsal for the regular season.

Verner and Turner:
The competitions at cornerback and center aren't over. But unless the wheels come off for
Alterraun Verner
and/or
Rob Turner
they should hold on to their lead and be the guys to start on opening day in Pittsburgh on Sept. 18. Verner doesn't have the physical gifts of
Tommie Campbell
, but he's simply a better, more instinctive and smarter football player. Turner will add more of a nasty edge than
Fernando Velasco
.
Win more head to head on defense:
Through two games the Titans' front-line defenders have repeatedly failed to get of blocks and attack the way this team intends to. Senior assistant/defense Gregg Williams said this week that a lot of those guys who stayed blocked are guys who don't wind up making teams. But the guys who are certain to be around need to change the tone, be the aggressors and make more plays. There is no real scheming going on, so right now, it's far more about what you can do against the guy trying to stop you.
Sticky fingers:
The Titans' starting receivers,
Kenny Britt
and
Nate Washington
, had costly drops in last week's loss in Cincinnati. So did undrafted rookie tight end
Jack Doyle
. They all messed up the rhythm, flow and pace of the offense. If quarterback
Jake Locker
plays as well as he did a week ago and his targets can hold on to what he throws to them, we should see some additional progress for the passing game.
August, 17, 2013
8/17/13
10:26
PM ET
Quarterback
Jake Locker
played a confident and efficient first-half. The run game looked good again. Defensive tackle
Jurrell Casey
turned a triple play with a sack, forced fumble and fumble recovery all in one swoop.

Those were encouraging developments.
That was about it for the front-liners, and those positives were swallowed up by a pretty lengthy list of bad stuff for the
Tennessee Titans
in preseason game No. 2, a
27-19 loss at Cincinnati
on Saturday night.
A look at much of what went wrong:
Third-and-long failures.
Tennessee allowed Cincinnati to convert third-and-longs and string together three long drives before halftime as the Bengals built a 17-3 lead. The headliner in third-down defensive gaffes was strong safety
Bernard Pollard
. He and nickelback
Coty Sensabaugh
missed chances to tackle
Mohamed Sanu
on a 24-yard catch and run to the 1-yard line that set up Cincinnati's first score. A bit later, Pollard couldn't bring down a crossing
Brandon Tate
, who ran away from him for another third-and-long conversion.
Injuries.
Both strongside linebacker
Akeem Ayers
(right ankle) and wide receiver
Kendall Wright
(knee) rode a cart to the locker room after suffering first-half injuries. Both rank high on the list of players the Titans can least afford to be without. The Titans don't have a quality, big linebacker backup for Ayers and Wright is probably the most unique receiver on the team. Ayers was on the sideline in the second half,
not in a walking boot
per Jim Wyatt of The Tennessean on Twitter.
Drops.
Receiver
Nate Washington
could have made a tough catch at the goal line. He was well covered by
Adam Jones
for a while, but the ball looked like it went through his hands. Receiver
Kenny Britt
let a good throw from Locker bounce off his hands. Undrafted tight end
Jack Doyle
had a terrible drop on what should have been an easy catch for a good gain.
Run defense.
Bengals rookie running back
Giovani Bernard
looked very good (seven carries for 37 yards). He took one carry 22 yards and went the same distance for his one catch. Bernard got a lot of his work on one drive and looked to tire out the Titans' defense. On a
Cedric Peerman
run, the Titans missed two chances at a tackle for a loss (linebacker
Patrick Bailey
and defensive end
Ropati Pitoitua
), allowing him to escape outside.
Missing kicks:
After moving ahead 3-0, the Titans missed three field goals in a row, with two of the off-target kicks coming from
Rob Bironas
and another from
Maikon Bonani
. It's bad enough that the Titans had to settle for field goals. Bironas hooked the first miss wide-left, and the second went wide-right. The usually reliable Bironas missed time recently with a back issue and this was his first preseason action. Hopefully for Tennessee, his problems were related to rustiness.
Solid fade:
The Bengals got a very nice
Andy Dalton
throw and Sanu catch on a 2-yard fade in the back left of the end zone.
Tommie Campbell
wasn't as bad as he was in the preseason opener, and he had a good play on him here. He did get his hands on Sanu early, but Sanu just made a good play. That said, he didn't look to seize the job in this game.
Alterraun Verner
made two plays in the first five minutes of the second half. Forget the physical attributes. Verner is a just better football player who understands the game better and has superior instincts.
The second half:
The second and third teams fared better and produced a couple of touchdowns. One gaffe of note early in the fourth quarter, however: Right end
Scott Solomon
crashed to the middle of the field rather than containing on his side. Young Bengals running back
Dan Herron
reversed course and ran to where Solomon should have been. The result was a 39-yard touchdown scamper that wound up providing the winning margin.
August, 10, 2013
8/10/13
1:00
PM ET
NASHVILLE, Tenn. -- Look at the
Tennessee Titans
from any angle and the focus winds up on the same spot: starting quarterback
Jake Locker
.

The Titans did a lot of overhauling after a miserable 6-10 season. All of it puts the third-year quarterback in a better position to succeed.
"I think throwing with confidence makes a big difference, and that's what I feel like I am doing this year," Locker said.
The Titans parted with
Matt Hasselbeck
and brought in
Ryan Fitzpatrick
as the No. 2. They are confidant Fitzpatrick can step in and win games if needed, but they have no leash on Locker. The entire organization is committed to him and believes he's the right guy to quarterback the team to a turnaround.
"He's really taken ownership," Fitzpatrick said. "You can see he's a confident guy, and that's one thing that you really need as a quarterback. He's really worked at his game mentally. We're progression-based now, and he's really trying to take it to the next level in terms of his footwork and accuracy. This whole offseason I've definitely seen improvement."
Locker will be running an easier, more straightforward system. He's got a "move" tight end in
Delanie Walker
(not currently healthy) who adds a dynamic the Titans haven't had since Locker was drafted with the eighth overall pick in 2011. The receivers are deep and talented. The offensive line could be a dominant group, which should mean a
Chris Johnson
/
Shonn Greene
run game will provide great balance. And the defense should get Locker the ball back more often and with better field position.
I've seen steady progress and more consistent play in recent practices. But he needs to carry that over into games, and he needs to address two things that might qualify as habits: a tendency to start slow, and a propensity to throw more comfortably and more accurately to his left than to his right.
THREE HOT ISSUES
[+] Enlarge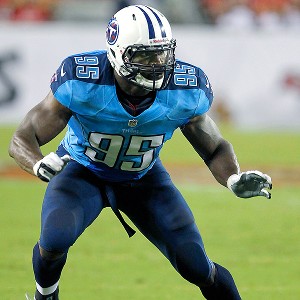 AP Photo/Tom DiPaceThe Titans hope to give pass-rusher Kamerion Wimbley a lighter workload this season.
1. The pass rush.
The Titans generated a reasonable total of 39 sacks last season, with 6.5 from
Derrick Morgan
and six apiece from
Kamerion Wimbley
and
Akeem Ayers
. The Super Bowl Champion
Baltimore Ravens
ran the same number of defensive plays (1,086), and they had 37 sacks.
But no single player on the Titans' defensive front ranked as a scheme-changer that offenses had to account for before every play. And the committee work in conjunction with coverage that was far too soft, far too frequently, played a big role in allowing a league-worst 471 points.
They didn't change a lot at end. They added size in end
Ropati Pitoitua
, who figures to play a lot of run downs, and depth in fifth-rounder
Lavar Edwards
. Ayers will be a much more regular presence as a pass-rusher, and both Morgan and Wimbley will play much less than 80 percent of the snaps, which wore them down a year ago. Does all that and a more aggressive scheme influenced by Gregg Williams turn the Titans into a more threatening pass-rushing team? I can't say yes yet.
2. Two important coaches.
Dowell Loggains took over as offensive coordinator with five games left last season, but it's not like he could revamp everything Chris Palmer was doing. Given an offseason, he has. These Titans will be less reactive and try to dictate more, and the options routes that complicated things and counted on receivers and the quarterback to read things the same way are gone. Things are tailored to Locker now, and Loggains has more talent at his disposal than Palmer did in 2011 or 2012.
On defense, Williams returns from his year in Bountygate exile with a simple promise he expected would help him win players over: That he can make them better. He's not the same guy he was back when he was the Titans' defensive coordinator from 1997-2000, but the season suspension certainly made him reflect and he comes back a different guy from the one who was coordinator for the Saints. I suspect he will positively impact key guys on this defense like Ayers, cornerback
Tommie Campbell
, safety
Michael Griffin
and defensive tackle
Jurrell Casey
.
3. The offensive line.
Last season was a disaster, as the Titans had to call on more depth than any team can have. But the franchise counted on coach Mike Munchak and another offensive line Hall of Famer, line coach Bruce Matthews, to develop guys. A couple they counted on who never reached the expected level are gone now, and the Titans have much better players in place of
Leroy Harris
and
Eugene Amano
.
With a line of
Michael Roos
,
Andy Levitre
,
Fernando Velasco
/
Robert Turner
/
Brian Schwenke
,
Chance Warmack
and
David Stewart
, Tennessee feels like it has re-identified
its identity
.
"If we're going to win, it's going to be because our offensive line is a lot better than it was last year, and we're physical, and we're relentless, and we're going to move people around on both sides of the ball," Munchak said at the start of camp.
REASON FOR OPTIMISM
They identified last season's issues and have addressed them all in some fashion. That's with coaching staff alterations, changes in thinking and scheme, major player additions in free agency and a draft that looks solid. This isn't a team that sat back and assumed that given another year of seasoning, its 6-10 record could turn into 10-6. It took action. Now we have to find out if the moves and changes total up and produce a big difference in overall outcome.
[+] Enlarge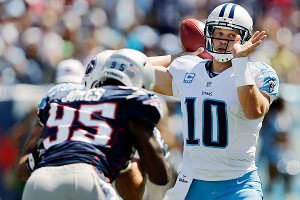 AP Photo/Joe HowelThe Titans need QB Jake Locker to make big strides quickly if they are to survive a tough early schedule.
REASON FOR PESSIMISM
The unproven quarterback and the schedule. The Titans open at Pittsburgh and at Houston, and also play San Diego, a team Tennessee always struggles with, at Seattle and San Francisco before the Oct. 27 bye. It's impossible to predict how the competition will be. But through the first seven games, 4-3 might qualify as pretty good but might still leave them having to chase to get into playoff contention.
OBSERVATION DECK