April, 27, 2012
4/27/12
11:12
PM ET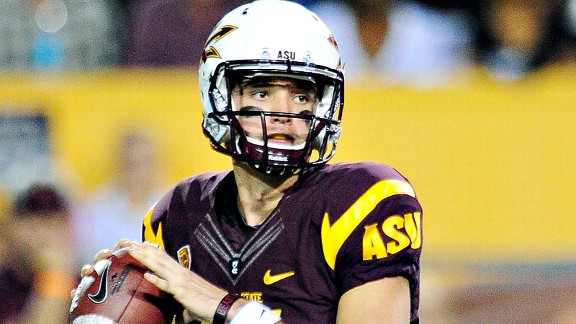 Matt Kartozian/US PresswireBrock Osweiler will have the luxury of learning behind Broncos QB Peyton Manning.
Any questions about how much Broncos executive VP John Elway values classic strong-armed quarterbacks?
In a yet another statement of his anti-
Tim Tebow
approach to the position, Elway made his second big quarterback splash in a month by taking intriguing Arizona State prospect
Brock Osweiler
with the No. 57 overall pick.
Bypassing more pressing needs, Elway made this pick with the most important position on the field in mind -- beginning roughly in the 2015 season. It's clear Elway wants to go to bed at night without having to worry about who his quarterback is going to be for the next dozen years and he clearly wants to distance himself from the option days of Tebow, which Elway tolerated only until he found a special solution.
Of course, the immediate future at quarterback is
Peyton Manning
. After electing to continue his career with the Broncos, Manning signed a five-year deal with Denver four days before his 36th birthday last month. By all indications, Manning is healthy and he should be able to give Denver at least three good years.
The 6-foot-7 Osweiler is now in line to be Manning's successor. The Broncos see something special in Osweiler. They didn't need to take a quarterback this year or next year. But they see a raw specimen in Osweiler.
The knock on him is he is a bit green. So what better team for him to end up with than the Broncos? ESPN analyst Todd McShay has said on multiple occasions that Denver is the perfect spot for Osweiler.
He can watch and learn from Manning without any pressure. Osweiler -- who said one of his closest friends is Elway's son, Jack, a former Arizona State player -- realizes the great opportunity he is getting.
"I could not be any more excited to be going to Denver to learn from Peyton Manning," Osweiler told reporters Friday night. "A lot of quarterbacks might be upset about having to sit behind somebody, whereas I look at it as a tremendous opportunity to learn from one of the best, if not the best, quarterback to ever play the game."
If Osweiler can't parlay his time with two of the greatest all-time quarterbacks into NFL success, then that's his fault. And if Osweiler is a flop, the Broncos will know it before he needs to take over for Manning from extensive practice and preseason play. Thus, the Broncos will have the opportunity to find another replacement for Manning if necessary.
Sure, this is a luxury pick and Denver could have benefited from a receiver or a running back at the No. 57 spot. (They traded up to take San Diego State running back
Ronnie Hillman
in the third round.) But if this is a guy the Broncos think can be special, why not take him?
[+] Enlarge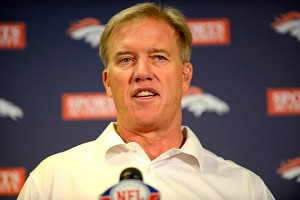 Ron Chenoy/US PresswireJohn Elway has completely turned over the quarterback position in Denver this offseason.
Like all 2012 quarterback prospects not named
Andrew Luck
or
Robert Griffin III
, Osweiler was deeply dissected and opinions varied on him. Some scouts thought he deserved to be a first-round pick, while others thought he should be taken in the fourth round.
The Broncos long have followed Osweiler. Their pursuit of him heightened after Manning signed. I think he moved up Denver's draft board based on the combination of Osweiler being a similar type of quarterback as Manning and the fact that he can be groomed for years.
Had Manning not signed, I don't think Osweiler would have been the pick. Had Manning gone elsewhere, I am convinced Denver would have traded up from No. 25 to take Oklahoma State quarterback
Brandon Weeden
and make him an instant starter. Weeden went to Cleveland at No. 22 and he is expected to start.
Osweiler, like Weeden, can drop jaws with the long pass. In fact, ESPN's Chris Mortensen wrote that
many scouts think Osweiler can make every throw
. While McShay and others are high on the former basketball player, ESPN analyst Mel Kiper Jr. worries about Osweiler's accuracy and Kiper doesn't think Osweiler plays with the command of a player his size. However, fellow ESPN analyst Jon Gruden likes Osweiler and likes the fit in Denver.
"He can cut it loose … he is a pocket passer and he moves around better than people think," Gruden said. "It's a good pick by Elway."
There is no doubt that this was an Elway pick. After enduring a forced relationship with Tebow, Elway has made sure he is now equipped with his type of passers for the present and the future.
March, 2, 2011
3/02/11
12:00
PM ET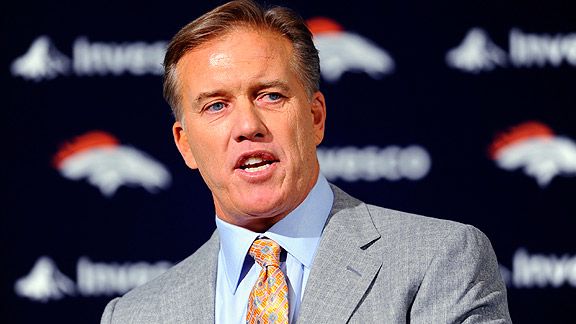 Ron Chenoy/US PresswireJohn Elway is trying to recapture the same magic in a business suit that he had in a jersey.
Two vehicles sat in an otherwise empty employee parking lot on a quiet Sunday in February at the Broncos' suburban Denver headquarters. One of the cars belonged to the most recognized person in the state of Colorado.
It was fitting.
John Elway
became famous for his Sunday work for the
Denver Broncos
over the course of a 16-year Hall of Fame career. Now, 12 years after retiring as one of the best quarterbacks to play the game, Elway is embarking on another career, aimed at making the Broncos relevant and showing that legends can make the transition from the field to the front office.
Elway was hired as vice president of football operations by long-time friend and Broncos owner Pat Bowlen days after Denver ended a disastrous 2010 season in which it went 4-12. It was Denver's lowest win total since it went 2-7 in a strike-shortened 1982 season the year before Elway came to town.
[+] Enlarge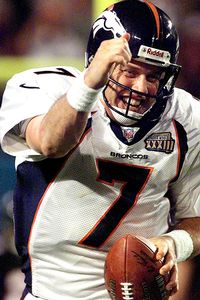 JEFF HAYNES/AFP/Getty ImagesThe Broncos won the Super Bowl in John Elway's final season. A year later, they were 6-10.
Many league observers thought the Elway hiring was a publicity stunt to help draw attention away from the disastrous two-year Josh McDaniels era that alienated much of the team's deep-rooted fan base. Elway, however, has been working to get into this position for years, including a successful tenure as the leader of Denver's championship Arena League team that he and Bowlen ran.
In the two months since Elway has been in charge, he has led the way on the hiring of respected new coach John Fox, led the team's scouting contingent at both the Senior Bowl and NFL combine and spearheaded the key re-signing of star cornerback
Champ Bailey
. In between, Elway's face has been pressed against a television screen, watching film of Denver's roster as well as free agent and draft prospects.
"He is all in. This is not a public relations move," Fox said. "He is burning the midnight oil, he is working hard and he is very willing to learn … He understands what a football player looks like. Standing in the huddle and doing the things that he did as a team leader, as a football player at the quarterback position -- I think he understands what a football player looks like. I have been very impressed. He has a great willingness to learn the things he does not know, but he knows football and I am confident."
One of the primary reasons the McDaniels regime ended quickly was because the young coach often acted alone in key decisions, many of which ended up being mistakes. Elway has the final say on all decisions. He is quarterbacking a three-man group that includes Fox and general manager Brian Xanders. Elway is trying to do what many former superstars have tried and failed at -- recapturing the same magic in a business suit that he had while wearing a jersey. Elway said he'd like to pave the way for future stars in the front office by having success in this new endeavor.
"I would hope so," a relaxed, still in-playing-shape Elway said at the combine last week. "I think it is a matter of being in the right place at the right time and also having the qualifications to be able to do it. I think that if I had not been -- obviously, [I was] a little bit inexperienced -- but if I had not been through the Arena Football League for six years, I am not sure that I would be standing here. Looking back through what I have been through in the month and a half that I have been back, what I learned in the Arena Football League has been invaluable. I am glad I did that and the experience I gained there has helped me tremendously so far."
This job is in Elway's blood. He is not the son of a Hall of Fame quarterback, but the son of a respected talent evaluator. Elway's father Jack was a respected Broncos scout after he retired as the head coach at San Josť State and Stanford. In the time between Elway's 1999 retirement and his father's death in the spring of 2001, the two often talked about prospects and the art of scouting. Elway said he has felt his father's influence this winter.
[+] Enlarge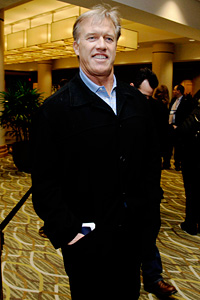 AP Photo/Darron CummingsJohn Elway was in Indianapolis for the scouting combine.
"It was good for me just to be able to see him watch different guys and get his opinion on different guys and see if I was seeing the same types of things that he was seeing," Elway said. "There are guys that are still playing that back then -- he was a big
Drew Brees
fan back then -- those types of things that stick in my mind and different guys that he was talking about. And, I would ask him, 'What did you see?' And the thing was the competitiveness [of the player], and that is what I remember him saying about guys that are competitors -- especially about Drew. So, that is one thing that stuck in my mind."
Elway realizes people expect him to be a great evaluator of quarterback talent. But he said he is actually more comfortable scouting defensive players, especially pass-rushers and defensive backs. Those were the players that Elway studied as a player and he knows what he is looking for in those positions. That's a lucky break for the Broncos, who have the No. 2 overall pick in the April draft. Denver, which was last in the NFL in total defense and points allowed in 2010, is expected to draft mostly on the defensive side of the ball.
Elway said he will lean heavily on his staff, but his influence will be felt. Xanders said the arrangement is working well so far.
"We all communicate well," Xanders said. "John knows what he doesn't know."
Elway's last boss in Denver thinks the Stanford graduate, who was known for being one of the most clutch players in NFL history, is the right man to lead the Broncos in this desperate time.
"John is a football person, obviously his dad was a great football coach," said Washington Redskins coach Mike Shanahan, who won Super Bowls with Elway in Elway's final two seasons as a player. "I had a chance to be with John a lot of years both as an assistant and a head football coach. Obviously he's very passionate, very bright, very organized. I know he's biting at the bit to prove to people that he can get the Broncos back to where they used to be and I know he can get the job done."
Whether or not Elway is successful, it won't be because of lack of effort. The first two months of Elway's new foray have shown he's willing to work at his new trade.
"It's a lot of work," Elway said. "But it's fun and it's going to be worth it."
April, 11, 2009
4/11/09
2:34
PM ET
Posted by ESPN.com's Mike Sando
Years ago, I spent a great deal of time culling from various sources every NFL draft choice since the 1930s. Being able to sort that information by numerous criteria carried great value.
ESPN.com has taken it to another level with this draft tool allowing for sorting of every choice since 1967 by the following criteria: year, round, team, college awards, college, pro coach, college coach, high school and high school state.
I sorted it to check for every player Bill Walsh drafted from a Jack Elway-coached program (Stanford in this case). The results: Stanford quarterback John Paye, chosen with the 24th pick in the 10th round (275th overall), a choice acquired from the Patriots through the Raiders.
Cool stuff for any data freak.