NFL Nation:

Jack Harbaugh
April, 19, 2014
4/19/14
11:20
AM ET
Nothing breaks up the monotony of training camp like a Harbaugh hoedown.
As expected, the
Baltimore Ravens
announced they will host the
San Francisco 49ers
for some scrimmages during training camp. The workouts between the former Super Bowl opponents appeared likely once the NFL announced earlier this month that the 49ers would open the preseason at Baltimore Aug. 7.
It is the first time the 49ers are playing on the East Coast in the preseason in nearly 20 years. The Harbaugh brothers -- John coaches the Ravens and Jim coaches the 49ers -- are going to take advantage of the long trip for the 49ers to get some extra competition time in.
NFL teams often do this in the offseason. This scenario is a bit different because the practices will be held after the game. John Harbaugh told reporters the two teams will practice at Baltimore's M&T Stadium on Aug. 8. They will work at the Ravens' practice facility for the next three days. The 49ers then host Denver the following weekend in their first game at Levi's Stadium.
"We felt like the first two weeks, we needed to do our install process and all that kind of stuff and it would be better after the game," John Harbaugh said. "It's just going to be fantastic. I can't wait to do it."
In Harbaugh style, expect it to be a full family affair, including an appearance by the coaches' 74-year-old father, Jack.
"Dad is going to be out there," John Harbaugh said. "He's going to be the unofficial official. He's going to be in charge of breaking up all fights. If we start rolling around on the field, Dad is going to have to jump in, I guess."
Just like old times.
January, 27, 2013
1/27/13
12:00
PM ET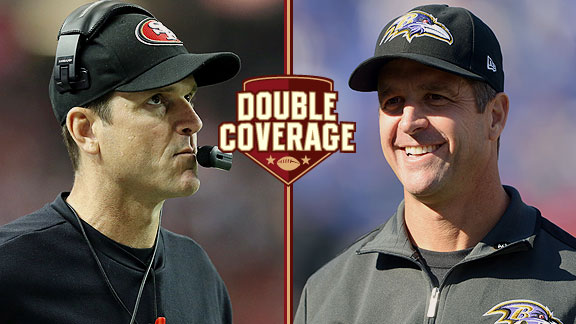 USA TODAY SportsGambles have paid off for Harbaugh brothers Jim (left) and John on their way to the Super Bowl.
Perhaps you've heard the news: Super Bowl XLVII features two head coaches from the same family. Brothers, in fact. You could look it up, or you could listen in while NFC West blogger Mike Sando and AFC North counterpart Jamison Hensley take (family) matters into their own hands.
Sando:
The
Baltimore Ravens
seem like such a close-knit group. They seem like family even more than Jim and John Harbaugh do. But a few years ago, I recall hearing how some Ravens players weren't taking to John Harbaugh's abrasive, authoritarian coaching style. I'd be curious to know if there's been an evolution at all, or to what degree the relationship between John Harbaugh and the team has grown. What has changed?
Hensley:
Mike, you're right that it's taken the players time to warm up to John. A lot of players thought he came across as too blunt and bent on doing things his way. In June 2010, at least one player complained to the NFL Players Association about voluntary offseason practices being too physical and meetings running too long. The Ravens were forced to cancel one week of their spring camps because of that.
To be fair, John Harbaugh came into a situation in which the locker room was filled with strong personalities, and he had never been a head coach before. But Harbaugh has grown into the role of head coach, especially this year. Players talk about Harbaugh being more open-minded and responsive to them. They feel more comfortable airing out their differences. This team is tighter than any of the previous ones under Harbaugh, and he has played a big role in that. I'm sure Jim faced some equally tough challenges in his first couple of seasons with the 49ers.
Sando:
Jim Harbaugh also inherited a team with quite a few established players. But those players embraced him from the very beginning for reasons that say quite a bit about what makes a head coach and his staff credible. Players in San Francisco were starving for a coaching staff with the right answers to their schematic questions. Former coach Mike Singletary's inspirational approach lost traction eventually because the offensive scheming was so lacking. Players will not respect coaches over the long term if those coaches don't have schematic answers. Jim Harbaugh and his coaching staff have had those answers.
There is still room for growth in other areas for Harbaugh, however. His unrelenting intensity could have a limited shelf life if left unchecked. His approach carries long-term risks as far as sustainability. But with the team advancing to the Super Bowl within a two-season period of his hiring, that isn't an issue now.
Hensley:
The key word that you touched upon is risk. The common theme is John and Jim aren't afraid of it. That was apparent by the bold moves they made during the season.
[+] Enlarge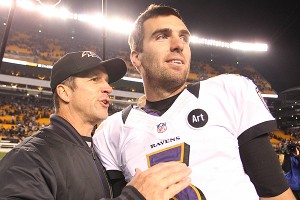 Charles LeClaire/USA TODAY SportsJoe Flacco has responded well to a late-season coaching move by head coach John Harbaugh (left).
John Harbaugh fired his offensive coordinator with three weeks remaining in the regular season when the Ravens were in first place in the AFC North and on the brink of clinching a playoff berth. Who does that? Harbaugh handed the offense over to Jim Caldwell, who hadn't called plays since his days at Wake Forest more than a decade ago.
The result has been more of a commitment to the run and loosening the reins on
Joe Flacco
. It could have backfired on Harbaugh, but he repeatedly said it was the right move for the team.
The only move that would trump a coaching change like that is switching your quarterbacks at midseason. Oh, wait. That's treading on your territory, Mike. I know people will get tired of hearing about the brothers and the Har-Bowl, or whatever you want to call it. But John and Jim have made the necessary moves to get their teams to this point.
Sando:
No question. Jim Harbaugh easily could have stayed the course with
Alex Smith
, who had posted a 19-5-1 record as a starter and taken the team to the NFC Championship Game a year ago. That would have been the safe move. That would have insulated Harbaugh from criticism if
Colin Kaepernick
faltered, which easily could have happened in the short term as the offense adjusted to a quarterback with a different style.
Anything less than reaching the NFC Championship Game this season would have cast the Kaepernick decision as a failure in the public's eye -- and maybe in some players' eyes, too. I do suspect the decision wasn't as tough for Harbaugh as it appeared from the outside. He traded up to draft Kaepernick. He watched Kaepernick light it up against Chicago in that Monday night game before he decided on the starter going forward. Harbaugh was in position to know how good Kaepernick could be. He just had to navigate through the politics of an in-season change.
Hensley:
The biggest change John Harbaugh made since he took over in 2008 was with the team culture. The Ravens were seen by many as thugs who talked trash to every opponent. In his introductory news conference, Harbaugh said his focus was going to be on three things: team, team and team.
Harbaugh's greatest strengths as a coach are his attention to detail, ability to motivate and focus. Walk the halls of Ravens headquarters, and you'll see one of Harbaugh's favorite slogans throughout the building: W.I.N. (What's Important Now). Some players think it's too rah-rah for the NFL, and it seems better suited for college. But you can't argue with Harbaugh's results. He's the only head coach in NFL history to win a playoff game in each of his first five seasons, and also the only coach to advance to three conference title games over that same span. If the Ravens win the Super Bowl, Harbaugh will tie Bill Belichick for the most wins since the start of the 2008 season.
Sando:
Not bad company there, Jamison. The slogans you cited made it clear to me that we will not need DNA testing to confirm the relationship between these two Super Bowl coaches and their formerly coaching father, Jack. "The team, the team, the team" is a favorite Jim Harbaugh saying. He also posted a sign outside the 49ers' locker room in Santa Clara stating that a person is getting better or getting worse, never staying the same.
Jim also likes to punctuate victories in the locker room by gathering the team around him and asking, "Who's got it better than us?" To which the players scream, "Nobody!" That one came from Jack Harbaugh back when the family was moving frequently and living on a tight budget. The Harbaughs are rolling in money now, at least relatively speaking, but they sound like the same guys in so many ways.
Hensley:
While we have talked about the similarities of the Harbaugh brothers as coaches, no one should lose sight of the family element here. It must be tough for John and Jim to know that only one is going to be holding the Lombardi Trophy. It must be tougher for their father and mother.
One of the reasons Jim chose the 49ers was because they were in the NFC and that reduced the chances of facing John on a regular basis. That's why I agree with Jim that this is both a blessing and a curse. There will be stories all week leading up to the Super Bowl celebrating the top coaching family in football. Come Sunday night, only one brother will be celebrating.
January, 20, 2013
1/20/13
11:52
PM ET
Five nuggets of knowledge about Super Bowl XLVII, in which the Baltimore Ravens face the San Francisco 49ers on Feb. 3:
1. Family affair:
The coaching Harbaughs, Jim and John, will of course be on opposite sidelines when Jim's
San Francisco 49ers
face John's
Baltimore Ravens
for the Lombardi Trophy. Let's get some of the specifics out of the way early. John turned 50 on Sept. 23, the day his Ravens played New England in a Sunday night game. Jim turned 49 on Dec. 23, the day his 49ers played Seattle in a Sunday night game. John played defensive back at Miami of Ohio. Jim played quarterback at Michigan before a 14-year career in the NFL. Their father, Jack, played at Bowling Green. Jack Harbaugh coached high school ball in Ohio before coaching at Western Michigan and Western Kentucky. And don't forget about Jackie, wife of Jack and mother to the coaching brothers.


2. What's new this time:
The Ravens handled the 49ers, 16-6, when the teams played during the 2011 season. Much has changed since then, particularly for the 49ers.
Alex Smith
, sacked nine times in that Ravens game and 75 times in his past 28 games overall, is no longer starting at quarterback. His successor,
Colin Kaepernick
, has taken five sacks in his past five starts, counting playoffs. The 49ers should also be much more rested this time than when they traveled across the country on a short week to face the Ravens in that Thanksgiving game last season.
3. Passing the torch:
This Super Bowl matchup features two of the most dominant inside linebackers of their eras. San Francisco's
Patrick Willis
counts Baltimore's
Ray Lewis
as a friend and mentor. The two have combined for 19 Pro Bowl appearances and 12 first-team Associated Press All-Pro selections. Lewis plans to retire after this game. He has called Willis a worthy heir to his throne as most feared linebacker in the game.
4. The option option:
Kaepernick handed off on each of the 49ers' 13 option plays against the
Atlanta Falcons
in the NFC Championship Game. A week earlier, Kaepernick kept the ball seven times on option plays and gained 99 yards on them against Green Bay. He had 181 yards rushing against the Packers overall. The Ravens have faced the option in one game this season. Washington had 15 option rushes for 93 yards against Baltimore in Week 14, but Redskins quarterback
Robert Griffin III
finished that game with his fourth-lowest Total QBR score (42.6) of the season, counting playoffs. Griffin left that game with a knee injury.
5. Three in a row:
The 49ers have won three games in a row for the first time all season. They are looking to become the first team in NFL history to win a Super Bowl without posting three or more consecutive victories during the regular season. The Ravens had two four-game winning streaks during the season. They've won three in a row during the postseason after losing four of their final five to close the regular season.
January, 17, 2012
1/17/12
10:00
AM ET
It was a major family affair when John and Jim Harbaugh coached against each other on Thanksgiving night.
Can you imagine the spectacle if the brothers went head-to-head in the Super Bowl? It's a realistic possibility with John Harbaugh's Ravens and Jim Harbaugh's 49ers one win away from competing for the Lombardi trophy.
Jack Harbaugh, the father of John and Jim, told
790 the Zone
in Atlanta that the family will think about that possibility once the AFC and NFC championship games are over Sunday.
"That's a long way away and we haven't thought about it, discussed it, so we just kinda play that out," Jack Harbaugh said. "The most important thing is this is about Jim and John and we hope that they both have success as all parents out there can understand that have children that are involved in any type of activity."
Jack Harbaugh and his wife won't be traveling to San Francisco or New England to watch in person. They'll be sitting at their Wisconsin home.
"We're able to stay here and watch and we've got understanding neighbors when they hear the pounding and the shouting they understand that it's just part of the weekend routine for us," he said. "We're very comfortable and very happy where we are and enjoying from long range."
John Harbaugh watched the 49ers edge out the New Orleans Saints on Saturday, and Jim Harbaugh saw the Ravens beat the Houston Texans on Sunday.
"It's pretty neat," John Harbaugh said. "I'm proud of him. He's proud of what we're doing. Our parents are pretty fired up."
Said Jim Harbaugh: "I had a chance to watch his game, and find myself, as always, pulling very hard for him and his team. I'm very happy for him and his success."
November, 23, 2011
11/23/11
1:34
PM ET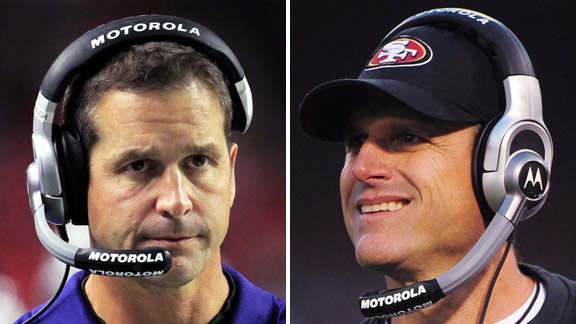 US PRESSWIREJohn and Jim Harbaugh will become the first brothers to face off as head coaches in NFL history.
Thanksgiving night isn't the first time that John and Jim Harbaugh have squared off.
In the Harbaugh household, there was a tape line in the middle of the brothers' room, and as John puts it, you didn't cross it unless you were prepared to fight. There was that challenging slope in the backyard that caused arguments on whose turn it was to mow it. And there was that family vacation that resulted in a wrestling match on the beach ... when the brothers were in their mid-20s.
John and Jim Harbaugh acted like most brothers growing up, but they're not just any pair of siblings Thursday night. On a day when football and family goes hand in hand, they become the first brothers to go against each other as NFL head coaches when the
San Francisco 49ers
, coached by Jim, play at the
Baltimore Ravens
, coached by John. Both have led their teams atop their divisions and are seeking first-round byes in the playoffs.
It's historic, pressure-filled and somewhat complicated. The Harbaughs are their own biggest supporters, defenders and confidants. They've always been teammates, on and off the field. They consider themselves best friends. In fact, they've faced each other in an official game only once before. It was high school American Legion baseball, and John's team won, 1-0.
For the Brothers Harbaugh, it's more about sibling respect than rivalry.
"I have never rooted against him, really, ever," John Harbaugh said.
This is just as tough on the family. It's one of the reasons why Jim Harbaugh chose a head-coaching job in the NFC, so this would happen once every four years.
John and Jim's parents, Jack and Jackie, usually watch John's early afternoon game followed by Jim's later afternoon one. They will be in Baltimore for this game, but only briefly. The parents will pose for a pregame picture on the field and go to a place where they can watch the game privately on television.
"We know it's going to be emotional, we're just not sure what emotions we're going to experience," Jack said. "It's such uncharted waters."
Jack and Jackie's 50th wedding anniversary is the day after the game. That will be time for celebration. Thursday night could be a time of consternation.
The parents can't root for one son because it means rooting against the other. Neither will wear purple or scarlet red and gold that day.
"If it ends in a tie," Jackie said, "wouldn't that be wonderful?"
That would be fitting considering the closeness of the brothers. John was born in 1962. Jim was born in 1963. They shared a room together for 16 years and much, much more.
When John Harbaugh became coach of the Ravens, he wanted a blue-collar mentality so he handed out blue-collar shirts to his players. Jim did the same thing this year with the 49ers.
When Jim Harbaugh was coach at Stanford, he had a sign that read: "Stanford football is hustle. Constant hustle. Hustling all the time." John has that same sign -- with Stanford being replaced by Ravens -- hanging outside an office.
"Sharing ideas, sharing goals, sharing dreams. We've been doing it our whole lives," Jim Harbaugh said.
Both are highly emotional coaches. Jim Harbaugh got into an on-field confrontation with Detroit coach Jim Schwartz earlier this year after an overly aggressive handshake. A few weeks later, John Harbaugh came into the postgame news conference in Pittsburgh with a bloodied gash on his chin because he hurt himself while making a celebratory leap at general manager Ozzie Newsome.
Their parents know how physical John and Jim can get and often had to become referees between the two.
"We had some knockdown drag-outs when we were younger," John Harbaugh said. "I can remember my mom screaming, whaling and crying, 'You're brothers! You are not supposed to act like this! You're supposed to get along better!' There are probably a lot of mothers out there that can relate to that."
The brothers, though, have fought for each other as adults (albeit that one time when Jim got John in a headlock at the beach). John could have been jealous of Jim playing quarterback at Michigan and the NFL. Jim could have been envious of John becoming an NFL head coach first.
John still calls Jim the most underrated quarterback that ever played. "If you can't root for your brother," John said, "I don't know who you could possibly root for in the world."
Jim believes John's success as an NFL head coach paved the way for him by putting out the notion, "Maybe Jim's just cut from the same cloth."
Some suggest the brothers are different in their approaches. John is often characterized as the cerebral one, and Jim gets the competitive label.
"Put a brick wall in front of Jim, and he'll run through it," said Matt Weiss, who has been John's assistant for the past three years and worked under Jim from 2005 to 2008. "Put that wall in front of John, and he'll find three ways around it."
Before this season, John and Jim would take once a week or once a month to talk football. They would exchange thoughts, strategies and approaches.
"He's a guy I trust the most and would entrust him with absolutely anything in my life," John Harbaugh said.
The relationship has changed since the 2011 schedule was announced.
"Leading up to this, John has talked freely and openly about football with me," Jim Harbaugh said. "Now, it's more talking in code. I'm being serious. I can see there are limitations to what he's telling me. I thought love had no boundaries, but now I see that it does."
But they still act like brothers these days. Just look at the back-and-forth between them surrounding buying tickets for all of the family members attending the game.
"That's been kind of an expensive proposition," John Harbaugh said. "I haven't heard from Jim. I haven't really gotten an offer. I was surprised about that."
When reporters asked Jim Harbaugh for a response to that, he said: "I'm not really adding up who's doing more or paying more. We're not keeping score. We'll keep score in the game."
John and Jim have got their teams on similar paths. John Harbaugh is on pace to guide the Ravens into the playoffs for a fourth straight season. Jim Harbaugh has turned around the 49ers and has them on verge of being the first team to clinch a division title this year.
The next question that begs asking is: What would happen if the brothers met in the Super Bowl this season?
"I haven't thought about that much," Jack Harbaugh said. "As much as I can't fathom what this is going to be like, I can't fathom what that would be like."