December, 12, 2013
12/12/13
6:25
PM ET
PITTSBURGH – The greatest encounter I never had with
James Harrison
happened about a week after the Steelers outside linebacker griped that officials had allowed too much holding in a 26-21 win at Jacksonville in 2008.
When prodded why he hadn't gotten more calls a still-incensed Harrison said that maybe the officials had money on the game.
I had to write it and less than a week later Harrison received a $25,000 fine by the NFL. He taped the letter explaining why he had been fined on the wall next to his locker, and he asked a pack of reporters later in the day something to the effect of where is that (expletive) Scott Brown? He owes me $25,000.
[+] Enlarge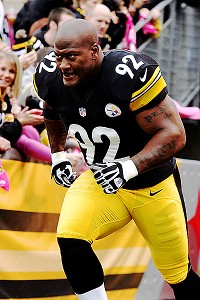 Charles LeClaire/USA TODAY SportsJames Harrison helped Pittsburgh's defense become one of the NFL's elite with his intensity and work ethic.
I paraphrased what Harrison said because I wasn't there when he said it. I was at the opposite end of the Steelers locker room, and to this day I'm glad I only heard second hand what Harrison had said.
The reason: I'm not sure how I would have reacted had I been among the reporters and Harrison showed any inclination that he was serious about collecting my supposed debt.
Nobody that I have covered on a regular basis could intimidate the way James Harrison does, and that is one of many reasons why Steelers fans need to cheer him Sunday night even though he will be playing in a Bengals uniform at Heinz Field.
Harrison emerged as the most unlikely link to the "Steel Curtain" defenses, having been discarded by the Steelers three times before finally sticking with the club.
But his menacing glower came to define the defenses that helped return the Steelers to prominence as much as Jack Lambert's gap-toothed snarl served as the ultimate snapshot for the defenses that transformed Pittsburgh from perennial also-ran into the team of the 1970s.
It is fitting that Lambert and Harrison both played their college ball at Kent State since the two were so alike in temperament and approach to the game.
Harrison could be as ornery as he was intimidating and as Steelers free safety
Ryan Clark
said, "Was he the nicest guy ever? Not really."
But Harrison turned into a leader and the type of player others would fall behind because they saw what took place behind the scenes.
Harrison simply outworked everyone to go from undrafted and unwanted free agent to perennial Pro Bowler and one of the premier pass-rushers in the NFL.
Consider what Dick LeBeau recalled after returning for a second stint as Steelers defensive coordinator in 2004: "There were two guys in here every day,
Brett Keisel
and James Harrison. They both ended up being pretty dang good football players."
Here is what
Jason Worilds
said when I asked him Thursday if he has been around anyone who worked harder than Harrison.
"I haven't seen it," said Worilds, who apprenticed for three seasons behind Harrison. "His approach to the game, day in and day out, was the biggest thing I took from him."
That is but a fraction of his legacy with the Steelers.
And Harrison's body of work -- not to mention his famous body slam of a trespassing Browns fan -- has earned the cheers Steelers fans should shower him with Sunday night when he first steps onto the turf at Heinz Field.
May, 15, 2012
5/15/12
12:00
PM ET
The AFC North blog doesn't give birthday shout-outs, but this one has special significance.
Ravens linebacker
Ray Lewis
turns 37 today, which could be the magic number for him. In April 2011, Lewis hinted at a target date for his retirement when he told the NFL Network, "I can't see myself playing football past 37."

Lewis
Lewis made it clear after Baltimore's AFC Championship Game loss that he was returning in 2012, but there has to be questions about whether he will play beyond this year. At some point, Lewis is going to have to say goodbye to football, although there haven't been any recent indicators he will be calling it quits anytime soon. His contract runs through 2015, and the Ravens showed confidence in Lewis when they once again didn't draft his eventual replacement in April.
Lewis started off strong last season and was among the NFL's top inside linebackers in the first half of the 2011. Then, after missing four games with a toe injury, he seemed to wear down toward the end of the year.
Still, he has been one of the league's top Iron Men. His 222 games played is second-most among active players, ranking only behind a kicker (
Jason Hanson
). He is the longest-tenured Raven on the roster by six seasons (safety
Ed Reed
is second).
No other great middle linebacker has played as along as Lewis. Mike Singletary retired after 12 seasons with the
Chicago Bears
before his play declined. The
Pittsburgh Steelers
' Jack Lambert walked away after 11 years because of a severe toe injury. And the Bears' Dick Butkus stopped after nine seasons because of knee injuries.
Lewis is now entering his 17th season in the NFL. And, after turning 37 today, you have to wonder whether this will be his last.
April, 17, 2012
4/17/12
4:24
PM ET
Rich Saul's former Los Angeles Rams teammates recalled his Pro Bowl talent, scary toughness and, humorously, a legendary appetite that waned only in the retired center's final days.
Early in Saul's career, when he was putting on weight to fulfill George Allen's vision for him as a center, the former middle linebacker from Michigan State would slip a bag of coins under his cap for weigh-ins, fearful the team would cut him if the scale revealed his actual poundage.
That was not all.
"When we would go through the [cafeteria] line in camp, most would put a plate on a tray and then food on plate," recalled former Rams defensive tackle Phil Olsen. "Rich had to eat so much, he would load the food on his tray. He would skip the plate. I'll tell you, up until a few days before he died, we were stuffing him full of food in the hospital."
Olsen and Hall of Famer Jack Youngblood joined the Rams in 1971, a year after Saul. The three bonded quickly, as did their families. Olsen and Youngblood shared a few laughs Monday when remembering Saul, who died Sunday from leukemia at age 64. But they kept coming back to the impact Saul made outside football.
[+] Enlarge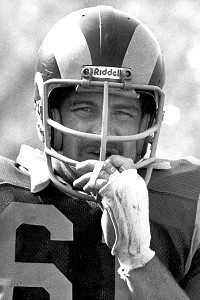 AP Photo/NFL PhotosRich Saul was a six-time Pro Bowler for the Los Angeles Rams.
"I can't express what Richie meant to us," Youngblood said.
Evidence of Saul's impact remains visible in the passages his grown son, Josh, and others shared through a website chronicling the family's recent journey.
"The best was the way he looked at my mom tonight,"
Josh wrote
in an April 6 entry after his father watched the Masters and continued to engage those close to him.
"I have never seen 'I love you' so clearly spoken without words," Josh continued. "Theirs is a bond that will live on forever. I am so thankful to have had such an amazing example of marriage and family leadership to follow."
One of a kind
Saul finished his Rams career with six consecutive trips to the Pro Bowl during a seven-year run as their starting center. That he played mostly special teams for his first five seasons, then emerged as a perennial Pro Bowl choice, seems incomprehensible in a modern context. There was no free agency at the time, however. A team could more easily stockpile and develop talent.
The Rams were stacked on the offensive line under coach Chuck Knox, with Hall of Famer Tom Mack at one guard spot and veterans elsewhere on the line. Saul had never played center in college, putting him at a significant disadvantage. The Rams also made Saul their long-snapper, forcing him to learn another skill that was previously foreign to him. Not that he had much choice in the matter.
And so Saul played special teams with a vengeance, earning the nickname "Super Saul" -- shortened to "Soup" with an eye toward his prodigious appetite. His contract was for $12,500, the minimum at the time, but an incentive clause tied to special-teams tackles allowed Saul to collect additional income.
"He made like 100 tackles on special teams that first year," Olsen said. "He just ran down the field and knocked everybody down."
They still called special-teams units "suicide squads" back then, as reflected in
a 1971 Life Magazine
cover story featuring Saul and others around the league.
"The injury rate is eight times higher on suicide squads than for any other position," a caption in the magazine read.
Saul was undaunted. He'd already overcome a catastrophic knee injury at Michigan State, where Saul and his twin brother, Ron, had earned All-America honors, Rich as a linebacker and Ron as an offensive linemen. That the two would combine to play 318 regular-season games came as an upset following Rich's injury.
"The only thing holding the upper leg to the lower leg was the skin," Olsen said. "It is amazing he got to play in the NFL. He would describe that as a miracle surgery performed by
Dr. Lanny Johnson
."
Tough guy
Youngblood went to seven consecutive Pro Bowls and set a standard for grit by playing through the 1979 postseason, including the Super Bowl, with a broken fibula.
Former Rams guard Dennis Harrah aptly called Youngblood the
"John Wayne" of professional football
. Even John Wayne knew to pick his spots in practice.
"I was a defensive end and Richie was a center, and I knew that I should not go in there because Rich Saul will hurt you if you go into his territory," Youngblood said. "There was many a linebacker in the league who did not like to see the schedule knowing they had to go see Rich Saul. That was going to be an all-day affair."
Former Rams video director Mickey Dukich once
recounted for the Los Angeles Times
a story of Saul, a former wrestler, applying a choke hold on teammate Butch Robertson, a six-time Pro Bowl choice at linebacker.
"Butch passed out," Dukich told the Times for the 1987 piece. "Rich thought he had killed Butch."
Youngblood confirmed the basic details.
"Rich, there was a little conflict in the locker room and it resulted in, he didin't hurt the guy, but he did show that you didn't mess with Rich Saul," Youngblood said. "That was the message. Message was well received."
On the line
The Rams led the NFL in rushing with 2,799 yards during the 1980 season, a total surpassed just twice in subsequent years, by the 1984 Chicago Bears and 2006 Atlanta Falcons. The Rams ranked among the league leaders in that category throughout most of the 1970s, before and after Saul succeeded Ken Iman as the full-time center in 1975.
"[Saul] became an extremely proficient blocker on a team that still used primarily man-to-man blocking on defensive line stunts -- you never see this any more! -- and did a multitude of blocking combinations on running plays," Mack, an 11-time Pro Bowl choice with the Rams from 1966-1978, wrote in an email. "We could slip, slide, fold and cut block defenses as effectively as any team in football and we led the league in rushing. That alone proved he was both smart and a great athlete!"
Saul played 176 regular-season games and 12 playoff games, including the Super Bowl against Pittsburgh following the 1979 season, all for the Rams under four head coaches: Allen, Tommy Prothro, Knox and Ray Malavasi. He was one of three NFL players -- Jack Lambert and Robert Brazile were the others -- to earn Pro Bowl honors every season from 1976 through 1981.
Legacy
Olsen recalled the famous quote from Jackie Robinson about a life lacking import except to the extent it has impacted the lives of others. He said Saul, who succeeded in finance and real estate following football, lived that ethic and cared more about what people thought of him off the field than on it.
"We used to talk about that a lot," Olsen said.
"He took great pride in being a father and a husband and a grandfather. ... He was always going to the hospital to talk to kids with cancer or to send a note or a card or a picture or go to speak to a group that needed something done. He was a very strong advocate for abused and battered children, very active with the Cancer Society and all those organizations that needed someone to stand up and speak on their behalf.
"That is how people will remember him, as a humanitarian, a good father, a good friend."
April, 16, 2012
4/16/12
4:54
PM ET
Three NFL players earned Pro Bowl honors every season from 1976 through 1981.
Hall of Famer Jack Lambert was one. Robert Brazile, who might also be
deserving
, was another.
The third: Rich Saul, who played 176 regular-season and 12 playoff games for the Los Angeles Rams from 1970-1981.
Saul, who
died Sunday at age 64
following a 13-year fight with cancer, made a profound impact on and off the field. That comes through in the
testimonials left for Saul
on a Caring Bridge website, and in conversations with his former teammates.
"I can't express what Richie meant to us," Jack Youngblood said Monday.
Saul, Youngblood and Phil Olsen remained close friends from their playing days with the Rams to the present. I'm looking forward to passing along more of their thoughts and remembrances in an upcoming piece.
Saul spent years as an elite special-teams player before finishing his career as one of its best centers -- despite never playing the position in college.
"The most remarkable thing about Rich was not who he was as a player, but who he was as a person," Olsen said.
More to come.
February, 4, 2011
2/04/11
5:54
PM ET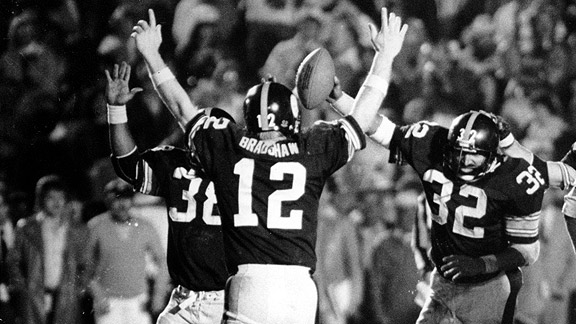 AP PhotoWill the current Pittsburgh team join the Steelers of the 1970s as an NFL dynasty?
FORT WORTH, Texas -- In his 50 years of experience with scouting, personnel and eventually media, Gil Brandt has seen all the football dynasties come and go in the NFL.
In Brandt's eyes, this current group of
Pittsburgh Steelers
can put its name into that elite category with a third championship in six seasons.
"You have to, yes," the former
Dallas Cowboys
player personnel executive said of considering Pittsburgh a dynasty. "We have some teams that have been in the NFL 45 years and haven't won a Super Bowl."
The Steelers have a lot on the line Sunday in Super Bowl XLV against the
Green Bay Packers
. Not only is Pittsburgh playing for another Lombardi Trophy, but the franchise can make a strong case to be the NFL's latest dynasty -- a term that applies only to teams winning multiple titles in a concentrated period of time.
Pittsburgh has all the ingredients for sustained success: good coaching, stellar defense, a franchise quarterback and future Hall of Famers. These are many of the same attributes of past dynasties, such as the old Steelers of the 1970s, the
San Francisco 49ers
of the 1980s, the Cowboys of the 1990s and, most recently, the
New England Patriots
of the past decade.
So where would Pittsburgh potentially fit?
"I think if we win this [Super Bowl], you have to put this organization down as being one of the dynasties of the 2000s," said Steelers 13-year receiver
Hines Ward
. "We know what's at stake. For us, it's another opportunity to win another Super Bowl. We're 2-0 in Super Bowls and we don't want to experience the other side."
What exactly counts as a dynasty in today's NFL, and how much has the definition changed?
Here is some food for thought: Since free agency began in the spring of 1993, only two teams (the
Denver Broncos
and Patriots) have won back-to-back Super Bowls. The Cowboys' Super Bowl titles bridged the start of modern free agency. They won Super Bowl XXVII to mark the end of the 1992 season. After the era began with
Reggie White
's departure from the
Philadelphia Eagles
to join the Packers in April 1993, the Cowboys still managed to win the Lombardi Trophy that season. Although the 49ers claimed the 1994 season's title, Dallas would later cement its dynasty status by winning a third championship in the modern free-agency era during the 1995 season.
The NFL landscape has changed dramatically in the past 15 or so years where players rarely play for one team. That makes it much harder to consistently stay on top.
"I think if you can get three in a decade, those teams are up for dynasties," Steelers safety
Ryan Clark
said. "So I think if you get three titles in six years, you have to be considered."
Even if Pittsburgh wins Sunday, the biggest knock on the Steelers would be this current group has never won back-to-back Super Bowls. But this is a league where parity rules. Eight different teams have represented the NFC in the Super Bowl in the past eight seasons.
"Back-to-back titles is obviously huge, because that to me is the hardest thing to do," said former tailback and Super Bowl champion
Ricky Watters
with the Niners. "But to stay up there is hard, too. We see teams that get there and then they're gone. Then they may get back up there, and they're gone again. So I think the staying power is important."
The Steelers have never won back-to-back titles the past six seasons, but they also never had a losing season. Including playoffs, Pittsburgh holds a 71-35 record over that span.
"Well, I don't know if it's necessary because it's really hard to win back-to-back," said Brandt explained. "The reason it's hard to win is because the competitive balance in this league is so good."
Now more than ever, the NFL has become a coaching and quarterback league. This is a major reason Pittsburgh has been able to sustain its success.
[+] Enlarge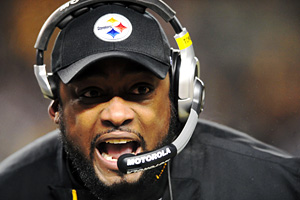 Andrew Weber/US PresswireMike Tomlin can win a second championship in just his fourth season as a head coach.
Quarterback
Ben Roethlisberger
doesn't put up gaudy numbers but is arguably the
most clutch quarterback
in the NFL. He is 10-2 in the playoffs and has a chance to improve to 3-0 in Super Bowls this Sunday. Earlier this week, the AFC North blog examined whether a third championship cements
his status as a future Hall of Famer.
Steelers head coach Mike Tomlin has a chance to win his second Super Bowl in just his fourth season. Tomlin could surpass his predecessor, Bill Cowher, who won one championship in Pittsburgh in 15 seasons.
Both are young for their respective positions. Roethlisberger, 28, and Tomlin, 38, will be stalwarts in Pittsburgh for a long time with a chance to win multiple championships together.
"We have a great relationship. He's a player's coach and I like playing for him," Roethlisberger said this week of Tomlin. "He's one of the reasons we want to win football games. We are blessed to have him as our coach."
The Steelers don't have to look far for motivation. Perhaps the greatest dynasty of all time was the dominant 1970s Pittsburgh teams that won four Super Bowls in a six-season span. That Steeler dynasty also had two back-to-back title runs.
This week several Pittsburgh veterans say they're trying to live up to that standard. On their way to meetings at Pittsburgh's complex, Steelers players and coaches must walk by their NFL-high six Lombardi Trophies, including those four won by Terry Bradshaw, Jack Lambert, Lynn Swann and Co.
"We have what you can't buy, which is legacy," Tomlin said. "[It's] an unbelievable standard and expectation and all those great things."
No dynasty lasts forever. That is why it's important for this proud, veteran group of Steelers to seize this moment.
There are aging veterans older than 30 such as Ward,
James Farrior
,
Casey Hampton
and
Brett Keisel
going for their third ring, and there are no guarantees any of these Steelers will get another chance to win another Super Bowl.
"We're not worrying about what happens afterwards. It's a whole bigger issue than us after this game," Ward said of potentially making history. "So is this the last run? Why would it be the last run? We have a huge opportunity to win our third Super Bowl, and we're trying to come down here and make the most of it and see if we can bring our seventh Super Bowl back to Pittsburgh."
When it comes to attaining dynasty status, consider Super Bowl XLV a "swing game" for the Steelers.
Beat the favored Packers at Cowboys Stadium and this Steelers group will forever be in the dynasty discussion. But lose to Green Bay, and that conversation abruptly ends.
June, 23, 2010
6/23/10
11:00
AM ET
Notable players:
QB Terry Bradshaw, LB Jack Lambert, RB Franco Harris, DB Mel Blount, LB Jack Ham, WR Lynn Swann, DT Joe Greene, WR John Stallworth.
[+] Enlarge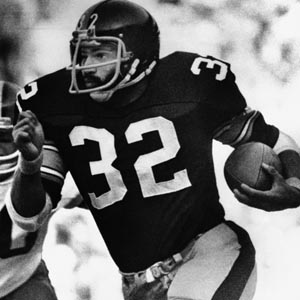 AP Photo/JJWFranco Harris posted career-high numbers during the 1975 season.
Analysis:
The '75 Steelers were the first Pittsburgh team to win back-to-back Super Bowls. It was also the best team from the famed Pittsburgh dynasty of the '70s, which included a bevy of Hall of Famers.
Led by the Bradshaw -- aka the "Blonde Bomber" -- Pittsburgh was able to win through the air and on the ground in an era when most teams were one-dimensional offensively and thrived on ground-and-pound football.
Pittsburgh's famed "Steel Curtain" defense was one of the best of all time and held seven opponents to single-digit scoring during the '75 season. In three playoff games, including the Super Bowl, offenses averaged only 12.3 points per game.
The '78 and '79 Pittsburgh title teams were also tremendous. But the '75 group had several key advantages.
For starters, every key member in '75 was in, or approaching, his prime. Hall of Famers Bradshaw (27), Blount (27), Ham (27), Lambert (23), Harris (25), Swann (23) and Stallworth (23) came into their own during this first run of back-to-back titles. By the time the second run of championships came at the end of the decade, this core group was four years older and some were approaching the end of their storied careers.
Further displaying their dominance, the '75 Steelers won by an astounding average of 15.1 points per game in the regular season, which led the NFL. It was also the highest margin of victory for any of Pittsburgh's championship teams. The '78 team won by an average of 10.1 points per game, while the '79 team won by 9.6 points per game.
Most impressive win:
The Steelers' 21-17 victory over the Dallas Cowboys in Super Bowl X was the team's crowning achievement. The Steelers won the turnover battle 3-0 to pull out a historic and close game. It completed the first of Pittsburgh's two back-to-back championships in the decade.
Research Room:
The Steelers allowed 17 touchdowns in 14 regular-season games in '75. In contrast, Pittsburgh scored 46 touchdowns, including two fumble returns for scores and one kickoff return.
Big Franco:
Harris is best known for the "Immaculate Reception" in '72 during a playoff win over the Oakland Raiders. But his best season rushing the football came three years later.
Harris recorded a career-high 1,246 yards rushing and 11 touchdowns during Pittsburgh's title run in '75. He averaged 4.8 yards per carry and also caught 28 passes out of the backfield. The nine-time Pro Bowler and Hall of Famer had eight 1,000-yard seasons.
Honorable mentions (in order):
1978:
A dominant group that won 14 games in the regular season and a Super Bowl. They scored at least 33 points in all three playoff victories.
1979:
The last championship team of the Steelers dynasty of the '70s. This group was No. 1 in total offense and No. 2 in total defense.
1974:
This team started the run of four championships in the '70s. But it wasn't until a year later that the core group of Hall Famers all blossomed and came into their own.
August, 11, 2009
8/11/09
2:49
PM ET
Posted by ESPN.com's Tim Graham
Terrell Owens is hurt.
The Buffalo Bills receiver missed his first training-camp practice with what's believed to be a bad toe. The Bills haven't commented on the injury, but Owens tweeted "Damn, my toe is aching!" after Sunday night's Pro Football Hall of Fame Game.
Owens played eight snaps, catching two passes for 27 yards. He didn't mention an injury to reporters after the game.
Perhaps it should be disconcerting Tuesday morning's session merely was a walkthrough. Maybe his tweet was tantamount to that coworker who says "I think I'm going to have a headache tomorrow" and doesn't show up the next day.
The severity of toe injuries can be tough to gauge.
Bills rookie guard Eric Wood had a broken toe over the summer and has returned just fine.
But a broken toe ended Jack Lambert's career when he was 32 years old and seemingly in his prime. A season earlier he was named to his fifth straight All-Pro team.
Bills coach Dick Jauron is expected to address Owens' injury after Tuesday night's practice.
NFL SCOREBOARD
Thursday, 11/20
Sunday, 11/23
Monday, 11/24
WEEKLY LEADERS