April, 2, 2013
4/02/13
9:43
AM ET
Jack Pardee left a big imprint on Houston and on the franchise that went on to become the
Tennessee Titans
.
Pardee, who coached the run-and-shoot Houston Oilers,
passed away
Monday.
Pro Football Hall of Fame quarterback
Warren Moon
had
high praise
for his old coach in a conversation with John McClain of the Houston Chronicle.
"Coach Pardee was a genuine Texas legend," Moon said. "He was successful on so many levels. He had such appreciation and respect for the game.
"'How many Texans do what he did?' He starred in high school (Christoval), played for Bear Bryant (Texas A&M), survived Junction and became an All-American. After his playing career (Rams and Redskins) ended, he coached three teams in Texas. That's about as Texas as they come."
The Oilers' run-and-shoot had its limitations. But when you see four wide receivers, spread fields and even read options you're seeing a lot of run and shoot principles at work.
Pardee's Oilers teams never broke through to a Super Bowl, but they sure were fun to watch.
April, 2, 2013
4/02/13
12:01
AM ET
Jack Pardee accomplished much before, during and after his 13-year career with the
St. Louis Rams
. Those unfamiliar with his resume should check out some of the details in the Houston Chronicle's
obituary
. Pardee died from cancer at age 76.
Pardee played for Bear Bryant at Texans A&M in the 1950s and was one of the famed "Junction Boys" of that era. He earned Pro Bowl and All-Pro honors while with the Rams before posting an 87-77 record as an NFL head coach.
"Pardee was diagnosed in 1965 with a malignant melanoma in his left arm and on his 28th birthday underwent an 11-hour surgical procedure that included chemotherapy, a complete blood transfusion and a procedure that lowered his body temperature to 86 degrees," the Chronicle's obituary notes. "He recovered and returned to the NFL, completing a 15-year career in 1972, and other than a recurrence in 1986 that was treated with minor surgery but no chemotherapy had been in good health ever since."
The Rams released a statement honoring Pardee as "a great player who was one of the most courageous men to ever don a Rams uniform."
More from the Rams: "For 13 seasons, Jack gave everything he could to the organization, so much so that he eagerly returned to the field after winning a battle with cancer during the middle of his playing career. On the football field, he experienced success as a player and coach at every level of the game. Off the field, he was a family man and true gentleman. Our thoughts and prayers go out to the entire Pardee family."
September, 29, 2011
9/29/11
12:40
PM ET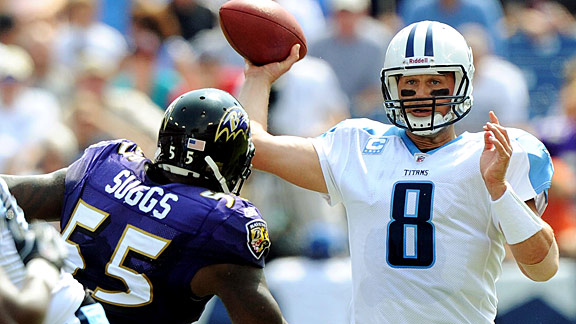 Don McPeak/US PresswireMatt Hasselbeck has helped lead the Titans to a 2-1 record through the teams first three games.
NASHVILLE, Tenn. -- No offense to Sarah Hasselbeck, but in many ways when her husband decided to join the
Tennessee Titans
, he signed on for a second marriage.
Matt Hasselbeck
and Mike Munchak are an NFL couple.
A new starting quarterback and a new NFL head coach can make for a new vibe, a new message, a new offense and a new direction.
The two are still relative newlyweds because of the lockout, but the early days have brought plenty of bliss, to the pair as well as those rooting for it.
It's just three games. But the small sampling of their work together suggests the Titans can contend for the AFC South title.
Munchak is effectively conveying simple messages to his team and Hasselbeck is buying into them and passing them on.
"I just feel that my job as quarterback is, I don't really care what we do, I just need to know what the coaching staff wants to do and then I can be the flag bearer on that stuff," Hasselbeck said. "Whatever the message is for the week, let me know, coach, and I'll be spreading the message. Whatever you want emphasized, I'll make sure that gets emphasized."
Munchak and offensive coordinator Chris Palmer have done well with the clarity and scope of those messages, Hasselbeck said. They aren't vague or general or generic. They are game specific, opponent specific or specific to something the team needs to do better. As a Hall of Fame player, Munchak wanted those straightforward messages, not convoluted riddles that needed figuring out.
[+] Enlarge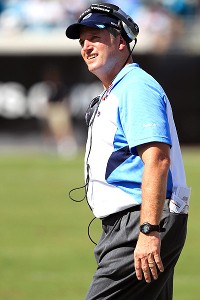 Streeter Lecka/Getty ImagesMike Munchak's relationship with quarterback Matt Hasselbeck has gotten off on the right foot.
The Munchak-Hasselbeck relationship so far appears to be the sort most coaches and quarterbacks would like to have. That he's not calling plays helps, Munchak said, as he's sort of a buffer in the heat of the moment.
He's seen his share of volatile coach-quarterback dealings. Warren Moon and Jack Pardee weren't necessarily at odds, but Munchak did say their relationship wasn't the one he wants with Hasselbeck.
"I want to have with him what I had with my linemen as an offensive line coach," Munchak said. "A guy I can trust the way I could trust so many guys --
Kevin Mawae
,
Bruce Matthews
,
Jason Mathews
-- I had so many guys I had relationships with who could spread the message on how to do things. ...
"Matt's been around 13 years. He doesn't need all the fluff. He needs the facts and he wants to know, 'What exactly can I do to help? Let's get to the point of this thing.'"
Heading into the Week 3 game against Denver, the theme was winning first down.
"I think Munch is a pretty straightforward guy and he does a good job of being to the point," Hasselbeck said. "There is not a whole lot of gray area. As a player, that makes it easy; you go out and you know what your coach is looking for. He keeps it pretty simple. 'Hey, I want you to win first down.' Gotcha."
In his first experience as a head coach, Munchak teamed up with general manager Mike Reinfeldt to plan a quarterback strategy after the team decided it was done with
Vince Young
. The Titans drafted
Jake Locker
eighth overall, but set themselves up with Hasselbeck, too, a veteran they believed could excel with top-flight pass protection, something the Titans' offensive line has offered.
If Hasselbeck tops 300 passing yards Sunday in Cleveland, it will be the first time in his career he's done so three games in a row.
He, Palmer and quarterbacks coach Dowell Loggains talk of how there is no defense for the perfect throw.
Another way I've heard people talking about it is that Hasselbeck "throws people open." I like that phrase. It's something Titans quarterbacks haven't done in recent years. It's something he'll have to do with players like
Damian Williams
and
Lavelle Hawkins
now that
Kenny Britt
is gone.
Hasselbeck's consciously factored his experience with change while he was in Seattle into his approach in Tennessee, where the talk is already of a late-career renaissance.
"In the last three years, I think, I've had a new head coach, a new offensive coordinator and I handled all three years a little differently," he said. "One year I handled it where I was real assertive and wanted to get my way. Another year I said, 'Hey, I'm just going to sit back.' I'm probably handling this one differently, learning from some of my past mistakes.
"I'm not trying to impart anything from my past. I'm not trying to ask for anything I've done. I'm just trying to learn what they've done here and what they want to do here. I've kind of tried to come in here like I have no experience and no football knowledge at all. Because I've done that, my focus has been 100 percent on trying to run the stuff."
The stuff has worked well enough so far. The new coach and the new quarterback are in lockstep. Smart messages are being well received. For now, it amounts to fresh air in Nashville.
August, 7, 2011
8/07/11
12:42
PM ET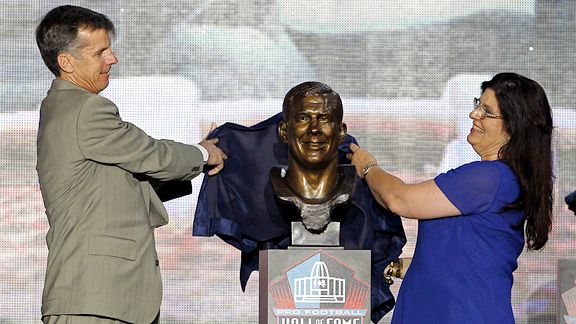 AP Photo/Ron SchwaneThe bust of former Ram Les Richter is unveiled by his son, Jon, and daughter, Anne, on Saturday.
The testimonials for
Marshall Faulk
have flowed freely surrounding his enshrinement in the Pro Football Hall of Fame.
Les Richter's legacy is tougher to access.
Both were Rams legends, Faulk in St. Louis and Richter during the team's days in Los Angeles.
Improbable as it sounds, Richter might have been the more versatile player. He went into the Hall of Fame for his prowess as a linebacker, but he also played on the offensive line, served as the team's deep snapper and spent his first three seasons doubling as the Rams' kicker. Like Faulk, Richter transcended the traditional confines of his position.
Former Rams linebacker and NFL coach
Jack Pardee summed up Richter well
:
"Before Sid Gillman started throwing the football around, the NFL was all run game, and most teams played a 5-2 front. Les was one of the first true middle linebackers who could defend the run and the pass. He was an All-Pro and was the best in the business for a number of years. You talk about smart, he was the valedictorian at Cal, and calling the signals on the field and making the adjustments, that all went along with kind of establishing a new position. Les was a new breed of middle linebacker, which was part lineman and part defensive back. He could really cover, and that was the difference between him and the group in front of him."
Richter died last year. His son, Jon, accepted on his father's behalf during Hall of Fame proceedings Saturday. The Rams have posted a tribute video featuring Jon's thoughts. I recommend
checking it out
, along with a
couple
stories
from the Los Angeles Times.
January, 15, 2009
1/15/09
5:18
PM ET
Posted by ESPN.com's Paul Kuharsky
The Colts had Jim Caldwell in place ahead of time and expect a seamless transition into the post-Tony Dungy era.
It looks like a sound plan.
| | |
| --- | --- |
| | |
| | AP Photo/Michael Conroy |
| | Jim Caldwell has big shoes to fill in Indianapolis, but many in his position have been successful before. |
But popular wisdom says you don't want to be the guy to replace the guy. It's the replacement's replacement, the theory follows, who gains the distance necessary from a legendary name to be able to succeed.
For many, the thought of replacing a popular and successful coach brings back memories of some infamous NFL names.
Former Minnesota coach Les Steckel is still remembered for a 3-13 year in 1984 that wound up being a sabbatical season for Bud Grant. Ray Handley replaced Bill Parcells for the Giants in 1991 and went 14-18 in two seasons. Richie Petitbon replaced Joe Gibbs in 1993 and flamed out with a 4-12 season.
Are you familiar with Phil Bengtson or Paul Wiggin? Me neither.
Bengtson followed up Vince Lombardi in Green Bay and managed three third-place finishes. Wiggin was 11-24 in two-and-a-half seasons following Hank Stram in Kansas City.
But none of that is reason for Colts devotees to fear the dawn of the Caldwell era as he replaces a potential Hall of Famer who takes a .668 winning percentage with him into retirement.
Thanks to some help from Keith Hawkins of ESPN Stats & Information, we can take a detailed look at how the successors to the winningest coaches have fared.
While there were some strikeouts, the history is hardly a horror story. Two successors won multiple Super Bowls, two more were playoff regulars and another is leading his team into the AFC Championship Game on Sunday.
So here's a run through how things have panned out after big-time winning coaches stepped away or were removed. These are the top 10 coaches with the best winning percentages in the Super Bowl era (minimum 100 games coached since the 1966 season):
| | |
| --- | --- |
| | |
| | Andy Hayt/Getty Images |
| | Tom Flores did very well as John Madden's successor, winning two Super Bowls for the Silver-and-Black. |
1) John Madden, .759 (Raiders)
Tom Flores replaced Madden in 1979 and Flores went 91-56 in nine seasons, leading the Raiders to wins in Super Bowl XV and XVII.
2) George Allen, .712 (Rams and Redskins)
Jack Pardee replaced Allen in Washington, and Pardee was 24-24 in three seasons (1978-80). Joe Gibbs replaced Pardee and won 140 games from 1981-92 and three Super Bowls.
3) Tom Landry, .674 (Cowboys)
Jimmy Johnson replaced Landry in 1989 and Johnson won back to back Super Bowls in the 1992 and 1993 seasons. Johnson was 51-37 from 1989-93.
4) Don Shula, .672 (Colts and Dolphins)
Like Landry, Shula was replaced by Johnson. In four seasons (1996-99), Johnson was 38-31 and 2-3 in the postseason. Since Shula, Miami has had six different head coaches.
5) Tony Dungy, .668 (Buccaneers and Colts)
Replaced by Caldwell this week.
6) George Seifert, .648 (49ers and Panthers)
Seifert did some replacing himself, following Bil Walsh. Steve Mariucci replaced Seifert in San Francisco in 1997, and Mariucci got the Niners to the NFC Championship in his first season. In six seasons, Mariucci made the playoffs four times. Since Mariucci left, the 49ers have had three different head coaches.
7) Bill Cowher, .623 (Steelers)
Mike Tomlin replaced Cowher in 2007. In his second season, Tomlin is preparing the Steelers to host Baltimore in the AFC Championship Game.
8-T) Joe Gibbs, .621 (Redskins)
Petitbon was a dud.
8-T) Bud Grant, .621 (Vikings)
Returned for another season after Steckel bombed, then saw Jerry Burns go 55-46 from 1986-91.
10) Bill Belichick .616 (Browns and Patriots)
When he finishes his term in New England, he'll leave a tough headset to fill.
And here's one from outside the top 10: a succession scenario the Colts would be thrilled to mimic.
Bill Walsh, .609 (49ers) -- Replaced by Seifert in 1989, Seifert went on to win two Super Bowls in his first six seasons. He won at least 10 games in all eight of his seasons and only missed the playoffs once. Like Caldwell, Seifert inherited a pretty good quarterback situation, getting two years of Joe Montana and six with Steve Young.
| | |
| --- | --- |
| | |
| | David Boss/US Presswire |
| | Blanton Collier replaced the legendary Paul Brown, and never had a losing season. |
As I couldn't stop asking, here are the succession stories of some other Hall of Fame coaches:
Paul Brown -- Blanton Collier was in Cleveland from 1963-70, and didn't have a losing season, going 76-34-2.
Weeb Eubank -- Charley Winner took over the Jets in 1974 and went 9-14 and didn't last two seasons. He was let go after nine games in 1975.
George Halas -- Following the 1967 season in Chicago when Halas left the Bears' post for the final time, he was replaced by Jim Dooley, who was 16 games under .500 (20-36) from 1968-71.
Marv Levy -- Was replaced by Wade Phillips in 1998, and Phillips went 29-19 in three seasons, losing two playoff games.
Chuck Noll -- Bill Cowher took over in 1992 and went 149-90-1 in 15 seasons, reaching two Super Bowls and winning one.

NFL SCOREBOARD
Thursday, 9/18
Sunday, 9/21
Monday, 9/22
WEEKLY LEADERS