NFL Nation:

Jack Youngblood
August, 7, 2013
8/07/13
4:00
PM ET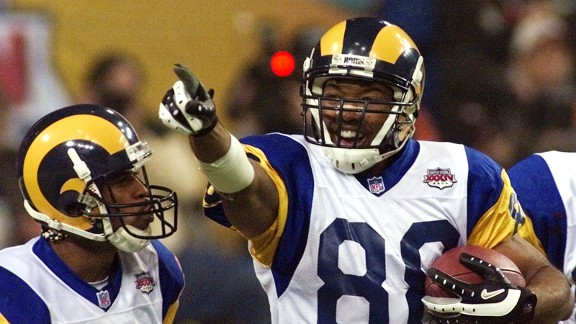 AP Photo/Chuck BurtonAfter years of feeling unwelcome by their old franchise, former Rams greats such as Torry Holt are making their way back to Rams Park at the invitation of St. Louis coach Jeff Fisher.
EARTH CITY, Mo. -- Standing between two fields at Rams Park watching practice on Monday afternoon was a group that might as well have been a part of a reunion for Super Bowl XXXIV.
Former Rams receivers
Torry Holt
and
Isaac Bruce
chatted it up with former Tennessee cornerback
Samari Rolle
, who is working in the team's coaching internship program. That trio was joined at various times by
Lance Schulters
, another former Titans defensive back in the internship program,
La'Roi Glover
, a former Rams defensive tackle and now the team's director of player programs, and former Rams tackle
Grant Williams
.
The sight of former Rams is nothing new around the team's training facility these days. Since Jeff Fisher took over as coach in Jan. 2012, he's made it abundantly clear that he's happy to welcome back former players who might want to offer some advice to his young team or who might just want to watch practice.
In the two weeks since camp started, other former Rams such as defensive back
Aeneas Williams
, safety
Keith Lyle
and linebacker
Chris Draft
have stopped by. It's not limited to Rams alumni, either. In addition to Schulters and Rolle, former Titans linebacker
Keith Bulluck
was also in town for a couple of days.
While it might be nothing new for Fisher to open the doors to past Rams, it does represent something of a departure from how things were in the not-too-distant past.
"This is home," Holt said. "I should feel comfortable and good when I come here. Myself and others, we did a lot for this organization. So it feels good to be able to step back out on this field and not be looking over your shoulder or feel like you're stepping on anybody's toes and then to be able to provide information for guys to improve their game. It's not about us, it's just about sharing what we've learned to make this organization better and try to bring back championships to this organization."
That's a feeling that Holt shared with plenty of other former Rams who didn't feel welcome or comfortable about being at Rams Park on a regular basis.
In 2011, Rams Hall of Famer Jack Youngblood told ESPN's Arash Markazi that he didn't feel like he had any connection to the team he once played Super Bowl XIV with while nursing a broken leg.
"We are their legacy but they forgot us," Youngblood said then. "They don't have anything to do with us, really. I find that unfortunate because you look at other franchises, even those that have moved, and they use their alumni in their marketing and in their organization. They use their Hall of Famers as an example for the players who are there today. They use their alumni, but the Rams have cut us out of the picture."
At the time, the Rams had begun to make inroads in their alumni program, which has taken off in recent years. As part of those efforts, the Rams signed Holt and Bruce to one-day contracts so each could retire as Rams. Most notably they welcomed back 20 prominent players from their past to celebrate the team's 75th anniversary last December.
Included in that group were a number of Los Angeles Rams, including Rosey Grier, Vince Ferragamo, Dennis Harrah,
Jackie Slater
, LeRoy Irvin and Youngblood.
That's just the tip of iceberg. Holt is back in St. Louis this week in preparation for his work as a color analyst on the team's preseason broadcasts. He joins another former Ram, Hall of Fame running back
Marshall Faulk
, in the booth for those duties.
Fisher's open-door policy should come as no surprise given his experience in the league. He's entering his 28th year coaching in the NFL and his 18th as a head coach.
Surrounded by a veteran staff with plenty of experience of its own, Fisher is undeniably comfortable in his own skin. The paranoia that can sometimes accompany first-time head coaches has long since evaporated and Fisher clearly views the opportunity to bring in any former player with wisdom to share as a positive for a team that again figures to be one of the youngest in the league.
"It feels good to be back, it feels good to be welcome and Coach Fisher gets it," Holt said. "He welcomes us. He knows the value and the importance of the guys talking to veteran guys who have been there, done it and done it at a high level because you can gain so much from that as a player. I'm thankful that I'm able to come back and coach Fisher is an excellent coach who understands the game, understands what it takes to improve his roster and he's allowing us to help out."
April, 17, 2012
4/17/12
4:24
PM ET
Rich Saul's former Los Angeles Rams teammates recalled his Pro Bowl talent, scary toughness and, humorously, a legendary appetite that waned only in the retired center's final days.
Early in Saul's career, when he was putting on weight to fulfill George Allen's vision for him as a center, the former middle linebacker from Michigan State would slip a bag of coins under his cap for weigh-ins, fearful the team would cut him if the scale revealed his actual poundage.
That was not all.
"When we would go through the [cafeteria] line in camp, most would put a plate on a tray and then food on plate," recalled former Rams defensive tackle Phil Olsen. "Rich had to eat so much, he would load the food on his tray. He would skip the plate. I'll tell you, up until a few days before he died, we were stuffing him full of food in the hospital."
Olsen and Hall of Famer Jack Youngblood joined the Rams in 1971, a year after Saul. The three bonded quickly, as did their families. Olsen and Youngblood shared a few laughs Monday when remembering Saul, who died Sunday from leukemia at age 64. But they kept coming back to the impact Saul made outside football.
[+] Enlarge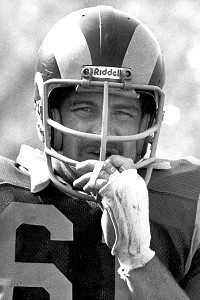 AP Photo/NFL PhotosRich Saul was a six-time Pro Bowler for the Los Angeles Rams.
"I can't express what Richie meant to us," Youngblood said.
Evidence of Saul's impact remains visible in the passages his grown son, Josh, and others shared through a website chronicling the family's recent journey.
"The best was the way he looked at my mom tonight,"
Josh wrote
in an April 6 entry after his father watched the Masters and continued to engage those close to him.
"I have never seen 'I love you' so clearly spoken without words," Josh continued. "Theirs is a bond that will live on forever. I am so thankful to have had such an amazing example of marriage and family leadership to follow."
One of a kind
Saul finished his Rams career with six consecutive trips to the Pro Bowl during a seven-year run as their starting center. That he played mostly special teams for his first five seasons, then emerged as a perennial Pro Bowl choice, seems incomprehensible in a modern context. There was no free agency at the time, however. A team could more easily stockpile and develop talent.
The Rams were stacked on the offensive line under coach Chuck Knox, with Hall of Famer Tom Mack at one guard spot and veterans elsewhere on the line. Saul had never played center in college, putting him at a significant disadvantage. The Rams also made Saul their long-snapper, forcing him to learn another skill that was previously foreign to him. Not that he had much choice in the matter.
And so Saul played special teams with a vengeance, earning the nickname "Super Saul" -- shortened to "Soup" with an eye toward his prodigious appetite. His contract was for $12,500, the minimum at the time, but an incentive clause tied to special-teams tackles allowed Saul to collect additional income.
"He made like 100 tackles on special teams that first year," Olsen said. "He just ran down the field and knocked everybody down."
They still called special-teams units "suicide squads" back then, as reflected in
a 1971 Life Magazine
cover story featuring Saul and others around the league.
"The injury rate is eight times higher on suicide squads than for any other position," a caption in the magazine read.
Saul was undaunted. He'd already overcome a catastrophic knee injury at Michigan State, where Saul and his twin brother, Ron, had earned All-America honors, Rich as a linebacker and Ron as an offensive linemen. That the two would combine to play 318 regular-season games came as an upset following Rich's injury.
"The only thing holding the upper leg to the lower leg was the skin," Olsen said. "It is amazing he got to play in the NFL. He would describe that as a miracle surgery performed by
Dr. Lanny Johnson
."
Tough guy
Youngblood went to seven consecutive Pro Bowls and set a standard for grit by playing through the 1979 postseason, including the Super Bowl, with a broken fibula.
Former Rams guard Dennis Harrah aptly called Youngblood the
"John Wayne" of professional football
. Even John Wayne knew to pick his spots in practice.
"I was a defensive end and Richie was a center, and I knew that I should not go in there because Rich Saul will hurt you if you go into his territory," Youngblood said. "There was many a linebacker in the league who did not like to see the schedule knowing they had to go see Rich Saul. That was going to be an all-day affair."
Former Rams video director Mickey Dukich once
recounted for the Los Angeles Times
a story of Saul, a former wrestler, applying a choke hold on teammate Butch Robertson, a six-time Pro Bowl choice at linebacker.
"Butch passed out," Dukich told the Times for the 1987 piece. "Rich thought he had killed Butch."
Youngblood confirmed the basic details.
"Rich, there was a little conflict in the locker room and it resulted in, he didin't hurt the guy, but he did show that you didn't mess with Rich Saul," Youngblood said. "That was the message. Message was well received."
On the line
The Rams led the NFL in rushing with 2,799 yards during the 1980 season, a total surpassed just twice in subsequent years, by the 1984 Chicago Bears and 2006 Atlanta Falcons. The Rams ranked among the league leaders in that category throughout most of the 1970s, before and after Saul succeeded Ken Iman as the full-time center in 1975.
"[Saul] became an extremely proficient blocker on a team that still used primarily man-to-man blocking on defensive line stunts -- you never see this any more! -- and did a multitude of blocking combinations on running plays," Mack, an 11-time Pro Bowl choice with the Rams from 1966-1978, wrote in an email. "We could slip, slide, fold and cut block defenses as effectively as any team in football and we led the league in rushing. That alone proved he was both smart and a great athlete!"
Saul played 176 regular-season games and 12 playoff games, including the Super Bowl against Pittsburgh following the 1979 season, all for the Rams under four head coaches: Allen, Tommy Prothro, Knox and Ray Malavasi. He was one of three NFL players -- Jack Lambert and Robert Brazile were the others -- to earn Pro Bowl honors every season from 1976 through 1981.
Legacy
Olsen recalled the famous quote from Jackie Robinson about a life lacking import except to the extent it has impacted the lives of others. He said Saul, who succeeded in finance and real estate following football, lived that ethic and cared more about what people thought of him off the field than on it.
"We used to talk about that a lot," Olsen said.
"He took great pride in being a father and a husband and a grandfather. ... He was always going to the hospital to talk to kids with cancer or to send a note or a card or a picture or go to speak to a group that needed something done. He was a very strong advocate for abused and battered children, very active with the Cancer Society and all those organizations that needed someone to stand up and speak on their behalf.
"That is how people will remember him, as a humanitarian, a good father, a good friend."
April, 16, 2012
4/16/12
4:54
PM ET
Three NFL players earned Pro Bowl honors every season from 1976 through 1981.
Hall of Famer Jack Lambert was one. Robert Brazile, who might also be
deserving
, was another.
The third: Rich Saul, who played 176 regular-season and 12 playoff games for the Los Angeles Rams from 1970-1981.
Saul, who
died Sunday at age 64
following a 13-year fight with cancer, made a profound impact on and off the field. That comes through in the
testimonials left for Saul
on a Caring Bridge website, and in conversations with his former teammates.
"I can't express what Richie meant to us," Jack Youngblood said Monday.
Saul, Youngblood and Phil Olsen remained close friends from their playing days with the Rams to the present. I'm looking forward to passing along more of their thoughts and remembrances in an upcoming piece.
Saul spent years as an elite special-teams player before finishing his career as one of its best centers -- despite never playing the position in college.
"The most remarkable thing about Rich was not who he was as a player, but who he was as a person," Olsen said.
More to come.
November, 25, 2011
11/25/11
1:30
PM ET
»
NFC Final Word
:
East
|
West
|
North
|
South
»
AFC
:
East
|
West
|
North
|
South
Five nuggets of knowledge about Week 12:
The NFC West "race" continues.
The
San Francisco 49ers
were in position to clinch the division title with a victory against Baltimore and a Seattle defeat at home to Washington. But with the 49ers losing to the Ravens on Thursday night, it is still technically possible for the Seahawks or
Arizona Cardinals
to match San Francisco's victory total this season. The 49ers play three of their final four on the road. The home game is against Pittsburgh. The Seahawks play their next three at home against losing teams, followed by a road game against the quarterback-challenged Bears. If the 49ers beat St. Louis in Week 13 and win at Arizona in Week 14, they'll win the NFC West. If they were to drop that Arizona game and then lose to the Steelers, a four-game winning streak by Seattle would make the Week 16 game between the Seahawks and 49ers meaningful. The 49ers have two games remaining against the Rams, making it nearly impossible for them to do anything but win the West.
[+] Enlarge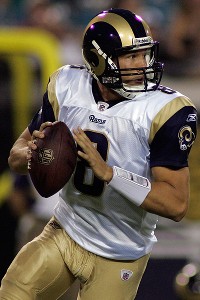 Phil Sears/US PresswireRams quarterback Sam Bradford is throwing down the field more this season, but that hasn't translated into success for St. Louis' offense.
Airing it out, or erring it out?
The Rams have followed through on their pledge to seek bigger pass plays down the field. Quarterback
Sam Bradford
averaged 6.4 air yards per pass attempt last season, the lowest figure in the league among 43 players with at least 100 attempts. Bradford ranks ninth this season. On average, his passes have traveled 8.9 yards past the line of scrimmage before reaching their targets. The longer passes have not paid off, however. Bradford's completion percentage has dropped, as would be expected for a quarterback attempting longer passes, but his average for yards per attempt has remained flat at a mediocre 6.0. The Rams have taken sacks on 10 percent of pass attempts, up from 5.8 percent during Bradford's rookie season.
Defending the run.
Arizona (11), St. Louis (nine) and Seattle (five) have allowed 25 individual 100-yard rushing performances since the 49ers last allowed one 34 games ago. The Seahawks' best run defender,
Red Bryant
, missed three of those five games and most of a fourth.
About those dynamic tight ends.
The NFC West loaded up on tight ends during the offseason. Seattle signed
Zach Miller
. Arizona signed
Todd Heap
and
Jeff King
. St. Louis drafted
Lance Kendricks
in the second round. The results have been underwhelming. Heading into Week 12, the NFC West featured no players among the 15 most-targeted tight ends in the league, according to ESPN Stats & Information. The 49ers'
Vernon Davis
ranked 16th with 51 targets. Davis, teammate
Delanie Walker
and the Cardinals' King are the only NFC West tight ends with touchdown receptions this season. Six NFC West tight ends had scoring catches last season.
Uncomfortable fan dynamics.
Franchise relocation can create strained relationships between teams and their former players, to say nothing of fans caught in the middle. We've seen Rams great Jack Youngblood complain about the organization's efforts to embrace players from its time in Los Angeles. This week, the Cardinals return to St. Louis, the city they left following the 1987 season. They are seeking their seventh consecutive victory at the Edward Jones Dome, which would represent the longest road winning streak against a single opponent in franchise history. The Cardinals are also planning alumni events for a long list of St. Louis-era players, including Mel Gray, Jackie Smith, Roger Wehrli and Larry Wilson.
October, 27, 2011
10/27/11
7:11
PM ET
Jack Youngblood's
Pro Football Hall of Fame bio
recalls a postseason performance featuring a sack, forced fumble, blocked extra-point attempt and 47-yard interception return for a touchdown.
That performance and others made Youngblood a favorite among Los Angeles Rams fans. As for the folks in St. Louis? Not so much. Their Cardinals were on the receiving end of that vintage 1975 postseason effort from the legendary defensive end.
[+] Enlarge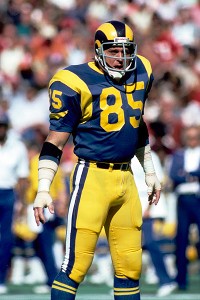 Malcolm Emmons/US PresswireFormer Los Angeles Rams star Jack Youngblood on the St. Louis Rams: "We are their legacy, but they forgot us."
The Rams would move to St. Louis two decades later, creating a gap between the organization and players from the Los Angeles era.
The team thinks it has done plenty to bridge that gap and
said so emphatically
on its website Thursday, but only after Youngblood's latest diatribe against the organization.
"We are their legacy, but they forgot us,"
Youngblood told ESPNLosAngeles.com
this week. "They don't have anything to do with us, really."
That is not true, according to a 697-word accounting the team published Thursday. That accounting said the Rams' recent efforts to connect with their past included jersey-retirement ceremonies for Deacon Jones and Isaac Bruce; game-day appearances by 10 retired St. Louis-era players, including Grant Wistrom and Orlando Pace; and game-day ceremonies honoring Eric Dickerson, Tom Mack, Merlin Olsen (through Olsen's son) and Youngblood himself.
"In an effort to recognize the great players who wore horns before the team's move to St. Louis, the club has also honored all living Rams' Hall of Famers from the Club's time in Los Angeles," the website piece reads. "The first player to be honored was Jack Youngblood, who was honored at the Edward Jones Dome in October of 2009."
It's pretty clear the Rams took offense to Youngblood's comments and wanted their side of the story told. I asked Rams fans for their feedback on the matter and will break out some of those thoughts below.
"As a Rams fan since 1970, I am appalled at the things that are going on/have been going on at Rams Park,"
bigdaddyc9
wrote. "To outright cast off those legacy players is wrong. Since 'Spags' has been there, some very odd decisions on his part have made relationships with former players even more strained."
Coach Steve Spagnuolo and general manager Billy Devaney have indeed replaced some of the longer-tenured employees with ties to the Los Angeles days. But one of the better safeties in Rams history, Nolan Cromwell, coaches receivers for the team.
"The Rams have bigger problems than Jack Youngblood feeling left out,"
QBSamTheRam
wrote.
Spoken like a St. Louis-era Rams fan, most likely.
"I'm from Orange County and grew up an avid Rams fan,"
paulbro23
wrote. "I felt completely betrayed and abandoned when they left Anaheim and moved to St. Louis, and have despised the team and the franchise ever since -- so much so, that I eventually switched my allegiances to the 49ers. ... I recognize it's a business, but they had no problem turning their backs on their SoCal fans, so why not do the same to their entire history here. I hope they go winless this year and remain among the worst teams in the league."
Another former Los Angeles-era fan,
Lammergeier99
, said he was a Rams fan during the George Allen days, then became a fan of the football Cardinals in St. Louis and Arizona.
"It was very odd that the Rams moved to St. Louis and that the Cardinals moved to Phoenix," he wrote. "I only wish that the Cardinals could somehow get the Rams' 1960s Defense right now.
Kevin Kolb
could then concentrate on learning the offense. You don't need to score points in bunches when your 'D' is holding the opponent down."
There's one thing even Jack Youngblood and the Rams could agree upon. I think.
September, 19, 2011
9/19/11
7:29
PM ET
EAST RUTHERFORD, N.J. -- The
St. Louis Rams
and
New York Giants
have submitted their inactive lists for their Monday night matchup.
Rams: receiver Danny Amendola, running back Steven Jackson, receiver Austin Pettis, safety Jermale Hines, linebacker Jabara Williams, tight end Stephen Spach and defensive end C.J. Ah You. Jackson tested his strained quadriceps during warmups, but was never expected to play. Amendola is recovering from a dislocated elbow. Rookie defensive end Robert Quinn is active after sitting out the opener. Ah You underwent wrist surgery recently. Right tackle Jason Smith, who suffered an ankle injury in the opener, is active.
Giants: receiver Jerrel Jernigan, cornerback Prince Amukamara, running back Da'Rel Scott, tight end Travis Beckum, guard Mitch Petrus, defensive end Osi Umenyiora and tackle James Brewer. Umenyiora and fellow Pro Bowl defensive end Justin Tuck missed the opener with injuries. Tuck is active and, if sufficiently healthy, will likely present matchup problems for the Rams, particularly when lined up against Smith.
We're about an hour from kickoff. I'm seeing Rams fans wearing
Eric Dickerson
and Jack Youngblood jerseys, and another with a
Sam Bradford
jersey. The stadium remains mostly empty at this time, however.
June, 30, 2011
6/30/11
1:00
PM ET
»
Best of NFC
:
East
|
West
|
North
|
South
»
AFC
:
East
|
West
|
North
|
South
As part of Best of the NFL Week on ESPN.com, here are five bests for the NFC West:
[+] Enlarge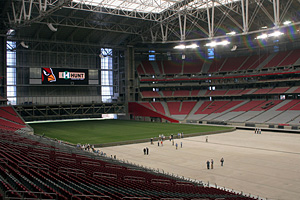 AP Photo/Roy DabnerThe Arizona Cardinals boast having the first fully retractable field in the country.
Best stadium innovation:
I'm all for downtown stadiums with open roofs and cityscape views. That wasn't practical in Arizona, where temperatures exceed even
Kurt Warner
's sizzling playoff passer rating. The Cardinals made the most of their climatic predicament by going with a retractable roof and, remarkably, what they hail as the first fully retractable
field
in the country. The natural-grass surface spends about 150 days each year basking in the Arizona sunshine, requiring only about an hour to slide back inside on a massive tray weighing 17 million pounds (the rough equivalent of 47,200 Deuce Lutuis). Cardinals players get to escape the heat on game days while playing on a natural-grass surface that ranks among the very best in biannual player surveys.
Best alumni assimilation:
This one isn't close. Keena Turner is the 49ers' vice president of football affairs. Guy McIntyre serves as director of alumni. Jesse Sapolu, Steve Bono and Eric Wright are alumni coordinators. Dwight Clark is a business consultant. Team president Jed York grew up around the team during its 1980s glory days. He was a fan first and it shows in how eagerly the 49ers embrace their past. The other NFC West teams also employ former players, but not to the same degree. Retired Rams great Jack Youngblood has even accused that organization of failing to adequately embrace its alumni.
Best team facility:
Few team headquarters in any sport can compete with the $75 million facility Seahawks owner Paul Allen constructed on Lake Washington south of Seattle. The practice fields overlook the water, with swank homes staring back from the opposite shore. Giant doors slide up for an open-air experience in the players' weight room, offering views of the practice field and, nearby, the water. The team has flown in free agents via seaplane, docking right at the facility. Square footage is right around 200,000 -- second-highest in the NFL,
according to the team
-- and includes an indoor practice facility adjacent to the locker room. No other facility in the division comes close.
Best billionaire owner:
Allen has the clear edge for now based on the Seahawks' success over the past decade, but Stan Kroenke's prospects deserve our attention. Kroenke has proven himself as a capable owner in other sports. He has also engaged his fellow NFL owners in ways Allen simply refuses to do. That gives Kroenke the ability to make the Rams more relevant at the league level. Seattle's profile has suffered with Mike Holmgren and Tod Leiweke leaving the organization in recent years.
Best training camp venue:
The Seahawks have it nice on Lake Washington, but there's something special about going away to camp if the venue is right. Northern Arizona University fits the profile for the Cardinals. It's far enough from Phoenix to escape the blistering heat, but close enough for fans to turn out in large numbers. The high-desert scenery and nearly 7,000-foot elevation combine to set apart NAU from other camp venues in the division and the league overall.
February, 5, 2010
2/05/10
11:54
AM ET
FORT LAUDERDALE, Fla. -- The Rams haven't won enough recently to let damaging perceptions linger.
It's not Billy Devaney's style, anyway.
Devaney, the Rams' general manager, has shown his pugnacious side a few times,
including last season
when ESPN analyst
Mark Schlereth
criticized the team's handling of 2009 first-round choice
Jason Smith
. Schlereth later
clarified his comments
.
Devaney sought to right another alleged wrong Friday while making the Super Bowl media rounds Friday. According to Devaney, the Rams have never taken down photos of all-time franchise greats, as
Marshall Faulk
suggested in
comments to Bernie Miklasz of the St. Louis Post-Dispatch
.
Every new leadership group tries to establish its own program, but Devaney and coach Steve Spagnuolo would never trample on the team's history so flagrantly, the GM said. Hall of Famer Jack Youngblood has also
been critical of the organization
lately, questioning the decision to fire long-time trainer Jim Anderson.
"It always matters what great players' opinions are as to what we are doing and how we are doing," Devaney said. " 'Spags 'and I have a ton of respect for what they have accomplished and what they have meant to the Rams. They are always welcome. I have talked to Marshall in the past. I talked to Jack Youngblood when he was visiting this year.
"The one thing I really want to clear up, I don't know how this notion got out of us taking pictures down. Steve came in and the only pictures Steve took down were of current Rams players and they were individual shots. He said, 'I want pictures up, but I want five or six players. I want team pictures up.' That is what we did. There are pictures throughout the building of Marshall Faulk,
Kurt Warner
,
Ricky Proehl
and the Hall of Fame Rams, all the great Rams. That is throughout the building."
The Rams might need to smooth over some of these relationships with their alumni. Mostly, they need to win.
February, 2, 2010
2/02/10
9:55
AM ET
If
Dwight Freeney
plays for the Colts Sunday with his bad right ankle, he would join a list of players who had some pretty serious injuries but still got on the field and played in the NFL's biggest game.
Paul Warfield: played in Super Bowl VIII with pulled hamstring
Jack Youngblood: played in Super Bowl XIV with broken leg
Terrell Davis: played with migraine headache during Super Bowl XXXII
Terrell Owens: came back from ankle injury early to play in Super Bowl XXXIX
Tom Brady: foot was in walking boot in week leading up to Super Bowl XLII
January, 12, 2009
1/12/09
10:49
AM ET
Posted by ESPN.com's Mike Sando
| | | |
| --- | --- | --- |
| Team | Record | Championship Game Result |
| 2008 Cardinals | 9-7-0 | Cardinals vs. Eagles |
| 2008 Eagles | 9-6-1 | Eagles at Cardinals |
| 1996 Jaguars | 9-7-0 | Patriots 20, Jaguars 6 |
| 1995 Colts | 9-7-0 | Steelers 20, Colts 16 |
| 1989 Browns | 9-6-1 | Broncos 37, Browns 21 |
| 1987 Vikings | 8-7-0 | Redskins 17, Vikings 10 |
| 1984 Steelers | 9-7-1 | Dolphins 45, Steelers 28 |
| 1983 Seahawks | 9-7-1 | Raiders 30, Seahawks 14 |
| 1979 Rams | 9-7-0 | Rams 9, Bucs 0 |
| 1977 Vikings | 9-5-0 | Cowboys 23, Vikings 6 |
| 1973 Raiders | 9-4-1 | Dolphins 27, Raiders 10 |
| 1971 49ers | 9-5-0 | Cowboys 14, 49ers 3 |
| 1970 Raiders | 8-4-2 | Colts 27, Raiders 17 |
The greatest teams in NFL history exist in our memories. They certainly aren't participating in the playoffs this season.
Exhibit A, courtesy of ESPN Stats & Information: The Eagles-Cardinals NFC Championship will be the first conference championship game in a non-strike season to feature two teams who won fewer than 10 games in the regular season.
The chart shows how teams with fewer than 10 regular-season victories fared in championship games since 1970. We excluded the 1982 strike season because teams played only nine games.
The 1979 Rams were the last NFL team to win a conference championship game after finishing a regular season with fewer than 10 victories (they were 9-7). The Cardinals or Eagles will join them. Those 1979 Rams suffered a 31-19 defeat to the Steelers in Super Bowl XIV despite the efforts of Vince Ferragamo, Wendell Tyler, Cullen Bryant, Preston Dennard, Billy Waddy, Nolan Cromwell and Jack Youngblood.

NFL SCOREBOARD
Thursday, 9/18
Sunday, 9/21
Monday, 9/22
WEEKLY LEADERS