November, 9, 2011
11/09/11
1:00
PM ET
»
Midseason MVPs
:
East
|
West
|
North
|
South
»
AFC
:
East
|
West
|
North
|
South
My picks for midseason most valuable player for each team in the division:
San Francisco 49ers: Frank Gore
The season started poorly for him and there were whispers about whether or not he had lost a step. Gore has put to rest those concerns emphatically. His five consecutive games with at least 100 yards rushing are a franchise record and the NFL's longest streak since
Maurice Jones-Drew
had six last season. The 49ers have cut back Gore's role as a receiver. They have also worked rookie
Kendall Hunter
into the rotation. Still, Gore is averaging a career-high 19.9 rushing attempts per game. Ankle injuries have threatened Gore more than opposing defenses have threatened him.
[+] Enlarge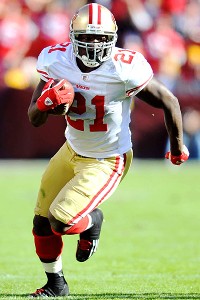 James Lang/US PRESSWIREFrank Gore has rushed for 782 yards and has surpassed 100 yards in five consecutive games.
Seattle Seahawks: Chris Clemons
This was a tough call because free safety
Earl Thomas
carries quite a bit of value, too. Clemons stands as the best pass-rusher on a team that needs more of them. His toughness in playing well through injuries has commanded respect from teammates. Clemons remains on pace for his second consecutive season with double-digit sacks.
Michael Sinclair
was the last Seahawks player with at least 10 sacks in consecutive seasons. He accomplished the feat back in 1997-98. Jacob Green did it twice in the 1980s.
Arizona Cardinals: Patrick Peterson
Peterson is the first player in NFL history with three punt returns for touchdowns in the first eight games of his career. His fourth-quarter return touchdown against Carolina and overtime return touchdown against St. Louis were directly responsible for the Cardinals only victories of the season. On defense, Peterson is still getting acclimated to Arizona's scheme and those pesky NFL rules. Penalties have dogged him. He does have two interceptions, however, and continues to develop.
St. Louis Rams: Steven Jackson
The Rams have been competitive in their past two games. Jackson's return to health has been the leading reason why. With 289 yards spread across games against New Orleans and Arizona, Jackson has put himself back on pace for a seventh consecutive 1,000-yard rushing season. The Rams will be
Sam Bradford
's team at some point in the future, but Jackson's profile in the locker room is unrivaled at Rams Park. He's the emotional leader of the team and the one player everyone on the roster can rally around.
July, 7, 2010
7/07/10
12:00
PM ET
A weeklong look at current or former players or coaches with Hall of Fame potential in the division.
Rams:
Orlando Pace
, LT
Claim to fame:
Seven Pro Bowl appearances and three first-team All-Pro selections affirm Pace's standing as one of the elite offensive linemen of his era. Pace started two Super Bowls for the
St. Louis Rams
, winning one, and he was one of the best players for the Greatest Show on Turf.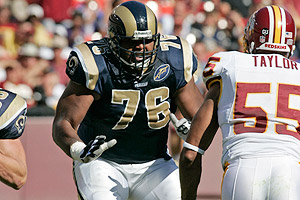 Jeff Fishbein/Icon SMIOrlando Pace was selected to the Pro Bowl seven times during his career.
Case for enshrinement:
At his best, Pace dominated in all aspects of the game and he did it while playing for some of the best offenses of any era. Any discussion of the great tackles since the mid-1990s must include Pace,
Walter Jones
and
Jonathan Ogden
. The Rams drafted Pace first overall in 1997 and he lived up to expectations. That's saying a lot.
"The thing Orlando does so well is that he can get caught off balance on the pass rush and recover and finish the block, which is very difficult to do," then-Rams coach Mike Martz told the St. Louis Post-Dispatch in 2002, when Pace was in his prime.
The Rams' offense put pressure on its tackles to hold up in protection. Receivers ran deeper routes, forcing quarterbacks to hold the ball longer. The Rams were willing to risk sacks for the big play. They gave up more than most teams by design, not because Pace had trouble protecting.
"Orlando is the cornerstone of everything we're trying to do on offense," teammate
Isaac Bruce
told the Post-Dispatch in 2004.
Case against enshrinement:
Pace's conditioning wasn't always the best and he battled injuries throughout his career, at the expense of consistency.
Pace managed to play through the injuries for most of his first nine seasons, but he missed 23 of 32 games over the 2006 and 2007 seasons. Pace was never the same thereafter and he was below average last season for the
Chicago Bears
.
Parting shot:
The final five or six seasons of Pace's career shouldn't overshadow what he accomplished in earning those seven trips to the Pro Bowl. Pace deserves strong consideration for the Hall of Fame even though he'll likely rank a couple notches below Jones and Ogden.
Cardinals:
Kurt Warner
, QB
Claim to fame:
Warner authored a legacy unique to the NFL in going from virtual anonymity to superstar status when the Rams lost
Trent Green
to injury before the 1999 season. He was a four-time Pro Bowl choice and two-time MVP. He was also Super Bowl MVP. Warner helped turn two floundering franchises into Super Bowl teams quickly.
Case for enshrinement:
None of the 14 quarterbacks enshrined in the Hall of Fame since 1985 can match Warner in completion percentage (65.5) or yards per game (260.8). Of the 14, only Steve Young had a higher passer rating and more yards per attempt. Only Dan Marino had more 300-yard games.
Warner reached 10,000 yards passing in fewer games than anyone in NFL history. Only Marino reached 20,000 and 30,000 yards as fast (they tied by reaching 30,000 yards in 114 games). Warner and
Peyton Manning
are the only players with a perfect passer rating in three games.
Warner was also about winning. He has a 9-4 starting record in the playoffs and has posted the three highest passing yardage totals in Super Bowl history. Only Bart Starr has a higher career postseason passer rating. Warner averaged 66.5 percent completions, 304 yards and 8.55 yards per attempt in the playoffs. Warner has 31 postseason touchdown passes in only 13 games (the three players ahead of him own between 18 and 24 playoff appearances).
Case against enshrinement:
Warner started more than 11 games in a season only four times. He started between nine and 11 games four times and didn't accomplish much for a five-season period beginning in 2002.
Any argument against enshrinement for Warner will focus on the disjointed nature of his career and the fact that he produced sporadically as a result. The consistency simply wasn't as good with Warner as it was with the typical Hall of Fame quarterback.
Parting shot:
Warner's candidacy improved significantly when he led the Cardinals to the Super Bowl following the 2008 season. I thought it was also important for his Hall credentials to follow up with another strong effort in 2009. Warner did that, leading the Cardinals to another division title. Tossing five touchdown passes with only four incompletions during a wild-card victory over the
Green Bay Packers
might have pushed him over the top.
[+] Enlarge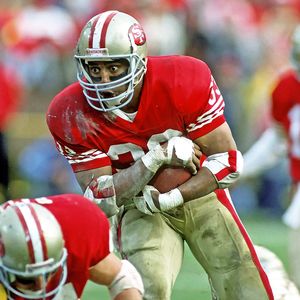 US PresswireRoger Craig was the first player in league history to post 1,000 yards rushing and receiving in the same season.
49ers:
Roger Craig
, RB
Claim to fame:
Craig was among the more versatile running backs in league history, earning Pro Bowl honors at running back and fullback. He was a three-time Super Bowl champion and four-time Pro Bowl choice.
Case for enshrinement:
Craig was the first player in NFL history to top 1,000 yards rushing and receiving in the same season. He led the NFL in receptions with 92 in 1985 and set the 49ers' season rushing record with 1,502 yards three years later.
It's tough to measure players across eras, but Craig ranked 13th on the all-time rushing list when he retired even though he did so much more than simply run the ball. His three touchdowns against the
Miami Dolphins
helped the 49ers win the Super Bowl after the 1984 season.
Craig was one of three players in NFL history with 8,000 yards rushing, 4,900 yards receiving, 70 total touchdowns and four Pro Bowls. Marcus Allen and Marshall Faulk are the others.
Case against enshrinement:
Craig's versatility meant he usually wasn't exceptional in any one category. He generally wasn't a threat to rank among the league rushing leaders. While he did play fullback, he wasn't a great one in the traditional sense.
Craig was a four-time Pro Bowl choice with 8,189 yards rushing, 4,911 yards receiving, 73 total touchdowns and a 4.1-yard rushing average. Ricky Watters was a five-time Pro Bowl choice with 10,643 yards rushing, 4,248 yards receiving, 91 total touchdowns and a 4.1-yard rushing average.
Parting shot:
Craig has good Hall of Fame credentials, not great ones, and he'll have a hard time breaking through given the quality of candidates and limited spaces.
Seahawks:
Kenny Easley, SS
Claim to fame:
Easley was a game-changing force while earning five Pro Bowl berths in seven seasons. He was the NFL's defensive player of the year in 1984.
Case for enshrinement:
All-time Seahawks sack leader Jacob Green called Easley the best athlete his Seattle teams ever had. Tight end Todd Christensen of the division-rival Los Angeles Raiders said Easley, at his best, was even better than Hall of Famer Ronnie Lott. Bill Walsh said Easley would be a Hall of Famer if Easley had played longer and, in his words, "maybe he still is -- he was that good." Lott said he knows the 49ers would have drafted Easley over himself if Seattle hadn't taken Easley first, and he blamed the Seahawks' failure to appear in a Super Bowl for keeping Easley out of Canton.
"Kenny could do what Jack Tatum could do, but he also could do what corners could do -- he could do what Mike Haynes could do," Lott said several years ago. "He was not only a great hitter and great intimidator on the field, but he was a great athlete. In that day, what made him so special -- him, Lawrence Taylor, those guys changed the game of football on the defensive side because they were not just guys that were big hitters. Now, all of sudden, you were seeing guys who were big hitters but also as athletic as anyone on offense."
Easley's outstanding ball skills helped him pick off 17 passes over a two-year period. He was indeed part of a trend toward greater athleticism on defense.
Case against enshrinement:
Even if Easley were, at his best, better than Lott, there was no comparison between each man's careers. Easley, forced into early retirement after suffering from kidney failure attributed to excessive use of ibuprofen, simply didn't play long enough to solidify his Hall of Fame credentials. That wasn't his fault, but it was reality and it's tough to judge candidates on what might have been.
Parting shot:
Easley becomes eligible for consideration by the Hall of Fame's Senior Selection Committee in 2012. His case deserves careful consideration and I think his chances for enshrinement will improve once the Senior Committee takes a harder look at his career. Easley was better than a lot of people realize. The respect he commands from all-time greats will help his cause.
June, 24, 2010
6/24/10
10:00
AM ET
Notable players:
LT
Walter Jones
, LG
Steve Hutchinson
, C
Robbie Tobeck
, RB
Shaun Alexander
, QB
Matt Hasselbeck
, FB
Mack Strong
, MLB
Lofa Tatupu
, RCB
Marcus Trufant
, WR
Bobby Engram
, WR
Darrell Jackson
, WR
Joe Jurevicius
[+] Enlarge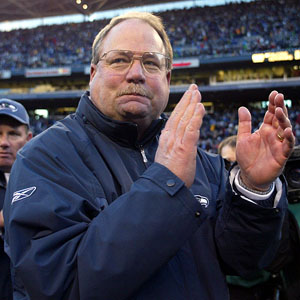 AP Photo/John FroschauerMike Holmgren's 2005 Seahawks were the only team in franchise history to make the Super Bowl.
Analysis:
The 2005
Seattle Seahawks
were the only team in franchise history to win more than 12 regular-season games. They were the only Seahawks team to appear in a Super Bowl, the only one to lead the NFL in points per game or to place more than two offensive linemen in a Pro Bowl.
This was the best team in franchise history by the critical measures. It had a Pro Bowl-caliber quarterback, the best offensive line in the NFL, the league MVP at running back and a defense that played its best where it mattered -- in the red zone. Rookie middle linebacker Lofa Tatupu brought direction to a defense lacking leadership.
Coach Mike Holmgren always said he needed his best players to be at their best for a team to approach its potential. This team had that, but clutch contributions from role players sent the 2005 squad on its way.
Receiver Joe Jurevicius added toughness at receiver while catching 10 touchdown passes, offsetting injuries to Darrell Jackson and Bobby Engram.
On defense, backup cornerback
Jordan Babineaux
made a season-altering play by picking off
Drew Bledsoe
with 14 seconds remaining during a 13-10 victory over the
Dallas Cowboys
in Week 7. Seattle had lost two of its first four games that season. Beating the Cowboys heading into the bye was important, but the matter in which Seattle won the game proved transforming.
"My hope is that every time you can win a game like this where it looked a little grim for a while but they you pull it out, it really helps you down the road," Holmgren said afterward. "It really helps your confidence. Organizations need to win games like this at some point."
The Seahawks had tied the score with 46 seconds remaining on Hasselbeck's 1-yard touchdown pass to backup tight end
Ryan Hannam
(after another backup, receiver
Jerheme Urban
, made a 22-yard reception at the 2-minute warning). Babineaux returned Bledsoe's pass 25 yards, getting out of bounds in time for
Josh Brown
to kick the winning field goal as time expired.
Most impressive win:
The 2005 team was at its dominant best during a 34-14 victory over the
Carolina Panthers
in the NFC title game.
Advanced chemistry:
Teams release injured backups regularly without repercussions, but veteran players protested when management released Urban instead of placing him on injured reserve following a foot injury in November. Urban had made an impression on teammates while catching seven passes for 151 yards. Management gave in to Seattle's veteran leadership, rescinding Urban's release and placing him on IR. The unusual move reflected the strength of the Seattle locker room during a special season.
Honorable mention
1984:
This was the only team in franchise history to rank among the NFL's top five in points scored and points allowed. Kenny Easley was the NFL's defensive player of the year. Steve Largent and Daryl Turner combined for 22 touchdown receptions. Defensive ends
Jeff Bryant
and Jacob Green combined for 27.5 sacks.
1983:
Other Seattle teams had better regular-season records, but the 1983 team recorded two playoff wins, including an upset shocker in Miami. The 2005 Seahawks were the only other Seattle team with more than one victory in the same postseason.
2007:
Losing Hutchinson during the previous offseason hurt, but Hasselbeck set a career high with 28 touchdown passes. Alexander topped 100 yards rushing in an overtime road defeat at eventual NFC champion Chicago in the divisional round.
April, 6, 2009
4/06/09
9:10
AM ET
Posted by ESPN.com's Mike Sando

Lowell Cohn of the Santa Rosa Press-Democrat says Jay Cutler would have been "all wrong" for the 49ers. Cohn: "He is not a winner, has a losing career record: 17-20. Did you know that? You don't build a winner around a loser. He has a big mouth and he sulks. He has a reputation for being undisciplined and for coming unglued precisely when a quarterback is supposed to stay glued. Say what you will about [Shaun] Hill's limitations, he is supremely poised -- poise is his main virtue. The Broncos gave up on Cutler precisely because he's immature bordering on goofy and unstable."
David Fucillo of Niners Nation wonders if Dashon Goldson will stay healthy long enough to realize his potential as the 49ers' free safety.

Darren Urban of azcardinals.com checks in with the Cardinals' cheerleading tryouts because, hey, someone has to do it. This handy photo gallery is probably setting an NFC West offseason record for page views.
Revenge of the Birds' Andrew602 looks at some of the greatest fullbacks in Cardinals history. Ernie Nevers, Ollie Matson, Jim Otis and Larry Centers are part of the conversation.

Bernie Miklasz of the St. Louis Post-Dispatch says the Rams made a smart move in signing Kyle Boller as a backup quarterback. Looking ahead to the draft, Miklasz sees evidence the Rams will select an offensive tackle with the No. 2 overall choice. At the same time, can they really go into the season with Keenan Burton as a starting receiver?
Jim Thomas of the St. Louis Post-Dispatch says Boller's deal with the Rams, initially reported as a two-year contract, is really for one season.
Turf Show Times' Tackle Box examines the Rams' running backs while looking at available free agents and potential late-round draft prospects. The conclusion? "So, at this point, I really want the Rams to take a strong and long look at Warrick Dunn. I think with him in the fold, the Rams' offense becomes absolutely powerful. Plus, adding him takes away from our lack of experience at the WR position since you'd have the possibility of Steven Jackson, Warrick Dunn, and Randy McMichael running routes which would definitely keep defenses honest and should free up Donnie Avery deep."

Dan Arkush of Pro Football Weekly says Seahawks defensive line coach Dan Quinn is "very excited" about the team's versatility at defensive tackle. Arkush echoes the general feeling that Seattle will not seriously consider a defensive tackle with the fourth overall choice in the draft. The Seahawks have not drafted a defensive tackle among the top 20 overall choices since selecting Sam Adams eighth in 1994. The team has drafted five defensive linemen in the top 10: Steve Niehaus (1976), Jacob Green (1980), Jeff Bryant (1982), Cortez Kennedy (1990) and Adams. All but Niehaus played in at least 167 regular-season NFL games.
July, 25, 2008
7/25/08
9:31
AM ET
Posted by ESPN.com's Mike Sando
Jim Thomas of the St. Louis Post-Dispatch has the good news for Rams fans: Pro Bowl left tackle Orlando Pace has been cleared to practice. That means Pace won't open camp on the physically unable to perform list, as coach Scott Linehan had suggested he might. Pace is coming off shoulder surgery and two injury-shortened seasons. I think the Rams are a potential playoff team if Pace plays a full season at a high level.
Bill Coats of the St. Louis Post-Dispatch has the latest on contract talks for Rams running back Steven Jackson, who was not immediately in camp. Jackson should be in good position to command a new deal given what new offensive coordinator Al Saunders thinks about him. Saunders knows what Jackson means to the offense. Jackson is scheduled to earn $1.7 million in 2008, the final year of his contract.
Doug Lesmerises of the Cleveland Plain Dealer tells how Ohio State coach Jim Tressel used his relationship with former 49ers owner Eddie DeBartolo Jr. to bring in Jerry Rice, Ronnie Lott, Joe Montana and Roger Craig as motivational speakers. What, no Elvis Grbac?
Danny O'Neil of the Seattle Times takes roll heading into Seahawks camp. Rookies Lawrence Jackson and John Carlson remain unsigned and absent. O'Neil also has a chart showing the length of recent contract disputes involving Seattle rookies.
Dave Boling of the Tacoma News Tribune breaks down the issues Seattle faces heading into camp, noting that the big ones sound quite familiar. Marcus Tubbs, the offensive line, etc. Boling's conclusion: "The Hawks have been to the playoffs nine times in their history & and six of them have been under Holmgren, including the last five straight. That's an example of redundancy that fans can live with." Full disclosure: Dave was best man in my wedding.
Brian McIntyre of the Scout.com network provides a pre-camp Seahawks roster breakdown in the format I used for years as a beat reporter. You might see similarly conceived roster analyses here.
Kent Somers of the Arizona Republic breaks down Anquan Boldin's beefs with the Cardinals. Says Boldin: "At this point, I'm not even interested in a contract. For me, it's been going on two years, and especially after last year, I was promised a deal would get done before the season. But the season's here and obviously that hasn't happened. I don't want a deal. People may think I'm being funny or saying that just to say it. But, for me, I'm just tired of it. Washed my hands of the whole situation. My agent has direct orders not to negotiate. So that's how I feel about it."
Scott Bordow of the East Valley Tribune thinks the Boldin impasse could negatively affect the Cardinals' season, given Boldin's role as heart and soul of the team. Bordow also says we shouldn't discount the possibility of an agreement if the Cardinals were to up their offer at some point in the future. I tend to agree only because Boldin has three years remaining on his deal, and much can change in three NFL seasons.
Mike Tulumello of the East Valley Tribune breaks down Steve Breaston's push for the No. 3 receiving job. We'll have a better idea how the race will shake out once third-round receiver Early Doucet puts on the pads at camp. I'll judge Doucet more by how he fares in exhibition games than how he fares in practices, particularly early in camp.
Tom FitzGerald of the San Francisco Chronicle was there when 49ers rookie Kentwan Balmer broke down in tears (of joy) after signing his rookie contract. I don't know much about Balmer, but this has to be a good sign. The guy obviously cares.
Clare Farnsworth of the Seattle Post-Intelligencer puts the 80-man roster limits in perspective, going beyond the obligatory comments from coaches lamenting the reductions. Farnsworth digs deep into his notes to recall a 1989 conversation with defensive end Jacob Green, who knew what smaller roster limits could mean for veteran players. Projecting ahead, I don't see the limits affecting Seattle as much as they might affect teams run by hard-nosed defensive coaches. Mike Holmgren already tends to limit the amount of contact in the interests of keeping players healthy.
Thomas Bonk of the Los Angeles Times reminds us how some were picking the 49ers as a sleeper team last season. Not this season, and that's a good thing for the 49ers. They need to prove it to themselves before the rest of us buy in.
Jamie Griswold of MyNorthwest.com provides a link to a Matt Hasselbeck interview featuring a telling quote from the Seattle quarterback regarding new line coach Mike Solari: "He's really done a nice job of bringing our running game together." Seattle fans should be encouraged when Hasselbeck directs optimistic thoughts toward a specific area, particularly when that specific area is the much-maligned Seattle ground game.
NOTE: Please drop additional links into the comments section if you think I've missed some good ones. I'm an RSS fiend but still can't get to everything.
NFL SCOREBOARD
Thursday, 10/16
Sunday, 10/19
Monday, 10/20
WEEKLY LEADERS