NFL Nation:

Jaguars hire Gus Bradley
January, 18, 2013
1/18/13
12:19
PM ET
The tendency in the NFL with hires is to get guys who are largely the opposite of the people they are replacing.
Departed Jaguars general manager Gene Smith and coach Mike Mularkey were low-key guys.
[+] Enlarge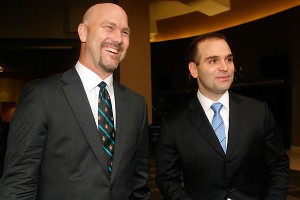 Phil Sears/USA TODAY Sports New coach Gus Bradley, left, said he could "feel the passion" coming from GM Dave Caldwell, right, when he interviewed for the job.
Replacements David Caldwell and Gus Bradley are high-energy guys who talk over and over about passion.
"I think what sold me on this opportunity was the passion," Bradley said as his introductory news conference Friday morning. "I'm a defensive coach, I have great passion, great excitement. I'm trying to hold it back a little bit right here. But I think with [owner] Shad [Khan] and Dave, given a chance to visit with them, I could just feel the passion coming from them with what they really want to accomplish here. I knew our philosophies meshed together and it became very exciting very fast."
That alone won't cure what ails the Jacksonville franchise, but it's a change the city and fans should appreciate.
Some notes out of the news conference:
Among those Bradley thanked were the players on defense in Seattle, where he was coordinator. "If it wasn't for them," he said, "I'm humble enough to know I wouldn't be here."

His name: Bradley's birth certificate says his first name is Paul, which satisfied a Catholic family's desire he be named after a saint. But his parents intended to call him Casey. It wasn't long before his brother nicknamed him Gus, which stuck.

Bradley and Caldwell actually crossed paths once, briefly in 1990 or 1991. Bradley was coaching at his alma mater, North Dakota State and Caldwell passed through on a scouting trip.

Bradley said he's spoken to colleagues who said as young coaches assembling their first staff they made decisions too quickly. He will take his time assembling his staff. "It's important to find out about people, because it is a people business," he said.

Regarding scheme, he said the Jaguars would play to their strengths. But we can expect a multiple offense. "I understand what hurts defenses, what causes us problems: Multiple personnel groupings, multiple formations, diversity, with the quarterback run game, with the spreading out, the two-back run game, the zone. All things are issues. ... We'll work together on some issues that will cause great difficulty."

He talked of having an explosive offense, something both Jack Del Rio and Mike Mularkey spoke of but were unable to produce in their time as the Jaguars head coach. He said being able to run effectively -- be it through backs, the quarterback or even the short passing game that functions like the run -- gives a team the opportunity to be explosive.

Bradley didn't want to talk about a timetable for being a playoff contender. He said his team's focus will simply be on getting better every day. If the team does that, he said, it's remarkable how other things can fall into place.

He met Paul Posluszny Friday morning and spoke to Maurice Jones-Drew on the phone.

Bradley declined to talk about Matt Flynn, a quarterback under contract with Seattle, and didn't field a question about Blaine Gabbert and Chad Henne.

While Caldwell's contract is for five years, Bradley's is for four.

"My whole hope is to be genuine," he said. "That's it."
January, 17, 2013
1/17/13
12:39
PM ET
When new GM David Caldwell decided not to retain Mike Mularkey and set off on a search for a head coach, he spoke of looking for a co-builder of the
Jacksonville Jaguars
.
Caldwell's guy is hired and Gus Bradley will be introduced Friday.
Now the two will embark on the toughest job in the league: Roster building for a team that doesn't have much talent.
[+] Enlarge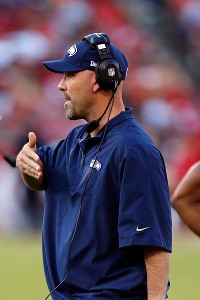 AP Photo/Paul SpinelliNew coach Gus Bradley inherits a roster with a dearth of playmakers and an upgrade needed at quarterback.
The Jaguars were technically the second-worst team in the league in 2012. They and the
Kansas City Chiefs
were 2-14, but Kansas City played an easier schedule and thereby qualified for the No. 1 pick in the draft.
Caldwell and Bradley will be looking to add a blue-chip player at No. 2, a building block.
The list of guys under contract that I consider pieces they can fill in around isn't very long:
On offense: Receivers Cecil Shorts and Justin Blackmon, left tackle Eugene Monroe, tight end Marcedes Lewis (though he's overpriced), running back Maurice Jones-Drew (who could be dealt with one year remaining on his deal).

On defense: Ends Jeremy Mincey and Jason Babin, middle linebacker Paul Posluszny, safeties Dwight Lowery and Dawan Landry.
That's not a lot, and we don't know if all those guys fit what Caldwell and Bradley will want to do systematically.
While a lot of teams have turned things around quickly, the Jaguars need a major infusion of talent. A quality free-agency class and a good draft can do a lot to help the team make a jump. But this roster needs major revamping, and it'll take more than a year to turn the Jaguars into a playoff-caliber team.
The one element that can accelerate a turnaround -- a big-time quarterback -- does not appear to be available. The Colts went from 2-14 to 11-5 with a new regime, but the central player in the turnaround was No. 1 pick
Andrew Luck
. There is no Luck to be brought in here.
Blaine Gabbert
and
Chad Henne
are under contract.
Perhaps the Jaguars find a quarterback who's a revelation like third-rounder
Russell Wilson
in Seattle, where Bradley comes from. Perhaps they deal for
Matt Flynn
(also in Seattle) or
Alex Smith
(San Francisco) and the new veteran is a big upgrade.
But the odds on either scenario are long.
More likely the leadership duo look to build all other areas of the roster while waiting for a chance at a quarterback in a year or two. Caldwell's contract is for five years. We don't know the length of Bradley's deal yet.
But their co-build is very likely going to take time.
January, 17, 2013
1/17/13
9:15
AM ET
Before Thursday, the newest members of the NFL head-coaching fraternity -- Doug Marrone in Buffalo, Andy Reid in Kansas City, Mike McCoy in San Diego, Rob Chudzinski in Cleveland, Chip Kelly in Philadelphia, and Marc Trestman in Chicago -- all had one important thing in common.
They were offensive guys.
New Jaguars general manager David Caldwell has made his move, and it seems like a countermove.
[+] Enlarge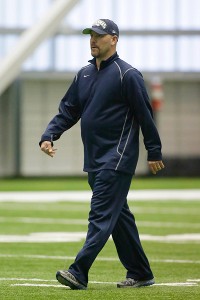 AP Photo/Ted S. WarrenGus Bradley's defense in Seattle finished first in the NFL in points allowed, fourth in yards and tied for fourth in takeaways.
Adam Schefter reports Caldwell has hired Seattle defensive coordinator Gus Bradley as the fourth head coach in Jaguars history (not counting Mel Tucker's interim work in 2011).
I've heard nothing but good things about Bradley, who may have gotten an offer in Philadelphia if Kelly had not re-emerged.
The push around the league with offensive guys comes for obvious reasons. Everyone either wants to rehabilitate a quarterback or find one. And getting a quick impact with a new guy is perceived as easier, fair or not, thanks to the seasons we just saw from
Andrew Luck
,
Robert Griffin III
and
Russell Wilson
.
But defenses have to be developed to stop those guys. And Caldwell basically had his pick of the best defensive people in the league. If he hits with Bradley, he'll look awfully smart for doing so.
Bradley's defense in 2012 allowed opposing quarterbacks a passer rating of just 71.8. The unit ranked fourth overall, 10th against the run and sixth against the pass. Seattle was just 17th in third-down defense but was No. 1 in scoring defense, allowing an average of 15.3 points a game.
As far as developing a quarterback, the big question is about the staff Bradley can put together. Who's his offensive coordinator going to be?