NFL Nation:

Jahleel Addae
March, 24, 2014
Mar 24
5:30
PM ET
Drafted as a developmental prospect last season, receiver
Keenan Allen
topped the
San Diego Chargers
' list for performance-based pay in 2013.
Allen added $218,153 to his a little over $1 million in total compensation in 2013. Following Allen on the list for the Chargers were safety
Jahleel Addae
($196,582), an undrafted rookie free agent considered a long shot to make the final roster last season; offensive lineman
Johnnie Troutman
($187,085); cornerback
Richard Marshall
($181,694); and receiver
Vincent Brown
($160,243).
Check out the full list for every NFL team here.
Established in 2002 as part of the collective bargaining agreement, the NFL's performance-based pay program is a fund created and used as a supplemental form of player compensation based on a comparison of playing time to salary.
Players become eligible to receive a bonus distribution in any regular season in which they play at least one official down.
Each NFL team received $3.46 million to pay out to their players for the 2013 season. Generally, players who benefit the most from the pool of money are those that played extensively but had low salaries relative to their teammates.
Allen played in 898 offensive snaps in 2013.
December, 26, 2013
12/26/13
6:30
PM ET
SAN DIEGO -- Similar to the team's improved performance defensively,
San Diego Chargers
rookie safety
Jahleel Addae
's play has ascended during the second half of the season.
Chargers defensive coordinator John Pagano said he took a liking to the undrafted rookie free agent safety out of Central Michigan shortly after the team brought him in after the draft in April while watching him in the team's offseason program.
"It's probably one of the best examples that we have, from where he came from during training camp to now," Pagano said. "The more reps you get, the more trust there is between players and being able to make those calls and being able to line up next to each other. That has been a key for him. He is a young player that is growing, that we are very excited about."
[+] Enlarge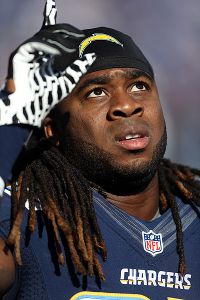 AP Photo/Paul JasienskiChargers defensive back Jahleel Addae has 36 tackles and a sack this season.
At 5-foot-10 and 195 pounds, Addae was mostly a special teams player during the first half of the season. But as Addae became more comfortable with the defense, Pagano began using him more as a fifth or sixth defensive back in passing situations.
"Obviously, being undrafted was motivation," Addae said. "Everybody feels like they should be drafted. So that was another chip on my shoulder that I came in here with. And just the love of the game -- I've got my God-given ability, and I just try and show that every time I go out there."
Addae played 53 snaps two weeks ago in a win over pass-happy Denver, as the Chargers played with five defensive backs most of the contest. And against Oakland last week, Addae logged 36 snaps.
Addae has 36 tackles and a sack in part-time duty. More than anything, Pagano said Addae brings a physical presence, energy and emotion to the defense.
"He is instinctive," Pagano said. "He has that football awareness to be able to go make those football plays. It's about taking the proper angles. It's about the correct fit and the right leverage. When you see a player do those things and do them at a fast rate, they really show."
Added Addae: "They have trust in me. And they give me opportunities to show what I can do and make plays. And I'm just trying to take advantage of it."
Addae initially attend Central Michigan to play on offense, but after the defensive coaching staff watched him pancake a linebacker on a running play, he switched to defense.
Addae says playing safety runs in his blood. His older brother Jahmile Addae was a four-year starter and two-time captain for Rich Rodriguez at West Virginia. The older Addae was a finalist for the 2005 Ronnie Lott Trophy and was named to the watch list for the Jim Thorpe Award that same season.
Jahmile Addae signed a free agent contract with his hometown
Tampa Bay Buccaneers
, and spent the end of the season with Indianapolis, but injuries cut short his NFL career. He now works as a defensive graduate assistant at the University of Michigan.
"I always feel like I'm playing for him," Addae said. "I'm playing for him, my family, those who helped me, and those who supported me. It's much bigger than me."
December, 16, 2013
12/16/13
9:50
AM ET
SAN DIEGO -- Because of injury or poor performance,
San Diego Chargers
defensive coordinator John Pagano has constantly juggled his starting lineup and defensive rotations this season.
[+] Enlarge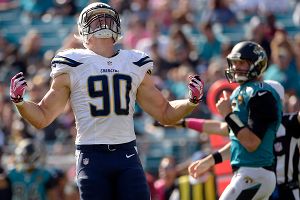 AP Photo/Phelan M. EbenhackThomas Keiser is tied for the team lead with 4.5 sacks.
Some of the lineup changes have been a reaction to the type of offense his team faces from week to week. For example, in a win against at Denver last week, the Chargers mostly used a lineup of five defensive backs to match up with the Broncos' up-tempo passing attack.
The Chargers used a total of 16 players on defense against the Broncos. Recently, Pagano's rotations have produced better results. San Diego's allowed just 13.7 points per contest in the team's last three games, two of which were wins for the Chargers.
"Play with a physical mindset, play a physical game and play with effort," Pagano said have been points of emphasis in improving his unit's performance. "Those are the things that take defensive players or defensive units to the next level, and that's what it's all about."
Against Denver, the Chargers have held the explosive Broncos' offense to an average of 24 points a contest in two games.
"They've got one of the best offenses in the history of the game," San Diego coach
Mike McCoy
said about his defense's effort against the Broncos. "They're very explosive, and everybody knows what they can do. So give John Pagano and his staff a ton of credit. That's an outstanding performance by the defense."
These role players on defense have stood out for the Chargers this season.
OLB
Thomas Keiser
: The Stanford University product began the season on the practice squad. But after season-ending injuries to
Dwight Freeney
and
Larry English
, Keiser was added to the active roster in Week 5 and took on more of a role as a third down pass-rusher. He's tied for the team lead with a career-high 4.5 sacks and corralled his first interception of the season against Denver on Thursday. At 6-4 and 260 pounds, Kaiser has enough speed and strength to get home off of the edge and is improving his pass coverage skills.
LB
Reggie Walker
: Pagano calls him Mr. Opportunity. Signed by San Diego just before the season began on Sept. 2 after he was released by Arizona during final roster cuts, Walker has played all four linebacker positions for the Chargers. The Kansas State product has started in four games. Walker has 41 tackles, three sacks, four quarterback hits and a forced fumble.
S
Jahleel Addae
: An undrafted rookie free agent out Central Michigan, Addae played mostly when the Chargers put six defensive backs on the field in obvious passing situations. However, Addae made his first start against Denver last week, finishing with two tackles. Addae has 31 tackles, a sack and a fumble recovery on the year.
CB
Richard Marshall
: The eight-year veteran took over for a struggling
Derek Cox
at cornerback three weeks ago, helping to stabilize the back end of San Diego's defense. Marshall has 51 tackles and six pass breakups on the season.
DE
Sean Lissemore
: Picked up in a trade with the Cowboys this season for a seventh-round pick, Lissemore helped anchor a run defense that allowed just 18 rushing yards to Denver last week. Lissemore has 21 tackles, two sacks and an interception on the year.
August, 31, 2013
8/31/13
7:53
PM ET

Most significant moves:
This is a thin roster, so there weren't a ton of standout cuts here. But there were two veteran names of note to get the axe in the first year of the Tom Telesco-Mike McCoy era in San Diego. Tackle
Max Starks
and receiver
Robert Meachem
were cut. Neither were very good this summer. Starks was signed to be the left tackle. But he was beaten out by
King Dunlap
and then by young
Mike Harris
to be the swing tackle. Meachem, signed in 2012 by the previous regime to be the No. 1 receiver, was a disaster. The team is thin at receiver and Meachem is guaranteed to make $5 million this season. Still, the Chargers decided to move away from him. Other cuts of note were center
David Molk
and pass-rusher
Thomas Keiser
. Both were expected to have roles going into camp.
Going young:
This is a team that is rebuilding and the 53-man roster shows it. All six draft picks (cornerback
Steve Williams
is on the injured reserve) made the team and three undrafted free agents -- safety
Jahleel Addae
, nose tackle
Kwame Geathers
and defensive end
Brandon Moore
-- made the 53-man roster. U-T San Diego reports it's the first time since 2007 that every draft pick made the team and the first time in 10 years that three undrafted free agents made the roster. Telesco is looking for youth to make an impact. The opportunity is there for these youngsters.
What's next:
This roster is far from set. The Chargers are going to be a work in progress. I expect Telesco will tinker with the bottom of this roster for the next several weeks, maybe even all season. As an executive in Indianapolis, Telesco was known for his eye for talent and for being able to pick up pieces off the street. Thus, this is his time to shine. He has plenty of work to do in San Diego. The Chargers could use depth on the offensive line, at receiver, on the defensive line, at outside linebacker and in the secondary. The team's special teams was weak in the preseason. That's a telltale sign of poor depth. So, more players are needed. Among the players San Diego could potentially look at are receivers
Lavelle Hawkins
,
Chris Harper
,
Russell Shepard
,
Tavarres King
, linemen
Ben Ijalana
,
Fernando Velasco
,
Jake Scott
and
Danny Watkins
and defensive tackle
Drake Nevis
.
Players cut:
CB
Cornelius Brown
, OT
Nick Becton
, DE
Frank Beltre
, S
Sean Cattouse
, TE
Ben Cotton
, CB
Marcus Cromartie
, LB
Phillip Dillard
, CB
Greg Gatson
, CB
Logan Harrell
, DE
Jerrell Harris
, RB
Michael Hill
, CB
Josh Johnson
, LB
Thomas Keiser
, WR Robert Meachem, CB
William Middleton
, LB
Dan Molls
, WR David Molk, OT
Randy Richards
, TE
David Rolf
, G
Steve Schilling
, OT Max Starks, WR
Luke Tasker
.
August, 15, 2013
8/15/13
11:50
PM ET
Random thoughts on the
San Diego Chargers
' 33-28
loss
at the
Chicago Bears
on Thursday night:
There's no getting around it: San Diego's first-team offense was awful.
It's the preseason and I have never been an August alarmist, but the problems that plagued San Diego in Chicago are the same issues that sabotaged the team in recent years. They were the reason why new head coach Mike McCoy was brought in.

San Diego looked good offensively against Seattle last week, but it was a disaster on Thursday night. The first-unit offense committed four turnovers (backup quarterback
Charlie Whitehurst
was on the field with the rest of the starters for one of them).
Quarterback
Philip Rivers
threw an interception and lost a fumble on a sack. Turnovers have been a problem for Rivers the past two years. He also hasn't gotten much protection. That was an issue again Thursday night as Rivers was sacked three times in three series. That's ridiculous, but it's nothing new.
According to ESPN Stats & Information, Rivers was sacked every 11.9 times he dropped back to pass last season -- the worst rate in the NFL. The pace was much higher in this game. It has to get better or the Chargers and Rivers will falter regardless of the good work McCoy and his staff are doing.
Max Starks started over King Dunlap at left tackle. Dunlap started last week and has been the starter most of camp. Dunlap played the second drive and is considered the favorite to win the job. Starks was beaten badly on a play Rivers was sacked and where he lost a fumble on the third drive. The performance could go a long way in giving Dunlap the job.
Guard D.J. Fluker, the No. 11 overall draft pick this year, has struggled in pass protection, but has been awesome in run-blocking. That's the book on him as a rookie.
Running back Ryan Mathews looked good. He ran hard and had 45 yards on nine touches. He will be fine if he can finally stay healthy.
Whitehurst had a solid night. He completed 9 of 13 passes for 97 yards and two touchdowns. He improved from last week and his performance in Chicago quieted talk that he could be replaced as the backup.
Rookie quarterback Brad Sorensen was also good as he went 8-for-14 for 127 yards and a touchdown.
The first-team San Diego defense was decent, considering all the turnovers it had to deal with. The unit has some holes, but it's further along than the offense at this point.
The Chargers have been beyond shaky on special teams in two preseason games. They were alarmingly bad in all phases at Chicago. McCoy believes the team will be better in the regular season because of injuries. Guys are playing who won't be in a few weeks.
Rookie receiver Keenan Allen's chances of winning the punt-returning job decreased when he badly muffed a punt and it was recovered by Chicago. Can't do that, rookie.
Running back Danny Woodhead did not play as he comes back from an undisclosed injury. He is expected to make his preseason debut next week.
Second-year tight end Ladarius Green had a touchdown catch for the second straight game and he totaled five catches for 78 yards for the night. He is showing he may be a factor this season.
Former Green Bay linebacker D.J. Smith continued to look good for San Diego.
Key backup cornerback Johnny Patrick was shaken up.
Undrafted rookie safety Jahleel Addae continued to make a push to make the 53-man roster.
Detroit is reportedly signing defensive tackle Justin Bannan. The Chargers had interest in him earlier this summer and could still use depth on the defensive line.
June, 11, 2013
6/11/13
9:28
PM ET
SAN DIEGO -- Some notes from the Chargers' minicamp Tuesday:
New coach Mike McCoy seems to have the trust of his players. It appears the group, which has been coached by Norv Turner since 2007, has totally bought into McCoy and there is a strong chemistry building between the players and the coaching staff.
McCoy
McCoy may never win any awards for his media candor, but his players have been struck by him and that is what's most important.
NFL SCOREBOARD
Thursday, 10/23
Sunday, 10/26
Monday, 10/27