NFL Nation:

Jamar Williams
October, 10, 2010
10/10/10
11:44
AM ET
October, 3, 2010
10/03/10
11:57
AM ET
NEW ORLEANS – Looks like the
Carolina Panthers
are pulling out their secret weapon against the
New Orleans Saints
.
At least technically, wide receiver
Dwayne Jarrett
is listed as active today. We'll see how active Jarrett is, but I wouldn't expect his career to suddenly take off or for him to get significant playing time. Jarrett, a second-round pick in 2007, was inactive last week and hasn't been much of a factor throughout his career.
Speaking of highly-drafted receivers that haven't done much, rookie
Armanti Edwards
is inactive for the fourth straight week.
Also inactive for the Panthers are running back
Tyrell Sutton
, linebacker
Jamar Williams
, offensive lineman
Chris Morris
, defensive tackle
Andre Neblett
and offensive tackle
Jeff Otah
.
September, 4, 2010
9/04/10
7:39
PM ET
Click
here
for a full list of Carolina's roster moves.

Biggest surprise:
There really were no surprise cuts, so the real surprise might be who actually did make the roster. The biggest shocker is that undrafted free agent
Andre Neblett
still is on the roster as a defensive tackle. A Temple product, Neblett took the Panthers by surprise and allowed them to cut
Corvey Irvin
and
Tank Tyler
, who went to camp looking like they had shots at roster spots.
No-brainer:
When the Panthers went through their June workouts, and even at the start of training camp,
Hunter Cantwell
was working as the No. 2 quarterback behind
Matt Moore
. A lot of fans read way too much into that and the proof came as Cantwell was cut Saturday. Although the Panthers liked the guy who spent some time on their practice squad last year, Cantwell never really had a chance. With the Panthers taking
Jimmy Clausen
in the second round and
Tony Pike
in the sixth, it was clear Cantwell's days were numbered. Coach John Fox is a creature of habit and Cantwell got some time in the No. 2 role simply because he knew the offense. As soon as Clausen had the playbook memorized, he stepped into the backup role. That left a minor competition between Cantwell and Pike. As the draft pick, the only way Pike was going to lose out was if he had a disastrous preseason. He did not.
What's next:
In the old days, Fox and general manager Marty Hurney usually set their opening roster in stone and didn't touch it unless there were injuries. But these aren't the old days with Carolina deeply into a youth movement. Hurney was active at this time last year, touching up the defensive tackle jobs and he's likely to be active in several areas this year. The Panthers don't feel great about their linebacker depth beyond
Jamar Williams
. Depth at wide receiver also looks to be an area the Panthers might be looking to improve.
August, 27, 2010
8/27/10
7:42
AM ET
The linebackers are next in our series of NFC South position rankings and this one took a lot longer and was way more agonizing than our previous installments on safeties and cornerbacks.
It started right at the very top because this division has two linebackers I'd put up against anybody. Everyone knows
Jonathan Vilma
and
Jon Beason
are absolutely great. But how the heck do you pick between the two? I don't want to overdramatize this, but my gut said this was like picking between Larry Bird and Magic Johnson or Mickey Mantle and Joe DiMaggio. You make a call, but there's a part of you that feels like you're slighting the other guy.
For all of these rankings, I rely on conversations with coaches, personnel guys and players to make my decision. When it came down to making the call between Beason and Vilma, I reached for the phone and made even more calls. The sources are anonymous, but I called some high-ranking people that I trust most on this one and they also were torn.
I took what they said, processed it and analyzed it and came to the decision that ultimately was mine. Here it is:
[+] Enlarge

Streeter Lecka/Getty ImagesJon Beason edged out New Orleans' Jonathan Vilma as best linebacker in the division by a hair.

Jon Beason, Panthers. What it really came down to was this: I viewed Beason and Vilma as equals in virtually every sense based on the past. These rankings are based to some degree on projections for the 2010 season and that's where I saw a slight edge emerge. Beason is moving from middle linebacker to the weak side and that's very significant because coordinator Ron Meeks runs a Tampa Two defense. In that scheme, the weakside linebacker takes on huge importance. Think of Derrick Brooks in the Tampa Bay glory days. Beason might not have the supporting cast around him that Brooks did, but he's going to have a chance to make more tackles and more big plays than he did in the middle.

Jonathan Vilma, Saints. You couldn't ask for a more complete middle linebacker and that's a very important spot in New Orleans' scheme. I don't know that there's a smarter defensive player in the division. Vilma also is a fantastic leader. Not sure if this works as a consolation prize for Vilma, but I'll say something I never thought I would. As someone who was born and raised hearing and seeing Penn State called Linebacker U., I'll admit Beason and Vilma have forced me to give the nod to Miami -- at least for the moment.

Curtis Lofton, Falcons. This guy makes me worry that I'll be trying to sort out a three-way race at this time next year. Lofton had a very good rookie year, got better in his second year and everybody I talk to believes he's ready to step to the elite level this year. Much like Vilma, he's a middle linebacker that can do it all.
Geno Hayes, Buccaneers. This may come as a shock to some Tampa Bay fans who believe Barrett Ruud is the Buccaneers best linebacker. That's no knock on Ruud and we'll come to him very soon. But the people around One Buccaneer Place keep singing Hayes' praises and they're all saying he's poised for a breakout season. Hayes is going to be an every-down linebacker. Now that the Bucs are back to playing the Tampa Two scheme, Hayes should be in position to make a lot of big plays.

Barrett Ruud, Buccaneers. Ruud does what he's supposed to do in this system. He makes tackles and he should make more this year because the Bucs did him a favor by putting so much emphasis on adding defensive tackles early in the draft. Ruud's been wanting a contract extension for some time and it hasn't happened. If he goes out and makes some big plays and shows he's the leader of the defense, he might get his wish. But the middle linebacker in the true Tampa Two isn't the most important guy on the field.

Dan Connor, Panthers. Before you go bringing up the Penn State angle, you should know this. Two of my panelists urged me to put Connor ahead of Ruud. I went against them because Ruud has a track record and Connor really doesn't. The Panthers are throwing him into the middle and we'll see how he does. But Carolina wouldn't have moved Beason to the weak side to take the spot of the injured Thomas Davis (he'd be high on this list if he were playing) unless the coaching staff had a lot of faith in Connor.

[+] Enlarge

David Butler II/US PresswireJonathan Casillas is replacing Scott Fujita on the outside of the Saints' linebacking corps.

Jonathan Casillas, Saints. This is a bit of a leap, but I saw very good things out of Casillas in training camp and early in the preseason. He moves well and he tackles well and I don't think the Saints are going to miss Scott Fujita all that much. It also won't hurt Casillas that he'll be lining up next to Vilma.

Sean Weatherspoon, Falcons. He's a rookie, but he's incredibly talented. The Falcons say he can play the strong side or the weak side equally well. My guess is Weatherspoon ends up starting on the strong side and making an immediate contribution.

Mike Peterson, Falcons. He's a question mark as he nears the end of his career. But the Falcons believe Peterson has at least a year in him. Their sudden depth at linebacker might cut into his versatility.

Stephen Nicholas, Falcons. He started last year and was average. With Nicholas and Coy Wire, the Falcons think they have quality linebacker depth. If Nicholas ends up starting again, the Falcons wouldn't be all that upset.

James Anderson, Panthers. He'll get the first shot at the starting job on the strong side. Anderson's been a quality backup and special-teams player and we'll find out if he can do more than that.

Quincy Black, Buccaneers. The Bucs have been praising Black just as much as Hayes. But there's one difference. Hayes will stay on the field with Ruud when the Bucs go to their nickel package.

Scott Shanle, Saints. A very dependable veteran and he helped the Saints win the Super Bowl last season. But Shanle's skills as a run defender might be starting to erode.

Jamar Williams, Panthers. While Anderson will open as the starter on the strong side, he hasn't really distanced himself from Williams. If Anderson stumbles at all, the Panthers won't hesitate to start Williams.
Previous position rankings
:
August, 5, 2010
8/05/10
3:03
PM ET
ESPN.com NFL Power Ranking (pre-camp): 22
SPARTANBURG, S.C. -- In the kindest of terms, fans and media are referring to the
Carolina Panthers
as a team in a youth movement.
There's some basis for that as they opened camp with the league's third-youngest roster after saying farewell to popular veterans such as
Julius Peppers
,
Jake Delhomme
and
Brad Hoover
.
In the harshest of terms, fans and media have referred to those departures as a "bloodletting'' and are talking about the Panthers as a team without an identity, a team that's not going to be very good.
Now, let's turn to two guys who beg to differ.
"How do you say we're going through a youth movement, when we beat those teams late in the season using the same key components?'' running back
DeAngelo Williams
said. "People can say what they want to say. But we know what it takes to win and we have what it takes to win.''
"The way I look at it is, I like our core guys,'' linebacker
Jon Beason
said. "I think we have a great nucleus. Now we're looking for a few good men, a few young guys who are talented. For those young guys, it's an opportunity to come in and do great things.''
Maybe Beason and Williams have valid points. They're two team leaders with a pretty good feel for the pulse of the locker room. They also have impressive résumés. Williams was one of two Carolina running backs (
Jonathan Stewart
was the other) to run for 1,100 yards last season. Scouts, coaches and players everywhere will tell you Beason is one of the best linebackers in the NFL.
Can you really call the Panthers a team without a face?
That's kind of a difficult statement to make when you look at Carolina's roster and see Beason and Williams. Then, keep looking and you see Stewart, left tackle
Jordan Gross
, center
Ryan Kalil
, right tackle
Jeff Otah
, receiver
Steve Smith
and cornerbacks
Chris Gamble
and
Richard Marshall
. Those are all guys the Panthers view as core players. Look around the league and see how many teams have that many core players in place.
"There are question marks, sure,'' coach John Fox said. "Anytime you have question marks, the expectations on the outside might not be that high. But on the inside, we know we've got some very good core players and those core players are going to have to have big seasons.
THREE HOT ISSUES
[+] Enlarge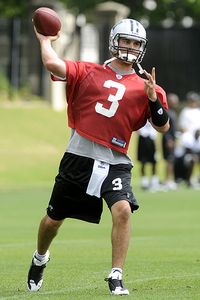 Sam Sharpe/US PresswireThe Panthers' confidence in quarterback Matt Moore appears to be growing.
1. Can this team win with Matt Moore as the quarterback?
Let's cut to the chase. This team already has won with Moore as the quarterback. Moore started the final five games of last season after Delhomme was injured. The Panthers won four of those games and Moore looked sharp the entire time.
Sure, that's not the longest of track records and the Panthers did draft
Jimmy Clausen
in the second round. But this isn't the Carolina camp of 2001, where the Panthers were kind of expecting Jeff Lewis to fail and to hand the job to rookie Chris Weinke.
Williams' point about the youth movement taking place last year might be right. Moore won this job with his play down the stretch and, so far in camp, the team's confidence in him is only growing.
"Matt Moore is a gamer,'' Williams said. "When he mentally locks in, the game comes easy for him. All quarterbacks in the league are pretty much the same. They can all throw the ball or they wouldn't be here. The thing that separates the good ones from the bad ones is decision making. Matt Moore can make decisions. Matt's going to be fine.''
Let's keep one other thing in mind. With an excellent offensive line, two very good running backs and Smith at wide receiver, Moore has a pretty strong supporting cast. He doesn't need to be
Peyton Manning
or
Drew Brees
. He just needs to keep mistakes to a minimum and the job can be his as long as he wants.
2. Can the defensive line be any good?
For much of Fox's tenure, the defensive line has been the foundation of the team. But Peppers was the last in a line of supernovas that used to include
Mike Rucker
,
Kris Jenkins
and
Brentson Buckner
. There are no current stars on this defensive front.
But Fox and the Panthers don't appear to view that as a bad thing. They're not expecting any single guy to come in and replace Peppers. They believe they can get quality out of quantity and are hoping the defensive front can attack in waves. They've got high hopes for
Charles Johnson
and
Everette Brown
, and rookies
Eric Norwood
and
Greg Hardy
have been very impressive in camp. They brought back
Tyler Brayton
for a bit of continuity, but they feel they've got some pass-rushers who can emerge.
They also have a better feeling about defensive tackles
Louis Leonard
,
Tank Tyler
and
Ed Johnson
than a lot of people realize. This might not be the traditional Fox defensive front with a huge run-stuffer in the middle and a big name on the outside. But, keep in mind, the Panthers brought in Ron Meeks as defensive coordinator last year and his system is based more on speed than power up front.
"We were eighth in the league in defense a year ago with a new scheme,'' Fox said. "It's kind of early to tell, but we should be better with our scheme the second time around.''
[+] Enlarge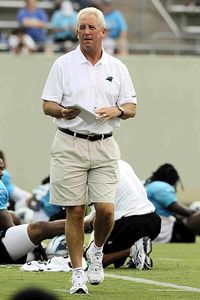 AP Photo/Chuck BurtonJohn Fox owns a 71-57 record in eight seasons with the Panthers.
3. Does all this talk about Fox being in the last year of his contract really make a difference?
Not at all. Fox is a creature of habit and he's going to coach the way he always has coached.
He's a confident guy with a pretty solid résumé. He's not losing sleep because he knows he can get another job if it comes to that. But he wants to make it work in Carolina, a place where his family has set down roots. Keep in mind, Fox never has had a truly bad season. There have been some disappointing years, but the record's always been close to or above .500. He's sometimes stumbled a bit when expectations were high, but he always has done his best job when people weren't counting on much out of the Panthers.
BIGGEST SURPRISE
Greg Hardy. The defensive end was a sixth-round draft pick because his college career didn't end all that well. But the Panthers took a shot because they thought there was uncommon physical talent sitting out there late in the draft. So far, they feel as if they might have hit a home run. Hardy has looked great in camp. Coaches are noticing him and so are other players. There were some questions about Hardy's ability to focus on football at the pro level. But so far, so good on that end. Brayton, Johnson and Brown are competing for the starting jobs, but Hardy appears to be carving out some playing time.
BIGGEST DISAPPOINTMENT
Dwayne Jarrett
. As they've been doing for his entire career, the Panthers are hoping the light suddenly comes on for this wide receiver. He's still running with the first team, but all indications are it's just not happening for Jarrett. There's still some work to be done and polish to be added, but the Panthers are starting to think rookie
Brandon LaFell
is their best option at the starting position opposite Smith. Jarrett basically is fighting for a roster spot at this point. The fact he's still making mental mistakes this far into his career means there's a good chance he's gone before the preseason is over.
[+] Enlarge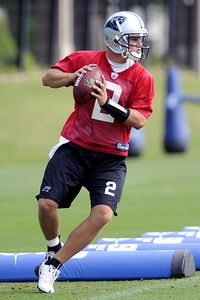 Sam Sharpe/US PresswireCarolina has been pleased with how Jimmy Clausen has looked in the early part of camp.
OBSERVATION DECK
As mentioned above, the Panthers are singing Moore's praises and that's all very legitimate. But behind the scenes, the Panthers also are thrilled with what they've seen from Clausen. His physical skills and mechanics are as solid as expected and Clausen's doing everything right on and off the field. There's not a sense of urgency to play him because Moore has looked so solid. But the Panthers believe they got a steal when they took Clausen in the second round.

There's been a lot of hype about third-round draft pick Armanti Edwards. Understandable because he was a college quarterback and came from Appalachian State, which automatically makes him popular in the Carolinas. The Panthers aren't disappointed with Edwards by any means, but the reality is he's just feeling his way as a receiver and a return man. Don't look for him to be a huge contributor instantly. There's big upside here because Edwards is so dynamic and he might be in a few packages early on. But it's going to take some time for him to become a staple in this offense.

The Panthers let go of Keydrick Vincent, who played every snap at right guard last season, for a reason. He was older and they had Duke Robinson waiting in the wings. Coaches, players and the front office believe Robinson can be a punishing run-blocker. Put him on the right side with Otah and the Panthers believe that side of the line can be just as good as the left, where Gross and Travelle Wharton are outstanding.

If you're looking for a long shot to make the roster, I'll throw out Trent Guy's name. This is a tiny wide receiver, but every time I looked up during my visit to Wofford College, Guy seemed to be making a play. He's got rare speed and good hands, and also could be a factor in the return game.

Thomas Davis, who had major knee surgery in June, has been hanging around at camp and working hard at his rehab. The Panthers haven't ruled out a possible return for him later this season, but I don't see that happening for a guy who has torn his ACL twice in less than a year. The Panthers wouldn't have moved Beason from the middle to the weak side unless they thought he'd stay there for the long haul. At the moment, they're happy with what they've seen from Dan Connor in the middle and James Anderson on the strong side. That better stay that way because, aside from Jamar Williams, there's no real depth at linebacker.

A lot of people have questioned why the Panthers would take Beason out of the middle where he's been such a dominant player. The answer is simple. Under Meeks, the Panthers run the "Tampa 2'' defense. In that scheme, everything goes through the Will linebacker. Think Derrick Brooks.
July, 23, 2010
7/23/10
11:57
AM ET
The good news for the
New Orleans Saints
is they are defending Super Bowl champions. The bad news is that's not a great spot to be in in the NFC South.
The 2002
Tampa Bay Buccaneers
, who won the Super Bowl, and the 2003
Carolina Panthers
, who lost it, didn't even make the playoffs the following year. Since the division came into existence in 2002, there has been no such thing as a dynasty in the NFC South. No team has won the division crown in back-to-back seasons.
The Saints, who already have re-written history, will have to do it again if they want to stay on top. But the
Atlanta Falcons
might not be far behind, the Panthers have enough talent to be dangerous and the Buccaneers almost have to be better than last season.
We'll find out soon enough if anyone can challenge the Saints. The test begins next week when all four NFC South teams report to training camp.
FOUR BIG QUESTIONS
Falcons:
What does John Abraham have left?
[+] Enlarge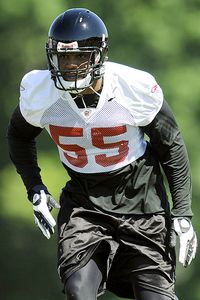 Dale Zanine/US PresswireThe Falcons are confident defensive end John Abraham still has something left in the tank.
For the past couple of years, the 32-year-old defensive end has been one of those guys who doesn't practice all the time because the Falcons go out of their way to keep him healthy and fresh. That plan isn't likely to change this season, but the Falcons will be keeping a very close eye on Abraham in camp.
His sack total dipped from 16.5 in 2008 to 5.5 last season. The obvious question is if Abraham is on the last legs of his career. Despite the statistical evidence, the Falcons believe there's something left. After closely watching film of Abraham from last season, the coaches firmly believe Abraham can get back to double-digit sacks. Part of their thinking is he'll benefit from improved play from the interior of the defensive line and that
Kroy Biermann
and
Lawrence Sidbury
are ready to generate pressure from the other side. Recent history has shown the Falcons are willing to make deals late in the preseason (trading for cornerbacks
Domonique Foxworth
and
Tye Hill
) if they feel they have a weakness. But they're hoping Abraham shows enough in camp to convince them the pass rush will be adequate.
Panthers:
What must Matt Moore do to win the starting quarterback job?
A lot of people believe this training camp will be highlighted by a battle between Moore and rookie
Jimmy Clausen
. That's not really the case -- or at least not how Carolina's brass views the situation. The truth is the Panthers are going to camp with every intention of Moore being the starter. He earned that much by playing well at the end of last season.
Coach John Fox isn't about to open the season with a rookie starting at quarterback. He could turn to Clausen later in the season if things aren't going well. But the immediate starting job is Moore's, and the only way he can lose it is to have a disastrous training camp and preseason.
Saints: Are the Saints ready for a return to the "real'' world?
Rightfully so, the Saints spent a lot of time this offseason celebrating their first Super Bowl title. Great for them and great for their fans. But all that's about to end. Coach Sean Payton runs what I think is easily the toughest camp in the NFC South, and I don't anticipate that changing. If anything, camp might be tougher this year.
Payton is an excellent motivator and he's well aware the Saints now are the jewel on the schedule of every opposing team. The track record of Super Bowl champions in the following season hasn't been all that impressive in recent years. Payton knows that, and you can bet that message is going to be conveyed to his team. A big part of the reason the Saints won the Super Bowl last season is because they had such a tough and productive camp.
Buccaneers: Who are the starting wide receivers?
The Bucs truly don't know the answer to that question right now and that's not a bad thing. The plan is to throw all the receivers out there in camp, let them compete and see who rises up. A lot of fans were frustrated and puzzled when the Bucs let
Antonio Bryant
walk in free agency, leaving the team without a clear-cut No. 1 receiver. But the Bucs believe they're better off without Bryant, who wasn't all that productive last season and didn't endear himself to the front office or coaching staff when he made public comments about the coaches and quarterback
Josh Freeman
that were far from flattering.
The Bucs used early draft picks on
Arrelious Benn
and
Mike Williams
. It's likely at least one of them will start right away. Veterans
Reggie Brown
,
Michael Clayton
and
Maurice Stovall
will compete for the other job. If both rookies look good in camp, it's possible they could be the starters because there isn't much upside with Brown, Clayton or Stovall. Second-year pro
Sammie Stroughter
also is in the mix. But, ideally, the Bucs would like to use him as the slot receiver.
HOTTEST SEATS
Falcons:
Brian VanGorder. The defensive coordinator has done a nice job of working with the talent he's had the past two seasons. The Falcons haven't always had the talent to play the kind of defense coach Mike Smith and Van Gorder want and they've gotten by with patchwork. But those days are over. Last year's top picks, defensive tackle
Peria Jerry
and safety
William Moore
, return after missing almost all their rookie seasons with injuries and the Falcons used their top two picks this year on linebacker
Sean Weatherspoon
and defensive tackle
Corey Peters
. They also spent a fortune signing cornerback
Dunta Robinson
. Although questions remain about the pass rush, the Falcons have the talent to play their scheme. That means the defense must take a big step forward.
Panthers:
Dwayne Jarrett
. A former second-round pick, Jarrett has not had much of an impact. With
Muhsin Muhammad
retired and
Steve Smith
expected to miss most of training camp with a broken arm, Jarrett is going to get a very long look in training camp. In a best-case scenario, Jarrett finally reaches his potential and earns the starting wide receiver job across from Smith. For that to happen, Jarrett must show an attention to detail and consistency; both have been lacking from his game. The Panthers drafted
Brandon LaFell
and
Armanti Edwards
early because they're not sure if Jarrett ever will blossom.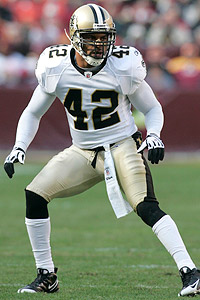 Jeff Fishbein/Icon SMIIf Darren Sharper isn't 100 percent healthy, he might not be the starter for the Saints.
Saints:
Darren Sharper
. The safety had a brilliant 2009 season. Sharper instantly became a fan favorite, but his lock on the starting job at free safety isn't nearly as secure as many people think. Sharper is 34 and coming off knee surgery. We don't even know if he physically will be able to do much during training camp. The Saints have moved
Malcolm Jenkins
, a first-round pick a year ago, from cornerback to safety. A lot of fans view Sharper as the
Drew Brees
of the defense, but I'm not so sure the coaching staff ever has seen it that way, and the Saints didn't break the bank to re-sign Sharper in the offseason. If he's 100 percent healthy, Sharper could stay in the starting lineup. Anything less and the Saints won't hesitate to go with Jenkins.
Buccaneers:
Ryan Sims
. He was a starter with
Chris Hovan
at defensive tackle the past few years. The Bucs got rid of Hovan as soon as they could after last season. With the team using its top two picks on defensive tackles
Gerald McCoy
and
Brian Price
, Sims can't be feeling too secure. With
Roy Miller
also in the mix and the Bucs in a full-blown youth movement, Sims needs a strong camp just to secure a roster spot.
SECRET WEAPON
Under-the-radar player to keep an eye out for in camp:
Clifton Smith
, return man/running back, Buccaneers. It may seem like a stretch to call a guy who has been to a Pro Bowl an under-the-radar player, but Smith fits the profile. After missing most of the second half of last season with concussion problems, Smith has sort of been forgotten. That might be a mistake. Smith established himself as a top-notch return man when he made the Pro Bowl in his rookie season two years ago and helped ease the colossal mistake in which the Bucs drafted
Dexter Jackson
in the second round. When the new coaching staff took over last season, there was some talk about getting Smith more involved on offense. That got derailed by his injuries, but the plan could get back on track this year.
Cadillac Williams
is the main running back in Tampa Bay, but you could start to see Smith get some action as a situational player. With his speed, he could be an explosive receiver out of the backfield and also might be able to handle a few carries a game.
BEST POSITION BATTLE
It's not an offensive skill position, so it won't be flashy. But the best position battle in the NFC South will be sorted out in Spartanburg, S.C., as the
Carolina Panthers
try to figure what to do with their linebackers. This was supposed to be a spot with enormous strength, but an offseason knee injury to
Thomas Davis
has turned this into a huge question. Davis probably will miss the entire season, throwing the linebacker corps into a state of uncertainty.
The only thing that's certain is that
Jon Beason
remains one of the best linebackers in the league and the unquestioned leader of this defense. But the Panthers aren't even sure where Beason will line up. He has been fantastic in the middle, but he may move to Davis' spot on the weak side. In what essentially amounts to a game of musical chairs, the Panthers are looking at four linebackers and trying to figure out the strongest starting trio. One reason they're considering moving Beason is because they believe
Dan Connor
can be solid in the middle. He'll get a chance to prove that in camp.
But the Panthers also will be keeping a close eye on outside linebackers
Jamar Williams
and
James Anderson
. If they both rise up, Beason could remain in the middle. If Connor rises up and the Panthers aren't comfortable with Williams and Anderson as their starters on the outside, they won't hesitate to move Beason.
June, 10, 2010
6/10/10
1:00
PM ET
»
NFC On the Radar
:
East
|
West
|
North
|
South
»
AFC
:
East
|
West
|
North
|
South
A player, coach or issue that should be on your radar as training camp approaches.
As recently as a couple of days ago,
Jamar Williams
looked like a backup linebacker and special-teams player for the
Carolina Panthers
. Now, he could be a starter.
[+] Enlarge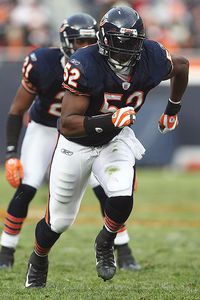 Jonathan Daniel/Getty ImagesJamar Williams has a chance to earn a starting role with the Panthers.
Williams seemed almost like a throw-in (a body to complete the deal) when the Panthers traded away safety
Chris Harris
to the
Chicago Bears
. But, as of today, Williams is looking like a possible starter at weakside linebacker.
With
Thomas Davis
suffering his second torn ACL in less than a year, the Panthers suddenly are looking for a starter and Williams may be their safest option. Although rookie
Eric Norwood
and some other young players could be factors, Williams is the most experienced of the candidates to replace Davis.
He's only 25, but Williams spent four seasons with the Bears. He has started only three games in his career, but he was the top backup to
Lance Briggs
and got a lot of playing time, making 43 tackles. At 6-foot and 237 pounds, Williams fits Carolina's profile of linebackers who aren't huge, but can run.
Williams has shown the ability to cover tight ends and running backs in the passing game. He may not be a playmaker like Davis, but Williams remains a bit of an unknown and there could be an upside. Briggs prevented Williams from really getting a chance in Chicago.
But Davis' injury is going to give Williams a chance to raise his profile in Carolina.
June, 9, 2010
6/09/10
6:26
PM ET
The
Carolina Panthers
took the biggest hit of any NFC South team this offseason Wednesday as linebacker
Thomas Davis
confirmed
he suffered a torn anterior cruciate ligament
.
That's the same knee Davis tore up last season as he was emerging as one of the division's best defensive players. It's likely Davis, who signed a $3.3 million tender as a restricted free agent, will miss the entire 2010 season.
Davis suffered the second injury in a Tuesday workout.
With
James Anderson
expected to move into a starting job at one outside linebacker spot, the Panthers have veteran
Jamar Williams
and a host of young linebackers as candidates to take Davis' spot.
Dan Connor
, who has been working at backup middle linebacker, now could become a candidate to move outside.
April, 28, 2010
4/28/10
12:47
PM ET
I'll be heading to Charlotte for this weekend's minicamp with the Panthers. It's going to be a little bit of a strange atmosphere up there because, for a change, the Panthers won't be the biggest story in Charlotte.
[+] Enlarge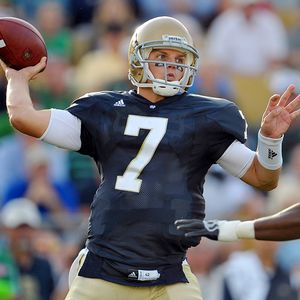 Matt Cashore/US PresswireHow Jimmy Clausen fits in with teammates could have a bearing on the QB competition in Charlotte.
Tiger Woods is in town. He's
playing in a pro-am
today that also features Carolina coach John Fox, who by all accounts, can swing the sticks pretty well. But I still think
Jimmy Clausen
's going to get his share of attention this weekend.
Here are five things I'll be paying particular attention to at Carolina's minicamp:
1. Clausen.
Although he fell to the second round, Clausen's still the biggest-name quarterback to come to the Panthers since
Chris Weinke
. All right, that's not exactly a flattering comparison. But Clausen comes with a lot of hype and it won't just be the media watching his every move. If this guy's going to have a shot to beat out
Matt Moore
from the start, he's going to have to fit in the locker room. Clausen's got a reputation for being selfish. Moore's very well liked in that locker room. Besides showing passing skills, Clausen needs to show some humility.
2. Jon Beason.
This guy's been a leader since about the second game of his rookie year. It just comes naturally to Beason. But I'm expecting to see him step forward even more and officially claim this team as his own.
Julius Peppers
never was a leader, but some people were hesitant to do anything that might give the appearance of stepping on his toes. Safety
Chris Harris
, who was traded to Chicago on Tuesday, was a bit of a vocal leader on the defense, even if he wasn't the best player. Now, it's clear, Beason is the best player on the defense and a vocal leader. He's free to lead with everything he's got. It's his team and his time.
3. The wide receivers beyond Steve Smith.
I'm sure we'll get some of the same old talk about how this will be the year
Dwayne Jarrett
finally breaks out. It could happen. But the Panthers aren't counting on that. That's why they drafted
Brandon LaFell
and
Armanti Edwards
. It's going to be hard to judge their readiness in a three-day minicamp, but I'm hoping Fox breaks his tradition of bringing rookie receivers along slowly. He needs to take a chance and turn these guys loose from the start.
4. The competition at strongside linebacker.
The departure of former starter
Na'il Diggs
really wasn't that big a deal. He was pretty ordinary. But the Panthers are having an open competition to replace him. They've got
James Anderson
,
Dan Connor
, rookie
Eric Norwood
and
Jamar Williams
, who came over in the Harris trade. They're going to throw them all out there and see who rises up.
5. The defensive ends.
Peppers is gone and someone's got to step up. I've only seen quick glimpses of
Everette Brown
in games last season and last year's training camp. Brown is the guy the Panthers drafted last year to eventually replace Peppers. Now is the time for him to step up.
March, 2, 2010
3/02/10
4:00
PM ET
OK class, it's time for one of our final lessons in the new world of an uncapped NFL. Before the free-agent market opens Friday morning, each team must first address its entire list of restricted free agents in one of two basic ways:
1. Tendering a 1-year contract, OR
2. "Non-tendering" the player, essentially cutting ties.
Remember, a restricted free agent (RFA) is a player with four or five years of experience whose contract has expired. Those players are free to seek offers elsewhere, but current teams at least have the right to match that offer and keep the player. Depending on the level of contract tender, the team could also receive draft-pick compensation.
If the player doesn't sign an offer sheet elsewhere, and can't agree on a long-term contract, he plays at the salary in the chart below. (There are slightly higher values for players in their fifth seasons.)
Because of the addition of a fifth year to the RFA list in the uncapped year, an additional 212 players are scheduled to be restricted free agents this offseason. Below is a list of the primary RFAs for each NFC North team.
There have been some reports about individual tenders, but no team has officially released its decisions. That will happen sometime between now and Thursday night. When it does, we'll analyze how easy or difficult it will be for those tendered to move on to another team.
Chicago Bears:
Defensive end
Mark Anderson
, safety
Josh Bullocks
, safety
Danieal Manning
, linebacker
Nick Roach
, linebacker
Jamar Williams
.
Detroit Lions:
Defensive end
Copeland Bryan
, offensive lineman
Dylan Gandy
, defensive lineman
Jason Hunter
, offensive lineman
Daniel Loper
, offensive lineman
Manny Ramirez
, safety
Ko Simpson
, linebacker
Cody Spencer
.
Green Bay Packers:
Safety
Atari Bigby
, defensive back
Will Blackmon
, offensive lineman
Daryn Colledge
, safety
Nick Collins
, defensive end
Johnny Jolly
, running back
John Kuhn
, offensive lineman
Jason Spitz
, cornerback
Tramon Williams
, running back
DeShawn Wynn
.
Minnesota Vikings:
Offensive lineman
Ryan Cook
, defensive end
Ray Edwards
, defensive tackle
Fred Evans
, safety
Eric Frampton
, quarterback
Tarvaris Jackson
, cornerback
Karl Paymah
, fullback
Naufahu Tahi
.
To read all of our award-winning CBAWatch discussion,
click here
.

Posted by ESPN.com's Kevin Seifert
Let's keep the Bears train rolling here Monday morning. Updating previous reports, linebacker
Brian Urlacher
has told the Chicago Tribune he will
miss the rest of the season
after dislocating his right wrist in Sunday night's 21-15 loss to Green Bay.
| | |
| --- | --- |
| | |
| | AP Photo/Jeffrey Phelps |
| | After dislocating his right wrist, Brian Urlacher is expected to miss the rest of the season. |
It's an unprecedented turn of events for Urlacher, who had started 49 consecutive games and has missed a total of only seven games (all in the 2004 season) in his 10-year career. For the first time this decade, the Bears are going to have to play the majority of a season without one of the players their defense is built around.
At some point, we'll have to discuss the impact of this news on Urlacher's long-term future. He'll turn 32 before he plays in another game and has the kind of beat-up body you would expect from a linebacker who has played as long as he has. But for now, we should take a look at the Bears' limited options for replacing him this season. In order of likelihood: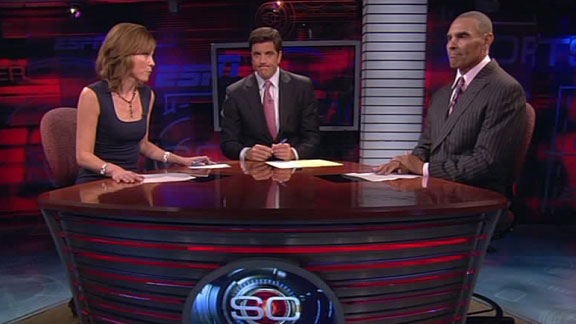 August, 13, 2009
8/13/09
1:00
PM ET
| | |
| --- | --- |
| | |
| | AP Photo/Nam Y. Huh |
| | The arrival of quarterback Jay Cutler has stoked the enthusiasm of Bears fans. |
Posted by ESPN.com's Kevin Seifert
BOURBONNAIS, Ill. -- One night this week, a twin-engine plane flew over this college town an hour south of Chicago. As about 10,000 people watched, a skydiver jumped from the plane and began floating to the ground. Orange smoke billowed from a hand-held canister.
Ooooohs were followed by ahhhhhhhs. The circus continued.
It's been that kind of training camp for the Chicago Bears, who aren't trying to suppress the lofty expectations generated by the acquisition of quarterback Jay Cutler. Players and coaches have embraced record-setting crowds who have arrived -- mostly by car, not from the sky -- to watch practice at Olivet Nazarene University,
"The support has been absolutely tremendous from day one," Cutler said early in camp. "We've just got to go out and win games now."
Coach Lovie Smith scheduled a physical camp, putting players in full pads for nine consecutive days at one point. But nothing has wiped away the near-giddiness players and coaches are carrying themselves with. After going 9-7 with quarterbacks Kyle Orton and Rex Grossman last season, the Bears can only imagine what they can do with Cutler behind center.
Fantasy Football: 32 Questions
AJ Mass discusses which player will benefit most from Jay Cutler's presence in the Bears huddle in 2009. Story

Just the other day, Pro Bowl linebacker Lance Briggs stopped among a group of reporters and playfully chided them for ignoring him amid all of the excitement.
"You guys know I'm still on the team, right?" Briggs said. "I mean, I'm going to have to do a dance for you guys or something."
The Bears have been dancing all summer long.
Key questions
1. Who is Cutler throwing to?
It's plainly evident that tight end Greg Olsen is already Cutler's favorite receiver. The two have a clear connection both on and off the field, and offensive coordinator Ron Turner has spent the offseason working on ways to maximize Olsen's size and speed.
| | |
| --- | --- |
| | |
| | Jerry Lai/US Presswire |
| | Tight end Greg Olsen has emerged as Jay Cutler's favorite target early on. |
The unspoken reality is that none of the Bears' wide receivers are close to Olsen's level right now. Devin Hester and Rashied Davis are the team's only receivers who have caught more than seven passes in their NFL careers. But Davis appears to be no better than No. 4 on the depth chart and might not make the team.
Earl Bennett went his entire rookie season without a catch, but he has maintained his grip on a starting job this summer by displaying reliable hands and a thorough understanding of the offense. His relationship with Cutler -- they were college teammates at Vanderbilt -- doesn't hurt, either.
But an otherwise green class of rookies has left Cutler talking up a pair of nomads as possible depth at this position. Brandon Rideau (6-foot-3) and Devin Aromashodu (6-foot-2) are two big targets who have looked decent while hauling in Cutler's pinpoint passes. If the season started today, it appears Rideau would be the Bears' No. 3 receiver.
Draft choices Juaquin Iglesias and Johnny Knox appear to be buried deep on the depth chart, as would be expected for rookie receivers.
2. What's the deal with Tommie Harris?
The mystery surrounding the Bears' best defensive lineman has extended from spring into summer, and after two weeks of training
camp it's still not clear how much Harris can be counted on this season.
Smith said at the beginning of camp that Harris was completely healthy, but in truth Harris has been limited throughout the summer and acknowledged this week that he had surgery on his left knee in March. Smith now admits Harris has soreness but said there hasn't been a setback in his health.
At the very least, it appears the Bears are heavily protecting Harris from summer wear and tear. At worst, they are waiting for his knee to improve before they let him engage in extended full contact. In either event, it's the continuation of a 20-month odyssey for Harris' left knee, one that for now has left him a near nonfactor.
It's an especially sensitive issue for the Bears, who need Harris' interior disruption in order to meet their goals as a defense. His primary replacement this summer has been Israel Idonije, but Idonije is best suited as a swing backup. After losing 40 pounds this offseason, Idonije now weighs 266 pounds and doesn't have the build to stand up as a full-time defensive tackle.
3. Can the defense rebound from a down year?
If nothing else, Bears defensive players seem pretty happy this summer. Perhaps it was knowing that Cutler's arrival has taken some intense pressure off their shoulders. If all goes according to plan, the Bears defense can shed its self-inflicted expectations that it must shut out every opponent to compensate for an inconsistent offense.
But the Bears still have defensive questions as camp approaches its conclusion, including Harris and the safety position. They are giving Danieal Manning yet another opportunity to win a starting safety job, but cramping and hamstring issues have limited his practice time. Rookie Al Afalava has gotten some work with the first team, but that might be more by default than by merit.
Don't express those sentiments to Briggs, however. He and middle linebacker Brian Urlacher have been walking with a bounce in their step all summer. With Smith taking over as the de facto defensive coordinator, the tensions of 2008 seem to have evaporated.
"We don't have a weak point," Briggs said. "You can study us and find where our weak point is. You might say safety, but it's not really our safeties. Our weak point is our linebackers."
Briggs spit out that final sentence with a giggle, reflecting the overt confidence the Bears have that their defense can resurrect its mid-2000s dominance.
"I don't want to say we have a renewed confidence," Briggs said "But everyone is working so hard right now."
Market watch
Injuries have left the Bears secondary in flux for most of the summer. But the early camp flash of cornerback Zack Bowman -- and the sluggish return of veteran Nate Vasher -- has raised some interesting possibilities. Namely: Could Bowman win a starting job? And would that mean the end of Vasher's tenure in Chicago?
Bowman was an interception machine early in camp before being sidelined by a strained hamstring. He won't play in Saturday night's preseason opener at Buffalo, but there is plenty of time for him to get healthy and work his way back to the first team. In that scenario, the Bears might well make Bowman and Charles Tillman their starting cornerbacks -- assuming Tillman returns on schedule from back surgery.
It's unclear if the Bears would pay Vasher his $2.9 million base salary to serve as a nickel or dime back this season, especially considering his middling performance thus far in camp. Vasher said this week that he is "ready to go out and have one of the best years I've had," but not everyone in Bears camp agrees.
| | |
| --- | --- |
| | |
| | AP Photo/Nam Y. Huh |
| | A healthy Orlando Pace could make a huge difference for the Bears offense. |
Newcomer to watch
The acquisition of Cutler was the NFL's most significant offseason move, and I'm pretty sure you're well aware of his potential impact. So for this feature, we'll focus on a player the Bears signed on the same day they traded for Cutler: Left tackle Orlando Pace.
If he's healthy, Pace will protect Cutler's blind side as well as any left tackle in the game. He'll also serve as an anchor for a line that appears bigger and more athletic this season. The Bears are much better with Pace at left tackle and Chris Williams on the right side than with Williams at left tackle and Kevin Shaffer or another veteran on the right.
It was interesting to watch Pace put on a clinic during one-on-one pass drills this week. When he's moving well, Pace simply engulfs his opponent. From a physical standpoint, Pace is sore but otherwise healthy after missing 25 games the past three seasons. His continued health will be a significant factor for the Bears offense.
Observation deck
The Bears are saying Tillman should recover in time for the Sept. 13 regular-season opener at Green Bay. All I can tell you is what I saw this week. Namely: Tillman walking around the perimeter of the practice field for conditioning. Tillman's pace was pretty slow for a player who would be exactly a month away from what is his first game. Stay tuned. ... The Bears appear committed to second-year quarterback Caleb Hanie as Cutler's backup. Hanie has rotated on the second team with Brett Basanez, but it's clear whom Smith prefers. "We liked everything we saw from Caleb last year," Smith said. "He's in a pretty good position to be behind a guy like Jay Cutler." ... Defensive end Mark Anderson, who had 12 sacks as a rookie in 2006 but only six in two ensuing seasons, is trying to resurrect his career under new defensive line coach Rod Marinelli. C
oaches rewarded Anderson by making him a co-first team defensive end on their first depth chart. "Whatever [Marinelli] says to do, I do," Anderson said. "He's the best out there and I enjoy working with him. For me, everything is looking to the upside right now." ... Cutler's maturity level will be closely monitored after his bitter departure from Denver. From that perspective, it was interesting to hear him say that he expects to have influence over the makeup of his receiving corps. "I think they're definitely going to ask me," Cutler said. "If they don't ask me, I'm going to tell them what I think because I've got to be the one throwing to them on game day and I've got to trust them." ... During a team drill Tuesday night, Smith called defensive plays to defensive coordinator/linebackers Bob Babich, who radioed them in to Urlacher. .. The Bears have a competitive situation at strongside linebacker between Pisa Tinoisamoa, Nick Roach and Jamar Williams. Tinoisamoa is expected to win the job in base sets, but it's possible all three players will see action. "It's a good competition," Briggs said. "You're vying for a starting job in the best linebacking crew in the NFL. Whoever wins the job, [it will] probably be well deserved."