July, 31, 2014
Jul 31
4:59
PM ET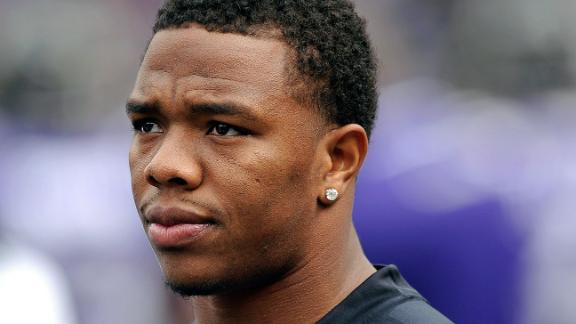 OWINGS MILLS, Md. -- In stark contrast to
Ray Rice
's awkward news conference in May, the
Baltimore Ravens
running back showed Thursday that he finally understood the weight of his actions from the alleged altercation with his then-fiancée in February.
He delivered the correct message, one the NFL failed to do last week with the two-game suspension, by not only apologizing to his wife, Janay Palmer, but also expressing a desire to become an advocate for domestic-violence causes.
Rice was compelling in his contrition, calling it the biggest mistake of his life. He stood in front of the microphone alone, without his wife standing by his side, and took full responsibility for the incident. Perhaps more importantly, Rice actually said the words "domestic violence," which weren't heard in his statement two months ago.
"My actions were inexcusable," Rice said. "That's something I have to live with the rest of my life."
Before anyone pats Rice on the back, this is what he should have said the first time when he broke his silence in May. Instead, Rice nervously fumbled through notes on his phone and apologized to team officials and his sponsors. That debacle of a news conference came across as damage control to his image.
His 17-minute news conference Thursday hit the right tones. He apologized to all women affected by domestic violence. He accepted the blame for losing the respect of fans. Rice came across as genuinely sorry.
"I let my wife down, I let my daughter down, I let my wife's parents down, I let the whole Baltimore community down," Rice said.
Rice's biggest misstep was not talking about what happened in the elevator. He was asked twice about it and declined to answer both times. His stance against domestic violence would have resonated stronger if he had explained his transgressions.
"I'll be honest: Like I said, I own my actions," Rice said. "I just don't want to keep reliving the incident. It doesn't bring any good to me. I'm just trying to move forward from it. I don't condone it. I take full responsibility for my actions. What happened that night is something that I'm going to pay for the rest of my life."
The only way Rice can move forward from this incident and show he's truly sincere is through his actions. It's not by his words. It's not by a hefty donation, which is merely a gesture. It's by proving this will remain a "one-time incident" and by supporting domestic-violence causes.
Thursday represented a small step forward for Rice. But it was an important one.
September, 3, 2010
9/03/10
9:42
AM ET
The preseason is finally over. All four AFC North teams were in action Thursday night for their exhibition finales.
Here are some notes from each game:

Pittsburgh Steelers 19, Carolina Panthers 3
The Good
Rookies Emmanuel Sanders and Jonathan Dwyer both made strong cases in their final chance to impress before Saturday's cuts. Dwyer, a sixth-round pick, led the Steelers in rushing for the second straight week with 86 yards on 20 carries. Sanders, a third-round pick, led Pittsburgh in receiving with 66 yards and a touchdown. Both players were up and down in training camp but came on strong late in the preseason to likely earn roster spots.
The Bad
The huge negative was the left knee sprain to quarterback Byron Leftwich, who was expected to be Pittsburgh's Week 1 starter. Leftwich was hit low in the first half and didn't return. Now his status is in question for the regular-season opener, where quarterbacks Dennis Dixon or Charlie Batch may have to step in against the Atlanta Falcons.

Cleveland Browns 13, Chicago Bears 10
The Good
We mentioned quarterback Colt McCoy's perfect 13-for-13 passing earlier in the AFC North blog. So let's shift the focus to Cleveland running back James Davis, who likely claimed a roster spot. The backup was on the bubble but led the Browns in rushing with 66 yards against Chicago. Davis also caught five passes for 53 yards and showed good elusiveness to break tackles. Davis was the talk of the preseason last year when he led the Browns in rushing. But he's been quiet this exhibition season until Thursday.
The Bad
Browns rookie running back Montario Hardesty's much-anticipated debut ended poorly as he suffered another knee injury. Hardesty missed all of training camp and three preseason games with a right knee injury. After seven carries, he hurt his left knee and was on crutches after the game. Hardesty came to Cleveland with a reputation of being injury-prone in college.

Baltimore Ravens 21, St. Louis Rams 27
The Good
Baltimore rookie WR David Reed showed flashes. Reed recorded 138 yards on four kickoff returns. The fifth-round pick also caught three receptions for 65 yards. Reed is on the bubble but helped his case to be one of the final receivers to make the team.
The Bad
We also mentioned Ravens quarterback Troy Smith earlier. But let's discuss the most unnecessary move we've seen in the AFC North this preseason, which was Dannell Ellerbe stopping at the goal line to taunt the Rams before scoring a defensive touchdown. Where to start with this one? First, the Ravens were losing. Second, it was the preseason. Third, Ellerbe is fighting for playing time and made a good defensive play look unprofessional. Baltimore coach John Harbaugh cleary wasn't happy with Ellerbe's antics.

Cincinnati Bengals 30, Indianapolis Colts 28
The Good
The Bengals finally got great quarterback play from backups Jordan Palmer and J.T. O'Sullivan. Both players have been inconsistent this preseason but had their best efforts against Indianapolis. O'Sullivan was 9-for-12 for 102 yards, and Palmer was 10-for-14 for 114 and two touchdowns. This should bring a little bit of calm in relation to Carson Palmer's replacements heading into the regular season.
The Bad
Cincinnati had another double-digit penalty game with 11 infractions. Sure, a lot of backups played Thursday, but there were some on the field who will contribute in the regular season. Cincinnati doesn't seem concerned about its penchant for penalties. But we will see if it disappears or carries over when the games count.
August, 31, 2010
8/31/10
2:23
PM ET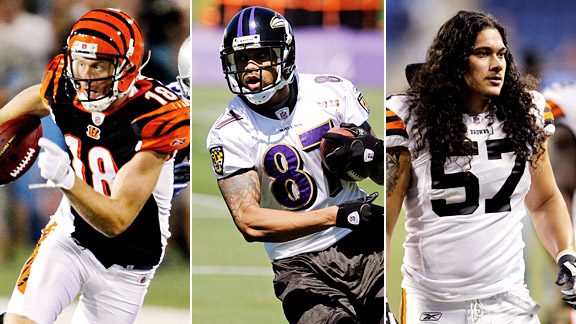 AP PhotosMatt Jones, Demetrius Williams and David Veikune are among the AFC North players in danger of not making their teams' final 53-man rosters.
With teams required to cut down to 53 players by Saturday, it's time to focus on the final rosters in the AFC North.
Expect plenty of chatter internally this week among general managers, scouts and coaches throughout the division on who should make the team. This is always one of the most intriguing weeks of the NFL season.
With that said, here are several noteworthy players on the bubble in the AFC North:
1. Matt Jones, WR, Cincinnati Bengals
Analysis:
The Jones experiment probably will end this week. The Bengals took a chance on Jones, who was out of football in 2009 for off-field issues, to see if he had anything left. Except for a few flashes, such as the Hall of Fame Game, the former first-round pick has been injured and not nearly the same explosive player he was several years ago. Jones also signed a team-friendly, one-year contract, which makes him easy to release. The Bengals have a lot of depth at receiver, and Jones doesn't appear to be in their plans.
Cut-O-Meter:
80 percent
2. David Veikune, LB, Cleveland Browns
Analysis:
Despite entering only his second season, this was a very important training camp for Veikune. The former second-round pick was a major disappointment in his rookie season. Veikune hasn't stepped up so far and is having another nondescript preseason. His best chance to make the Browns is his high draft status. But first-year president Mike Holmgren and general manager Tom Heckert added their own linebackers and have no personal investment in Veikune.
Cut-O-Meter:
80 percent
3. Demetrius Williams, WR, Baltimore Ravens
Analysis:
Placing Williams on the roster bubble has become an annual tradition in Baltimore -- and every year he survives. This year could be the same for Williams, who has a lot of ability but has yet to live up to his potential. Williams received a lucky "break," both literally and figuratively, when veteran receiver
Donte' Stallworth
suffered a broken foot in the third preseason game. Stallworth will be out approximately two months, increasing Williams' chances of making Baltimore's 53-man roster.
Cut-O-Meter:
35 percent
4. Justin Hartwig, C, Pittsburgh Steelers
Analysis:
Hartwig struggled at center last year and lost his job this preseason to first-round pick
Maurkice Pouncey
. The Steelers believe Pouncey is a star-in-the-making, which leaves Hartwig's future in limbo. Despite the benching, there is no question Hartwig is one of Pittsburgh's best 53 players. That should be enough. But Hartwig also is scheduled to make a little more than $2 million this season. He's being paid as a starting center and that's no longer his role. There's a chance Hartwig could compete at right guard or simply be the first center/guard off the bench in the event of injury. Hartwig's experience and versatility help his case.
Cut-O-Meter:
30 percent
5. Jerome Simpson, WR, Bengals
Analysis
: Simpson is another second-round pick who is running out of chances. Despite coming from small-school Coastal Carolina, the Bengals were enamored with his physical abilities and reached for Simpson in the second round of the 2008 draft. But the Bengals tired of waiting for Simpson to develop and made several offseason additions at receiver, which included signing
Terrell Owens
and drafting
Jordan Shipley
in the third round. But
Antonio Bryant
's surprising
release helps Simpson's chances
.
Cut-O-Meter:
50 percent
6. James Davis, RB, Browns
Analysis:
It's funny how quickly things can change in the NFL. Last summer, Davis was the talk of Cleveland after he led the Browns in rushing during the preseason as a rookie. This year, Davis is on the bubble after a lot of offseason additions at running back. The top three tailbacks for Cleveland are locks:
Jerome Harrison
,
Peyton Hillis
and
Montario Hardesty
. The question now is how many running backs Cleveland will keep. If the answer is four, Davis and
Chris Jennings
are battling for the final spot. I give Davis the edge.
Cut-O-Meter:
40 percent
7. David Reed, WR, Ravens
Analysis:
Reed, a fifth-round pick, burst on the scene in Baltimore with a stellar spring. But since then he's been inconsistent and is back on the bubble. Like Williams, Reed also benefits from Stallworth's injury and the extra roster spot available at receiver. That increases Reed's chances to make it. Otherwise, the Ravens would love to develop him on the practice squad.
Cut-O-Meter:
50 percent
[+] Enlarge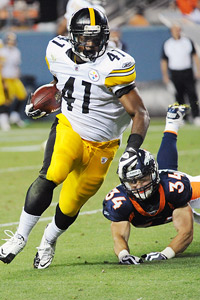 AP Photo/Jack DempseyJonathan Dwyer led the Steelers in rushing against the Broncos, but will it be enough to earn him a roster spot?
8. Jonathan Dwyer, RB, Steelers
Analysis:
Dwyer
made a strong push late
for a roster spot in Pittsburgh. After a disappointing training camp, Dwyer led the Steelers in rushing with 89 yards and a touchdown in Sunday's preseason loss to the
Denver Broncos
. Running back
Isaac Redman
has been stellar and secured the third running back job that was intended for Dwyer. Thursday's preseason finale will be vital for the sixth-round pick.
Cut-O-Meter:
55 percent
9. Brett Ratliff, QB, Browns
Analysis:
Do not believe the hype in Cleveland involving third-round pick
Colt McCoy
being on the bubble. From everything we're told, there is no truth to the speculation. This means Ratliff, barring injury, is probably spending his final week with the Browns. Ratliff will play a half Thursday in Cleveland's final preseason game against the
Chicago Bears
. That could be a nice showcase for Ratliff to try to latch on with another team. Browns coach Eric Mangini traded for Ratliff as part of the draft-day deal with the Jets to be a developmental project last year. But Holmgren is calling the shots now and drafted his own developmental project: McCoy.
Cut-O-Meter:
95 percent
10. Maurice Purify, WR, Bengals
Analysis:
Purify is one of Cincinnati's top special-teams players. But the Bengals' immense depth at receiver and
Purify's one-game suspension
for violating the NFL's personal conduct policy make it very unlikely he makes the cut. There is no reason for Cincinnati to take a roster spot away from a player who will be available for the start of the regular season to keep Purify.
Cut-O-Meter:
95 percent
Here are five additional names to watch:
July, 13, 2010
7/13/10
2:05
PM ET
Every year teams have tough decisions to make to trim their rosters to 53 players. Sometimes the coaching staff and front office can't agree on who stays and who goes, and the debates get pretty heated.
With training camp approximately two weeks away, here are eight AFC North players who could be heavily debated and on the roster bubble this summer:
1. Adam Jones, CB, Cincinnati Bengals
[+] Enlarge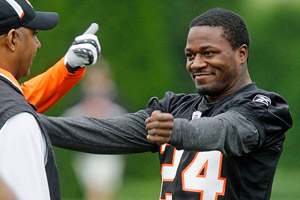 AP Photo/Al BehrmanBengals cornerback Adam Jones looked good in training camp.
Case for:
There is no denying Jones' talent. The former first-round pick looked quick and athletic playing cornerback and returning kicks during last month's mandatory minicamp. What's interesting is Jones is still working himself back into football shape after sitting out the 2009 season. The Bengals lacked a reliable third cornerback to go with starters
Johnathan Joseph
and
Leon Hall
. So there is a role available.
Case against:
Jones sat out last season for off-field reasons. He has
said and done the right things so far in Cincinnati
, but he's on a very short leash with the league office. One mishap and Jones could be off the team and out of the league for the rest of the year. But if he stays clear of trouble, he has enough ability to make the team and contribute.
Chances of making team:
80 percent
2. Matt Jones, WR, Bengals
Case for:
Jones has good size and experience. The former first-round pick had 166 career receptions and 15 touchdowns during his stint with the
Jacksonville Jaguars
. Outside of starters
Chad Ochocinco
and
Antonio Bryant
, Cincinnati has a pretty young group of receivers. That could give Jones a chance to earn roster spot if he's polished enough to contribute now for the defending AFC North champs.
Case against:
After sitting out all of 2009 because of off-field issues, Jones appears to have lost a step. This spring he hasn't looked nearly as explosive as the freakish athlete who impressed at the NFL combine in 2005. Similar to Adam Jones, it's possible that Matt Jones can regain some of his form in the process of a grueling training camp. Jones also has an inexpensive, team-friendly contract, which the Bengals can easily terminate if they don't like what they see.
Chances of making team:
40 percent
3. Jerome Simpson, WR, Bengals
Case for:
Despite a lack of production, Simpson has stuck around for two reasons: draft status and lack of receiver depth. It's hard for teams to give up on second-round picks. The Bengals invested a lot in Simpson and still want to get a return on their high pick, even if it means an extended wait. In the past, the Bengals haven't had a lot of receiver depth, which has allowed Simpson to make the 53-man roster. But that has changed this year, as Cincinnati's receiving corps has a lot of competition.
Case against:
The Bengals appear tired of waiting on Simpson, who has one reception in two seasons. They drafted two rookie receivers to compete for roster spots,
Jordan Shipley
and
Dezmon Briscoe
. This is a make-or-break training camp for Simpson. He showed occasional flashes in practice but not nearly enough to earn the trust of the coaching staff when it matters in the regular season. Entering his third NFL season, there are no more excuses for Simpson not to produce.
Chances of making team:
50 percent
4. Demetrius Williams, WR, Baltimore Ravens
[+] Enlarge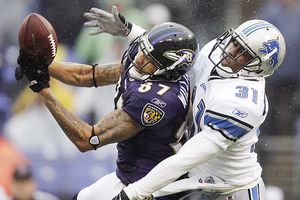 AP Photo/Rob CarrRavens receiver Demetrius Williams could be the team's deep-threat option.
Case for:
With his speed and athleticism, a case can be made that Williams potentially is Baltimore's most dangerous deep threat.
Anquan Boldin
and
Derrick Mason
are more savvy, consistent receivers, while
Donte' Stallworth
is trying to get his legs under him after sitting out a year. Williams has averaged an impressive 16 yards per catch in his career, including two touchdown receptions of 70 yards or more. There is an open role for someone to get deep in Baltimore's high-powered offense, and Williams has a chance to be that player.
Case against:
Health has always been an issue for Williams. He has played in 16 games once in his four-year career. Baltimore has kept Williams because of his potential, but at some point the Ravens would like to see consistency. To do that, Williams must stay healthy to find a role on a Ravens team with
very high expectations.
Chances of making team:
70 percent
5. John Beck, QB, Ravens
Case for:
Beck knows offensive coordinator Cam Cameron's system well from their days together with the
Miami Dolphins
. Beck's future in Baltimore
could come down
to
Troy Smith
's situation. There have been rumors of interest in Smith from the
Philadelphia Eagles
. Quarterback injuries in training camp and preseason could also increase Smith's trade value this summer, which would gift wrap the No. 3 quarterback job for Beck.
Case against:
If nothing happens on the trade front, the Ravens have an interesting decision to make between Smith and Beck. With
Joe Flacco
,
Marc Bulger
and Smith, Beck is probably the team's fourth quarterback right now, which naturally makes him the odd man out. If Smith is still on the roster, Beck will have to make up ground the old-fashioned way and outperform Smith in the preseason to win a roster spot.
Chances of making team:
40 percent
6. Bobby Engram, WR, Cleveland Browns
Case for:
The Browns have
little depth and little experience at receiver
. Engram potentially could provide both. The 14-year veteran played for Cleveland president Mike Holmgren when both were with the
Seattle Seahawks
and knows what to expect. Engram recently had a big year in 2007, when he had 94 receptions for 1,147 yards and six touchdowns. He also can serve as a mentor to young receivers such as
Mohamed Massaquoi
and
Brian Robiskie
.
Case against:
It's questionable what Engram, 37, has left. Last season he had only five receptions in five games for the
Kansas City Chiefs
. Holmgren is hoping Engram has one more decent year left in him to help Cleveland's struggling offense, which finished last in the NFL in 2009. But if there's any team Engram can make this year, it's the Browns.
Chances of making team:
60 percent
7. James Davis, RB, Browns
Case for:
Davis was arguably Cleveland's biggest rookie surprise last summer when he led the team in rushing during the preseason. But high expectations were crushed when a season-ending shoulder injury limited Davis to only two games. Now he's back for his second season and looks healthy.
Case against:
Cleveland's situation at running back is very crowded. One of the best things Holmgren and new general manager Tom Heckert did this offseason was put together a solid group of rushers. The Browns traded up to draft tailback
Montario Hardesty
in the second round and got
Peyton Hillis
from the
Denver Broncos
in the
Brady Quinn
trade. Last year's leading rusher,
Jerome Harrison
, also returns to make for a versatile group of ball carriers. All three running backs are ahead of Davis on the depth chart. So barring injury, Davis looks like a strong candidate for the practice squad.
Chances of making team:
35 percent
8. Jonathan Dwyer, RB, Pittsburgh Steelers
[+] Enlarge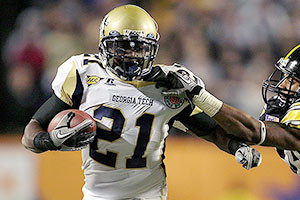 Doug Benc/Getty ImagesPittsburgh sixth-round pick Jonathan Dwyer might be headed to the practice squad.
Case for:
Despite being a sixth-round pick, Dwyer has a chance to contribute early for the Steelers. He displayed strong legs and good power in college, and that could translate into a short-yardage option for Pittsburgh. The Steelers struggled in the red zone and in short-yardage situations. If Dwyer proves he can move the chains, that would be more than enough to earn a roster spot.
Case against:
Although the Steelers may end up with a bargain, no team is afraid to put a sixth-round pick on the practice squad. Dwyer played in a triple-option offense at Georgia Tech, which means he may need some time to learn a pro-style offense. But Dwyer could pan out in a limited role.
Chances of making team:
75 percent
May, 26, 2010
5/26/10
1:30
PM ET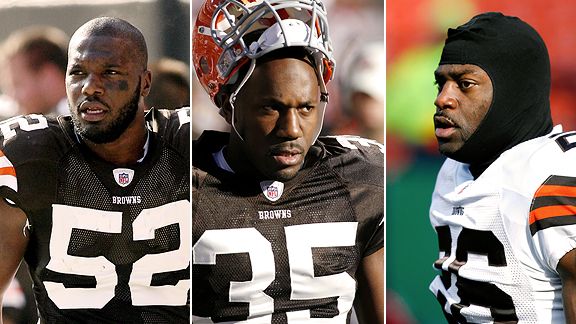 Icon, Getty, APSix Cleveland starters did not report for OTAs, including D'Qwell Jackson (left), Jerome Harrison and Abram Elam.
BEREA, Ohio -- Here is a bad sign for the
Cleveland Browns
: The team has more contract disputes (six) than wins (five) accumulated last season.
While Cleveland attempts to climb out of the basement in a highly competitive AFC North division, a half dozen starters (including the kicker) are skipping offseason workouts in hopes of getting a larger contract.
Linebacker
D'Qwell Jackson
, safety
Abram Elam
, kicker
Phil Dawson
, pass-rush specialist
Matt Roth
and running backs
Jerome Harrison
and
Lawrence Vickers
were missing from the start of the Browns' organized team activities last week. (
Editor's note
: The Plain Dealer reported Thursday that Harrison "has been participating in organized team activities this week despite not signing his one-year tender.") Roth reportedly went as far as
to request a trade from Cleveland
, while Jackson and Elam have publicly made statements about their unhappiness. Everyone except Dawson is a restricted free agent and has yet to sign their one-year tender.
These are problems that Cleveland's new braintrust of president Mike Holmgren and general manager Tom Heckert must resolve before the start of the 2010 season. Although the players in question are solid, this power pair didn't draft any of them, and thus have no personal attachments to this group.
That makes the chances of Cleveland giving out various contract extensions to unhappy players even dicier, leading to this current standstill.
"You want them all to be here," Browns head coach Eric Mangini said at OTAs. "It's voluntary right now, and they have to make the decisions that they have to make. The thing that it does do for the guys that are here is it creates extra reps for them, which is positive because we do have quite a few guys [competing] at positions."
March, 26, 2010
3/26/10
1:00
PM ET
»
NFC Under-The-Radar
:
East
|
West
|
North
|
South
»
AFC
:
East
|
West
|
North
|
South
»
Draft Watch
:
Biggest needs
(2/17) |
Busts/gems
(2/24) |
Schemes, themes
(3/3) |
Recent history
(3/10) |
Needs revisited
(3/17) |
Under-the-radar needs
(3/26) |
History in that spot
(3/31) |
Draft approach
(4/7) |
Decision-makers
(4/14) |
Dream scenario/Plan B
(4/21)
Each week leading up to the NFL draft (April 22-24), the ESPN.com blog network will take a division-by-division look at key aspects of the draft. Today's topic: Under-the-radar needs.

Baltimore Ravens
The Ravens posted a tremendous No. 3 ranking in total defense in 2009. But often lost in that ranking was the fact Baltimore had just 32 sacks in 16 games, which was 18th in the NFL. The Ravens need to generate a better pass rush, either by acquiring help via the draft or getting more production from their current players. For example, three-time Pro Bowler
Terrell Suggs
suffered through injuries and had a career-low 4.5 sacks. He needs to have a bounce-back season. The lack of pass rush also hurt Baltimore's pass coverage.

Cincinnati Bengals
Can someone who didn't kick in 2009 and who has bounced around with eight teams -- including a brief stint in Cincinnati -- really be the answer? Maybe
Dave Rayner
comes in this upcoming season and kicks lights out for the Bengals. But he wasn't the answer in Washington, Detroit, Miami, San Diego, Kansas City, Green Bay or Indianapolis. So it's fair to wonder if Rayner can solidify the kicking position during his second stay with the Bengals. Cincinnati hasn't re-signed veteran free agent
Shayne Graham
, which means a kicker could be a target in the NFL draft. The Bengals have nine picks next month and, at the very least, Rayner should have someone to push him and compete with in training camp.

Cleveland Browns
Coming off a 5-11 season, the Browns have a lot of needs and it's debatable whether any are "under the radar." But while most of the conversation focuses on quarterback, receiver and the secondary, not many in Cleveland talk about the running backs. Last year
Jerome Harrison
led the Browns with 862 yards thanks to a great stretch toward the end of the season. But can the smallish Harrison handle 30 carries a week over the course of a 16-game season? Cleveland's new regime has its doubts. The Browns need another quality running back to complement Harrison. There is very little tailback depth on the roster after the team released veteran
Jamal Lewis
.
James Davis
is coming off a season-ending shoulder injury and the team acquired
Peyton Hillis
in a trade with the Denver Broncos. Hillis can play both fullback and tailback positions.

Pittsburgh Steelers
With everyone healthy, the Steelers do not have a lot of holes beyond the obvious like offensive line and cornerback. So let's dig deep with a covert need: Pittsburgh could use a good fullback next season. The Steelers struggled in short yardage and in the red zone, in part, because they lacked a devastating lead blocker to bust open holes in the defense.
Carey Davis
couldn't cut it. Converted tight end
David Johnson
was average but played out of position.
Frank "The Tank" Summers
was too green as a rookie last season. Adding to the quandary is offensive coordinator Bruce Arians' reluctance to utilize the position. Pittsburgh often uses three-receiver and single-back sets at the expense of fullbacks, and perhaps the Steelers' lack of talent at the position contributes to that. But if Pittsburgh finds a punishing run-blocker at fullback, third-and-short won't be such a daunting task next season.
October, 7, 2009
10/07/09
12:33
PM ET

Posted by ESPN.com's Tim Graham
If you're a
New York Jets
fan and would like to express your gratitude, mail your thank-you notes to:
| | |
| --- | --- |
| | |
| | James Lang/US PRESSWIRE |
| | The Jets traded up with the Browns in this year's draft to select Mark Sanchez at No. 5. |
Cleveland Browns
Attention: Eric Mangini
76 Lou Groza Blvd.
Berea, Ohio 44017
The New York Jets pulled off another trade with their former head coach's new team. The Browns have a general manager, George Kokinis, but Mangini most certainly was involved to a high degree in trading receiver
Braylon Edwards
to the Jets on Wednesday morning.
This, of course, isn't the first time the Jets and Browns brokered a major deal. The Jets made a five-for-one deal to acquire Cleveland's fifth overall draft pick for the purposes of selecting Southern California quarterback
Mark Sanchez
.
So the Jets have acquired the third overall pick from the 2005 draft and the fifth overall pick from this year. And what, really, have they parted with?
Cleveland, clearly in a rebuilding mode, is collecting draft picks for the future. New York is tweaking their roster to win this year.
What the Jets have gotten from dealing with the Browns
Mark Sanchez, quarterback: The Sanchise won the job in training camp and, despite some rookie mistakes, has the Jets 3-1 and tied for first place in the AFC East.
Braylon Edwards, receiver: He had off-the-field problems and was erratic in the Browns' offense, but he's the big-play receiver the Jets were lacking.
What the Browns have gotten from dealing with the Jets
Brett Ratliff, quarterback: He's third on the depth chart behind Derek Anderson and Brady Quinn.
Chansi Stuckey, receiver: Stuckey was the Jets' No. 2 receiver, but didn't seize the job out of camp as much as he was a better option than David Clowney.
Jason Trusnik, linebacker: A depth player and special-teamer, he was undrafted out of Division III Ohio Northern and has an injury history.
Abram Elam, safety: Elam starts for the Browns but would have been a backup for the Jets behind Kerry Rhodes and Jim Leonhard.
Kenyon Coleman, defensive end: Coleman starts for the Browns.
17th overall draft pick (Sanchez trade): The Browns turned another trade, giving the pick to the Tampa Bay Buccaneers, who took quarterback Josh Freeman, for picks Nos. 19 and 191. The Browns then dealt No. 19 to the Philadelphia Eagles for Nos. 21 and 195.

The Browns drafted starting center Alex Mack at No. 19, cornerback Coye Francies at No. 191 and running back James Davis at No. 195. Francies is a backup, while Davis is on injured reserve after a promising preseason.
52nd overall draft pick (Sanchez trade): The Browns kept the pick and selected defensive end David Veikune, who now is a backup inside linebacker.
Two undisclosed draft picks (Edwards trade).
October, 3, 2009
10/03/09
3:27
PM ET

Posted by ESPN.com's James Walker
The running game of the
Cleveland Browns
suffered another blow Saturday when the team announced rookie tailback
James Davis
is out for the season. The Browns put Davis on injured reserve and didn't specify the reason. But Davis has been dealing with a shoulder injury and has been in and out of the lineup since Week 1.
Davis led the Browns in rushing during an impressive preseason. The sixth-round pick from Clemson was the team's biggest surprise in training camp but was never able to get going during the regular season.
Cleveland (0-3) signed Chris Jennings from its practice squad to replace Davis. Starting running back
Jamal Lewis
(hamstring) is doubtful for Sunday's game against the
Cincinnati Bengals
(2-1). So backup
Jerome Harrison
likely will be the featured back for the second straight week.
September, 13, 2009
9/13/09
7:06
PM ET
| | |
| --- | --- |
| | |
| | Matthew Emmons/US Presswire |
| | The starting quarterback, Brady Quinn, was new, but the story was the same for the Cleveland Browns. |

Posted by ESPN.com's James Walker
CLEVELAND -- There are only so many secrets the Browns can hide from their opponents.
Energy and effort can only carry a team so far. The same goes for desire and preparation.
But eventually, the most talented team will prevail more often than not in the NFL, and that was certainly the case in
Cleveland's 34-20 season-opening loss
to the
Minnesota Vikings
.
If we learned anything in the debut of Cleveland coach Eric Mangini, it's that the Browns simply don't have the horses to run in this 2009 race.
| | |
| --- | --- |
| | |
| | AP Photo/Tony Dejak |
| | Browns coach Eric Mangini doesn't have enough talent to field a contender. |
The Browns did some nice things early. They fed off the home crowd. They played a near-perfect first half. But the team in purple had
Adrian Peterson
,
Brett Favre
,
Percy Harvin
,
Jared Allen
,
Antoine Winfield
,
Pat Williams
and
Kevin Williams
.
Cleveland had … well … you get the point.
The Browns were left with no answers because there aren't any on their roster.
Peterson rushed for 180 yards and three touchdowns against the Browns. Favre managed the game efficiently with 110 yards, one touchdown and a 95.3 passer rating in his Vikings debut. Minnesota defenders registered five sacks.
By approximately 4 p.m. Sunday, the disparity in talent between these two teams was clear.
"With a team like Minnesota, who is talented across the board, and with a player like Adrian Peterson, there can't be any [mistakes]," Mangini said.
As Mangini alluded, for the Browns to consistently win this season they will have to play very efficiently for four quarters. That is a very hard thing to do in the NFL every week.
Cleveland did well against Minnesota for one half. The Browns were scrappy defensively, quarterback
Brady Quinn
led the offense to a pair of field goals, and Joshua Cribbs scored a touchdown on special teams.
The Browns did just about everything right and the result was a 13-10 lead at intermission. Then Minnesota flexed its muscles and asserted its will to the tune of 24 unanswered points to start the second half.
"Adrian Peterson, Brett Favre, I mean, come on now," Cribbs said, giving the better team credit. "They have very talented guys on their team as well."
After weeks of speculation and secrecy, Quinn became the third Week 1 quarterback for Cleveland in as many years. He completed 21-of-35 passes for 205 yards, one touchdown and one interception.
Quinn managed the game well enough in the first half. But his two turnovers (one pick, one fumble) in the second half helped contribute to Minnesota's dominance.
Quinn's interception was a miscommunication with receiver
Braylon Edwards
, who had only one catch for 12 yards. Quinn threw the ball outside when Edwards finished his route inside. Either way, Vikings cornerback
Cedric Griffin
was waiting near the sideline to make the easy pick. Both Edwards and Quinn took the blame for the gaffe afterward.
As the offense unraveled, so did the defense in allowing 155 second-half rushing yards by Peterson. The gritty first half from Cleveland was a total team effort and so was its second-half demise.
"We will be critical of ourselves watching film and prepare for Denver next week; that's all you can really do at this point," said a disappointed Quinn. "It's the first game of the season, but there are 15 more."
For the most part, Cleveland is stuck with this roster for the remaining 15 games.
The new regime of Mangini and general manager George Kokinis gutted a team that went 10-6 two seasons ago and brought in 23 new players. Seven of those players are former
New York Jets
that Mangini felt comfortable with to help change the culture, and 16 additional players came via the draft and free agency.
Of all the new arrivals from New York, safety
Abram Elam
had the biggest impact with eight tackles and a sack.
None of the rookie draft picks had much of an impact. First-round pick
Alex Mack
got the start at center for an offensive line that gave up five sacks. Rookie receivers
Mohamed Massaquoi
and
Brian Robiskie
combined for one reception, and first-year tailback
James Davis
rushed for only five yards on four carries.
Despite the many changes, the first offering of the 2009 Browns looked very similar to the many losses of the 2008 Browns.
It's probably not what Cleveland wants to hear, but a new challenge could arise to avoid the same losing mentality from taking over, which has happened often since its return to the NFL a decade ago.
"Last year has nothing to do with this year," Mangini said sternly. "Next year will have nothing to do with this year, either. What we control is right now with this group of guys, with the way we work and by the way we prepare. That's what affects right now. It's consistently going to be emphasized because it's right."
August, 29, 2009
8/29/09
7:39
PM ET
Posted by ESPN.com's James Walker
CLEVELAND -- In what was a big night for the quarterbacks, the Browns played their best preseason game to date with a 23-17 victory over the Tennessee Titans.
Here are some observations on the Browns from Saturday's game:
This was considered a swing game for the quarterbacks and both played well. But by the end of the night, Brady Quinn put a stronger hold on becoming the team's next starter. Quinn threw the football well and had a stellar outing, completing 11-of-15 passes for 128 yards and one touchdown. Quinn was efficient in moving the chains and led the Browns to three scoring drives that consisted of one touchdown and two field goals. His best throw was a 20-yard touchdown strike in stride to receiver Braylon Edwards.
Derek Anderson also showed well for himself but it likely wasn't enough. He led one scoring drive that ended in a field-goal to start the third quarter. Anderson finished 7 for 11 for 77 yards. It will be interesting to see when Browns head coach Eric Mangini makes his final quarterback decision. If Mangini decides at this point before next week's preseason finale, it would have to be Quinn based on performance.
Cleveland's first-team defense played hard. The run fits were solid. Tennessee has a terrific tandem in Chris Johnson and LenDale White, and the Browns defended them well and held the pair to a combined 47 yards rushing. The first-half defense also held firm in the red zone and allowed just one touchdown in three trips, not to mention an interception return for a touchdown in the third quarter off Tennessee's Vince Young by backup linebacker Alex Hall.
But an area Cleveland's defense struggled with was against the pass. The starting secondary looked very shaky, particularly in the first half as Titans starting quarterback Kerry Collins picked the unit apart, completing 11 of his 14 attempts for 102 yards and a touchdown. Even Young led a solid two-minute drive where the Titans marched down the field with ease. But Young fumbled near the goal to end the first half.
Odd play of the night: Anderson was flagged for 15 yards because he stood too far off the sideline and collided with a referee during a passing play. The unsuspecting referee was not happy. Neither was Mangini with the call.
Rookie tailback James Davis continues to impress. He rushed for 28 yards on five carries (5.6 yard average) and continues to show the burst Cleveland is seeking for in its running game behind starter Jamal Lewis. Davis also had four catches out the backfield for 27 yards. Jerome Harrison is competing with Davis this summer but was inactive for the second straight preseason game, which continues to widen the gap in favor of Davis.
August, 23, 2009
8/23/09
10:28
AM ET
Posted by ESPN.com's James Walker
Half of the AFC North division saw action Saturday night in the preseason.
Here are several observations on the Pittsburgh Steelers and Cleveland Browns:
The Steelers were wise to take precaution in sitting quarterback Ben Roethlisberger (Achilles) in a 17-13 exhibition loss to the Washington Redskins. In fact, I said on ESPN radio Saturday night that I wouldn't be surprised if Pittsburgh sits "Big Ben" the following week as well. In my time with the Steelers this summer, I came away feeling one of their biggest priorities was making it through training camp and the preseason with as few injuries as possible. So the Roethlisberger injury Thursday had to give the team a scare. The Steelers already have well-defined roles, and besides a few backup jobs and bringing along rookies, Pittsburgh doesn't have as much use for the preseason as most teams.
The first-team offense minus Roethlisberger did not look sharp in the first quarter. Starting left tackle Max Starks was called for holding on the first offensive play, fullback Carey Davis had a false start and quarterback Charlie Batch also contributed an intentional grounding penalty all within the first two drives. The unit still produced a touchdown with Willie Parker's 3-yard run, but there are some minor procedural things offensive coordinator Bruce Arians will want to clean up after he watches the tape.
This week was Stefan Logan's turn to return kicks and he looked impressive. He had the longest kickoff return in the game (60 yards), in addition to averaging a solid 12 yards per punt return. The Steelers are looking to boost their special teams and have turned over every rock this offseason to do so. The team signed Logan from the CFL, and his best chance to make the roster is to become the best returner.
Cleveland Browns quarterback Derek Anderson responded in what was a make-or-break game for him in Saturday's 27-10 win over the Detroit Lions. Anderson completed 8 of 13 passes for 130 yards and a interception as he moved the offense well. The performance likely evened the competition with Brady Quinn, who outperformed Anderson in the first preseason game against the Green Bay Packers. Expect this competition to go down to the wire.
Josh Cribbs is doing all he can to prove that the new regime in Cleveland should give him a new contract. The special-team's ace returned a punt 84 yards for a touchdown and had another return to start the game called back. Cribbs, who is also competing for the No. 2 receiver job, has been impressive in both preseason games. But Cribbs says he is undecided if he will play in the regular season without a new deal.
Rookie tailback James Davis provided the big play Cleveland is looking for from its backfield this season. Davis, a sixth-round pick who has been a pleasant surprise, broke through for an 81-yard touchdown run against the Lions. The Browns are looking for a change-of-pace tailback to pair with Jamal Lewis, and big plays like that will earn the trust of Browns coach Eric Mangini.
August, 17, 2009
8/17/09
1:16
PM ET
| | |
| --- | --- |
| | |
| | Matthew Emmons/US Presswire |
| | Derek Anderson, left, and Brady Quinn continue to battle for the starting QB job. |
Posted by ESPN.com's James Walker
BEREA, Ohio -- It takes only one training camp session to notice who's the new boss of the Cleveland Browns.
Eric Mangini's presence already looms large in Cleveland. Whether it's the improved practice habits, the meticulous charting of plays and game situations, or the constant running of laps after mental errors, the new Browns coach has quickly placed his fingerprints all over this team heading into the 2009 season.
Cleveland is trying to bounce back from an abysmal 4-12 record last year. Most players returning from last season are coming off the worst individual performances of their careers, and part of Mangini's job is to get the best out of them as well as the new additions.
"Nobody cares what anybody did last year," Browns offensive lineman Ryan Tucker said of the team's approach.
But Cleveland still has a lot of issues to address in its first year under new leadership.
Key Questions
1. Who is the starting quarterback?
The Browns have been searching for their franchise quarterback since returning to the NFL in 1999. A decade later there is another controversy at the position involving former Pro Bowler Derek Anderson and 2007 first-round pick Brady Quinn.
Preseason games are going to be huge for these two, and Quinn has jumped out to an early lead with a moderate performance Saturday against the Green Bay Packers. He completed 7 of 11 passes for 68 yards and an interception in a 17-0 defeat, while Anderson didn't fare nearly as well, going 0-for-2 with an interception.
Fantasy Football: 32 Questions

AJ Mass on the Browns' QB situation. Bottom line: It doesn't matter to fantasy owners which QB wins the starting job. Neither guy would be worth starting in fantasy. Story

Mangini says he won't make this decision hastily and will stick with his choice once the decision is made. But based on the offensive system and some early signs, a lot is pointing to the Browns going with Quinn to start the regular season.
2. Will players buy into Mangini's system?
It's no secret that former Browns coach Romeo Crennel was considered a "nice-guy coach." But in four years, that approach didn't work as the team finished with three losing seasons in that span.
| | |
| --- | --- |
| | |
| | Gregory Shamus/Getty Images |
| | New Browns coach Eric Mangini brings a different style of coaching to Cleveland. |
Therefore, the Browns went in the opposite direction in hiring Mangini, who is a stern disciplinarian. At the very least, Mangini expects to clean up some of the lazy mistakes that permeated the team.
There was some butting of heads initially, but at least publicly there haven't been any major dust-ups between Mangini and his players in training camp. It's still questionable if all the players will completely buy into Mangini's disciplinarian approach. Victories probably will be the biggest determining factor of whether everyone stays on board long term.
3. Can the defense improve?
The Browns haven't done many things well defensively the past several seasons. But Mangini and new defensive coordinator Rob Ryan feel they have some answers.
Perhaps the biggest wrinkles that are noticeable in training camp have been added to the pass rush. Ryan is not afraid to bring extra defenders at the expense of exposing his secondary. That is something Cleveland was leery of doing in the past.
Free-agent pickups such as safety Abram Elam and linebackers Eric Barton and David Bowens -- all former New York Jets -- know Mangini's system well and are helping the rest of the defense ease the transition. In the early going, Cleveland's defense looks like the strength of this team.
Market watch
The talent has always been there, but for various reasons receiver Braylon Edwards has had an up-and-down career in Cleveland.
Edwards got off to a slow start in his first two years because of injuries and rookie mistakes. Then he exploded in 2007 with 80 catches, 1,289 yards and 16 touchdowns. But Edwards faltered again last season by leading the NFL in drops and catching only 55 passes and three touchdowns.
The Browns are counting on the 2007 Edwards to show up this season. This summer he has been the most dominant offensive player in training camp by making spectacular catches look routine. But he did have one drop Saturday in the preseason opener against the Packers.
Much of Edwards' production this year will rely on which quarterback can get him the football. But playing in a contract year, Edwards looks motivated to produce whenever opportunities come his way.
Newcomer to watch
The first draft pick of the Mangini era in Cleveland naturally will have pressure to perform, and that is certainly the case this year with rookie center Alex Mack. The Browns traded down in the first round to select Mack with the No. 21 overall pick.
| | |
| --- | --- |
| | |
| | Gregory Shamus/Getty Images |
| | The Browns are hoping to get early contributions from Alex Mack. |
So far, Mack has been inconsistent in training camp. The Browns are throwing a lot at him mentally and physically. As the center, he has to be aware of all things on offense. In competing with veteran Hank Fraley, Mack also is getting a lot of reps with the second team and is going against Pro Bowl defensive tackle Shaun Rogers, who is dominating most of their one-on-one matchups.
But the Browns are hoping Mack's battles with Rogers help him in the long run when he faces equally stout challenges in the AFC North such as Casey Hampton, Kelly Gregg, Haloti Ngata and Domata Peko.
Observation deck
A crowded field is competing for the No. 2 receiver job opposite Edwards. Rookies Mohamed Massaquoi and Brian Robiskie and veterans Josh Cribbs, David Patten and Mike Furrey are all getting reps at that position. Massaquoi has been the most consistent receiver this summer, but Cribbs also has made a push with a solid preseason opener. ... Rookie tailback James Davis has been one of the early surprises in training camp. The sixth-round pick from Clemson has shown good vision and a burst that may be able to help spell veteran Jamal Lewis. ... Kicker Phil Dawson and Cribbs both are unhappy with their current contracts. But things have been very quiet on that front and it's unknown if the team would be willing to renegotiate with either player before the start of the season.
April, 24, 2009
4/24/09
10:39
AM ET
Posted by ESPN.com's Mike Sando

Jim Thomas of the St. Louis Post-Dispatch says Texas Tech receiver Michael Crabtree has come off as a prima donna during pre-draft interviews with teams. Thomas: "There are questions about Crabtree's foot and attitude. His diva attitude during pre-draft visits turned off the Rams and the Browns (who pick fifth overall) to the point where neither team is considering Crabtree for their first-round pick." Televised interviews with Crabtree have raised questions in my mind about how the Seahawks might view him as well. Would veteran receivers T.J. Houshmandzadeh, Deion Branch and Nate Burleson be able to mentor him effectively? Might the prima donna tendencies grow worse with money in Crabtree's pockets and people around him telling him how great he is?
Bill Coats of the St. Louis Post-Dispatch looks at ways the Rams and other NFL teams process draft-related information. Former Rams coach Dick Vermeil says it's harder for teams to mislead one another.
Bryan Burwell of the St. Louis Post-Dispatch expects action from Rams general manager Billy Devaney during the draft. Burwell: "Devaney has said that he'll be aggressive. He is not afraid to take chances, to make moves, to wheel and deal his way around the draft board. I'm still not sure he can pull off a trade to move down in the first round. The better bet is that Devaney will work hard once the draft begins to move up out of that second-round pick (No. 35 overall) into the lower half of the first round."

Kent Somers of the Arizona Republic outlines what the Cardinals want in a running back to pair with Tim Hightower. Somers: "Hightower would seem to fit the role of the inside pounder, the gainer of tough yards. He proved adept last season at picking up first downs and scoring touchdowns. He struggled some when he was the featured back and ended up with more runs for negative yards than coaches found acceptable. Luckily for the Cardinals, the upcoming draft is deep in running backs. And it's possible that one of the top three -- Georgia's Knowshon Moreno, Ohio State's Chris Wells and Connecticut's Donald Brown -- will be there when the Cardinals pick at No. 31."
Jim Wyatt of The Tennessean says nothing appears imminent between Tennessee and Arizona even though the Titans have inquired about Anquan Boldin. My take, lifted from our Thursday chat: "Knowing [Titans GM] Mike Reinfeldt, I'm questioning whether he would want to give up picks for a player, then meet that player's very high demands on a long-term agreement."
Darren Urban of azcardinals.com also does not expect the Titans to move seriously for Boldin.
Also from Urban: Larry Fitzgerald is indeed sharing the cover on the 2010 version of John Madden's football video game.
More from Urban: Hightower has dropped 15 pounds and improved his conditioning. Scheduling issues had hurt his conditioning last offseason.

Eric D. Williams of the Tacoma News Tribune describes Aaron Curry as the "safe pick [Seahawks general manager Tim] Ruskell covets" in the draft.
Danny O'Neil of the Seattle Times says no 2009 NFL draft prospect has made him waffle more than Crabtree. O'Neil: "Dude is a playmaker, flat-out. ... I've worried that the spread offense inflated his numbers, too much. That he might be a product of a system, but then you watch how the man runs after the catch and you imagine what he would do in the Seahawks' offense with the new emphasis on the play-action pass."
Clare Farnsworth of Seahawks.com says the Seahawks hope to put substance before hype in determining which players to draft. Farnsworth: "There has been talk, from Ruskell, among others, that this draft lacks the franchise-quality players who justify being selected -- and paid -- as Top 5 picks. It's a situation that has prompted the Seahawks to look at top of this draft class differently."

John Crumpacker of the San Francisco Chronicle offers a first-round mock draft featuring the following NFC West selections: Jason Smith (Rams), Mark Sanchez (Seahawks), Knowshon Moreno (49ers) and Donald Brown (Cardinals). The Moreno pick would not shock me -- the 49ers would arguably be selecting the top back in the draft -- but it would probably shock Frank Gore.
Kevin Lynch of Niner Insider takes a round-by-round look at draft prospects who might help the 49ers on offense.
Matt Maiocco of the Santa Rosa Press-Democrat lists the 49ers' top five needs in this order: pass-rusher, offensive tackle, receiver, running back and quarterback.
Matt Barrows of the Sacramento Bee lists seven players as possibilities for the 49ers with the 10th overall choice in the draft: Crabtree, Aaron Curry, Tyson Jackson, Jeremy Maclin, Michael Oher, Brian Orakpo and B.J. Raji. Barrows: "No one knows for sure, but it's a safe bet the following players are gone before the 49ers are on the clock: quarterbacks Matt Stafford and Mark Sanchez, offensive tackles Jason Smith, Eugene Monroe and Andre Smith. (And, yes, A. Smith will be gone)."
Daniel Brown of the San Jose Mercury News says the 2009 draft could make or break Scot McCloughan's tenure as the 49ers' general manager.
Briandean of Niners Nation suggests which players the 49ers should draft in each round: Oher (1), Larry English (2), Ramses Barden (3), Coye Francies (4), James Davis (5), Devin Moore (5), Mike Reilly (6), Bear Pascoe (7) and
Michael Mitchell (7).