NFL Nation:

James Develin
January, 11, 2014
1/11/14
11:26
PM ET
FOXBOROUGH, Mass. -- Sharing thoughts on the
New England Patriots
'
43-22
divisional-round playoff victory Saturday over the
Indianapolis Colts
:
What it means:
The Patriots advance to the AFC Championship Game for the eighth time in Bill Belichick's 14 years as head coach, which continues a remarkable run of success for Belichick and quarterback
Tom Brady
. Many of the faces around them have changed over the years, but Belichick and Brady have been the constants, and one could make a case this has been their most impressive season as a tandem. The Patriots have been hit as hard by injuries as any team in the NFL, but they've willed their way to put themselves in position to win their first Super Bowl championship since the 2004 season.

Running game sparks attack again:
For the third consecutive game, the Patriots' ground attack was the difference-maker, led by hard-charging
LeGarrette Blount
(franchise-record four rushing touchdowns). The Patriots split snaps at running back evenly among Blount,
Stevan Ridley
and
Shane Vereen
, and sliced up the Colts with strong work up front by the offensive line -- left tackle
Nate Solder
, left guard
Logan Mankins
, center
Ryan Wendell
, right guard
Dan Connolly
and right tackle
Marcus Cannon
-- as well as tight ends
Michael Hoomanawanui
and
Matthew Mulligan
and fullback
James Develin
. When the Patriots run it like this, it brings back memories of the 2004 Super Bowl championship team for which bruiser
Corey Dillon
was the lead back.
Injuries to monitor:
Punter
Ryan Allen
left the game in the second quarter with a shoulder injury and did not return. Kicker
Stephen Gostkowski
handled the punting duties, and Brady handled the holder responsibilities as part of the field-goal operation. If Allen is unavailable in the AFC Championship Game, the Patriots would almost certainly bring in another punter. Former Patriot
Zoltan Mesko
isn't an option, as he punted for the Bengals in the playoffs and isn't eligible to join another team. ... Elsewhere, rookie receiver
Kenbrell Thompkins
left the game in the fourth quarter with a head injury (presumably a concussion) and did not return. Veteran
Austin Collie
was his replacement.
Stock watch
:
Jamie Collins
-- up. The Patriots' top pick in the 2013 draft (52nd overall) was thrust into an expanded role, in part because linebacker
Brandon Spikes
was placed on
season-ending injured reserve
earlier in the week. Collins had played just 25 percent of the defensive snaps during the regular season, but he didn't come off the field and made his presence felt as a tackler, pass-rusher and in coverage with an interception. He was all over the field in what was a coming out party for the ultra-athletic defender from Southern Mississippi.
What's next:
The Patriots will play in the AFC Championship Game against the winner of Sunday's game between the visiting
San Diego Chargers
and
Denver Broncos
(4:40 p.m. ET). If Denver beats San Diego, the AFC Championship Game will be played in Denver. If San Diego beats Denver, the AFC Championship Game will be played in New England. Regardless of location, the game will be played at 3 p.m. ET next Sunday.
December, 1, 2013
12/01/13
11:05
PM ET
What do the great competitors on the best teams do? They find something their opponents can't stop. They latch on and, like a big nasty leech, they suck blood until pried off with an open flame.
(Or something like that.)
Sunday at Arrowhead Stadium,
Denver Broncos
quarterback
Peyton Manning
exploited the
Kansas City Chiefs
' weak downfield passing defense to score four unanswered touchdowns in a 35-28 victory. Watching it go down was like seeing a slideshow on continuous loop. You knew what was coming and could eventually predict it on demand. Yet the Chiefs couldn't pry off the Broncos until the Broncos had all but locked up the AFC West championship.
We'll dive deeper on that dynamic, along with a few other instances I stumbled upon while taking in Week 13, below.
STUDS

1. Recognition, Denver Broncos:
It didn't happen until they were trailing 21-7 midway through the second quarter, but the Broncos figured out that the Chiefs quite simply weren't up to defending their downfield passing game. In a span of 19 minutes, 50 seconds between the second and fourth quarters, the Broncos scored 28 points. Three of them came on passes to receiver
Eric Decker
on touchdowns of 37, 15 and 1 yards. Decker also set up the fourth touchdown with a 42-yard reception. Fellow receiver
Demaryius Thomas
, meanwhile, hauled in a 77-yard pass. Chiefs rookie cornerback
Marcus Cooper
was victimized on two of the touchdowns, but the real blame -- as Manning seemed to understand -- goes to the Chiefs' safety play. As a group, they were impossibly slow to the ball and couldn't keep Decker in front of them. Manning kept firing downfield, and the Chiefs made no discernible schematic adjustment to help out players who had demonstrated they couldn't succeed in the defense they had been put in. The slideshow continued looping until the Broncos had turned a 21-7 deficit into a 35-21 advantage. Overall, Manning completed eight passes of his 10 attempts that traveled at least 15 yards downfield.
Develin
2. James Develin, New England Patriots fullback:
You might never see a more contested and ultimately satisfying 1-yard run than the one Develin produced Sunday against the
Houston Texans
. The play began with an ill-advised attempt to dive over the line of scrimmage. Texans linebacker
Jeff Tarpinian
pushed Develin back, but by my count, that was the first of six failed attempts to bring him down. Develin bounced his way down the left side of the line before finally falling backward into the end zone for a touchdown. In other words, more than half of the Texans' defense had a chance to tackle him but could not. We live in an era when teams use empty backfields in short yardage situations more often than a fullback dive. Develin's run was a throwback to a few generations ago, when teams employed bruising 250-pound runners, dressed them with a number in the 40s and asked them to plow through short-yardage situations. Develin is listed at 255 pounds and wears No. 46, by the way.

3. Scouting, Philadelphia Eagles:
How did the Eagles beat a hot
Arizona Cardinals
team and its exceptional defense Sunday? Much as the Broncos did in Kansas City, the Eagles identified a weakness and exploited it. All three of their touchdowns came on passes from
Nick Foles
to a tight end.
Zach Ertz
caught two and
Brent Celek
added another. Why is this important? According to ESPN Stats & Information, the Cardinals entered Week 13 having given up more yardage and touchdown passes to tight ends than any other NFL team. Foles targeted tight ends on 12 of his 34 attempts, a season high. Cardinals coach Bruce Arians was
largely dismissive of the Eagles' scheme
during the week, but Foles and coach Chip Kelly found a way to accomplish the basic goal of any offense: outscore their opponent.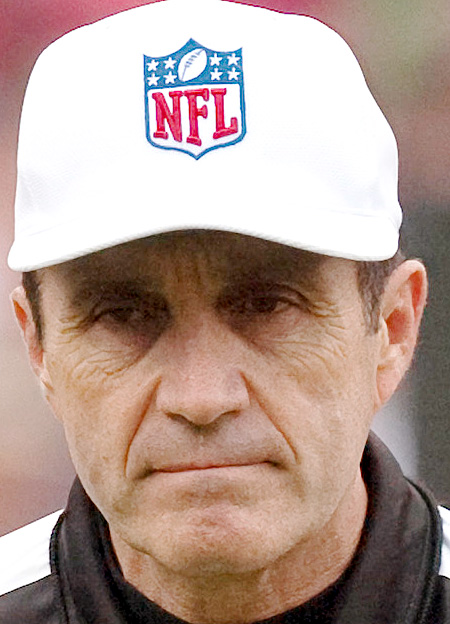 Morelli
4. Light officiating touch, Peter Morelli:
It has been a few weeks since we
last broke down the frequency of penalty calls
by referee crews. At the time, Morelli's crew was calling an NFL-low average of 11.2 combined penalties per game (for context, John Parry's crew led the league with an average 17.9 penalties). So maybe we shouldn't be surprised that Morelli's crew called only two accepted penalties in Sunday's game between the Patriots and Texans (the Texans got hit with both). Low penalty totals aren't necessarily a virtue for NFL officials, of course. But over time, crews gain reputations much like baseball umpires or NBA officials. Morelli's crew, it can be safely said, is more likely to "let them play," than, say, Parry's. This is an important collection of information as teams prepare for games.
Gould
5. Robbie Gould, Chicago Bears place-kicker:
Yes, it's true that Gould missed two potentially game-winning field goals on a day when the Bears lost to the Vikings. He
magnanimously took blame for the loss,
but it's important to note how unique his day was and how his coach did him no favors. First, Gould was present for the overnight birth of his first child in Chicago. He took an early morning flight to Minnesota but it's hard to believe he got any sleep. Coach Marc Trestman then sent him out to attempt a 66-yarder on the last play of regulation. The kick was understandably short. Then, Trestman passed up two chances to get Gould a closer kick in overtime, choosing instead to kick on second down. Gould was just wide on a 47-yard attempt. It was a makeable kick, but Gould deserves a bit of a break there.
Moreno
6. Tear ducts of Knowshon Moreno, Denver Broncos tailback:
It's not unusual for an American citizen to get emotional during a well-performed rendition of the national anthem. And we all know that professional athletes possess physical capacities beyond that of the average American. But I'm not sure we've ever seen a set of tear ducts produce the way Moreno's did Sunday afternoon at Arrowhead. CBS cameras captured a blink that brought forth a flood first from his right eye and then, after a another blink, from his left. Most football players whip themselves into an emotional frenzy, and Moreno was one week removed from a career-best game. It was not immediately clear if there was a more personal explanation for the tears, and so I don't want to make light of the scene. But no matter the cause, it was an impressive display. Don't take it from me.
Here's a photo for your own viewing.
DUDS

1. A forgettable sequence of professional football:
Last week's
ESPN.com Hot Read
focused on anecdotal observations that quality of play in the NFL is down this season. Many league observers are concerned that backup players are inadequately prepared to play when starters get hurt, leading to some brutal displays. We got to see a few of those, in near-simultaneous fashion, Sunday afternoon. In Cleveland, the
Jacksonville Jaguars
took a fourth-quarter lead when Browns (backup) quarterback
Brandon Weeden
couldn't control center
Alex Mack
's shotgun snap. The ball rolled 14 yards and eventually went out of the end zone for a safety (Weeden had earlier committed turnovers on three consecutive possessions). At about the same time, Bears (backup) quarterback
Josh McCown
made a terrible decision to flip a pass wildly into a crowd. Vikings linebacker
Audie Cole
tipped the ball into the air. Bears guard Kyle Long caught it -- and promptly fumbled. The Vikings, of course, failed to capitalize on the ensuing possession because a potential touchdown pass bounced off the chest of tight end
Rhett Ellison
and was intercepted. Ellison, you see, was playing only because of an injury to starting tight end
Kyle Rudolph
. For some reason, the "Three Stooges" theme song has been playing in my head every since. ...

Ryan
2. Quarterback change, New York Jets:
It's difficult to imagine a less inspiring change to the depth chart than the one Jets coach Rex Ryan orchestrated at halftime of a 23-3 loss to the
Miami Dolphins
. This is nothing against backup
Matt Simms
, who seemed awfully fired up to get on the field. Simply, Ryan stuck with starter
Geno Smith
for such an extended period of futility that it was clear he thought nothing of Simms' ability to spark the team. The Jets have been in the mix of the NFL playoff race, and yet Ryan continued with a quarterback who now has led the team to
one touchdown in its past 36 possessions
. The Jets went all in this season on a rookie who wasn't ready to be an NFL starter, and by the time Ryan got around to acknowledging that, it was too late.

3. Attendance, NFL stadiums:
Week 13 brought the first local blackout of the 2013 season. The
San Diego Chargers
were about 5,000 tickets short of a sellout for their game against the
Cincinnati Bengals
, but Qualcomm Stadium was not the only facility that seemed less than full Sunday. Photographs at
FedEx Field (Washington)
,
First Energy Stadium
(Cleveland) and
Rogers Centre
(Toronto, where the
Buffalo Bills
had a home game) all showed thousands of empty seats. The matchups in those games were particularly bad, each featuring two teams with losing records, and no one had high expectations for attendance in Toronto (announced: 38,969.). But it's only the first week in December and a bit early for fans to give up on their teams -- or at least in attending their games. At the very least, it seems clear that the NFL needs to enhance its push to make game attendance more attractive.

4. Misplaced attention, Indianapolis Colts:
Sunday began with reports that the Colts would start tailback
Donald Brown
and acknowledge that
Trent Richardson
-- whom they spent a first-round draft pick to acquire -- would be the backup. The Colts' shaky running game masked what might be a bigger problem: Their pass protection. Quarterback
Andrew Luck
took five sacks and was hit three other times by the
Tennessee Titans
. Sunday was Luck's third game in four weeks with a Total QBR less than 38. A stronger running game would help, but it is not the only issue going on with the Colts at the moment.
November, 18, 2013
11/18/13
11:33
PM ET
CHARLOTTE, N.C. -- A few thoughts on the
New England Patriots
' 24-20
loss
to the
Carolina Panthers
:

What it means:
Great game as
Cam Newton
outdueled
Tom Brady
. Brady brought his "A" game but this was Newton's night. He had some dazzling runs against a defense that couldn't make the stop at the critical time. The Patriots fall to 7-3, and they will look back at some lost opportunities as this game was there for the taking. This was a limited-possession game -- the Patriots had just seven offensive drives -- which magnified mistakes on both sides. The Patriots had more of them early and trailed 10-3 at the half before the teams combined to play an exciting second half. A third-and-1 incomplete pass through the back of the end zone forced the Patriots to settle for a field goal to go up 20-17, which set up the Panthers' game-winning touchdown drive. The Patriots fought to the finish, but their final drive fell short with the clock also working against them. Should a penalty have been called on the final play? Fair question.
Aqib Talib vs. Steve Smith:
This was the matchup within the matchup and the win goes to Smith, the Panthers' veteran receiver. The two were jawing from the get-go and had to be separated several times after plays. Talib appeared to lose his cool early. Smith beat Talib for a 42-yard gain down the left side in the first quarter, which was a tone-setter of sorts for a one-on-one battle that was especially fun to watch. Talib ultimately left the game in the fourth quarter with a hip injury and didn't return.
Stock watch:
Patriots running back
Stevan Ridley
's ball-security issues resurfaced. He fumbled on the team's second drive and was kept on the sideline for 18 snaps before the coaches went back to him. Ridley runs hard, but if he continues to struggle holding on to the ball, it will likely lead to a drop in his playing time.
Injuries to monitor:
Patriots No. 2 tight end
Michael Hoomanawanui
left the game in the second quarter with a knee injury and did not return. In his absence, five-year veteran
Matthew Mulligan
bumped up the depth chart and fullback
James Develin
was utilized a bit more. Also, as noted above, Talib left with a hip injury in the fourth quarter.
Leg whip by Cannon draws scrutiny:
Patriots tight tackle
Marcus Cannon
's leg whip on Panthers defensive end
Charles Johnson
, which knocked Johnson out of the game with a knee injury, wasn't penalized. But Cannon will likely hear from the NFL in terms of a fine.
Turnover streak snapped:
The Patriots had forced a turnover in 36 straight games entering the night, which was the longest active streak in the NFL, but that came to an end.
What's next:
The Patriots return home to host the
Denver Broncos
on Sunday night. Another Brady versus
Peyton Manning
matchup will be a top storyline, along with receiver
Wes Welker
's return to town. Welker sustained a concussion in the Broncos' win over the Chiefs on Sunday and his status will be monitored closely.
September, 2, 2013
9/02/13
3:32
PM ET
FOXBOROUGH, Mass. -- The Patriots have waived fullback
James Develin
, a league source confirmed.
Develin, signed to the team's practice squad on Sept. 1 of last season, eventually landed on the active roster in late November, providing special-teams value.
He worked at tight end during portions of training camp this year, and with the team down to just three tight ends on the active roster -- one of which is the recovering
Rob Gronkowski
-- there was a feeling that he might earn some reps as an H-back type player to provide offensive versatility.
The Brown graduate entered the league in 2010 when he was signed to the Bengals' practice squad after a stint in the United Football League.
The Patriots' roster is now at 52 players. During his Monday afternoon news conference, coach Bill Belichick suggested that the team would remain active with its roster tweaks.
"There are probably going to be roster moves over the next few days," he said. "I don't even know what they are but it's just that time of year. Between the practice squad and the roster, there's a lot of transition. I don't know, there could be."
Nick Underhill of MassLive.com first reported the news.
August, 31, 2013
8/31/13
3:07
PM ET
Sharing non-
Tim Tebow
-based thoughts on some of the Patriots' roster moves today:
1a. The change at punter, with
Zoltan Mesko
out and rookie
Ryan Allen
in, has many layers. Both showed this preseason that they are deserving of punting in the NFL this season and that's why I took the unconventional approach of keeping both on a
final 53-man roster projection
(the idea being that maybe it would have been easier to slide Allen to the practice squad after a few weeks). Allen's upside is obvious; his leg is a bit stronger than Mesko's. But Mesko's control and directional punting seemed a notch above over the course of training camp and the preseason. However, Allen's three second-half punts on Thursday might have been the clincher, which showed his potential when it comes to control and directional punting.
Mesko
Allen
1b. Economics shouldn't have been the primary reason for the decision to go with Allen over Mesko, but it has to be a consideration. Mesko was due to earn $1.3 million in the final year of his contract. Allen has a three-year contract and is due to earn $405,000 this season.
1c. There is a trickle-down effect when it comes to the field-goal operation, as Mesko has served as the primary holder for kicker
Stephen Gostkowski
. Allen didn't hold at Louisiana Tech, but he's worked on the skill since joining the Patriots. Allen will likely become the primary holder, although backup quarterback
Ryan Mallett
could also be a consideration for the role.
1d. In 2005, the Patriots released rookie kicker
Robbie Gould
after an impressive camp and later regretted it when
Adam Vinatieri
departed in free agency the following year. I wondered how much that experience might have played a factor in this decision.
1e. Mesko goes down as one of the players who was most fun to cover. He also seemed most genuine and his farewell message to fans was most classy. One of my favorite personal memories of Mesko was how he was brought to tears after receiving the team's community service award in 2012. It meant so much to him and the emotions took over.
2. The biggest surprise has come among the reserves at defensive end, with
Justin Francis
,
Marcus Benard
and
Jermaine Cunningham
all being cut. They projected to the 3-4-5 spots on the depth chart. Health was likely a factor with Francis and Cunningham, as they have been sidelined. There is always the possibility for them to return if not picked up elsewhere, but an initial thought is that 2013 seventh-round pick
Michael Buchanan
(
previous film breakdown
) has impressed to the point that the coaching staff felt comfortable letting go of more experienced depth at the position.
Buchanan was impressive on Thursday
.
3. Tight end
Michael Hoomanawanui
was scheduled to earn $1.3 million, but he's agreed to reduce the salary this year with the chance to recoup some of the earnings in incentives, which helped him stick on the roster. Hoomanawanui's smarts, professionalism and dependability made an impression on the coaching staff last season. That he was the last tight end standing among the group of himself,
Jake Ballard
and
Daniel Fells
is a minor surprise.
4. The release of defensive tackle
Marcus Forston
was a mild surprise from this viewpoint. This could mean that rookie defensive tackle
Joe Vellano
is the top backup behind
Vince Wilfork
and
Tommy Kelly
.
Vellano caught the eye early in training camp
, but still didn't think he'd top Forston at this point.
5. Still waiting to hear the fate of presumed bubble players like Vellano, safety
Adrian Wilson
, running back
Leon Washington
, linebacker
Jeff Tarpinian
, cornerback
Marquice Cole
, fullback
James Develin
and linebacker
Steve Beauharnais
.
August, 23, 2013
8/23/13
9:30
AM ET
DETROIT -- Some leftover thoughts and observations from the Patriots' 40-9 loss to the Lions:
1. It seemed like incumbent punter
Zoltan Mesko
had created some separation on rookie Ryan Allen leading into the game, and that was reinforced after the game as well. Mesko punted four times, while Allen punted just once (it was a 53-yarder, but wasn't hit particularly well and took a favorable bounce). Mesko also held on kicker
Stephen Gostkowski
's lone field-goal attempt. Hard to imagine Mesko losing the job at this point. His final stats: 4 punts, 195 yards, 48.8 avg., 43.0 net and one inside the 20.
2. Fullback
James Develin
's inclusion on the first-unit kickoff return could bode well for his chances to make the roster. Develin lined up in the wedge position opposite defensive end
Marcus Benard
(he was on 3 special teams units). Tight end
Michael Hoomanawanui
had been used there in the first two preseason games, which could signal that he's on shaky ground to stick. As a fullback, Develin played nine snaps with the first-unit offense. One downer to his night: Not being able to pick up a first down on a fourth-and-inches carry late in the second quarter.
3. Working on the dime package (six defensive backs) seemed to be a top priority for the Patriots, and we saw safety
Adrian Wilson
move down to a linebacker-type role in that grouping. He was involved in
Reggie Bush
's 67-yard catch-and-run, taking a bad angle that helped spring Bush free, and didn't seem to be entirely comfortable reading and reacting to what was unfolding in front of him. The Patriots started
Devin McCourty
and
Steve Gregory
at safety, which seems to be viewed as their best coverage-type players at the position. Wilson came on in the second half.
4. Tough night for the offensive line, as the Lions -- powered by
Ndamukong Suh
and
Nick Fairley
at tackle -- won the battle at the line of scrimmage. The Patriots had 18 carries for 32 yards at the half and had been turned one-dimensional on offense, which is never the way they want to play. Then add in two penalties (
Logan Mankins
false start,
Sebastian Vollmer
holding) and two sacks of
Tom Brady
and it just wasn't their night.
5. Coaches often like to see how a player responds to adversity and while it's easy to look at receiver
Kenbrell Thompkins
' stat line (8 catches for 116 yards) and conclude he was a top performer, that overlooks one aspect of his night. Thompkins dropped what would have been first-down reception that ended the team's second drive. His ability to move on to the next play was evident as he proceeded to make some big plays for the team the rest of the way.
6. Rookie safety
Duron Harmon
served as the personal protector on the punt team. As the coaching staff considers which 46 players to dress on game day, special teams can be a big factor for a reserve safety like Harmon. He was also part of the top kickoff coverage unit and on the punt return unit.
August, 23, 2013
8/23/13
8:55
AM ET
DETROIT -- In tabulating the snaps played by skill-position players with the first-unit offense, one aspect stood out -- after losing fumbles,
Brandon Bolden
and
Shane Vereen
didn't play again for the rest of the half.
Here is the breakdown of snaps played (includes penalties, not half-ending kneel-down):
QB
Tom Brady
-- 46 of 46
WR
Julian Edelman
-- 45 of 46
WR
Aaron Dobson
-- 31 of 46
WR
Kenbrell Thompkins
-- 31 of 46
TE
Jake Ballard
-- 27 of 46
RB
Stevan Ridley
-- 21 of 46
TE
Zach Sudfeld
-- 19 of 46
TE
Michael Hoomanawanui
-- 16 of 46
RB
Shane Vereen
-- 10 of 46
FB
James Develin
-- 9 of 46
RB
Leon Washington
-- 8 of 46
WR
Josh Boyce
-- 6 of 46
RB
LeGarrette Blount
-- 4 of 46
RB Brandon Bolden -- 3 of 46
QUICK-HIT THOUGHTS:
Julian Edelman filled in for the hobbled
Danny Amendola
, playing every snap but the short-yardage fourth-and-1 run in the second quarter when the Patriots called on three tight ends and a fullback and running back. ... Edelman and Kenbrell Thompkins opened the game in the two-receiver package, with Aaron Dobson coming on as the third receiver. The Patriots utilized the three-receiver package quite a bit, even turning to a four-wide look at times. ... At tight end, Jake Ballard and Zach Sudfeld opened as the top combination. Ballard has gradually upped his workload this preseason, with his 27 snaps a high. ... At running back, Stevan Ridley was the clear No. 1 option.
August, 22, 2013
8/22/13
10:52
PM ET
Some thoughts on the
Detroit Lions
' third preseason game, a
40-9 win
Thursday night over New England, in extended form for those who have felt short-changed this preseason: