August, 15, 2014
8/15/14
4:15
PM ET
CINCINNATI -- It was a simple message.
"Let's go."
When
Cincinnati Bengals
offensive coordinator Hue Jackson met with receiver
Mohamed Sanu
in the days after the team first learned it would be without
Marvin Jones
, those were the only two words he said to the young player.
Sanu, once the No. 3 receiver on the roster, knew exactly what they meant. With Jones injured until October and out of the receiving rotation, Sanu's time had come to attempt to be the best pass-catcher on the team.
The best? Yes.
"I get surprised where people reacted after I made the statement I wanted Marvin to surpass A.J. [Green] a while ago, but it's because they all need to compete," Jackson said. "I wanted Sanu to surpass Marvin, too."
Jackson's philosophy: Keep the pressure high on his top skill players and they'll compete better than they did before. He doesn't just say "no one's job is safe." He actually believes it.
Apparently, the philosophy has been working. Sanu has taken advantage of Jones' absence this preseason, working almost exclusively as the No. 2 receiver in practice alongside Green, the player who continues to get his usual No. 1 receiver reps and looks. In addition to catching, Sanu has been impressive passing and running both on reverses off the edge and out of the backfield as a Wildcat quarterback. Cincinnati won't be looking for him to solely run gadget plays this season, but the Bengals are hopeful he'll continue turning heads when they do.
"He's been all over the place -- outside, inside, moving around -- and he's really done a good job for us," quarterback
Andy Dalton
said.
Sanu told Jackson when the offseason began that he wanted to come back a different player. In Jackson's eyes, "he's done that."
"It's just the consistency of production in the way he plays," Jackson said. "He plays like a true starter. Not that he didn't a year ago. I just know what I expect our guys to do, and see just what he's done. He blocks, he catches, he runs, he can do it all. We'll try to use some of his vast skills and let him showcase his talents and abilities this year."
The Bengals will get another chance to see those talents and abilities in a live game scenario when they take on the Jets on Saturday night at Paul Brown Stadium.
"I'm going to step up that much more to fill Marvin's shows," Sanu said. "That's to just keep doing what I'm doing. Keep playing and keep being consistent. That's pretty much it. I can't see what's going on in the future, but I know what I can handle and I know what I can control, and that's putting my effort in and doing whatever I can to make this team better."
He won't be alone, he adds.
As the Bengals have been saying all week, with Jones now sidelined through the first three regular-season games because of foot surgery, it's time receivers like
Brandon Tate
,
Dane Sanzenbacher
and
James Wright
fill the void left by the player who was the second-leading receiver last year.
"It's a 'next man up' mentality," receivers coach James Urban said. "That's what we've always had. ... You push them out there and see if we can get the best guys out there that can help us win football games."
You do all that, Jackson said, and then add, "Let's go."
July, 15, 2014
7/15/14
5:30
PM ET
CINCINNATI -- It's been nearly two years since
James Wright
caught a pass in a game.
[+] Enlarge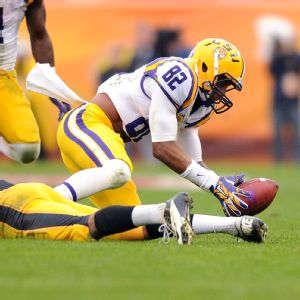 Steve Mitchell/USA TODAY SportsThe Bengals are hoping rookie James Wright's skills on special teams translate into offense as a wideout.
Despite that rather ominous fact, the
Cincinnati Bengals
used one of their two seventh-round picks on him in May's draft, selecting the little-used former LSU wideout and special teamer.
There are still some scratching their heads over the move.
Those who call Paul Brown Stadium their place of employment couldn't care less. They believe that Wright could have a real impact in their offense, even if it's been a while since he directly contributed to someone else's. When training camp opens next week and the battle for spots on the 53-man roster begins in earnest, Wright could be one to watch.
"I know he's going to make this football team better," Bengals receivers coach James Urban said.
Urban could tell pretty early in the evaluation process that Wright could be a valued contributor on the Bengals' special teams. After all, Wright won LSU's "Wild Tiger" trophy last season for having the team's highest number of special teams production points that included his 12 special teams tackles as part of their coverage teams. He also had a pair of fumble recoveries, including a key takeaway that helped set up an LSU field goal in the Tigers' win over TCU.
Now the goal is get Wright to play offensively the way he did on special teams. Urban believes the rookie can do that and challenged him to do as much the day he arrived in Cincinnati following his draft selection.
"That day I talked to him and said, 'Look, I know what you can do on special teams, now you've got to play wide receiver,'" Urban said. "He's embraced it, he's worked his tail off and he's given us [a lot]. I mean, he's a very intense young man. He wants to prove this organization and [team president] Mr. [Mike] Brown right in selecting him."
During the minicamp and voluntary organized team activities the Bengals had this spring, Wright made his presence known. At least one reporter had a hard time ignoring Wright after he repeatedly chased down deep passes from all four Bengals quarterbacks. It was quite common to hear, on those days when media members were allowed to watch practices, compliments directed toward Wright from Urban and offensive coordinator Hue Jackson after various drills.
"We'll see once we get the pads on, but it's been encouraging," Urban said.
Wright got on Cincinnati's radar after Urban and other Bengals coaches heard their colleagues at LSU speak highly of the receiver. Much like Jackson and head coach Marvin Lewis, Urban has his own connections with LSU coaches that extends beyond the Xs and Os. Those relationships not only helped Wright get drafted by the Bengals, but they also aided in running back
Jeremy Hill
's second-round selection.
Part of the reason Wright went without a catch last season stems from the Tigers' receiver-deplete system. LSU seldom trotted out three- and four-receiver sets. It instead focused on running the ball and splitting receptions among the top two receivers and the top running back, Hill. As LSU's third-leading receiver, Hill caught 18 passes for 181 yards. Wideouts
Jarvis Landry
and
Odell Beckham
had 77 and 59 receptions apiece. Primarily because of the scheme, Wright didn't field a pass, even though he had done so 18 times through his first three seasons. The last pass he caught in a game came Nov. 17, 2012, in a win over Mississippi.
Only once did the Tigers lose a game that saw Wright catch a pass.
In addition to his special teams abilities, Wright became known at LSU for being a good blocker in pass scenarios. For a Bengals offense that is expected to rely in part on screen passes that can be turned into big gains, having another receiver who already knows how to block downfield would be an ideal addition. The only problem is that the Bengals couldn't just trot him onto the field to block. Opposing defenses would figure that out quickly and have an idea that a play needing a big block downfield could be coming.
So to avoid tipping that, Cincinnati certainly would want to use Wright as a receiver.
Regardless of the roles Wright would be asked to fulfill if he makes the team, Urban doesn't think the young player will have any problem accepting what's asked of him.
"When Mr. Brown asked me, I said, 'That's the kind of guy we want,'" Urban said. "I know he's going to make this football team better. He's a team player. He's proven that. You can't question that. Now, is he good enough for wide receiver? We'll find out."
June, 24, 2014
6/24/14
5:00
PM ET
CINCINNATI -- James Urban took off his sunglasses, put them on the top of his
Cincinnati Bengals
hat and looked his interviewer squarely in the eye.
[+] Enlarge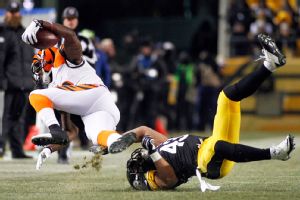 Justin K. Aller/Getty ImagesThe Bengals want to make sure they don't spread receiver Mohamed Sanu, left, too thin as they did last season.
On the final day of the Bengals' organized team activities earlier this month, the receivers coach was all business. He admitted he messed up. He didn't handle one of his best playmakers properly last season and felt bad about it.
"Mo's a good football player," Urban said, referring to wideout
Mohamed Sanu
. "I asked too much of him last year. I spread him thin. It's sort of the old thing where too much of a good thing is just as good as not enough.
"That's a shame on me."
Urban has vowed to make up for it by re-expanding Sanu's role.
In 2013, Sanu shouldered the shame of being a second-year receiver who failed to produce in ways he had as a rookie. He caught only two touchdown passes despite appearing in nearly double the games he saw his first season. In his nine appearances in 2012, Sanu caught four touchdown passes. It seemed evident that he would be a good No. 2 receiver to pair with
A.J. Green
for years to come.
Then came the mixing and matching and tweaking of Sanu's role at the start of last season, followed by
Marvin Jones
' somewhat unexpected emergence from Week 8 on.
Sanu became old news. With 10 touchdowns, Jones was doing the scoring. Sanu was simply catching a standard slant in the slot here or a run-of-the-mill out route along the sideline there. His effectiveness had been diminished, and before Urban or anyone else could realize it, the season was over.
"He bounced around and played three different positions -- really four different positions -- and on any given play, we bounced him around and asked him to do tons," Urban said. "He got spread thin."
Sanu became slower and less explosive than the Bengals knew he could be, and than it appears he now is. Urban said he thinks Sanu was faster this spring. The wideout said he wasn't sure.
As a result of Sanu's lack of explosiveness, the Bengals were shy about putting him in the scenarios in which he thrived the year prior. Once Jones started playing well, Sanu's climb became significantly steeper. The new model was working. It made little sense to go backward.
Urban's takeaway from Sanu's all-but-lost year? Better watch practice and game repetitions to make sure his receivers aren't getting overworked. Urban spoke glowingly, for example, about Green insisting on wanting to push when coaches needed him to pull back. That resulted in Urban physically charting each of Green's snaps during OTAs and minicamp.
"All these things I talk about as far as watching reps and making sure he's fresh with A.J., I've got to do the same thing with Mo," Urban said. "I've got to do it with Marvin. I've got to do it with everybody. If they're going to run the way we ask them to run and do the things we ask them to do, I've got to keep my eye on it. And I didn't do that last year. That's a shame on me."
One of new offensive coordinator Hue Jackson's biggest changes in the Bengals' West Coast system will be a stepped-up tempo. Players are going to be required to get plays in faster and sprint up to the line of scrimmage. The object is to have little standing-around time and to get into a rhythm a less-conditioned defense theoretically won't be able to match.
"They've embraced what we're doing," Urban said. "There was a lot of talk about finish [during the spring practices]. Talking about doing things down the field. Most of these guys have been with me, been with us for the last four years or so. So they know what to expect, and we've done great things.
"So how do you get their attention? We get their attention by overemphasizing finishing, overemphasizing getting off the ball and getting out of the huddle and getting set."
Sanu believes the offense will be more of an attack-first scheme.
"We want to set the tone and set the tempo. It's about us controlling the game," Sanu said. "Never let the defense control the game. We've got to be able to control the game and handle those situations the way we want to handle them."
As far as Sanu is concerned, setting the tone and tempo could mean having him catch passes out of the slot, running free on reverses, pitching back a double reverse or lining up under center and deciding whether to pass or run.
The former high school quarterback had his share of trick plays in college. He threw four touchdown passes at Rutgers while also setting Big East records as a receiver. During his rookie year in the NFL, he hit Green in stride on a 73-yard touchdown pass that came on a play fake. Last season, Sanu completed a 25-yard pass to running back
Giovani Bernard
before catching a 6-yard TD pass from
Andy Dalton
three plays later.
"It just keeps them off balance and keeps them on their toes," Sanu said. "When we're able to do that, you never know where it's coming. We could run the ball, run the ball, run the ball because we've got great running backs and a great quarterback who can put the ball anywhere, and we have a great bunch of receivers who can catch it. So you have to keep them on their toes and pull out those trick plays when we need it."
Cincinnati will have some trickery this year, and it looks like Sanu will be a big part of it.
February, 24, 2011
2/24/11
3:50
PM ET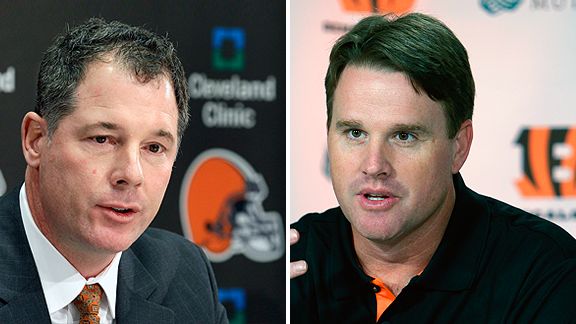 AP PhotoPat Shurmur, left, and Jay Gruden are two of the new faces in the AFC North.
The offseason has just begun, but the coaching carousel has been spinning for all four teams in the AFC North.
Often the struggling teams make significant coaching changes, and that was the case with the
Cincinnati Bengals
(4-12) and
Cleveland Browns
(5-11). But playoff teams like the
Baltimore Ravens
(12-4) and even the Super Bowl runner-up
Pittsburgh Steelers
(12-4) also experienced some turnover on their staff.
Here is a look at each change and what it means for the division:

Cleveland Browns
In:
Head coach Pat Shurmur, defensive coordinator Dick Jauron and a new staff.
Out:
Former head coach Eric Mangini, former defensive coordinator Rob Ryan and former offensive coordinator Brian Daboll.
What happened?
Mangini entered this past season on the hot seat and went 5-11 for the second consecutive year. There were a lot of philosophical differences between Mangini and Browns president Mike Holmgren. So when the team wasn't winning, it made for an easy decision to go in a different direction. Enter Shurmur, who was a surprise hire for Cleveland. Shurmur has no prior head-coaching experience and wasn't on the radar of other teams. The Browns have pretty much cleaned house and hired a new staff, which includes Jauron and veteran defensive assistant Ray Rhodes.
Analysis:
Last year, Holmgren was dumbfounded by some of the things the Browns were doing, particularly on offense. But Holmgren and Shurmur share many of the same views, which will give Holmgren more say in what goes on, and I think being on the same page is important for any team. The Browns are one of the few teams this year that will change both their offense
and
defense. Cleveland will go to a West Coast offense under Shurmur, who did not hire an offensive coordinator and will call the plays. The Browns also will switch to a 4-3 defense, which is something they haven't run since 2004. Shurmur is taking on a lot of responsibility as a rookie head coach and de facto offensive coordinator, which raises some concerns. Cleveland hopes veteran coaches like Jauron and Rhodes will take care of the defense, giving Shurmur one less thing to worry about. In terms of personnel, the Browns have a lot of work to do. They need better receivers on offense if they plan to pass more and playmakers at defensive end to run a 4-3 scheme.

Cincinnati Bengals
In:
Offensive coordinator Jay Gruden, receivers coach James Urban.
Out:
Former offensive coordinator Bob Bratkowski, former receivers coach Mike Sheppard.
What happened?
Changes were inevitable for Cincinnati's coaching staff this season. There was a lot of unrest among players internally who didn't like the scheme on offense. The Bengals entered the season with playoff aspirations but had an abysmal four-win campaign. Quarterback
Carson Palmer
was so unhappy that he demanded a trade after the season. Receivers
Terrell Owens
publicly criticized the coaching staff several times and starting tailback
Cedric Benson
said he was not returning if Bratkowski was still the offensive coordinator. Bratkowski was let go and later hired by the
Atlanta Falcons
, and Sheppard went to the
Jacksonville Jaguars
. Gruden, a former UFL head coach and the brother of former NFL coach Jon Gruden, was hired as offensive coordinator, and Urban was taken as receivers coach from the
Philadelphia Eagles
.
Analysis:
Cincinnati will be the second team in the division implementing a West Coast offense. Gruden also says he wants to make sure Cincinnati has a power running game, which is needed in this division. When the Bengals were at their best in 2009, they ran the football effectively and played tough defense. Cincinnati went away from that last year and had an awful season. How Gruden's offense translates from the UFL to the NFL remains to be seen. Cincinnati also has to handle a lot of personnel issues. Will Palmer retire? If so, who will be the new quarterback? Should the team trade
Chad Ochocinco
? Will Benson return? Cincinnati will have a very busy offseason trying to figure out these questions before putting together its new offense.
March, 15, 2010
3/15/10
3:34
PM ET
By
Matt Mosley
| ESPN.com
When the Cowboys recorded back-to-back wins over the Eagles last season (three in all), there was a school of thought (led by the Philadelphia Daily News' Rich Hofmann) that
Donovan McNabb
had taken his last snap in Philly. Eagles coach Andy Reid insisted that McNabb would be his quarterback in 2010, but then, what else did you expect him to say?
[+] Enlarge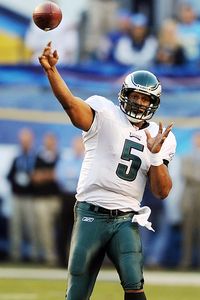 Christopher Hanewinckel/US PresswireAt 33, Donovan McNabb appears to still have a number of productive seasons ahead of him.
But as the draft approaches, it's becoming more and more likely the Eagles will put off the
Kevin Kolb
era for at least one more season. Today in his award-winning (I assume) Monday Morning Quarterback column, Peter King wondered aloud why more quarterback-needy teams aren't lining up to trade for McNabb. And I couldn't agree more with Peter on the theory that trading a first-round pick for McNabb is actually safer than spending $35 million or so on a rookie quarterback such as Notre Dame's
Jimmy Clausen
. Here's a portion of
Peter's column
:
"A playoff quarterback near his prime can be had for a premium price," writes King. "The fact that there's a real chance the Eagles could deal McNabb, and that McNabb is a half-year younger than
Peyton Manning
and apparently intends to play four or five more seasons, and also apparently has kicked the injury bug, leads me to this question: What in the world are all these quarterback-needy teams doing? Why aren't teams running to deal for McNabb?
"The prime object of this game in the personnel area is to get a quarterback who can win games and lead your team, and a good, proven one is out there. The Eagles aren't shopping him, but they surely are listening. I asked a coach with a quarterback need about McNabb, and the coach said because McNabb is on the last year of his contract and would probably need to be re-signed, and the fact that Philadelphia would want a high draft choice for him in a very good draft, and the fact that he doesn't have a lot of years left, all combine to make it a tough trade. Understood. Good factors all. But McNabb is 33.
"I have my own problems with McNabb. I don't consider him on the Manning-Brady-Brees plane. I think the Eagles should go with Kolb and make the best deal they can for McNabb this offseason, because, basically, it's Groundhog Day in Philadelphia. Every year's the same, and I don't see McNabb getting Philly over the hump and into another Super Bowl. So why would I want to pawn him off on another quarterback-needy team when I don't think he's a top-five quarterback? Simple. Because he's a top-10 or top-12 quarterback, and they're too hard to find to let one pass when he's just sitting there for the taking.
"McNabb would shore up any team's most important position for the next half-decade. Some team's going to take Jimmy Clausen between, say, the fourth and 20th pick in the first round, and whoever takes him is going to have no idea if he's the long-term solution at quarterback."
In the case of the Vikings, they can't make a play for McNabb until they hear from
Brett Favre
. But even if they're willing to offer a first-rounder for McNabb, the Eagles might not want to help out a team that competes in the same conference. But if teams such as the Bills or Rams (same conference but not a true threat) put a nice package together, surely the Eagles would be interested.
A scenario in which McNabb, Kolb and
Michael Vick
all return to the Eagles still seems unlikely despite what you're hearing on at least one network. Courage awards aside, Vick had no choice but to say all the right things in '09. But I could see him becoming extremely frustrated during another season of limited Wildcat reps. I don't think it makes any sense for the Eagles to bring him back. Do we think that Reid and offensive coordinator Marty Mornhinweg will spend much of this offseason trying to develop an expanded Wildcat package?
Former Eagles general manager Tom Heckert is now with Cleveland, so I thought he might make a play for McNabb. But now the Browns have signed former Panthers quarterback
Jake Delhomme
, a man coming off by far the worst season of his career. Perhaps a team will finally panic when we get closer to the draft and make a strong offer for McNabb.
But if not, it looks like the Eagles are prepared to go with a lame-duck quarterback in 2010. I think you're asking for problems with that approach, but maybe the Eagles are willing to take the risk. Meanwhile, Kolb continues to say all the right things publicly. Something tells me, though, that he won't be thrilled with yet another season on the sideline. Call it intuition after watching how much he enjoyed those two starts in '09.
One last note from King: Eagles quarterbacks coach James Urban and Mornhinweg
were in the Bronx on Friday
to watch Fordham quarterback
John Skelton
's pro day. Doesn't that seem like a little overkill for a late-round prospect from a school not known for being an NFL farm system? (apologies to Fordham grads Alex Wojciechowicz and Vince Lombardi of Seven Blocks of Granite fame).