May, 30, 2014
May 30
1:00
PM ET
The other day, I wrote about
future candidates
for the
Tampa Bay Buccaneers
' Ring of Honor.
We talked about Doug Williams, Ricky Bell,
Mike Alstott
,
John Lynch
, Monte Kiffin, Tony Dungy, James Wilder and
Ronde Barber
. I think all of them should get into the Ring of Honor at some point.
But they may have to take a spot in line. With the death Wednesday of owner Malcolm Glazer, there's another obvious candidate.
Glazer deserves a spot in the Ring of Honor as soon as possible. Although he wasn't always popular with fans, Glazer did more for this franchise than anyone.
When he paid a then-record $192 million for the Bucs in 1995, Glazer was taking over a franchise that was a laughingstock. The Bucs had been bad for most of their existence and there was even talk about the team moving out of Tampa Bay.
Glazer fought a hard battle to get taxpayers to fund a new, state-of-the-art stadium that kept the Bucs in town. He also started changing just about everything.
He put the Bucs in new red and pewter uniforms. He also hired Dungy, who turned the franchise into a consistent winner. When Dungy couldn't quite get the Bucs over the hump, Glazer made a tough decision. He fired Dungy and traded for Jon Gruden.
In Gruden's first season, the Bucs won the Super Bowl. Speaking of Super Bowls, Glazer was instrumental in bringing two of them to Tampa Bay.
There are a lot of candidates with qualifications that make them worthy of the Ring of Honor. But none of them have better qualifications than Glazer.
October, 26, 2012
10/26/12
9:27
AM ET

With some help from ESPN Stats & Information and Tampa Bay's media relations department, let's take a look at some of the many statistical highlights from the Buccaneers' 36-17 victory against the
Minnesota Vikings
on Thursday night.
Rookie running back Doug Martin had the game of his life, rushing for a career-high 135 yards. Martin was at his best running between the tackles, with 121 of his yards coming in that area. It was the first 100-yard rushing game of Martin's career.
Martin also had 79 receiving yards on three catches, giving him 214 yards of total offense. That marked just the eighth time in franchise history that a running back generated 200 yards of total offense, and the first time since Warrick Dunn had 221 yards on Dec. 3, 2000. Martin's total was the fifth-highest in franchise history. James Wilder set the record (229 yards) in 1983.
Josh Freeman became the first quarterback in franchise history to throw for three or more touchdown passes in three consecutive games. Freeman completed 19 of 36 passes for 262 yards and also ran his streak of consecutive games with a touchdown pass to 10.
The Bucs finished with 416 yards of total offense. They had 513 yards against New Orleans on Sunday and 463 yards against Kansas City the previous week. That marks the first time in franchise history that the Bucs have had three straight games with at least 400 yards of total offense.
Defensive end Michael Bennett quietly continues to put together a nice season. Bennett recorded his third forced fumble and fifth sack of the season. Defensive end Daniel Te'o-Nesheim, who took over the starting job after Adrian Clayborn suffered a season-ending injury, recorded his first sack of the season and only the second of his career.
Rookie cornerback Leonard Johnson made his first career start and also produced his first interception.
Tampa Bay's defense had its best outing against the deep passing game against Minnesota quarterback Christian Ponder. He completed only three throws of more than 10 yards downfield. In the first six games, the Bucs ranked No. 26 by allowing opposing quarterbacks to complete 56.1 percent of such throws.
July, 13, 2011
7/13/11
12:49
PM ET
TAMPA, Fla. -- Of all the hundreds -- maybe thousands -- of moments Jimmie Giles could have picked as his favorite with the Tampa Bay Buccaneers, this one's definitely not the cleanest. It also may surprise you a bit at first.
"Wrestling in the mud with (teammate) David Lewis,'' Giles said Wednesday as the Bucs announced he will be inducted into the team's Ring of Honor at a Dec. 4 home game with Carolina.
[+] Enlarge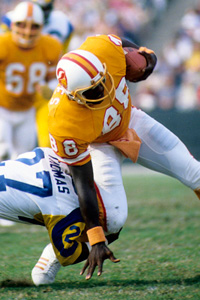 Darryl Norenberg/US PresswireJimmie Giles compiled 4,300 receiving yards and 34 touchdowns in nine seasons in Tampa.
The wrestling session happened at the end of the 1979 season, a crucial one for the Buccaneers. Needing a win to make the playoffs for the first time in franchise history, the Bucs beat the Kansas City Chiefs, 3-0, in a torrential downpour.
The team that began as an expansion franchise in 1976 and started 0-26 would go on to stun everyone and reach the NFC Championship Game. It was a high-water mark for a franchise that soon would fall back to its losing ways. Giles was with the Bucs from 1978 until 1986 and, by that point, the Bucs were mired in something well below mediocrity.
They spent the latter half of the 1980s and the early and middle parts of the 1990s as a national joke. Actually, there were all sorts of jokes in those days.
"The sign on the ticket window was "Sorry, we're open,'' cracked long-time Tampa Bay radio personality Jack Harris, who was one of the guest speakers before Giles took the microphone.
But one of the best things the Bucs have done since starting the Ring of Honor two years ago is that they've embraced their past. It would be easy to try to forget it all and skip the whole era before coach Tony Dungy came along and changed the climate and the uniforms switched from orange and white to pewter and red.
That also would be a mistake because there were some good times and good players from those early years. Co-chairman Bryan Glazer made it a point to say the team's present and future wouldn't be possible without its past. He's right.
Lee Roy Selmon and John McKay, the first two inductees, created some magical moments for a young franchise. So did Giles, who played tight end and went to four Pro Bowls while with the Bucs.
"It was Jimmie Giles and some others who helped turn this team around,'' Harris said. "It was a great era.''
But a short era. Sooner or later, the Bucs will open the floodgates for their Ring of Honor. That will start when Derrick Brooks goes in, which will clear the way for guys like Warren Sapp, John Lynch, Mike Alstott, Ronde Barber, Dungy and Jon Gruden.
It's not quite time for that yet. Although there was a long dry spell between the 1979 team and the teams of the late 1990s, there are some other guys from those eras who deserve the honor. Guys like Ricky Bell, James Wilder, Paul Gruber and Hardy Nickerson should go in before the Bucs get to their more-recent past.
Then, there's Doug Williams. He was the quarterback of the 1979 team and, by all rights, he should be going into the Ring of Honor before or with Giles. He's not. That's mostly Williams' fault. He did some great things as a player and left Tampa Bay in a bitter salary dispute with former owner Hugh Culverhouse. Williams carried a grudge before finally returning to work in the team's personnel department.
Things were good for a few years, but Williams left after the 2010 draft. Williams and general manager Mark Dominik weren't getting along. Since his departure, Williams has taken some public shots at the Bucs. He's not going to get into the Ring of Honor as long as that's going on.
As Giles talked, I think there might have been a subtle message to Williams. Giles was talking about how the Bucs of long ago went through some tough times and weren't beloved. Giles said that things change with time and that no one should succumb to bitterness.
That's an excellent point. The Bucs are going out of their way to reach out to their former players. Let the water flow under the bridge.
The Bucs and their former players need to stay above the bridge -- above the pettiness.

NFL SCOREBOARD
Thursday, 8/28
WEEKLY LEADERS