August, 25, 2014
Aug 25
2:30
AM ET
GLENDALE, Ariz. -- Injuries marred the final minutes of the
Cincinnati Bengals
' 19-13 preseason win over the Cardinals on Sunday night as three Bengals were carted off University of Phoenix Stadium's field in the fourth quarter alone.
Coach Marvin Lewis didn't have any updates on the injured in the locker room after the game, but he did acknowledge that having to deal with the injuries was "the only negative part" of the night. His defensive starters played well and for the third straight preseason game didn't allow a touchdown. His offense played turnover-free football, and his reserves held their own and played well enough to preserve the win.
Throughout the physical game several Bengals needed medical attention, but it was the injuries to
James Wright
,
T.J. Johnson
and
Trey Hopkins
that caused a series of stoppages and had fans hushed. All three were on the ground for several minutes and needed assistance getting off the field after getting banged up late in the ballgame.
All three also find themselves on the bubble, needing every opportunity they can to make the team.
First, it was Hopkins, the undrafted rookie free agent from Texas. He went down with 12:35 remaining in the game after a couple of players rolled on top of his leg. For some time, trainers evaluated his right leg before a cart came onto the field and he was loaded on it. The Bengals later announced that he had a right shin injury. Hopkins was spotted immediately after the game walking through the locker room with his leg already inside a boot.
As if that moment wasn't enough for the Bengals, two plays later, seventh-round draft pick James Wright required a cart when he went down awkwardly at the end of an attempted touchdown reception. While trying to make the 15-yard catch in the back of the end zone, he took what appeared to be a blow to the head from safety
Curtis Taylor
's forearm before going down hard to the turf. Instantly after his head hit the ground, Wright's body locked up.
A few minutes went by before medical personnel got him to sit up before helping him onto the cart. He was not strapped onto a stretcher.
On the next drive, running back
Cedric Peerman
received what appeared to be a serious leg injury but walked off on his own power after getting some treatment on the field. On the drive after that, Johnson went down with an undisclosed issue. Like Hopkins and Wright, a cart eased the offensive lineman into the locker room.
In addition to those injuries, linebacker
Vontaze Burfict
and defensive tackle
Devon Still
went down in the first half with hamstring injuries.
When asked if Burfict would be available for the season opener in two weeks, Lewis simply said, "Yes."
The Bengals won't have much time to rest the injured before their preseason finale. With days off Monday and Wednesday, they will only practice Tuesday before Thursday's game at home against the Colts.
July, 31, 2014
Jul 31
6:30
PM ET
CINCINNATI -- A daily review of the hot topics coming out of
Cincinnati Bengals
training camp:
As compelling, edge-of-your seat excitement goes, Thursday's practice, from an observer's standpoint, ranked somewhere around a 3 on a 0-to-10 scale. I'm sure it's possible for coaches and players to view it much differently. During what was a special teams-heavy workout, there were very few 11-on-11 drills that featured as much worth noting as there had been in days past. When the Bengals did get into offense vs. defense action, they did so at a rather conservative pace. There was no hitting (players were in shorts and shoulder pads for the second straight day), and plays were run at a significantly slower speed than how they'll be executed in games. We ought to point out that while the players might not have been running at the same speed they soon will be, they still got into a bit of a hurry-up pace as coaches had them go through a few two-minute-drill plays.
To be sure, a day like Thursday had probably long been on the schedule as the Bengals try to mix in light, low-speed days with their hit-filled afternoons. It couldn't have come at a better time, too. Cincinnati is dealing with a couple of camp injuries, including four players sidelined with head issues. Linebackers J.K. Schaffer and Jayson DiManche, offensive tackle Andre Smith and tight end Kevin Brock remained on concussion protocol.
One day after receiving medical clearance to practice again, Pro Bowl defensive tackle Geno Atkins was back on the sidelines. He didn't participate in any of Wednesday's team drills, only really taking part in the position-specific exercises that came before practice. Coach Marvin Lewis said Wednesday that Atkins wouldn't be rushed back into the line rotation. Coaches and trainers want to ease him back into the mix. When I asked defensive coordinator Paul Guenther after practice about Atkins, he indicated there wasn't anything to worry about. The day off was part of the slow process of getting Atkins back onto the field fully, he said.
To close out the day's injury report, it's worth noting that both Mike Pollak and Clint Boling took a day off. They had been trading off days at left guard until this point. In their place, undrafted free agent Trey Hopkins got repetitions at the position. Hopkins is beginning to look like the undrafted free agent who stands the best chance at making the 53-man roster. While Pollak and Boling didn't even dress, defensive tackle Domata Peko and cornerback Dre Kirkpatrick did. Both participated fully in the practice after not working out Wednesday. Kirkpatrick hadn't practiced since Saturday.
As mentioned before, Day 7 was all about special teams. In particular, the Bengals were working on their kickoff coverage and kickoff returns. Routine deep kicks, squib kicks and onside kicks were part of what they practiced. After the bulk of the kickoff activities, in an 11-on-11, quarterback Andy Dalton was nearly perfect, going 9-for-10. His lone incompletion came when defensive end Robert Geathers broke up a pass at the line of scrimmage. Dalton might have had another incompletion had safety George Iloka been able to sprint at game speed. Iloka had closed on tight end Tyler Eifert, who barely caught a pass in the seam before Iloka pulled up. Later in that drill, on the very last play, came the highlight of the day. Seventh-round receiver James Wright, who didn't catch a pass last season at LSU, caught a key first-down pass on a third-and-5 play. A.J. Green gave him a high-five after the reception.
Up next: The Bengals won't practice until 6 p.m. Friday, in a workout that's open to the public.
July, 15, 2014
Jul 15
5:30
PM ET
CINCINNATI -- It's been nearly two years since
James Wright
caught a pass in a game.
[+] Enlarge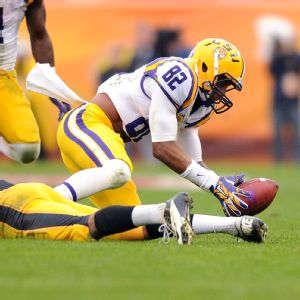 Steve Mitchell/USA TODAY SportsThe Bengals are hoping rookie James Wright's skills on special teams translate into offense as a wideout.
Despite that rather ominous fact, the
Cincinnati Bengals
used one of their two seventh-round picks on him in May's draft, selecting the little-used former LSU wideout and special teamer.
There are still some scratching their heads over the move.
Those who call Paul Brown Stadium their place of employment couldn't care less. They believe that Wright could have a real impact in their offense, even if it's been a while since he directly contributed to someone else's. When training camp opens next week and the battle for spots on the 53-man roster begins in earnest, Wright could be one to watch.
"I know he's going to make this football team better," Bengals receivers coach James Urban said.
Urban could tell pretty early in the evaluation process that Wright could be a valued contributor on the Bengals' special teams. After all, Wright won LSU's "Wild Tiger" trophy last season for having the team's highest number of special teams production points that included his 12 special teams tackles as part of their coverage teams. He also had a pair of fumble recoveries, including a key takeaway that helped set up an LSU field goal in the Tigers' win over TCU.
Now the goal is get Wright to play offensively the way he did on special teams. Urban believes the rookie can do that and challenged him to do as much the day he arrived in Cincinnati following his draft selection.
"That day I talked to him and said, 'Look, I know what you can do on special teams, now you've got to play wide receiver,'" Urban said. "He's embraced it, he's worked his tail off and he's given us [a lot]. I mean, he's a very intense young man. He wants to prove this organization and [team president] Mr. [Mike] Brown right in selecting him."
During the minicamp and voluntary organized team activities the Bengals had this spring, Wright made his presence known. At least one reporter had a hard time ignoring Wright after he repeatedly chased down deep passes from all four Bengals quarterbacks. It was quite common to hear, on those days when media members were allowed to watch practices, compliments directed toward Wright from Urban and offensive coordinator Hue Jackson after various drills.
"We'll see once we get the pads on, but it's been encouraging," Urban said.
Wright got on Cincinnati's radar after Urban and other Bengals coaches heard their colleagues at LSU speak highly of the receiver. Much like Jackson and head coach Marvin Lewis, Urban has his own connections with LSU coaches that extends beyond the Xs and Os. Those relationships not only helped Wright get drafted by the Bengals, but they also aided in running back
Jeremy Hill
's second-round selection.
Part of the reason Wright went without a catch last season stems from the Tigers' receiver-deplete system. LSU seldom trotted out three- and four-receiver sets. It instead focused on running the ball and splitting receptions among the top two receivers and the top running back, Hill. As LSU's third-leading receiver, Hill caught 18 passes for 181 yards. Wideouts
Jarvis Landry
and
Odell Beckham
had 77 and 59 receptions apiece. Primarily because of the scheme, Wright didn't field a pass, even though he had done so 18 times through his first three seasons. The last pass he caught in a game came Nov. 17, 2012, in a win over Mississippi.
Only once did the Tigers lose a game that saw Wright catch a pass.
In addition to his special teams abilities, Wright became known at LSU for being a good blocker in pass scenarios. For a Bengals offense that is expected to rely in part on screen passes that can be turned into big gains, having another receiver who already knows how to block downfield would be an ideal addition. The only problem is that the Bengals couldn't just trot him onto the field to block. Opposing defenses would figure that out quickly and have an idea that a play needing a big block downfield could be coming.
So to avoid tipping that, Cincinnati certainly would want to use Wright as a receiver.
Regardless of the roles Wright would be asked to fulfill if he makes the team, Urban doesn't think the young player will have any problem accepting what's asked of him.
"When Mr. Brown asked me, I said, 'That's the kind of guy we want,'" Urban said. "I know he's going to make this football team better. He's a team player. He's proven that. You can't question that. Now, is he good enough for wide receiver? We'll find out."

NFL SCOREBOARD
Thursday, 9/11
Sunday, 9/14
Monday, 9/15
WEEKLY LEADERS