April, 17, 2013
4/17/13
10:35
AM ET
The
Seattle Seahawks
announced
Dexter Davis
' release from the team Tuesday. This was not big news. Davis was a seventh-round choice in 2010. Injuries had diminished his effectiveness. The team had released and re-signed Davis previously.
In the bigger picture, Davis' release provided an opportunity to revisit that 2010 draft. Three Seattle choices from that year have earned Pro Bowl honors, most in the league and one more than the division-rival
San Francisco 49ers
. Both teams had two first-round picks that year.
Pro Bowl selections can be a bit arbitrary as the league scrambles to fill holes in its all-star rosters. They're not a definitive measure of draft-class success. Having three draft choices achieve that status within three seasons is a good thing, however.
Sixteen teams drafted in 2010 at least one player who has subsequently achieved Pro Bowl status. The other 16 teams combined to draft zero from their 126 combined selections.
Russell Okung
,
Earl Thomas
and
Kam Chancellor
earned Pro Bowl honors for Seattle.
Mike Iupati
and
NaVorro Bowman
did so for the 49ers.
Daryl Washington
did so for the
Arizona Cardinals
. Bowman and Washington have already signed contract extensions. The others are candidates for extensions in the not-too-distant future.
April, 3, 2013
4/03/13
5:10
PM ET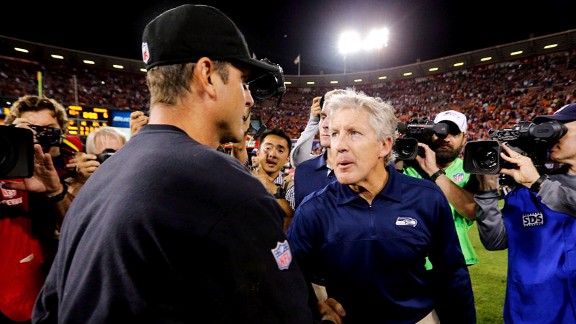 Ric Tapia/Icon SMIPete Carroll's Seahawks and Jim Harbaugh's 49ers have continued their rivalry into the offseason.
The
San Francisco 49ers
' and
Seattle Seahawks
' 2012 battle for NFC West supremacy has turned into
a perceived battle
this offseason.
"It just feels like the Seahawks make a move, then the Niners make a move," former NFL quarterback Damon Huard said Wednesday during
our conversation
on 710ESPN Seattle. "The Seahawks sign
Percy Harvin
, then the Niners go get
Anquan Boldin
. The Niners just signed
Nnamdi Asomugha
, they signed
Colt McCoy
, and now it's the Seahawks' turn to sign a quarterback. It really feels like this competition that was so fun to watch last fall has carried over into the offseason between the Niners and the Seahawks."
That's what it feels like from this angle, too. So, when ESPN's Bill Polian listed 49ers general manager Trent Baalke among his
top six executives


without a mention for Seattle counterpart John Schneider, I knew some Seahawks fans would take offense.
"Schneider should be on there," SamW9801 wrote in commenting on the Polian piece.
I'm going to ratchet up the discussion with
an assist
from Tony Villiotti of draftmetrics.com. Tony identified
ranges of picks
by how frequently teams have found five-year starters within those ranges.
Using those general ranges, displayed at right, I've put together a chart at the bottom of this item comparing the 49ers' and Seahawks' draft choices since 2010.
Baalke took over the 49ers' draft room roughly a month before the 2010 draft. Schneider became the Seahawks' GM that offseason. The 49ers then underwent a coaching change after the 2010 season, at which point Baalke assumed the GM title officially. We might cut Baalke some slack for selecting
Taylor Mays
, a player then-coach Mike Singletary valued. There were surely other times when both GMs followed their coaches' input, for better or worse.
Seattle has drafted 28 players over this period, three more than San Francisco has drafted. The Seahawks had more to work with from a qualitative point as well. Their median choice was No. 130 overall, compared to No. 165 for the 49ers.
It's pretty clear both teams know what they are doing in the draft.
Aldon Smith
,
Anthony Davis
,
Mike Iupati
and
NaVorro Bowman
have earned Pro Bowl and/or All-Pro honors for the 49ers.
Russell Okung
,
Earl Thomas
,
Russell Wilson
,
Kam Chancellor
and
Richard Sherman
have done so for the Seahawks.
Both teams have found franchise quarterbacks after the first round.
Colin Kaepernick
was chosen 36th overall in 2011. Wilson went to Seattle at No. 75 last year.
Neither team has missed in that first category, which includes players taken among the top 13 overall picks. Smith and Okung are elite players at premium positions.
Both teams have unanswered questions in that 14-40 range. The 49ers are waiting on
A.J. Jenkins
to produce. The Seahawks haven't gotten much from
James Carpenter
. But in Iupati and Thomas, the 49ers and Seahawks found players among the very best at their positions. Kaepernick's selection puts this group over the top for San Francisco. Seattle got eight sacks from
Bruce Irvin
as a rookie in 2012, so the Seahawks aren't far behind. It's just impossible to overlook the value a franchise quarterback provides.
Seattle has the edge in the 41-66 range. Mays is long gone from the 49ers. That leaves
LaMichael James
for the 49ers against
Bobby Wagner
and
Golden Tate
for Seattle. Wagner was an instant starter at middle linebacker and a three-down player who commanded consideration for defensive rookie of the year. Tate blossomed with Wilson at quarterback.
The Seahawks also have an edge in that 67-86 range, having selected Wilson.
Seattle holds a 7-3 lead in number of picks used between the 87th and 149th choices, a range producing five-year starters 16 percent of the time, according to Villiotti.
Both teams used picks in that range for players whose injury situations dragged down their draft status:
Joe Looney
in San Francisco,
Walter Thurmond
in Seattle. Both teams found starting linebackers in this range: Bowman to the 49ers,
K.J. Wright
to the Seahawks. Both teams found developmental running backs in that range:
Kendall Hunter
to the 49ers,
Robert Turbin
to the Seahawks. Both teams found Pro Bowl players: Bowman in San Francisco, Chancellor in Seattle.
Sherman, arguably the NFL's best cornerback, gives Seattle an edge in the 150 through 189 range of picks. Both teams found backup tight ends there.
Anthony Dixon
(49ers) and
Jeremy Lane
(Seahawks) have the potential to expand their roles.
The 49ers found starting fullback
Bruce Miller
in the final pick range, which runs from 190 to the end of the draft. Seattle found a projected starting guard there in
J.R. Sweezy
.
Malcolm Smith
is a candidate to start at linebacker for Seattle. Miller and Sweezy both played defense in college. Miller has already successfully transitioned to offense. Seattle thinks Sweezy will do the same.
Summing it up:
Both teams can feel good about their draft performance over the past three seasons. I doubt either team would trade its picks for the other team's picks. That makes sense. Teams draft the players they like best. The 49ers have six projected 2013 starters to show for their choices. The number is eight for the Seahawks, not counting Irvin or Tate. Seattle has had more choices and higher quality choices, and more openings in the lineup to accommodate those players. I think that shows in the results.
August, 26, 2012
8/26/12
5:17
PM ET
August, 11, 2012
8/11/12
9:45
PM ET
SEATTLE -- A few NFC West thoughts from CenturyLink Field as the
Seattle Seahawks
prepare to open their 2012 exhibition season against the
Tennessee Titans
:
Skies are clear and the temperature is about 80 degrees. It's a perfect night for summer football.
The Seahawks are wearing their new uniforms: dark blue pants with bright green piping, dark blue tops with bright green numbers and bright green markings, dark blue helmets. It's a lot of blue. Does the green glow in the dark? I know the big guys prefer the dark pants to the light gray ones. They're ... slimming.
Both teams have a No. 8 in uniform: Matt Hasselbeck for the Titans, Jermaine Kearse for the Seahawks. Strange.
Teams generally don't like to travel great distances for preseason games, but this trip is a homecoming for so many Titans, especially in the front office.
The Seahawks distributed a list showing the following players not expected to play in this game: Terrell Owens, Sidney Rice, Walter Thurmond, Allen Bradford, Jameson Konz, Matt McCoy, Barrett Ruud, John Moffitt, James Carpenter, Kellen Winslow, Ricardo Lockette, Doug Baldwin and Alan Branch. Some of those players are in uniform and warming up on the field, notably Rice and Winslow.
The Titans listed three players as unlikely to play: Terrence Wheatley, Brandon Barden and Dave Ball.
I'll be heading to San Francisco for a few days with the 49ers beginning Sunday. Looks like they won't have leading sacker Aldon Smith for the short term. The team re-signed outside linebacker Kenny Rowe, who went to camp with the 49ers a year ago. Safety Mark LeGree, a Seahawks draft choice who also spent time with Arizona, was released to make room on the roster. Smith has a bruised hip.
The Cardinals brought back veteran fullback Reagan Maui'a to help get them through camp. Jared Crank suffered a neck injury.
The St. Louis Rams kick off their preseason against Indianapolis at 1:30 p.m. ET Sunday. It's an odd time, but it could give me a chance to watch the Rams before heading to Candlestick Park for the 49ers' fan-oriented session later in the day.
Enjoy your Saturday night. I'll be back with notes after the game, and probably sooner as well.
April, 21, 2011
4/21/11
11:27
AM ET
Larry Fitzgerald
's arrival with the
Arizona Cardinals
via the 2004 NFL draft serves as the starting point for the latest item looking at
recent NFC West choices
.
Fitzgerald already has 613 receptions, far more than any other NFC West receiver over the last seven seasons.
In fact, the wide receivers with the most receptions for the Cardinals' division rivals during the same time period --
Torry Holt
(St. Louis),
Bobby Engram
(Seattle) and
Arnaz Battle
(San Francisco) -- have long since moved on. I ran across Engram in the 49ers' main lobby Wednesday; he's a quality control coach with the team.
History tells us receivers carry more risk than some other positions. For every Fitzgerald, there seems to be a
Koren Robinson
, David Terrell or
Troy Williamson
-- high picks that never came close to realizing their potential.
Mike Williams
' revival with Seattle last season was an exception.
The charts break down every receiver NFC West teams have drafted since 2004. Will the
St. Louis Rams
add Julio Jones to their list of drafted wideouts?
As in the past, I'll preface each chart with thoughts from the teams' perspectives.
Immediate needs don't matter so much when front-line talent is available ...
Time to start finding replacements for veterans who might not fit into our plans (Terrell Owens for the 49ers, Isaac Bruce and Torry Holt for the Rams) ...
These guys might not start, but every team needs secondary options in the passing game ...
We're getting late enough in the draft to consider grabbing a receiver while a few with decent potential remain on the board ...
Time to fill out the roster and hope we find depth for special teams ...
October, 8, 2010
10/08/10
12:29
PM ET
St. Louis Rams
quarterback
Sam Bradford
is
commanding most of the attention
among NFC West rookies.
A quick look at Bradford and the division's other 2010 draft choices through Week 4:
Arizona Cardinals:
First-round nose tackle
Dan Williams
was named inactive Sunday after failing to make weight requirements. Coach Ken Whisenhunt said Williams got the message. Arizona has drafted its share of disappointing nose tackles. It's too early to know whether Williams will break the trend.
St. Louis Rams:
The Rams' offensive line struggled in its only road game this season. Let's see whether rookie left tackle
Rodger Saffold
fares better at Detroit in Week 5. Tight end
Michael Hoomanawanui
practiced some this week for the first time since suffering a high-ankle sprain. He could become a factor if the ankle allows.
San Francisco 49ers:
The 49ers' top six picks are already making positive contributions. Coaches trusted
Anthony Dixon
on a third-and-1 carry against Atlanta in Week 4. Dixon picked up the first down. He scored a touchdown against New Orleans on his first carry this season.
Seattle Seahawks:
Left tackle
Russell Okung
started but did not finish the St. Louis game. He's still working his way back from a high-ankle sprain.
Walter Thurmond
did not play even in a nickel or dime role when
Marcus Trufant
was cleared following an ankle injury, a bit of a surprise. Thurmond had worked as the starter in practice, so he might have faced a difficult adjustment to a more specialized role on game day.
September, 11, 2010
9/11/10
2:54
PM ET
NFC West teams are relying on 2010 draft choices to varying degrees.
I'll update their statuses here before heading to the airport for a longer-than-usual travel day (no direct flights to St. Louis).
Will check back on the blog as time permits.
Enjoy your Saturday.
Let's start with the Cardinals. They've got one starter from their rookie class. Seventh-rounder
Jim Dray
earned a spot in part because he factors on special teams, making him a better value than
Anthony Becht
in the team's eyes, particularly with
Stephen Spach
contributing.
Andre Roberts
struggled, as rookie receivers often do, and it's unclear how much Arizona will get from him as a return specialist. Williams should play right away.
The Rams are counting on their first two 2010 picks to man the two most important positions on offense. No pressure,
Sam Bradford
or
Rodger Saffold
. I'm interested in seeing how much the rookie tight ends transform that position this season. The team needs life at tight end, no question.
The 49ers have moved both first-round offensive linemen into the starting lineup. Neither has disappointed. There will be growing pains, most likely, but the 49ers upgraded the talent level of their line from Week 1.
Losing Okung indefinitely to an ankle injury was a downer for Seattle, but the team will likely get him back early in the season. Okung was looking good and should stabilize the position. Thurmond outperformed expectations, making
Josh Wilson
expendable in the Seahawks' eyes. This rookie class should play more extensively than most.
July, 28, 2010
7/28/10
11:21
AM ET
Experience teaches restraint when deciding how much energy to spend worrying about when NFL draft choices will sign.
Most sign before training camps open. Some sign shortly after training camps open. A few sign later.
Sam Bradford
's signing status is the one that matters most in the NFC West -- and in the NFL -- this season. But as Bryan Burwell of the St. Louis Post-Dispatch says in the video, it's an upset if he's not in camp soon.