NFL Nation:

Jamie Collins
January, 17, 2014
Jan 17
10:00
AM ET
And then there were two -- two teams that know most of what there is to know about each other, two future Hall of Fame quarterbacks who add to their legacies with every pass, all with a Super Bowl trip on the line.
The
Denver Broncos
and
New England Patriots
, who have faced each other in each of the past three seasons and in the divisional round of the 2011 season, took it to overtime Nov. 24. The Broncos let a 24-0 halftime lead get away, and the Patriots won 34-31 after a punt bounced off Broncos cornerback
Tony Carter
's leg in overtime on a frigid night in Foxborough, Mass.
ESPN.com Broncos reporter Jeff Legwold and Patriots reporter Mike Reiss discuss Sunday's AFC Championship Game in Sports Authority Field at Mile High.
Legwold:
Peyton Manning
and Bill Belichick yet again. Do you think, in all your time around Belichick, that he tries to bring something new to the table every time he faces Manning? Or does he assume Manning has done the homework and put his efforts into getting people in the right position?
Reiss:
I'd say there's always a new wrinkle or two, Jeff. Belichick has said in the past that Manning is too smart to just do the same thing over and over again -- both within a game and from matchup to matchup. Part of that discussion is also the state of the Patriots' personnel entering the matchup. A player like rookie linebacker
Jamie Collins
, for example, might give Belichick the flexibility to introduce something unique based on his breakthrough since the Nov. 24 meeting between the teams.
The weather forecast looks promising for Manning. No icy cold forecast. How do you think he approaches this game compared to the Nov. 24 contest? Do you think he will be less reluctant to hand the ball off?
Legwold:
It will be a postcard day Sunday with the temperature expected to be 58 degrees with 0 percent chance of rain and light winds. So any decisions the two teams make on offense will have to do with what's in front of them on defense only. Manning will be inclined to hand the ball off if he sees the Patriots in some of those lighter personnel groupings deployed to handle Denver's three-wide-receiver look. Offensive coordinator Adam Gase has a run option built into most things Manning can change into at the line of scrimmage. The Broncos certainly like how
Knowshon Moreno
and
Montee Ball
are trending in the run game. They have split carries down the stretch, and both run with tackle-shedding power.
Gase, with coaching DNA that includes his time with Mike Martz, is an aggressive sort. With the next-generation numbers the Broncos' offense has put up this season, it's easy to forget they still averaged 28.8 carries per game and topped 30 carries per matchup nine times this season. If they get a look from the New England defense that calls for a run, the Broncos will be inclined to pound away.
Where is
Tom Brady
's game and the offense right now after some rough moments early in the season? Has Brady benefited from a run-heavy approach down the stretch and into the postseason?
Reiss:
The biggest benefit for Brady with the run-heavy approach has been how it opens play-action opportunities.
Danny Amendola
's 53-yard catch in the divisional round is one of the best examples. Also, part of the reason the Patriots have gone so run-heavy is that it's the area where they have their most assets. They are limited when it comes to pass-catchers who create consistent separation at tight end and receiver. As for Brady's game, there have been no signs of decline in arm strength, accuracy or decision-making. The main reasons for the struggles early in the year, from my view, were more about the changes around him. That's not to say Brady didn't make his mistakes, but it's sort of interesting to look back on some of the media-based discussion around Weeks 6 to 8 about how maybe Father Time had caught up to him.
Now that we're a full season in, how would you sum up the
Wes Welker
signing? Just as the Broncos hoped for? Better? Worse?
Legwold:
Welker finished the regular season with 73 catches for 778 yards and 10 touchdowns. His presence in the slot, along with
Julius Thomas
at tight end, is part of the reason the offense had a historic season. With the Broncos lining up in a three-wide-receiver set the majority of the season -- and every snap of the divisional round win over the
San Diego Chargers
-- they force defenses into some difficult choices. Thomas is often in the slot on one side of the formation, and Welker is in the slot on the other side. When Thomas missed two games earlier this season with a knee injury, both the Patriots and the
Kansas City Chiefs
(Dec. 1) elected to double-team Welker. He missed three games after suffering his second concussion in a four-week span Dec. 8 against the
Tennessee Titans
but played last week against the Chargers without issue.
Welker did have some spells this season when he had a cluster of dropped passes -- three against the Patriots on a frigid night to go with drops against Washington and San Diego in the regular season. Overall, though, he was exactly what the Broncos hoped he would be in their offense. He meshed with Manning quickly and was a big part of the plan right from his nine-catch performance against the
Baltimore Ravens
in the season opener.
The Patriots did not face Thomas in the Nov. 24 meeting. Do you think they will try to match up Collins on Thomas this time around?
Reiss:
That seems like the natural matchup, especially after seeing Collins splitting out wide on Colts tight end
Coby Fleener
on Saturday night and playing very well. Collins is unique in that, at 6-foot-3 and 250 pounds, he is fast enough to be competitive down the field in coverage (e.g., fourth-quarter interception versus the Colts) but powerful enough to play in the box and deliver a blow in the running game and as a pass-rusher. The Patriots' top draft pick in 2013, selected 52nd overall out of Southern Mississippi, he is an intriguing player whom Patriots fans really got their first extended look at Saturday as he played every snap against the Colts. He had been groomed behind the scenes up to that point, playing just 25 percent of the defensive snaps on the season in more of a reserve role.
Thomas may not have played in the first game between the teams, but
Von Miller
did. How does Miller's season-ending knee injury affect the Broncos' defense?
Legwold:
Of all the players who were signed in the weeks after the initial leaguewide binge in free agency, the Broncos' signing of
Shaun Phillips
was easily one of the best. Denver signed Phillips to a one-year, $1 million deal during the draft weekend in April, well over a month after free agency had opened, a deal that didn't have a signing bonus but did have some incentives based on sack totals.
Phillips was initially how the Broncos planned to deal with the loss of
Elvis Dumervil
in free agency. When Miller was suspended for the first six games of the season, Phillips had 5.5 sacks in those games to lead the way. He finished the regular season with 10 sacks to lead the team. In Sunday's win, with Miller on injured reserve, Phillips had two sacks against the Chargers. He is the single-most important player in the Broncos' pass rush in Miller's absence. Denver may have to take more risks without Miller on the field, and that's always a tough choice against someone like Brady, who can easily find the holes in coverage. But if Phillips can consistently create pressure -- with both sacks on three-man rushes against San Diego -- it allows the Broncos to move things around a little more and cover more of the bases.
Did Belichick make a conscious effort to get big backs like
LeGarrette Blount
and
Stevan Ridley
in the lineup when he knew he would get smaller defensive personnel against the team's passing attack?
Reiss:
That's fair to say, as the Patriots pride themselves on creating those matchups during the game, with coordinator Josh McDaniels finding his groove in recent weeks. They refer to themselves as a "game plan" offense because they tailor their plan weekly based on what they perceive to be the weakness of the opposition. They'll shuttle in different personnel groupings early -- multiple receivers, two backs, two tight ends, etc. -- to get information on how the opponent is matching up and then focus on the one they like best. This week, what's fascinating to me is that I think they probably see vulnerability in the Broncos' secondary, but I wonder how they feel about their own personnel in being able to exploit it. So that could keep them grounded.
The Patriots have been running the ball very well. How is the Broncos' run defense?
Legwold:
In a year when the Broncos have been forced, by injuries and Miller's suspension, to mix and match on defense, their run defense has likely been more consistent in comparison to some of the other issues they've had. When defensive tackle
Kevin Vickerson
went to injured reserve Nov. 27 with a hip injury, they did wobble a bit, surrendering 159 yards rushing to the Chiefs and 177 yards rushing to the Chargers in two of the three games that immediately followed.
They have regained their balance a bit since, moving
Paris Lenon
into the middle linebacker spot in the base defense, and rookie defensive tackle
Sylvester Williams
has played better each week. Overall, the biggest issue for the Broncos will be how they defend the run if the Patriots get them in nickel or dime personnel on defense and then run the ball at the smaller looks. The Broncos' safeties will have to tackle and tackle well to make it work.
Belichick has always tried to make "other" people beat him and take away an offense's front-line players. How do you think he would rank the Broncos' threats in the passing game, and where do you think the one-on-one matchups will be?
Reiss:
One insightful point that ESPN analyst
Tedy Bruschi
made in his weekly chat was the idea of defending the Broncos from the inside-out. Manning is still an accurate marksman, one of the greatest of all time, but I'm guessing that even he would agree that some of the downfield and outside-the-numbers throws he used to make don't come as easily to him. So it makes sense that the Patriots would focus more resources on the inside part of the field, where it would seem we would most likely see Welker and Thomas. With this in mind, I could envision the Patriots matching up cornerback
Aqib Talib
with
Demaryius Thomas
on the outside and cornerback
Alfonzo Dennard
with
Eric Decker
and taking their chances that those one-on-one matchups will be competitive. Trusting those cornerbacks in those one-on-one matchups would allow the defense to focus extra attention/personnel to the inside part of the field.
Any X factors or special-teams contributors we should keep on the radar?
Legwold:
The Broncos have usually been lockdown tight on special teams -- opening the season with two touchdown returns and two blocked punts, one of those returned for a score, in the first four weeks of the season. Those normally reliable units, however, have wobbled plenty down the stretch. The Chiefs'
Knile Davis
had a 108-yard kickoff return for a touchdown, the Titans'
Leon Washington
had a 95-yard kickoff return, and the Texans'
Keshawn Martin
had a 51-yard punt return. Toss in the first blocked punt of
Britton Colquitt
's career in Oakland to go with
Trindon Holliday
's occasional adventures catching the ball, and it's been an unpredictable stretch. But Holliday is always a threat to uncork a return because of his breathtaking speed. The Broncos used wide receiver Decker as the primary punt returner against the Chargers last week, and he had a 47-yarder. So the Broncos have the potential to pop one at any time, especially in Denver, where Holliday returned both a kickoff and a punt for touchdowns in last January's playoff loss to the Ravens.
January, 11, 2014
Jan 11
11:45
PM ET
FOXBOROUGH, Mass. -- At an initial glance, a look at who is "up" and who is at the opposite end of the spectrum in the
New England Patriots
' divisional-round
playoff win
against the Colts:
Blount
Up

LeGarrette Blount
-- Running back totals four touchdowns, including a 73-yard scoring jaunt in the fourth quarter. The four rushing touchdowns sets a franchise record as the offensive line, tight ends and fullback
James Develin
also get a tip of the cap for opening the holes.
Jamie Collins
-- Rookie linebacker rises up to the challenge with extended opportunity after
Brandon Spikes
is placed on season-ending injured reserve, as Collins is all over the field.
Alfonzo Dennard
/
Aqib Talib
-- Starting cornerbacks don't win every one-on-one challenge, but are generally up to the task as Talib lines up across from
T.Y. Hilton
consistently and Dennard opens the game with a big interception and ends the game with one as well.
Stephen Gostkowski
-- Kicker does an admirable job filling in for injured punter
Ryan Allen
.
Down

Danny Aiken
-- Snapper fires a delivery over the head of punter Ryan Allen in the second quarter that results in a safety.
Kyle Arrington
-- Nickel cornerback is replaced by rookie
Logan Ryan
near the end of the second quarter after having some struggles in the slot.
Devin McCourty
-- As the last line of defense, second-team All-Pro safety lets
LaVon Brazill
get behind him for a 35-yard touchdown.
January, 11, 2014
Jan 11
11:26
PM ET
FOXBOROUGH, Mass. -- Sharing thoughts on the
New England Patriots
'
43-22
divisional-round playoff victory Saturday over the
Indianapolis Colts
:
What it means:
The Patriots advance to the AFC Championship Game for the eighth time in Bill Belichick's 14 years as head coach, which continues a remarkable run of success for Belichick and quarterback
Tom Brady
. Many of the faces around them have changed over the years, but Belichick and Brady have been the constants, and one could make a case this has been their most impressive season as a tandem. The Patriots have been hit as hard by injuries as any team in the NFL, but they've willed their way to put themselves in position to win their first Super Bowl championship since the 2004 season.

Running game sparks attack again:
For the third consecutive game, the Patriots' ground attack was the difference-maker, led by hard-charging
LeGarrette Blount
(franchise-record four rushing touchdowns). The Patriots split snaps at running back evenly among Blount,
Stevan Ridley
and
Shane Vereen
, and sliced up the Colts with strong work up front by the offensive line -- left tackle
Nate Solder
, left guard
Logan Mankins
, center
Ryan Wendell
, right guard
Dan Connolly
and right tackle
Marcus Cannon
-- as well as tight ends
Michael Hoomanawanui
and
Matthew Mulligan
and fullback
James Develin
. When the Patriots run it like this, it brings back memories of the 2004 Super Bowl championship team for which bruiser
Corey Dillon
was the lead back.
Injuries to monitor:
Punter
Ryan Allen
left the game in the second quarter with a shoulder injury and did not return. Kicker
Stephen Gostkowski
handled the punting duties, and Brady handled the holder responsibilities as part of the field-goal operation. If Allen is unavailable in the AFC Championship Game, the Patriots would almost certainly bring in another punter. Former Patriot
Zoltan Mesko
isn't an option, as he punted for the Bengals in the playoffs and isn't eligible to join another team. ... Elsewhere, rookie receiver
Kenbrell Thompkins
left the game in the fourth quarter with a head injury (presumably a concussion) and did not return. Veteran
Austin Collie
was his replacement.
Stock watch
:
Jamie Collins
-- up. The Patriots' top pick in the 2013 draft (52nd overall) was thrust into an expanded role, in part because linebacker
Brandon Spikes
was placed on
season-ending injured reserve
earlier in the week. Collins had played just 25 percent of the defensive snaps during the regular season, but he didn't come off the field and made his presence felt as a tackler, pass-rusher and in coverage with an interception. He was all over the field in what was a coming out party for the ultra-athletic defender from Southern Mississippi.
What's next:
The Patriots will play in the AFC Championship Game against the winner of Sunday's game between the visiting
San Diego Chargers
and
Denver Broncos
(4:40 p.m. ET). If Denver beats San Diego, the AFC Championship Game will be played in Denver. If San Diego beats Denver, the AFC Championship Game will be played in New England. Regardless of location, the game will be played at 3 p.m. ET next Sunday.
January, 4, 2014
Jan 4
10:00
AM ET
When news came that Vikings rookie wide receiver
Cordarrelle Patterson
had been named to the Pro Bowl, it generated feedback on Twitter. The common refrain was that the Patriots, who had the 29th pick in the draft, would've been well served to select Patterson rather than trade the pick to Minnesota in a deal that netted them four selections.
Patterson
And while Patterson has proven to be a dynamic playmaker for Minnesota, he still has work to do as a receiver, and some wonder if his game was suited to the complex offensive system we've seen some receivers struggle to pick up in New England.
The truth is that we don't know exactly how Patterson would fit in New England, but we can assess what the Patriots made of the four picks they acquired in the deal.
Below is a rundown:
Second round pick, No. 52 overall:
Used on linebacker
Jamie Collins
, an eight-game starter and improved performer down the stretch. The Patriots viewed Collins as an upside pick in the second round, as his natural movement skills are obvious. He projects as a full-time starter as soon as 2014.
Third round pick, No. 83 overall:
Used on cornerback
Logan Ryan
, who led all NFL rookies with five interceptions this season. Though not an every-week starter yet, Ryan has turned out to be one of the better values in the third round and a keeper in the secondary.
Fourth round pick, No. 102 overall:
Used on wide receiver
Josh Boyce
, who finished with nine catches this season, while also providing value as a kickoff return man. Boyce was recently placed on injured reserve, though he will add value as a wideout next season, perhaps as a slot man.
Seventh round pick, No. 229 overall:
This may have turned out to be the most important piece of the deal as it relates to 2013, as this pick was sent along with
Jeff Demps
to Tampa Bay in exchange for running back
LeGarrette Blount
, nearly the team's leading rusher (he rushed for one yard less than
Stevan Ridley
).
It's easy to make knee-jerk reactions to deals at the time they are made. It's also easy to look at the contributions of one player and wonder, "what if?" as has become the case with Patterson.
But given what the above players have meant to the Patriots for this season -- and could mean beyond this season -- this deal likely qualifies under the label of "one we'd make again."
November, 7, 2013
11/07/13
12:00
PM ET
The
New England Patriots
have received significant contributions from their rookie class this season. In Bill Belichick's 14 years as head coach, this season ranks near the top of the list, if not at the top, in this area.
Following up Field Yates'
progress report
on second-year players from this morning, here is a rookie breakdown (alphabetical order):
Allen
Punter Ryan Allen:
The undrafted free agent ranks 10th in the NFL with a 46.4 average and 16th in net punting (39.9) as he's proven to be up to the task of replacing veteran
Zoltan Mesko
. He's also the holder on field goals, and
Stephen Gostkowski
is 22 of 23 this season. Allen's eight touchbacks are tied for the NFL high, which is an area for improvement.
Guard Chris Barker:
Claimed on waivers from the Dolphins at the final roster cutdown, the undrafted free agent from Nevada dressed for the first three games of the season as veteran backup
Will Svitek
was working his way back from a knee injury, but hasn't played on offense. This looks like a red-shirt year for him as the Patriots have avoided the risk of another team claiming him on waivers (Dolphins?) should they try to move him to the practice squad.
Linebacker Steve Beauharnais:
The seventh-round draft choice from Rutgers has dressed for three games, but hasn't played on defense. This appears to be more of a red-shirt year for him.
Receiver Josh Boyce:
The fourth-round draft choice from Texas Christian played in the first five games (1 catch, 24 yards) but has been inactive for the past four as veteran
Austin Collie
was viewed as a more consistent option. Boyce is one of the fastest receivers on the team, but appears to need a little more time to put it all together.
Defensive end Michael Buchanan:
The seventh-round pick from Illinois opened the season as the primary right defensive end in sub packages, but a few struggles with rush-lane integrity (Oct. 6 vs. Bengals and Oct. 20 vs. Jets) led to the signing of veteran
Andre Carter
, who has since taken over that role. Buchanan contributes on special teams and is now No. 4 on the overall defensive end depth chart, with obvious upside.
Linebacker Jamie Collins:
The second-round pick from Southern Mississippi has been a core special teams player and was integrated a bit more defensively after linebacker
Jerod Mayo
was lost to a season-ending injury Oct. 13. But after flashing a bit Oct. 20 vs. the Jets, he was pushed around in the first half against the Dolphins on Oct. 27 and has played sparingly on defense since. He has all the tools, but appears to need a bit more time.
Dobson
Receiver Aaron Dobson:
The second-round pick from Marshall has come on strong in recent weeks, elevating to the top spot on the depth chart as the X outside target. He has 31 receptions for 454 yards with four touchdowns, and at 6-foot-3 and 200 pounds gives the Patriots a combination of size and speed that they haven't had at the position since Randy Moss.
Safety Duron Harmon:
Considered a reach as a third-round pick, the Rutgers product has been a top backup behind starters
Devin McCourty
and
Steve Gregory
, playing in some sub packages. He also filled in on special teams when core player
Tavon Wilson
was out with a hamstring injury. Teammates have talked about his smarts and his professional approach.
Defensive tackle Chris Jones:
Claimed on waivers from the Buccaneers on Sept. 11, he earns our vote for Patriots "rookie of the first half" with five sacks in six games played. At 6-foot-1 and 309 pounds, his quickness has been an asset as an interior rusher, and he's been competitive from a strength/physical standpoint on run plays. Waived by the Texans, who drafted him in the sixth round, he briefly landed in Tampa before the Buccaneers let him go and the Patriots pounced. He has proven to be a steal.
Ryan
Cornerback Logan Ryan:
The third-round pick from Rutgers has made some big plays, such as an interception return for a touchdown against the Jets on Oct. 20, as he's been thrust into a top reserve role in recent weeks with
Aqib Talib
out. At 5-foot-11 and 195 pounds, he has mostly been competitive in coverage and shown a willingness to play the run.
Receiver Kenbrell Thompkins:
The undrafted free agent from Cincinnati has slid down the depth chart the past two weeks after serving mostly as the primary X option on the outside (23 catches, 334 yards, 4 TDs) through the first seven games. He made the big game-winning catch against the Saints on Oct. 13, but has since been passed on the depth chart by Dobson.
Defensive tackle Joe Vellano:
The undrafted free agent from Maryland is one of the surprises of the season. After opening the season as the No. 3 option behind
Vince Wilfork
and
Tommy Kelly
, he has been thrust into a starting role as both veterans have been lost to season-ending injuries. At 6-foot-2 and 300 pounds, he might be viewed as undersized by some, but he wins with technique and scrappiness.
October, 20, 2013
10/20/13
1:50
PM ET
EAST RUTHERFORD, N.J. -- After 15 minutes of play, the
New England Patriots
lead the
New York Jets
14-7
. Passing along quick-hit notes and observations from the first quarter.
1. Gronk watch.
The Patriots didn't wait long to utilize tight end
Rob Gronkowski
, as he was on the field for the first offensive series, catching his first pass on a second and 10 play and extending for the first down. He would later catch a 29-yard seam route that came up about a yard short of a touchdown, though his impact was felt immediately. He also had an edge-setting block on the team's first touchdown of the game, a run by
Brandon Bolden
. Safe to say Gronkowski came ready to play. He played 9 of the team's 12 offensive snaps.
2. Jets score easily on first drive.
The Jets started the game with a 25-yard gain on a pass from quarterback
Geno Smith
to tight end
Jeff Cumberland
and didn't stop after that. They easily cruised down the field, converting three third downs, capped off with a touchdown throw to slot man
Jeremy Kerley
. All too easy for New York on their first drive. But...
3. Ryan makes first career pick.
Rookie cornerback
Logan Ryan
made his first career interception, picking off Geno Smith and returning it 79 yards for a score on the Jets' next drive. It was a particularly sweet moment for Ryan because it came in his home state, as the Berlin, N.J., native also attended Rutgers. The Patriots have forced a turnover in 34 straight regular-season games, best in the NFL.
4. Defense turns to Collins.
The Patriots have turned to linebacker
Jamie Collins
to replace
Jerod Mayo
in the starting lineup, as he's been the third linebacker alongside
Brandon Spikes
and
Dont'a Hightower
. The team has also opted for a heavier front, using three defensive tackles and
Chandler Jones
along the defensive line, with
Rob Ninkovich
used in stand-up alignments.
5. Penalty box.
No Patriots were flagged for penalties during the first quarter.
October, 11, 2013
10/11/13
12:00
PM ET
.
The
New England Patriots
are coming off their first loss of the season, and questions are mounting about the team's revamped offense. There are no such questions right now for the
New Orleans Saints
, who are 5-0 and have looked like one of the NFL's best teams.
That sets the stage for Sunday's highly anticipated matchup between these teams at Gillette Stadium in Foxborough, Mass.
"They're a good solid football team all the way around. They've been impressive," Patriots coach Bill Belichick said of the Saints. "We're going to have to play a good 60-minute football game on Sunday; that's what it is going to take."
In some ways, the Patriots will see a mirror image of themselves when looking at the Saints.
"I've said this before, when we started in 2006, we tried to look closely at the franchises that were having a lot of success and study closely what they were doing. New England was one of the main ones we looked at," Saints coach Sean Payton said. "These guys have been to five Super Bowls and won three [under Belichick]. That is pretty amazing."
Patriots reporter Mike Reiss and Saints reporter Mike Triplett break it down:
Reiss:
Let's start at the top with this one, Mike, and focus on the coaches. Patriots followers know they have one of the best coaches in the history of the game. Now in his 14th season, Belichick has the Patriots consistently contending. For the Saints, what stands out from here is what a difference it's been to have Payton back on the sideline this season. What is it about Payton that makes him one of the NFL's best coaches, and how has this turnaround from last year's disappointment unfolded?
Triplett:
You're right to start there. It's remarkable how much of an impact Payton's return (and his absence last year) has made on this team. Earlier this season, I would've answer that question by talking more about intangibles. Having Payton in charge clearly gives the Saints a confidence and puts them in a comfort zone that was lost last year. I think that helped them win two early games that came down to the wire. But lately, it's Payton's offensive genius that has been making the biggest impact. He's always stood out as arguably the best schemer and playcaller in the NFL. And that's been on full display the past two weeks – first when the Saints picked apart the
Miami Dolphins
at home on a Monday night, then when they won last week at Chicago with a patient, ball-control game plan. Giving Payton toys like
Jimmy Graham
and
Darren Sproles
in recent years – not to mention quarterback
Drew Brees
– has been almost unfair to the rest of the league.
Since we're on the subject, can you try telling me, in this brief format, what makes Belichick special? The Patriots seem to keep winning even while switching out 50 players on their roster over the years. I know that's something the Saints have always admired and tried to emulate.
Reiss:
Mike, I think the foundation of Belichick's success has been what we remember from the start of Super Bowl XXXVI, in the Superdome, prior to the Patriots' upset victory over the Rams in the 2001 season. The Patriots were introduced as a team before that game, as we all remember. There are obviously a lot of reasons for Belichick's success, and books have been written about it, so it's nearly impossible to narrow it down in a few sentences. But that's where I'd start – the focus on the complete team in a salary-cap era that makes it hard to remain competitive year in, year out. There are many layers to that, and it obviously helps to have a quarterback like
Tom Brady
, but Belichick is also a teacher at heart. So team-first, where the 53rd player has a similar level of importance as a player in the 1-10 range. Then the fact he's a teacher with an incredible knowledge of football.
This week, there has been plenty of teaching as it relates to how they might be able to slow down the Saints' offense. What has been the most effective approach you've seen teams employ against Graham and Sproles?
Triplett:
There haven't been many effective approaches against Graham. The
Chicago Bears
last week followed the formula that has worked best against the Saints over the years – a lot of Cover 2 zone defense that forced the Saints to settle for checkdown passes. But the Saints did a better job than I can ever remember of staying patient, settling for those short throws and avoiding turnovers. And Brees still completed 10 passes for 135 yards to Graham. Tampa Bay's defense rattled the Saints in Week 2 by hitting Brees a lot with a good rush from their front four. But Graham still caught 10 passes for 179 yards and a touchdown. And if a team wants to totally take Graham away, like Miami did in Week 4, the Saints are happy to exploit that, too. Sproles had seven catches for 114 yards in that game before Graham caught a single pass. And Graham still finished with four catches for 100 yards and two touchdowns.
So how do you think the Patriots might approach it? They do have a better defense than most of the ones the Saints have faced this season.
Reiss:
In a flip of the script that we had mostly seen from 2007 to 2012, the Patriots' defense is carrying the team right now. The Patriots rank second in the NFL in points allowed per game (14.0 avg.), and that includes a Week 1 touchdown the Bills scored on a long fumble return. The key, from this view, has been the Pro Bowl-level play of cornerback
Aqib Talib
. As for this specific matchup, I've wondered about the possibility of Talib on Graham, similar to how we saw him almost exclusively cover Buccaneers receiver
Vincent Jackson
(Week 3) and Bengals receiver
A.J. Green
(Week 5). Usually you don't see a cornerback matched up against a tight end, but maybe that outside-the-box thought is something the Patriots consider this week. Regardless, I expect the Patriots to be in their sub defense for most of this game. Their big linebackers don't look like a good matchup against Sproles, so it's imperative to get more speed on the field. I could see their top draft choice, speedy and athletic linebacker
Jamie Collins
, used more this week with Sproles in mind.
Speaking of defense, tell us more about how the Saints are getting it done on that side of the ball.
Triplett:
Obviously a ton of credit goes to new defensive coordinator Rob Ryan. He's been pushing all the right buttons as a schemer and a motivator. Players have loved playing for him for both reasons. It's reminiscent of the years when Gregg Williams was here, when they played with a ton of confidence. And he mixes up formations quite a bit – blitzing on occasion, but also rushing only two or three guys at times. Last week he caught the Bears off-guard early with some blitzes he hadn't shown much yet. Just as key, though, has been the emergence of young pass-rushers
Cameron Jordan
and
Junior Galette
. Jordan is a power-rushing 3-4 end, and Galette a speed-rushing 3-4 outside linebacker. But they've mostly lined up on the edges of a four-man rush. When teams can count on their four-man front as much as the Saints have this season, any scheme will be successful. The talent in the secondary is also solid across the board, especially now that they added veteran corner
Keenan Lewis
and rookie safety
Kenny Vaccaro
.
So what will they be facing in Brady this week? I know he hasn't looked like himself at times, but I'm still expecting him to hold his own in this high-profile duel with Brees.
Reiss:
The Saints will see a frustrated Brady, and that's often a dangerous Brady. The Patriots scored just six points in Sunday's loss to the Bengals, and Brady's streak of 52 straight games with at least one touchdown pass was snapped. That had a Saints tie-in, of course, as Brees holds the record at 54 straight games. Brady is obviously still one of the best quarterbacks in the NFL and is as competitive as they come. I'm sure he's aware that in three previous games in which he's squared off against teams led by Brees, he's 0-3. Brees has thrown eight touchdowns in those games, compared with three for Brady. Furthermore, Brady has thrown three interceptions in those games, while Brees hasn't thrown a single pick. Obviously, the quarterbacks don't face off against each other, but knowing Brady's competitiveness that still doesn't sit well with him. Expect his best, and the potential return of tight end
Rob Gronkowski
would obviously help.
I was curious about your thoughts on how the Saints might look different, if at all, when playing outdoors. Obviously they are awfully tough in the Superdome, but last week's game in Chicago didn't seem to affect them.
Triplett:
The Saints have definitely had a few off-days outdoors over the years, especially in colder weather or rain (playoff losses at Chicago, Seattle and San Francisco come to mind). They've had a lot of good days in those elements, too, though. They have the best road record in the NFL since 2009 (23-11, one more win than the Patriots). And they've got two outdoor wins this season (the Chicago game and an ugly 16-14 win on a rainy day at Tampa Bay). So I don't think it will be some sort of mental hurdle, and it's not like they're lost when they're outside of the Superdome. But it will certainly be a hurdle they have to overcome. They're definitely even more dangerous at home.
I was stunned to see how dominant New England has been at home, by the way (31-3 since 2009). Brees rattled off that statistic Wednesday – obviously it's one that's been drilled into players this week. What makes the Patriots so good at home?
Reiss:
When I think of decisive home-field advantages, with the crowd truly dictating aspects of the game such as false-start penalties, I wouldn't put Gillette Stadium in the same category as a place like Seattle. But like you said, home has been good to the Patriots, and I think the comforts of being in that environment, coupled with having good teams, getting better as the weather gets colder, acing critical situations and playing in a division where the other three teams have fallen on some hard times in recent years has contributed to that as well. I'm guessing that Saints offensive coordinator Pete Carmichael, who grew up in nearby Medway, Mass., might agree with the thought that Sunday has all the elements for what can make this a special time of year in New England for fans of the game: crisp but comfortable fall weather and two talented, well-coached teams playing at a high level going head-to-head. I'm excited for it, Mike. What about the matchup are you most looking forward to?
Triplett:
Easy. Brees vs. Brady. I'm sure I could give a more "under the radar" answer. But watching two of the best quarterbacks of all time going head-to-head is as good as it gets. And I think both of them will be fired up for this one for different reasons. Should be an intense fourth quarter.
.
September, 15, 2013
9/15/13
5:00
AM ET
Quick-hit thoughts around the NFL and with the
New England Patriots
:
1.
The composition of the Patriots' roster is perhaps the most unique we've seen in Bill Belichick's 14 years as coach. The club returned 19 of 22 starters this season, so there is what many would consider the ideal layer of continuity. But as of opening kickoff, the Patriots also had more first- and second-year players (21) than all but two teams in the NFL (the
St. Louis Rams
and
Cleveland Browns
). Makes for a different type of mix -- a contending team that from an overall perspective trends younger. The question remains: Is it the right mix?
2.
The Patriots are off to a 2-0 start, which has traditionally meant good things for a team's playoff hopes. Since the playoffs expanded to 12 teams in 1990, 63 percent of teams starting 2-0 have advanced to the postseason. And here's a key stat for those teams looking to avoid an 0-2 start on Sunday: Just 12 percent of teams that started 0-2 have reached the playoffs. The 2001 Patriots, of course, are one of the clubs that bucked the trend.
3.
For all the scrutiny the Patriots' rookie receivers have been under for the first two games, somewhat overlooked is that top draft pick
Jamie Collins
has played sparingly on defense (six of 138 snaps, including penalties). When the Patriots drafted Collins 52nd overall out of Southern Mississippi, there was some question as to how he'd fit in the team's scheme -- pure defensive end/pass-rusher or more of an off-the-line linebacker? The Patriots have worked him mostly at linebacker, and the feeling here is that once he fully starts to grasp the team's scheme, assuming there are no injuries to other linebackers, we'll begin to see him integrated into the mix a bit more. In his limited snaps Thursday night against the
New York Jets
, Collins dropped into coverage or spied quarterback
Geno Smith
as the Patriots tapped his speed and athleticism. Until he's a more regular defensive contributor, he will make his biggest contributions by playing on each of the "Big 4" special-teams units.
[+] Enlarge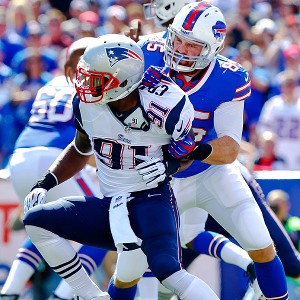 AP Photo/Bill WippertThe Patriots appear to be working top draft pick Jamie Collins slowly into the defensive mix.
4.
I thought last Sunday's Patriots-Bills season opener revealed one of the flaws behind the Bills' all-the-time up-tempo approach. At a point when the clock was their ally in the fourth quarter, quarterback
EJ Manuel
was snapping the ball with more than 20 seconds left on the play clock. The up-tempo offense is catching on across the NFL, and while the
Philadelphia Eagles
' approach in the first half of their opening victory over the
Washington Redskins
was electric, I think teams who only play in one gear are going to quickly find out there needs to be some flexibility and level of comfort to downshift when the situation dictates.
5.
There is second-guessing and then there is first-guessing. The defection of running back
Danny Woodhead
from the Patriots to the
San Diego Chargers
struck me as puzzling when it happened, and those thoughts are revisited in the wake of the Patriots losing running back
Shane Vereen
for at least eight weeks with a wrist injury. How nice would it be for the Patriots to have Woodhead as an insurance option? Assuming that Woodhead would have accepted a similar deal in New England (
contract here
), I still don't understand why he's still not with the Patriots.
6.
Also in the puzzling category: The Patriots going with
LeGarrette Blount
as their primary kickoff returner when 2012 Pro Bowl returner
Leon Washington
is on their roster.
7.
I didn't think Jets offensive lineman
Nick Mangold
took a cheap shot at Patriots cornerback
Aqib Talib
at the end of Thursday's game, even though he probably can expect a fine from the NFL. Talib, who never should have returned the interception because it wasn't a smart situational play (just stay down and the game is over), was sort of tiptoeing along the sideline, and I thought it was a bang-bang play. More so than Mangold, I'm interested to see how hard the NFL comes down on starting Jets right guard
Willie Colon
, who tossed aside referee Carl Cheffers to get into the scrum. That's one of the biggest no-nos in the game and earned Colon an ejection and
at least a $25,000 fine
.
8.
Here's one stat from each of the Patriots' AFC East rivals that caught the eye this week: Jets left tackle
D'Brickashaw Ferguson
has started every game since joining the team as a first-round draft choice in 2006. Impressive durability and dependability and a good pick by then-Jets coach Eric Mangini. …
Miami Dolphins
defensive end
Cameron Wake
is off to a strong start after notching 2.5 sacks in the opener at Cleveland. Of his 45.5 career sacks, 30.5 have come on the road. Would have thought those numbers would be flipped. … With the Bills losing to the Patriots in Doug Marrone's coaching debut last Sunday, first-year Bills head coaches are now 0-17 in their opening games (1960-present).
The Buffalo News has the forgettable breakdown
.
9.
When the
Tampa Bay Buccaneers
visit the Patriots next Sunday, would anyone be surprised if rookie
Mike Glennon
is the team's starting quarterback?
This was foreshadowed at the Patriots-Buccaneers joint practices in August
. After watching
Josh Freeman
in the regular-season opener against the Jets last Sunday, and hearing coach Greg Schiano on Thursday telling reporters about how Freeman (no longer a captain) overslept and missed a team photo, it seems like it's more a matter of when than "if" on a torch-passing from Freeman to Glennon. Maybe it happens in the Buccaneers' home opener Sunday against the Saints.
10a.
When the Patriots played the NFC West in the 2008 season, it was a division that many viewed as the worst in football. In fact, when analyzing how the Patriots went 11-5 that season with untested
Matt Cassel
replacing the injured
Tom Brady
, many pointed to an easier schedule that included four winnable games against NFC West opponents. Five years later, some might make the case that the NFC West is now the best division in football. For those who have doubts, tune in to Sunday night's
San Francisco 49ers
-
Seattle Seahawks
game. On a related note, Seattle might have the best home-field advantage in the NFL; it's a great, underrated environment for football that is now receiving more attention because of the team's emergence. But it was like that even before the Pete Carroll/
Russell Wilson
regime.
10b.
My rankings on the best divisions in football: (1) NFC West, (2) NFC East, (3) NFC North, (4) NFC South, (5) AFC North, (6) AFC South, (7) AFC East and (8) AFC West.
10c.
Random question: When did the NFC suddenly become so much deeper than the AFC? Seems like yesterday it was the other way around.
September, 5, 2013
9/05/13
5:30
PM ET
By
Field Yates & Mike Reiss
| ESPN.com
FOXBOROUGH, Mass. -- Some picked-up pieces from around the Patriots on Thursday:
1.
Collins anxious, but ready
. Top Patriots draft choice
Jamie Collins
is readying for his first NFL regular-season action, and the 23-year old can't wait to take the field on Sunday.

"Just anxious," the linebacker said of his first regular-season game. "I'm anxious to play, get out here and see what this regular season is all about."
After being worked on both defense and special teams, including several different defensive spots, Collins said that he's planning to take on any role the coaching staff has in mind for him. "I'm the type of guy that's going to do -- wherever they put me at, I'm going to go do it to the best of my abilities because I'm a team player. No matter what it is, I'm going to do it. No matter if it's quarterback, I'm going to go out there and play."
And while Orchard Park, NY might feel like a world away from Collins' hometown of McCall Creek, Miss., Collins knows his supporters back home will find a way to watch his game on TV.
"They're going to find it," he said. "No matter where it is, they'll find it."
2.
Kelly and Ninkovich hold court
. Defensive tackle
Tommy Kelly
and defensive end
Rob Ninkovich
were among the players drawing bigger media crowds, giving this day a real "defensive" feel.
One of the topics brought up to Kelly was how he was coming off the field in some sub situations in the preseason, and if he felt was ready to play an entire game if need be. He said he used to do that in Oakland, adding, "this ain't my first rodeo." He added that while Bills quarterback
EJ Manuel
can make plays with his feet, he wouldn't exactly compare him to Eagles quarterback
Michael Vick
.
Ninkovich touched on how he complements fellow starting end
Chandler Jones
(Ninkovich is a lower-leverage player) as well as the importance of keeping Manuel in the pocket and not giving him big rush lanes.
3.
White letting the coaches do the scouting
. Linebacker
Chris White
, recently acquired via waivers, knows the Bills well, having spent two-plus seasons in Buffalo (2011 sixth-round pick) before being traded to Detroit last month. But he's letting his new coaches do the scouting report on the Bills.
"The coaches, they pretty much know a lot," he said on Thursday. "They know a lot by themselves, they really don't need a whole lot of help from me, but I'm sure it'll be a fun week, I'm looking forward to it."
He also noted that he's staying away from communicating with his ex-teammates this week before Sunday's kickoff and "sticking to myself." For those unfamiliar with White's game, he offered a brief self-scouting report: "I feel like I play hard, I play with a lot of energy, and I prepare well. I'm just looking to win every week."
4.
Hoomanawanui: Can't view Sudfeld as a rookie.
Tight end
Michael Hoomanawanui
has been a popular player for reporters this week. On Sunday, he had been swarmed after
Rob Gronkowski
's return to the field. On Thursday, he fielded some questions on rookie
Zach Sudfeld
, who projects to a significant role as the team's top "move" tight end.
"Everyone's played a lot of football. Zach is a rookie, but he's been here long enough, and he's played in enough preseason games, where you have to throw that out the window," he said.
Hoomanawanui has been impressed with how Sudfeld has grapsed the offense, adding that "he's doing a great job asking questions and following older veterans and taking their lead."
August, 13, 2013
8/13/13
5:17
PM ET
FOXBOROUGH, Mass. -- There probably hasn't been another top draft choice in Bill Belichick's 14 years as Patriots coach who has generated less attention than
Jamie Collins
, the club's first pick in 2013.
[+] Enlarge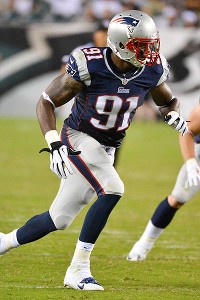 AP Photo/ Jim MahoneyIf Jamie Collins can develop into a linebacker who can effectively drop into coverage as well as rush the quarterback, the Patriots will have found themselves a gem.
Part of the reason is that Collins wasn't selected until the middle of the second round (52nd overall), as the Patriots traded out of the first round. Another factor is that Collins doesn't project to a starting role. Furthermore, much of the media attention has been focused on the club's rookie receivers based on the gaping holes on the depth chart there. Collins is also one of the softer-spoken players on the team, preferring to keep a lower profile.
Add it all up and he has mostly blended into the Patriots' picture.
But on Tuesday, we got an extended look at Collins on the front-lines of the defense for what was essentially the first time as the Patriots shuffled their linebacker corps with starting middle linebacker
Brandon Spikes
missing practice for an unknown reason.
Dont'a Hightower
moved from the strongside to the middle. Collins then entered on the strong side, with
Jerod Mayo
manning his regular weakside spot.
It could be a preview of what is to come in 2014 as the hard-hitting Spikes is a free agent after the season.
Collins, who is one of the team's fastest linebackers as evidenced by his role on the kickoff coverage unit, spent plenty of time in pass coverage on Tuesday. Most often, he was matched up against Buccaneers tight end
Tom Crabtree
.
"He's a big, athletic guy," Crabtree said of the 6-foot-3, 250-pound Collins. "On top of that, you can tell their guys are smart, they are communicating really well before the snap. It's a good challenge going against someone different."
For Collins, if there has been one challenge that has tested him more than any other since joining the Patriots, it's "taking in the playbook, bringing it on to the field, and playing fast."
That's often the case for most rookies. In terms of raw athleticism, Collins clearly fits in among his new teammates, but when the defense is forced to react to pre-snap movement from the offense, or a call is changed based on what look the offense is showing, it is only natural that a player new to the system might not react as quickly.
Collins appears to be a quick study, especially when considering that he was a pure defensive end in his final season at Southern Mississippi. He was mostly rushing the passer last year, not dropping into coverage.
"It's not hard, you just put your mind to it and you can get it done," he said of grasping the Patriots' playbook. "It's pretty good and I'm getting into the groove of things around here, especially going up against other teams and different looks."
On Tuesday, Collins' presence with the top defense gave the Patriots' defense a different look.
When Spikes isn't in the mix, the Patriots are without arguably their best contact defender. He hits as hard as anyone on the club.
At the same time, Spikes' work in pass coverage has been a struggle at times. In part because of that, there have been stretches when the Patriots haven't had a decisive answer for top opposing tight ends.
With Collins, the Patriots would gain more speed at linebacker, and a possible solution for that issue.
Tuesday provided a sneak preview.
July, 29, 2013
7/29/13
3:30
PM ET
FOXBOROUGH, Mass. -- Facing arguably the greatest challenge of his 14-year NFL career, stripped of his go-to receiver
Wes Welker
and then some,
New England Patriots
quarterback
Tom Brady
arrived at training camp hoping to do more.
Never before has the team had such a youthful look at the position, where there have been more struggles than successes in drafting and developing talent. The Patriots opened training camp with 12 receivers on the roster, six of whom are rookies.
Three of those young pups -- second-round draft choice
Aaron Dobson
, fourth-rounder
Josh Boyce
and free-agent
Kenbrell Thompkins
-- have taken more repetitions with Brady through the first three days of training camp than most could have imagined. One reason the results have looked fairly sharp is the extra work that was put in thanks to Brady's early arrival (rookies reported the day before Brady).
It is almost as if Brady is more than just the team's quarterback now; he's part coach, too. Unlike his record-breaking 2007 season, when there was an immediate connection with veterans
Randy Moss
, Welker and
Jabar Gaffney
, there is a certain teacher-student dynamic in play now. Brady, a stickler for detail, can be tough to please.
"He's one of the greatest quarterbacks to play the game, so he's definitely demanding," said the 6-foot-3, 200-pound Dobson, a smooth-strider from Marshall who the Patriots hope will fill the outside role that
Chad Johnson
(2011) and
Brandon Lloyd
(2012) filled the past two years. "[He's] definitely tough to play for."
Some used to say the same thing about
Miami Dolphins
great
Dan Marino
, and there is a connection in play between Marino and what Brady currently faces. Because Marino had played for so long in Miami (1983 to '99), the offense grew so much each season that it was difficult in Marino's later years for any young or new receiver to handle. So when go-to receivers Mark Clayton and Mark Duper were no longer in the mix -- they had grown with Marino in the offense -- it was a challenge to find anyone capable of stepping in.
Patriots coach Bill Belichick has acknowledged that's a similar dynamic to what his team is currently navigating. This is Brady's 14th year in the Patriots' offense, which has evolved in many layers since his first year in 2000, and there is a lot there for any receiver to handle, let alone a rookie.
That is a big reason why the Patriots were drawn to Dobson and Boyce in the draft, and why Thompkins -- an older rookie at 25 who went undrafted after two years at Cincinnati -- has been an under-the-radar surprise to this point. All have a high football IQ. And so does free-agent signee
Danny Amendola
, who has developed a quick rapport with Brady that stands out.
Still, the Patriots might have to "trim the fat" in some areas of the playbook, according to Belichick. There will also be times when patience will be tested.
But watching Brady through the first three days of camp, part of it seems to have invigorated him. Those close to him say he is more committed than ever before; he turns 36 on Aug. 3, craves another Super Bowl championship, and knows that if all the receiver changes are going to produce the desired results -- especially with the rookies -- it is going to take extra work.
THREE HOT ISSUES
1. Distractions from tight end Aaron Hernandez.
In an unprecedented move, Belichick called a news conference two days before the team's training camp practice to address Hernandez's murder charge and its impact on the franchise. Then Brady spoke to reporters the following day. The goal was to balance the fine line between showing empathy and perspective to something bigger than football, but also position the club to move forward.
Because of that proactive approach, Hernandez wasn't much of a topic of discussion from a media perspective by the second day of training camp. But will that change as new developments come to light in the case against Hernandez?
As one would expect, Belichick addressed players about the situation in a team meeting at the start of camp.
"He had comments, but that's between him and the team. If he wants to share it, that's fine," said offensive lineman
Logan Mankins
, one of the team's captains. (No surprise, but Belichick hasn't been in the sharing mood.)
Mankins, the third-longest tenured player on the team (nine years) after Brady (14) and Wilfork (10), touched on how players are attempting to move on.
"At the time, you kind of reflect, but now it's football season and everything goes in a drawer; no matter how you feel about it, it's put away," he said. "It's football, it's straightforward, and that's all you can concentrate on or you'll fall behind. Bill puts so much pressure on everyone and demands so much work and focus that if you're not just focusing on football, then you're in trouble."
2. Void at top of tight end depth chart.
By the time the Patriots had blazed a trail through the NFL in 2011 with their innovative two-tight end offense,
Rob Gronkowski
had played almost 95 percent of the offensive snaps and Hernandez about 77 percent. The results were impressive, and others around the league considered plans to attempt to duplicate it.
That's also when the Patriots extended the contracts of both players -- Gronkowski through 2019 and Hernandez 2018 -- with the idea of building their offense around them (over Welker).
The plans obviously haven't worked out as desired, and if Gronkowski isn't ready for the regular-season opener Sept. 8 at Buffalo after a surgery-filled offseason, it sparks the questions: Who fills the void, and how does it impact plans to play with multiple tight ends?
[+] Enlarge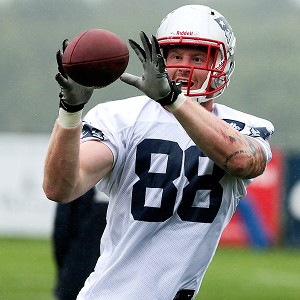 AP Photo/Charles KrupaThe Patriots may lean heavily on former New York Giants TE Jake Ballard early in the season as Rob Gronkowski rehabs from injury.
Former New York Giant
Jake Ballard
(6-6, 260) and returning veterans
Daniel Fells
(6-4, 260) and
Michael Hoomanawanui
(6-4, 260) are the top candidates, while rookie free agent
Zach Sudfeld
(6-7, 260) is a potential sleeper.
"I don't want to say this is Wally Pipp and Lou Gehrig, but that's the classic story … it's there if they can do it," Belichick said.
Still, it would be a surprise if the Patriots run as many multiple-tight end sets as they did in 2011. The numbers were down to about 50 percent last year when Gronkowski and Hernandez missed significant time with injuries.
3. Tim Tebow's role.
On a scale of 1-10 in terms of importance to the team's success, No. 3 quarterback
Tim Tebow
is closer to the "1" than the "10." Yet there is intrigue.
Tebow hasn't been consistent as a drop-back passer in practices and appears to be at his best on the move or as a runner. That explains why he has been the only quarterback in the drill in which ball carriers run with the football in a confined space after making a catch, and then the defenders execute proper tackling technique.
Do the Patriots see enough value in him, possibly as a scout-team quarterback, to reserve a coveted spot on the 53-man roster? That's a hot-button topic that has generated passionate response from both circles.
"He's a good guy first, a super-nice guy and a good guy to talk to," Mankins said of Tebow. "He works his butt off, so we'll see if he can find a role."
REASON FOR OPTIMISM
Since Brady is the quarterback, Belichick is the coach, and the team is playing in the AFC East, what's not to like? And we've made it to this point with nary a mention of the team's defense, which should be improved when factoring in that 10 of 11 starters return and the addition of a few complementary pieces, such as veteran safety
Adrian Wilson
, who brings size (6-3, 230) and an intimidating presence.
Last year, the Patriots traded up in the first round for defensive end
Chandler Jones
and linebacker
Dont'a Hightower
, and they could be difference-makers. Jones was hobbled by an ankle injury for most of the second half of last year and said one of his primary goals this offseason was to improve his upper-body strength. Hightower played 51 percent of the defensive snaps in 2012 but looks primed to possibly become more of a three-down option this year.
Furthermore, cornerback
Aqib Talib
had a significant impact -- both on the field and in the meeting room -- after he was acquired in November. Having him for a full year, in theory, should help the defense improve.
REASON FOR PESSIMISM
There has been too much turbulence this offseason, including starting cornerback
Alfonzo Dennard
's arrest for suspicion of driving under the influence. Dennard is due in court in Lincoln, Neb., on Aug. 27 to determine if he violated his probation and could potentially face an NFL suspension.
Uncertainty with Dennard, the unknown in the passing game, Gronkowski's health questions, and layers of the roster that appear thin on depth (interior DL) mean that the margin for error the Patriots traditionally have doesn't seem as big as before.
Finally, the departed Welker was known for his consistency and durability. The Patriots are hoping Amendola can fill the void -- and the early returns are positive -- but there are questions about whether he can play a full 16-game season based on his injury history.
OBSERVATION DECK
• The Patriots' coaching staff returns intact from 2012, marking only the second time in Belichick's 14-year tenure that has happened. Former Chiefs offensive coordinator Brian Daboll, who joined the Patriots in January, has the title of "offensive assistant." At times in practice, he's worked closely with Tebow.
•
Devin McCourty
, the 2010 first-round draft choice who made the Pro Bowl as a cornerback in his first season, appears to be settling into the safety position nicely. McCourty first moved to safety in the middle of last season, and his command of the defense, along with strong communication and sideline-to-sideline skills, make him a solid fit at the new position.
• Teammates call Wilson "The Incredible Hulk" because of his chiseled physique. Wilson and fellow veteran
Steve Gregory
are the top candidates vying for a starting role next to McCourty at safety.
[+] Enlarge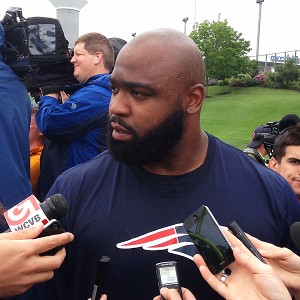 Mike Reiss/ESPNDT Tommy Kelly should add some punch to the middle of the Patriots' defense, forming a strong 1-2 duo with Pro Bowler Vince Wilfork.
• Former
Oakland Raiders
defensive lineman
Tommy Kelly
(6-6, 310) projects as a starter next to
Vince Wilfork
; defensive end
Rob Ninkovich
called Kelly an under-the-radar player who is making a mark. Mankins said: "He's been impressive so far, very athletic for his size. He's quick for an inside guy. I like his work ethic. He's been giving great effort, and if he gives us that kind of effort all season, I think he'll have a good season."
• Running back
Stevan Ridley
lost two fumbles in the team's third practice, with Belichick sending him to run two punishment laps. Ridley led all Patriots running backs in playing 45 percent of the snaps last season, and the projection is that he should match that number this year. But if he struggles to hold on to the ball, former
Tampa Bay Buccaneers
running back
LeGarrette Blount
and second-year man
Brandon Bolden
are the top candidates to step in to that bigger back role. Blount was 2-for-2 in a goal-line running drill on Sunday.
Shane Vereen
looks primed to fill the void created by
Danny Woodhead
's defection to the Chargers to serve as the team's "passing back." On Sunday, he was featured as a pass-catcher when the team worked on the screen game.
• The entire offensive line returns intact, although there could be a competition at right guard, where third-year player
Marcus Cannon
(6-5, 335) has been working with the top unit while incumbent
Dan Connolly
(shoulder) works his way back.
• Top draft choice
Jamie Collins
, the linebacker/defensive end from Southern Mississippi (52nd overall), has received his initial work at linebacker. He's the first linebacker to rotate into 11-on-11 drills, often replacing middle linebacker
Brandon Spikes
, who has been more of a two-down player.
• Former Canadian Football League defensive lineman
Armond Armstead
opened training camp on the non-football illness list. Belichick said the illness is different from the heart condition that led him to leave Southern Cal in 2011 and land in the CFL, and there is no indication when/if Armstead might join the team at practice. In addition, receiver
Julian Edelman
and Gronkowski opened camp on the physically unable to perform list.
•
Leon Washington
, who signed with the Patriots after three seasons with the Seahawks, has served as the primary kickoff returner, where the Patriots are banking on improved results after ranking 25th in the NFL last season (21.2-yard average).
• Ballard, who said he played at 278 pounds in New York, is down to 260. The hope is that it doesn't affect him at the line of scrimmage as a blocker, but makes him faster and takes pressure off his knee.
• Incumbent punter
Zoltan Mesko
, who is entering the final year of his contract, is joined on the roster by rookie
Ryan Allen
, the two-time Ray Guy Award winner from Louisiana Tech. Both are lefty punters; Belichick has employed a left-footed punter in each of his 14 seasons as coach.
July, 19, 2013
7/19/13
12:00
PM ET
NFC Eight in the Box:
East
|
West
|
North
|
South
»
AFC:
East
|
West
|
North
|
South
What are the three key camp issues facing each AFC East team?
BUFFALO BILLS
Offense: Relying on rookies early

The Bills pressed reset this offseason with a franchise overhaul that included a new quarterback in rookie
EJ Manuel
. But he's not the only potential rookie starter on offense, as Buffalo might turn to receivers
Robert Woods
and
Marquise Goodwin
. Seventh-round tight end
Chris Gragg
is also a name to keep an eye on as
Scott Chandler
works his way back from injury (should be 100 percent for camp). Woods brings polish while Goodwin and Gragg have no shortage of speed, but can they turn those traits into immediate contributions? And if Manuel wins the starting role under center, can he replicate the recent success of other rookie quarterbacks?
Defense: Finding a third cornerback
The Bills were unable to come to terms on a long-range pact with safety
Jairus Byrd
before Monday's deadline, but that's not the only secondary issue they're facing. Beyond
Stephon Gilmore
and
Leodis McKelvin
, it's unclear how the cornerback depth chart stacks up. Veterans
Ron Brooks
and
Justin Rogers
are candidates to compete for the nickelback job, and in a division that features a
Tom Brady
-led offense, a defense without capable cornerbacks is in major trouble.
Wild card: Scheme transition on both sides
There is optimism surrounding the new direction of the Bills behind coach Doug Marrone, but one inevitability of a coaching change is the transition from one scheme to another. On offense, the success might depend on quarterback play, whether it's Manuel or
Kevin Kolb
under center. Defensively, new coordinator Mike Pettine faces the challenge of fitting the incumbent pieces into his scheme. If he can maximize the talents of
Mario Williams
,
Kyle Williams
and
Marcell Dareus
, the front seven should be formidable by season's beginning.
MIAMI DOLPHINS
Offense: Martin on the left side

Jake Long
is now a Ram, and the Dolphins are entrusting
Jonathan Martin
to fortify the left side of their offensive line. In limited reps as
Ryan Tannehill
's blindside protector in 2012, Martin struggled, showing an inability to consistently anchor and hold up against speed-to-power rushers. Martin was more comfortable on the right side of the line, but the Dolphins have enlisted veteran
Tyson Clabo
to take on that role this season. If Martin is unable to man the left tackle position, the Dolphins have limited in-house options to replace him.
Defense: Secondary
The Dolphins lost cornerback
Sean Smith
in free agency a year after trading away
Vontae Davis
. The presumptive starters for 2013,
Brent Grimes
and rookie
Jamar Taylor
, enter training camp coming off injuries (Grimes missed nearly the entire 2012 season), and it's fair to wonder how much, if at all, the secondary has improved. At his best, Grimes is one of the top off-man cornerbacks in football, a pesky ball hawk with reactive athleticism. But if an Achilles injury lingers, the Fins are in danger of playing with a short-handed secondary.
Wild card: Miller ready for heavy load?
With
Reggie Bush
in Detroit, the Dolphins must turn to a new feature back, and the early buzz suggests
Lamar Miller
is the leader in the clubhouse to take on that role. Talent, specifically speed, won't be the issue for Miller, but he'll be tested by the rigors of a full workload.
Daniel Thomas
hasn't proved to be the answer in the backfield, and although
Mike Gillislee
offers some ability, the Dolphins need Miller to emerge in order to ease the burden on Tannehill.
NEW ENGLAND PATRIOTS
Offense: Passing game chemistry

The Patriots face the prospect of starting the regular season without their top five pass-catchers from 2012, a tough chore for any offense. Although
Tom Brady
has shown a penchant for developing a rapport with new wideouts quickly, the turnover among his targets this year is substantial. The Patriots hope that
Danny Amendola
will replicate
Wes Welker
's success, but the depth chart behind him is less certain. A trio of rookies,
Aaron Dobson
,
Josh Boyce
and
Kenbrell Thompkins
, will come under the microscope during training camp.
Defense: Possible Dennard fallout
The Patriots worked hard to retain their secondary from 2012, a group that made strides when
Aqib Talib
and
Alfonzo Dennard
became starters. Dennard, however, enters training camp on uneasy footing after a recent arrest for suspicion of a DUI, which could affect his on-field status. (He was already on probation for an April 2012 arrest.) If Dennard misses any time, the Patriots' cornerback depth will be thinned and the depth chart reshuffled. For a group that finally seemed to hit its stride late last season, potential shuffling is not what it needs.
Wild card: Pass rush
Though the defense generated 37 sacks last season, an untimely no-sack, no-quarterback hit effort against
Joe Flacco
and the Ravens in the AFC Championship Game is difficult to forget. The Patriots passed on marquee veteran edge rushers this offseason, opting instead to rely on the development of young rushers and the selection of second-round linebacker
Jamie Collins
.
Chandler Jones
has a high ceiling, but he needs to build on the first half of his rookie season, during which he recorded all six of his sacks.
Marcus Benard
, who notched 7.5 sacks in 2010, is a player to keep an eye on.
NEW YORK JETS
Offense: Playmakers, anybody?

While all eyes will be on the quarterback competition this summer, there's also a startling dearth of talent at the skill positions for the Jets, especially with questions surrounding
Santonio Holmes
' foot. The Jets lack a dynamic tight end and are short on proven receivers. No matter who wins the quarterback competition, he won't have much in the way of reliable playmakers to give the football. New running back
Chris Ivory
is the most exciting player on this offense and is likely to be prominently featured.
Defense: Milliner ready?
The Jets will be well-coached on defense, as Rex Ryan is one of the best at maximizing his talents. Although the defense held up in the secondary without
Darrelle Revis
, the pressure will be on rookie cornerback
Dee Milliner
to make the group even better than it was toward the back end of 2012. He was widely considered the top cornerback in the draft, but now he has the task of trying to make Jets fans (partially) forget that Revis is a Buc.
Wild card: Coples' transition
Ryan can generate pressure through his defensive schemes, but the Jets have lacked a pure edge rusher in recent seasons. One vehicle to solve that issue is transitioning
Quinton Coples
from a down lineman to a stand-up linebacker role, a position that could fit with his skill set. Though Coples flashed as a rookie in 2012, it's about consistency for the former first-rounder. At 6-foot-6 and 290 pounds, he has the frame to be dominant. The Jets will need him to provide a pass-rush spark in his second NFL season.

NFL SCOREBOARD
Thursday, 12/18
Saturday, 12/20
Sunday, 12/21
Monday, 12/22
WEEKLY LEADERS