April, 12, 2012
4/12/12
6:24
PM ET
On the surface, Joe Vitt's tenure as an interim head coach in St. Louis doesn't look very pretty.
But dig beneath the surface a little bit and you'll find a different story. I spoke with several people who observed Vitt's time as the Rams' head coach in 2005, and they said he did a nice job of weathering the storm.
Vitt will be taking over as the interim head coach of the
New Orleans Saints
on Monday when Sean Payton begins his season-long suspension. Vitt, who has been Payton's assistant head coach since 2006, will run the team through the offseason program, training camp and the regular season. But Vitt will have to step away at the start of the regular season and serve a six-game suspension for his role in the Saints' bounty program. After that, Vitt will return as head coach.
[+] Enlarge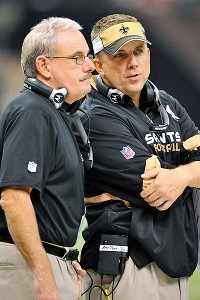 Kirby Lee/Image of Sport/US PresswireJoe Vitt, left, who will lead the Saints while head coach Sean Payton serves a suspension, dealt with similar circumstances while with the Rams in 2005.
General manager Mickey Loomis will serve an eight-game suspension to start the season. The Saints also could have players suspended.
There are turbulent times ahead for the Saints, but Vitt has experience in handling situations like this.
Back in 2005, he was the assistant head coach and linebackers coach in St. Louis. The Rams already were ending "The Greatest Show on Turf'' era. With Mike Martz as the head coach, the Rams got off to a 2-3 start and there was a well-publicized feud brewing between Martz and the front office. Martz came down with a bacterial infection in his heart after five games, and Vitt was elevated to interim head coach.
By that point, injuries already were piling up. With quarterback
Marc Bulger
injured, the Rams had to go through a lot of that season with Jamie Martin and
Ryan Fitzpatrick
at quarterback. Wide receiver Isaac Bruce was dealing with injuries and near the end of his career, and nothing was easy. The Rams went 4-7 under Vitt, but several people that were associated with the team or observed the Rams closely in those days said Vitt made the most out of a difficult situation.
They said Vitt kept his players playing hard. He's known as a motivator in New Orleans, and it was the same way in St. Louis. Vitt used to show the Rams a movie the night before a game, and it always was tied to a motivational message. One movie was "Gladiator,'' which emphasized the importance of sticking together. Under Vitt, the Rams started off 3-3, highlighted by Fitzpatrick coming off the bench to rally them to a 33-27 victory against Houston.
After that, the Rams endured a four-game losing streak, but most of those games were close. The last two were a one-point loss to Philadelphia and a four-point loss to San Francisco. Vitt wrapped up his tenure with a season-ending victory against Dallas, a team that included Payton on its staff. After that, Payton got hired by the Saints, and one of the first moves he made was hiring Vitt.
On Monday, Payton will hand over his team to Vitt. It's not an ideal situation by any means. But Vitt has made the most out of a tough situation before, and the Saints are counting on him to do it again.
September, 8, 2011
9/08/11
11:09
AM ET
Cool note from ESPN Stats & Information: First-year
San Francisco 49ers
coach Jim Harbaugh is the last quarterback other than
Peyton Manning
to start a regular-season game for the
Indianapolis Colts
.
That will change when
Kerry Collins
replaces an injured Manning in the Colts' lineup for Week 1.
The first preseason game I covered as an NFL beat reporter featured Manning making his first start against the
Seattle Seahawks
in the Kingdome. His very first pass found
Marvin Harrison
for a 49-yard touchdown. Preseason games are generally without much meaning, but could there have been a more fitting beginning for Manning?
For a fuller appreciation of Manning's durability and consistency in starting 227 consecutive games, I went through Pro Football Reference counting how many quarterbacks had started for current NFC West teams since Manning made his regular-season debut. There have been 48. That figure includes 14 for the
St. Louis Rams
, 13 for the 49ers, 11 for the
Arizona Cardinals
and 10 for the Seahawks.
A few notes on the 48 players to start for current NFC West teams since 1998:
There have been two Brocks (Berlin, Huard), two Charlies (Frye, Whitehurst), two named Chris (Chandler, Weinke), two Jeffs (Plummer, Martin), three Johns (Friesz, Navarre, Skelton), one Jon (Kitna), two Matts (Hasselbeck, Leinart), two Shauns (Hill, King), three Steves (Young, Bono, Stenstrom) and two Trents (Dilfer, Green).
Two, Young and Warren Moon, have been enshrined in the Pro Football Hall of Fame since Manning's streak began.
Dilfer and Warner started for more than one current NFC West team since Manning's streak began. Warner started 57 games for Arizona and 50 for St. Louis. Dilfer started 12 for Seattle and six for San Francisco.
Hasselbeck has the most total starts for current NFC West teams with 131, followed by Marc Bulger (95 for St. Louis), Jake Plummer (73 for the Cardinals) and Jeff Garcia (71 for the 49ers).
Smith -- Alex, not Troy -- owns the most starts among current NFC West players with 50, all for San Francisco.
Eight of the 48 were one-and-done as starters: Berlin, Scott Covington, Ty Detmer, Glenn Foley, Friesz, Frye, Navarre and Weinke. Nineteen have made at least 10 starts.
The NFC West will have two starters new to the division in Week 1:
Tarvaris Jackson
and
Kevin Kolb
.
The chart shows start totals by team for the 48. The NFC West changed membership with realignment in 2002. I'm going back to 1998 for the four teams currently in the division.
April, 2, 2009
4/02/09
9:10
AM ET
Posted by ESPN.com's Mike Sando

Nick Wagoner of stlouisrams.com says Steve Spagnuolo is anxious for the Rams' to open their first minicamp under his leadership. They'll get going at 6:30 a.m. Thursday. Spagnuolo: "I was telling somebody the other day that when you finally get to this point, you finally feel like this is what you got hired to do. We're coaches, that's what we do, that's what we enjoy so now we get a chance to get out there and do exactly what we enjoy doing."
Adam Caplan of ScoutNFLNetwork.com says the Seahawks and Rams are among the teams expected to meet with Utah pass rusher Paul Kruger before the draft.
Jim Thomas of the St. Louis Post-Dispatch's report about Gus Frerotte's expected deal with the Rams drew a couple of wisecracks in the comments section. The first: "Great, when will Jamie Martin report for camp?" The second: "Re-sign Jeff Smoker too." Not bad, but in reality, who were the Rams supposed to sign as a reasonably priced backup?
Vaughn McClure of the Chicago Tribune says the Bears want to make Orlando Pace their starting left tackle. He also says the Bears' interest in former Panthers and Seahawks cornerback Ken Lucas is only "lukewarm" at this point. Don't be surprised if Lucas re-signs with Seattle.

Sonja Haller of the Arizona Republic provides details from Kurt Warner's appearance at Muhammad Ali's annual charity event. Ali's wife, Lonnie, honored Warner with a sports leadership award. Lonnie Ali on Warner: "If there ever was an athlete that I think epitomizes everything that this man sitting next to me [Ali] is, he's sitting right there."
Nakia Hogan of the New Orleans Times-Picayune says Phoenix, New Orleans and Miami have submitted bids to land the 2013 Super Bowl. Owners plan to make a decision during their May meetings.
Kent Somers of the Arizona Republic says the Cardinals invited a limited number of college prospects to their headquarters before the draft. The team didn't value such visits when Dennis Green was the head coach and it's tough to argue with some of the results. Ohio State running back Chris Wells is expected to visit soon.
Also from Somers: Cardinals president Michael Bidwill and general manager Rod Graves attended USC's pro day. Coach Ken Whisenhunt and owner Bill Bidwill did not.
CBSSports.com quotes Cardinals receiver Anquan Boldin as saying he wants to re-sign with the Cardinals. Boldin: "Hopefully, something gets done. We'll see what happens. At this point I'm leaving it up to everyone else and just trying to enjoy life."

Eric Williams of the Tacoma News Tribune checks in with draft analyst Rob Rang for a look at how the Seahawks might approach the draft. Rang says he would be surprised if the Seahawks passed on Aaron Curry if given a chance to draft the Wake Forest linebacker. Rang on Michael Crabtree: "He's a spectacular talent. I really think he's an Anquan Boldin type of player. He doesn't have that elite speed, but you know, for me the fact that he wasn't able to run for scouts matters very little. Even the [foot] surgery matters very little, because Jonathan Stewart had the same surgery and he was every bit the player his rookie season that I thought he would be. Michael Crabtree will be as well."
Michael Steffes of Seahawk Addicts looks at the Seahawks' offensive linemen and tight ends heading toward the draft. The team did not draft an offensive lineman in 2008. Expect that to change this year.
Aaron Weinberg of nextseasonsports.com looks at the six players Seattle has drafted among the top five overall picks. Steve Niehaus, Kenny Easley, Curt Warner, Cortez Kennedy, Rick Mirer and Shawn Springs were the players chosen.

Matt Barrows of the Sacramento Bee lists USC's Mark Sanchez among the college prospects expected to visit with the 49ers before the draft. Barrows: "The 49ers are wise to show interest. In Sanchez does fall to 10 on April 25, there will be plenty of teams clamoring to grab him, creating an opportunity to trade down. Who knows, maybe the Broncos will still be stuck with unhappy Jay Cutler on draft day and will be willing to make a deal."
Kevin Lynch of Niner Insider thinks the 49ers might have their best group of receivers since Terrell Owens departed. Lynch: "After a rocky start to the offseason, the 49ers have seemingly recovered. In the last week, they've signed a possible replacement to the departing Jonas Jennings at right tackle in Marvel Smith and now have an assurance [Isaac] Bruce will come back."
March, 7, 2009
3/07/09
8:20
AM ET
Posted by ESPN.com's Mike Sando

Jim Thomas of the St. Louis Post-Dispatch says the Rams could pursue Gus Frerotte to rejoin the team as Marc Bulger's backup. The Vikings were 8-3 last season when Frerotte started, but the quarterback tossed more interceptions (15) than touchdowns (12). Aging backups are nothing new in the division now that Damon Huard has replaced former Ram Jamie Martin in San Francisco. I expect the Seahawks and 49ers to strongly consider drafting quarterbacks in the first few rounds.
VanRam of Turf Show Times sizes up the Rams' offensive line. For example: "[Jacob] Bell's play and loss of bulk left more than a few fans questioning the move, but getting some stability in the middle and a solid off-season of workouts and bulking up should put minds at ease over Bell's presence on the line. To the right of Jason Brown, the situation is still pretty fluid. The Rams tendered an offer to last year's starter, Richie [Incognito], but he didn't finish the season on a high note in terms of his attitude. However, it's not unreasonable to think that the new regime can't fix that."

Matt Maiocco of the Santa Rosa Press-Democrat prepares for the WCC basketball tournament in Las Vegas by flushing 49ers-related facts from his brain. Highlights: Manny Lawson and Vernon Davis are signed through the 2010 season, contrary to previous reports; Isaac Sopoaga is likely moving back to nose tackle while the newly signed Demetric Evans battles Kentwan Balmer for the starting job at left end; and the team might be counting on Lawson to help the pass rush.
Matt Barrows of the Sacramento Bee says the 49ers have no interest in signing Terrell Owens, contrary to prevailing wisdom.
David Fucillo of Niners Nation revisits Owens' big catch for the 49ers against the Packers in the playoffs following the 1998 season. I remember the game well. I was standing on the sideline about even with the 49ers' offense when Steve Young made that clutch throw and Owens made the grap (thanks in part to the hit he took, which pinned the ball to his body, according to some). I was covering the Seahawks at the time and interested in that game because I knew Mike Holmgren would become a candidate to coach the Seahawks if Green Bay lost.

Paola Boivin of the Arizona Republic says the Cardinals should release Edgerrin James now that the running back is taking shots at the organization. Boivin: "His darts have turned into arrows, and this organization is all about exorcizing the bad karma that for so long defined the Cardinals." General manager Rod Graves:"I would certainly rather not see negative comments from any of our players about not wanting to be here."
Darren Urban of azcardinals.com addresses rumblings about Anquan Boldin possibly seeking a new agent. The longer a player struggles to get his way in a heated contract dispute, the more vulnerable the agent becomes to other agents. It's a brutal business that way.

John Morgan of Field Gulls takes a closer look at Seahawks cornerback Josh Wilson. He generally likes what he sees: "Wilson will add a little muscle weight and lose a little speed, but from a tools standpoint, the next few years probably represent Wilson's peak. The most improvement will come from skills growth. That's tricky to project. Ball hawk corners can go poof in an instant. The interceptions disappear and suddenly their cover skills are exposed. It's encouraging that three of Wilson's four picks came on good coverage, because being in the right place at the right time on a tipped or errant pass is not repeatable."
February, 26, 2009
2/26/09
10:54
AM ET
Posted by ESPN.com's Mike Sando
| | | |
| --- | --- | --- |
| San Francisco 49ers 2009 UFA Candidates | Pos. | Age |
| Jamie Martin | QB | 39.0 |
| Allen Rossum | KR | 33.3 |
| Takeo Spikes | LB | 32.1 |
| J.T. O'Sullivan | QB | 29.5 |
| DeShaun Foster | RB | 29.1 |
| Sean Ryan | TE | 28.9 |
| Donald Strickland | CB | 28.2 |
| Damane Duckett | OL | 28.0 |
| Bryant Johnson | WR | 27.9 |
| Ronald Fields | DL | 27.4 |
| Roderick Green | LB | 26.8 |
| Billy Bajema | TE | 26.3 |
The 49ers stand to get younger this offseason as they part with backup quarterbacks Jamie Martin and J.T. O'Sullivan.
Both are scheduled to become unrestricted free agents. Neither is expected to return.
The chart ranks the 49ers' scheduled unrestricted free agents from oldest to youngest, with ages rounded down to the tenth.
Only three of the 49ers' scheduld free agents are in their 30s, easily the lowest figure in the division. The Cardinals (nine), Rams (eight) and Seahawks (eight) each rank among the NFL's top five teams in 30-plus UFA candidates.
None of the 49ers' scheduled free agents appears to be critical for the team's future. Re-signing
Takeo Spikes
would make sense. Most of the others appear to qualify for the dreaded at-the-right-price distinction, meaning the 49ers will probably take their time in re-signing them, if they re-sign them at all.
November, 5, 2008
11/05/08
12:24
PM ET
Posted by ESPN.com's Mike Sando
Quarterback situations are supposed to settle out during the course of an NFL season.
The opposite is happening in the NFC West.
The Seattle Seahawks can't be sure when -- or if -- Matt Hasselbeck can return from injuries. Is Hasselbeck's body breaking down at age 33? Will the organization remain committed to him once Mike Holmgren departs after this season?

The St. Louis Rams have benched $65 million starter Marc Bulger and hastily restored him to the lineup, with unconvincing results.

The San Francisco 49ers appear no closer to identifying their long-term starter while working through a midseason switch from J.T. O'Sullivan to Shaun Hill.

Even the Arizona Cardinals can't be sure what awaits them at the position. Kurt Warner is putting up MVP-caliber numbers as the Cardinals threaten to run away with the NFC West title, but Warner doesn't have a contract for 2009.
| | | | | | | | |
| --- | --- | --- | --- | --- | --- | --- | --- |
| QB (8 games) | Season | Comp. | Att. | Pct. | Yards | TD | INT |
| Kurt Warner | 2008 | 207 | 296 | 69.9 | 2,431 | 16 | 6 |
| Warner (MVP) | 2001 | 194 | 285 | 68.1 | 2,308 | 14 | 11 |
| Warner (MVP) | 1999 | 172 | 250 | 68.8 | 2,164 | 24 | 5 |
As the uncertainty threatens the stability of every franchise in the division, we take an in-depth look at possible scenarios for each team:
September, 11, 2008
9/11/08
9:40
AM ET
Posted by ESPN.com's Mike Sando
Eric Williams of the Tacoma News Tribune says the Seahawks expect backup quarterback Seneca Wallace to work at receiver in Week 2. I indicated Wednesday that the free-agent signings of Samie Parker and Billy McMullen suggested Wallace might not move to receiver. Well, Wallace is going to help at receiver, if only for the short term. The team still views Wallace as a quarterback -- Wallace is even wearing the red non-contact jersey reserved for QBs -- but the versatile backup passer will certainly get reps at receiver in the short term.
Clare Farnsworth of the Seattle Post-Intelligencer says the Seahawks are scrambling to find injury replacements for fallen starters on offense.
Greg Johns of the Seattle Post-Intelligencer checks in with new Seahawks punter Jon Ryan, who draws inspiration from his late father.
Dave Boling of the Tacoma News Tribune says Mike Holmgren wasn't kidding when he warned players that jobs aren't safe in the NFL. Holmgren: "It's really hard on the players. But you're competing ... it's not civil service."
Matt Maiocco of Instant 49ers
assesses what went wrong with Alex Smith in San Francisco. There is plenty of blame to go around.
Also from Maiocco: Smith's big game against Seattle in 2006 did not foreshadow long-term success.
And this: Notes on new 49ers quarterback Jamie Martin and outgoing Seahawks coach Mike Holmgren.
Matt Barrows of the Sacramento Bee revisits another of Smith's performances at Seattle, this one underscoring how "bizarre and dysfunctional" things had become.
Also from Barrows: Martin and 49ers offensive coordinator Mike Martz were together in 1993.
Dan Brown of the San Jose Mercury News says 49ers coach Mike Nolan was "short on details and sentiment" in announcing Smith's placement on injured reserve.
Ann Killion of the San Jose Mercury News blames the 49ers for mishandling Smith as the team placed its former No. 1 draft choice on IR. Killion: "It's a sad ending to a pathetic story that pretty much sums up the 49ers' ineptitude under coach Mike Nolan."
Kent Somers of the Arizona Republic compares the Cardinals' pass rushers to baseball relief pitchers. Both are important for closing out games.
Mike Tulumello of the East Valley Tribune looks at the Cardinals' improved depth on defense. He leads with a note on Calais Campbell.
Also from Tulumello: Arizona looks for its first 2-0 start since 1991.
Steve Korte of the Belleville News-Democrat says the future is now for the Rams' young receivers. Veteran starter Drew Bennett is on crutches after breaking a bone in his foot.
Jim Thomas of the St. Louis Post-Dispatch checks in with Rams quarterback Marc Bulger, who is looking to move past a 38-3 defeat in the opener.

Bill Coats of Around the Horns says Rams rookie receiver Donnie Avery had to watch another rookie, the Eagles' DeSean Jackson, shine during the opener while Avery rested an injury. Also, Chris Long is playing at left defensive end while Leonard Little recovers from a hamstring injury. James Hall is at right end.
September, 10, 2008
9/10/08
2:39
PM ET
Posted by ESPN.com's Mike Sando
| | |
| --- | --- |
| | |
| | Kirby Lee/Image of Sport/US Presswire |
| | After being placed on injured reserve, Alex Smith may be finished with the 49ers. |
The 49ers' signing of quarterback Jamie Martin does more than give the 49ers one of the NFL's oldest players. It also foreshadows the end for Alex Smith in San Francisco.
Martin, 38, becomes the third-oldest quarterback in the league behind Dallas' Brad Johnson, 39, and the Jets' Brett Favre, who edges Martin by about four months.
Smith, 24, isn't finished in the NFL just yet. But his days as a 49ers quarterback surely ended when the team placed him on injured reserve Wednesday. That is sad for all involved. Every quarterback drafted first overall since 1967 had started in his fourth season. The cycle ends with Smith, whose star-crossed career never had much chance for success.
You'll sometimes hear a coach talk about how a quarterback finally becomes comfortable in his third season running an offense. That appears to be happening for Jay Cutler in Denver. Matt Hasselbeck struggled as a starter for Seattle in 2001 and 2002 before he broke out with 26 touchdowns in his third season starting. Troy Aikman threw more touchdowns than interceptions for the first time in 1991, his third season as a starter. Marc Bulger's third season as the Rams' starter was one of his best and better than the first two.
Hasselbeck, Aikman and Bulger were the first three quarterbacks whose names I entered into searches to see how they fared in their third seasons. Cutler comes to mind for obvious reasons. The third season can indeed be the breakthrough year.
As for Smith? He went through four offensive coordinators in four seasons. He endured confidence-shattering beatings, including the one that underlies his current shoulder problems. No question, Smith could have done more on the field, too. He could have been more assertive as a leader and played better when given the opportunity. But lots of things beyond his control made that unlikely.
I asked a defensive coordinator about Smith over the summer. He thought Smith would need a full season with good pass protection to become a confident player again. No team is realistically going to give that chance to Smith anytime soon. His best bet would be to get healthy and sign as a backup somehwere without expectations. His former coordinator, Norv Turner, seemed to like Smith and work well with him. Smith is from California, so a fit with the Chargers seems natural at some point, at least on the surface.

NFL SCOREBOARD
Sunday, 2/2
WEEKLY LEADERS