April, 9, 2013
4/09/13
4:15
PM ET
In the days since place-kicker
Jason Hanson
announced
his retirement
from the
Detroit Lions
, I've received a steady stream of the same question: Will he be elected to the Pro Football Hall of Fame?
Hanson, after all, finished his 21-year career with the third-most points (2,150) in NFL history. But I've largely brushed aside this issue by noting the obvious fact: Hall of Fame voters have almost entirely ignored specialists in their annual elections. Only one place-kicker (Jan Stenerud) has been enshrined, and punters have been shut out.
[+] Enlarge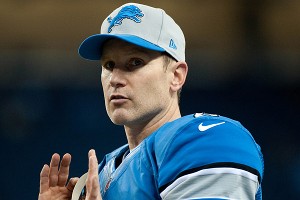 Tim Fuller/USA TODAY SportsRetired Lions kicker Jason Hanson says experts and outsiders "still don't quite know how to evaluate what makes one kicker better than another."
The topic arose during Hanson's retirement news conference Tuesday, one in which the Lions announced they would place him in their Ring of Honor. Hanson said he wasn't prepared to discuss his own candidacy, but spoke eloquently about the unique value of kicking in the game.
"I still believe to this day," Hanson said, "that media, a little bit, and fans and those who know the game still don't know quite what to do with kicking, and still don't quite know how to evaluate what makes one kicker better than another. I think it's a difficult thing. I understand that a little bit, but I think that the NFL -- let's just say as a blanket statement -- needs to come to grips with [it].
"I didn't invent the game, [but] we're part of it, and it's a big deal, what guys have done. Give them a separate wing in the Hall of Fame. But I don't know how you can ignore it. I was in it. I felt the pressure. I felt the intensity and the consequences of making and missing. It's something special. It's something unique to all of sports, and I think the guys who have done it well should be recognized. Where I fit in that equation, I don't know, and I'm not going to worry about, because it's not mine to worry about. But I definitely think the NFL has got to come to grips with kicking."
I'm not a member of the selection committee, but I would presume the primary argument regarding specialists is that they aren't full-time players in terms of snaps. On a good day, Hanson might have been on the field for perhaps 10-15 special teams plays.
Of course, a place-kicker can directly and disproportionately impact the outcome of a game in those 10-15 plays. Then there is the under-discussed value of field position for those who are also good at kickoffs, a skill Hanson said he hoped to be remembered for. Perhaps the encroachment of advanced statistics will provide new and easily digestible ways to evaluate kickers, one that will eventually elevate and honor some of the highest achievers in the role.
Should Hanson be in that group? That would be another discussion entirely, one that must include his annual advantage of kicking indoors at home. But first things first. An analysis of Hanson's candidacy is moot until the historic perception of his position changes.
February, 4, 2011
2/04/11
3:39
PM ET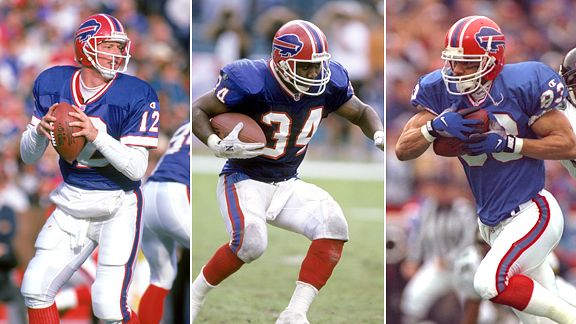 Getty ImagesJim Kelly, Thurman Thomas and Andre Reed were key cogs in four Bills Super Bowl teams put together by former Bills GM Bill Polian.
Can a team put too many players into the Pro Football Hall of Fame?
Bill Polian doesn't think so.
Polian assembled the
Buffalo Bills
teams that went to four straight Super Bowls. Five members of those teams already have bronze busts in Canton: quarterback
Jim Kelly
, running back
Thurman Thomas
, receiver
James Lofton
, defensive end
Bruce Smith
and head coach Marv Levy. Bills owner Ralph Wilson has been enshrined, too.
"It seems like every second or third year somebody gets inducted into the Hall of Fame and we have a reunion and get to reflect on it," Polian told me Thursday night. "It's a big family that has stuck together and still stays in touch.
"It's a blessing. To be associated with guys like that? It's a special, special group."
Polian insisted more Bills belong in the Hall of Fame and is bothered that wide receiver
Andre Reed
hasn't gotten in yet.
Reed could get the Canton call Saturday
. He is among the 15 finalists who will be evaluated by the selection committee for five openings on the 2011 class.
"It's shocking to me that he's not viewed as a shoo-in Hall of Famer," Polian said. "Andre Reed was our biggest big-play player on a team that went to four Super Bowls. How he could not be included in the Hall of Fame when he's one of two guys who dominated is beyond me.
"Go with the facts. Don't go with perception. Go with reality because if you go with reality, you have to say Andre Reed belongs, without question. To me, it's just baffling."
That would give the Bills five Hall of Famers
who played or coached all four Super Bowl teams. Lofton played on only three of them. Bills owner Ralph Wilson also has been inducted.
Put that group up against the
New England Patriots
, who won three Super Bowls in four years.
"The teams are comparable," Polian said.
There
aren't that many slam-dunks
from all three of New England's championship rosters.
Head coach Bill Belichick and quarterback
Tom Brady
are surefire Hall of Famers. Beyond that,
Adam Vinatieri
has a strong case for his heroics, but there are no guarantees for kickers. Jan Stenerud is the only Hall of Fame kicker or punter. Maybe defensive end
Richard Seymour
or cornerback
Ty Law
will be considered.
Beyond that, much of the Patriots' roster was comprised of semi-stars such as linebackers
Tedy Bruschi
and
Mike Vrabel
, who went to one Pro Bowl apiece, and transients.
That the 1990s Bills will send more players to Canton than the 2000s Patriots is fascinating to me. It shows how incredible the Patriots have been at navigating free agency and the draft to maintain a consistent winner with a fluctuating roster -- and how truly magnificent that collection of talent was for Buffalo.
"That'll never happen again," Reed told me last week. "You won't see an assemblage of players like that -- at least not in Buffalo. I know that."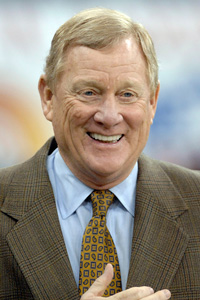 Al Messerschmidt/Getty ImagesFormer Bills GM Bill Polian thinks seven players from Buffalo's 1990s Super Bowl teams should be Hall-of-Famers.
Those Bills teams also featured offensive linemen
Kent Hull
and
Jim Ritcher
, linebackers
Cornelius Bennett
,
Shane Conlan
and
Darryl Talley
and special-teams star
Steve Tasker
.
Polian is an advocate of Tasker's induction into Canton, too.
"Steve Tasker was, pound-for-pound, the greatest special-teams player ever to play," Polian said. "If you value special teams, then Steve Tasker belongs in the Hall of Fame. I am also an unabashed Ray Guy fan.
"I've seen every player that's played in this game since 1977, and I can tell you Ray Guy literally changed the game -- as did Steve Tasker."
So that would make at least seven Hall of Famers from the 1990s Bills if Polian had his way.
When you consider how much talent Polian gathered with the Bills -- and his success with the
Carolina Panthers
and
Indianapolis Colts
since then -- there's no way you can't consider Polian himself.
But for now, Andre Reed is on deck.
"Andre is clearly, clearly, clearly deserving to be inducted," Polian said. "By any measure in the era he played, Andre Reed is a Hall of Famer."
July, 8, 2010
7/08/10
12:00
PM ET
A weeklong look at current or former players or coaches with Hall of Fame potential in the division.
Buffalo Bills:
Steve Tasker
, special teams.
Claim to fame:
Tasker perhaps is the greatest special-teams ace in NFL history. He was a notable weapon on Buffalo's four consecutive AFC championship teams in the 1990s.
Case for enshrinement:
Tasker was so dominant in his role, the NFL changed its Pro Bowl rules to include special-teamers on rosters. He went to seven Pro Bowls, putting him in select company, and was named the MVP in 1993. He has been a semifinalist on the Hall of Fame ballot four times. The NFL Network named him the
ninth-best player -- of any position -- not in the Hall of Fame
.
Tasker blocked seven punts and made 204 special-teams tackles. He forced seven fumbles and recovered six. He returned kickoffs, punts and held on extra points and field goals. As a receiver, he caught 51 passes for 779 yards and nine touchdowns.
Case against enshrinement:
Special-teamers just don't get enshrined. Kicker Jan Stenerud is the only pure special-teamer with a bust. Legendary punter Ray Guy isn't in. No return specialist has been honored, either.
The common retort to that is one of the silliest sayings in football: Special teams are one-third of the game. Sorry, but that's not true. If each team plays a perfect defensive game and forces the opponent to go three-and-out on every possession, then special teams are needed once every four plays. And if football people truly believed special teams were that integral to the game, they would draft special teamers rather than fill out those units with offensive and defensive reserves.
Parting shot:
I'd like to see more special-teamers recognized in Canton. But unless there's a substantial change in selection philosophies, Tasker won't make it into the Hall of Fame.
Miami Dolphins:
Jake Scott, safety.
[+] Enlarge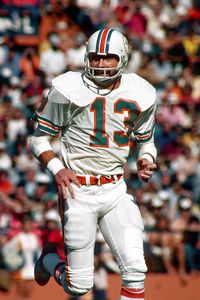 Malcolm Emmons/US PresswireMiami's Jake Scott was the MVP of Super Bowl VII.
Claim to fame:
Scott was among the greatest safeties and most dangerous punt returners of the 1970s. He was voted MVP of Super Bowl VII, when the Dolphins closed out their undefeated season.
Case for enshrinement:
Scott is one of the most overlooked players in NFL history. His career was relatively short, but it burned brightly. For five years in a row, starting with his second season, Scott went to the Pro Bowl and was named first- or second-team All-Pro.
Despite playing only nine NFL seasons, Scott recorded 49 interceptions, a total that ranked 18th all time when he retired. Hall of Fame safety Ken Houston played 14 seasons and finished with the same total. Scott still holds the Dolphins record with 35 interceptions. He added 14 more in three seasons with the
Washington Redskins
. Scott recovered 13 fumbles in his career.
He also was a slick punt returner. He holds Miami career records in returns and yardage and ranks third in average.
Case against enshrinement:
There's a stigma that comes with playing on the No-Name Defense. Only one player from that great unit, linebacker Nick Buoniconti, is in the Hall of Fame, and his cause certainly was helped by previous work with the Boston Patriots and by remaining in public view as a broadcaster.
Scott, meanwhile, became a recluse. He moved to Hawaii and for a time avoided attention at all costs. He reportedly declined the chance to be inducted into the College Football Hall of Fame because he wouldn't commit to attending the ceremony.
Also working against Scott, who never has made the cut to 15 modern-day finalists, is the dearth of safeties enshrined in Canton. Only seven have been inducted.
Parting shot:
Scott didn't play long enough to get traditional consideration. His best hope would be through the senior committee.
New England Patriots:
Adam Vinatieri
, kicker.
Claim to fame:
If Vinatieri is not the greatest clutch kicker in NFL history, then he's in a short conversation. He won the Patriots' first two Super Bowls with field goals in the final seconds.
Case for enshrinement:
Vinatieri has kicked for six Super Bowl teams, played in five Super Bowls and won four rings -- three with the Patriots and one with the
Indianapolis Colts
. He directly delivered a pair of Lombardi Trophies for the Patriots. He kicked a 48-yarder as time expired to win Super Bowl XXXVI and a 41-yarder with four seconds left to win Super Bowl XXXVIII.
In blizzard conditions at the end of the infamous Tuck Rule game, Vinatieri kicked a 45-yard field goal with 1:39 left in regulation to force overtime and then won it with a 23-yard field goal.
Vinatieri has been an All-Pro twice. He has kicked a record-tying five field goals in a postseason game twice and owns multiple playoff and Super Bowl records. He has scored the most points for a kicker (34) in Super Bowl history and converted the most field goals (seven) and extra points (13). His 177 postseason points rank first.
Case against enshrinement:
Stenerud is the only true kicker in the Hall of Fame.
Morten Andersen
and
Gary Anderson
will have to get in first, and the idea of quadrupling the number of kickers (if you consider Vinatieri the next one inducted after Andersen and Anderson) won't be an easy sell to the voters.
Vinatieri has led the NFL in scoring and field goals once and probably won't finish with attractive enough career stats. At 37 years old and showing signs of slowing down -- he played six games for the Colts last season because of hip and knee surgeries -- and he ranks 15th in scoring and 13th in field goals made. Players such as
John Carney
,
Matt Stover
and
John Kasay
have more. Vinatieri has kicked almost 100 fewer field goals than
Jason Elam
. Nobody envisions Canton when they think of those guys.
Parting shot:
Vinatieri provided two of the most indelible memories in Patriots history. As his career stands now, however, two big kicks won't overcome the circumstances of his position.
New York Jets:
Joe Klecko, defensive lineman.
[+] Enlarge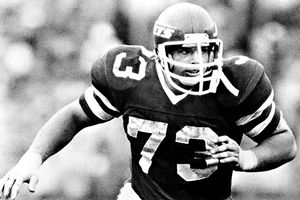 TSN/Icon SMIUnofficially, Joe Klecko recorded 20.5 sacks in 1981 as part of the New York Sack Exchange.
Claim to fame:
Klecko was a key member of the New York Sack Exchange defensive line. Many consider him the greatest Jet not in the Hall of Fame and one of the best sixth-round draft picks of all time.
Case for enshrinement:
Klecko was the first player to make the Pro Bowl at three positions. He went as a defensive end in 1981, a defensive tackle in '83 and '84 and a nose tackle in '85. To illustrate his importance, the Jets made his No. 73 the third number retired in club history after Joe Namath and Don Maynard.
Unlike the Fearsome Foursome or Purple People Eaters, the Sack Exchange doesn't have a single Hall of Fame representative. While Mark Gastineau's histrionics garnered the most attention, Klecko was the most complete player of the four. He was a dangerous pass-rusher and nasty against the run.
Klecko unofficially recorded 20.5 sacks in 1981 and notched at least one sack in 10 straight games, a franchise record.
Case against enshrinement:
What hurts Klecko is that he somehow remained relatively anonymous in New York. He was overlooked because he played thankless positions and was trumped by Gastineau's sack dances.
Klecko also played on some lousy teams. The Jets went to the playoffs only four times during his tenure (1977 through 1987). Once was in the strike-shortened 1982 season and he was hurt for the 1986 postseason.
Parting shot:
Klecko never has made the cut of 15 modern-era finalists. He might need to rely on the senior committee.
June, 25, 2010
6/25/10
11:30
AM ET
Notable players:
QB Len Dawson, RB Mike Garrett, WR Otis Taylor, G Ed Budde, DT Buck Buchanan, DT Curley Culp, LB Bobby Bell, LB Willie Lanier, CB Emmitt Thomas, K Jan Stenerud.
[+] Enlarge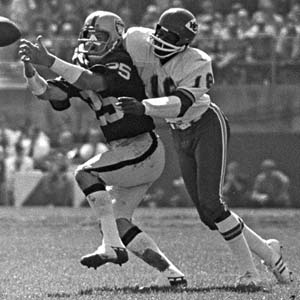 Rod Hanna/US PresswireCornerback Emmitt Thomas was a reason why Kansas City's defense was so dominant.
Analysis:
The 1969 Kansas City Chiefs were a veteran outfit that played together for quite while. Three years earlier, the same group lost to the Green Bay Packers in Super Bowl I.
But it all came together in 1969. The Chiefs were stacked with future Pro Football Hall of Fame players Dawson, Bell, Buchanan, Lanier, Thomas and Stenerud, and led by legendary coach Hank Stram. Stram was known for his innovative coaching, big personality, snappy clothes and an absolute love for his players.
The team's road to the Super Bowl was not easy. They ended the season with an 11-3 record and finished a game behind the Oakland Raiders in the AFL's Western Division. Kansas City had to beat the Jets and Raiders on the road in the playoffs before they had a chance to upset Minnesota in the Super Bowl.
But Kansas City's defense buried teams all season. Even though Dawson missed six games because of an injury, the defense kept the Chiefs on the Super Bowl highway. During the playoffs, they limited the Jets and Raiders to a combined 13 points. Minnesota's high-powered offense managed a meager seven points during Super Bowl IV.
"Our defense was special," Stenerud said. "I remember that playoff run and we just didn't give anything up. We held down some really good offenses. That defense was really the difference-maker for that team."
Most impressive win:
The 23-7 win over Minnesota in Super Bowl IV. The Chiefs dominated the Vikings, who were a 13-point favorite.
Send them home unpacking:
The Oakland Raiders' players were so sure they'd dispatch the Chiefs in the AFL Championship Game that they packed their bags to head to the Super Bowl after the game.
The Raiders had reason to be confident. They had won the West with a 12-2 record and beaten the Chiefs in two regular-season matchups. But Stram's team took the game that mattered. Kansas City went into Oakland and stunned the Raiders 17-7, sending the Chiefs (and not the bags-packed Raiders) to New Orleans.
"As the Chiefs were waiting for the team buses, they saw all the Oakland players leave the stadium with their bags in their hands, going home instead of the Super Bowl," Kansas City team historian Bob Moore said. "The Chiefs players were all laughing at Oakland's players."
Honorable mention:
1966:
The AFL's first Super Bowl team. This quality outfit finished 11-2-1 and beat the Bills for the AFC title.
1971:
Many of the old Chiefs believe this, and not the Super Bowl-winning team, is the best team in Chiefs history. But they just couldn't get it done like the 1969 team.
1995:
This was a solid team led by the NFL's top-ranked defense, but the Chiefs stumbled in the playoffs.
August, 8, 2009
8/08/09
2:31
PM ET
Posted by ESPN.com's Tim Graham
CANTON, Ohio -- The Buffalo Bills of the 1990s, those woebegone losers of four straight Super Bowls, are forming a squadron of Pro Football Hall of Famers.
| | |
| --- | --- |
| | |
| | Ron Vesely/Getty Images |
| | Jim Kelly and Thurman Thomas are two of five Bills from the 1990s who are Hall of Famers. |
Defensive end Bruce Smith will be inducted Saturday night, giving those Super Bowl teams five representatives so far. Previously minted were quarterback Jim Kelly, running back Thurman Thomas, receiver James Lofton and head coach Marv Levy.
Wide receiver Andre Reed likely will join them (after a long wait). With enough support, special-teams stalwart Steve Tasker eventually could get in, too.
"It really shows you that people understand what we did, what we accomplished," Kelly said Friday at the McKinley Hotel. "What we accomplished is amazing."
Compare that haul with other clubs that won multiple Super Bowls. The Pittsburgh Steelers won four in the 1970s and have sent 10, and some critics say that's too many.
In January, I noted how relatively few players from the New England Patriots' three championship squads will get in. Tom Brady and Bill Belichick are locks. Who's a shoo-in after that?
Rodney Harrison's candidacy will be debated. He was a great player, but only six-full time safeties ever have made it into Canton. Maybe Corey Dillon, Richard Seymour or Ty Law has an outside shot. Adam Vinatieri's heroics might not be enough. Only one kicker, Jan Stenerud, has been inducted.
No matter how much Patriot Nation loves Tedy Bruschi, he's not getting in.
Randy Moss and Junior Seau will get inducted, but they didn't play on any of New England's title teams.
"There's so much emphasis on winning Super Bowls, but it's what it takes to get there, too," Kelly said. "Sure, it's easy for me to say that because I didn't win one, but we didn't take the easy road. We took the long road many times, including the Comeback Game when Frank [Reich] was quarterback.
"There's no doubt more people are admiring what we accomplished during those days. They start really saying 'Wow' that we were able to get back there, especially since we lost. It would have been easy for us to not quite work as hard next time, to say 'Maybe it wasn't meant to be' after the second year and then the third year and then being able to do it four years in a row. Sometimes it amazes myself that we were able to keep together and pull together.
"For us, just getting over that one hump ... People talk about the dynasty of the Patriots," Kelly said. "Remember, they won two Super Bowls by a last-second kick. If we had one go through, who knows what would have happened?"
February, 3, 2009
2/03/09
1:05
PM ET
Posted by ESPN.com's Kevin Seifert
My AFC East colleague, Tim Graham, has a post detailing the recent formation of the American Football Kicking Hall of Fame -- which exists primarily because only one kicker has been inducted into the more widely-known Pro Football Hall of Fame.
(It's Jan Stenerud, for those who didn't immediately guess.)
We're in early February and there are than two weeks before the next event on the NFL calendar (combine, baby!). So Tim's post got us to thinking: How many kickers and punters from the NFC North would be deserving of induction into the Kicking Hall of Fame?
The best way to identify possibilities is to answer this question: Who is the best punter and kicker in the history of each NFC North team?
I've gone through each team's histories and culled 12 nominations, two for each position on each team. But as many of you have pointed out, I'm still working to perfect my expertise in some corners of the NFC North. So I'd like your help.
| | |
| --- | --- |
| | |
| | Paul Spinelli/Getty Images |
| | Ryan Longwell, now with the Vikings, holds most Packers records for field goals. |
Did I miss anyone? Are any of these names out of place? And who would you pick?
Let me know what you think in the comments section below or in the mailbag. I'll come back later this week with the all-time NFC North kickers and punters team.
Kind of has a nice ring to it, huh?
CHICAGO BEARS
Kickers: Kevin Butler or Robbie Gould
Comment: Butler had 243 career field goals, over a 100 more than the next kicker on the list. Gould's career conversion percentage of 85.9 is by far the best in Bears history.
Punters: Bob Parsons or Brad Maynard
Comment: Maynard ranks second all-time with a 42.3 gross average and first with 194 punts downed inside the 20. Parsons ranked second with 158 inside the 20.
DETROIT LIONS
Kickers: Jason Hanson or Eddie Murray
Comment: Hanson is the Lions' all-time leading scorer, and his 385 career field goals is 141 more than Murray. Hanson's career percentage of 82.2 also bests Murray (75.1).
Punters: Yale Lary or John Jett
Comment: Lary's career gross average of 44.3 yards on 503 punts is amazing. Jett dropped 154 punts inside the 20.
GREEN BAY PACKERS
Kickers: Ryan Longwell or Chris Jacke
Comment: Longwell holds most franchise records for field goals. Jacke is a close second.
Punters: Craig Hentrich or Max McGee
Comment: Hentrich had a team-best 42.8 career gross average. McGee averaged 41.6 yards over 11 seasons while also playing receiver.
MINNESOTA VIKINGS
Kickers: Fred Cox or Gary Anderson
Comment: Cox's 455 career field goals is almost 300 more than the next player. Anderson had a perfect 35-for-35 season in 1998.
Punters: Greg Coleman or Chris Kluwe
Comment: Coleman dropped 154 punts inside the 20-yard line over 10 seasons. Kluwe has the best career gross average (44.8) in team history.

February, 3, 2009
2/03/09
1:00
PM ET
Posted by ESPN.com's Bill Williamson
The kicking specialist is getting some love on the NFL Blog Network Tuesday.
Because the fact that there is just one kicking specialist in the Pro Football Hall of Fame, we are appreciating the kicker and punter. Below is a look at some for the best kickers and punters in the history (the only Hall Famer is from this division) from the AFC West. We are highlighting one kicking specialist per team.
| | |
| --- | --- |
| | |
| | Doug Pensinger/Getty Images |
| | Jason Elam shares the NFL record for the longest field goal in history. |
Denver: Jason Elam, kicker
The skinny: It was a shock to see Elam leave Denver for Atlanta through free agency last season. He was an institution in the Rocky Mountains and he is still effective after 16 NFL seasons. Even though Elam is no longer a Bronco, he is part for the team's lore. He shares the NFL record for the longest field goal in history (63 yards). He was cold-blooded with the game on the line. In his final season in Denver, Elam won four of the team's seven games in the final seconds.
Kansas City: Jan Stenerud, kicker
The skinny: Stenerud is the only kicking specialist in the Hall of Fame. He spent the first 13 of his 19-season NFL career with the Chiefs. He was a key member of the team's Super Bowl winning team. An excellent athlete, the Norwegian Stenerud was known for both his accuracy and strong leg. He's a kicking pioneer and he may be lonely in the Hall of Fame for a while.
Oakland: Ray Guy, punter
The skinny: He is one of the main reasons why the kicking and punting Hall of Fame was formed. It may be the last Hall of Fame Guy ever gets voted into. He has been a finalist for the Pro Football Hall of Fame in the past, but his candidacy has stalled some. Many consider Guy the best punter of all time.
San Diego: Mike Scifres, punter
The skinny: The Chargers' current punter is vastly underrated. The Chargers think he is one of the best punters to play in the NFL in several years. He is very accurate and he put himself in the spotlight last month. A master of placing the ball inside opponents' 20-yard line, Scifres pinned all six of his punts against the Colts inside the 20-yard line in the Chargers' win in the wild-card game. It was the first time in the history of the postseason that had happened. Many in the San Diego organization said Scifres' effort was the key to the win.
Posted by ESPN.com's Tim Graham
The latest Pro Football Hall of Fame class was chosen Saturday. It was the 47th election, and for the 46th time, a full-time kicker or punter wasn't in the group.
They simply don't rate.
That's why Rick Sang founded the American Football Kicking Hall of Fame last year.
"The most impacting statement is that in 90 years of pro football, there's only one kicker inducted," Sang said. "You think about that. It's a major void.
| | |
| --- | --- |
| | |
| | Malcolm Emmons-US PRESSWIRE |
| | Jan Stenerud is the only kicker on the Hall of Fame. |
"The American Football Kicking Hall of Fame was about being proactive and not complaining about what the NFL wasn't doing. Their names aren't even coming up. There's so many guys you have to think about 'Who are they?'
"We just don't want them to be forgotten."
While part-time kickers such as Sammy Baugh, George Blanda and Lou Groza are enshrined in Canton, Jan Stenerud is the only pure leg-swinger to be honored.
The Kicking Hall of Fame inducted its second class two weeks ago. Added to the inaugural class of Baugh, Blanda, Groza and Jim Thorpe were Ray Guy, Pete Gogolak and Ben Agajanian.
"You make fun of kickers for not getting their uniforms dirty, or you say 'They don't hardly play.' And then you turn around and induct an owner," said Sang, also the director of ProKicker.com and a member of the Greater Augusta Sports Council in Georgia.
"It's a team sport, and if you're the best at your position and you impacted the game you deserve to be recognized."
Not acknowledging kickers isn't limited to Canton. Three AFC East teams fete their finest -- the Buffalo Bills have a Wall of Fame, the Miami Dolphins have an Honor Roll, the New England constructed the Hall at Patriot Place -- and none salute a kicker.
With Sang's cause in mind, here are the greatest kickers and punters in each AFC East club's history:

NFL SCOREBOARD
Sunday, 2/2
WEEKLY LEADERS