November, 7, 2013
11/07/13
1:40
PM ET
With the mess in Miami, and whatever actually went on with the Dolphins,
our NFL Nation went to locker rooms across the land to find out where the responsibility lies in stopping hazing
.
I checked in with a few Texans players about their thoughts on the matter. I will post some thoughts from left tackle
Duane Brown
later. Remember, Brown defended Dolphins guard
Richie Incognito
after his most recent spat with Texans defensive end
Antonio Smith
. Incognito and Brown played alongside each other at the Pro Bowl in January.
First, though, let's look at what life is like for a Texans rookie.
Defensive lineman
Jared Crick
was a fourth-round pick in the 2012 draft.
How do you view hazing in the NFL?
[+] Enlarge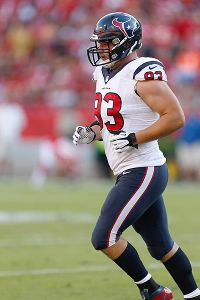 AP Photo/Scott BoehmJared Crick says life is good for rookies with the Texans.
JC:
Well, here ... I wouldn't describe it as hazing. It's more kind of, not even initiation really, just more kind of something rookies are expected to do. It's really nothing that's going to cause physical or emotional harm. At the most it's going to be carrying the vets' helmets after practice, or when it comes your time to foot the bill, you foot the bill when you go out to eat. Other than that, we don't really have any traditions -- we don't shave your head or do anything of that nature. I can't speak for anywhere else. Rookies got it good here. When they get here, if they prove they work hard and deserve to be on this team, they're treated as veterans. We got a good thing here for the rookies.
So it feels inclusive?
If you're a rookie and you know that all the other rookies are getting the same treatment you are, none of it's really bad. We'll never put a rookie in the position where he's uncomfortable to come to work every day. As long as you go along with it and have fun with it, that's all part of it. We try and have fun with the rookies instead of try and separate them from the rest of us. There's nothing that any rookie should be afraid to come to work every day.
The idea of excessive restaurant tabs has come into the spotlight a bit. Have you ever seen that be a problem?
Yeah, I mean I've never heard of anything like that. If a bill does get a little high, which it really hasn't, a veteran will help him out. That came last year, the rookie guys who obviously weren't making a whole lot of money, they gotta buy it together instead of just one dude -- $30,000 bill is outrageous no matter who's going out to eat. And I don't think you should have to pin that on a rookie no matter what. Fortunately here, we wouldn't expect a rookie to do that.
From the get-go, if we know a rookie's going to be taking us out to eat, we're not going to the most expensive restaurant in Houston. We take precautions. It's kind of a standard thing where if you're a rookie and obviously you're not first-round money or anything like that, you have someone else to help you out. And if it ever gets outrageous, the vets will pay for their own meal. That's happened last year when I went to a nice restaurant. We know what it's like to be a rookie. We know it can be tough at times being in a new city, stuff like that, so we got a good group of guys. I can't speak for other teams, but for the most part, as long as you have fun with it, it's all right.
What kinds of experiences have your friends on other teams had?
Lot of guys I went to college with, when they talked about things they had to do as a rookie, a lot of guys it was a little something; they had to shave their heads or do stuff like that. Get snacks every night for vets. If that's all you have to do, that's all right. As long as you have fun with it. When you're a veteran, you're going to look forward to a rookie buying you wings after a Thursday practice or something like that. Rookies are paid well in this league, but at the same time you don't want to ask too much, because it does get a little excessive sometimes.
How far is too far?
We get a good feel through OTAs and the summer and see if they can joke around a little. Some of them are really shy. Obviously, you're not going to go out and try and pick on them. If a rookie doesn't feel comfortable going to a certain restaurant because it's going to be expensive, we won't make him do that. We'll take him somewhere they want to go. As long as the rookie's having fun with it, not anything goes, but we'll roll along with it, but if they get a little more on the uncomfortable side, they'll cut it out or anything like that. We treat them as if they're a teammate, they're a Houston Texan and they're an integral part of this team.
What were you like as a rookie?
I was pretty shy when I first got here. I didn't talk to too many people, so they didn't really have a good feel for me yet. As the year went on, I went with everything they wanted me to do. Obviously, they're not going to not do it. I just had fun with it. I think if you have fun with it and you're willing to do the things, they don't ask too much of you. They kind of want to ... if you just say, "Yeah I'll do that, I'll get wings today," it's fine. Their eye isn't on you as much. I just rolled with it. At the end of the day, it's not a whole lot they're asking of you. They just want more entertainment than anything.
August, 25, 2013
8/25/13
9:20
PM ET
HOUSTON -- Sunday afternoon was the first view most people had of the
Houston Texans
' shiny new punter
Shane Lechler
.
Until Sunday, Lechler was sidelined as he recovered from a hamstring injury in his plant leg. He knew there would be a lot of eyes on him, wondering how he'd fare in his first game in Houston, the first of his career not as an Oakland Raider. And so, something happened to the 14-year veteran that hasn't happened to him in a while:

He got nervous for a preseason game.
"I got out there and went through the basics mentally," Lechler said. "You're like, make sure you catch the snap. There's a lot of people looking at you (to) see how you handle your first ball. That ball actually carried a little farther than I wanted it to. Luckily it checked up perfectly. I was nervous and anxious and excited at the same time."
Lechler punted twice, netting 52 yards per punt. One of those was downed at the 2-yard line, giving the Texans field position that led to their first touchdown. The
New Orleans Saints
never got past their own 6-yard line and went three-and-out on their next drive.
What started to become very clear in the Texans' third preseason game was that their specialists have really improved.
Second-year kicker
Randy Bullock
, who spent last season on injured reserve, notched touchbacks on all three of his first-half kickoffs. He also made field goals of 21 and 55 yards. It impressed Lechler, who spent most of his career with one of the best kickers of all time in
Sebastian Janikowski
.
"I think when you talk about Janikowski, that's probably one of the best that's ever done it, in my opinion," Lechler said. "I think at Randy's stage of his career he's probably a little bit more accurate than Janikowski was as a rookie."
Other observations from the Texans' third preseason game:
December, 6, 2012
12/06/12
4:38
PM ET
ESPN NFL analyst Jon Gruden previews this week's big "Monday Night Football" matchup as
Matt Schaub
and the
Houston Texans
(11-1) face three-time Super Bowl champion
Tom Brady
and the
New England Patriots
(9-3) at Gillette Stadium in Foxborough, Mass. The primetime battle of top AFC contenders will be televised on ESPN on Monday at 8:30 p.m. ET.
What are your thoughts on this week's Texans-Patriots game?
You obviously have two of the most high-potent offenses in the NFL. You have two great defensive coaches. I'm excited about Brady going up against Wade Phillips and the Houston Texans defense. The idea of seeing Schaub and the balanced Texans offense going up against Bill Belichick, Matt Patricia and the Patriots makes me want to get to Foxborough tonight.
What are keys to the game for both teams?
For the Texans, they possess the ball almost 36 minutes a game with their running game and high-percentage pass offense. I think keeping Brady off the field and doing what they do on offense -- protecting the ball, moving the ball and scoring points -- is the recipe for success for the Texans. For the Patriots, they're going to have to rely on Brady once again -- his ability to recognize, audible and attack. The Texans' injuries in the secondary and at linebacker are going to make things difficult for Houston. This game has all the makings of a shootout.
I also think how the Patriots' offensive line can handle the fierce front of the Texans is going to be something to watch. Houston has the best inside pass-rush that I've seen with
Antonio Smith
,
J.J. Watt
and
Jared Crick
coming in as the third tackle. They've got some real energy and playmaking inside.
What have you seen from quarterbacks Brady and Schaub this season?
Brady's expertise and clutch playmaking, talent and work ethic has been well-documented where Schaub's probably hasn't. Schaub has won 15 out of 16. What he's done behind the scenes in Houston rivals what Brady does in New England. These are two very intelligent, highly motivated CEOs of their teams. They unify their football teams and epitomize everything you want in a quarterback. I kind of put them on the same level in terms of preparation, leadership and dominating the game from the neck up.
What are your impressions of Watt this season and what has impressed you the most?
He's just unblockable. His stamina is incredible. He's a tremendous athlete. A lot of people think he's just a high-effort guy. He's a rare athlete. He can get off the blocks and close. He can run over you. He has the elusiveness to run you down and change directions. He's instinctive. He has the ability to reject passes when he knows he's not going to get there, or when you're going to throw the quick gain. He bats balls and he bats quarterbacks around. He's an MVP candidate. There's no question.
Is there an off-the-radar player -- what you would call a "Gruden Grinder" -- who is a potential difference-maker on Monday night?
I like Houston wide receiver
Kevin Walter
. He does a lot for the Texans as a blocker. This stretch running game is magnificent, but he cuts off the back side. He blocks the perimeter for these quick screens. He runs patterns. He catches balls. He's a great pro football player. A lot of his production is not on the stat sheet.
A guy for New England is defensive end
Rob Ninkovich
. You watch Ninkovich on a snap-by-snap basis, you might not be overwhelmed by how good he is, but when you look at the whole game, and a series of games, he's as valuable a member of the Patriots defense as anyone because he can play outside linebacker, inside linebacker, right end, left end. He can move around in their sub package. And he has skill to do all these things. I really like Ninkovich a lot.
Where do you rank the Texans and Patriots at this point in the season?
Houston is 11-1 for good reason. Their performance against the Ravens, the game we saw on "Monday Night Football" in New York against the Jets, going to Denver to beat the Broncos, there's a consistency that's impressive. They've had some injuries now and that's the only concern I have.
Brooks Reed
and
Brian Cushing
are out.
Johnathan Joseph
has been out. They're missing some key ingredients to their defense, but they can score with anyone and their effort and energy level is outstanding on defense. I think they are a favorite to get to the Super Bowl and win it. I would say the same about New England because of No. 12 and the head coach of the football team. They've had such great continuity. They can beat you in all three phases of the game, and they expect to win. They are used to winning. It's hard to go against them.
How special is it to call a game of this magnitude in primetime on MNF this late in the season?
We had the world champions last week and one of the great up-and-coming stars of pro football in RG3 last week. This week, the two teams have combined for 20 victories. You want to coach in the biggest games, you want to play in the biggest games, and you want to broadcast the biggest games. And, if you're a fan, you want to watch the biggest games. It's exciting. It's going to be a heck of a game.
August, 25, 2012
8/25/12
3:56
PM ET
Three things to look for tonight as the Texans go against the Saints in their third preseason game of the summer tonight (8 ET) in New Orleans.


The three young receivers:
Heading into the biggest preseason game, it seems
Keshawn Martin
,
Lestar Jean
and
DeVier Posey
rank in that order, but there is still a chance for some jockeying for roles and snaps. When they are on the field, any success they can have with quarterback
Matt Schaub
will help their cause. A good outing for Martin would likely solidify his standing, but Jean may be more explosive. Gary Kubiak can find roles for both at the start of the year if he feels they are worthy.
Rotating tackles:
When
Duane Brown
became the Texans left tackle, the Texans
eased him in
his first few games by rotating him with veteran
Ephraim Salaam
. They are now at least considering doing the same with the two guys competing for the right tackle job now, veteran
Rashad Butler
and youngster
Derek Newton
. I wonder about the chemistry and rhythm such a platoon can get in the way of. But if one of them doesn't distinguish himself, then they could both be in line for time in the season opener Sept. 9 against Miami.
Nose tackle:
Shaun Cody
(back) and Sunny Harris (done for the year with a torn triceps) won't play, so
Earl Mitchell
and undrafted rookie
Hebron Fangupo
are the lone nose tackles available for the Texans. Ends
Jared Crick
and
Tim Jamison
are also rated by coaches as being able to play the nose in the Texans' defense as well. The position isn't generally part of the nickel package and barring an injury, it should be a problem. Also out on defense, inside linebacker
Brian Cushing
(ribs) isn't with the team.
August, 15, 2012
8/15/12
1:19
PM ET
HOUSTON -- Even the regulars who stay late had disappeared from the Texans' practice fields after Tuesday morning's practice.
But at the far end were
Jared Crick
,
Jimmy Saddler-McQueen
,
David Hunter
and
Hebron Fangupo
, four defensive linemen who collectively account for one regular-season NFL game appearance.
[+] Enlarge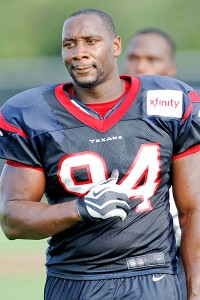 Brett Davis/US PresswireAntonio Smith, a nine-year veteran, is not shy when it comes to teaching inexperienced players some of his rushing techniques.
They stayed after practice to work with veteran lineman
Antonio Smith
, who patiently talked with them and showed off tips against a tackling dummy. There were pointers about technique, hand placement, swipes, lean, leverage, balance, reading blockers and more. And everybody took a turn working against the dummy after each little lesson.
Smith said he just re-started the sessions, which he's done before but had faded during the daily grind of camp.
"Now that practices are starting to lighten up, we've got time to work on technique," Smith said. "A guy named
Chike Okeafor
used to work with me in Arizona, before and after practice.
"When someone who's been in the game awhile and has some knowledge could see what I was doing, was paying attention to what I was doing and could tell me how to do it better, I think it helped me a lot."
Now as he looks to pay it forward, Smith said he keeps no secrets.
"If there is something I can do that they want to know about, I'm an open book," he said.
It's one of the subtly striking things about being teammates in football. While a guy will fight like hell to keep his job, he's also expected to assist a guy who plays his position and may ultimately take his spot. Veterans who don't offer such help or respond well to questions are typically not regarded as team guys.
Smith's hardly at risk now, and among today's pupil's Crick may be the only one to stick. The rookie end was a fourth-round draft pick.
"If you can see a guy like Antonio who's been in the league coming on a decade, putting in all the little work, you realize why he's been in the league that long, why he's been that successful," Crick said. "You've just got to follow that lead. Hopefully down the road I can be as good as him some day and do that for somebody else."
Smith's versatility is a key piece of the Texans' successful front. He's an end in the base defense, but moves inside and plays tackle in nickel.
The post-practice period was not the only impressive work I saw by Smith.
Tuesday during a pass rush period of practice, with
Connor Barwin
outside him, the two rushers worked in tandem, often against starting left tackle
Duane Brown
and left guard
Wade Smith
. I thought the defenders looked just about unstoppable in that setting.
"Me and Connor have got to the point where we basically know how each other is going to rush, whether it's a designated game or we both are doing our own rush," Smith said. "We know how we'll end up and can work off each other."
Smith said he likes both end and tackle, but has always liked rushing the three-technique the best.
"I think it's more banging, grimy on the inside," he said. "And it's the quickest pathway to the quarterback. It's the hardest to rush, but the quickest path."
August, 3, 2012
8/03/12
3:29
PM ET
With
J.J. Watt
rehabbing the after-effects of a dislocated elbow, the
Houston Texans
will see just how deep they are at defensive end.

Tim Jamison
moves into Watt's spot and coach Gary Kubiak pointed to "Sunny" -- nose tackle
Ra'Shon Harris
-- as a versatile guy who can play a lot of spots as the Texans sort through things. Kubiak said the team expects the team will add one player to fill out the roster.
The team expects Watt will be back in place in time for the season opener Sept. 9 against Miami.
"Timmy (Jamison) is a grinder," Kubiak said. "He's a hard worker, plays with a lot of effort. He gave us a lot of time last year, and now he gets the chance to act like a starter, so we'll see how he handles it."
Watt played 77.37 percent of the team's snaps at end last season,
Antonio Smith
played 71.59 percent and Jamison played 33 percent.
Kubiak did not mention rookie
Jared Crick
, who recently suffered a slight neck injury. He's a fourth-round draft pick out of Nebraska.
As the Texans turn to their nickel package without Watt, they could also leave Smith outside rather than shifting him inside, looking to a nose tackle -- Harris,
Shaun Cody
or even
Earl Mitchell
-- to stay on the field inside.
Watt was a great presence last year, a tone-setter with his non-stop motor who was part of a group that swarmed the passer and did well to get his hands up to be an obstacle to quarterbacks when they did get throws off.
June, 19, 2012
6/19/12
1:40
PM ET
A stagnant salary cap could lead to
cap carnage next year
, writes Steve Wyche of NFL.com.
If
Maurice Jones-Drew
doesn't get a new deal now with two years remaining on his contract -- and I don't believe he will -- imagine the press he will put on next year as he heads into the final season of his current deal?
The idea that a cap crunch could put the squeeze on high-priced guys led me to the NFLPA records for scheduled base salaries in 2013.
We recently wrote about
projected cap room
.
I'm by no means suggesting these guys will be gone.
But based on who teams drafted and what they're scheduled to pay, here are guys who could suffer from cap strain.
Texans:
Defensive end
Antonio Smith
has been a key player on the team's defensive front. I can't see them parting with him, but I didn't see the
Eric Winston
move either. Smith is due $6 million and if fourth-rounder
Jared Crick
pans out quickly, there could be some strain on Smith.
Kevin Walter
is due $3.5 million in 2013, and after drafting
DeVier Posey
and
Keshawn Martin
the team could be ready to move on at receiver.
Jaguars:
Linebacker
Clint Session
got a big contract and missed seven games last year because of a concussion. He throws his body around and has an injury history. It's hard to keep three linebackers on the field all the time and he's slated to cost $4.7 million in 2013. They like
Russell Allen
, who's far less expensive.
Titans:
Chris Johnson
's base salary is slated to be $10 million in 2013. Even if he bounces back for a big 2012 and even if the Titans are in good cap shape in a year, that's a gigantic number to carry.
Colts:
The Colts will be in such good cap shape and have so few expensive veterans, I can't see anyone who qualifies as a potential victim or restructure.
April, 28, 2010
4/28/10
2:59
PM ET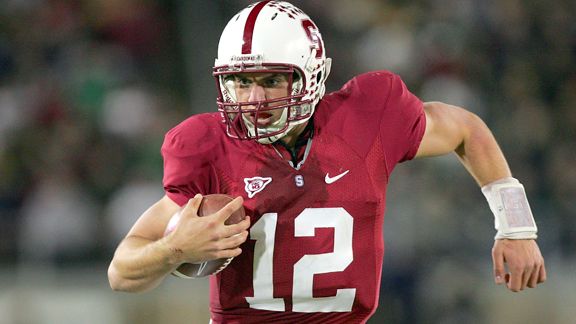 Ezra Shaw/Getty ImagesWill quarterback Andrew Luck follow in Sam Bradford's shoes to become the next No. 1 overall pick?
I have good news and bad news for
Buffalo Bills
fans.
And I have good/bad news for everybody else.
First, for my Bills readers:
ESPN analyst Todd McShay put together a mock draft for 2011 and
has the Bills taking Stanford quarterback Andrew Luck

. Problem is, the Bills select first overall, the spot reserved for the team with the league's worst 2010 record.
The good/bad news for everybody else: People already are putting together mock drafts for 2011.
McShay writes about Luck:
Only a third-year sophomore this fall but coach Jim Harbaugh has Luck on the fast track mechanically and mentally. Luck has prototypical size (6-foot-4, 235 pounds) and is an underrated athlete. More importantly, he has a smooth over-the-top delivery, a strong arm and great touch as a passer. Better decisions while gaining more game experience could put Luck in position to become the top player taken in the draft -- either in 2011 or 2012.
ESPN.com columnist Ivan Maisel takes a look at how
Luck is emerging into a star college quarterback
. Maisel writes, "Luck already is rated as the first pick of the 2011 draft. You don't need Todd McShay to tell you that. Any agent worth his platinum Rolex Yacht-Master can see it."
Let's not get too carried away, though, Bills fans. As inexact of a science as mock drafts are, they're virtually impossible to forecast a year out. McShay has to project who's stock will be hot, what positions NFL teams will need, which underclassmen will enter the draft or return for their senior seasons while hoping against a major injury or failed drug test.
[+] Enlarge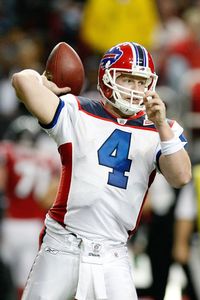 Kevin C. Cox/Getty ImagesBrian Brohm was tabbed as the top prospect in an early 2007 mock draft. He was drafted at No. 56 in 2008.
Also to keep in mind, ESPN draft guru Mel Kiper projected in a preseason mock Louisville quarterback
Brian Brohm
would be the
first overall selection in the 2008 draft
. Brohm was the 56th pick and didn't make the
Green Bay Packers
' final roster. He was the Bills' third-string quarterback last year.
Still, mock drafts are fun to talk about, and I don't want you to go through withdrawal.
McShay used a draft order based on Scouts Inc. power rankings from Jeremy Green and Matt Williamson. It looks like a decent year for the AFC East.
McShay has the
New England Patriots
selecting Georgia receiver A.J. Green seventh overall with the pick they acquired from the
Oakland Raiders
for
Richard Seymour
. In the Patriots' assigned 22nd slot, they add Kansas State running back Daniel Thomas.
With the 18th pick, the
Miami Dolphins
select Oklahoma edge-rusher Jeremy Beal.
The
New York Jets
take Nebraska defensive tackle Jared Crick with the 29th pick, indicating they will reach the AFC Championship game again but won't punch their Super Bowl ticket.

NFL SCOREBOARD
Thursday, 8/21
Friday, 8/22
Saturday, 8/23
Sunday, 8/24