August, 12, 2014
Aug 12
8:45
PM ET
GLENDALE, Ariz. -- A daily review of the hot topics coming out of
Arizona Cardinals
training camp:
On the day that Cardinals coach Bruce Arians said safety Tyrann Mathieu was "pretty close" to being taken off the preseason physically unable to perform list, one of his replacements continued to make an impact. Free safety Rashad Johnson intercepted Carson Palmer about midway through practice. That makes three interceptions in two days by the players who have filled in for Mathieu during training camp. Jerraud Powers, who Arians called the defensive MVP of camp earlier Tuesday, picked off two passes Monday.
During a 7-on-7 drill later in camp, Palmer threw an interception right into the hands of safety Anthony Walters during a busted play.
It seems like it's becoming a daily habit for Jaron Brown to impress with his speed. He had another good catch-and-run through traffic and down the sideline. With the battle for the fifth receiver not sorting itself out yet, he's looking like the best candidate for that job.
Playing with the first team in place of Jonathan Cooper at left guard, Earl Watford has been holding his own and he brings a dynamic that Cooper still needs to improve on. Watford showed off his wheels getting downfield to block for running back Andre Ellington.
Tuesday was Jay Feely's day to kick and he took advantage of it. Feely went 7-for-8 on field goals, hitting 33 yards, 29, 39, 44, 47 and 50 twice. He missed wide left from 43.
Injury report: T Max Starks (ankle), OL Anthony Steen (neck), G Jonathan Cooper (toe), T Nate Potter(back), LB Kevin Minter (pec), WR Michael Floyd (groin), WR Ted Ginn(knee) and C Lyle Sendlein (calf) did not practice.
The Cardinals practice from 2-4:30 p.m. Wednesday local time at University of Phoenix Stadium. Admission and parking are free.
August, 10, 2014
Aug 10
1:35
AM ET
GLENDALE, Ariz. -- The
Arizona Cardinals
may want to ask UPS if they can borrow their slogan.
They found out that
John Brown
and
Jaron Brown
can do quite a bit.
The pair of receivers was thrust into the starting lineup when
Michael Floyd
and
Ted Ginn
were sidelined for Saturday's preseason opener against the
Houston Texans
with injuries, and they responded by playing like starters. Jaron didn't have a monster game but he was methodic and accurate with his receptions, one of which went for a touchdown.
John, however, played the role of star in his first NFL action.
He was targeted 10 times, catching five of them, for 87 yards, displaying his speed and quickness on nearly every one of them.
"I just knew I had to step up," John Brown said. "So, it's basically showing those guys in case anything happens I can be the person to fill those shoes."
John and Jaron will get to stay in their roles a little longer. Cardinals coach Bruce Arians said Floyd tweaked his groin late Thursday and will miss six to 10 days while Ginn, who banged knees with a gunner while returning punts early in Thurdsay's practice, will miss "maybe" three days.
It has been a while since he took the field for an actual game, John Brown said. He claimed he wasn't nervous Saturday night but once he saw the defensive back drop back on
Carson Palmer
's first pass attempt, he it was coming his way.
He may have bobbled his first NFL catch but John kept his eyes on it until he secured it, and the play went for 25 yards.
Palmer, who completed all five of his pass attempts in eight snaps Saturday night -- two of which went to the Browns -- was impressed with the composure of both receivers.
"It's great when the day before, they find out 'Oh, wait, I'm starting? I'm in there with Larry [Fitzgerald] and those guys?' And to see the way they handled the situation, they weren't scared, they weren't nervous, there was no, 'Man, this is the NFL.' There was none of that going on. To see those guys react to just being in the game and making plays and doing their jobs was really good. I'm very happy and excited to see that."
For the past week, Arians raved about Jaron Brown's rapport with backup quarterback
Drew Stanton
. It seemed like Stanton found Brown on every deep route he called during training camp.
When Stanton hit Jaron on third-and-goal from the 5-yard line late in the first quarter, it wasn't quite a deep ball but it resulted in a touchdown.
"I felt like we're finally starting to get some kind of rhythm with the quarterbacks," Jaron Brown said. "That's one thing we work in training camp.
"With camp that's one thing we try to work on and eliminate the mental errors."
Only if there was a reward for the opposite. On first down near midfield with 7:20 left in the first quarter, Stanton targeted the other Brown, John, on a deep route. But 39 yards later, Houston cornerback
Brandon Harris
got tangled with the receiver as he tried to come back for the pass, prohibiting him from making another big catch. Arizona got the ball at the Texans' 19 and scored six plays later.
To Arians, it was just John Brown doing what John Brown does.
It's one thing to come in as a rookie, play like a starter and start laying roots on your standing on the roster. It's another for the defense to start taking notice.
"Oh man, he's a beast," defensive tackle
Darnell Dockett
said of John Brown. "He's good. He plays every day like he's hungry. He practices the same way. You can't expect him anything but greatness from him. He's been working his tail off and I'm very impressed with him. Real low key. Take some pressure off the other guys. He doesn't surprise me with his performance on the field because he does it in practice, too."
August, 7, 2014
Aug 7
8:10
PM ET
GLENDALE, Ariz. – A daily review of the hot topics coming out of
Arizona Cardinals
training camp:
It didn't take long for Darren Fells to start climbing the depth chart. Handed an opportunity in the wake of Jake Ballard's retirement, Fells took a few snaps with the first team on Thursday and it looks like Arizona will take advantage of his athleticism by using him in various positions and formations, including sending him in motion. He showed off his sure hands on a touchdown catch from Drew Stanton that he hauled in between two defensive backs. When Fells wasn't working with the first team, he was playing on Stanton's second-team unit.
Wide receiver Ted Ginn appeared to hurt his right leg while working on punt returns early in practice. He walked off the field gingerly and spent the next few minutes stretching, but soon returned to practice.
Cardinals coach Bruce Arians mentioned Thursday morning that Stanton and wide receiver Jaron Brown have been building a good rapport, especially on deep throws. It was on display Thursday afternoon when the two connected on two long passes.
Cornerback Antonio Cromartie did not practice Thursday.
Earl Watford worked at first-team left guard for a couple of series, but Jonathan Cooper took the majority of the snaps there.
After consecutive days of not being able to finish practice because of fatigue, John Brown's energy looked strong early. He had a nice catch on a Stanton throw, beating Jerraud Powers to the pass by a split second. He later split coverage to catch a touchdown from Stanton.
The Cardinals have Friday off and will return to practice Monday from 2-4:30 p.m. at University of Phoenix Stadium. Arizona hosts the Houston Texans on Saturday in its first preseason game.
Injury report: Lyle Sendlein (calf) did not practice.
October, 14, 2013
10/14/13
3:22
PM ET
A review of four hot issues from the
Arizona Cardinals
' 32-20 loss to the
San Francisco 49ers
.
[+] Enlarge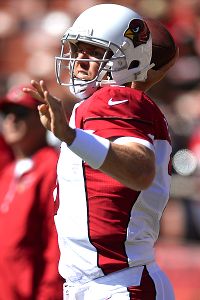 Thearon W. Henderson/Getty ImagesAfter a rocky start, Carson Palmer found a nice rhythm Sunday.
There is an offense:
All it took for the Cardinals offense to come to life were two interceptions by quarterback
Carson Palmer
in the game's first six minutes. Then it was like a switch was flipped and Palmer was making passes we haven't seen since the first couple weeks of the season. He was threading needles and lofting fades perfectly over defenders -- both types of passes that were picked off at various times this season. And Arizona coach Bruce Arians went to the run game early in the second half, which provided a much-needed balance and slowed the pass rush, giving Palmer more time in the pocket to make better passes. It's all a domino effect.
Stick figures:
Arians has shown a penchant for going to rookies on third down. He has done it with running backs
Stepfan Taylor
and
Andre Ellington
, and wide receiver
Jaron Brown
. But that might need to change. Arians -- like every other coach -- teaches his players to run third-down routes to the sticks, meaning the first-down marker. Each time Palmer went to one of the rookies Sunday on third down, they came up a yard short. Granted, the Niners were sitting back on defense, keeping their secondary on the first-down line, but the rookies couldn't get the first down and drives faltered. They need to be taught to run their routes a yard or two past the sticks.
Long day on D:
Try
running into someone at full speed at the same level for three straight hours. Oh, you can't? Neither can a defense. The Cardinals began to wear down in the third and fourth quarters because they were on the field so much. After a while they couldn't do the simplest of tasks, such as run the assigned scheme. Even Arians said the defense was on the field for too long, a sign the offense couldn't hold on to the ball enough. But don't ask Arians if his defense ran out of gas. "You can't run out of gas. There is no such thing as run out of gas. Just kick somebody's ass and you'll be all right and you'll get off the field."
Two points now or later?
Arians has always been a creative mind, but he might have outsmarted himself Sunday. He went for two midway through the third quarter and used cornerback
Patrick Peterson
as the quarterback in a gadget play, the same one Peterson ran against Detroit. But Peterson held on to the ball a moment too long and missed an open
Larry Fitzgerald
in the back of the end zone. But Arians went for two a little early. Had he taken the extra point, the Cardinals would've been within one, then within eight. All manageable down the stretch.
September, 30, 2013
9/30/13
1:35
PM ET
TAMPA, Fla. -- Safety
Dashon Goldson
will not be suspended for his hit on
Jaron Brown
in Tampa Bay's 13-10 loss to the
Arizona Cardinals
.
An NFL spokesperson said Monday that NFL vice president of football operations Merton Hanks already has determined the hit doesn't warrant a suspension. But the league said Goldson could be fined for the hit, which came in the fourth quarter and drew a personal foul.
Goldson initially was supposed to be suspended for Week 3 for a hit on New Orleans'
Darren Sproles
. But Goldson appealed that and got his penalty reduced to a $100,000 fine. Goldson also was fined $30,000 for a hit in the season opener. Since 2009, Goldson has been flagged with a league-high 16 personal fouls.
September, 27, 2013
9/27/13
4:55
PM ET
SARASOTA, Fla. --
Arizona Cardinals
coach Bruce Arians isn't big on excuses, but he did offer a possible explanation for part of the Cardinals' recent offensive woes.
Fitzgerald
Leading into the games against the Detroit Lions and New Orleans Saint, wide receiver
Larry Fitzgerald
barely practiced, if at all. To fill his void, the Cardinals rearranged their receivers, lining up
Michael Floyd
,
Andre Roberts
,
Jaron Brown
and then
Kerry Taylor
at positions they might not normally have played had Fitzgerald been healthy.
And on practice went, with Arizona quarterback
Carson Palmer
working with that foursome, learning their tendencies and movements from various routes -- only to have Fitzgerald play both Sundays. It wasn't a conducive situation to a relatively new offense learning how to flow.
But this week could be different. Fitzgerald's hamstring has apparently healed, and he practiced all week.
"We lost him on Wednesday (Sept. 11)," Arians said on national radio this week. "And then he played in the game. Well, in the meantime we shuffled guys around in case he wasn't going to play. Carson saw those guys in those positions, and then Larry comes back and plays and everybody's in a different spot. The same thing happened last week.
"He wasn't able to practice until Friday (before New Orleans). You never know [if he is going] to make it. And then he was healthy Friday. We got everybody back in the other spots where they belonged and he got one day of practice. I think that's an excuse, but it does have some validity. When you look at the tape, a little hesitation is all it takes for a quarterback."
Fitzgerald had 33 yards in the Cardinals' win against the Lions, a game that saw Taylor emerge as an unexpected contributor. He was promoted from the practice squad a day before the game, and finished with 40 yards on three catches.
Despite not practicing until Friday before the Saints game, Fitzgerald had 64 yards on five receptions in a 31-7 loss.
Offensive coordinator Harold Goodwin said it shouldn't matter who is lined up, but it does.
"It's tough when you're not sure if you're No. 1 guy is going to be able to play," Palmer said. "And you don't practice and you're thinking you might play and you're not sure, and you get to Sunday and everything's great and you get to play and you lose out on those reps.
"It gets a little muddied I guess, when you lose your guy and all of a sudden he's there on Sunday."
Palmer won't have to worry this week. Despite being listed as probable, Fitzgerald practiced all week.
September, 16, 2013
9/16/13
2:54
PM ET
An examination of four hot issues from the
Arizona Cardinals
'
25-21 win
over the
Detroit Lions
:
Third down is no-man's land:
One really is the loneliest number. For the second straight week, the Cardinals were hampered by third-down situations, converting just 1-of-11 against the Lions. And the one they get was on a fluke play in the fourth quarter. Rookie running back
Andre Ellington
fumbled after getting the first down and the Cardinals kept the ball only after challenging the ruling on the field. They failed on their first nine attempts, all of which were passes save a
Carson Palmer
sack.
[+] Enlarge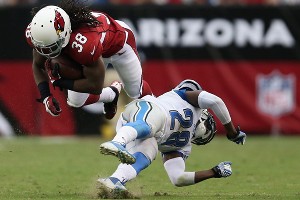 Jeff Gross/Getty ImagesAndre Ellington took advantage of his opportunities on Sunday against Detroit.
Why go for two?
It's a question that's still being asked Monday. And the only rational explanation is, if converted, the two points would've given the Cardinals a 27-21 lead, meaning the Lions would've had to score a touchdown AND kick the extra point. Whereas since the Cards missed the conversion, a touchdown sans extra point would've won the game for Detroit. And with the way
David Akers
was kicking and the Cards' special teams were playing, it was the right decision.
Young guns for hire:
Cardinals coach Bruce Arians doesn't just talk a big game. He's showing he backs it up. Last year, as the interim coach in Indianapolis, Arians proved he wasn't against playing young players, but he had to then because of necessity. He doesn't need to -- instead he wants to -- in Arizona. Arians gave significant minutes to rookies Ellington,
Stepfan Taylor
and
Jaron Brown
, and relied on
Kerry Taylor
, who's spent most of his three seasons on practice squads, to replace the injured
Larry Fitzgerald
. It worked. Ellington scored a 36-yard touchdown on a wheel route and Taylor had 40 yards receiving on three catches.
Fitzgerald's health a question mark:
Fitzgerald didn't want to abandon his teammates in a big game, and it was admirable of him to recognize his inability to play at a high level and remove himself from the game. Fitzgerald's health heading into Sunday's game at New Orleans could be an issue. Fitzgerald played 46 of 71 snaps against the Lions. He finished with 33 yards on two catches, despite being targeted five times by Palmer. But a hamstring is a tricky injury, as Fitzgerald had reaffirmed during pregame warm-ups. The adrenaline kicked in and Fitzgerald looked and felt fine, but he realized late in the third quarter he wasn't. Hamstring injuries can linger and usually heal with rest and treatment. The former may be difficult to come by since the Cardinals start practicing Wednesday, but Fitzgerald will have Monday and Tuesday to recoup. Hopefully it's long enough.
September, 13, 2013
9/13/13
5:26
PM ET
TEMPE, Ariz. -- The last game
Larry Fitzgerald
missed was Dec. 2, 2007 against the Cleveland Browns.
Fitzgerald
He's close to missing a game for the first time since then. Fitzgerald was officially listed as questionable for Sunday's home opener against the
Detroit Lions
.
"He's OK," Cardinals coach Bruce Arians said. "He's doing fine.
"We'll see more [Saturday]."
Fitzgerald tweaked his hamstring during Wednesday's practice and was limited the rest of the week.
He only participated in a handful of reps during the open part of Friday's practice.
Andre Roberts
and
Michael Floyd
ran routes with the first-team offense while Fitzgerald watched.
If Fitzgerald's snaps are limited or if he doesn't play, look for Roberts to assume a larger role and take most of the throws that were intended for Fitzgerald. Roberts is more capable of running short, precise routes than Floyd, although Floyd will likely be out wide and used to stretch the field. Rookie
Jaron Brown
will also be more involved than the two passes thrown his way last week.
Tight end
Rob Housler
was ruled out Sunday as he continues to rehab his right ankle.
Linebacker
Lorenzo Alexander
(biceps) was also listed as questionable.
Linebacker
John Abraham
(shoulder), defensive tackle
Darnell Dockett
(shoulder),
Rashard Mendenhall
(hamstring) and Roberts (quad) were listed as probable.
August, 30, 2013
8/30/13
12:12
AM ET
Looking back on three things discussed here before the Arizona Cardinals' final exhibition game of the 2013 preseason, a 32-24 road victory over the Denver Broncos on Thursday night:

1. Williams' performance.
The stats for running back
Ryan Williams
-- nine carries for 25 yards and a touchdown -- will not make a compelling case for him earning a spot on the initial 53-man roster. The third-year running back looked good, though. His per-carry average took several hits, including on a 1-yard scoring run. Williams showed quickness in outrunning defenders around the corner for an 8-yard gain. He spun away from trouble and accelerated on another run. The blocking generally wasn't there for him, notably when he lost 6 yards on a carry. There are no guarantees Williams has done enough to stick around. Future injury risk could lead the Cardinals in another direction.
Rashard Mendenhall
is clearly established as the starter. Rookies
Andre Ellington
and
Stepfan Taylor
figure into the team's plans as well.
2. Speed at wide receiver.
Jaron Brown
, a rookie free agent with 4.4-second speed in the 40-yard dash, got deep to catch a 55-yard scoring pass from
Ryan Lindley
.
Mike Thomas
, signed recently after Detroit released him, is another receiver with the speed coach Bruce Arians is seeking to stretch defenses. Thomas had a 13-yard scoring reception in the fourth quarter. A couple completed passes in the fourth preseason game aren't going to provide definitive answers, but these were positive signs.
3. Third QB.
Lindley had only one scoring pass to show for 280 career pass attempts in preseason and regular-season games over his two NFL seasons. He fared better in this one. Lindley completed 17 of 29 passes for 214 yards and two touchdowns against the Broncos. Lindley also completed a two-point conversion throw to take a 25-24 lead with 5:28 remaining. He took one sack, threw no interceptions and finished the game with a 104.7 passer rating. Will the Cardinals keep him around as the third quarterback?
August, 9, 2013
8/09/13
10:42
PM ET
Looking back on three things discussed here before the Arizona Cardinals' 2013 exhibition opener, which they led 17-0 when I filed this late in the fourth quarter:

1. Palmer's debut:
New quarterback
Carson Palmer
completed four of six passes for 77 yards with one touchdown, zero interceptions and a 149.3 passer rating. He certainly looked like the upgrade Arizona sought from its previous quarterbacks. Both incomplete passes were deeper attempts on third down. Palmer found
Andre Roberts
for a 38-yard touchdown against the
Green Bay Packers
' starting defense (Arizona was tied for last in the NFL with three passes of 38-plus yards last season). Palmer also found
Larry Fitzgerald
for a 21-yard gain and
Michael Floyd
for an 18-yard gain. When backup
Drew Stanton
threw a touchdown pass to
Jaron Brown
, the Cardinals had as many scoring passes as the 2012 team managed through two-plus preseason games. Nearly 12 minutes remained in the second quarter.
2. Mathieu and the DBs:
The Cardinals are building their secondary around young defensive backs
Patrick Peterson
and
Tyrann Mathieu
. Both made impact plays in this game. Peterson, the fifth player selected in the 2011 draft, picked off Green Bay backup quarterback
Graham Harrell
. Mathieu, a third-round choice this year, broke up a pass with a hard hit early in the game. He later collected a 12-yard sack on a blitz from the slot. Mathieu also provided a 23-yard punt return in the fourth quarter. He and Peterson could be good together for a long time.
3. Running back picture:
Rashard Mendenhall
,
Ryan Williams
and
Andre Ellington
did not play.
Alfonso Smith
carried 10 times for 21 yards and didn't appear to have much room for running. Rookie
Stepfan Taylor
looked good picking up 14 yards on one of his carries. However, the Cardinals did not run the ball well in this game. They did not find out much about their running backs.
NFL SCOREBOARD
Thursday, 11/27
Sunday, 11/30
Monday, 12/1
WEEKLY LEADERS