March, 11, 2010
3/11/10
4:47
PM ET
Everyone wants their team to trade down.
[+] Enlarge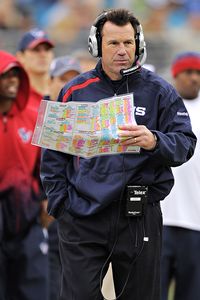 Scott A. Miller/US PresswireTexans coach Gary Kubiak said that trading down in the draft is "a hell of a lot easier said than done."
I get more
e-mails
at this time of year asking me about the possibility of the Jaguars trading out of the No. 10 spot in the NFL draft in hopes of getting more. The same kinds of questions come from Titans fans hoping their team will opt out of selecting 16th overall. Texans fans (No. 20) and Colts followers (No. 31) aren't averse to the idea of trading down, either.
So I am here to tell you, while trading up is often too expensive, trading down is often overrated.
For starters, to get down, you need a team that wants to move up.
"Sitting in the draft room for many years, I think those are conversations that always come up: 'Well, wouldn't it be nice to move back and pick up a couple other picks?'" Texans coach Gary Kubiak said. "Well in that 10 minutes or whatever you have before that pick, if you're not a hot commodity at that time and nobody wants to talk to you, you better be ready to do business.
"I think it's probably a hell of a lot easier said than done."
Said Jacksonville GM Gene Smith in a recent conference call with season-ticket holders: "My mindset is to acquire picks. If we're able to do that, I'll have a smile on my face."
But even if you have a lot of needs, like Smith, is that the right route?
Let's look at the recent trade-down history of our four teams and then assess. We're considering just picks-for-picks trades, not moves that include veteran players.
In the last six years, with the help of Jason Vida of ESPN Stats & Information and
prosportstransactions.com
, here are first-round trade-downs in the division.
Houston
2008
-- Traded with Baltimore
Gave: No. 18 in first round (quarterback Joe Flacco)



[+] Enlarge

Aaron M. Sprecher/Getty ImagesThe Texans drafted Duane Brown after trading down in the first round of the 2008 draft.

Got: No. 26 pick in first round (offensive tackle Duane Brown), a third-round pick (86th overall, running back Steve Slaton) and a sixth-round pick (173rd overall, defensive back Dominique Barber)

Value chart says: Ravens, 900-883.2 points

Assessment: Baltimore got its quarterback and Flacco is clearly the most valuable player of all of these. The Texans got their left tackle (Brown), a skill player who's had one great year and one terrible season (Slaton) and some shaky secondary depth (Barber).
2005
-- Traded with New Orleans
Gave: No. 13 in first round (offensive tackle Jammal Brown)

Got: No. 16 in first round (defensive tackle Travis Johnson) and a third-round pick in 2006 (66th overall, offensive tackle Eric Winston)

Value chart: Texans, 1,260-1,150. (That link is to an NFL-style draft value chart like the ones teams use to measure trade values.)

Assessment: Brown has been a Pro Bowler twice and an All-Pro once. Johnson underachieved and was traded. Winston is a very solid starter, but the Saints got more bang here, I think.
Indianapolis
Sidenote: The Colts gave up their 2008 first-rounder and their 2007 fourth-rounder to get the 2007 second-rounder from San Francisco they used to draft offensive tackle
Tony Ugoh
. That can be classified in different ways. I see it more as the Colts going up to get Ugoh, so I don't use it as a trade-down scenario here.
2004
--Traded with Atlanta
Gave: No. 29 in the first round (wide receiver Michael Jenkins) and a third-round pick (90th overall, quarterback Matt Schaub)

Got: No. 38 in the second round (traded to Steelers for a second-round pick, 44th overall, Bob Sanders and fourth-round pick, 107th overall, linebacker Kendyll Pope), a third-round pick (69th overall, linebacker Gilbert Gardner), and a fourth-round pick (125th overall, cornerback Jason David)

Value chart says: Colts, 845-780

Assessment: A double-trade down netted the Colts Sanders. He may miss way too many games due to injuries, but he won a defensive player of the year award and keyed a Super Bowl team. But Schaub sure proved to have value for Atlanta when Houston came calling a couple years later.
Jacksonville
2007 -- Traded with Denver

Gave: No. 17 in first round (defensive end Jarvis Moss)



[+] Enlarge

Scott A. Miller/US PresswireThe Jaguars' Reggie Nelson had a disappointing sophomore season.

Got: No. 21 in first round (safety Reggie Nelson); a third-round pick (86th overall, traded to Baltimore for a fourth-round pick, 101st overall , a fifth-round pick, 166th overall, and a sixth-round pick 203rd overall); and a sixth-round pick (198th overall, traded to Atlanta as part of package for a fifth-rounder, 149th overall, guard Uche Nwaneri). Punter Adam Podlesh and defensive tackle Derek Landri came out of that trade with Baltimore, with the 203rd pick also going to Atlanta in the trade that got Jacksonville Nwaneri

Value chart says: Jaguars 973.2-950 (not factoring in trades of other picks involved)

Assessment: They did OK, but if Nelson continues on his current course, we'll remember them failing with another first-rounder.
Titans
2004
-- Traded with Houston
Gave: No. 27 in the first round (defensive end/outside linebacker Jason Babin) and a fifth-round pick (159th overall, traded to Jacksonville)

Got: No. 40 in the second round (tight end Ben Troupe), a third-round pick (71st overall, defensive tackle Randy Starks), a fourth-round pick (103rd overall, defensive end Bo Schobel), and a fifth-round pick (138th overall, guard Jacob Bell)

Value chart says: Titans, 860-708.8

Assessment: On draft day, it looked like a monster win for Tennessee and in time, because Babin busted, it still leaned their way. But for the Titans, only Bell was a consistent performer. It's easy to look back on drafts and play what if, I know, but what if the Titans or the Texans had used No. 27 on Sanders or Karlos Dansby or Chris Snee?
Conclusions
:
Let's emphasize this is not scientific and it's not a very big sample size.
Still, these five deals produced just one player we'd rate as stellar, and Sanders has major injury issues. They also yielded AFC South teams a left tackle who still has to prove himself (Brown), a defensive tackle who busted (Johnson), a free safety whose second year was very poor (Nelson) and a tight end who's out of the league (Troupe).
Trading down doesn't always produce the yield everyone imagines. One very good player is better than a couple who rank a notch below. The chance at that player is typically better where you are, not lower than that.
So if the Jaguars see someone they like a lot at 10 or if the Titans see someone they like a lot at 16, they should jump, not dump.
August, 10, 2009
8/10/09
1:06
PM ET
| | |
| --- | --- |
| | |
| | AP Photo/Bill Haber |
| | Jonathan Vilma is excited about playing for new coordinator Gregg Williams. |
Posted by ESPN.com's Pat Yasinskas
METAIRIE, La. -- By all accounts, Jonathan Vilma resurrected his career with the New Orleans Saints last season. After clashing with coach Eric Mangini with the Jets and enduring an injury, Vilma found a home in the middle of New Orleans' 4-3 defense.
He got back to playing middle linebacker the way he was used to playing it and instantly became the leader of the defense. By Vilma's account, that wasn't nearly good enough.
Personal satisfaction has a way of getting watered down when you're playing on a defense that's not very good. Vilma might have been a bright spot, but the rest of the defense was a dark hole. Nine different times the Saints allowed opponents to score at least 27 points and they lost seven of those games.
In the process, the defense helped squander a brilliant season by quarterback Drew Brees and the offense. Brees threw for more than 5,000 yards, but it didn't mean much because the defense didn't stop anyone and the Saints finished out of the playoffs for the second straight year.
It's critical the streak doesn't reach three seasons because that would put coach Sean Payton very much on the hot seat. That's why Payton brought in coordinator Gregg Williams to run the defense and encouraged general manager Mickey Loomis to reshuffle the defensive personnel.
Williams' impact has been felt from the first moment he entered the building and it's been obvious out on the practice field.
"The X's and O's are pretty much the same," Vilma said. "But it's a different mindset. It's about letting us play. Coach Williams lets us know it's all right to go out there and make mistakes. It's all right to go out there and be wrong. As long as you're doing it 100 miles per hour, as long as you're hitting somebody, it's all right. We'll go into the meetings and make our corrections there."
Fantasy Football: 32 Questions

ESPN.com fantasy expert Eric Karabell thinks Saints running back Pierre Thomas is "about to become a star." Story

Basically, what the Saints are doing is trading a cautious defensive approach for an aggressive one.
"Everybody's playing with swagger," defensive end Bobby McCray said. "We've got 160-pound cornerbacks looking to knock your head off."
That should be a welcome sight in New Orleans, where there wasn't a lot of hitting last season, and cornerbacks (and safeties) spent most of their time chasing receivers who already had caught the ball. The roles will be different this season.
"It's a lot more man-on-man," said veteran safety Darren Sharper, who was brought in as a free agent to help stabilize the secondary. "You're doing some zone. You're blitzing guys from different directions. That shouldn't be a problem for us. We have no excuses as far as getting to the quarterback. It's a state of mind. You attack the ball. You have 11 guys being aggressive and you make aggressive calls. We're going to be an aggressive, attacking defense."
It's been said that even an average defense might be good enough to get the Saints to the playoffs. But the Saints aren't looking for an average defense. They want more.
"We can be as good as we want to be," Vilma said. "We have the talent. We had the talent last year, but we just didn't make plays. This year, we're focusing on making those plays. The talent is there. It's just a matter of going out and doing it."
Key Questions

Even with all of the defensive changes, isn't the expected loss of starting defensive ends Charles Grant and Will Smith to suspensions for the first four games going to be very difficult to overcome?
It's never good to be without your starting defensive ends. But the Saints have had the entire offseason to prepare for this situation.
They brought in veterans Paul Spicer and Anthony Hargrove, and they still have McCray, who might have outplayed the underachieving Grant and Smith last season. The Saints would like to use McCray as a pass-rush specialist once Grant and Smith return, but they believe he can fill a starting role in the short term. They're also very fired up about Hargrove, who appears very focused after having some problems that interrupted his career.
There's even hope that Grant and Smith might be better off in the long run because of the suspensions. Both are very talented, but haven't played up to their ability the past couple of years. The Saints are hoping they'll come back from the suspensions with more motivation than ever.
Can the No. 1 offense be as good as last year?
| | |
| --- | --- |
| | |
| | Al Messerschmidt/Getty Images |
| | Quarterback Drew Brees threw for more than 5,000 yards for the Saints last season. |
Heck, it could be even better. Brees' season was remarkable under any circumstances. But a lot of people tend to forget he did all of that with the top three offensive weapons banged up for most of the year. Brees threw for more than 5,000 yards, but didn't have a 1,000-yard receiver or any consistency in the running game.
The 1,000-yard receiver shouldn't be an issue this year. Marques Colston is back at full health and looking absolutely spectacular in training camp. He's the kind of big receiver who should be good for somewhere around 1,200 yards and 10 touchdowns. Throw in tight end Jeremy Shockey, who never was at full strength last year, but is healthy now.
Shockey and Brees look to be developing a strong chemistry in camp. When healthy, Shockey can be one of the league's best tight ends. He didn't catch a touchdown pass last year. He's painfully aware of that and wants to prove he still can find the end zone.
Then there's Reggie Bush. He was off to a very good start as a multi-purpose running back last year, but he got sidetracked by injuries and missed six games.
Can Bush ever live up to the hype he carried coming out of college?
If he stays healthy, yes. Bush will never be the kind of back who runs between the tackles 25 times a game. But that's not what the Saints are looking for. They'll let Pierre Thomas handle most of the carries between the tackles. Bush is a threat to score any time he touches the ball and the Saints will look to get him the ball in space as a runner, receiver and a return man.
Market watch
The Saints really were hoping that Dan Morgan or Stanley Arnoux could take over as the starter at weakside linebacker. But Morgan retired in June and Arnoux tore his Achilles tendon in offseason workouts and will miss the season. That means the Saints appear destined to stick with veteran Scott Shanle in a linebacking corps with Vilma and Scott Fujita. Shanle's experienced, but he doesn't make any big plays and lacks great speed. The Saints have been very impressed with young linebackers Anthony Waters and Jonathan Casillas so far in camp. They're raw, but Williams wants aggressiveness and he may take a chance on one of these guys.
Receiver Devery Henderson, who struggled with drops through much of his career, suddenly started catching the ball last season. But the drops have resurfaced during camp and that's not a good sign. With Colston healthy and third-year pro Robert Meachem showing some signs he might live up to his status as a first-round pick in 2007, Henderson could end up as the fourth receiver.
Former Pro Bowl defensive tackle Rod Coleman ended a one-year retirement to make a comeback with the Saints. Coleman hasn't stood out in camp so far, but the Saints will use the preseason games to determine if Coleman has anything left. They'd like to use him as a part-time player on passing downs because he used to be one of the league's top interior rushers.
Newcomer to watch
| | |
| --- | --- |
| | |
| | Crystal LoGiudice/US Presswire |
| | Rookie Malcolm Jenkins has to make up for lost time now that he has agreed to terms on a contract. |
Top draft pick Malcolm Jenkins ended his holdout late Sunday night. Jenkins is a unique talent, but the holdout could have cost him a shot at a starting cornerback spot. The Saints paid big money to Jabari Greer in free agency and he's set at one starting spot. Tracy Porter has picked up where he left off when an injury ended a promising rookie season and has the edge for the other starting role. Jenkins isn't even guaranteed to land as the nickelback because veterans Randall Gay and Jason David have been playing well in camp.
Observation deck
There still are a lot of fans calling for the Saints to bring in veteran Edgerrin James to be the short-yardage running back, but that doesn't appear likely. First off, James isn't the prototypical short-yardage runner. Second, the Saints might already have their answer. They've been letting undrafted free agents P.J. Hill and Herb Donaldson compete with Mike Bell for this role. All three are true power backs and all three have looked good at times. ... Defensive tackle Sedrick Ellis showed some promise as a rookie, but injuries kept him from being on the field all the time. Ellis is quietly having a very nice camp and the Saints believe he's ready to really become a force in the middle. ... The Saints used a fifth-round draft pick on punter Thomas Morstead, but there's no guarantee he'll win the job. He's in a battle with Glenn Pakulak and, so far, it's a dead heat. ... Williams' base defense is the 4-3, but he started installing a 3-4 package last week. Don't look for the Saints to use the 3-4 a lot. But you could see a fair amount of it early in the season when Smith and Grant are out and the Saints will deal with a shortage of quality defensive linemen.
June, 5, 2009
6/05/09
5:37
PM ET
| | |
| --- | --- |
| | |
| | Chris Graythen/Getty Images |
| | Led by Drew Brees and Reggie Bush, the Saints have plenty of firepower on offense. |
Posted by ESPN.com's Pat Yasinskas
METAIRIE, La. -- To understand why the New Orleans Saints have a chance to do great things this season, you have to go back to the lowest moment of last season.
Believe it or not, there was some beauty in early October's 30-27 loss to the Minnesota Vikings in the Superdome. Do you need a reminder of the ugliness? Think of the Saints making Gus Frerotte and Bernard Berrian seem like Joe Montana and Dwight Clark just moments after Reggie Bush had made two miraculous punt returns for touchdowns in a "Monday Night Football" game.
As the Vikings kicked the winning field goal with 13 seconds remaining, defensive back Darren Sharper stood on the Minnesota sidelines. In hindsight, he glimpsed something special in the Saints.
"I think the main thing was I saw this team as being on the cusp of not only making the playoffs, but of making a championship run,'' Sharper said.
Cusp of the playoffs? Coach Sean Payton's Saints finished the 2008 campaign 8-8, and that came on the heels of a 7-9 season.
"Three or four games, they let big plays happen,'' Sharper said. "That's the difference between 11-5 and 8-8.''
As crazy as it might sound, Sharper's precisely right. The Saints might be the league's biggest disappointment the last two seasons, but that's also part of the reason they might be this year's most promising team.
They're loaded with names -- Drew Brees, Bush, Jeremy Shockey, Marques Colston and Jonathan Vilma. The flashy marquee has not yielded dramatic results. The Saints were the trendy pick by a lot of media outlets to make the Super Bowl last season, but didn't even come close.
Blame it on bad luck, a rash of injuries or whatever. No matter how you look at it, the Saints underachieved. They're out to make sure it doesn't happen again. Maybe it's better that they're coming into this season without high expectations from the outside, because, on the inside, the Saints are expecting a lot more.
That's part of the reason Sharper decided to sign with the Saints as a free agent. That's part of the reason the Saints brought in defensive coordinator Gregg Williams, cornerback Jabari Greer, defensive end Paul Spicer and cornerback Malcolm Jenkins.
"I wanted to go with the team that has the best chance of winning a ring,'' Sharper said. "I think New Orleans has that.''
On paper, the Saints do have that.
| | |
| --- | --- |
| | |
| | Chris Graythen/Getty Images |
| | The Saints will need Jonathan Vilma and the defense to improve this season. |
They've got the league's top-ranked offense from last season. Keep in mind, all that happened with Shockey, Colston and Bush each missing significant playing time. Brees threw for more than 5,000 yards in a season when the Saints had little consistency in the running game and didn't get Shockey into the end zone.
"As good as it was last year, No. 1, that's our goal,'' Shockey said. "I think our goal again is to be No. 1.''
How much better than No. 1 can the offense be?
Actually, a lot. If Shockey and Colston can return to anything like they were earlier in their careers and Bush can play like he did in the first half of last season, Brees could end up shattering records. The Saints also are hoping to do a better job controlling the running game with some sort of combination of Bush, Pierre Thomas and a short-yardage back to be named later.
But, more than anything, they need to improve defensively. Funny, but that sounds like the same story from the past two offseasons. The Saints made moves such as bringing in Jason David and Randall Gay to solidify the secondary. They signed defensive line coach Ed Orgeron to get more out of the unit.
Those moves never brought the desired results. The Saints overhauled their defense again this offseason. They spent a small fortune on Greer and still drafted Jenkins in the first round to beef up the cornerback position. They got linebacker Dan Morgan out of retirement and plan to play him on the weak side.
They signed Spicer and Anthony Hargrove to push starting defensive ends Charles Grant and Will Smith. Orgeron left. Defensive coordinator Gary Gibbs was fired and replaced by Williams, who has a reputation as one of the league's best defensive minds.
They're plugging Sharper in as the free safety and trying to build around Vilma and defensive tackle Sedrick Ellis, the only two bright spots from the 2008 defense. They're also getting cornerback Tracy Porter, who showed some promise early last season, back from a broken wrist.
Maybe, like Sharper said, there will be even more big plays on offense and fewer big plays allowed on defense. That formula probably would be enough to put the Saints into the playoffs.
"It's an offense that's been at the top of the league the last couple of years and a defense that can b
e a ball-hawking defense and the special teams are explosive when you can put a guy like Reggie out there,'' Sharper said.
"And the camaraderie that guys have. Guys like each other and want to play for each other. That goes for the coaches, too. Whenever you have that great chemistry, that goes a long way. Last year [the] Arizona [Cardinals], nobody expected they would be there at the end. When you have all the pieces in place, you know you have a shot.''
Maybe, with all the new pieces, the Saints will have a shot at more than they've accomplished the last two years.
March, 16, 2009
3/16/09
12:00
PM ET
| | |
| --- | --- |
| | |
| | Getty Images/AP Photo |
| | Aqib Talib, Jabari Greer and Richard Marshall are part of the changing of the guard at the cornerback position in the NFC South. |
Posted by ESPN.com's Pat Yasinskas
In an otherwise-quiet offseason, the NFC South has turned the corners.
If there's one common theme in the division, it's that there will be lots of change and plenty of youth at cornerback. For better or worse, each team is going to have at least one new starter at cornerback and many familiar faces are gone.
Get used to guys like Richard Marshall, Jabari Greer, Tracy Porter, Aqib Talib and Chevis Jackson because they're going to be the new cornerback faces in the NFC South.
Yes, Tampa Bay's Ronde Barber and New Orleans' Mike McKenzie are still around, but that may be more for show and sentiment than anything. The days of big-name cornerbacks in this division are over -- at least until some of these new guys make names for themselves and they're going to get every chance.
Somebody has to step up and guard the likes of Steve Smith, Roddy White, Marques Colston and Antonio Bryant. That may seem like a big task for a bunch of young and unproven cornerbacks, but that's what it's going to come down to.
Every team in the division suddenly needs major production from young or new cornerbacks.
| | |
| --- | --- |
| | |
| | Dilip Vishwanat/Getty Images |
| | The Saints get a healthy Tracy Porter back after injury cut short his promising rookie campaign. |
Start with the Saints because they could have the most change of all. The entire secondary has been a mess the last couple of years, but the problems have been particularly bad at cornerback. McKenzie's gone down with major injuries in each of the last two seasons and the Saints have been forced to go with the likes of the undersized Jason David and the antiquated Aaron Glenn playing big roles.
It hasn't really mattered how many yards Drew Brees has thrown for the last two seasons because the New Orleans defense has given up just as many. But the plan is for that to stop. Although McKenzie, David and Randall Gay remain on the roster, there's a chance the Saints could end up with Greer and Porter as their starters.
New defensive coordinator Gregg Williams wants to bring an aggressive approach and Greer has been the highlight of New Orleans' free-agency class. He was signed away from Buffalo, where he was a starter the last two years. The four-year, $23 million deal the Saints gave Greer likely means they're counting on him being the No. 1 cornerback.
But don't rule out the possibility of Porter being just as good before all is said and done. A second-round pick last year, Porter got off to a strong start as a rookie. He showed all the physical skills and tremendous confidence before going down with an injury just before midseason.
Tampa Bay also could have two new starters as new coach Raheem Morris takes over. You can pretty much assume that Aqib Talib, last year's first-round pick, will move into a starting role. Starter Phillip Buchanon departed through free agency and Talib showed promise as the nickelback last year. He may have to become Tampa Bay's No. 1 cornerback because nobody knows what the future holds for Barber, who is nearing the end of his career.
The Bucs pursued Greer and several other free-agent cornerbacks. They likely aren't done making moves at this position and that could be a sign that they're considering moving Barber to the nickel role.
Only a year ago, a lot of people thought Carolina had the best trio of cornerbacks in the NFL. But that trio is now just a duo. Chris Gamble remains as probably the division's best cornerback, but he's going to have a new starter beside him.
The Panthers whacked veteran Ken Lucas in a salary-cap move this week. Lucas' play declined late last season. There are a lot of people who believe Richard Marshall, the nickelback the last couple of years, is ready to step in and provide an upgrade over Lucas.
That may turn out to be true, but Marshall's elevation raises another question that doesn't have an obvious answer: Who's going to be the nickelback? All the Panthers have at the moment is C.J. Wilson, who barely has played and veteran Dante Wesley, who may not be much more than a special-teams player. That means there's a good chance the Panthers, who have almost no salary-cap room, will have to draft a cornerback.
| | |
| --- | --- |
| | |
| | AP Photo/Ross D. Franklin |
| | Chevis Jackson, a third-round pick in 2008, should have a larger role in 2009. |
That's a route the Falcons may also follow because they have the division's least-defined cornerback situation at the moment. This team unloaded the talented, but troubled DeAngelo Hall before last season and made it to the playoffs with smoke, mirr
ors and luck at cornerback last season. But some of that luck already is gone.
Domonique Foxworth, who emerged as a pleasant surprise last season, went to Baltimore after getting a massive deal in free agency. But the Falcons don't seem too worried. They could have made a stronger attempt to keep Foxworth, but didn't.
That makes you wonder whether coach Mike Smith has a higher opinion of his cornerbacks than the rest of us do. Chris Houston returns as a starter, but he hasn't yet shown he can be a true No. 1 cornerback. Smith must be thinking Houston can grow into that role because there aren't any other options on the roster.
In fact, it's far from clear who the other starter will be. Von Hutchins will be back after missing last season with an injury and Brent Grimes, who was a part-time starter last year, also remains a possibility.
But keep an eye on Jackson, a third-round pick last year, who started to show some big-play capability at the end of last season. The Falcons may be looking for Jackson to start or, at very least, be the nickelback.
If Jackson can do that, he'll fill a big void. He'll also be one of the faces of change at cornerback in the NFC South.
November, 25, 2008
11/25/08
12:00
AM ET
Posted by ESPN.com's Pat Yasinskas


This is what the New Orleans Saints were supposed to be all along: A team with a high-powered offense and a defense capable of coming up with some big plays.
It just took 11 games for it all to come together. Too little, too late?
Maybe not. The Saints thumped the Packers, 51-29, to win back-to-back games for the first time all season and moved to 6-5. They're still last in the NFC South, but they're not out of it. Really.
It's going to take something special -- like playing this way for the rest of the season -- but it's not impossible. The Carolina Panthers and Tampa Bay Buccaneers are 8-3 and the Atlanta Falcons are 7-4.
Guess what? The Saints have games with each of their three division rivals along with contests with Detroit and Chicago sprinkled in. The Saints may not even have to run the table to get in the playoffs.
Winning four out of five might be enough to do the trick. With Marques Colston and Jeremy Shockey suddenly starting to make plays and cornerback Jason David, long the least popular player on the roster, coming up with two interceptions, it's a start.
And maybe that late start is coming at just the right time.
October, 23, 2008
10/23/08
3:41
PM ET
Posted by ESPN.com's Paul Kuharsky


INDIANAPOLIS -- They keep their own here, the indispensible ones.
Peyton Manning was never going to get away, Marvin Harrison was a lock, Reggie Wayne would be a fixture.
Dwight Freeney had to be on the field, Bob Sanders was a vital ingredient, Robert Mathis' energy was a must.
Since 2004 the Indianapolis Colts have spent over $205 million in guaranteed money on Manning, Harrison, Brandon Stokley, Ryan Diem, Wayne, Raheem Brock, Gary Brackett, Adam Vinatieri, Mathis, Freeney, Sanders and Ryan Lilja.
That's a great core that all started out as Colts, except for Vinatieri, and is all still Colts, except for Stokley.
The players Bill Polian chose not to re-sign have hardly haunted Indianapolis -- they probably parted with Edgerrin James at the right time; Rick DeMulling, Jason David, Cato June and Ben Utecht haven't done a lot to help Detroit, New Orleans, Tampa Bay or Cincinnati, respectively. Plenty of NFL insiders regard them and other ex-Colts as system players who were good in the Colts framework, did well to cash in as free agents, and will never play as well as they did in Indianapolis.
The Colts had draft picks or young players ready to step in as replacements in their unique system.
Only a handful of former Colts have gone on to advance their careers with their second team, among them linebacker Mike Peterson (Jacksonville) and Marcus Washington (Washington).
Three others went south to Nashville. David Thornton, Nick Harper and Jake Scott have jumped to the Titans in the last three years. They are now key ingredients for 6-0 Tennessee, the lone undefeated team in the league and the hosts to the Colts Monday night at LP Field.
While other system guys have faded in their second acts, the Titans feel they hit three home runs -- raiding and weakening the team they've been chasing in the AFC South while strengthening their nucleus.
"They are great performers for us and it's definitely a credit to our scouting department," said Titans Pro Bowl defensive end Kyle Vanden Bosch. "Indy is a system-type team, but those guys came in and fit in with what we do really well."
"They've got so much invested in their elite, core guys, they kind of roll the other guys over," said Tennessee GM Mike Reinfeldt, who assumed his post in 2007. "The key is to find in those guys they roll over, which ones are the guys that are really keepers? I think we found three that were."
Thornton is a rangy linebacker who is completely comfortable in coverage and able to rush the passer when asked. Harper was typecast as a Cover 2 corner, but he's shown himself to be capable in man-to-man and has added a lot to the Titans run defense as a willing and reliable tackler. Scott has helped make a brawny line that's allowed only two sacks even more physical.
In 2007, the Colts were ready to let Harper and David move on as they had young risers Marlin Jackson and Kelvin Hayden ready to take over. Harper got a three-year contract for between $9 and 10 million. David was a restricted free agent, but Indy didn't match a four-year, $16.5 million offer sheet.
The Colts haven't missed him the way they have missed Thornton and, because of injuries in the early part of this season, Scott.
Polian said after a Titans-Colts game last season that his team's best linebacker was wearing No. 50 for the other team. Indy might have been able to re-sign him, but accounting issues with the NFL Management Council over signing bonuses for Manning and Harrison under the new CBA in 2006 clogged up Polian's salary cap and the linebacker was gone by the time things were sorted out.
"That's probably the free agent loss that I took hardest," Polian said. "Because I had such high regard for him as a person, as a player and as a leader."
And while the Colts seemingly chose between Lilja and Scott, they certainly could have used Scott to this point, as injuries have thinned their options along the line and Lilja remains on the physically unable to perform list.
Harper has been solid this season, though breakout youngsters Cortland Finnegan and Michael Griffin have stolen the secondary spotlight. In his second season, Harper is more comfortable.
He said while a lot of Titans defenses start as zones, they wind up working man-to-man concepts with which he is now completely comfortable. Harper is always quick to note that he was a man corner when he joined the Colts after a year with the Hamilton Tiger-Cats of the CFL.
"Definitely, I am not a product of what the Colts did," he said.
His old teammates will watch him work Sunday, and take note of Thornton and Scott too. They understand why they are where they are, even if they don't like it.
"I'm very happy for all those guys, all good guys, they've done well down there so far," center J
eff Saturday said. "But you knew leaving here, they were the good guys. You knew what you had as players. They showed up here each and every week and performed and played to an outstanding level. They're just doing it for another team.
"They have great leadership qualities, each and every one of them do, and they just took it to the Titans. That's the way the league is now. When teams play you twice a year they can get a good sense of how good you're going to be for them. And I think the Titans made a good move there."
August, 29, 2008
8/29/08
12:00
PM ET
Posted by ESPN.com's Pat Yasinskas
Jake Delhomme's elbow, Jeremy Shockey's attitude, Jeff Garcia's age and Matt Ryan's contract have been talked and written about repeatedly for the last month.
They could be talked about for the next four months and any of the above could help decide the NFC South title. But, often times, it's not the big stories that determine a season. Often, it's the things that seem subtle that emerge as big topics.
Here's a look at three under-the-radar things that have to go right for each NFC South team if it's going to have a shot at winning the division title.

ATLANTA FALCONS
1. All right, it's a massive stretch to mention the Falcons and a division title. But that's the premise of this column and Atlanta happens to fall first in the alphabetical order. To have any chance to do anything, the Falcons need some leaders. They wiped out Warrick Dunn and Alge Crumpler in the offseason and they're either too young or too old in most positions. If the Falcons are going to show progress, they need guys like running back Michael Turner and linebacker Michael Boley to step up and take charge.
2. In his second season, Jamaal Anderson has to at least show up on the stat sheet. Anderson, Atlanta's first-round pick a year ago, didn't even record a sack as a rookie and you need more than that from a starting defensive end. John Abraham is the starter at the other defensive end and he can rush the passer. But the Falcons need some production out of Anderson. If they don't get it, cornerbacks Chris Houston and Brent Grimes are going to get destroyed. New coach Mike Smith comes from a defensive background and one of his goals throughout the preseason was to prepare Anderson to at least be a factor.
3. Ryan is the poster boy for this franchise, but his smile could get rearranged if rookie left tackle Sam Baker can't protect his blindside. When the Falcons traded back into the first round to take Baker, there were a lot of raised eyebrows around the league. The thought from a lot of personnel people was that the Falcons reached on a guy who has great size, but not a lot of athletic ability. He better show some. If Atlanta's second first-round pick isn't ready to play, its first pick won't have a chance.
---

CAROLINA PANTHERS
1. Without their best player for the first two games, the Panthers have to find a way to come out of Steve Smith's suspension at least at 1-1. The Panthers open at San Diego, which would have been a tough task even with Smith. Without Smith, the Week 2 game at home with Chicago suddenly looks a lot tougher. Carolina's going to need a fast start by receivers Muhsin Muhammad, D.J. Hackett and Dwayne Jarrett.
2. Smith's going to have to come back better than ever. His training-camp knockout of teammate Ken Lucas set back all the maturing Smith's done over the last five or six years. But this organization hitched its wagon to Smith long ago and he's been given a lot of heart-to-heart talks from ownership, the coaching staff and veteran teammates. If nothing else, Smith has always been one of the most intense competitors in the league. He's got to focus that intensity in a positive way to make everyone forget 20 regrettable seconds in training camp.
3. Right tackle Jeff Otah has to play like a veteran right away. If the preseason was any indication, he will. Otah is huge and should be a perfect fit in the power running game the Panthers want to get back to. It doesn't matter if DeAngelo Williams or Jonathan Stewart is carrying the ball -- the Panthers are going to be able to run the ball to the right side.
---

NEW ORLEANS SAINTS
1. You could look at the schedule and say the NFL did the Saints a favor by giving them a bye and games against Atlanta and Kansas City in the first three weeks of November. But look at what the folks who made the schedule did to the Saints right before that. They've got a road trip to Carolina and a "home" game in London against San Diego. The Saints will go from Oct. 12 to Nov. 24 without playing in the Superdome. The Saints, who opened by losing their first four games last year, have to get off to a fast start because they'll need some momentum to carry them through a brutal midseason stretch.
2. We've heard a lot about Reggie Bush saying he's expecting big things this year. That would make life a lot easier for the Saints and there's no doubt Bush has the potential to do great things. But expecting it all to click in at once isn't realistic. Bush may never be an every-down back and the Saints need a big contribution from Deuce McAllister, who's coming back from ACL surgery. McAllister doesn't need to be the workhorse he was in the past, but 12-15 carries a game would be nice.
3. First-round pick Sedrick Ellis and linebacker Jonathan Vilma were the focal points of the overhaul of the defense. But second-round pick T
racy Porter will be just as important. He'll either start at cornerback or be the nickel back. Porter needs to give the Saints an instant upgrade over Jason David, who struggled last season.
---

TAMPA BAY BUCCANEERS
1. Rookie guard Jeremy Zuttah has to play well right away for the offensive line to live up to expectations. Zuttah was viewed as a project until starter Davin Joseph suffered a foot injury that could sideline him for a significant time. Zuttah's come on fast and one of the best moves the Bucs made was having him room with center Jeff Faine in training camp. Playing next to Faine should help Zuttah's transition.
2. As fans were complaining about the team's failure to get a playmaker in the offseason, the Bucs might have snuck one by them. Receiver Antonio Bryant, who had some problems in his previous stops, has been a model citizen for the Bucs. If he stays free of trouble, the Bucs will have a playmaker besides Joey Galloway.
3. The Bucs need to break the hex that seems to come with the NFC South title. Since the division's inception, no team has won it in back-to-back years. In fact, the trend has been for the champion to have a big drop-off the following year. With most of last year's roster intact and Garcia returning for a second year in the system, the Bucs have a chance to make history.
August, 27, 2008
8/27/08
10:52
AM ET
Posted by ESPN.com's Pat Yasinskas
SAINTS
Veteran cornerbacks Jason David, Jason Craft and Aaron Glenn are on the bubble for roster spots. The Saints have Mike McKenzie, Tracy Porter and Randall Gay as their top three corners and Usama Young seems to have the edge for the No. 4 spot. That leaves either one or two roster spots for the three veterans. David, who cost the Saints a fourth-round draft pick and a $16.5 million contract in 2007, took much of the blame for last year's defensive struggles. If the Saints release him, they'll take a salary cap hit of around $3 million.
BUCS
Jimmy Wilkerson, who never was able to make much of an impact in Kansas City, may parlay a strong preseason into a spot in Tampa Bay's defensive tackle rotation. Wilkerson's chances of making the roster are boosted by his ability to also play defensive end.
PANTHERS
Although rookie Jonathan Stewart likely will play a big role at running back, the Panthers are considering using him on kickoff returns. Return specialist Ryne Robinson has been sidelined by an injury. Stewart returned kicks in college and may have more upside than Robinson.
FALCONS
In a story that details how the roster might look, the Atlanta Journal-Constitution wonders which two quarterbacks the Falcons will keep behind rookie Matt Ryan. The team could keep Chris Redman and Joey Harrington or let one of the veterans go and keep D.J. Shockley. The guess here is the Falcons will cut Shockley, but try to bring him back to the practice squad if he makes it through waivers.
August, 19, 2008
8/19/08
10:32
AM ET
Posted by ESPN.com's Pat Yasinskas
Here's a look at this morning's local coverage of the four NFC South teams.
SAINTS
PANTHERS
BUCCANEERS
FALCONS
August, 2, 2008
8/02/08
1:10
PM ET
Posted by ESPN.com's Mike Sando
Daniel Brown of the San Jose Mercury News addresses a Pro Football Prospectus report casting doubt on Nate Clements' contributions to the 49ers' secondary. The report shows Clements allowing more touchdowns and first downs, more yards in coverage and more yards after the catch than other cornerbacks. But there's no mention of the most important variable: playing time. New Orleans' Jason David is also ranked high on these lists, but I did some digging and found out that might not mean much. Clements played more than 1,100 snaps last season. David played about 750 snaps last season. Big difference.
Frank Hughes of the Tacoma News Tribune has an interesting note about the coach-to-player headsets being made available for the defense. Seattle's Lofa Tatupu and Brian Russell are logical candidates to wear them, but neither wants to use the devices. That could leave Deon Grant as the Seahawks' defensive communicator.
Clare Farnsworth of the Seattle Post-Intelligencer checks in with Seattle's Jordan Kent, one of several young receivers trying to make an impact in the Seahawks' scrimmage at Qwest Field today. Kent, an accomplished track athlete with the height to play basketball, has broken the habit of leaving his feet every time he catches the ball.
Kent Somers of the Arizona Republic says the Cardinals need more from nose tackle Alan Branch, a second-round choice in 2007. "In the coaches' estimation, Branch needs to lose weight and practice at a high level more consistently." That's not what you want to hear. Worse, 34-year-old Bryan Robinson is working with the starters while No. 1 nose tackle Gabe Watson recovers from a knee injury.
Steve Korte of the Belleville News Democrat says the Rams' Brett Romberg and Richie Incognito remain great friends even as they compete to be the starting center. Incognito could end up playing right guard if Romberg wins the center battle. Incognito: "I don't want to be jumping around, where the last second I'm playing guard. If they want me to play center, leave me at center." Not necessarily how it works.
Jim Thomas of the St. Louis Post-Dispatch provides context for the Rams' scrimmage, scheduled for 10:50 a.m. ET this morning at Concordia University. I'm looking forward to watching Chris Long today, but apparently we shouldn't be surprised if a brawl breaks out and team president Jay Zygmunt tries to break it up.
Bill Coats of the St. Louis Post-Dispatch checks in with former Steelers fullback Dan Kreider, who is trying to earn a roster spot with the Rams. The best Kreider quote from the story begins this way: "Running routes isn't one of my great abilities." The Rams did not sign Kreider to fully explore Al Saunders' route tree, in other words. Also from Coats: Rams receiver Torry Holt still isn't happy about losing Isaac Bruce, but he is moving on.
The San Francisco Chronicle's QB update chart is worth a look today. And you thought the 49ers' quarterback race was down to Alex Smith and Shaun Hill. The more we hear from 49ers camp, the more we should consider J.T. Sullivan as a viable option. O'Sullivan knows the Mike Martz system, and it's clear the organization isn't going out of its way to push Smith.
Tom FitzGerald of the San Francisco Chronicle assesses Dashon Goldson's performance in 49ers camp. My impression after visiting 49ers camp: Goldson will become the starter at some point this season, even if Mark Roman holds onto the job in the short term. Also from Fitzgerald: Tight end Delanie Walker isn't happy about changes to the forceout rule.
Jose Romero of the Seattle Times says middle linebacker Lofa Tatupu might not play in the Seahawks' scrimmage today. That would be a loss for fans, who haven't been able to watch practices while the Seahawks wait to begin using their new facility Aug. 18. The old facility isn't big enough to accommodate fans. Scrimmages are for backups. Coaches don't want to take risks with banged-up starters. Also from Romero: He singles out Matt Hasselbeck's red-zone touchdown pass to Leonard Weaver as one of the Seahawks' offensive plays of the day. Weaver's strong camp is exactly what the Seahawks needed to see from him. Seattle relies more heavily on a traditional fullback than most teams.
Matt Maiocco of the Santa Rosa Press-Democrat recalls Fred Dean's incredible impact on the 49ers in 1981. Dean, set to be enshrined in the Pro Football Hall of Fame, sacked Cowboys quarterback Danny White three times in Dean's first game with the 49ers. The team won a Super Bowl for the first time later that season. Also from Maiocco: Alex Smith doesn't have much to say about O'Sullivan's increased reps in practice.
ESPN.com's Chris Conetzkey writes about Dean through the eyes of former teammate Dwaine Board and former opponent Mike Kenn. Kenn offers high praise: "He had this move where he could get a guy moving upfield with an inside one-arm rip on the edge, and he was basically able to reach back around and convert it into a club and basically throw people off the field. Reggie White developed the same type of move to rush from the left side, but Fred Dean was the first to utilize it. Those are the only two players that I saw that actually had the ability to make that work."
Darren Urban of azcardinals.com quotes Cardinals quarterback Matt Leinart as saying he had "no clue" a year ago. Leinart says he's much more confident this summer. More than a couple of coaches and personnel people I've spoken with around the league think Leinart will develop into a good quarterback. I can see why some fans want Kurt Warner, but I think the organization owes it to itself to figure out whether Leinart can lead the offense effectively without
being as careless with the football as Warner tends to be.

NFL SCOREBOARD
Sunday, 2/2
WEEKLY LEADERS