NFL Nation:

Jason Simmons
January, 28, 2015
Jan 28
6:20
PM ET
GREEN BAY, Wis. – It might be more than a week before we know coach
Mike McCarthy
's plan to fix the
Green Bay Packers
' dreadful special-teams unit.
McCarthy would not offer specifics on Wednesday, when he held his season wrap-up news conference, other than to say everything will be scrutinized before any decisions are made.
All the assistant coaches, including embattled special-teams coordinator Shawn Slocum, were given this week off.
"It's important to evaluate," said McCarthy, whose offseason work was delayed by the unexpected death of his younger brother last week. "I obviously haven't had that opportunity. So we'll look at everything. We'll look at every job description, every job responsibility, performance – mine included – and we'll look to make changes."
McCarthy said it usually takes him a week to conduct his end-of-season meetings and evaluations with his coaching staff.
[+] Enlarge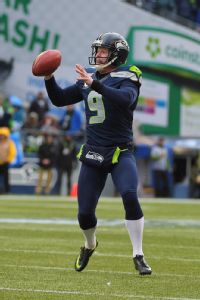 Kirby Lee/USA TODAY SportsJon Ryan's fake-punt touchdown pass in the NFC Championship Game was another special-teams breakdown for the Packers.
There's reason to think McCarthy could keep Slocum, but possibly in another capacity or with other changes to help his special teams, which was
ranked last in the Dallas Morning News' annual rankings
.
McCarthy and Slocum have a long history, having first worked together at the University of Pittsburgh in 1990, and McCarthy has fired only one coordinator in his nine seasons as head coach and none since he parted ways with Bob Sanders, who ran the defense from 2006-08.
Last offseason, the Packers fired special-teams assistant Chad Morton and hired veteran coach Ron Zook to help Slocum. They also assigned another member of the staff, Jason Simmons, to assist with special teams.
A poor season on special teams, which included having seven kicks blocked in the regular season, became worse in the NFC Championship Game loss to the
Seattle Seahawks
. Two plays – the Seahawks' fake field goal in the third quarter and their onside kick in the fourth quarter – turned out to be major turning points.
McCarthy discussed the fake field goal at length on Wednesday but was not asked about the onside kick, which went off the hands of tight end
Brandon Bostick
, who was supposed to block on the play, and was recovered by the Seahawks with 2:07 left in regulation.
At the Super Bowl this week, Seattle punter
Jon Ryan
, who played for the Packers from 2006-07, said the key to pulling off the fake field goal was to dupe linebackers
Brad Jones
and A.J. Hawk. Jones sold out hard for the block, and Hawk was left to decide whether to play Ryan as a ball career or drop into coverage against eligible lineman
Garry Gilliam
, who caught the 19-yard touchdown pass from Ryan with 4:44 left in the third quarter for Seattle's first points of the game.
It appeared to be a case of Seahawks special teams coordinator Brian Schneider outdueling Slocum.
"Fakes are risky," McCarthy said. "And Jon Ryan can run; we know that. I think from the responsibility standpoint, pursuit and so forth, I think it would've been a foot race for the first down. We did not execute our particular responsibilities as best we can, and they had a better play call than what we had called.
"Special teams has been no different than offense and defense," McCarthy added. "It comes down to healthy scheme, knowing your opponent. You're looking for the personnel matchups and ultimately executing the fundamentals. Our special-team errors have been critical more because of the timing of it. It definitely showed up in the Seattle game."
McCarthy said Wednesday that continuity on his coaching staff is important but added that "there's devils involved with that, too. You have to fight to complacency."
"We'll look to adjust or change and whatever we need to if we think it's going to help us be better," McCarthy said.
That process starts now.
August, 7, 2014
8/07/14
12:15
PM ET
GREEN BAY, Wis. – The last time Tom Clements was on the sideline for an NFL game, the temperature at kickoff was 5 degrees with a wind-chill of minus-10.
No wonder the
Green Bay Packers
' offensive coordinator has decided to move from the sideline to the coaches' box for games this season.
"I didn't want to get cold in the winter," the 61-year-old Clements said Thursday, referring to the Packers' playoff game against the
San Francisco 49ers
last January at Lambeau Field.
The change, which will make its debut in Saturday's preseason opener at the
Tennessee Titans
, comes on the heels of some shuffling of duties on coach Mike McCarthy's staff. New quarterbacks coach Alex Van Pelt will coach from the sideline on game days even though his predecessor, Ben McAdoo, the
New York Giants
' new offensive coordinator, coached last year from upstairs.
Clements last worked from the box in 2006, the first of his six seasons as Packers' quarterbacks coach. He moved down to the field the next season and remained there even when was promoted to offensive coordinator in 2012 after Joe Philbin left to become the
Miami Dolphins
coach. Philbin, incidentally, worked from the press box when he was the offensive coordinator.
"I just thought I'd have a better viewpoint up there and be more helpful," Clements said.
Rodgers
It will be the first time since quarterback
Aaron Rodgers
became a starter in 2008 that he won't have Clements at his side on game day.
"Tom has been a great supporter, a great ally, a great teacher for so many years," Rodgers said. "It will be a different role. But I'm sure that Alex and I and the quarterbacks would kind of look at the pictures together, talk about them and kind of make the adjustments."
It means Clements will not be able to go over the still-frame pictures that quarterbacks view between series.
"It's a change for Aaron, so we'll take the preseason to evaluate it, but Tom has great eyes," said Van Pelt, who also worked from the field last year when he was running backs coach. "Obviously, [Clements has] great knowledge of the system. He'll be a great source up in the box, you know seeing it from up top. You know I've always been on the sideline with the players, quarterbacks, running backs, so obviously it's nothing that will be different for me."
The Packers will have seven coaches in the box on game days: Clements, defensive coordinator Dom Capers, offensive assistant Luke Getsy, assistant offensive line coach Steve Marshall, defensive assistant John Rushing, defensive/special teams assistant Jason Simmons and cornerbacks coach Joe Whitt.
There will be something new for the coaches on the sideline this season. They will be able to use electronic tablets during games to view still-shots of plays in addition to traditional paper photos. Although they will not be able to play video through the tablets, they can use them to zoom in on certain players.
"The Hall of Fame game, I saw them using those," Van Pelt said. "Just reading some blurbs, I thought [Bills] Coach [Doug] Marrone [said] his didn't work at first or something, but then he really liked it once it started working. So I'm looking forward to seeing how that plays. Rain games, how is that going to affect it, sunny days, is that going to affect the screen? So there's some bugs in the preseason."
February, 10, 2014
2/10/14
6:45
PM ET
GREEN BAY, Wis. -- Assistant special teams coaches in the NFL are usually neophyte coaches or former players trying to break into the business.
Rarely are they 59-year-olds who have held head coaching jobs at two prominent top-level colleges and also NFL coordinator jobs.
It wasn't lost on Ron Zook that his new position as the
Green Bay Packers
assistant special teams coach was a bit unusual, when he met with reporters on Monday for the first time
since he was hired last week
.
[+] Enlarge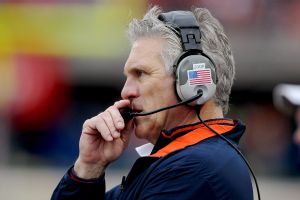 Jonathan Daniel/Getty ImagesThe Packers will turn to Ron Zook to help with special teams.
"Coaching's coaching; I wanted the opportunity to get back in the profession, I really did," said Zook, the former Florida and Illinois head coach who had been out of football since he was fired in 2011 after seven seasons with the Illini.
"The first year out, I probably needed it just to kind of collect your thoughts and so forth. This past year, I really began to miss it. I told some people, one of the most exciting things for me is getting back into coaching for the reasons I got into coaching: because I love the game, I love the camaraderie, I love being around the players and the coaches and trying to help get everybody on the same page trying to do the same thing."
Even Zook isn't quite sure exactly what his role will be, but coach Mike McCarthy knows he wants more attention paid to special teams, which struggled at times last season. McCarthy didn't feel that the problems warranted a complete change, which is why he retained special teams coordinator Shawn Slocum, but he appears set on dedicating more resources to it. He also has assigned Jason Simmons, a coaching administrator the last three seasons, to assist with special teams.
"I wanted to put more of an emphasis on that area," McCarthy said. "One of our challenges ever year with youth, some of the injuries we've had with younger players playing early, there's a lot of one-on-one time that goes into special teams coaching. Everybody in the league goes through it. We just want to maximize that structure as far as to make sure our players are getting the one-on-one time, and I thought Ron brought a whole different dimension to the room."
Zook was a natural fit for McCarthy. The two worked together with the
New Orleans Saints
for two seasons (2000 and 2001) when McCarthy was the offensive coordinator and Zook the defensive coordinator before Zook returned to the college ranks to coach the Gators.
In fact, Zook and McCarthy lived together during their early days with the Saints before Zook's family moved to New Orleans. Even after Zook's wife and kids joined him, they lived down the street from McCarthy.
Packers assistant head coach/linebackers coach Winston Moss also was with them in New Orleans, and Zook coached Packers safeties coach Darren Perry during their days with the
Pittsburgh Steelers
, where Zook was the special teams coach from 1996-98.
"So you've got guys that you know and everybody's looking for the same thing, and that's to win," Zook said. "That was what was important to me, being in a situation where you had a chance to win and being around good people."
McCarthy mentioned Zook's energy and enthusiasm, something that was apparent throughout his 20-minute session with reporters on Monday. Zook spoke openly about both his successes, most notably the 2007 Rose Bowl team at Illinois; and his failures, being fired by both Florida and Illinois.
Zook also explained how he has spent the past two years out of football, working part-time as an analyst for CBS and also at a bank in Florida.
But perhaps it was what he did in his free time that was instrumental in his return to the NFL. He would make regular trips across the state to Tampa, Fla., where he would spend time watching film with ESPN "Monday Night Football" analyst Jon Gruden.
"I've spent I can't tell you how many hours, spent an awful lot of time with Jon Gruden," Zook said. "I'd drive to Tampa, and we'd study football. We'd get ready for the draft, study programs that way, what's going on in both college and the NFL. So I was able to stay involved with the game in terms of the X's and O's part of it. But you miss the relationship side of it."
November, 5, 2009
11/05/09
2:35
PM ET
| | |
| --- | --- |
| | |
| | Bob Levey/Getty Images |
| | Bernard Pollard has shored up the strong safety position for the Texans, who haven't had a steady presence at the position during Gary Kubiak's tenure. |
Posted by ESPN.com's Paul Kuharsky
Since Gary Kubiak became head coach of the
Houston Texans
in 2006, he's deployed seven different starting strong safeties.
A secondary in need of a steady physical presence didn't get great consistency out of
Glenn Earl
,
Jason Simmons
,
C.C. Brown
,
Brandon Harrison
,
Nick Ferguson
,
Dominique Barber
or
John Busing
. Injuries prompted some of the changes.
But in
Bernard Pollard
, whose insertion into the lineup has coincided with improved defensive play, perhaps Kubiak and the Texans finally have found their man.
In October, the Texans were the fifth-best defense in the league based on yardage surrendered, and 10th in scoring defense. The defensive improvements from the first three games to the last five are remarkable, as you can see in this handy chart the team provided.
Houston's defensive improvement, 2009
Category
First 3 games
Last 5 games
Difference
Rush yards/game
205.0*
58.2**
-146.8
Pass yards/game
231.7
202.2
-29.5
Total yards/game
436.7*
260.4
-176.3
Points per game
28.7
16.4
-12.3
* Worst in the NFL.
** Best in the NFL.
All these defensive developments are wonderful for a team with the third-ranked passing game and eighth-ranked offense. Defensive consistency is a major boon for any team keyed around a potent and efficient passing attack.
What has Pollard brought?
"I take pride with my tackling, I take pride in being in the right places," he said. "I watch games around the league and you see guys get interceptions. I wish that could happen with me. But I don't have time to try to bait quarterbacks, because when you try to bait, things happen. Some guys get away with it.
"I'm not that player. I am a player if you expect me to be wherever on the field, that's where I am going to be. If that makes the quarterback go to another read, then that's going to be a coverage sack or he's going to go somewhere else. But I take pride in tackling, I take pride in coming in with high intensity and trying to get my teammates around me to get pumped up."
Pollard was initially a 2006 second-round pick by the
Kansas City Chiefs
out of Purdue, selected 54th overall. In 2008, he delivered the hit that ended Tom Brady's season, carrying himself with grace after the accident.
The Chiefs' new regime made him part of its roster turnover and released him on Sept. 5. But David Gibbs, the Texans' new defensive backs coach, had come to Houston from K.C. He helped facilitate adding Pollard to Houston's roster.
Pollard has not solved the Texans' troubles by himself. He has been a positive influence in exemplifying the theme that's so popular around the league: Do your job while trusting that the guy to your right, to your left, in front of you, and behind you will do his. He said he's seen that trust grow, and with success comes additional confidence.
Now he will try to help slow
Peyton Manning
and the
Indianapolis Colts
' offense Sunday at Lucas Oil Stadium in a game that's fair to rate as the biggest in the Texans' history.
A win would put the Texans at 6-3, three games over .500 for the first time ever. A victory will keep them in range of the AFC South-leading Colts, who would be 7-1. A rematch at Reliant Stadium on Nov. 19 looms.
One of Manning's biggest weapons, tight end
Dallas Clark
, said the Texans' defense starts up front, but that Pollard's on his radar.
"Their two ends [
Mario Williams
and
Antonio Smith
] and their linebackers, that's the strength of their defense," Clark said. "The safeties and the corners, a lot of the things they do is because of the pressure and [the ends] getting the quarterbacks to make bad decisions. Still, they're there to make the play, which is what their defense needs. But I think everything they do well starts up front …
"[Pollard] is a big safety. He's a guy who loves to hit and loves to make plays. As a receiver, you have to make sure you know where he is."
Tackling was a major issue early this season, when, for example,
Tennessee Titans
halfback
Chris Johnson
accounted for 284 yards against Houston. Sixty-nine of them came when he lined up wide to the left uncovered.
Kerry Collins
got the ball to him immediately, and the Texans didn't even have a chance to miss tackles. It was Barber's mistake, and he was benched for it with Busing replacing him.
Now concerns over such matters are much smaller.
"He's done a nice job of coming in and kind of taking up what we are teaching, our concepts, our program," Texans defensive coordinator Frank Bush said of Pollard. "He's brought a physical presence to us first of all. The kid's a big [6-foot-1, 224 pounds] and physical football player, he enjoys the contact. He seeks it. He's the most physical presence in that secondary and all the guys try to emulate what he's doing."
"He's smart, he takes good angles to the ball, he tries to keep himself out of harm's way as far as angles on running backs and then he brings a load to the party when he hits you."
That's a pretty good addition when you sign a guy after the season's under way and he quickly becomes a player others are looking to follow. Bush was surprised to get such a quality player at such a time.
Pollard appears to be a solution at what has been a questionable spot.
"He's kind of shored it up for us and let us feel confident about what we want to call. He'll go out and execute our program," Bush said.
After being part of
two miserable seasons
in Kansas City where the Chiefs were 6-26, Pollard said he's thrilled to be on a 5-3 team that's got reasonable expectations of a playoff berth.
But he's not yet sure he's a long-term answer for a team who's been searching for a solution at his spot.
"I hope I ended it," he said. "Nothing's settled until you actually sign a long-term deal and you know you are in this city for a certain amount of time. So no player gets that gratification until it's actually done. I am very happy with what I am doing, where I am. And I hope that I prove myself. It's still a long season and things can happen.
"Do I look for them to happen? No. I'm going to prepare myself to bring my A-game and to get my teammates, and for them to get me, hyped as can be to play football at a high level every Sunday from here on out."