NFL Nation:

Javarris James
July, 28, 2012
7/28/12
7:16
PM ET
The
Arizona Cardinals
were pleased when
more than 10,000 fans turned out
for their 2009 camp scrimmage, held six months after the team's Super Bowl appearance.

Drawing an
estimated 14,500 fans
on Saturday appears more impressive after two less inspiring seasons.
The trend is heading in the right direction, for sure.
"Back in 2004, we had to pay people to watch us," receiver
Larry Fitzgerald
said,
according to the team
.
The Cardinals could joke after getting through practice with no reported injuries to key players, notably second-year running back
Ryan Williams
, whose
44-yard run
signaled a milestone in his return from a torn patella. Backup
Javarris James
will miss time after
injuring an abductor muscle
, further depleting the ranks at running back while
Beanie Wells
rests his surgically repaired knee. But Williams' continued progress is key.
Williams, one of the Cardinals' most exciting players in camp a year ago when the injury struck him down, passed another test Saturday when he absorbed a hit from strong safety
Adrian Wilson
and came away OK.
The injury Williams suffered during an exhibition game against Green Bay last Aug. 19 was an unusual one.
Cadillac Williams
provides
the recent precedent
for an NFL running back. He suffered a torn patella during a 2007 game. About 14 months -- 420 days, to be precise -- elapsed before he played in another game. If Ryan Williams followed the same timeline, he would return for an Oct. 14 matchup against Buffalo, 422 days following his injury.
The timetable for Ryan Williams appears ahead of that pace.
Cadillac Williams provides the precedent for an accelerated pace as well. He suffered a second torn patella, this one to the other knee, during the final game of the 2008 season. He returned in time to start the 2009 opener, a span of only 259 days. At that pace, Ryan Williams would have been ready for game action in early May. Instead, he continued to rehab all offseason, participating in minicamps on a limited basis.
Williams has said he hopes to return for Week 1. The Cardinals haven't set a date. I'd be surprised if they hurried him onto the field during the first couple exhibition games.
Note:
The Cardinals generally hold their scrimmage later in camp, but with the team playing in the Hall of Fame Game next week, that wasn't feasible. Scrimmaging with only a few practices could explain why the offense seemed sloppy, according to
initial reports
.
Kevin Kolb
tossed the only touchdown pass. He also threw two interceptions.
September, 3, 2011
9/03/11
3:12
PM ET
A running list of Saturday cuts around the AFC South so far, per reports from people in the know…

Houston
Indianapolis
Jacksonville
Tennessee
January, 8, 2011
1/08/11
7:06
PM ET
December, 9, 2010
12/09/10
11:30
PM ET
NASHVILLE, Tenn. -- Thoughts on the Colts'
30-28 win
over the Titans at LP Field.


What it means:
The Colts are 7-6 and will win the division if they win their final three games. The Titans are 5-8, lost their sixth in a row and can finish .500 at best.
What I liked:
While
Peyton Manning
still made some poor throws, none of them were killer and none of them were intercepted. Against a bad team, he got back to form with 319 yards and two touchdown passes. The Colts showed some determination to run despite missing their two best backs.
Javarris James
scored on a 1-yard run and converted a fourth-and-4 with an 11-yard run.
Streak-buster:
After 14 quarters without an offensive touchdown, the Titans got a 1-yard scoring run from
Chris Johnson
at the end of the second quarter and a 7-yard catch-and-lunge for a score by
Craig Stevens
on the opening possession of the third quarter. They went crazy with a couple
Bo Scaife
TD catches in the fourth.
Injury concern:
Colts left tackle
Charlie Johnson
suffered a shoulder injury and didn't return to action, with undrafted rookie
Jeff Linkenbach
taking over.
Hot topic:
The Titans showed a lot more life than they did last Sunday in a loss to Jacksonville, but that won't quiet the chatter in Nashville about Jeff Fisher's future with the franchise.
What's next:
The Colts host the Jaguars in a crucial division rematch. Tennessee hosts Houston, which will be on short rest following a Monday night game against Baltimore.
December, 9, 2010
12/09/10
10:13
PM ET
NASHVILLE, Tenn. -- Halftime thoughts from LP Field where it's
21-7
Colts over Titans.
December, 9, 2010
12/09/10
7:25
PM ET
NASHVILLE, Tenn. --
Donald Brown
starts at running back for the Colts tonight with
Joseph Addai
and
Mike Hart
both out, though we're sure to see some
Javarris James
and maybe
Dominic Rhodes
in the first game of his third stint with the franchise.
The Colts have three other subs, who are not surprises:
Kavell Conner
starts for
Clint Session
at weakside linebacker,
Jacob Lacey
starts at left corner for
Kelvin Hayden
and
Justin Tryon
starts at left corner for
Jerraud Powers
, who went on IR this week.
For the Titans
Dave Ball
(concussion/ hip) is inactive and will be replaced at right end by
Jacob Ford
.
The whole list of inactives:
Titans:
QB
Rusty Smith
, S
Robert Johnson
, T
Troy Kropog
, CB
Ryan Mouton
, LB
David Thornton
, DT
Sen'Derrick Marks
.
Colts:
WR
Austin Collie
, CB Kelvin Hayden, RB Joseph Addai, RB Mike Hart, LB Clint Session, OG
Jacques McClendon
, DT
Ricardo Mathews
.
December, 9, 2010
12/09/10
11:20
AM ET
NASHVILLE, Tenn. -- Barring a scoreless overtime, the Colts' appearance at LP Field guarantees that one AFC South team will end a losing streak Thursday night.
As they brace for the first of two head-to-head matchups in the final month of the season, the Colts (6-6) and Titans (5-7) have combined to lose eight straight.


Somebody gets to leave the stadium tonight feeling a lot better. Here are five questions to consider before we see who that is.
1. Will Peyton Manning break out of his funk?
He has 11 interceptions in his past three games. But the Titans have only three interceptions during their five consecutive losses. Look for corner
Cortland Finnegan
to draw the difficult
Reggie Wayne
assignment, but to have plenty of help as the Titans show themselves more willing to take chances with
Pierre Garcon
,
Jacob Tamme
and especially
Blair White
.
Rookie
Alterraun Verner
is the second starting corner and will face Manning for the first time, and second-year man
Jason McCourty
will work in the nickel. McCourty started last season in a loss to the Colts when the Titans gave up 309 passing yards and three passing touchdowns to Manning with only one pick.
Tennessee has been getting crushed in time of possession -- it hasn't held the ball for 21 minutes in its past two losses. Manning will be content to take what's given and string together long drives if he can.
2. Who's playing in the Colts' secondary?
The Colts' starting cornerbacks are out --
Jerraud Powers
is finished for the season after surgery to repair a broken forearm and
Kelvin Hayden
is not recovered from a neck injury. That means
Jacob Lacey
and
Justin Tryon
are in line to work as the top two corners with rookie
Cornelius Brown
as the nickel.
The Titans have hardly been slinging it. They haven't scored an offensive touchdown since Nov. 21. But
Kerry Collins
will have receiver
Kenny Britt
back after a four-game layoff with a hamstring injury and surely Tennessee will finally throw a jump ball to
Randy Moss
, right?
A drop-off at corner can mean extra strain on safeties
Antoine Bethea
and
Aaron Francisco
. Unless, of course, defensive ends
Dwight Freeney
and
Robert Mathis
are regularly able to hurry Collins and shorten the clock for all the guys in coverage.
3. How many catches will Tamme have?
While the tight end has been productive, he's not
Dallas Clark
. But the Titans' defense has given up significant yardage to tight ends far less talented than Clark this season.
I don't know that anything has changed for the Titans' linebackers, who are most responsible for those issues, and I look for the Colts to be primed to attack the soft underbelly of the Tennessee defense until
Stephen Tulloch
or
Will Witherspoon
or
Gerald McRath
prove things are any different.
Heck, watch the banged-up
Brody Eldridge
make a couple of key catches.
4. How much will Indy even try to run it?
The Colts would like to show some semblance of balance and some effective runs would help keep the play-action believable -- though everyone seems to bite on it even when they can't run. It will be interesting to see how coach Jim Caldwell and offensive coordinator Clyde Christensen deploy
Donald Brown
,
Javarris James
and
Dominic Rhodes
.
"They won't run on us if we play Titans' defense, to tell you the truth," defensive tackle
Jovan Haye
said. "If we have somewhat of a repeat performance from Sunday, then they will. They utilize it in their offense, but they're not a big run team. If we play like we did [surrendering 258 rushing yards in the loss to Jacksonville], they'll run the ball."
5. Can Chris Johnson get something going?
He wants more carries and the Titans are desperate to get him going to help elongate drives, keep the defense off the field and alter the time of possession trend. But last year the Colts didn't allow him a carry longer than 11 yards in two games while holding him to a 4.1-yard average.
Titans fullback
Ahmard Hall
said tackle
Fili Moala
, in his first year starting, and rookie linebacker
Pat Angerer
have been very effective run-stopping pieces on top of what the Colts had previously.
The Titans need to show a willingness to throw deep to Britt and Moss to keep the Colts honest and buy a bit of extra space and time for Johnson.
"He is an outstanding back with outstanding numbers," Caldwell said. "I think what happens just like anything else, people get spoiled. He is a talented guy and I think he has been performing well. We have to get ready to handle him because he is a heck of a back."
December, 5, 2010
12/05/10
7:56
PM ET
Thoughts on the
Cowboys' win over the Colts
at Lucas Oil Stadium.
What it means:
The Colts are at 6-6, in second place in the AFC South, a game plus a tie-breaker behind 7-5 Jacksonville.


What I didn't like:
Four picks by
Peyton Manning
, two were returned for touchdowns, two turned into field goals. With Dallas scoring 20 points off turnovers, the thinned out Colts simply couldn't overcome things without a takeaway of their own. Tashard Choice had 100 yards rushing for a career day. The Cowboys had a 217-40 advantage in rushing yards and had eight third down conversions in 15 chances.
What I liked:
An awful lot of fight to pull even after trailing 17-0 at the start and by 13 entering the fourth quarter. A ridiculous, 14-catch, 200-yards, one-touchdown day from
Reggie Wayne
. Two rushing touchdowns from
Javarris James
. A blocked punt and a resulting touchdown from Taj Smith.
Major gaffe:
A leverage penalty against
Eric Foster
on a late Dallas field-goal attempt in regulation gave the Cowboys a first down and allowed them to ultimately score a go-ahead touchdown and 2-point conversion. The Colts offense bailed Foster out with a giant touchdown drive to force overtime. But they could have been in position to win it.
What's next:
The Colts have a quick turnaround and a Thursday night game in Nashville against the Titans in an AFC South matchup.
November, 7, 2010
11/07/10
6:10
PM ET
PHILADELPHIA --
Austin Collie
was wheeled off the field, eyes open, but apparently motionless after absorbing a tough hit late in the second quarter of the Colts-Eagles game.
The combo hit on him came from strong safety
Quintin Mikell
and cornerback
Kurt Coleman
and was called an incomplete pass.
But it appeared that Collie completed the catch and was protecting the ball as he was hit from the right by Mikell, who was called for unnecessary roughness on a defenseless receiver.
Mikell's hit jolted Collie into Coleman, coming from the left, and their helmets collided.
It was a scary scene as medical personnel and coaches surrounded Collie. Many somber teammates watched from a few yards away on the field on a knee. Bill Polian left his seat in the press box, presumably to go check on things. The team said Collie suffered a concussion but was alert, sitting up in the locker room and had motion.
I thought Collie took a big hit to the head a few plays earlier, too.
Peyton Manning
ran to Collie as he was being rolled off the field, orange tape or bands affixing him to a backboard, to say something before returning to action.
Manning then connected on a 33-yard pass to Collie's replacement, Blair White, setting up Javarris James' short scoring run.
The Colts got the ball back and managed a 37-yard
Adam Vinatieri
field goal with three seconds left.
Thoroughly outplayed, they're up
17-16
at the half.
We'll update you on
Twitter
and in our
Countdown Live
chat when we hear anything more on Collie.
November, 2, 2010
11/02/10
3:02
PM ET
»
NFC High Energy
:
East
|
West
|
North
|
South
»
AFC
:
East
|
West
|
North
|
South
A look at a player who gave his team a significant boost in Week 8.
[+] Enlarge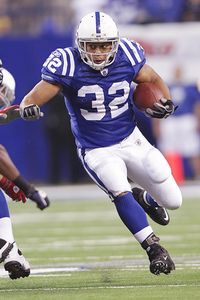 AP Photo/AJ MastMike Hart stepped in for injured starter Joseph Addai and averaged 7.0 yards on 12 carries.
Sure, we hit on
Mike Hart
in this piece
off the Colts' 30-17 win over Houston.
But he gets a second moment here for his fine work as
Joseph Addai
's primary fill-in. While Houston's
Arian Foster
averaged 6.8 yards a carry, Hart was even better with a 7.0 average on his 12 runs. He might have gotten over 100 yards had an ankle injury not knocked him out of the game and he also had three catches for 19 yards.
Going into the game without Addai, one big concern was how Hart and
Donald Brown
would handle the running back pass-protection duties.
Hart said they fared reasonably well in that department.
"I think we did pretty well. I know for a fact I made one mistake," he said. "Peyton [Manning] threw hot, I'm definitely going to get yelled at for that [Tuesday]. Besides that, Javarris [James] did a great job. Donald did a great job. I picked up the other blitzes beside one -- three maybe. The only one that matters is the one I missed."
While he may take heat for that, he'll also get a pat on the back for a fine fill-in effort. An MRI on the ankle will help determine if he'll need to be filled in for next.
October, 29, 2010
10/29/10
4:01
PM ET
»
NFC Final Word
:
East
|
West
|
North
|
South
»
AFC
:
East
|
West
|
North
|
South
Five nuggets of knowledge about Week 8: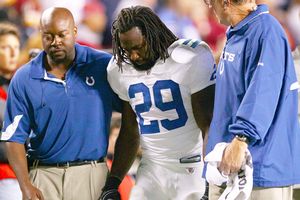 Win McNamee/Getty ImagesJoseph Addai has played a large role in protecting Peyton Manning.
Blitz pick up:
If RB
Joseph Addai
(shoulder) is out for the Colts against the Texans, Indy loses a big piece of its pass protection. Addai is superb at pickups.
Donald Brown
, also hurt, is not nearly as good. And
Mike Hart
and
Javarris James
have not played enough for us to know. It might be a spot for Houston to try to attack, but can the Texans afford to blitz much considering their coverage issues and
Peyton Manning
's tendency to find the open guy?
Yes, they're the Chargers:
The Titans spent the week saying how this Chargers team is not the same one they have lost seven straight to, including a 42-17 pounding in a game the Titans needed to stay in playoff contention on Christmas last season. But they are enough of the same team, and San Diego absolutely has Tennessee's number. The talented Chargers have lost three in a row, seem overdue and match up well.
Filling multiple roles:
The absence of
Pat McAfee
, the punter who's suspended for the game, goes beyond him being replaced for a game by
Jeremy Kapinos
. McAfee is also the kickoff man, and
Adam Vinatieri
won't hit them as deep. McAfee is the holder too, so Kapinos or
Jacob Tamme
or
Curtis Painter
will replace him there. One bad play by a replacement can really shine the spotlight on his absence, and the alleged drunken canal swim that created the suspension scenario.
Talent gap:
The Cowboys are largely regarded as a collection of talented players that has been unable to play well together as a team and thus find themselves at 1-5. They certainly view themselves as more talented than the rebuilding Jaguars, who are struggling but have a 3-4 record that the Cowboys would love to call their own. If
Aaron Kampman
and the young defensive linemen he's working with can rattle
Jon Kitna
, Dallas could sink even further.
Concentrating on their jobs:
When
Arian Foster
ran wild against the Colts on opening weekend, Indianapolis defenders got caught out of their lanes. There was a good deal of over-pursuit and a general lack of discipline. Both teams are coming off a bye. The Colts surely spent time discussing those problems and working on them. The Colts' defense has the people to play much better than it has so far. I suspect the Texans will have to balance things out offensively this time around, something
Matt Schaub
is fully capable of helping them do.
September, 2, 2010
9/02/10
11:21
PM ET
Some bullet-point thoughts on the Colts' 30-28 preseason loss to Cincinnati on Thursday night.
The Colts sat 32 players.
The kick and punt return candidates didn't seem to do a whole lot to differentiate themselves. Devin Moore took two punts 4 yards and Brandon James took one punt 2 yards. Those two and Ray Fisher all had averages between 17.5 and 25 yards on kickoffs.
James and Tom Brandstater certainly had nice statistical nights, linking up for three touchdowns and a 2-point conversion in the final 20 minutes of the game.
Indy gave up a 93-yard touchdown run to Cedric Peerman and didn't get a run longer than Javarris James' 12-yarder.
Even playing a large share of guys who will be cut by Saturday, the Colts played pretty clean. They committed just three penalties worth 30 yards, while Cincinnati had 11 for 99.

NFL SCOREBOARD
Thursday, 9/18
Sunday, 9/21
Monday, 9/22
WEEKLY LEADERS